There are two things every crypto trader needs in order to safely engage in crypto investing – a reliable and trustworthy crypto exchange platform and a secure wallet for storing their portfolio of digital currencies. Without a top-quality crypto wallet, you'll have to rely on the trading platform's safety measures to keep your portfolio secure. This is far from risk-free, as exchanges are prime targets for hackers.
Instead, it's much better to use a popular non-custodial crypto wallet solution to keep your private keys safely stored on your own device. The MetaMask crypto wallet is one of the most widely used cryptocurrency software storage solutions on the market, and you really won't make a mistake if you choose it to store your whole portfolio. 
Let's take a deeper look at MetaMask to find out how it works and how you can add tokens to your wallet account.
The MetaMask Wallet
The MetaMask software wallet comes in two forms. You can either use it as a browser extension for Google Chrome or download the MetaMask mobile app for iOS and Android smartphones. Millions of crypto traders use MetaMask because it's very practical and easy to use.
The wallet was originally launched in 2016 as an Ethereum storage solution, compatible with all ERC-20 tokens, enabling users to buy ETH with fiat currency, but it has since become a wallet compatible with numerous blockchain networks. Users can add various blockchains, such as Polygon (MATIC), Avalanche (AVAX), and the Binance Smart Chain (BSC), to MetaMask, and then use the wallet to store tokens built on these chains.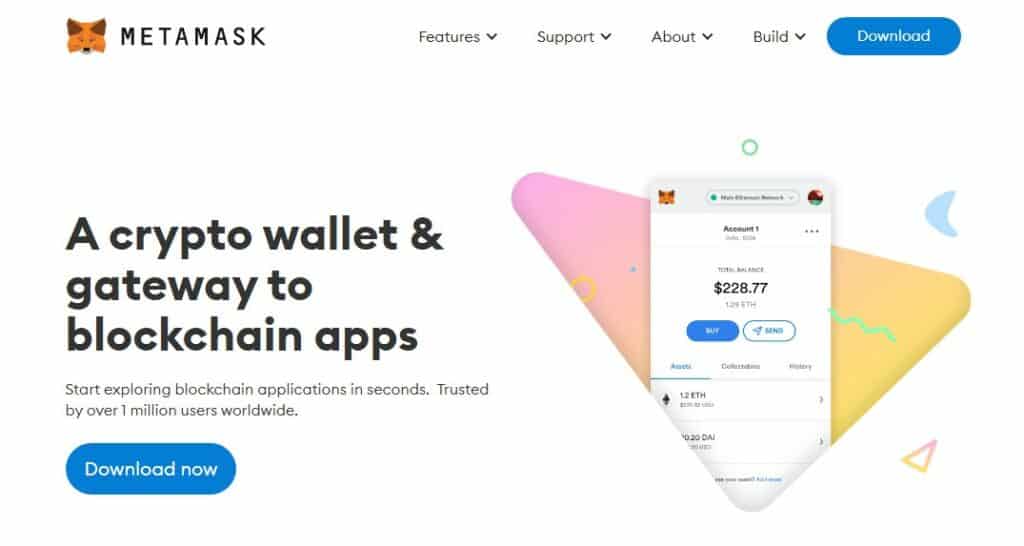 When MetaMask was launched none of these blockchains existed, but thanks to the open-source programming code, developers easily enabled the wallet to include new networks. This effectively transformed MetaMask from an Ethereum wallet into a real multi-currency crypto storage solution.
One of the key reasons many crypto enthusiasts choose MetaMask as their main wallet is that they can literally access it with one click through their Chrome browser. The fact that MetaMask works as a browser extension on PCs and laptops might seem a bit insecure to some users, but it's actually really safe because the wallet is non-custodial, which means your private keys are always stored on your device and not on MetaMask servers or in your Google Chrome cache.
MetaMask Crypto Wallet Features
Besides storing crypto, users can also store ERC-721 token standard NFTs in their MetaMask wallets. This is a super handy feature if we consider the rapidly increasing NFT hype, especially since many crypto wallets don't allow users to store NFTs.
Users can create different wallets within their MetaMask account, all of which would have different recovery seed phrases and private keys. This means that if you have an ETH wallet and a BSC-compatible wallet on MetaMask, you actually have two separate wallets. In the unfortunate event that one of your wallets gets compromised, the other one will still remain safe. However, in order to prevent something like that from happening, you should never share your recovery phrases or MetaMask login credentials with anyone.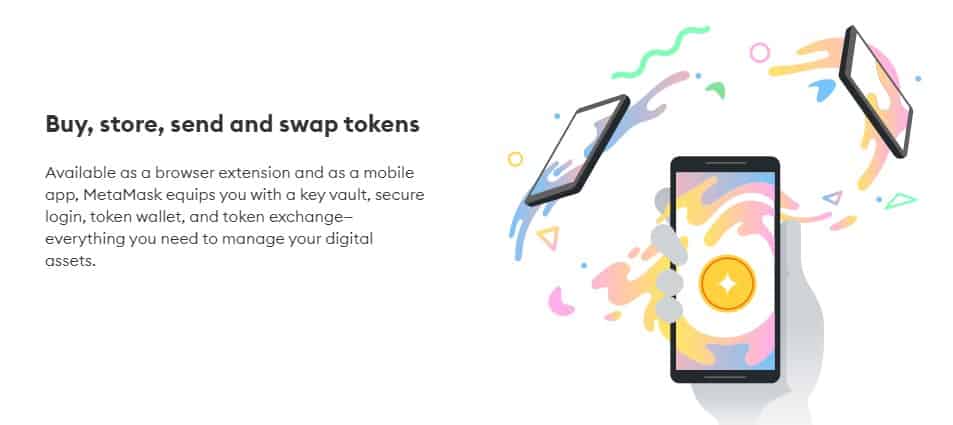 One of the best features of MetaMask, which makes it much more than just a crypto wallet, is the built-in dApp browser. Users can connect their wallets to thousands of decentralised applications across different blockchains through the in-app browser. This feature allows crypto holders to use DeFi platforms, stake crypto, participate in liquidity pools, yield farms, swap tokens on decentralised exchanges like UniSwap, and much more.
On top of that, you can even connect MetaMask with popular third-party wallets such as Trust Wallet. Many wallets lack this feature and only allow users to connect with dApps through the Wallet Connect option, which lacks any visual browsing interface. With MetaMask, users get a browser that allows them to truly engage in blockchain connectivity while controlling their private keys at all times.
How to Add Tokens That Are Listed on Metamask
Follow this simple step-by-step tutorial to add tokens to your MetaMask extension.
Adding existing tokens that are supported on MetaMask by default is really simple. Open MetaMask, select the Add Token button and navigate to the Search Assets tab.
Type in the name or ticker of the token you wish to add, and if it's supported by default, the token will pop up in the asset list. If your token is already available on MetaMask, click on it and select Next.
Now that you've added an existing token to your MetaMask account, you're ready to receive that token from a third-party address. In order to receive your newly approved tokens, you need to provide the third party with your MetaMask ETH address because ERC-20 tokens are the only assets supported on MetaMask by default. You can view your ETH public address by navigating to the Account Details option.
How to Add Custom Tokens to MetaMask
Adding custom tokens on MetaMask is a bit more complicated, but you'll be fine if you follow these few steps:

In order to add a custom token that isn't available by default on MetaMask, you just need to find the token's contract on Coinmarketcap if it's an ERC-20 token and then add it through the Custom Token tab within the Import Tokens section.
Copy the token address, symbol, and decimals into the appropriate field of your MetaMask app. You'll see the token's decimals when you click on the token contract on Coinmarketcap. Once you've added the necessary information, click Add Custom Token, and you're all set to start receiving coins.
In case your desired custom token isn't based on Ether, you first need to add its native blockchain to MetaMask, and then conduct the procedure described above. To add a new blockchain, you need to navigate to the Networks tab in the top section of the MetaMask display. Here, you need to change the network from Ethereum Mainnet to the blockchain you wish to add.
Select Add Network. Now you'll need to find all the required information about the network you wish to add. The easiest way to do it is to go to that network's block explorer, such as bscscan.com for the Binance Smart Chain or Etherscan.io for Ethereum. Many blockchain explorers like BSC scan have a button with the MetaMask logo that makes things really simple. Just click on it and approve the new network to add it to your MetaMask app.
When you're done adding the new network, just find the desired token's contract data and add the information to MetaMask in order to start receiving those tokens, just like any other ERC-20 cryptos.
A Few Ending Words…
The MetaMask crypto wallet is a great choice for storing assets. However, beginners might find it a bit difficult at first. That's why we prepared this guide to help you add existing and custom tokens to your MetaMask account without unnecessary stress. Once you get the hang of it, you'll realise how simple using MetaMask actually is.