How to Buy
Ethereum in
Australia 2023
Before we go over how to buy Ethereum in Australia, let's look at the bigger picture and see how you can buy and trade any cryptocurrency.
The best and easiest way to acquire cryptocurrency is through exchanges. Signing up for an exchange is a straightforward process in which, after you log in and verify your identity, you can deposit your Australian dollars (AUD) into a personal account.
Once you've signed up, you can purchase popular cryptocurrencies such as Bitcoin (BTC), Dogecoin (XDG), Binance (BNB), or in this case, Ethereum (ETH). Make sure you set up your account with a reliable, user-friendly platform with features that suit you, such as low fees or custodial wallets. We recommend giving Swyftx a try as one of the most popular Australian exchanges with over seventy coins available – including Ethereum.
How To Buy Ethereum in Australia
Register for an account on Swyftx
Manually enable the two-factor authentication option
Verify your account (verify that you are who you say you are)
Deposit Australian dollars (AUD) into your new account
After selecting "trade", browse for Ethereum and click "buy"
Make sure to select the right amount of ETH you want to buy
Review one last time and click on "Buy ETH"
How to Use the Swyftx Platform
After carefully reviewing a top list of elite-level cryptocurrency exchanges, it is without a doubt that as an Australian, you'd want to be trading on Swyftx in the foreseeable future. So, how can you start using the platform?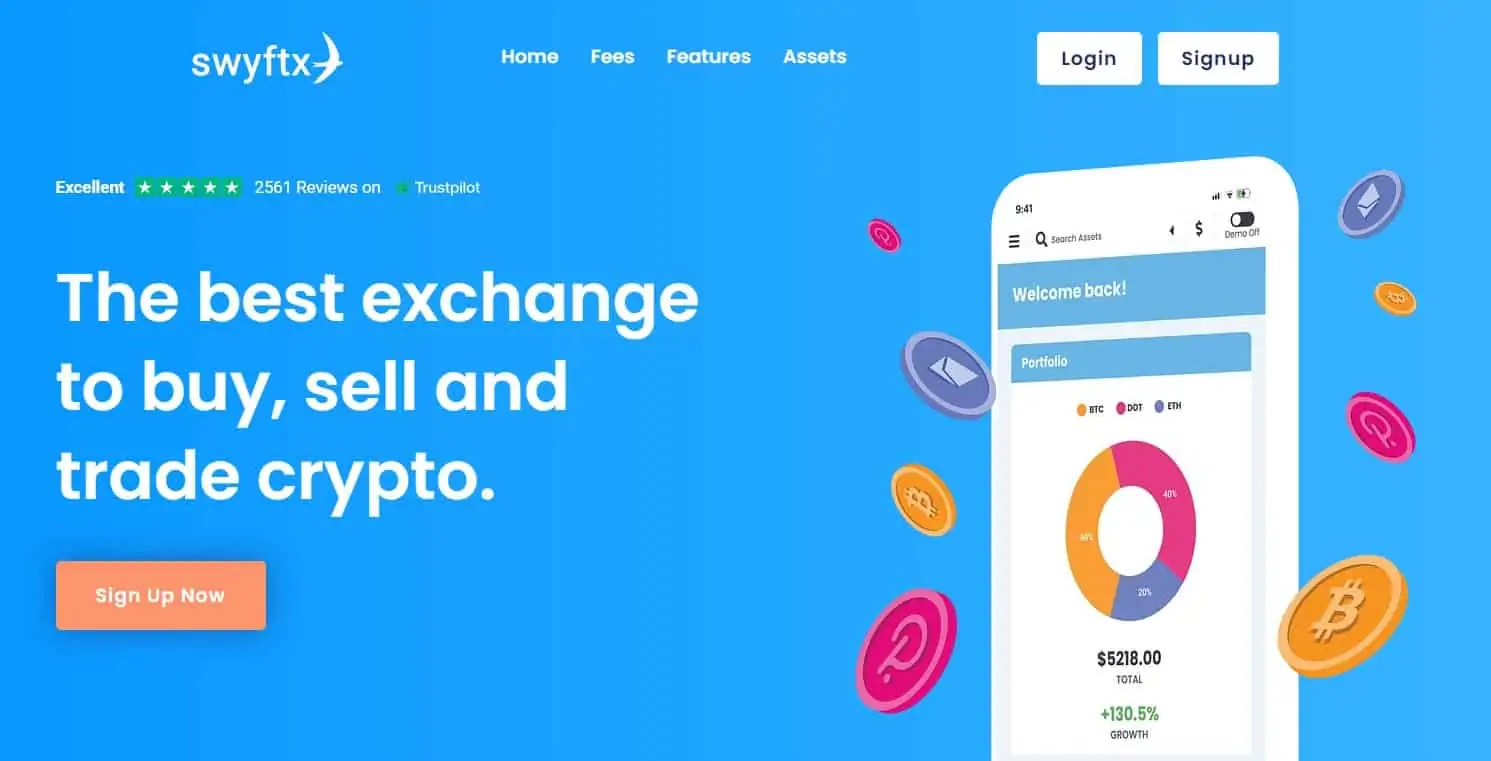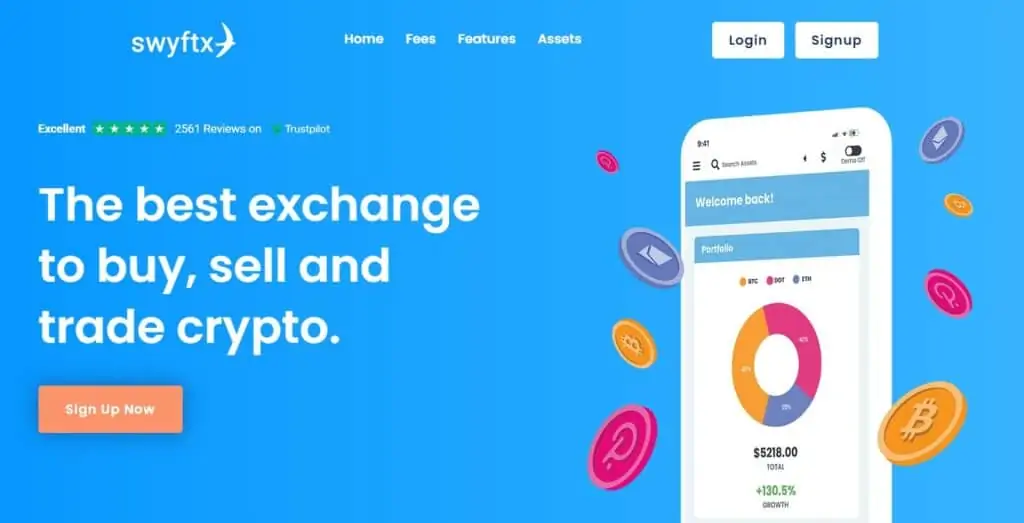 STEP ONE: The first thing you need to do after creating your account is to add an extra layer of security by setting up two-factor authentication or 2FA.
STEP TWO: In order to proceed you must verify your identity and account by using the options in the "Profile" and "Verification" tab. Please note that you MUST include some type of ID document in order to trade on any secure exchange platform.
STEP THREE: Deposit your Australian dollars (AUD) in order to start the crypto trade! You don't necessarily have to trade with fiat currency and you can always opt-out and go with something else such as Bitcoin (BTC) instead.
STEP FOUR: Purchase coins. Once you've established which value you will trade with, whether that's AUD or BTC, you may now start to trade. Swyftx has a rich list of coins available and offers lots of useful details about each cryptocurrency that you can find on their platform. When you come to a decision, you may buy coins depending on how much AUD you want to spend. After you purchase the assets, either keep them on the platform if you want to trade regularly or move your cryptocurrency into a hardware wallet.
Where to Buy Ethereum (ETH)?
Swyftx is a truly Australian exchange platform, suitable for both inexperienced users and professionals. The exchange makes the top of the list Down Under for fast crypto purchases due to its user-friendly interface, robust brokerage services, and a broad range of cryptocurrencies. As a bonus, they also offer very low fees in comparison to other platforms, which makes them very cost-efficient and convenient for exchanging crypto in Australia.

What Is Ethereum?
Ethereum is a fully decentralized, open-source public network that is used to create cryptocurrencies and decentralized applications (dApps). As such, it differs from other popular blockchain networks such as Bitcoin in that it is not only used for the selling and distribution of its own token, but also for the creation of other coins and dApps. Now, the cryptocurrency the Ethereum blockchain generates is called Ether (ETH). However, don't get confused if you run into something like "buy Ethereum" or "Ethereum price" online. Ethereum is a commonly accepted term for the Ether token. So – Ethereum is used both for the blockchain (decentralized platform) and its native crypto coin.
Ethereum uses blockchain technology in a similar fashion to Bitcoin. Blockchain technology is a tool whereby a block of data from different computers is chained (or linked) together, thereby maximizing the reliance and reducing the risk of the market's collapse. If one computer fails, the data remains recorded on other computers. With no governing command or authority to control this network, it allows for a more loose framework and decentralized control over the user's assets.
Ethereum wasn't designed to compete against Bitcoin. While Bitcoin limits itself by only selling its own coin, Ethereum has a much larger utility. Ethereum does not solely focus on trading cryptocurrencies, but it can also serve as a basis for building new decentralized apps or dApps and for creating smart contracts.
Smart Contracts
The fundamental way in which the Ethereum network works is through smart contract applications. Smart contracts are plain and simple automated computer codes with established guidelines that help two trading parties to execute the contract according to the terms they themselves decide upon.
On centralized platforms, a third party would serve as a mediator when executing a contract between two traders. Decentralized blockchain technology eliminates this extra step by utilizing a smart contract, which is a fixed transparent code and one which both traders cannot corrupt and must abide by.

This does not necessarily cover judicial contracts and often smart contracts are simple business software with a specific set of commands that execute a function. They are also often used by developers to create and run their applications on a decentralized network hence the name decentralized applications (dApps).
There is a major limitation in using smart contracts which puts a dent in their otherwise brilliant function. Due to the nature of computer coding and their inability to respond to the code as artificial intelligence, they sometimes follow broken or incorrect codes, executing them regardless of the faulty and damaging implications. This is occasionally spotted by online burglars, hackers, and the like, who take advantage of this weakness and corrupt the code further in order to steal Ethereum or Bitcoin, among other digital assets.
An advantage of smart contracts is that they can be used by any two parties across the globe, thanks to the blockchain technology on which Ethereum operates, yet the contract is not automatically transferred on all computers operating on the network. Instead, it only exists on the server (the host) it was created on.
Who Created Ethereum?
The mind and entrepreneurial spirit behind Ethereum is Vitalik Buterin, a Moscow-born software developer.
His teenage dream became more real when he won a scholarship that offered him financial incentive to pursue the concept of an Ethereum based decentralized network further. Buterin's ambitious project was crowdfunded soon afterward, and Ethereum came into force with a preliminary supply of 72 million tokens in July of 2015.
The upward development of Ethereum token (ETH) today, whose value in the crypto world comes second to Bitcoin's, stands as proof that his vision has been successful.
The Cons of Ethereum
One of the most visible and definite drawbacks to this otherwise strong and secure system is the broken computer codes inside some of the smart contracts that operate on the platform's applications. Unfortunately, the fact that the network is decentralized is both an upside and a downside because one broken code cannot be corrected by a centralized command (as there isn't one).

One of the most visible and definite drawbacks to this otherwise strong and secure system is the broken computer codes inside some of the smart contracts that operate on the platform's applications. Unfortunately, the fact that the network is decentralized is both an upside and a downside because one broken code cannot be corrected by a centralized command (as there isn't one).
How to Pay for Ethereum Using Different Payment Methods
One of the most direct ways to pay for Ethereum is through a bank transfer. This option is available on all popular Australian platforms from Swyftx to CoinSpot and the like.
Simply link your bank account to the specified cryptocurrency exchange account and after a short wait (no more than six hours), your transfer will be processed.
Another option is SEPA bank transfers which come with lower fees for European customers. However, this is not available on all platforms. To use this option, your best bet is to go with eToro.
Buying Ethereum with Bpay, POLi, Osko, PayID
Australian traders will be delighted to know that Swyftx offers very fast if not instantaneous transfers through a number of online payment providers such as B-Pay, POLi, Osko, and PayID with no extra or hidden fees charged by the cryptocurrency platform.
Buying Ethereum with Debit or Credit Card
Contrary to popular belief, buying Ethereum with a credit or debit card will either not be available on certain crypto platforms or will come with a large percentage-based fee. Australians wanting to buy Ethereum with money cards should turn to international platforms like Coinbase which would have a fee between 4% and 6%, as well as a weekly and monthly transfer limit.

Buying Ethereum OTC
If you are a new Australian user still figuring out how to get your footing right on the Ethereum trade platforms, then go ahead and skip this next paragraph. But if you're a trader of institutional calibre, with a proven record and a large portfolio, this might interest you. Any trade amount exceeding 100,000 AUD will most definitely require an OTC desk.
Any trader of this level would be choosing their options carefully based on security measures, low trading fees, and the overall reputation of the platform. Other platforms like Circle and Genesis provide high liquidity on Ethereum (ETH) purchases.
A great and popular Australian platform that recently launched an OTC desk is Independent Reserve, which is another reliable option for Australians.
Buying Ethereum with PayPal
A simple way to purchase cryptocurrency such as Ethereum is by using PayPal. Simply add money to your PayPal account and then link it to your exchange platform account, buy the currency on your wishlist, and start trading. Be aware that although the purchase process is simple and straightforward, PayPal does have higher fees than other payment options available for buying cryptocurrency.
How to Store Your Ethereum
Ethereum is safely stored and secured in a digital wallet. Once stored, there is only one way to access it: by using a private key, which is essentially your encrypted virtual wallet address.
There are three ways to get a crypto wallet and the first is by letting an online platform protect your Ethereum or any other token you might purchase. Another way is to download a free wallet app (also known as software wallet) to your desktop or mobile device.

If you trade on a regular day-to-day basis, then it is best to leave the security in the hands of the cryptocurrency platform; however, if you only trade occasionally, or are on the brink of executing a major Ethereum trade, then you might feel safer owning a software wallet. Make sure to install a proper security and malware detection system on your device before doing this in order to prevent hackers or other attackers steal and misuse your valuable crypto assets.
A third option is to look into the hardware wallet model which is completely isolated from the internet, and as a disconnected device offers more security and support for your Ethereum tokens. You can also combine an online and a hardware wallet: the former for quick trades, the latter for storing the majority of your crypto assets.
There are a few wallets out there that support a vast array of cryptocurrency tokens at a fair price and one of them is Ledger Wallet Nano S. The Nano Ledger wallet comes with a strong security measure, such as a recovery phrase, which you may utilize should you need to recover the coins in your wallet.
The New Wave
The concept of Ethereum's blockchain technology trading in the cryptocurrency exchange market has completely revamped and reshaped modern crypto trading and opened its doors to creative and entrepreneurial spirits around the globe that are seeking change and novelty on the crypto market.
As a decentralized network that is becoming widely popular, and with Ether and Bitcoin's value growing over time, it is clear that the future of crypto trading lies in decentralized platforms, which are gradually disrupting the hierarchy of the more traditional centralized model.

For many years, the centralized network with a single authority at the top led the market and billions of dollars went into a few elite select traders and inventors. This closed system was completely disrupted by Bitcoin and then by the Ethereum blockchain technology, with its revolutionary concept.
FAQ
How can I get free Ethereum?
There are several ways to earn free Ethereum; however, this may only get you a small percentage of a single ETH. You can get free Ethereum by answering a few paid surveys or watching videos on some GPT (Get Paid To) sites such as earncrypto.com.
How do you make money with Ethereum?
Basically, there are two ways to make money using Ethereum. One way is to keep your earned coins and wait for the price to grow higher, then sell them, and make a profit. The other way is to invest in Initial Coin Offerings (ICOs) that are built using the Ethereum network.
How long will it take me to mine 1 ETH?
Currently, it will take around 89 days to mine 1 Ethereum (ETH) based on the Ethereum difficulty level, mining hash rate, and block reward. The algorithm used by miners allows them to acquire a new block of ETH in 12 seconds.
Can you sell Ethereum/convert Ethereum to cash?
You can sell your ETH on a cryptocurrency exchange platform. Keep in mind that the process might take some time while the exchange finds a suitable buyer for your coins. Also, there's an extra fee to withdraw your ETH to your bank account.
What cryptocurrency should I buy: Ethereum or Ethereum Classic?
Because of the fact that Ethereum Classic (ETC) is built on the foundations of the Ethereum blockchain, ETC's market is slightly riskier. Even though the features are similar, ETH is one of the largest cryptocurrencies in the world. Investors find that ETH has a more promising future for trading than ETC.
What is the most popular Ethereum wallet?
Arguably, the most popular Ethereum hardware wallets at the moment are Trezor One and Ledger Wallet Nano S. Generally, hardware wallets are the most secure alternative for storing your Ethereum as they allow you to keep your private keys in a physical device. For example, Trezor One is the oldest hardware wallet and it's very advanced since the PIN code never leaves the wallet.
Is Coinjar a good Ethereum exchange?
Coinjar does offer convenient ETH trading through several payment methods, solid customer support, and lower-than-average fees. However, it's not the only solution for buying Ethereum on the Australian market. You can find plenty of ETH-suited platforms out there, including Coinbase, CoinSpot, BTC market, and Independent Reserve.
A Few Words Before You Go
Always stay updated on new changes to the Ethereum platform and their newest patches, such as the London patch (2021, in progress), which will transform the transaction fee market and offer changes to how gas refunds are handled. Finally, don't forget that Ethereum is not the only crypto out there and there are many other popular cryptocurrencies available on the Australian market such as Ripple (XRP), Bitcoin (BTC), Litecoin (LTC), Bitcoin Cash (BCH), Stellar (XLM), and others.