There are two things you need to think about in advance before you start investing in crypto. The first one is which crypto wallet you are going to use to keep your private keys safe at all times, and the second one is how you will cash out your crypto gains into fiat currency.
There are hundreds of different wallet providers on the market offering free crypto storage, but you should be really careful when choosing a wallet because not every storage option is secure. In fact, the best solution is to choose a highly popular and widely used non-custodial wallet that lets you have full control over your private keys.
Trust Wallet is one such leading non-custodial, software-based crypto wallet, with over 25 million satisfied users across the globe. Trust Wallet is a great choice for conducting all of your crypto-related operations, but like most other crypto wallets, it doesn't allow users to directly cash out their crypto into fiat.
That's why we've prepared a guide with all the details about Trust Wallet, including thorough instructions on how to cash out your crypto from Trust Wallet to your fiat currency bank account.
Cashing Out Cryptocurrency
Before diving into the details about Trust Wallet, let's briefly explain the particularities of crypto cash out procedures. Since digital currencies haven't been accepted as legal tender anywhere in the world yet, except for Bitcoin (BTC) in El Salvador, crypto holders can't really use their coins as everyday cash. There are thousands of companies that have introduced various cryptocurrencies as payment options for their services and products, but crypto still has a very long way to go before it reaches the same level as fiat currencies.

That's why crypto enthusiasts need to cash out their digital coins and tokens into fiat currency to use those assets freely in the traditional monetary system. The cash-out procedure requires users to convert their crypto into fiat and then send those coins to their bank accounts so they can spend them either through their bank cards, bank transfers, or physically by withdrawing cash from their accounts.
Banks don't accept direct crypto deposits and can't convert your digital assets into fiat currency, so you need to use a fiat-friendly crypto exchange platform and deposit your crypto from your third-party wallet, such as Trust Wallet. Once you deposit the crypto, you need to convert your coins to a popular intermediary coin that can be sold on the exchange for fiat cash.
Only after you sell your coins for a popular fiat currency like USD, GBP, EUR, AUD, or other currency can you transfer your cash to a bank account, along with extensive documentation that shows the source of your transaction.
The process is a bit complex, but once you've carried out your first crypto cash-out, you'll realise that it isn't too difficult, except that it can take some time because of the slow processing periods associated with traditional banks.
Trust Wallet – One of the Most Popular Crypto Wallets on the Market
Trust Wallet is a crypto management powerhouse app because it includes much more services than just storing crypto. The app provides all the necessary functionalities for storing, managing, buying, and exchanging crypto.
The platform was launched in 2017 by crypto enthusiast and programmer Viktor Radchenko whose first experience within the blockchain industry was through a mobile app, Trucker Path, which he developed to help truckers easily find parking spaces and other necessary utilities. After the initial success of the app, Radchenko grew more confident in terms of blockchain development, so he decided to launch an innovative software crypto wallet that would unite various crypto functionalities within a single app.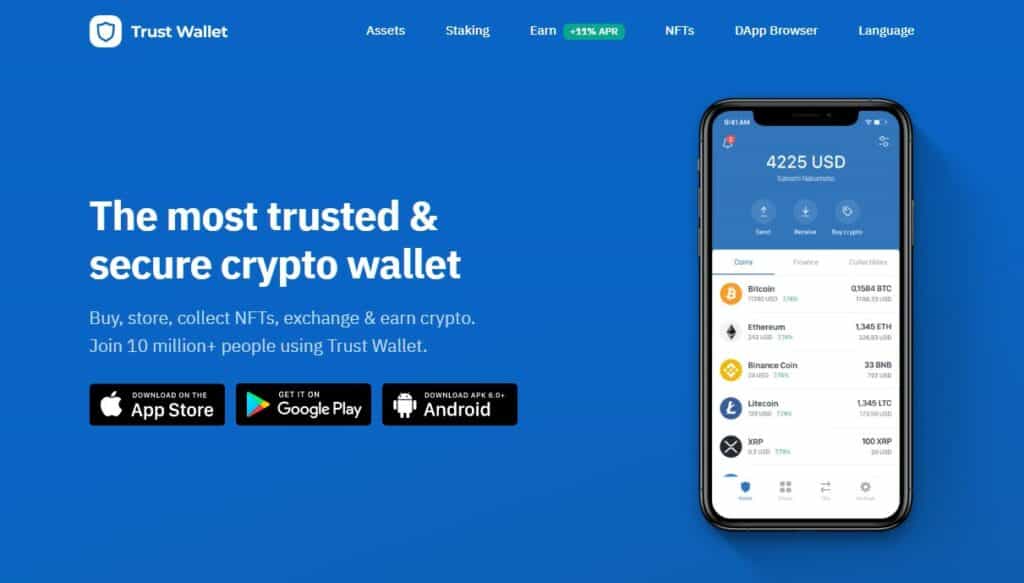 Trust Wallet was initially launched strictly for the Ethereum blockchain, supporting only Ether and ERC-20 tokens. However, as the popularity of the platform grew, the developer team began rapidly introducing new blockchains and cross-chain connectivity features. The core idea behind Trust Wallet was to provide users with a one-stop shop for crypto, ready for a futuristic era of mass cryptocurrency adoption. In order for people to be able to use crypto for their daily needs and large-scale investments alike, they need to have a versatile app that can be used both as a safe storage platform and a payment gateway for fast transactions and asset exchange.
Quickly after its launch, Trust Wallet started becoming especially popular among crypto beginners who needed a simply-designed, intuitive multi-currency crypto wallet, which pushed Binance, the largest cryptocurrency exchange platform in the world to buy the platform in 2018. Today, Trust Wallet is an integral part of the Binance crypto ecosystem and it's officially recommended by the exchange as the best wallet for interacting with the Binance Smart Chain (BSC) and storing BEP20 tokens.
How Does Trust Wallet Work?
The Trust Wallet app is an open-source and fully decentralised wallet, a non-custodial storage solution that provides users with public wallet addresses for thousands of different crypto coins and tokens.
The operational mechanism of the wallet is quite simple and secure. If the native blockchain of a certain crypto token you wish to add to the wallet is supported by the Trust Wallet firmware, all you need to do is add the token's contract address from Coinmarketcap and select the appropriate blockchain. This prompts the wallet to automatically generate a public address associated exclusively with that specific token address, and you're instantly able to receive those specific tokens.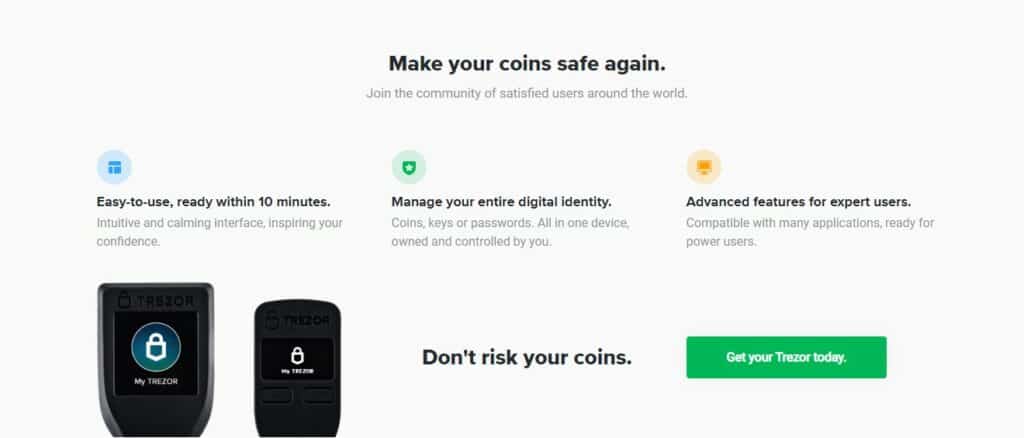 The wallet enables users to create multiple, separate wallet accounts for different blockchains or needs. For example, you can create one wallet for your crypto savings, another one for daily expenses, and a third one for trading. The best of all things is that each wallet account comes with separate private keys and its own recovery seed phrase.
With the recovery phrase, you can always import the contents of your wallet into Trust Wallet on another mobile device or even into a third-party wallet, such as a Trezor or Ledger Nano S hardware wallet.
Multi-Currency Wallet
Unlike many popular multi-currency crypto wallets that can store a few hundred of the leading digital currencies, Trust Wallet can literally store thousands of different tokens. This is possible because the platform isn't limited to specific token contracts. Instead, Trust Wallet can store any token launched on one of the blockchain networks supported by the platform.
The list of blockchains supported by Trust Wallet is constantly expanding. Some of the more than 20 supported networks include Ethereum, Bitcoin, Polygon (MATIC), Avalanche (AVAX), Binance Smart Chain (BSC), Fantom (FTM), Tron (TRX), Terra (LUNA), VeChain (VET), and various additional blockchains.
This means that there's absolutely no need to use multiple wallet apps because Trust Wallet can accommodate all the tokens you'll ever need. In case a certain blockchain isn't yet supported by Trust Wallet, it's just a matter of time before it gets added to the app if there's a rising demand for the network.
Non-Custodial Crypto Storage
It's always better to use a non-custodial wallet that gives you full control over your crypto than it is to use a custodial wallet that keeps your private keys on company servers. When you're using custodian services, the safety of your keys depends on a third-party security protocol and if those measures get breached by a cyber attacker, your crypto is jeopardised.
Non-custodial wallets, on the other hand, don't depend on centralised storage capacities because these wallets store all the private keys on the user's devices. Trust Wallet as a company never has access to your private keys, and they can't even see your balance or the types of coins you're holding. That's because all of that information is protected by private keys that are kept on your Android or iOS mobile device.
This gives users control over their assets, along with added security because there's no possibility of a third party freezing their crypto or stealing their coins through the Trust Wallet app. The only way a non-custodial wallet like Trust Wallet can get endangered is if a cyber attacker gets hold of a user's private key or passcode.
No Fees or Hidden Expenses
Downloading Trust Wallet from Google Play Store or the Apple App Store is totally free. You don't need to pay any initial fees or any account maintenance fees. The only thing you'll be required to pay when using Trust Wallet is the various blockchain fees associated with the specific digital currencies you're sending.
User-Friendly Design
Dealing with cryptocurrencies can seem quite complicated to beginners unfamiliar with how crypto wallets, exchange platforms, and blockchain transactions work. Trust Wallet was created with a special focus on beginners, and that's why the app has a very smooth, user-friendly design.
Once you create your first wallet account in the app and write down your recovery seed phrase, you'll see a clean screen that lists the total fiat US dollar balance of your wallet account, along with send, receive, buy, and swap buttons underneath.

Below you'll see a list of your stored cryptocurrencies, and in order to add a new token, you just need to go to the search tab in the upper right corner and add the desired network, along with the token contract. If you want to receive and store NFTs, you can view your non-fungible tokens through the NFTs tab, located right under the total balance of your wallet.
Trust Wallet also allows users to connect to all the dApps they need through the dApp browser, which is accessible through the bottom section of the app.
The design of the wallet is so simplistic and easy to navigate that even total beginners can quickly learn how to manage their crypto portfolio with Trust Wallet.
Industry-Leading Security
Hackers are constantly developing new ways to hack cryptocurrency wallets and steal private keys. That's why wallet security is a top priority for every user, and Trust Wallet really goes to unprecedented lengths to keep your assets secure. Not only is your wallet protected by a passcode and recovery seed phrase, but it's also subject to constant security updates of the Trust Wallet firmware, and each of your wallet accounts gets a separate recovery phrase.
Since Trust Wallet is non-custodial, the private keys are always stored on your device, and the platform never gathers any personal information about users. Your transaction history, crypto wallet balances and other information are kept on your device, and no one can see it unless your mobile phone gets hacked and the cyber attacker gets hold of your Trust Wallet passcode, along with the recovery seed phrase.
Crypto Staking Features
Staking is the easiest way to make your crypto work for you while holding it in your wallet. Proof-of-Stake (PoS) cryptocurrencies, such as Algorand (ALGO), Cosmos (ATOM), and Tezos (XTZ) are just some of the many PoS digital currencies supported by Trust Wallet, which can be staked to earn an annual percentage yield (APY) just by keeping the coins in Trust Wallet.

The best thing is that you don't need to manually search for a reliable staking pool because Trust Wallet automatically stakes your crypto in a verified staking pool. The whole process is very simple and straightforward since you can stake or unstake your coins with just a few clicks.
Integrated Asset Exchange
Trust Wallet is a great choice for active traders who want to be able to trade crypto quickly through the Binance ecosystem while on the move. The wallet's main interface has a Swap button that takes users to the Trust Wallet exchange interface.
Here, users can choose to swap tokens through the Binance DEX, or they can use the market interface on the Exchange tab, set their own prices and place Buy/Sell market orders for more than 100 trading pairs with the Binance Coin (BNB) and Binance USD (BUSD) stablecoin.
This feature empowers users to conduct most of their crypto trading directly from their Trust Wallet account, without having to log into various crypto exchange platforms.
Unprecedented DApp Connectivity
Users need to have access to numerous blockchain dApps in order to conduct various advanced DeFi operations, such as participating in liquidity pools on DEXs like PancakeSwap, using crypto lending platforms, and conducting cross-chain crypto swaps. That's why Trust Wallet comes with a built-in dApp browser that enables users to interact with decentralised applications on more than 20 leading blockchain networks.
Since Trust Wallet is one of the most popular crypto wallets on the market right next to MetaMask, thousands of dApps have integrated connectivity features for Trust Wallet, and those that don't can quickly be accessed through the Wallet Connect feature of Trust Wallet.
How to Withdraw Money From Trust Wallet to Bank Account
Cashing out your crypto gains from Trust Wallet to your personal bank account isn't a straightforward process, but it isn't too complicated either. Just follow this step-by-step tutorial, and you won't have any problems turning your crypto profits into fiat money and storing that cash in a bank account.

Convert Crypto to Bitcoin, Ethereum, or Stablecoins
The first thing you need to do when cashing out your crypto is to convert the coins to a popular cryptocurrency that can easily be sold on a fiat-friendly crypto exchange. Bitcoin and Ethereum always have high liquidity levels on popular exchange platforms, but if you're looking for a safer alternative that isn't subject to price fluctuations, it's best to convert your crypto to stablecoins such as Tether (USDT) or Binance USD (BUSD).
Trust Wallet's built-in exchange features allow users to easily convert various coins to BTC, ETH, USDT, or BUSD.
Withdraw Crypto to Binance or Coinbase
Now you need to withdraw your converted crypto to a leading fiat-friendly cryptocurrency exchange platform like Coinbase or Binance. Coinbase works great for US traders, but for Aussie traders, using a Binance account to cash out might be a better option because it supports AUD and allows users to withdraw fiat currency to their Australian bank accounts.
Sell Your Crypto for Fiat
Once you've withdrawn the desired crypto to a fiat-friendly exchange platform, it's time to sell those coins for fiat currency. This can easily be done through the sell crypto feature of an exchange platform. After you've sold the coins, your money will appear in the fiat currency balance of your exchange platform account.
Withdraw Cash to Your Bank Account
You're ready to initiate a transaction from your exchange platform to your bank account. It's best to check your bank's policy towards transactions originating from crypto in advance because many banks aren't crypto-friendly and don't accept such transfers without extensive documentation showing the origin of the deposited money. It's also advised to split your total cash-out amount into several smaller batches in case you have problems with a transaction.

Once you successfully facilitated all your cash-out transactions, you're officially done with the process and you can start spending your crypto gains as fiat currency directly from your bank account.
Crypto Taxes
There's one thing that crypto enthusiasts often forget about – their crypto tax obligations. Crypto is taxable, and all gains from crypto trading are considered capital gains events that are subject to taxation. That's why it's important to get acquainted with your local tax policy before cashing out your profits into fiat currency and avoid any unpleasant surprises regarding tax fees.
If you aren't sure about how crypto taxes work in your region, it's a good idea to contact a tax professional who can help you out with calculating your potential taxes before initiating a cash out withdrawal process.
A Few Ending Words…
Trust Wallet is one of the most user-friendly crypto wallets on the market, and it's no wonder that more than 25 million crypto enthusiasts are entrusting the app with their portfolios of crypto assets. It's super easy to use, and the app offers so many functionalities from asset storage, crypto exchanging, purchasing crypto, connecting to dApps, all the way to storing NFTs.
The only feature Trust Wallet lacks is a direct channel for selling your crypto and cashing out into fiat currency, but that's something you can't really expect from a wallet app since only fiat-friendly crypto exchanges are able to legally cash out your coins and facilitate a transaction to a bank account.
As you can see, the cash-out procedure does have several key steps, but none of them are too complicated and once you finish your first successful cash-out, you'll be able to handle future ones without any unnecessary hassle.