In light of the modern systems for managing and storing crypto assets, we'll provide you with a detailed guide on how to connect your Trust Wallet to MetaMask without creating a separate Metamask account.
This transfer has turned out to be a common practice in the Ethereum community as MetaMask proved to be a more versatile and adjustable solution for controlling tokens, NFTs, and dApps (distributed apps) under one roof. Also, note that MetaMask is one of the few Ethereum wallets out there that support external integration with other wallets.
Before the actual instructions, we'll walk you through the basic features and storage capacities of both wallets to make sure that you understand the advantages and disadvantages of both MetaMask and Trust Wallet.
MetaMask Wallet
MetaMask is an Ethereum-based crypto wallet that runs both as a browser extension (compatible with Chrome, Firefox, and Brave) and a mobile app wallet. The wallet is genuinely popular among avid Ethereum users because it combines two conflicting features of cryptocurrency wallets: full ownership of your private keys and convenience of use.
MetaMask is mainly used for storing private keys of ERC-20 and NFT (non-fungible) tokens. Equally important, the wallet has a gateway function to connect the Ethereum network with internet browsers, thus enabling various dApps to be read in users' default browsers.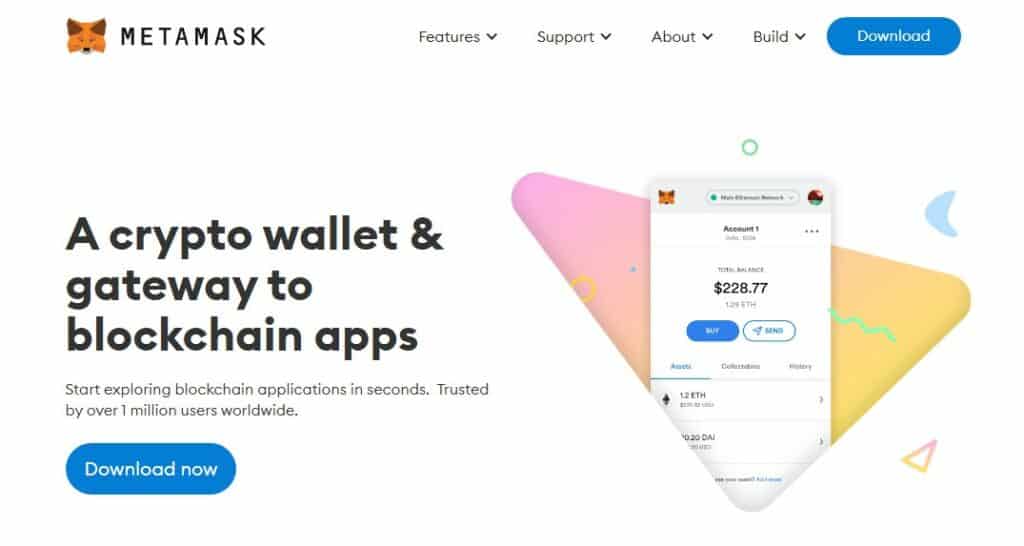 The MetaMask user interface is exceptionally simple and neat, with all options neatly presented, making both input and output transactions hassle-free. At the same time, it enables in-device storage of your private keys, unlike other popular web-based wallets that keep private keys on their remote servers. Moreover, MetaMask has HD settings, which helps users backup their wallets by providing a unique recovery or seed phrase.
Concerning its functionality, MetaMask offers a built-in purchase option for all supported tokens in partnership with two world-renowned exchanges, ShapeShift and Coinbase. There is reliable customer support and a detailed support section on their homepage for all your concerns.
On the downside, MetaMask belongs to the group of crypto wallets — online or web wallets — with the highest security vulnerability due to the open data exposure to the internet. Also, its limitation to Ethereum only remains a huge disadvantage at a point when crypto trends are evidently moving to portfolio diversification.
Fortunately, MetaMask supports seamless integration with Trezor and Ledger hardware wallets and this successfully fixes its security issue.
Trust Wallet
Trust Wallet is a mobile-only wallet app that was designed by Viktor Radchenko and taken over by Binance in 2018. Currently, Trust Wallet serves as an official Binance Wallet for entrance to the Binance Chain and Binance Smart Chain (BSC) — a native Binance chain that generates smart contracts.
However, Trust Wallet has a far wider scope than the storage support of its native chain. Believe it or not, there is room for 50 blockchains and a stunning number of 1 million digital assets. The list starts from best-sellers like Bitcoin (BTC), Ethereum (ETH), Dogecoin (DOGE), Ripple (XRP), Litecoin (LTC), TRON (TRX), Polkadot (DOT), Dash (DASH), Stellar (XLM), Bitcoin Cash (BCH), Binance Coin (BNB), Uniswap (UNI), and Shiba Inu (SHIB) and ends with newly discovered experimental crypto projects.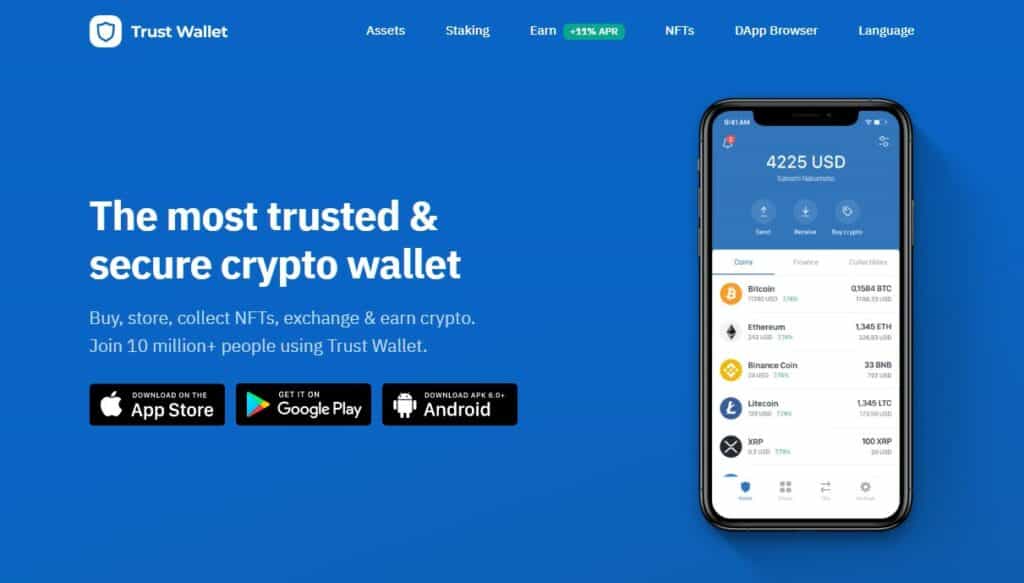 In terms of usability, it's as intuitive and user-friendly as MetaMask, and what's more, it allows fast fiat-to-crypto purchases in cooperation with MoonPay and Simplex. The wallet also has an extra staking option enabling users to dive into more diverse aspects of the crypto sphere.
However, a big downside with the Trust Wallet app is the absence of a desktop version. Seasoned traders who use advanced charting tools consider the on-the-go version rather unsuitable for day trading activities.
This, together with the lack of hardware-wallet support, is the main reason why users transfer their Trust Wallet accounts into MetaMask.
How to Import Trust Wallet to MetaMask?
Regardless of your reason for migrating from Trust Wallet to MetaMask, you should know that the process can be executed both on your phone or desktop device. Another important thing to remember is that you'll be still able to use your Trust Wallet despite applying the same recovery phrase — you're not restricted from using only one wallet at a time.
This is a step-by-step guide for a painless transformation from one wallet to another.
For starters, go to the official MetaMask website and get the extension or download the original app of the wallet for your iOS or Android system for free.
Then, go to the Import using secret recovery phrases button to connect your Trust Wallet to MetaMask.
You'll notice a specified field where you should insert the seed phrase to recover your Trust Wallet. Ideally, you'll have your recovery phrase manually stored out of the reach of anybody, but you can also find it within your Trust Wallet.

Go to Settings and choose Wallets to get all your existing wallets displayed. Then, click on the blue mark right next to the selected wallet, and you'll see the Show Recovery Phrase option. Confirm that you understand the risks of having your seed phrase exposed and copy the phrase.
Back to MetaMask, paste the secret recovery phrase and set a password. After this, your wallet address should be successfully imported to MetaMask.
Compare both the Trust Wallet address to your MetaMask wallet address. They must be the same. Otherwise, we can't say that the process is successfully completed.
A Few Words Before You Go …
Both Trust Wallet and MetaMask crypto wallets are leading brands in the blockchain industry, with the difference being that Trust Wallet is open to a greater number of cryptocurrencies, but then it doesn't provide a desktop version. As much as mobile apps are recently in demand, desktop presentation is an essential prerequisite for experienced day traders to monitor in-depth market data, and hence, develop relevant trading strategies.
Fortunately, the interaction between crypto-related services has been improved to the extent that you can transfer your wallet address to another wallet based on your current trading preferences. The transfer from Trust Wallet to MetaMask is for the purpose of more insightful management of your Ethereum-based holdings and the ability to handle your tokens and dApps on a larger screen. Finally, when doing so, don't forget to use the advantage of hardware support that MetaMask offers by integrating Ledger or Trezor.