The crypto market is filled with thousands of coins and tokens that aim to solve various financial issues, and transaction speed is definitely one of the key problems addressed by numerous projects. One of the key features pioneered by cryptocurrencies is their ability to facilitate blockchain transactions between any two virtual locations, no matter where the holders of those destination addresses are physically located in the world. Bitcoin (BTC) gave us the option to carry out a transfer in 5 to 10 minutes, Litecoin (LTC) shortened this process to 2 and a half minutes, but Ripple (XRP) really took transaction speed to the next level. An XRP transaction takes literally a few seconds to get processed.

This alone is one of the key features that launched Ripple into the top 20 cryptocurrencies by market cap, with high trading volumes on leading exchange platforms like Binance, Kraken, and Bittrex. However, Ripple is much more than a crypto with lightning-fast transactions.
Let's take a detailed look at XRP and check out why it's so popular. Additionally, we've prepared a careful selection of the best Ripple wallets among digital, hardware, and paper wallets for keeping your XRP coins safe.
Ripple: A Cryptocurrency Built for Fast Cash Transfers
Ripple (XRP) is a veteran cryptocurrency, launched back in 2012 by crypto enthusiast and blockchain expert Jed McCaleb and a team of highly experienced financial professionals. The idea behind Ripple was to create an innovative payment processing network that would be much more efficient than existing solutions. While classic payment services that rely on credit cards, bank cards, and bank accounts are based on electronic confirmation systems with centralized network nodes prone to security breaches and slow processing time, Ripple uses its custom-made blockchain to speed up things dramatically.
Basically, Ripple promised to provide users with a trustworthy and efficient replacement for SWIFT, SEPA, and other types of bank account transfers that can sometimes take several business days.
The Ripple team managed to deliver on their promises and really create a versatile ecosystem that allows users to conduct fast transactions, cross-border payments, and cross-currency exchange deals without all the bureaucracy and paperwork associated with the traditional banking system.
How XRP Works
Compared to some of the most popular blockchains, such as the BTC or Ethereum (ETH) chains, which are distributed public ledgers, XRP works in a more centralized manner. You can't mine Ripple because all 100 billion of the coins are pre-mined by the Ripple team. A small portion of the total amount, some 6%, is kept by the team as a reward for developing the crypto. A little less than 50% is released on the market gradually, through purchases on exchange platforms, and the rest is already put in market circulation.

Anyone can download the necessary software for participating in the XRP network as a validator, but Ripple decides which network nodes are considered as trusted validators whose validity is guaranteed by the company. There are 35 trusted validators approved by Ripple and you can always choose which of these validators is going to process your transaction. Several of these network nodes are owned and maintained by Ripple.
However, even if you choose a validator that isn't supported by Ripple, there's no real risk for your transaction since the complete XRP ledger is updated every 3 to 5 seconds and a transaction can only be verified if it's matched with the ledger version kept by all of the validator nodes on the blockchain. What makes it possible for the whole verification process to only take a few seconds is the fact that all ledger versions are automatically compared with each other. That way, every validator has the same version of the blockchain on their computer.
Key XRP Features
Ripple is an ideal cryptocurrency for facilitating all sorts of fast transfers such as paying for products, services, or large-scale business deals.
These are some of the key features that make XRP a great financial instrument.
Lightning Fast Transactions
The network's ability to automatically update the whole blockchain and all the network nodes every 3 to 5 seconds means that this is the exact time it takes for a transaction to get processed. Compared to many of the top-ranking digital assets such as Bitcoin and Ethereum, this is incredibly fast.

Also, this is much faster than the transaction speed of bank account transfers and traditional payment services, which makes Ripple a great option for paying day-to-day expenses. Business transactions can also be finished much faster with Ripple.
Usually, a cross-border payment between two companies takes a huge amount of paperwork and multiple intermediary banks, which can take a lot of time. An XRP transfer always takes just a few seconds, regardless of whether you're transferring 100USD or several millions of US dollars.
Low Fees
Ripple has some of the lowest transaction fees among top-ranking cryptocurrencies. A BTC transaction can cost anywhere between a couple of USD to over 50USD, while Ethereum transactions can cost several hundreds of US dollars during high network traffic.
In sharp contrast to these crazy high fees, Ripple has a standard transaction fee of 0.00001 XRP which is ridiculously low, given the fact that an XRP coin is worth less than 1USD.
Cross-Currency Exchange Features
The Ripple network also enables users to conduct fast cross-currency exchanges while sending money between different global regions. For example, if you send USD through Ripple to someone in a European country, the sent USD can automatically be converted from Ripple to EUR and the receiver can streamline that fiat money to their bank account. This is possible because Ripple automatically pools conversion rates from popular exchange networks and offers users the best possible exchange rate.

High Adoption Rate
Ripple has a huge adoption rate among various corporations and financial institutions around the world such as Santander Bank (USA), Canadian Imperial Bank of Commerce (Canada), Itaú Unibanco (Brazil), Kotak Mahindra Bank (India), and many others. This enables Ripple users to carry out business transactions through reputable international institutions while using XRP as their transaction currency.
Best Ripple Wallets on the Market
It can be really difficult, especially for beginners, to choose a trustworthy crypto wallet to store XRP, given the fact that there are hundreds of wallets on the market and everyone is advertising their products as the best.
Here's a selection of some of the best crypto wallets on the market suitable for storing XRP. Some of these wallets are multicurrency storage solutions and some are strictly Ripple wallets, but what they all have in common is that they are highly trustworthy, with a track record of satisfied users.
Software Wallets
Digital wallets or hot wallets such as desktop wallets and mobile wallets are a great solution for storing XRP if you're an active trader and you want to be able to quickly access your coins at all times.
Trust Wallet
Trust Wallet is one of the most popular multi-currency crypto wallets on the market. With more than 10 million users across the globe, this wallet is definitely among the top-ranking digital crypto solutions. Trust Wallet is a mobile wallet, compatible with both iOS and Android operating systems and you can safely store your XRP on it, without fear of potential security breaches.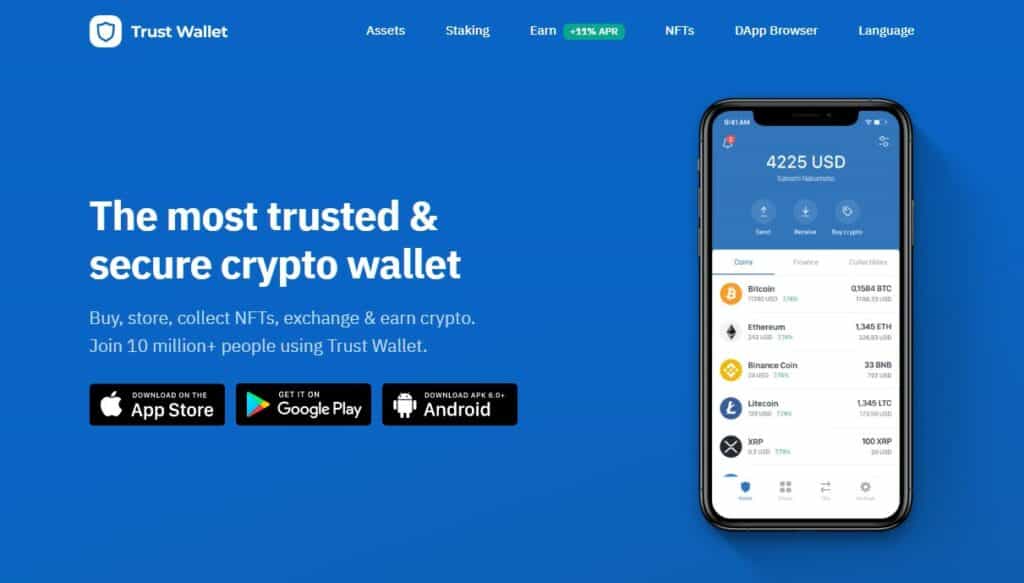 Your coins are protected by a passcode and seed phrase. Never ever share the seed phrase with anyone and keep the phrase safely stored on a piece of paper, because if you keep it on your phone, it's literally like you're giving your coins to hackers up for grabbing.
Besides XRP, you can also store thousands of altcoins on Trust Wallet, and you have a built-in crypto exchange feature that lets you swap tokens without going to a centralized exchange platform. The wallet supports numerous blockchains, you can also store NFTs on it, and it comes with a DApp browser. The browser enables users to access all sorts of decentralized apps such as staking platforms, yield farms, and NFT marketplaces.
Crypterium Wallet
The Crypterium wallet is another popular storage solution for Ripple coins. The wallet supports multiple additional cryptos besides XRP and you can also purchase crypto within the wallet, directly with fiat money through a bank card transfer. The funds in your Crypterium wallet are insured in case of hacks and you can also order a Crypterium Visa card that enables you to spend the crypto in your wallet at retailers around the world.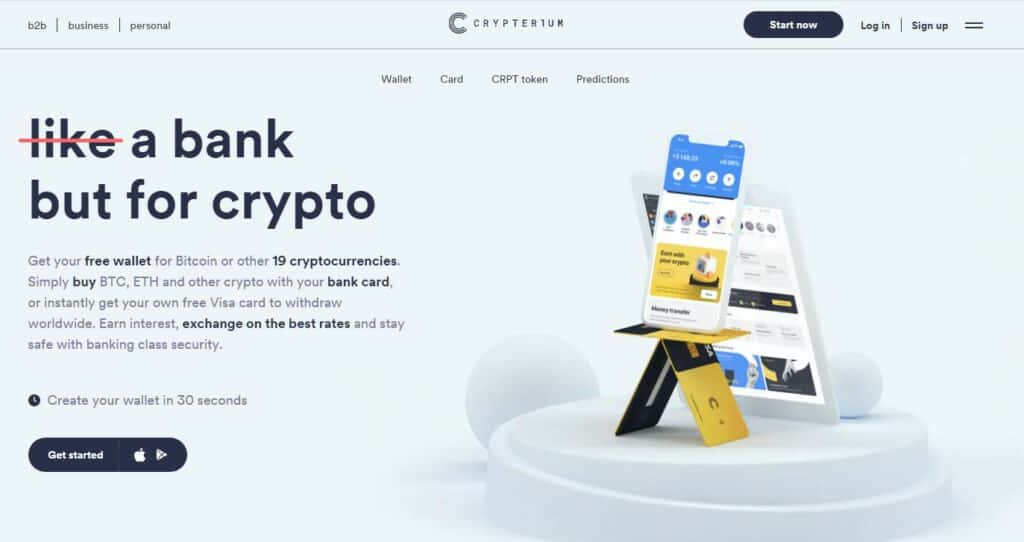 The ability to cash out your crypto into fiat money through a bank card transfer is what makes Crypterium a great storage option since you don't need to send your crypto to a bank account. You can simply use a Crypterium Visa card and spend crypto converted to fiat cash directly.
In terms of security, your private keys are always stored on your device, and they are encrypted with your seed phrase.
Atomic Wallet
Atomic Wallet is an industry-leading mobile and desktop compatible crypto wallet that keeps your private keys safely stored on your device and under 12-word seed phrase protection. You can additionally enable password protection for your app login, as well as two-factor authentication (2FA) for confirming transactions.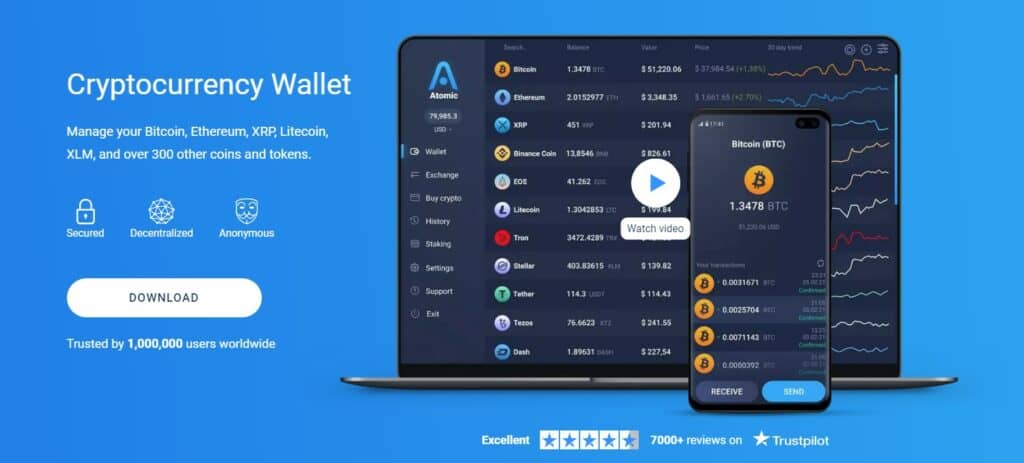 Apart from XRP, you can also store thousands of ERC20 tokens and other altcoins in your Atomic Wallet. The app allows users to purchase a broad range of popular digital currencies with a bank card, and it's also possible to swap cryptos without using a centralized exchange platform and paying extra fees.
Hardware Wallets for Storing XRP
In case you're planning to store high volumes of XRP, it's a good idea to use a hardware wallet instead of a digital wallet. These wallets store all of your crypto offline and out of reach of cyber attackers. Even though popular digital wallets are very trustworthy, you might feel more secure if you're storing a lot of XRP in offline storage
Trezor Wallets
Trezor is the first company that created hardware crypto wallets back in 2014. Their Trezor One is still considered one of the most popular cold wallet solutions on the market. The wallet comes in the form of a key-sized USB device, with two buttons for approving transactions, and a small screen.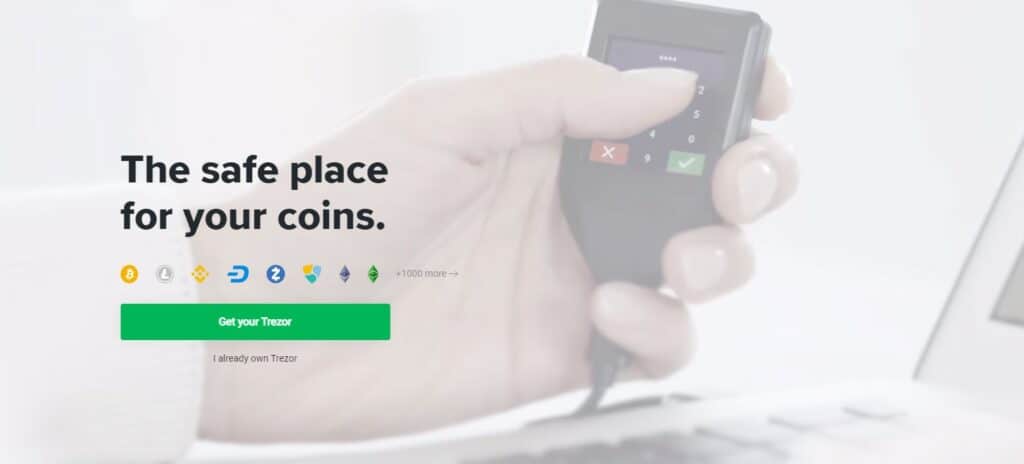 Trezor wallets support more than a thousand different cryptocurrencies, including XRP. The Trezor firmware has never been hacked and it provides full protection from all of the active cyber-attack mechanisms. Thanks to the Trezor PIN code protection and advanced microchip encryption, your crypto is also protected from manual hacks in case you lose your wallet.
Ledger Wallets
Ledger is another highly secure cold storage option. Their Ledger Nano S and Ledger Nano X hardware devices have never been hacked and they provide protection from all types of breaching attempts, both in terms of manual and cyber hacks.
In order to use your Ledger device, you need to install the Ledger firmware on your PC or smartphone and for each crypto you wish to store on the device, you need to download a specific app compatible with Ledger. The whole process only takes a few minutes for each crypto.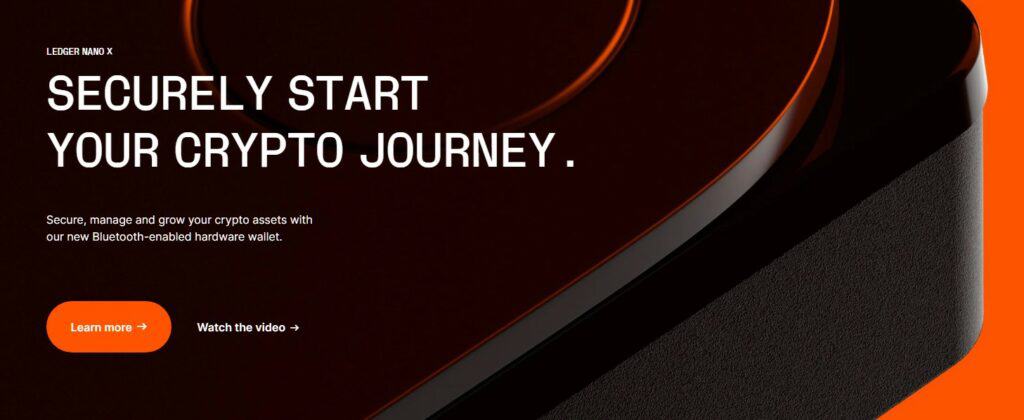 Apart from PIN code and seed phrase protection, you can also enable two-factor authentication on your Ledger device, and the firmware is regularly updated to keep up with newly developed cyber-attack methods. You don't need to worry about the internet connection to your Ledger device while transferring crypto, because the Ledger firmware ensures that the internet connection never reaches the private keys stored on the device. This way, your crypto is always kept offline, even though your Ledger is briefly connected to the web.
Ledger also has a very helpful support team, ready to solve all sorts of user issues right away.
XRP Paper Wallets
Paper wallets are generally considered an outdated method for crypto storage, but in case you wish to store a lot of XRP in your wallet, and you aren't comfortable with hardware wallets, creating paper wallets is still an option for storing Ripple coins.
Bithomp Paper Wallet
Bithomp is a Ripple paper wallet provider that lets you generate a paper wallet with your XRP public keys and private keys in the form of QR codes. The process is really fast and you can immediately print out your paper wallet once it's generated. You can also track XRP transfers through the Bithomp platform to make sure your transaction goes through to your paper wallet's public address.
Ripple XRP Paper Wallet
XRP Paper Wallet is another Ripple-only paper wallet provider that offers fast wallet generator features. The platform will generate a public address and private key instantly, once you click the Generate button.
A Few Ending Words…
Creating a Ripple wallet is a straightforward process since you don't need to really create a wallet, except in the case of paper wallets. If you use any of the other storage options listed in this guide, you merely need to download the appropriate software solution or buy a hardware wallet and you're all set for transferring XRP directly to your wallet.