Ether (ETH) is the native currency of the Ethereum blockchain that is used as "fuel" for both processing transactions executed on the Ethereum network and running decentralised apps (dApps) and non-fungible tokens (NFTs) built on top of this network.
Because of its multi-functional utility, Ether has developed an intrinsic value unlike its ancestor Bitcoin (BTC), whose main purpose is to serve as a store of value or pure digital currency. This means that people need Ether tokens to sustain the Ethereum machinery, which goes beyond simple wallet-to-wallet transactions.
Due to the buoyant growth of the Ethereum ecosystem, the ETH token has become a valuable trading asset on all world-renowned crypto exchanges, where you can buy, sell, or swap ETH tokens in exchange for fiat currency (USD, GBP, EUR, or AUD) or other crypto assets with full confidence in its market liquidity.
Hence, if you want to cash out your ETH savings in USD for some reason, the current market can offer you a range of legit services and platforms for this purpose. In the guide below, we'll give you a detailed list of the most transparent marketplaces where you can get USD in return for Ether.
Things to Consider When Selling ETH
The key point in a successful transaction is to find a platform that suits your requirements as a seller. Certainly, the first thing to check is whether the platform of your choice does support the ETH/USD pair and meets a couple of gold standards that make a reliable crypto platform.

Fees
Centralised crypto exchanges (CEXs) are the largest and most secure marketplace for crypto-to-fiat transactions. However, they can differ to a great extent when it comes to fees. When selling ETH for USD, you should be prepared to pay a trading fee. This can be either a fixed or a volume-based amount, with a current industry average of around 0.25%.  
Remember that there are always transaction or mining fees imposed by the blockchain and they have nothing to do with the fee structure of your crypto exchange.
As a seller, you should be more interested in the withdrawal fee. Sometimes the exchange may have a very favourable trading-fee policy but charge handsomely for withdrawals. Users usually neglect this fact until it comes to the last stage of the transfer, right before getting their USD delivered to their bank accounts. So, it won't hurt to compare the pricing schedules of several exchanges before jumping into your planned trade.
The next step is to determine which platform suits your needs. When comparing different cryptocurrency exchanges, make sure you consider ID verification, withdrawal limits, security standards, user reviews, and customer support.
ID Verification
KYC verification is another essential factor to consider if you want to buy or sell crypto against fiat money. Local governments have a strong tendency to implement a clearly defined legal framework in all types of crypto services that operate as money transmitters.
Thereby, make peace with yourself that you must go through an ID verification process and don't try to bypass this stage if you're looking for a trustworthy marketplace. By default, trustworthy exchanges that are strictly compliant with all government-imposed AML/CFT policies.

A significant number of cryptocurrency exchanges will let you enter their platforms without KYC. However, bear in mind that unverified users are usually restricted from using the full range of the services, including limited withdrawals or no withdrawals at all.
Withdrawal Limits
Withdrawal limits are closely related to the process of user verification, and in most cases, crypto exchanges offer tier-based accounts defined by the level of verification you've already undergone. For example, users who have completed the basic or tier 1 verification are limited to low fiat withdrawals.
On the other hand, some exchanges have set withdrawal limits on a daily/weekly/monthly basis, irrespective of the level of KYC verification.
You should also look into your withdrawal transaction processing times and the available payment methods.
Security Features
Security standards are also crucial when you deal virtually with valuable assets. Check carefully whether the exchange employs conventional security measures, such as 2FA (two-factor authentication), fund insurance, and whitelisting.
User Reviews
Finally, don't miss to check out other users' reviews and forum messages about the preferred crypto exchange. There you can get the most accurate information on whether the exchange has faced or is currently experiencing any system issues in the withdrawal process directly from users' personal experience.

How to Sell ETH?
Selling Ethereum is pretty simple today, thanks to the user-friendly platforms that facilitate the process. Modern crypto exchanges tend to provide an intuitive interface and comprehensible instructions for optimal user experience. The platform UI designs do differ to a great extent from one exchange to another, but they all follow the same operational pattern for selling crypto:
After careful consideration of all key factors listed in the previous section, create an account on the exchange that makes a good match with your personal preferences. Note that as part of the KYC verification, you'll have to provide a bunch of personal information, a copy or photo of government-issued documents (ID card or password) to prove your identity and a utility bill to verify your permanent address of residence.
Now it's time to deposit your ETH from your independent Ethereum wallet to your exchange account. Navigate to the exchange address (you'll find this option under the Deposit section on your dashboard) and transfer the funds.
Now that you have deposited your tokens on the exchange, go to the exchange market, find the ETH/USD trading pair, and insert the amount of ETH you plan to sell.
Don't let your funds reside on the exchange account. Immediately after you complete the transaction, activate the withdrawal option to transfer the newly-received US Dollars to your bank account.
The Best Crypto Exchanges to Cash Out Ether
As we pointed out prior in this article, choosing the best crypto exchange is a personal matter to take care of since the exchange features need to coincide with your individual trading and purposes. For those whose aim is to cash out Ethereum, we've selected the best-recommended crypto exchanges where you can get your USD in the most transparent manner.

Coinbase
No crypto exchange can compete against Coinbase in the category of ease of use. Coinbase is a veteran on the crypto scene that has been providing such an amicable environment for selling and buying crypto since 2012. The Coinbase platform is available as a web-based exchange and a mobile app with nearly the same functionalities and superb design.
However, the exchange doesn't allow you to deposit any funds and start trading without thorough verification, so you need to complete this process during the sign-up stage. Once you're done with all technicalities, you can seamlessly transfer your ETH to your Coinbase wallet. To find the Coinbase wallet address, go to Accounts and select Receive.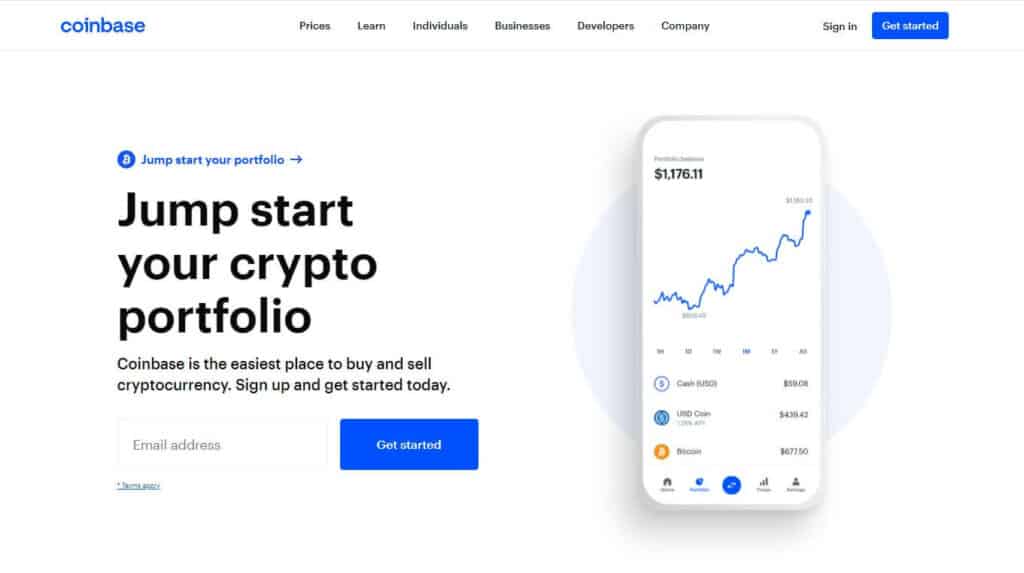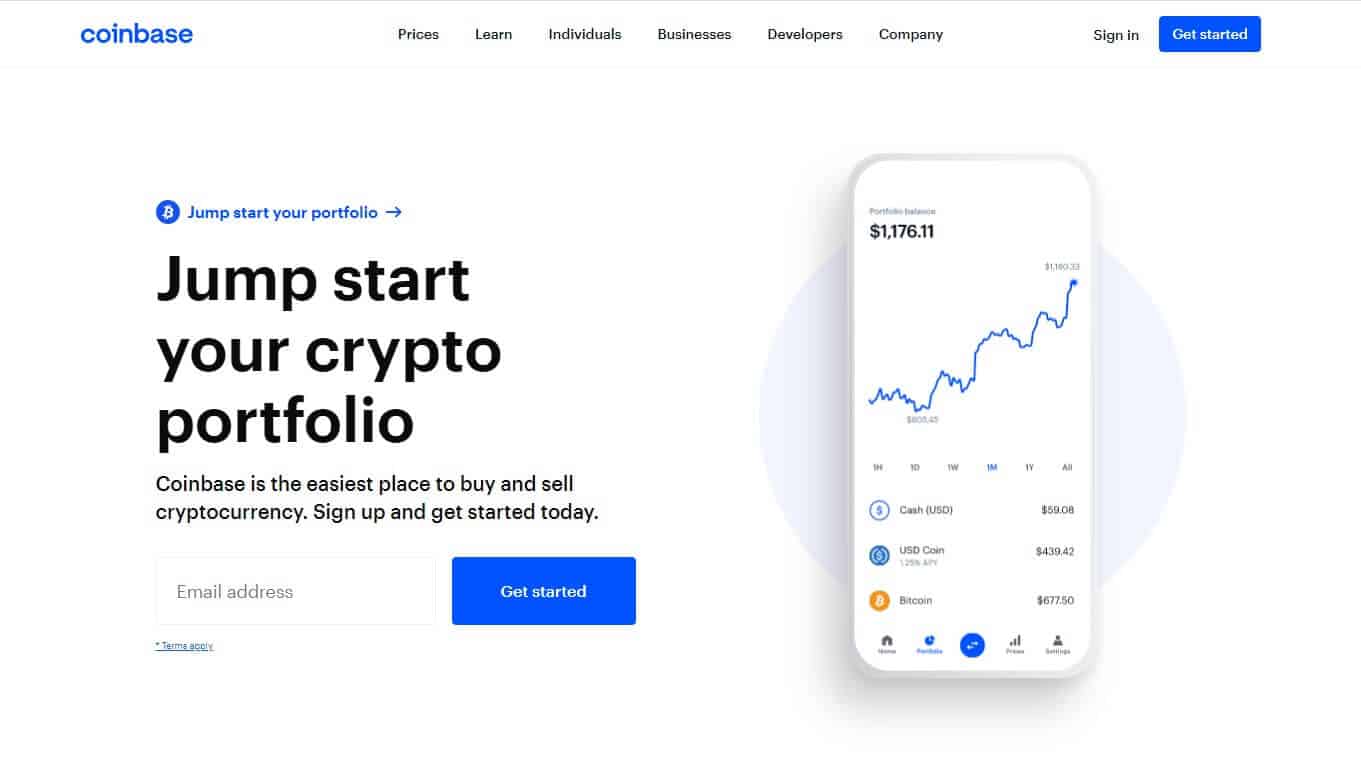 Afterwards, turn back to your Coinbase wallet, choose Sell and then click on Ethereum. The exchange will ask you about the amount of ETH you want to sell.
For a bank transfer to a US bank account, the exchange will charge you 1.49%, while a PayPal withdrawal will cost you 3.49%. These sums are considerably higher than what we have stated as an industry average. The catch is that Coinbase enables purchases and sales in a retailer manner, and these instant transactions always tend to cost more since the user won't have to place orders and wait for a suitable counterpart, as is the case on regular trading platforms.
Kraken
Kraken, on the other hand, is a standard crypto trading platform and in comparison to Coinbase's brokerage style of service, buying and selling crypto on Kraken is a bit more complicated. However, this doesn't mean that you need super tech skills in order to sell your Ether coins on Kraken.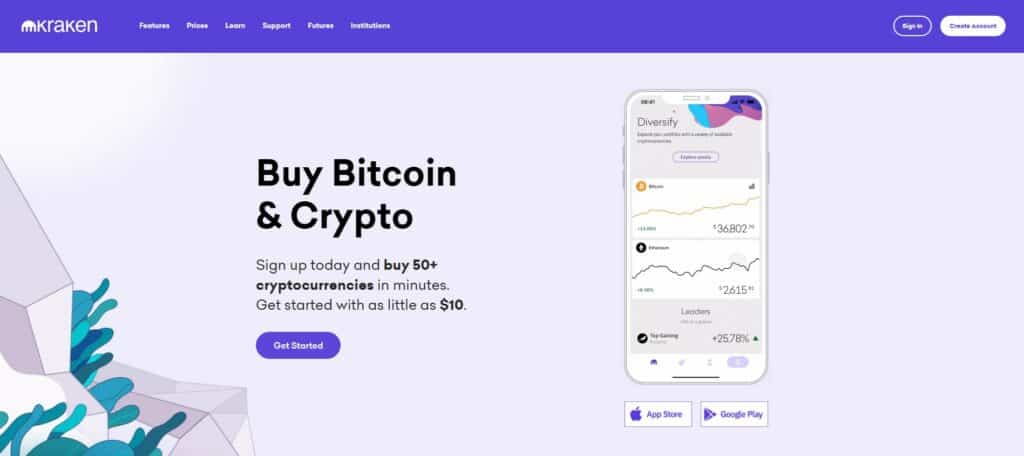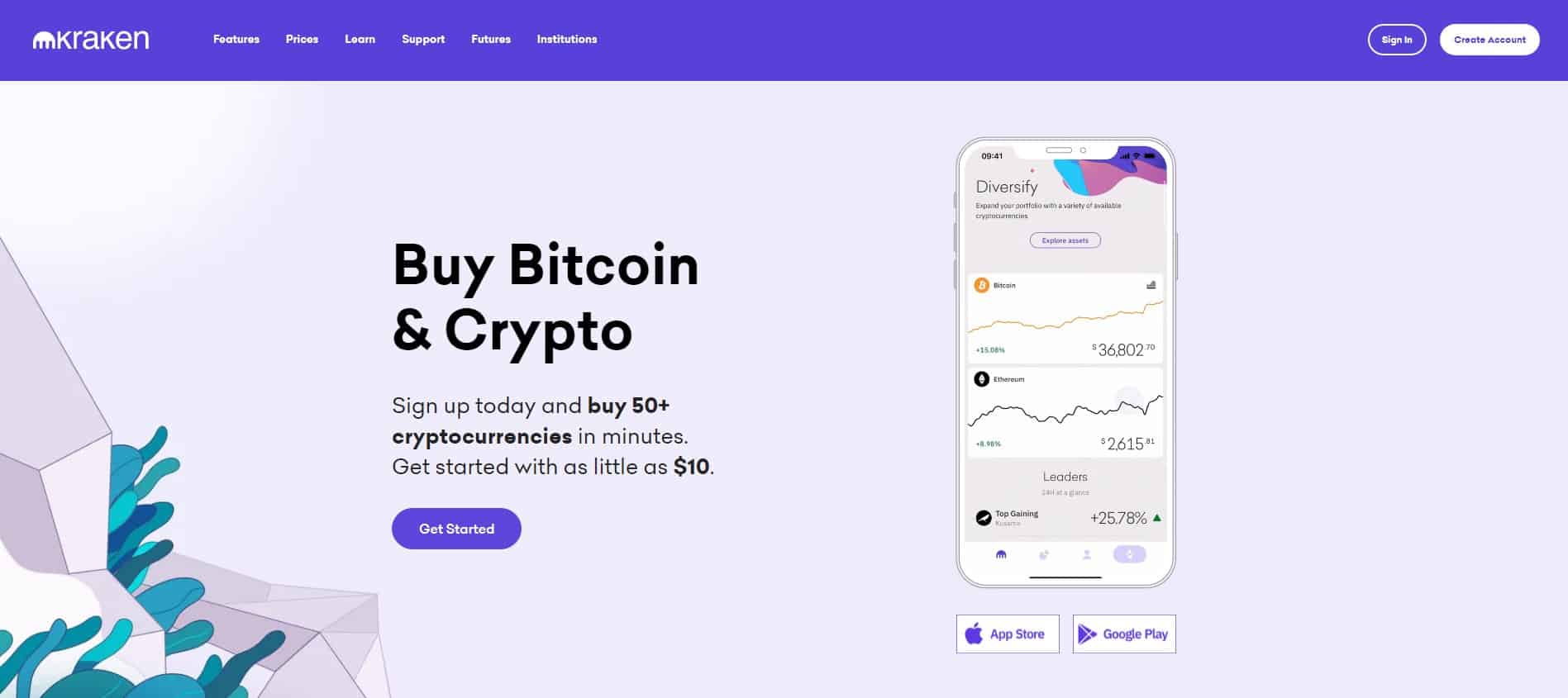 The depositing stage is rather straightforward: go to the Funding tab and select Ether. The exchange will immediately create a new address to send your ETH to. On Kraken, you won't be able to sell your Ether token instantly. Instead, you'll have to place an order or fill an already placed order that satisfies your criteria. The design of the Kraken platform is very neat, so you shouldn't get stuck at any point in the sale.
Kraken fees are in line with the industry standard but their amount is determined by your trading volume in a 30-day period and your position as a taker (someone who fills an existing order) or maker (someone who places a new order and contributes to the exchange's liquidity). Trading fees start from 0.26% and can reach down to 0.00% as your volume grows. Fed-wire and SWIFT withdrawals will cost you between $4 and $35, while ACH withdrawals are free in the USA.
Gemini
Gemini is another US-based crypto exchange where you can safely sell your Ethereum for USD. It operates on the same principle as Kraken and supports around 30 cryptocurrencies apart from Bitcoin, such as Litecoin (LTC), Dogecoin (DOGE), Tezos (XTZ), stablecoins like Gemini Dollar (GUSD) and USD Coin (USDC), and a decent selection of ERC20 tokens, including 0x (ZRX), 1Inch (1INCH), and Aave (AAVE).
However, Gemini has never been focused on expanding the list of supported digital assets, and according to active crypto traders, the exchange lacks some attractive players like XRP (XRP) and Binance Coin (BNB).
Gemini has launched an exceptionally intuitive mobile app where you can make ETH sales on the go. It's very popular among Gemini users who find the mobile app to be a simplified version of its original browser-based platform, more suitable for the Gemini Instant Trade option.
Gemini fees aren't the most competitive on the market, but they are transparently explained on their website, so you can start trading on the platform without being gripped by fear of hidden fees. For trades under $200, the exchange charges fixed fees between $0.99 to $2.99 and 1.49% above this amount.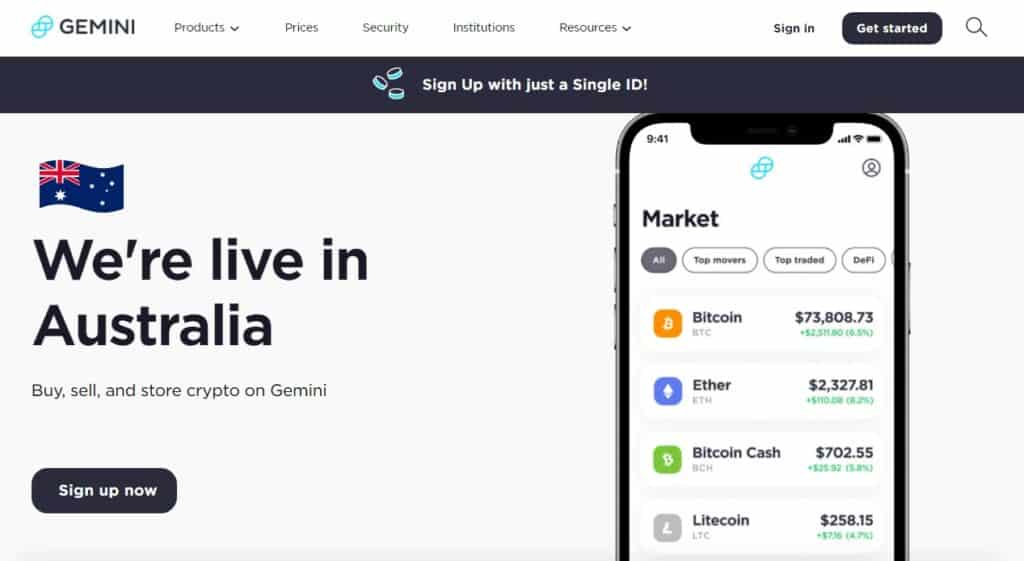 ACH withdrawals come without any additional fee, but in order to withdraw USD, you'll have to link your bank account directly with the exchange. Finally, there is a daily maximum limit of $100,000 daily for cash withdrawals.
Sell ETH on a P2P (Peer-to-Peer) Platform
As an alternative to traditional centralised exchanges, you can sell ETH for USD on P2P platforms where you can trade directly with another party without the use of an intermediary to facilitate the transaction. Instead, P2P exchanges allow you to place and return to offers based on desired parameters (type of currency, trade size, and payment method).
Once the buyer and the seller match each other, the trade is negotiated personally and there are far more options for payment than on centralised exchanges that mainly focus on credit cards, debit cards, and wire transfers. You can even arrange a personal meeting with the buyer interested in purchasing your ETH and get settled in cash.
This type of trading comes with a certain amount of risk, even though some P2P platforms employ escrow features to lower the risk of deal breaches. Also, you can check the ratings of all registered traders on P2P exchanges before confirming the deal.
A Few Words Before You Go…
Given the fact that the majority of eminent cryptocurrency exchanges support selling Ether for USD, we can say that there is minimal risk for any technical obstacle or liquidity delay during the process. By all means, today's crypto exchanges have simplified the ETH-to-USD operation to enable even absolute beginners to complete a transaction without any troubles on their way. And that's a big step in the transition of cryptocurrencies to our mainstream financial culture.
The difficult part of cashing out ETH is finding a reliable marketplace where you won't get ripped off and yet, get maximum security protection of your funds. Hopefully, our article will help you convey the selection process and sell your Ether in the most favourable manner.
Luckily for you, a cryptocurrency of this calibre and utility scope will never lack interested buyers.