The time when Proof of Work (PoW) cryptocurrencies such as Bitcoin (BTC) and Litecoin (LTC) were the only digital currencies around is long gone. Nowadays, there are many innovative ways of multiplying your crypto balance besides just buying new coins and tokens.
Crypto staking is one of the main methods of making your coins work for you while holding them, and it's based on a fairly simple method. Users provide platform liquidity to certain crypto projects by investing in their tokens and locking them in staking or liquidity pools. While staking tokens, those assets are used to enable the smooth functioning of a network, and users are rewarded with fresh crypto as a staking fee. These staking rewards are considerably higher compared to the annual percentage yield (APY) you can get from your bank account savings.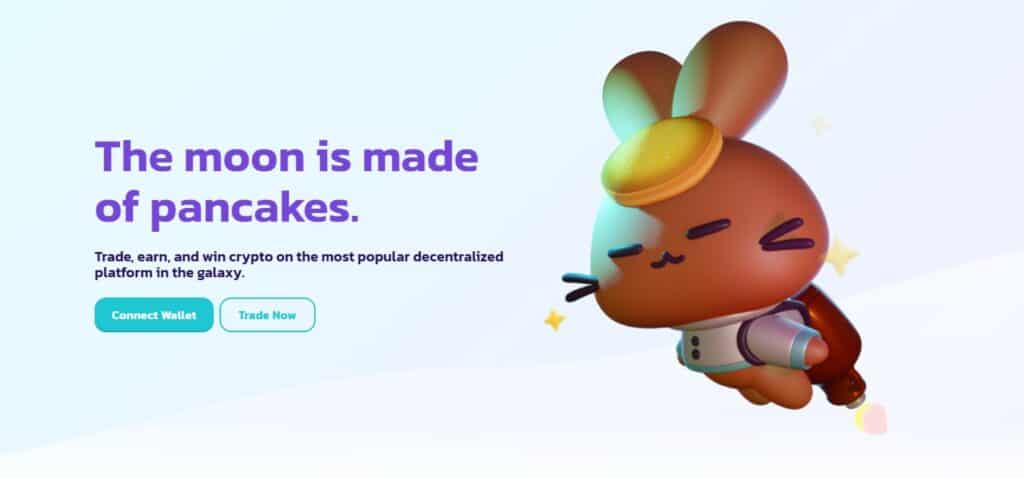 There's a broad range of crypto projects that enable token staking with high rewards. For instance, the PancakeSwap decentralized crypto exchange (DEX) platform is among the top-rated yield farming options on the Binance Smart Chain (BSC), with a wide variety of liquidity pools and reward rates.
Let's take a detailed look at the exchange and find out how to stake crypto in order to earn some nice staking rewards on the platform.
PancakeSwap
PancakeSwap.finance is one of the largest trending decentralized exchanges on the Binance Smart Chain, where you can find nearly any BEP20 token that's active on the market. The mechanism behind decentralized exchanges like PancakeSwap, UniSwap, and SushiSwap, enables users to trade any token that utilises a certain blockchain supported by that DEX, effectively making these platforms blockchain gateways. 
This is great because you don't need to wait for a popular centralized exchange to list the low market cap altcoin you're looking to buy because you can simply go to a DEX and paste the token's contract address into the search bar. If the platform supports the network of the token you've added, you can conduct a transaction immediately. Just keep in mind that these exchanges don't allow fiat money deposits. You'll always need to have intermediary crypto in your wallet, and you'll have to connect the wallet to the exchange platform.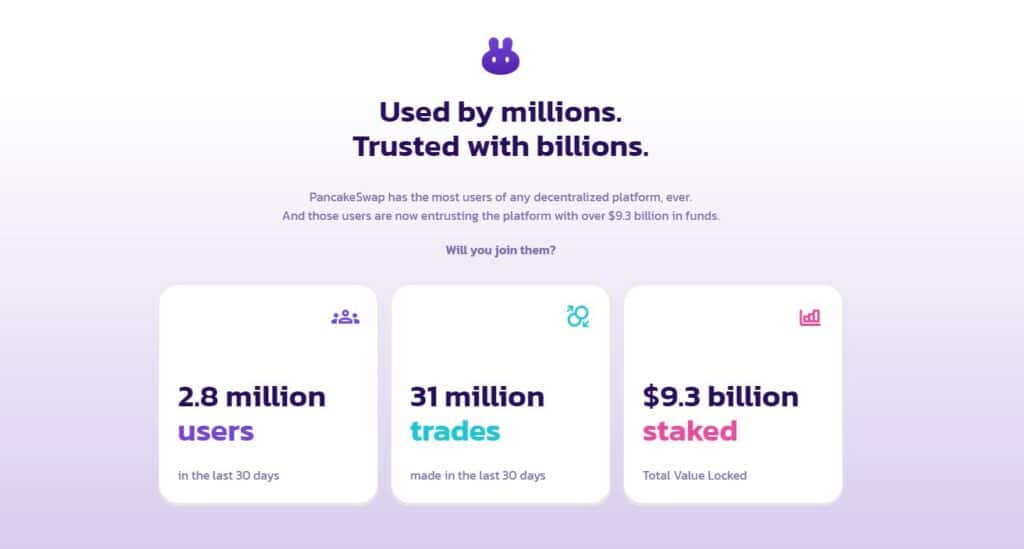 Given the fact that the Binance Smart Chain is one of the busiest blockchains on the market, right next to the Ethereum (ETH) chain, you'll be able to trade thousands of BEP20 tokens on PancakeSwap. The main risk associated with the platforms is the possibility of buying a scam coin or token since there's no rigorous verification policy for available tokens on DEX platforms. That's why you should always do thorough research on low cap BEP20 tokens before you start investing in them.
Stake Cake Tokens and Earn Interest
Just like other popular decentralized exchanges, PancakeSwap also has its own token. The native currency of the platform is the CAKE token. In order to facilitate any trades on PancakeSwap, you'll need to have some Binance Coin (BNB) in your connected wallet to pay for the transaction fees, but as far as an exchange currency goes, you can buy any BEP20 token with CAKE or BNB.
The whole platform is based on a Proof of Stake (PoS) protocol powered by CAKE tokens. Users can become liquidity providers by buying CAKE and staking it in liquidity pools that help the platform and different connected crypto projects operate and provide services. For example, when you're exchanging CAKE or BNB for another token on PancakeSwap, the liquidity for that exchange deal is provided by staking pools on the platform.
The users staking their crypto on the platform are rewarded with a percentage of the platform trading fees that are turned into staking rewards. The tokens that are exchanged on PancakeSwap are partially backed with the funds that platform users stake in the liquidity pools.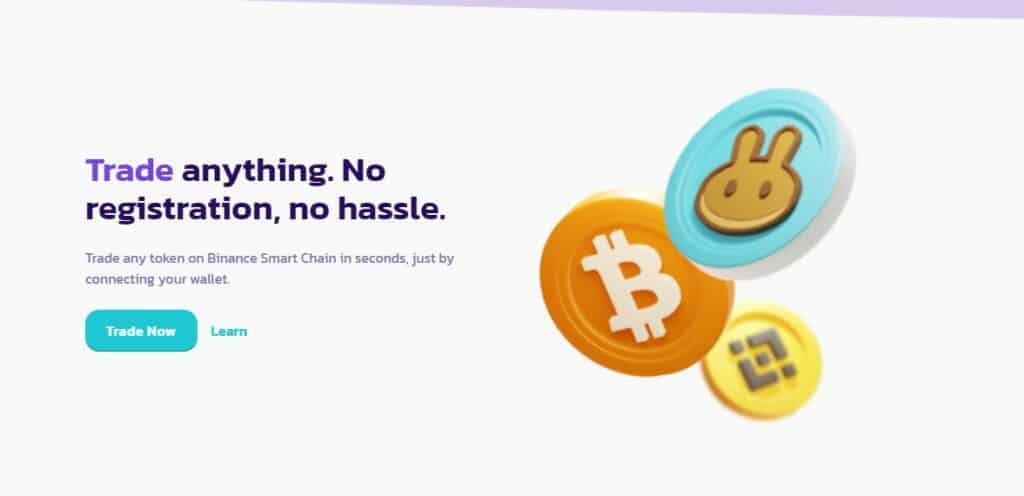 PancakeSwap has a variety of liquidity pools and some of them have very high annual percentage yield (APY) rates that are above 60%. This means that if you stake 1,000 USD worth of CAKE for a whole year, you'll get 600 USD on top of your initial 1,000 if the price of CAKE stays on the same level as the moment you've invested in it.
Consequently, if the price of CAKE rises, you'll get more interest, and if it falls, you'll incur a loss. So basically, nothing is guaranteed in terms of financial gains, but you'll definitely increase the number of your CAKE tokens. Over time, even if the price of CAKE drops a bit, you'll still be able to profit because the number of your tokens will increase.
Staking Options on PancakeSwap
Liquidity pools, or Syrup Pools as they're called on PancakeSwap, is where you stake CAKE to earn either CAKE tokens or various other BEP20 tokens. The BEP20 tokens you can earn through Syrup Pools are verified projects checked by PancakeSwap, and they have various utilities. But they aren't just some random BEP20 tokens launched by anonymous developers. You can earn tokens from crypto gaming, interactive service platforms, and DeFi projects with well-developed roadmaps and use cases.
Some of the coins you can earn by staking CAKE include Radio RACA (RACA), Froyo Games (FROYO), Ertha (ERTHA), Fuse Network (FUSE), Bombcrypto (BCOIN) and various other BEP20 altcoins. The APY on these projects goes anywhere from 30% to 50%, but the largest gains are definitely made by staking CAKE for CAKE. You can earn as much as 60% of LP tokens (liquidity pool tokens) as rewards in these pools. The APY largely depends on the number of participants in the liquidity pool because the rewards are distributed among all stakers. If the number of participants rapidly increases, the APY drops, while a drop of stakers leads to a higher APY, which in turn attracts new users.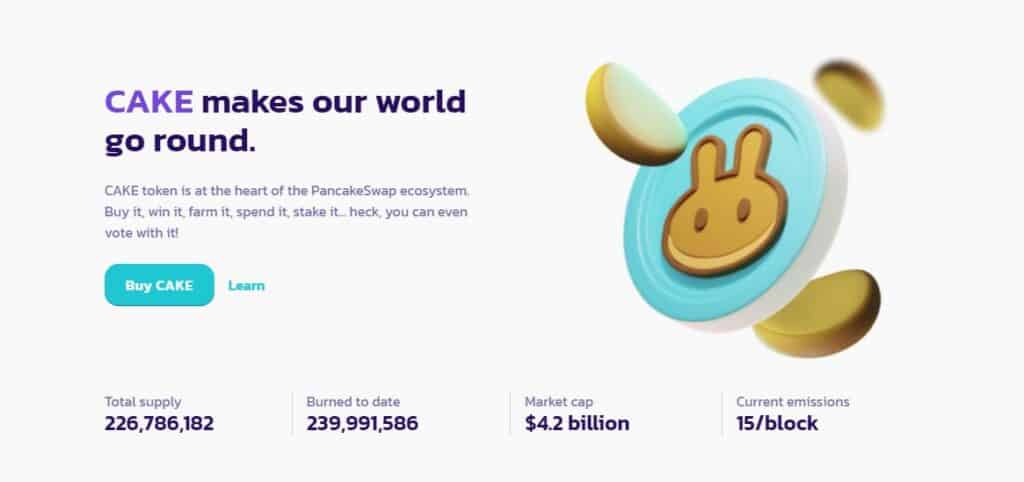 There are two options for staking and earning CAKE. The Manual Cake option requires users to manually re-stake their tokens after each staking cycle, while the relatively new feature called Auto Cake enables users to only stake CAKE once and constantly receive rewards. The best thing about Auto Cake is that the staking rewards are compounded, which means that they are added to your investment basis, and the APY for the next reward cycle is then calculated based on your compounded amount of CAKE.
Staking Crypto on PancakeSwap With Trust Wallet
Staking CAKE on PancakeSwap is fairly simple, and the only thing you need is a Trust Wallet account. Here's a quick tutorial on how to start earning crypto with your CAKE tokens.
Install Trust Wallet on your mobile and set up your account.
Either send some BNB to your Trust Wallet from another wallet or buy it directly with fiat money through the Trust Wallet Buy option. 
Once you have some BNB in your wallet, convert them to Binance Smart Chain BNB. You can do this by clicking the Swap button within your BNB balance and then clicking on Swap to Smart Chain. Keep in mind that many tokens can also be purchased with Binance USD (BUSD).
Once you have some BNB smart chain tokens, go to Pancakeswap.finance through the dApp option in your Trust Wallet.
Click on the Connect Wallet option in the upper right corner of the screen and choose Trust Wallet as your preferred wallet. You can also do this with MetaMask, but it's more complicated since you need to enable the Binance Smart Chain in the app. It's much simpler to use a Trust Wallet.
Once you've connected your Trust Wallet to PancakeSwap, you can swap your BNB for some CAKE tokens and then go to the Earn section of the platform. Next, choose the Pools option.
Here, you can choose a liquidity pool such as the Auto Cake pool and specify the amount of CAKE you wish to stake. Proceed with the staking and approve the smart contract for the transaction in your Trust Wallet to finish the process. Just don't forget to leave a bit of BNB in your wallet to cover the gas fee.
Your CAKE is now staked, and you'll be earning rebase rewards on a daily basis. You can't unstake your tokens immediately after they are staked. You need to wait a few days before this option becomes available.
A Few Ending Words…
The crypto market is full of opportunities for generating passive income by staking your crypto and letting it compound over time. The interest rates are generally much higher than those offered by banks, but you should be very careful when choosing which platform to trust with your staked crypto. PancakeSwap is a great ecosystem for earning digital currency through platform liquidity pools, but you should always take into account the possibility of your staked coins dramatically falling in value. That's why you shouldn't invest more than you're prepared to lose.