When Bitcoin (BTC) was launched as the first cryptocurrency back in 2009, the fact that people could use a digital currency to facilitate fast, virtual, cash transactions was so innovative that it secured immense popularity for the project. Since then, the crypto market has dramatically expanded to include more than 16,000 crypto projects, out of which only a small number have really turned out to be successful, thanks to their real-world use cases.
The Basic Attention Token (BAT) and the Brave browser jointly form one of those innovative projects that bring real change to users through blockchain technology. While Brave is essentially a privacy-focused internet browser, it provides much more in terms of user experience, thanks to its partnership with BAT, which aims to reward users, publishers, and advertisers with cryptocurrency for their participation in the ecosystem.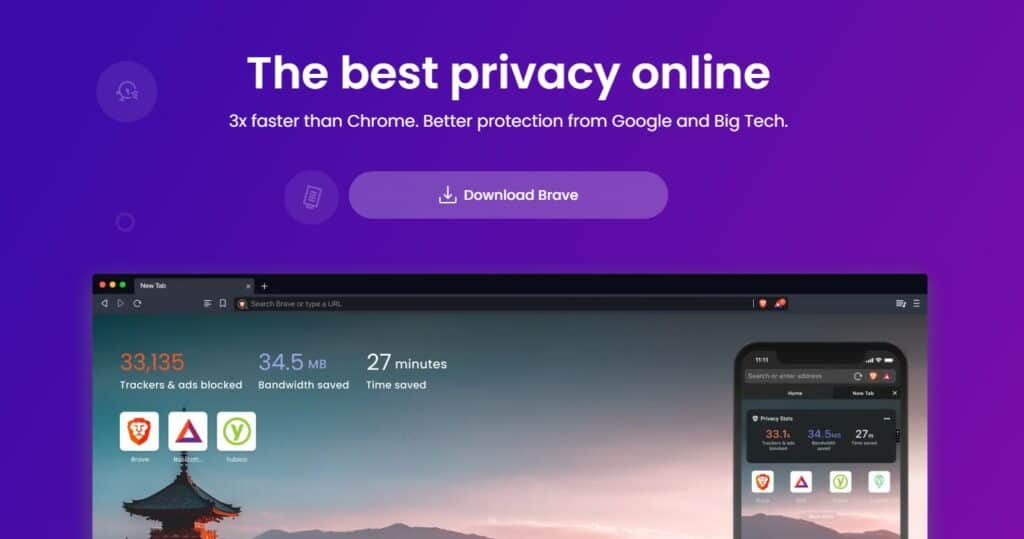 The whole idea behind the project is to create a stress-free online advertising experience, where users get to watch ads they choose to, without annoying pop-up windows and web trackers following them across websites. At the same time, publishers are awarded an audience that cares about their content instead of random view numbers that don't contribute to their project in any relevant way.
Let's take a closer look at Brave, BAT, and how you can withdraw your monthly Brave rewards.
The Brave Browser
The Brave browser aims to solve some of the most annoying and invasive online practices present in the world of advertising.
When you're using an average web browser produced by big tech companies, such as Google Chrome or Microsoft Edge, your privacy and browsing habits are totally unprotected by default. To obscure your browsing info and block random ads that are constantly popping up on websites and following you through multiple web locations, you need to install a bunch of browser plug-ins.
However, even then, you aren't fully preserving your privacy because your IP address is still trackable, which is how website cookies and web trackers are able to follow you around on the internet. That's why you see the same ads for the same pair of unwanted products or services across a bunch of different websites.
Additionally, big tech companies and social media platforms like Facebook are known to gather user information based on any and all user activities. This information is often used for advertising targeting purposes, which is an invasive practice because it targets users through annoying ads without their consent.
How Does Brave Work?
Brave tackles all of these issues in a highly successful manner. The browser is geared towards providing full online privacy by blocking absolutely all sorts of ads and pop-ups by default. You'll never be asked by another website to allow cookies. The Brave browser blocks all cookies, along with any web tracker software. Additionally, your IP address is also kept private, so you can browse the web in peace, beyond the reach of unwanted ads.

On Brave, you can choose between 7 popular search engines, including Google, Brave, and Bing, which means you can still use Google, but without all the ads. On top of that, you can import all of your bookmarks, browsing data, auto-fill information, and passwords from your old browser to Brave in just a few clicks.
Besides all the privacy-oriented features, Brave is also a crypto-friendly browser that comes with an integrated Brave crypto wallet, in which you can store Bitcoin (BTC), Ethereum (ETH), Basic Attention Tokens, and all ERC20 tokens.
Basic Attention Token (BAT)
Basic Attention Token (BAT) is the cryptocurrency integrated with the Brave browser with the goal of providing attention rewards for content publishers and browser users.
BAT is an Ethereum-based ERC20 token created with the noble idea to eliminate invasive advertising practices within web browsers that utilise BAT. The token was launched in 2017 by crypto developer Brendan Eich, and it was later taken over by Brave Software, the company that's maintaining and developing the project ever since.
When BAT was introduced to the public, the developer team held an initial coin offering (ICO) which was tremendously successful, given the fact that the project raised 35 million USD worth of assets in less than half a minute.
Improved Advertising Experience
BAT aims to cut out middlemen from the advertising industry to provide both users, publishers and advertisers with an improved advertising experience. The token is associated with the Brave browser, but theoretically, it can be integrated with any other web browser that would agree to the concept of the BAT token. Everyone gets annoyed when they are hassled by countless pop-up ads while browsing. That's why Brave, in cooperation with BAT, offers users the possibility of watching ads that interest them and earning BAT tokens as rewards for their attention.

Awards for Content Creators
Simultaneously, content creators, who are referred to as publishers in the Brave ecosystem, are awarded BAT tokens based on the attention they attract among Brave users. Brave measures the amount of attention a publisher's content attracts and helps advertisers understand how attractive a certain publisher's content is.
In turn, the advertisers can get a realistic idea about the value of that publisher's content and conduct advertising deals with realistic prices, unburdened with fake views and paid social media followers. This means that advertisers can achieve higher returns on their investments and avoid fraud, thanks to the Brave attention measuring mechanics. All of this is facilitated with BAT tokens as the main currency.
Brave Rewards
Brave users can simply use their browser as a privacy-focused web browser, without any ads whatsoever, but in case they decide to participate more closely in the ecosystem, the Brave Rewards programme is always available. This programme is the mechanism through which users can earn BAT tokens for viewing ads.
Brave Rewards are totally optional, and you can always turn them off if you get tired of ads. Additionally, you can also select the exact number of ads you wish to view within a single hour. You can choose a maximum of 5 ads per hour, and watching each ad will generate a certain amount of BAT in your Brave Rewards account. The rewards are paid out on a monthly basis. Once you receive your BAT rewards, you can either withdraw them from Brave using Uphold and then cash them out to fiat or shift to another crypto wallet.

If you don't want to withdraw your BAT tokens from Brave, you can keep them in your Brave wallet and use them to tip your favourite publishers through the Tip feature of the Brave browser. It's also possible to select the Auto-Contribute option that automatically sends BAT tokens to your favourite, approved websites on a regular basis.
Content publishers are also awarded monthly BAT token payouts. It's really easy to get registered as a content publisher on Brave. Anyone with a website, YouTube channel, e-book or other content can register as a Brave publisher. Depending on the quality of your published content, you'll receive regular monthly rewards. That's why Brave creators put in extra effort in content creation since they know that the more user attention they attract, the more BAT tokens they'll receive as Brave rewards.
Setting Up Brave Rewards
Brave rewards aren't available on mobile devices, even though you can use the browser on all Android and iOS devices. This means you'll need to install Brave on a desktop computer or laptop if you wish to participate in the Brave Rewards programme. The browser is compatible with Windows, macOS, and Linux operating systems, and the installation process only takes about a minute.
Once you install Brave, the browser will take you on an automatic tour of Brave's features, including Brave Rewards. You just need to approve the feature, and you're all set to start earning BAT tokens.
In case you didn't approve Brave Rewards during the initial browser tour, you can do it manually in the Brave Main Menu, under Brave Rewards. Just click on the triangular BAT icon and select Rewards Settings to customise your Brave Rewards experience. Here you can choose how many Brave ads you want to view per hour and set up your auto-contribute section to automatically tip selected creators with BATs.
Withdraw Brave Rewards With Uphold
The easiest way to withdraw the BAT tokens from your Brave Rewards is through the Uphold wallet. Uphold is a popular multi-currency crypto wallet that comes with built-in Brave browser integration features that enable users to connect their Uphold wallet to their Brave Rewards income stream and cash out BAT into fiat money.

Just follow these few simple steps to withdraw Brave Rewards with Uphold:
Create an account on Uphold.
Connect your Uphold account to your Brave Rewards programme from the Uphold app.
Next, you'll be required to provide some basic personal information to verify your identity through the KYC protocol to prevent possible scams and money laundering.
After you've finished the verification process, you'll be able to access your Brave Rewards balance through Uphold. You can either cash out your BAT tokens through the wallet or send the tokens to another third-party wallet or a popular crypto exchange, such as Binance, Coinbase or Gemini, through the Send feature.
Add a payout method. The easiest way to cash out Brave rewards with Uphold is to add and verify a bank account. US crypto holders can use ACH transfers, while European users have SEPA transactions at their disposal.
A Few Words Before You Go…
Together, Brave and BAT form a one-of-a-kind crypto project that successfully addresses two important online browsing issues. While Brave preserves your privacy by disabling all annoying ads, malware, and web trackers, BAT tokens enable users, creators and advertisers to enjoy a safer, more productive, and less invasive online advertising experience. Among ERC20 tokens, BAT is a great example of a real-world crypto utility.