Huobi Global Review for 2022
In times when the crypto industry expands with the speed of light, choosing a cryptocurrency trading platform may be a difficult road to take. There are numerous factors to consider, such as the platform's trading tools and functionality, user-friendly interface, available trading pairs, fees, platform safety, as well as dedicated customer support.

Huobi is considered one of the crypto industry's most popular liquid exchanges that provides all of the above-mentioned functionalities for more convenient trading operations. It features a secure and trustworthy environment to purchase, exchange, save, earn and sell over 300 digital currencies since 2013. Let's take a closer look at its structure and functions, as well as how far it's come on its journey to expanding the digital assets market.

About the Huobi Exchange
Founded in China in 2013, the Huobi exchange is a major and globally operational cryptocurrency brokerage that has greater liquidity than most trading platforms in the crypto ecosystem. Oriented toward the global crypto market, Huobi has headquarters in Hong Kong (Singapore), South Korea, Russia, as well as Japan.

The Huobi trading platform features quick and easy access by employing a technical solution developed by Stable Universal. Through this software, Huobi users are enabled to conveniently trade with HUSD tokens – the native stablecoin of Huobi. The only issue can be selecting the right website since this exchange holds several domains: huobi.com, hbus.com, huobi.pro, and hbg.com. At times, this can be really puzzling for the users of this exchange.
The Huobi exchange offers numerous trading tools. Apart from the conventional trading orders, this exchange enables margin trading, spot trading, coin-margined futures, coin-margined swaps, HUSD-margined swaps, derivatives trading, staking, crypto loans, fiat currency order books, locking of your exchange assets through their Primepool mining platform, OTC (over the counter) trades, etc. Alongside cryptocurrencies, the exchange offers ICO tokens trading.
The Huobi Dollar (HUSD)
The HUSD cryptocurrency is an Ethereum blockchain-based currency or ERC-20 token that is characterized by supreme security and decentralization. This stablecoin is issued by Huobi Group and is pegged 1:1 to the US Dollar.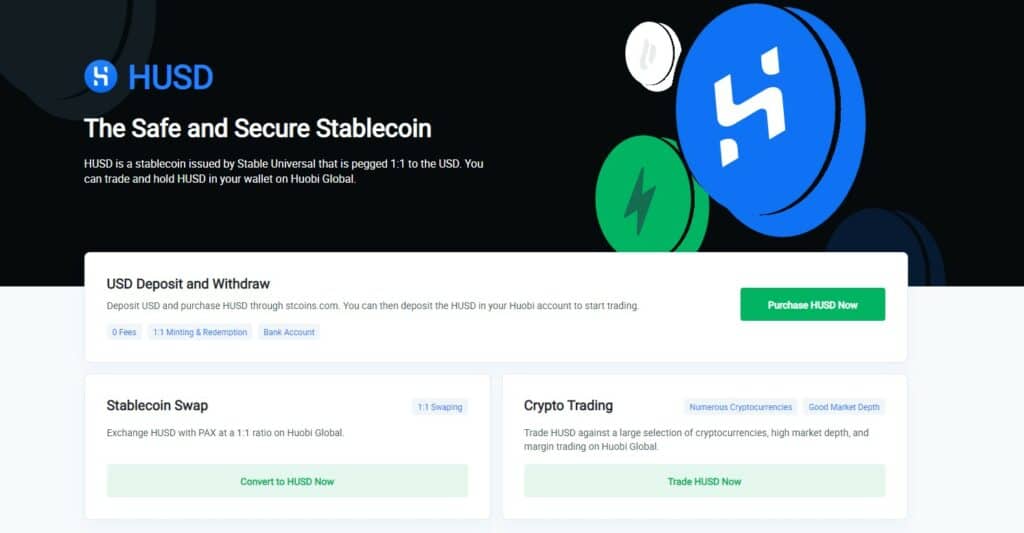 The New York-based finance company and blockchain tech firm, Paxos Trust Company, holds every US dollar backing the HUSD coin in its reserves. This way, Paxos Trust ensures the HUSD coin's stability. As a result, the HUSD token constantly strives to meet the industry's defined standards for stablecoins.
Being categorized as a stable coin, the Huobi token was developed to maintain price stability in the crypto market. This characteristic of the token generally attracts the more seasoned traders and is more readily embraced by international digital asset markets. HUSD holders may also use this token as a means to pay for various products and services.
Supported Cryptocurrencies
China's biggest digital asset exchange, Huobi, presently lists Bitcoin (BTC), Ethereum (ETH), Litecoin (LTC), and Ripple (XRP), as well as over 300 altcoins, backs more than 40 fiat currencies, and is active on over 1,000 crypto trading marketplaces globally. The non-exhaustive list of cryptocurrencies that the investors may trade with on the Huobi platform includes:
BCH
EOS
WAN
USDT (stable coin)
USDC (stable coin)
BTM
XVG
TRX
NEO
DASH
XMR
OMG
ZEC
ZIL
LSK
BTG
ADA
POWR
DOT
This platform also allows fiat currency trading, which includes AUD, EUR, GBP, USD, CAD, and CNY as one of the most frequently used currencies.
Payment Methods
Huobi traders can make their deposits using cryptocurrencies, SWIFT bank transfers, wire transfers, credit cards, debit cards, or the AdvCash payment service provider. Deposits on the Huobi platform are often accepted in a matter of minutes. The time it takes for deposits to be authorized, however, varies depending on the type of cryptocurrency.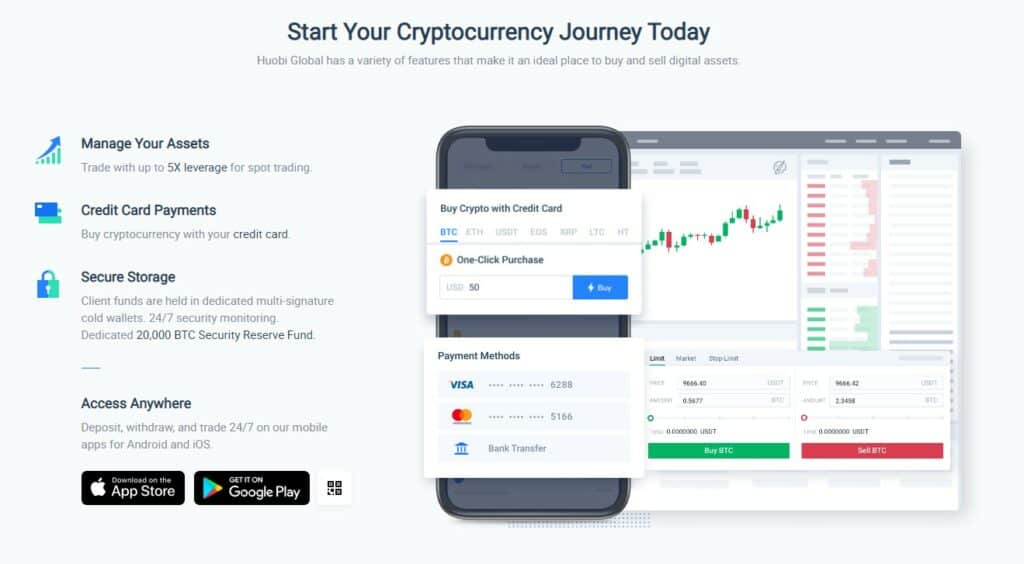 Trading Fees and Limits
Huobi's standard platform trading fee is 0.2% for all trading pairs. On the plus side, this blockchain charge can be lowered by high HUSD trading volumes estimated over a 30-day period.
Moreover, the fiat to crypto exchange fee is determined by the type of order you place, i.e. whether you make or take an existing order. This trading fee also depends on the type of currencies you're exchanging via the Huobi trading platform. Generally, both maker and taker fees amount to 0.2%.
Withdrawal Fees
Huobi levies a withdrawal fee to crypto miners in order to preserve the network's functionality and authenticity. The withdrawal fee (as well as the deposit fee) is directly proportional to the type of cryptocurrency that's been exchanged.
Is Huobi Safe to Use?
The Huobi exchange was founded in China and is registered in the Seychelles, whose rules and regulations may conflict with the jurisdiction of your country or territory. The registration on this platform does not require authentication for all of its customers.
However, in order to comply with its API or KYC (Know Your Customer) standards, the Huobi cryptocurrency exchange has the right to request sensitive information from its users in certain circumstances. These data may include the user's address, birth date, country of residence, ID details, and so on. Higher withdrawal limits, on the other hand, always necessitate verification.

Still, it's not all gloom and doom regarding the safety of Huobi. On the contrary. By giving 100% authority over the private keys of the Huobi accounts to their users, this global exchange counts toward the safest crypto brokerage out there. Not only does Huobi lack access to the users' crypto assets, but it also provides multiple secure wallet backup options to prevent loss or theft.
Knowing that massive digital currency exchanges like Huobi Global are tempting targets for cybercriminals, this exchange provides multiple treasury-like security protocols and mechanisms. These include cold storage of the funds, 2FA verification process, SMS and email notifications from the exchange in case any of the security mechanisms are breached, thus providing a safe trading environment.
Customer Support
The Huobi Global exchange has a dedicated customer support centre that offers you to search for the answers to your issue by entering the keyword in the dedicated search bar.
If you are unable to find a solution to your problem in the Huobi knowledge base, you may contact online customer support 24/7 by clicking on the "Contact Us" button located in the bottom right corner of the exchange's web UI.
Frequently Asked Questions
Does Huobi have a mobile app?
A free mobile trading app with advanced trading tools and an appealing user interface is one of the most significant features that Huobi has to offer. The crypto exchange's mobile app is compatible with both Android and iOS operating systems.
Does Huobi provide a cryptocurrency wallet?
The Huobi Global exchange platform provides a free digital DeFi wallet for its users. The traders get absolute control over their private keys, which is a great step toward the ultimate safety of the users' stored assets.
In addition, the stored digital assets are safeguarded by a mnemonic phrase. Users need to back the mnemonic phrases up by writing them down on paper and then safely storing them so that they can't be memorised or stolen by an unauthorised person. In such cases, Huobi would be unable to retrieve the passphrase or the lost assets.
Moreover, you can store 20 cryptocurrencies, stablecoins, tokens, and other digital assets in the Huobi wallet at once. You can also easily manage your ERC721 NFTs via this digital wallet.
The Bottom Line
The Huobi digital assets exchange, now the third biggest cryptocurrency exchange in the world by average liquidity offers its consumers diverse and secure trading options, as well as a vast list of supported coins, tokens, stablecoins, as well as fiat currencies.
This platform charges some of the lowest cryptocurrency trading fees. By HODLing HUSD coins, you may even reduce the standard 0.2% trading cost. Also, you can securely trade HUSD and safely store your tokens in the free DeFi wallet provided by this exchange platform.
Based on both our research and users' experience reviews of Huobi exchange, we can safely conclude that this Chinese trading platform has managed to establish itself as one of the safest and most user-friendly online crypto exchanges that provide a supreme user experience for both beginners and more experienced crypto traders.