IDEX Exchange Review for 2023
In recent years, automated market makers (AMM) on decentralised exchanges (DEXs) have risen in popularity and have supplanted human market makers as the primary mode of trading on DEXs. The utilisation of liquidity pools is the most significant innovation for AMMs that ensures the liquidity of the crypto exchanges.
Furthermore, the applicable fee schemes have enabled even more traders of all levels of experience and liquidity to be market makers through these liquidity pools. And although the decentralisation of market making coupled with liquidity mining resulted in a torrent of idle investments, it also triggered the emergence of some of the industry's most dynamic and liquid crypto trading platforms.
Since there was definitely no propensity to eliminate the order books as a non-viable solution for DeFi, which strongly relied on the AMM, there were still doubts about these platforms. An increasing number of failed transactions, severe slippage, and the competitiveness of gas became some of the biggest challenges of DEX trading.
It soon became clear to developers in the crypto world that the solution to these problems lies somewhere between AMMs and order books, i.e. in their amalgamation. Enter IDEX, and—read on.
About the IDEX Exchange
IDEX combines the best aspects of both order book and AMM DEXs and is known as a Hybrid Liquidity Platform (HLP). Leveraging liquidity pools as its primary functionality, IDEX is designed to deliver the entire spectrum of AMM functionalities.
For this, IDEX integrates three basic elements based on the Ethereum blockchain: liquidity pools, a revved-up trading processor, and the traditional order book. The result is a technological solution that tackles the issues of existing automated market makers used by some DEXs. In turn, IDEX's order book is significantly more efficient than the conventional variant integrated by the majority of crypto exchanges.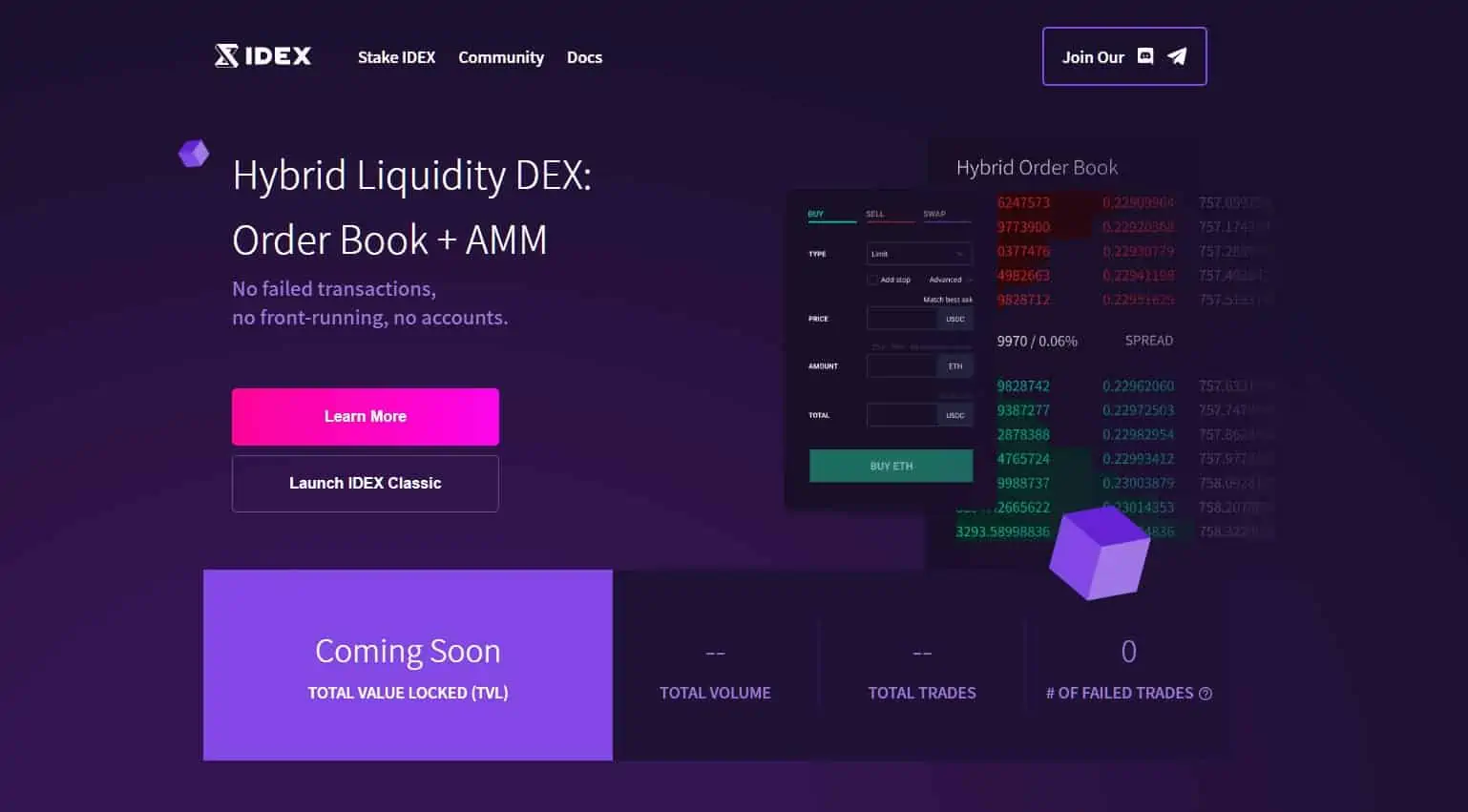 Moreover, IDEX decentralises fund custody through the use of smart contracts. Trades are executed off-chain, yet they are resolved on-chain with a delay to allow for the order book to be updated.
How Does IDEX Work?
With IDEX's sophisticated mapping tool, the AMM graph is quantized down to one order at a time. These orders are listed along with the regular limit orders on the off-chain order book.
While IDEX is decentralised, it has all of the advantages of a hybrid distributed trading system and handles all user transactions. As soon as a user approves a transaction, IDEX updates the Ethereum blockchain with the transaction information, adjusting account balances and order books in real-time. Then, the trading engine compares the transaction against trading options like limit orders, market orders, staking, or aggregated liquidity to ensure the lowest transaction price.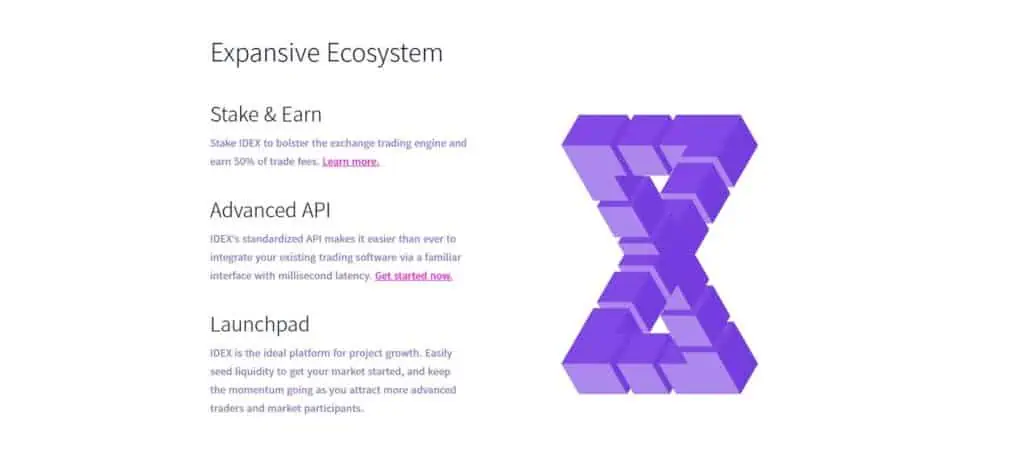 Moreover, this cutting-edge cryptocurrency exchange platform offers a peer-to-peer trading environment in which cryptocurrency traders can make instantaneous trades of advanced order types (such as post only, top-loss, or fill-or-kill) at the best rates on the market. IDEX also uses smart contracts to route the transactions across the Ethereum network, enabling the order book associated with your trading account to be adjusted in real-time while payments are being completed.
Liquidity providers are given the flexibility to issue limit orders using an API that's recognised as the best in the business. As a result of the increased transaction volume, which is driven by recurrent trading opportunities and fewer profit spillages to miners, liquidity providers also receive higher commissions. Finally, the liquidity mining rewards motivate cryptocurrency investors to contribute more during the early bootstrapping phases of their IDEX trading venture.
IDEX Token
The IDEX token is the native cryptocurrency of this crypto exchange that provides users with the opportunity to contribute to the development of this platform. The platform provides incentives for IDEX token holders who stake their coins, such as a 50% rebate on their transaction fees.
Supported Cryptocurrencies
Due to the fact that IDEX is an Ethereum-based cryptocurrency exchange, it only accepts and allows the trade of Ethereum (ETH) and ERC20 tokens, such as Constellation (DAG), Reserve Rights (RSR), CargoX ($CXO), AURA token, TrueFeedBack (TFBX), etc.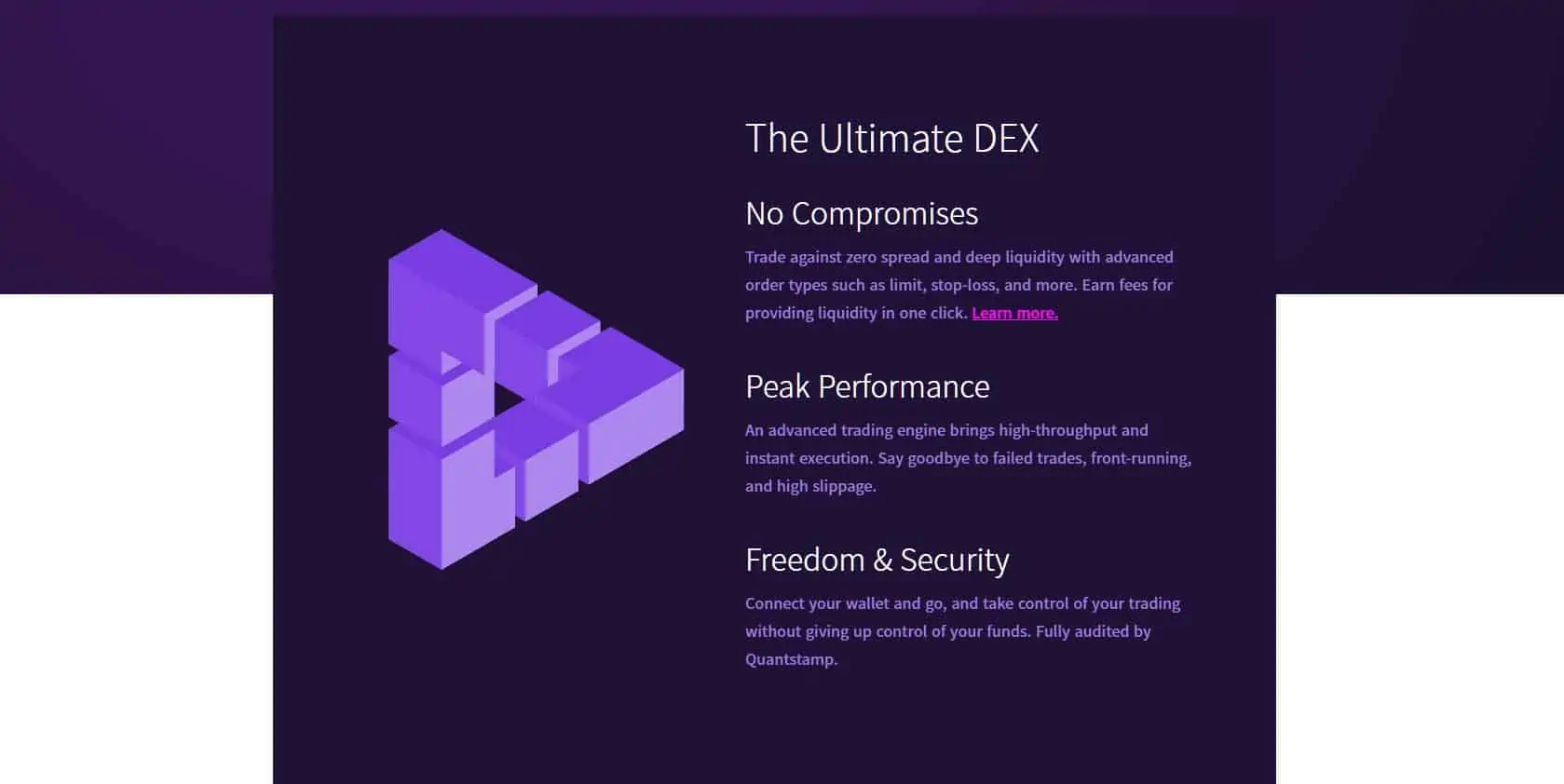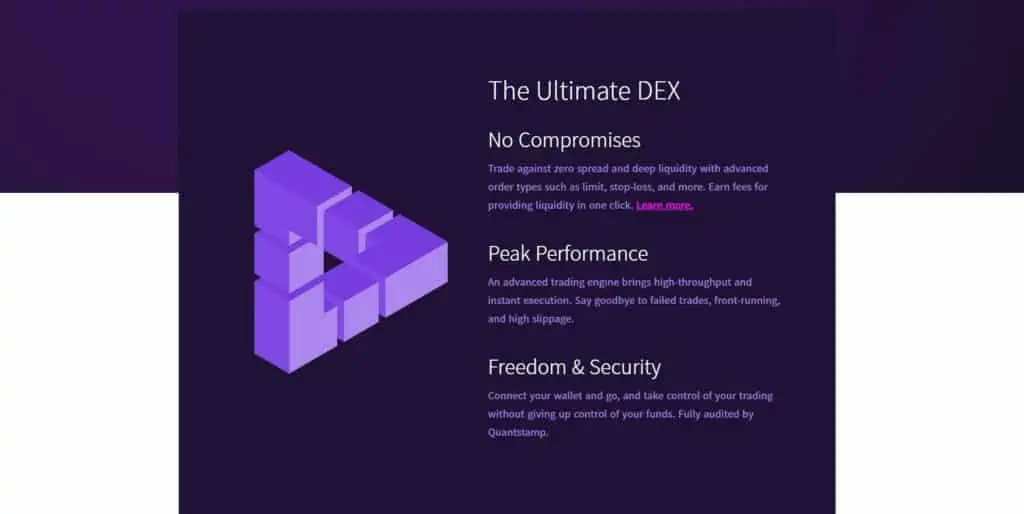 As IDEX accepts only cryptocurrency deposits, this trading platform is not the most convenient trading environment for beginners as they would need to undertake several more complex steps to fund their trading accounts. For instance, if you don't have any cryptocurrency but would like to start trading on IDEX, you'll need to buy cryptocurrency on some other exchange. Then, you can fund your IDEX account and invest your funds in your favourite ERC20 coins.
Trading Fees and Limits
There are three main types of IDEX fees imposed by this cryptocurrency exchange platform:
Maker fees – The maker fee is set at 0.1%;
Taker fees – The market takers' fee is set at 0.25%;
Withdrawal fees and limits – IDEX imposes a cryptocurrency withdrawal fee calculated on the basis of the ETH exchange rate of your last ten transactions on the blockchain. However, the exchange aims to completely annul all withdrawal fees at some point. The minimum withdrawal limit is set at $10 USD for takers and $20 USD for makers.
Is IDEX Safe to Use?
In general, decentralised exchanges (DEXs) are seen as safer trading platforms than centralised exchanges (CEXs) since the former don't keep user assets on their platforms. To be more precise, IDEX secures its customers' funds on the Ethereum blockchain by integrating a number of security protocols that keep the funds safe from any misuse of or hacking attack on the IDEX platform.


The funds are also protected by the smart contracts integrated into the IDEX architecture that also help complete all user transactions in a secure environment. In addition, all trades completed through this platform must be validated by the users using their private keys.
Customer Support
IDEX delivers expert customer service to its clients through a variety of social media platforms (Telegram, Discord, or Reddit), a live chat feature built into the exchange's platform, and e-mail. Additionally, there is a FAQ page that can provide you with an answer to your question before you opt to contact IDEX's technical experts for an ultimate user experience.
In addition, this cryptocurrency trading platform is available in English, Spanish, South Korean, Russian, Mandarin, and Vietnamese.
Frequently Asked Questions
What countries are supported by IDEX?
IDEX is a multinational corporation with its head office located in Panama. It is managed by Aurora DAO headed by Northwestern's Kellogg School of Management graduate Alex Wearn and can be accessed by crypto traders from any location in the world.
Does IDEX provide a cryptocurrency wallet?
The crypto traders who join this peer-to-peer (P2P) cryptocurrency trading site will benefit from the integration of a Keystore file (an encrypted version of your private key on the Ethereum blockchain), Ledger Nano S, and Meta Mask wallets. By making use of these digital solutions for the secure storing of digital assets, IDEX aids the safe management of its client's funds.
The Bottom Line
Being a blend of decentralised exchange models that also includes the best practices of centralised exchanges, the IDEX platform is a great alternative for clients that want to acquire ERC20 tokens, which are otherwise difficult to discover on other exchanges. It allows for real-time trading and a high trading volume paired with an off-chain trading engine and the security of a smart contract.
That being said, even though it's designed to overcome some of the DeFi issues that most crypto exchanges experience, IDEX has its own set of concerns. For one thing, it cannot boast high liquidity, which might be why IDEX does not enable fiat currency deposits. Unfortunately, this is one of the most popular features that lure both newcomers and seasoned traders to crypto trading platforms with better liquidity.
However, IDEX offers a secure trading environment, especially for ICO speculators, even without this feature. Moreover, the fact that this cryptocurrency exchange offers multiple layers of security, a user-friendly platform, and a powerful processing engine that speeds up the transaction process is reason enough to trust IDEX as a platform for your next crypto trading experience.
IDEX Compared
| Exchange | Cryptocurrencies | Fiat Currencies | Trading Fees | Deposit Methods | Sign Up |
| --- | --- | --- | --- | --- | --- |
| Swyftx | More than 320 | Australian Dollars, New Zealand Dollars | 0.6% | Osko, PayID, Credit Card, Debit Card, Bank Transfer, Cryptocurrency | Visit Swyftx |
| CoinSpot | More than 370 | Australian Dollars | OTC: 0.1% Market Order: 0.1%* (applies to LTC, BTC, ETH, XRP, POWR, DOGE, TRX, NEO, XLM, GAS, RChain, RFOX, EOS) Instant Buy/Sell: 1% | POLi, PayID, Cash, Cryptocurrency, Bank Transfer, BPAY | Visit CoinSpot |
| Binance | More than 600 | US Dollars, Australian Dollars, and 8 more | 0% to 0.1% | Osko, PayID, Credit Card, Debit Card, Crypto | Visit Binance |
| Bybit | More than 160 | 50+ | 0.1% to 0.6% | Crypto, EFT, wire transfer, bank transfer, debit card or credit card | Visit Bybit |
| Independent Reserve | 27 | Australian Dollars, US Dollars, New Zealand Dollars | 0.05% to 0.5% | EFT, SWIFT, Osko, PayID, Crypto | Visit Independent Reserve |
| Coinbase | More than 210 | Australian Dollars, US Dollars, New Zealand Dollars | Fees Vary | EFT, SWIFT, Osko, PayID, Crypto | Visit Coinbase |
| CoinJar | More than 50+ | Australian Dollars, Pound Sterling | Taker: 0.04 to 0.1% Maker: 0.04 to 0.1% | Apple Pay, Google Pay, Credit Card, Debit Card, Bank Transfer, Fiat, Crypto | Visit CoinJar |
| Kraken | More than 140 | Australian Dollars, US Dollars, and 5 more | Taker: 0.10% to 0.26% Maker: 0.00% to 0.16% | Apple Pay, Google Pay, SWIFT, Osko, SEPA, Crypto, Wire Transfer, Bank Transfer | Visit Kraken |
| BTC Markets | More than 15 | Australian Dollars | Taker Fee (for Bitcoin pairs): 0.20% Maker Fee (for Bitcoin pairs): -0.05% Australian Dollars Market Pairs: 0.10% to 0.85% | Crypto, BPAY, EFT, PayID, Osko | Visit BTC Markets |
| Easy Crypto | More than 40 | Australian Dollars, New Zealand Dollars, South African Rand | 1% | P2P, POLi, and Bank Transfers | Visit Easy Crypto |
| Coinstash | More than 140 | AUD | Taker fees: 0.85% Maker fees: 0.85% | Cryptocurrency, Bank Transfer, PayID | Visit Coinstash |
| eToro | More than 70 | Australian Dollars, US Dollars, Euro, and 12 more | Vary | Online Banking, Skrill, Neteller, PayPal, Bank Transfer, Debit Card | Visit eToro |
| KuCoin | More than 645 | US Dollars, Euro, Australian Dollars, and 6 more | 0.1% | Credit Card, Debit Card, SEPA, PayPal, Wire Transfer, Crypto | Visit KuCoin |