Independent Reserve Review 2023
Among Australian crypto exchange platforms, Independent Reserve is another gem worth trying out. Independent Reserve is geared towards crypto beginners who are simply looking for an exchange platform that will let them easily invest some AUD in the likes of Bitcoin (BTC), Ethereum (ETH), and other leading cryptos without an additional hassle.
I was really excited to try out Independent Reserve and find out how it works for myself. I learned that the platform has over 200,000 active user accounts and more than 80,000 SMSF users. The customer support is super helpful and operational 24/7, while the platform offers support for more than 30 of the top trending digital currencies on the market.
This number is much lower compared to the likes of Swyftx or Binance, but keep in mind that Independent Reserve has high liquidity levels and supports market trading interfaces for all the coins on offer. Additionally, the platform allowed me to use all of the leading payment methods popular in Australia, deposit fiat currency, and spend it on crypto.
Let's dive into the details about Independent Reserve so I can show you exactly what this platform offers to Aussie traders.
| | |
| --- | --- |
| Website | Independentreserve.com |
| Country | Australia, Singapore, New Zealand |
| Mobile app | Yes |
| Deposit Methods | PayID, OSKO,SWIFT, EFT. |
| Trading Fees | 0.5% to 0.02% trading fees |
| Fiat Currencies | AUD, USD, NZD, SGD |
| Cryptocurrencies | Bitcoin (BTC), Ethereum (ETH), Cardano (ADA), Ripple (XRP), Aave (AAVE), Bitcoin Cash (BCH), Eos (EOS), and a few dozen additional coins. |
Pros
Great liquidity levels for supported coins.
Reasonable fees.
Does have a market interface besides the instant trading feature.
Beginner-friendly.
AUSTRAC-regulated.
Cons
Very limited selection of coins and tokens.
Lacks advanced trading features.
What Is Independent Reserve?
Independent Reserve is a native Australian cryptocurrency exchange platform launched back in 2013 in Sydney, but it has soon expanded to New Zealand and Singapore. The platform is fully regulated by AUSTRAC and other Australian financial authorities, which means that it complies with all anti-money laundering policies and uses a Know Your Customer (KYC) protocol to identify each platform customer. I always like it when a platform is fully regulated because it means I'm legally protected in case of platform bankruptcy or hacks.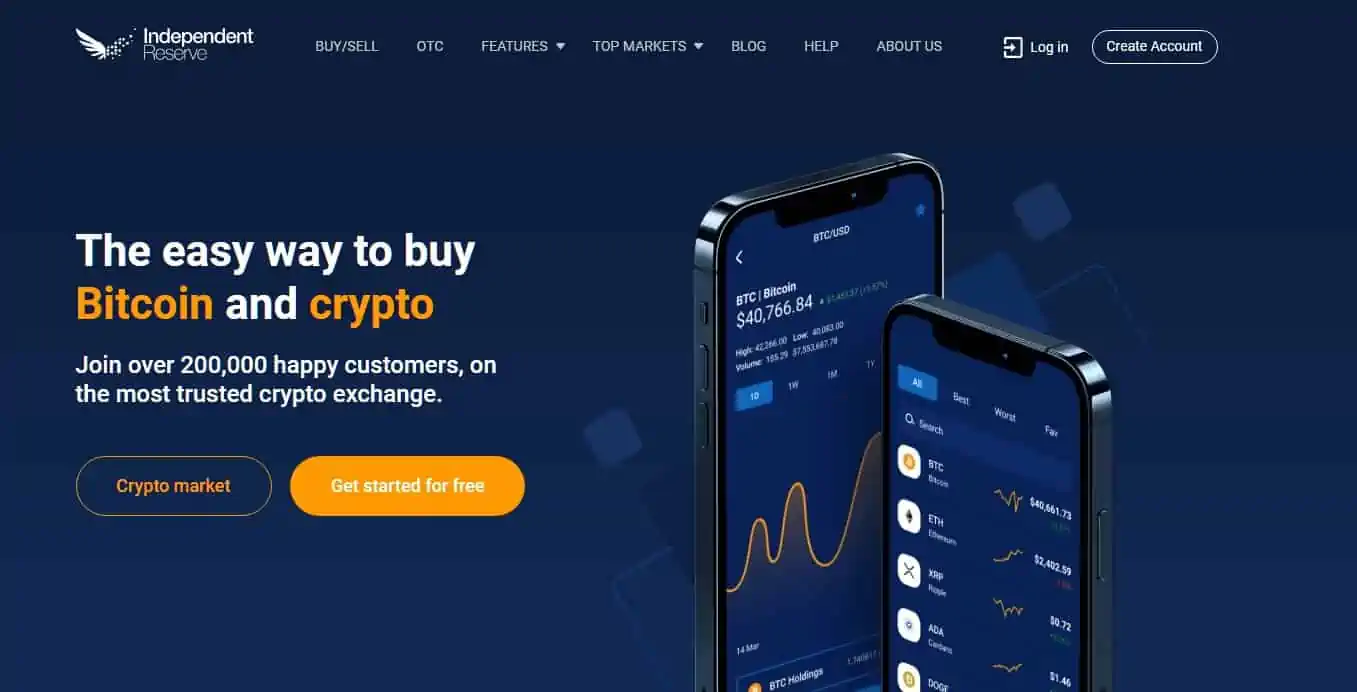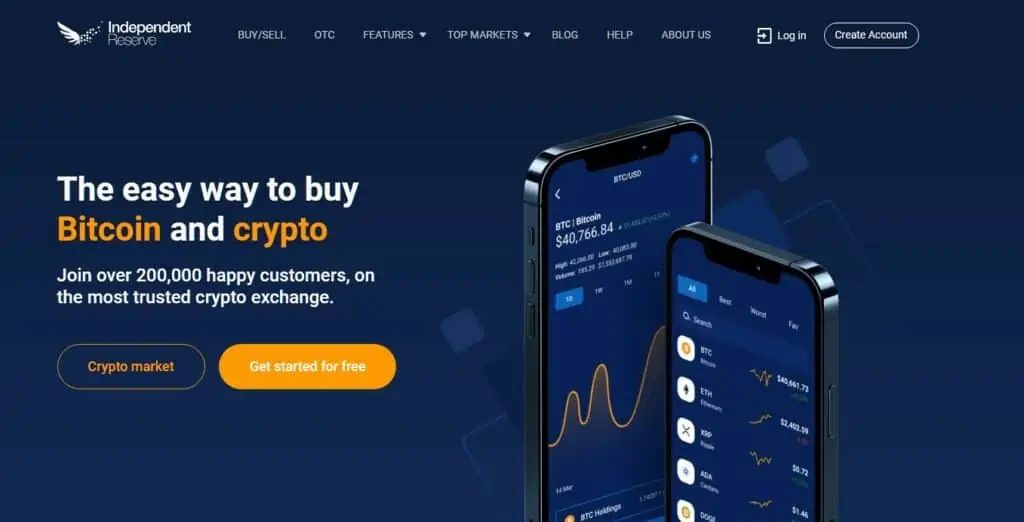 The platform enables users to invest fiat currency in some of the most popular cryptos on the market, but it lacks access to many popular coins. This might be explained by the fact that Independent Reserve complies with all laws and regulations in the regions where it operates, so obtaining licences for each crypto might be difficult.
Nevertheless, Independent Reserve is a great platform for instant trading features, which is a huge plus compared to some other exchanges where the instant trading feature takes ages and isn't very "instant." I think that this is the key feature that makes Independent reserve a very good choice for beginners looking for easy access to the crypto market.
Another advantage of the platform is its low fees for active traders and very user-friendly mobile app, making Independent Reserve a great choice for crypto beginners with no experience in cryptocurrency trading. Additionally, the platform offers advanced financial services such as over-the-counter (OTC) brokerage services.
Which Fiat and Cryptocurrencies Are Supported?
When Independent Reserve was launched, it only supported Australian dollars, but the company soon expanded its services to support GBP, USD, and SGD.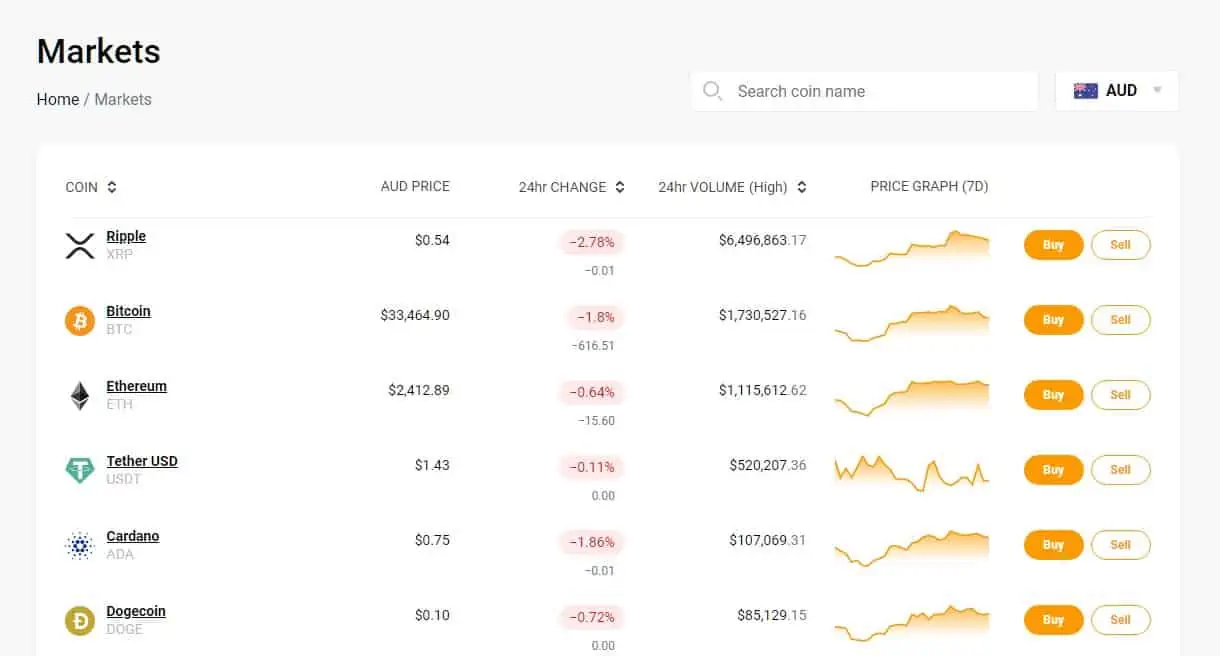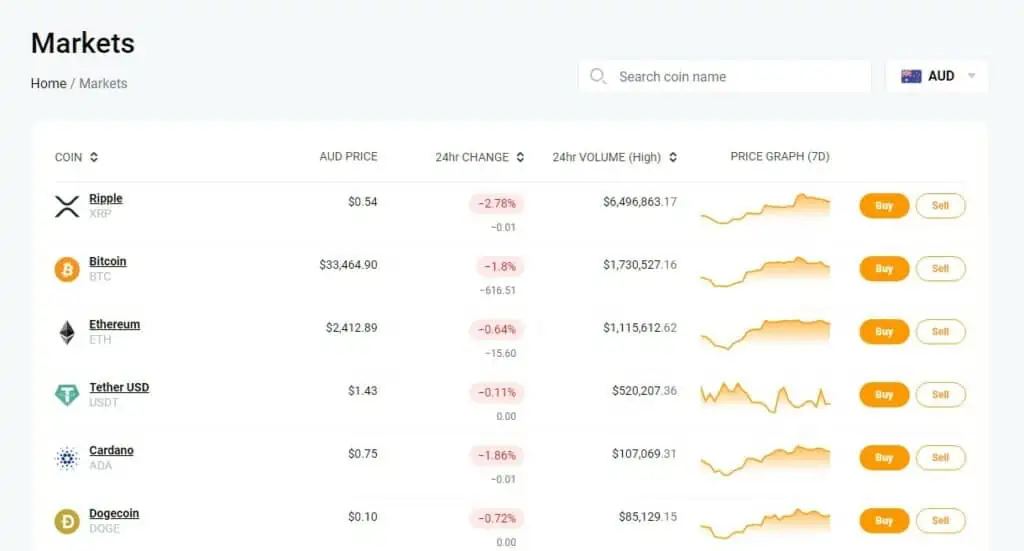 As far as digital currencies are concerned, Independent Reserve doesn't support many of them, but it still offers the leading market cryptos such as BTC, ETH, Ripple (XRP), Tether (USDT), Cardano (ADA), Aave (AAVE), Bitcoin Cash (BCH), Dai (DAI), Polkadot (DOT), Litecoin (LTC), and 20+ trending altcoins.
This crypto selection is far less than what I expect from a reputable crypto exchange, but they somewhat compensate for the poor crypto selection with their support for multiple fiat currencies. I think this is an aspect of the platform that could definitely use some improvement.
Supported Countries
Independent Reserve offers services legally in Australia, New Zealand, and Singapore, while users may also create platform accounts in various other global regions, but that doesn't mean that the platform is licensed to operate in those countries.
Key Features & Advantages of Independent Reserve
Let's take a closer look at some of the key platform features I liked the most.
AutoTrader
The AutoTrader feature is great for both beginners and users who want to automate their portfolio-building strategies. For example, I can easily set a recurring buy order and buy the same amount of BTC every week or every month in case I wish to implement a dollar-cost averaging (strategy).


The same can be done with Independent Reserve crypto baskets through the Auto Basket feature, which lets me select a certain basket of cryptos (e.g., by market capitalisation) and create an automated, recurring purchase order for that basket of cryptos. You can also specify the percentage of your total deposit you wish to spend on a certain basket. For example, I chose to deposit 100 USD regularly and spend 50% on BTC, 25% on ETH, and another 25% on ADA.
Premium Accounts with Crypto Insurance
One of the unique features that make Independent Reserve a great platform for large-scale investors is its premium account features that come with various advantages compared to competitor exchanges.
Unlike competitor platforms, Independent Reserve provides crypto insurance for user accounts in case of cyber hacks and other unpleasant events that might endanger user funds.
Cryptocurrency Wallet
Every Independent Reserve user gets access to a free cryptocurrency wallet within their platform account. These wallets are multi-currency crypto storage that relies on company cold storage devices that keep more than 90% of digital assets offline. I really liked the fact that most of the funds are kept in cold storage, which is much safer than keeping assets online.
Independent Reserve automatically generates public addresses for all the cryptos supported by the platform, which means that you can securely store all of the coins you're trading within your Independent Reserve wallet, additionally protecting them with a strong password and two-factor authentication (2FA).
Independent Reserve Mobile App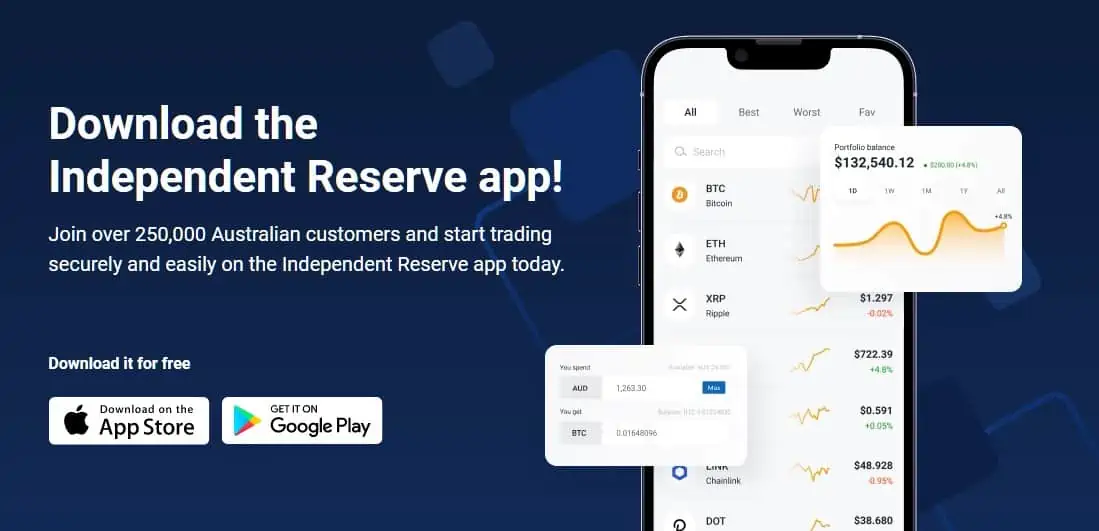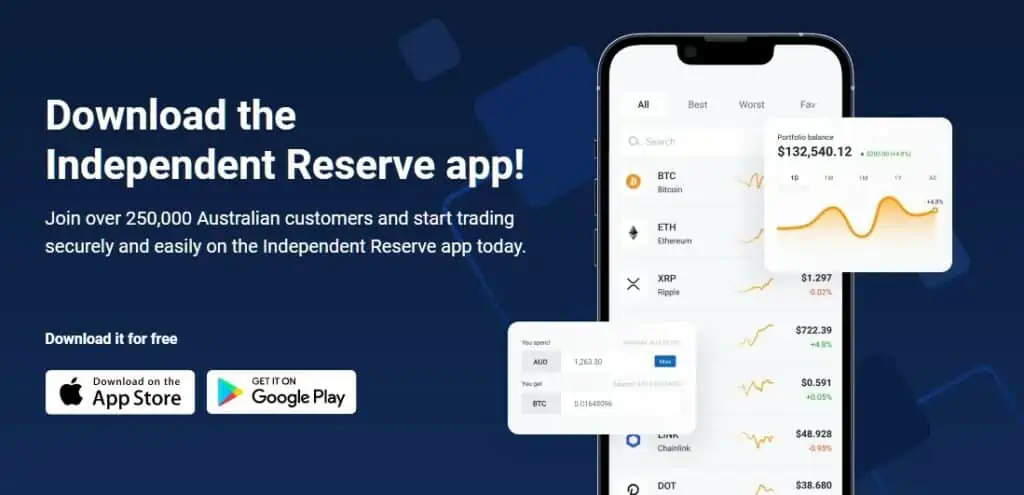 The platform has a very well-designed mobile app for iOS and Android devices. I found the app easier to navigate than the browser version, but generally, both versions are quite intuitive, and you shouldn't have any problems buying and selling crypto with them.
Independent Reserve Trading View
The trading view on Independent Reserve is a bit different compared to classic trading interfaces on most competitor platforms. When you select a specific asset, let's say BTC, you'll be taken to the BTC trading view.
At the top of the screen, you'll see a detailed price chart for Bitcoin and loads of technical analysis tools at the edge of the price chart. These tools are great for advanced users who want to analyse price change patterns and possibly anticipate the future movement of the selected asset's price.
If you scroll down, you'll see the order book for the selected asset pair, such as BTC/AUD, on the left side, while the right side is reserved for a list of recent trades.
Finally, at the bottom of the screen, there's a cumulative market depth chart for the selected asset. Personally, I found the trading view very well designed and easy to navigate. I think that even beginners can get around without a problem.
Trading Platform
Independent Reserve has multiple types of trading orders for beginners and more experienced users alike. Let me show you which orders are available on the platform.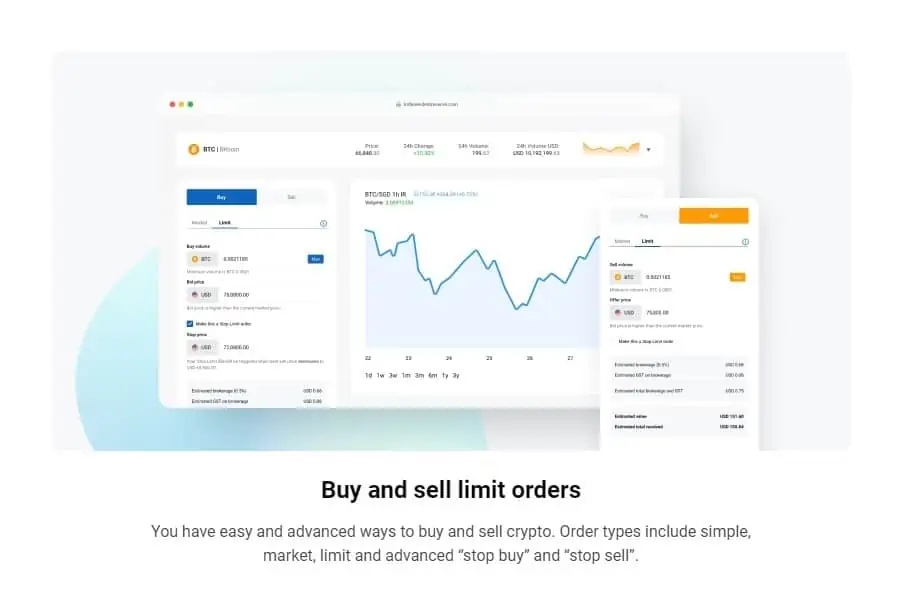 Order Types
Market buy and market sell are used to buy or sell a specific crypto at the dominant market price on Independent Reserve. These orders are usually used by crypto beginners and traders who wish to quickly finish their trading deals.
Limit buy and limit sell orders require a certain price range to be met before they get fulfilled. When you place one of these orders, you're actually waiting for the market conditions to be met and for the crypto in question to reach a specific price or price range.
Stop limit buy and stop limit sell orders are only triggered if the best possible price for taking profits is reached according to the initial order specifications.
Independent Reserve Fees
Independent Reserve has quite reasonable fees that are around the industry average.
Deposit & Withdrawal Fees
There aren't any crypto withdrawal or deposit fees on Independent Reserve. However, you'll always need to pay a standard blockchain processing fee for the digital currency you're transferring.
I also found the deposit fees quite fair. Fiat ones such as EFT, PayID, and OSKO deposits are free of charge for sums over 100 AUD. Deposits under 100 AUD incur a modest 0.99 AUD fee. SWIFT bank transfers are free for transactions above 5,000 AUD, while transactions below this value incur a 15 AUD fee.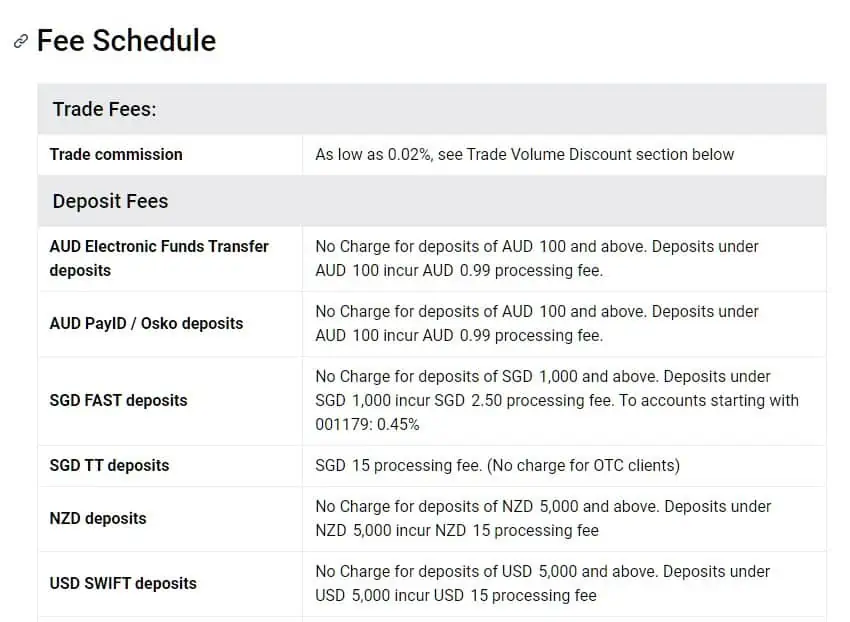 Fiat withdrawals are free when it comes to bank account withdrawals and EFT transfers, while PayID AUD withdrawals incur a 1.5 AUD fee.
Low Trading Fees
The Independent Reserve trading fees aren't the lowest in the industry, but I found them much more acceptable compared to platforms like Coinbase, which charges hefty fees.
Just like many popular cryptocurrency exchanges, Independent Reserve also uses a tiered-base fee mode, except that it doesn't have different fees for market makers and market takers. The highest fee is 0.5% for traders with a 30-day trading volume below 100,000 AUD. The fee gradually drops as your trading volume goes up, but honestly, most beginners and average crypto traders fall into the sub-100,000 AUD category, so it's safe to say that 0.5% is the average fee.
For large-scale investors with increased trading volumes, the fees can go as low as 0.02% if they have a monthly trading volume of at least 20 million AUD.
The average 0.5% fee is quite reasonable, especially since it's the same for both instant trading and market orders.
Security Features
Security is one of the aspects of Independent Reserve that I liked the most. The platform has never been hacked, even though it's nearly ten years old, which is something many crypto veteran platforms can't pride themselves on.


Most of the platform assets are kept offline in cold storage, and all the data is encrypted. Additionally, the user accounts and Independent Reserve account wallets are all protected with passwords and two-factor authentication (2FA), so users have to confirm each transaction twice to verify it's not some third-party hacker who's trying to facilitate a transaction.
24/7 Customer Support
I really loved Independent Reserve's great customer support despite the fact that they don't have any live chat support option. You can contact them either by email or through a support ticket. The thing is that the support team is super fast when it comes to responding to customer support tickets.
Social Media Platforms
Independent Reserve maintains an active presence across various social media platforms, including Twitter, Instagram, Linkedin, and Facebook. It isn't uncommon for platform customers to ask support questions on Independent Reserve social media platforms and get answered immediately by company representatives.
Which Payment Methods Are Accepted?
Independent Reserve accepts a variety of payment methods. For Aussie traders, PayID, SWIFT, OSKO, and EFT are all viable payment options. However, credit cards and debit cards aren't among the supported payment methods.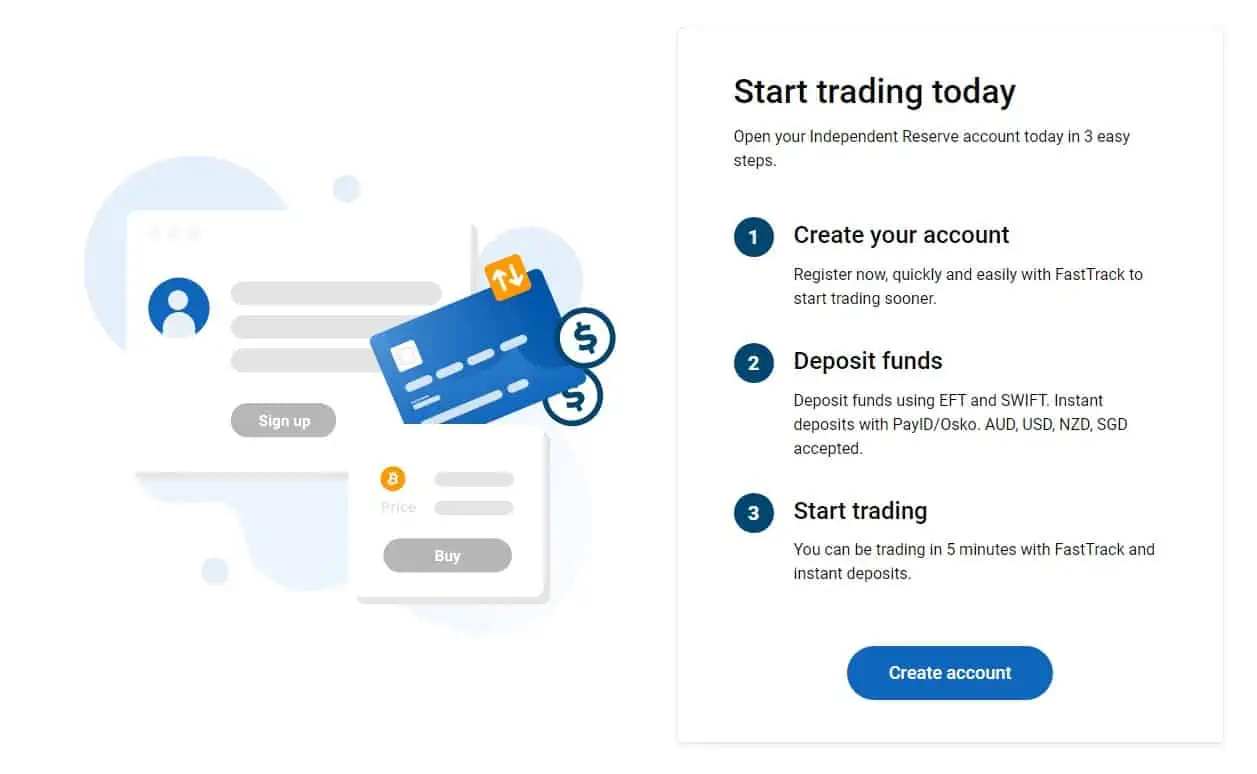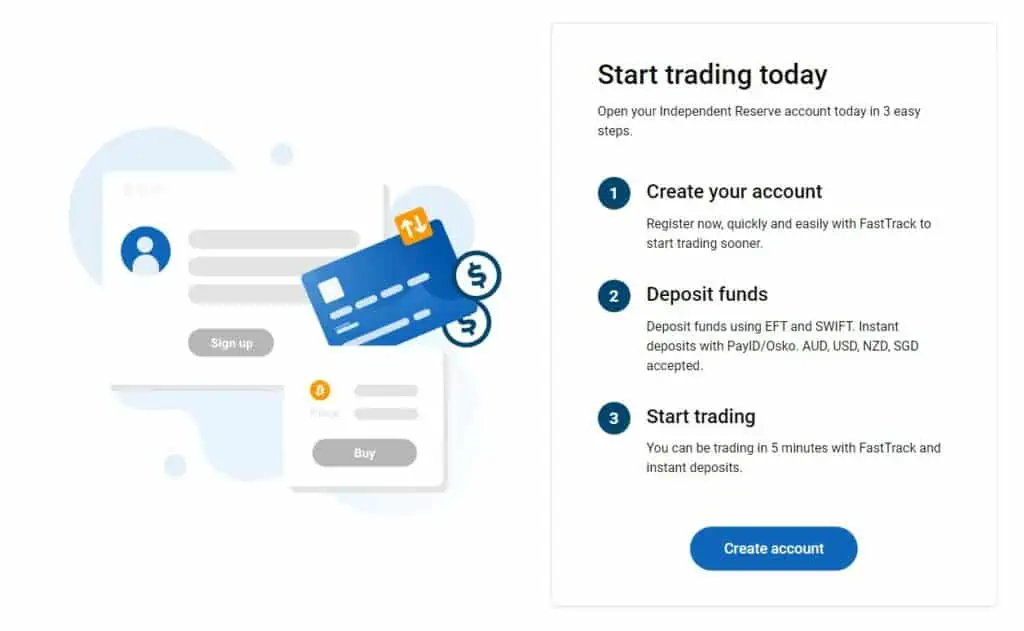 You can also deposit crypto from a third-party wallet and use it for trading on the platform.
Creating an Account With Independent Reserve
Let me show you the account creation procedure.
Create an Account
Go to the registration section of the Independent Reserve website.
Provide a username and password for logging into your account.
Enter a referral code if you have one and check the box to confirm that you're not a robot.
Now, create your platform account.
Account Verification
The next step is account verification. You need to verify your account as part of the Know Your Customer (KYC) procedure of the platform.
Enter and verify your email address, as well as your personal phone number.
Enter Personal Details
In the next step, you'll need to provide your personal details and information regarding your identity.
Once you've provided the information and submitted a copy of a government-issued identification document, you're ready to move to the next step.
Finally, submit the account for verification. It should take less than 10 minutes, and you'll receive positive confirmation.
Funding Your Account
You're ready to fund your account with fiat currency either through PayID, OSKO, SWIFT, or EFT.
All deposit type details are accessible through the Accounts tab, where you'll see the exact instructions for each deposit method.
Alternatives
Swyftx vs Independent Reserve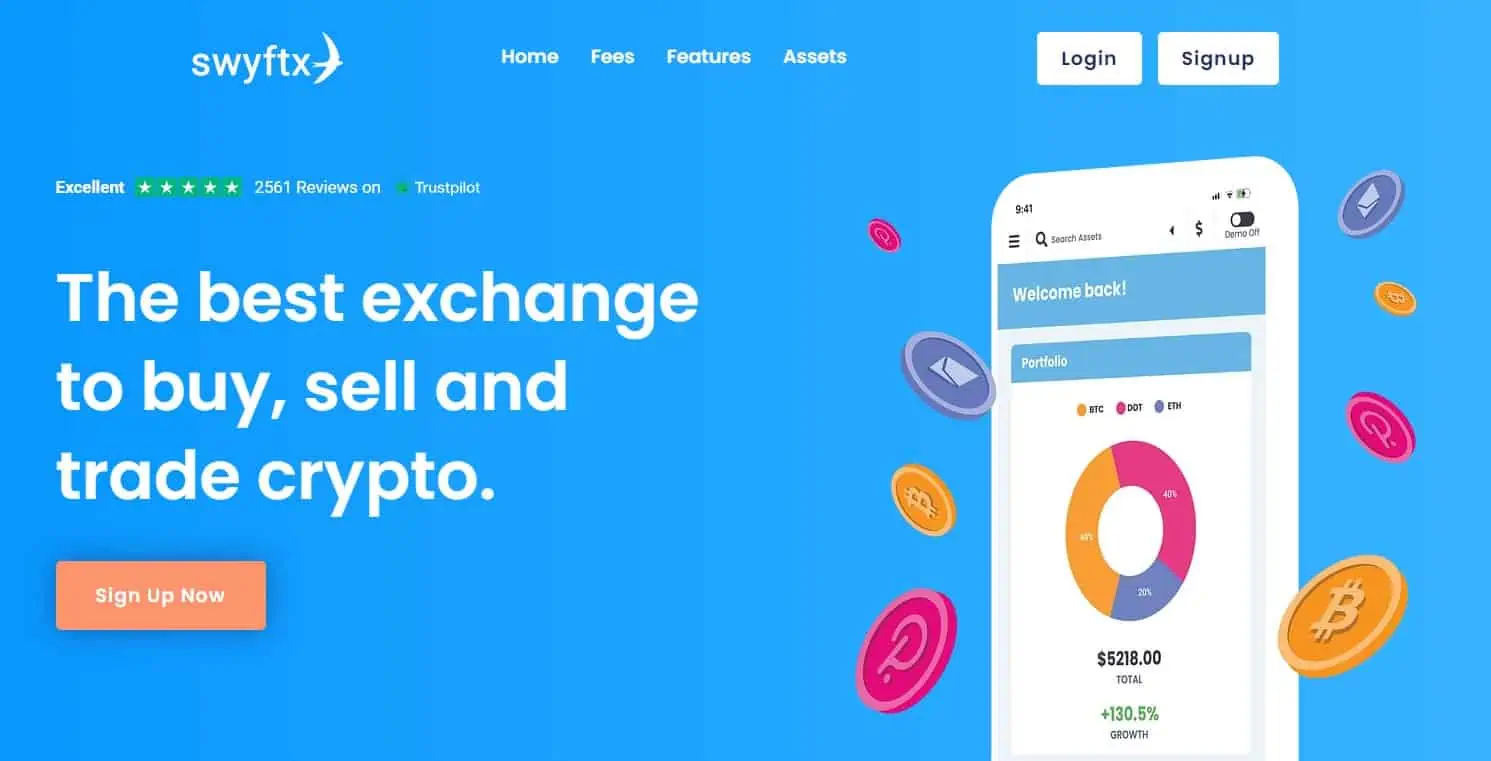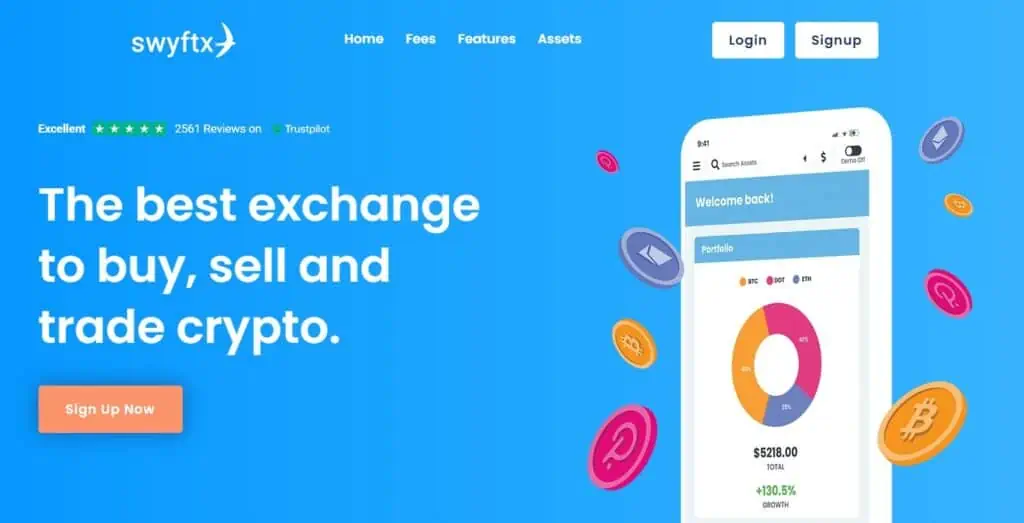 Swyftx has a much broader selection of cryptos compared to Independent Reserve, but the platform's flat fee is also considerably higher (0.6%) compared to Independent Reserve's (0.5%-0.02%).
Binance Australia vs Independent Reserve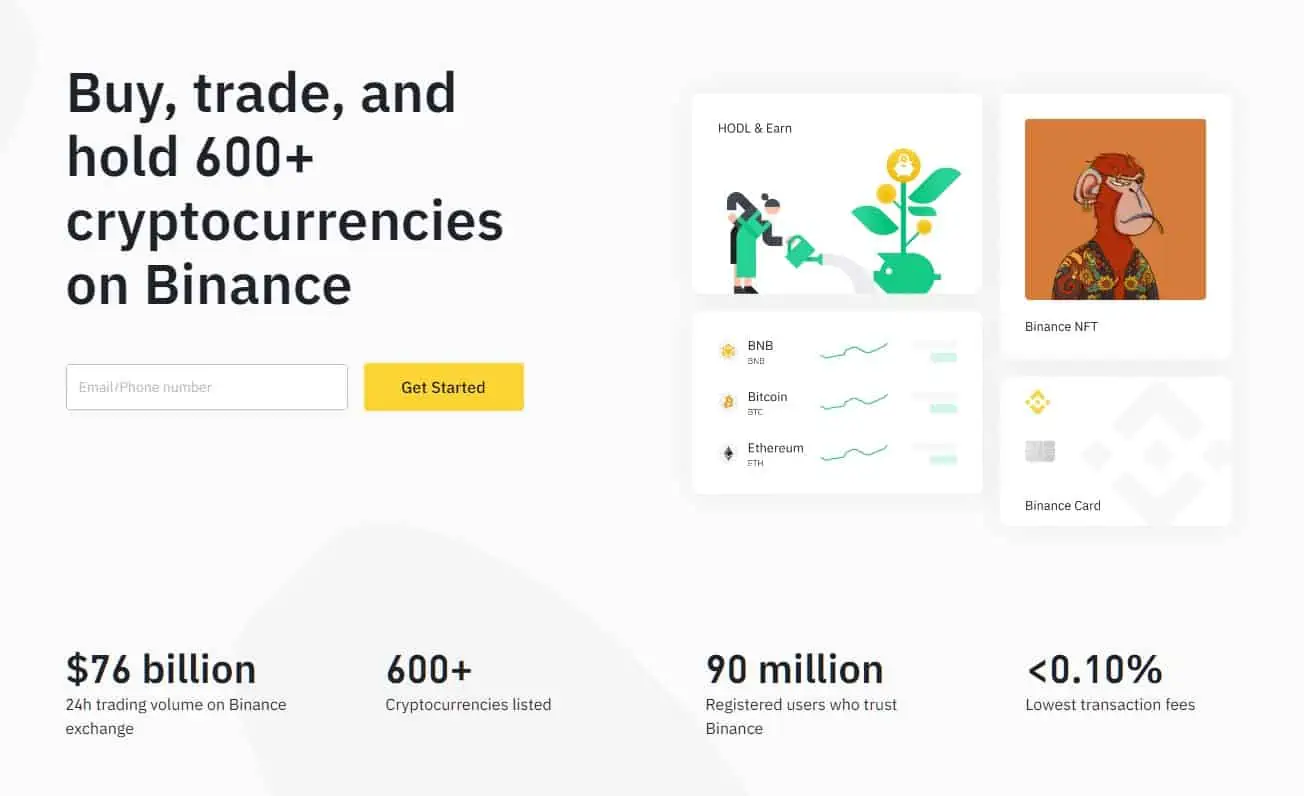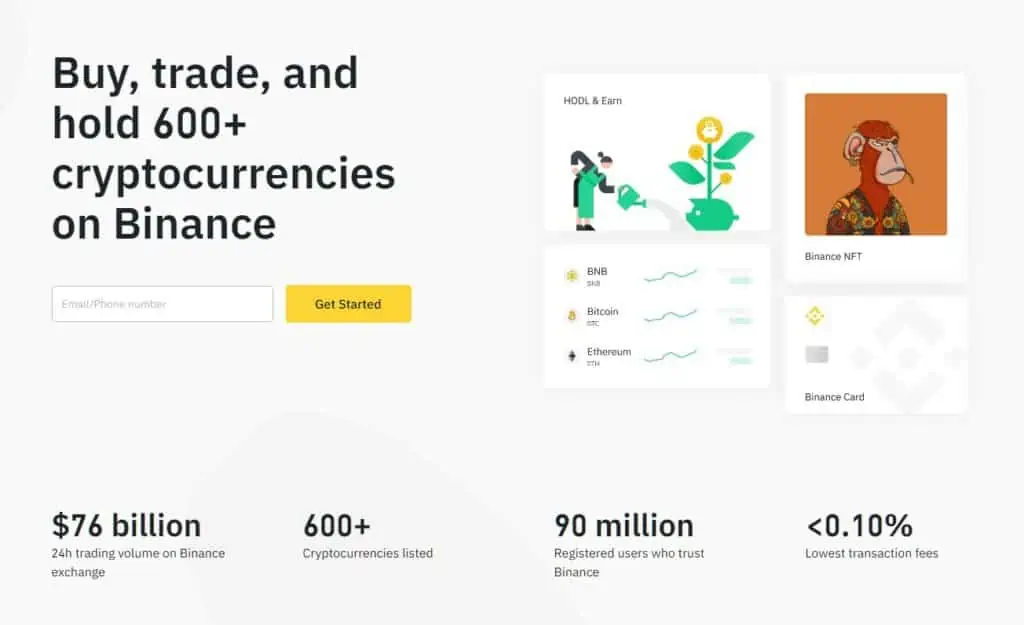 Binance Australia has a larger number of trading features and cryptos available for trading compared to Independent Reserve, which lacks many basic coins and tokens and advanced trading options, such as margin trading, futures contracts, or asset staking.
Coinbase vs Independent Reserve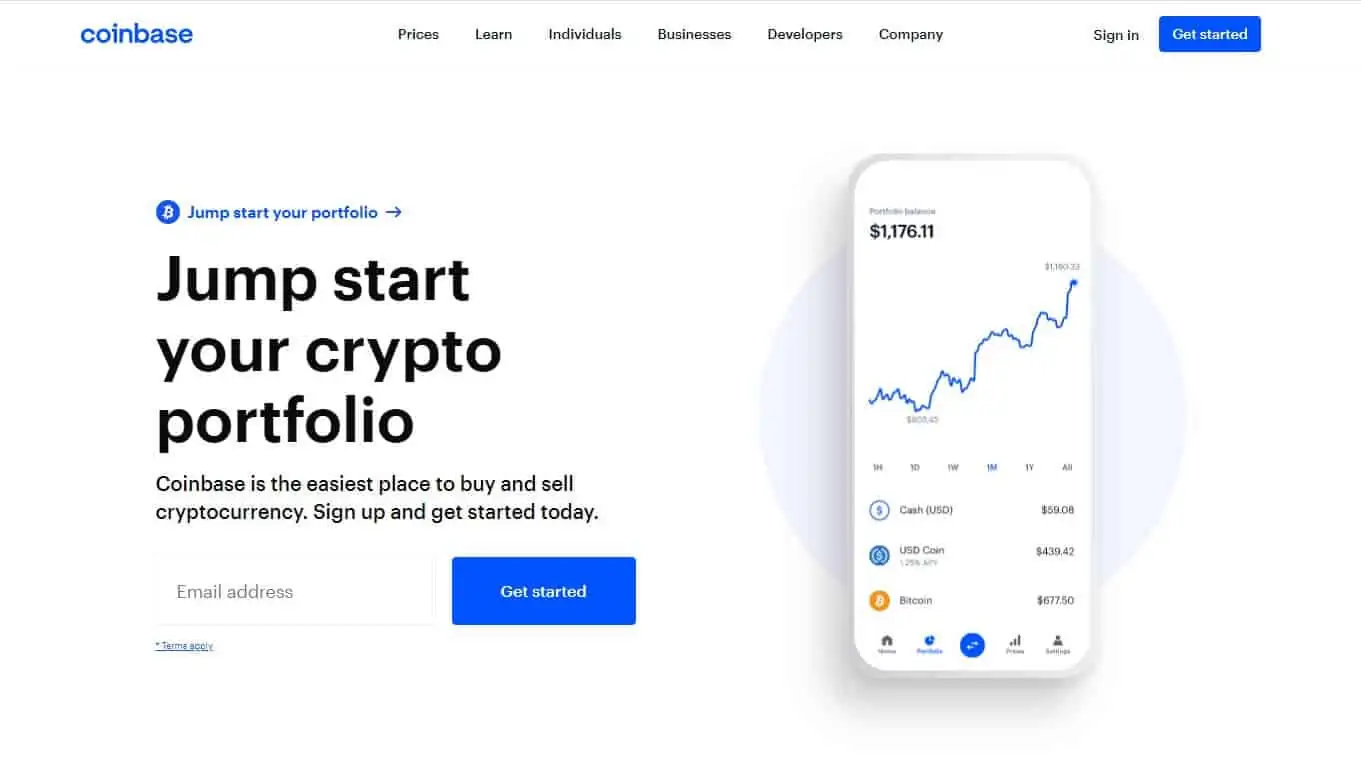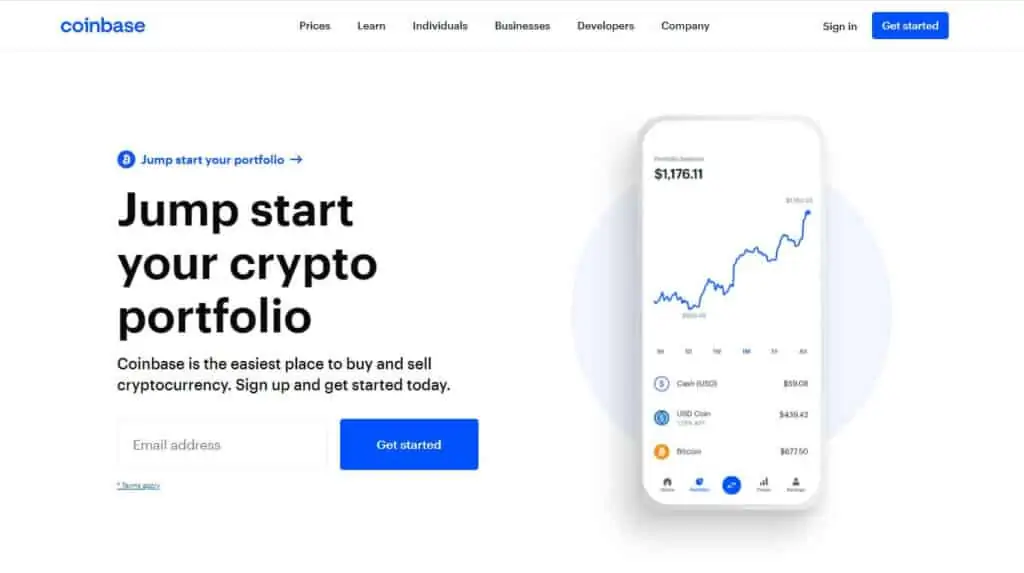 Coinbase has support for much more cryptos than Independent Reserve, but it also has some of the highest trading fees on the market. Additionally, Coinbase doesn't support AUD, which is a huge entry barrier for Aussie traders.
CoinSpot vs Independent Reserve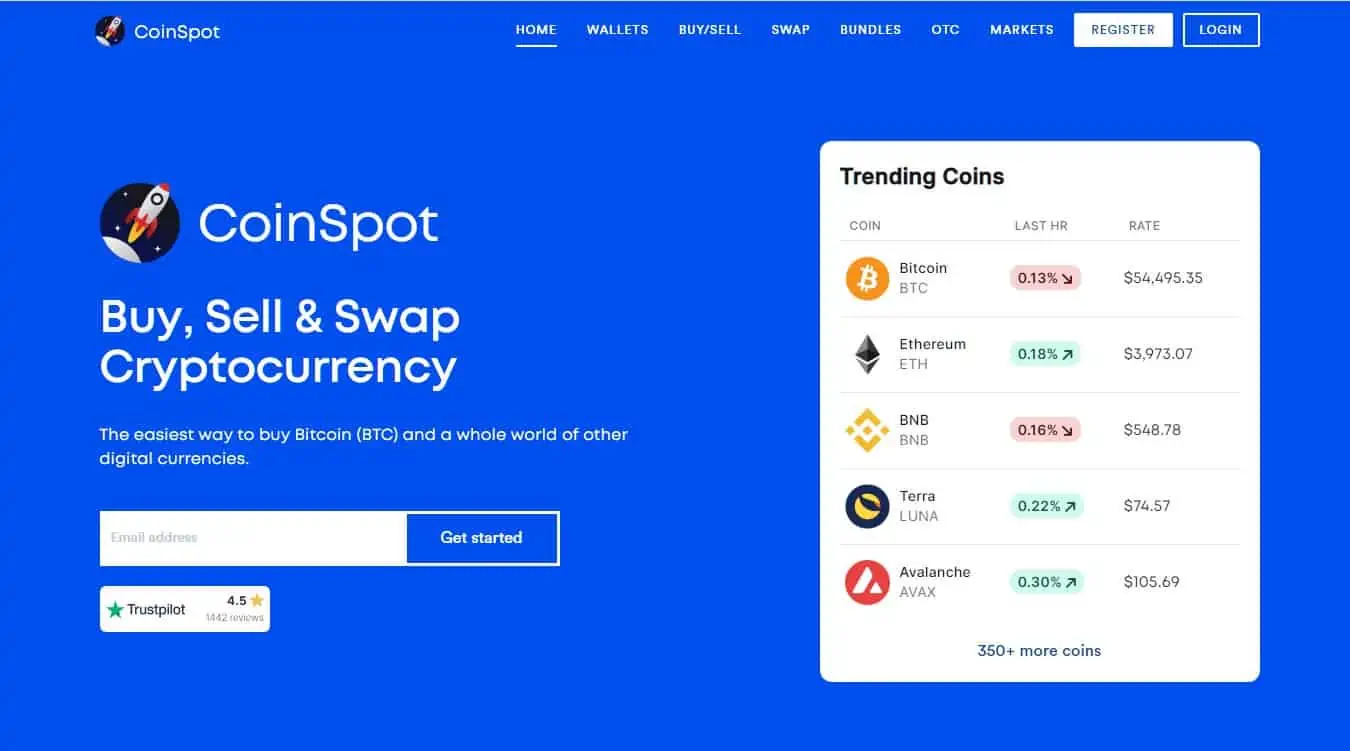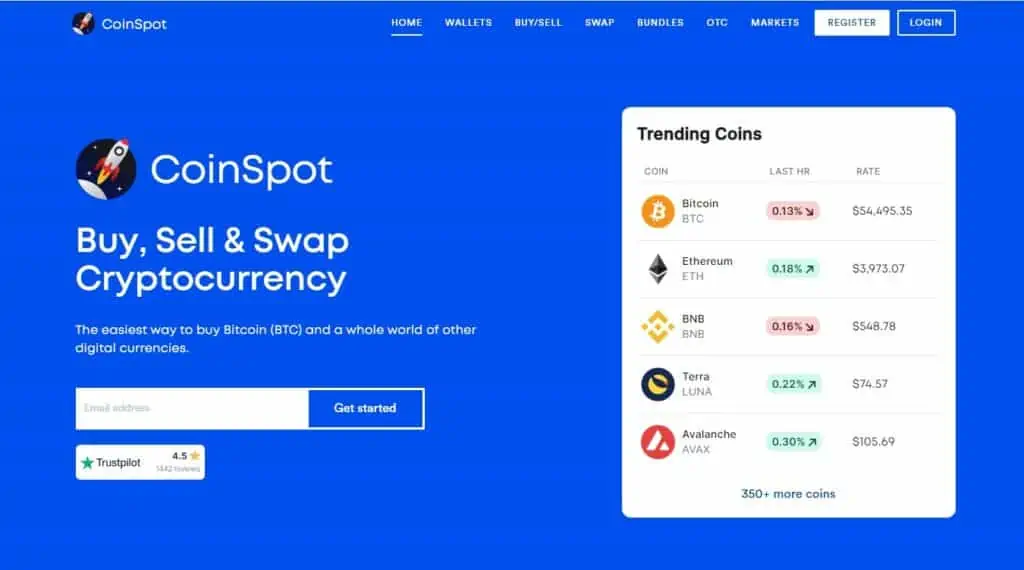 CoinSpot is another good alternative to Independent Reserve if you're looking for a crypto exchange with a broad selection of coins and a more simple user experience fit for beginners.
Frequently Asked Questions
Let's have a look at some popular FAQs.
Who owns Independent Reserve?
Independent Reserve is owned by founder and CEO Adrian Przelozny, a longtime crypto enthusiast.
How do I withdraw from Independent Reserve?
You can easily withdraw assets from Independent Reserve by navigating to your desired account wallet, such as your Ethereum (ETH) wallet, and selecting the withdraw option, which will allow you to send your ETH to another public address. With fiat withdrawals, the procedure is the same, you just need to specify a bank account to which you wish to withdraw the money and verify that bank account in advance.
Can I buy Bitcoin from Independent Reserve?
Sure you can. Bitcoin is among the 30 digital currencies you can buy from Independent Reserve directly with fiat money.
Is Independent Reserve regulated?
Yes, Independent Reserve is a fully regulated Aussie exchange registered with AUSTRAC.
Conclusion
I definitely have to say that Independent Reserve is a very reliable, veteran Aussie platform that really works like a charm, except that it lacks numerous popular cryptocurrencies, which is a huge minus when you compare it to other local platforms. However, the coins that are available truly represent a strong selection of leading crypto projects, the fees are reasonable, and the platform supports multiple fiat currencies.
I'd recommend Independent Reserve for Aussie crypto heads who are just starting to trade crypto, but for more advanced users, there are definitely some better-developed platforms on the market.
Independent Reserve Compared
| Exchange | Cryptocurrencies | Fiat Currencies | Trading Fees | Deposit Methods | Sign Up |
| --- | --- | --- | --- | --- | --- |
| Swyftx | More than 320 | Australian Dollars, New Zealand Dollars | 0.6% | Osko, PayID, Credit Card, Debit Card, Bank Transfer, Cryptocurrency | Visit Swyftx |
| CoinSpot | More than 370 | Australian Dollars | OTC: 0.1% Market Order: 0.1%* (applies to LTC, BTC, ETH, XRP, POWR, DOGE, TRX, NEO, XLM, GAS, RChain, RFOX, EOS) Instant Buy/Sell: 1% | POLi, PayID, Cash, Cryptocurrency, Bank Transfer, BPAY | Visit CoinSpot |
| Binance | More than 600 | US Dollars, Australian Dollars, and 8 more | 0% to 0.1% | Osko, PayID, Credit Card, Debit Card, Crypto | Visit Binance |
| Bybit | More than 160 | 50+ | 0.1% to 0.6% | Crypto, EFT, wire transfer, bank transfer, debit card or credit card | Visit Bybit |
| Independent Reserve | 27 | Australian Dollars, US Dollars, New Zealand Dollars | 0.05% to 0.5% | EFT, SWIFT, Osko, PayID, Crypto | Visit Independent Reserve |
| Coinbase | More than 210 | Australian Dollars, US Dollars, New Zealand Dollars | Fees Vary | EFT, SWIFT, Osko, PayID, Crypto | Visit Coinbase |
| CoinJar | More than 50+ | Australian Dollars, Pound Sterling | Taker: 0.04 to 0.1% Maker: 0.04 to 0.1% | Apple Pay, Google Pay, Credit Card, Debit Card, Bank Transfer, Fiat, Crypto | Visit CoinJar |
| Kraken | More than 140 | Australian Dollars, US Dollars, and 5 more | Taker: 0.10% to 0.26% Maker: 0.00% to 0.16% | Apple Pay, Google Pay, SWIFT, Osko, SEPA, Crypto, Wire Transfer, Bank Transfer | Visit Kraken |
| BTC Markets | More than 15 | Australian Dollars | Taker Fee (for Bitcoin pairs): 0.20% Maker Fee (for Bitcoin pairs): -0.05% Australian Dollars Market Pairs: 0.10% to 0.85% | Crypto, BPAY, EFT, PayID, Osko | Visit BTC Markets |
| Easy Crypto | More than 40 | Australian Dollars, New Zealand Dollars, South African Rand | 1% | P2P, POLi, and Bank Transfers | Visit Easy Crypto |
| Coinstash | More than 140 | AUD | Taker fees: 0.85% Maker fees: 0.85% | Cryptocurrency, Bank Transfer, PayID | Visit Coinstash |
| eToro | More than 70 | Australian Dollars, US Dollars, Euro, and 12 more | Vary | Online Banking, Skrill, Neteller, PayPal, Bank Transfer, Debit Card | Visit eToro |
| KuCoin | More than 645 | US Dollars, Euro, Australian Dollars, and 6 more | 0.1% | Credit Card, Debit Card, SEPA, PayPal, Wire Transfer, Crypto | Visit KuCoin |