Independent Reserve Review 2022 – Reliable Australian Cryptocurrency Exchange
Established in 2013, Independent Reserve is one of the first crypto marketplaces designed for the needs of Australian crypto traders. The platform is headquartered in Sydney and it provides services to 200,000 users in 36 countries worldwide. It is recognized as one of the most trusted native crypto exchanges, which offers an open, secure, and straightforward environment for fiat-to-crypto trading.
The company operates with highly regulated security and user protection practices. It's among the earliest exchanges regulated by the Australian Transaction Report and Analysis Centre (AUSTRAC), which ensures institutional compliance with Counter-Terrorism Financing. Independent Reserve is also a member of the Australian Digital Commerce Association (ADCA), a digital commerce regulatory body on the territory of Australia.
The professional trading atmosphere can be felt upon the very visit to Independent Reserve's website. Despite the advanced outline, the site is exceptionally intuitive, giving the platform an additional competitive edge. Let's go through the platform's general features and see whether they support our positive first impression.
How Does Independent Reserve Work?
The Independent Reserve platform can be accessed exclusively through their website. The exchange doesn't have an official mobile app available for download, but there's no need to worry – the website is optimized for mobile browsers, so you won't lack any on-the-go support.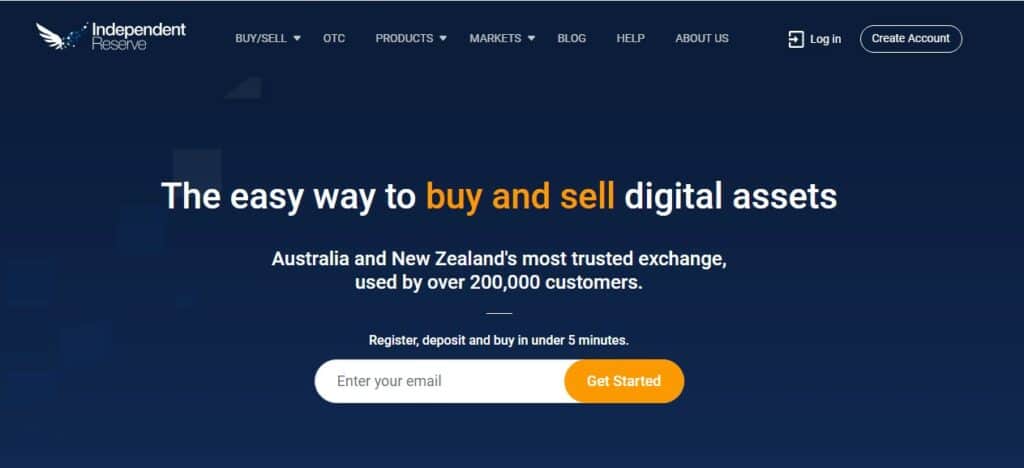 The sign-up process may take 24–48 hours. First, you'll need to provide an email address and a mobile phone number; in case you forget your password or fail to enable two-factor authentication, the mobile phone will be used as an identification tool. The next step is verifying your identity against the applicable AML (anti-money laundering) and CTF (counter-terrorism financing) databases.
After completing the verification process successfully, you're all set to go. The platform offers a multicurrency order book that converts the orders into the currency you've selected. More specifically, this enables you to utilize the full pool of orders and obtain the best conceivable price. Plus, you have full insight into all market orders irrespective of the fiat currency they've been placed with.
Independent Reserve allows multiple order types such as Limit Buy, Limit Sell, Market Buy, Market Sell, Stop Limit Buy, and Stop Limit Sell. Furthermore, it was the first Australian cryptocurrency trading platform to present automated trading strategies such as Autobuy, Autoschedule, and Autobasket. External apps can also integrate with Independent Reserve by using their well-structured Airbridge™ API.
After launching an OTC (over-the-counter) desk, Independent Reserve became a leading name on the Australian market for such personalized services tailored to high-net investors. You can use an OTC desk to ensure deep liquidity and avoid slippage only if your single trade size exceeds the amount of $100,000. The fees are quite transparent, ranging from 0.5% to 0.4%, and OTC trading services on Independent Reserve aren't restricted to BTC only. They're also available for trading large volume BCH, ETH, LTC, XRP, EOS, and XLM.
Supported Cryptocurrencies And Payment Methods
Independent Reserve offers nearly 30 different altcoins besides Bitcoin (BTC), including Ethereum (ETH), Litecoin (LTC), Bitcoin Cash (BCH), Ethereum Classic (ETC), Polkadot (DOT), Chainlink (LINK), EOS (EOS), etc. The platform also supports stablecoins like Tether (USDT) and Dai (DAI), and a range of DeFi tokens such as Synthetix Network Token (SNX), Basic Attention Token (BAT), and Perth Mint Gold Token (PMGT).

They can be traded against four fiat assets: AUD, USD, SGD, and NZD. On Independent Reserve, you can fund your account through several payment methods. The most convenient choices for holders of Australian bank accounts are EFT instant deposits or PayID/Osko and POLi, which will deliver the funds to your account within 24 hours. International traders can use SWIFT transfers, and their transaction time is around 2–3 business days.
Finally, you can supply your account with crypto deposits in BTC, BCH, ETH, XBT, and LTC. All deposits incur an initial daily limit of $20,000, which can be exceeded upon a request to the support team. Cryptocurrencies, on the other hand, are bound by a minimum withdrawal limit, namely, for Bitcoin, 0.001 BTC; for Ethereum, 0.01 ETH; for Bitcoin Cash, 0.001 BCH; and for Litecoin, 0.01 LTC.
If you're interested in Bitcoin-only purchases, learn more about the best practices for buying Bitcoin in Australia. But if you are more open to trading new altcoins, read our informative article on How to Buy Cryptocurrency in Australia.
Independent Reserve Fee System
Independent Reserve applies a volume-based fee schedule based on the user's 30-day trading volume, re-evaluated every four hours. Trading fees start from 0.5% and can go down to 0.02% as the volume increases. For high-volume investors, this is more than an advantageous outcome, while for beginners or casual traders', the percentage of 0.5% exceeds the market average.


This crypto exchange doesn't charge fees for SWIFT deposits above $5,000, and the same goes for EFT deposit transactions higher than 100 AUD. Withdrawals in Australian dollars are also free of charge. However, traders in New Zealand and all other international users that withdraw their funds in USD will have to pay a $20 commission. Furthermore, an SGD cash-out incurs a withdrawal fee of 0.55%. You should also remember that withdrawals in general are subject to a network fee, determined by the blockchain load itself.
User Interface
The Independent Reserve platform has a well-structured interface that's quite intuitive even for users visiting the site for the first time. More advanced traders can find a separate Trading View section under the Markets page.
The platforms' management of graphic analytic tools does leave some room for improvement, though. Visual charts are a bit clumsy in adapting to real-time presentation and don't offer the option to draw trend lines. Plus, you can't zoom in on and recenter candlestick patterns, which means you won't always be able to read the specifics.
Is Independent Reserve Safe to Use?
The databases are encrypted and signed several times across four different data centres, making this trading platform safe and secure.
Concerning the safety of the website, the platform employs remote servers, which are securely stored throughout four different data centres. This enables the replication of all encrypted data in real-time, so in case of a cyberattack, the data will stay fully protected.
As we mentioned above, you should activate 2FA during the sign-up process to prevent unauthorized access. Optionally, you can go a step further and make use of Device Whitelisting—another authentication layer for all new devices that come with default smart IP protection and/or whitelisting of the withdrawal address.

Finally, Independent Reserve keeps most of the entrusted funds in cold storage, which, combined with its multi-layer encryption, makes the platform a trustworthy destination for trading cryptocurrency.
Customer Support
The help section on the Independent Reserve website provides assistance over general issues users could face while registering or trading. According to reviews, customer service is about average when it comes to reliance and accessibility.
You can also count on additional help by contacting the support team through email but bear in mind that you need to be logged in to use this sort of assistance.
Frequently Asked Questions
Does Independent Reserve include a digital wallet?
Once you register with Independent Reserve, you'll get a wallet hosted on your account. The exchange will immediately provide you with a public address, so you can deposit funds directly to your account by selecting the Accounts option.
Does Independent Reserve provide any sort of fund insurance?
Independent Reserve does provide insurance protection, but it's available only for holders of Premium accounts. According to the exchange's insurance policy, there's an insurance fund that protects premium investors from potential security breaches. In such a case, Independent Reserve reimburses users for any lost or stolen assets that were held in the platform's wallet.
Is Independent Reserve available in the USA?
US crypto investors can't buy and sell cryptocurrencies via Independent Reserve. If they do follow the Binance example in the near future, they may launch a separate platform to comply with the US financial regulations.
Is Independent Reserve suitable for day trading?
Independent Reserve is suitable for day traders as it encourages increasing trading volumes by lowering the trading fees to 0.1% commissions. Plus, it features a multi-currency order book that converts all open orders into your desired currency automatically. All in all, this is a great advantage for day trading that ensures the best prices possible thanks to multi-currency trading.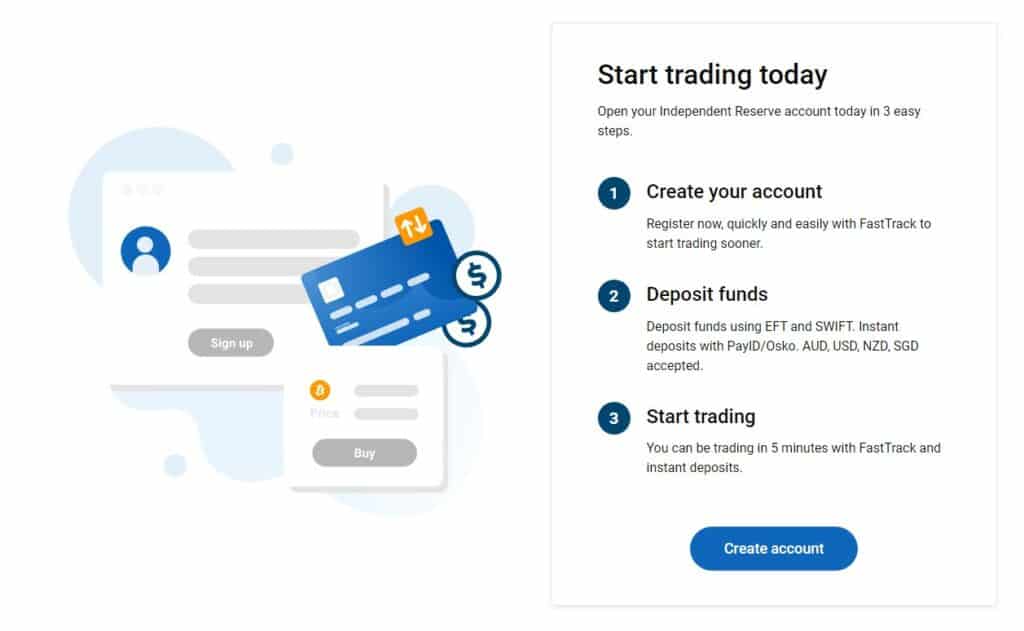 A Few Words Before You Go…
Overall, Independent Reserve is a reliable solution when you consider the versatile services and fees that it offers. It's perhaps one of the best choices for residents of Australia and New Zealand as deposits and withdrawals can be made using their local currencies with minimal or no compensation at all.
There is certainly room for improvement in certain fields like the relatively "frosty" customer support and poorly-functioning tools for trading analysis. Aside from that, Independent Reserve is a decent, cost-effective, and secure marketplace for both novices and crypto veterans.
So, in conclusion, you should seriously consider this cryptocurrency exchange:
if you need a well-trusted trading platform that operates within the strictly regulated financial sector;
if you're looking for a scalable, low-fee system with decreasing trading fees;
if you need a digital currency exchange consisting of a tax estimator and calculator.
Lastly, if you don't want to risk it and want an insurance-covered service that keeps funds in cold storage, then Independent Reserve is for you – provided that you're a premium user.
For more crypto trading options, read our article on the Best Cryptocurrency Exchanges in Australia to decide which exchange on the Australian market is right for you.