KeepKey Review for 2022
In the battle for best crypto storage, security always wins over convenience. That's to say, hardware wallets — as self-governed devices — are a way safer solution for your crypto holdings rather than the popular wallet apps and online platforms. Thereby, let's move our focus to KeepKey — one of the leading "tangible" wallets in the fiercely competitive crypto market of today.

All hardware crypto wallets give you the same sense of security in the long run as they keep your assets offline — far from the vulnerable virtual space. However, they can differ to a great extent in the simplicity of their navigation, the scope of supported currencies, and their compatibility with external software programs.

The wallet on our today's list is claimed to be in line with all desired wallet features. At first glance, it has caught our attention with its ultra-elegant design and the relatively large screen. However, KeepKey is more than just a well-packed product. It's a multicurrency, open-source wallet with a simple recovery feature and built-in compatibility with ShapeShift, which allows users to swap their cryptocurrencies directly from the KeepKey device and have full insight into the transaction process. The wallet can be used on Windows, Mac, Linux, Android, and Chrome OS operating systems.

At first glance, it looks like a generous package, but let's discuss its specific traits at greater length and find out whether KeepKey is the best fit for your virtual "treasure".

About the KeepKey Wallet
KeepKey started off in 2015 as a US-based company founded by Darin Stanchfield. The very next year, it established a turning-point partnership with ShapeShift — a Swiss trading platform with long-lasting experience in the global crypto scene, run by Erik Voorhees. The initial partnership between these two crypto-driven services enabled KeepKey holders to integrate their hardware wallets with ShapeShift API and hence, trade on the exchange directly from KeepKey.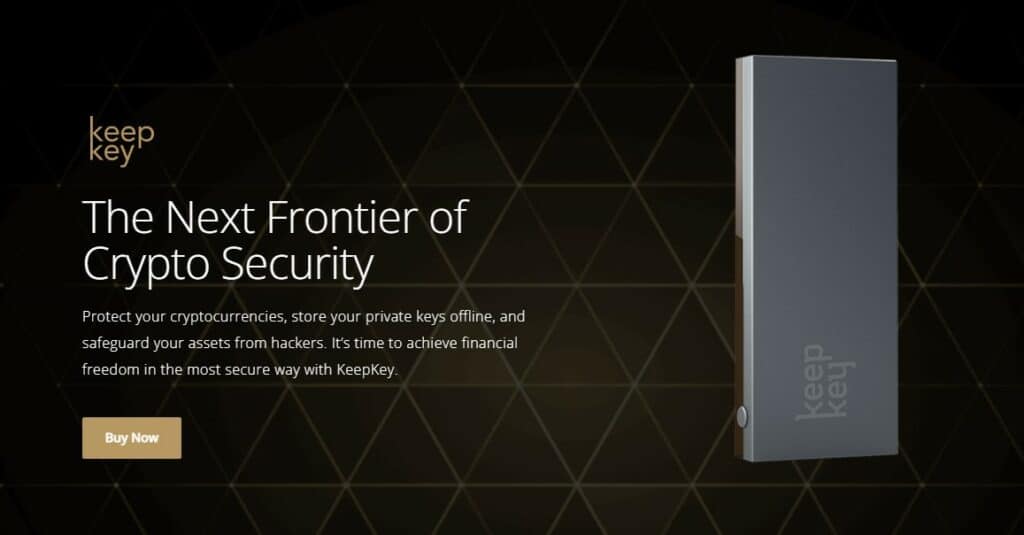 Eventually, ShapeShift acquired the wallet brand in 2017, ensuring better technology and security measures for the years to come. This transition made KeepKey the first integrated hardware wallet with native crypto exchange functionalities.
How to Buy a KeepKey Hardware Wallet?
You can get a KeepKey wallet only from the company's official webshop and pay for it regularly through PayPal, credit card, or using cryptocurrencies. When it comes to purchases of such money-transmitting devices, you should follow the general first-hand rule and avoid bargain offers from unauthorized resellers.
Interestingly enough, KeepKey originally came out with a price of over $239. Over the years, its selling price was gradually reduced, so now you can acquire it for around $50, which makes KeepKey one of the most cost-efficient wallets on the overall market. However, note that the device is shipped from the USA, so it may incur additional custom and shipping fees.
When you get the order, make sure that it contains the following components:
The wallet device
Recovery card
USB cable.
The package is carefully welded in a small box, protected with a holographic seal to ensure that it hasn't been previously opened.
How to Set Up a KeepKey Wallet?
The KeepKey setup is pretty straightforward as it requires little interaction with the hardware device itself. You can now access the official software for KeepKey through the ShapeShift platform. Until recently, you had to download the KeepKey client app from the Chrome App Store as a regular Chrome extension. However, as Google began phasing out Google Chrome Apps, users can rely on the software support that can be found on ShapeShift's official page.

Afterward, you're ready to initiate the installation in the following order:
Pair the KeepKey wallet with your computer through the USB cable (KeepKey is also compatible with a mobile phone but only when connected through an OTG cable. In addition, mobile-phone integration requires you to install the Mycelium app from App Store or Google Play store).
After connecting the KeepKey Wallet with your computer or mobile phone, go to ShapeShift's web-based platform (ShapeShift.com) to get the KeepKey-secured platform. You don't need an exchange account to install the hardware wallet, monitor your balances, or send and receive any of the supported assets.
Insert a label (name) for your wallet and confirm it with the Set Label button.
Choose a PIN number for your wallet device (1-9 digits). The key combination will be shown on your device only.
Now it's time to create a recovery seed consisting of 12 words. Be extra cautious at this stage. You should carefully write down the recovery phrase on a card that comes with the device. Never store your recovery seed digitally (mobile phone, external drive, etc).
Click the button on your device to finish the installation process.
How to Transfer Funds?
KeepKey offers live online support on their website through a chat function. User reviews generally rate KeepKey customer support as quickly responsive, detailed, and helpful.
Send and Receive Funds
Once you successfully complete the set-up process, you'll be directly diverted to your Bitcoin wallet, all set off to start transferring your crypto assets smoothly. However, the wallet allows you to set up multiple accounts for each crypto you use. You will see this Add Account option at the bottom right in the software. To maintain the optimal operational speed, the maximum number of your accounts shouldn't exceed 10.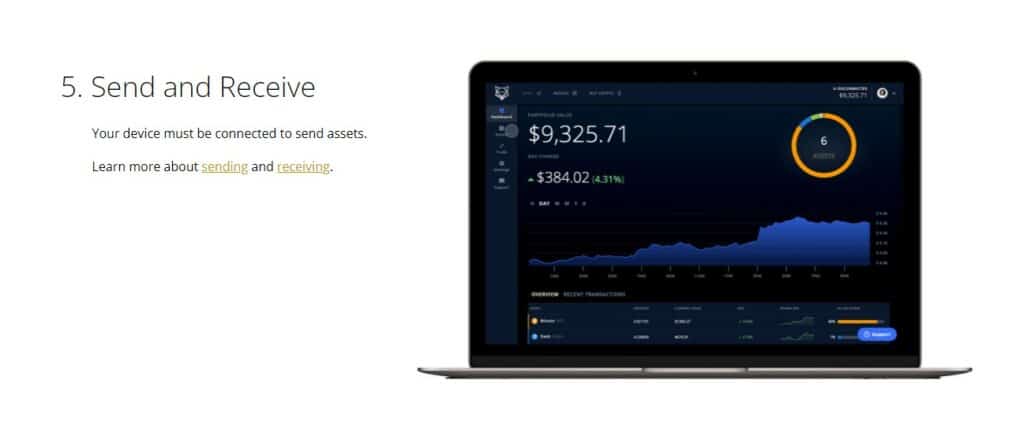 KeepKey puts the main focus on the neat interface. As a result, the wallet offers outstanding ease of use. On the center-screen, you'll first notice the Account Balance function and three menu options below: Send Bitcoin (we'll use the default account as an example), Receive Bitcoin, and Transactions. All you have to do is follow the instructions displayed both on the software and the wallet screen.
Integration with Shapeshift
As a ShapeShift-owned product, the KeepKey wallet allows seamless exchange between different coins directly within your accounts. In order to utilize the wallet as an exchange, you'll need to have a ShapeShift registered account and wallet accounts for both the input and output coins.
The integration with ShapeShift is pretty simple and eventually, a rewarding trading experience, as it allows you to make a direct crypto-to-crypto swap within a few minutes, without juggling across different wallet addresses and multi-layer transactions.
Besides the inherited integration with ShapShift, Keepkey is also compatible with the two other external wallet software programs: Mycelium and Electrum.
Just one more navigation-related feature before we move to the next point. Be prepared that KeepKey will regularly ask you to update the device firmware in order to install new features and solutions for security vulnerabilities.
KeepKey Wallet Review

Bitcoin and Other Supported Cryptocurrencies
KeepKey supports 7 of the most commonly traded coins: Bitcoin (BTC), Ethereum (ETH), Bitcoin Cash (BCH), Bitcoin Gold BTG), Litecoin (LTC), Dogecoin (DOGE), and Dash (DASH), as well as over 30 ERC tokens such as Storj (STORJ), Basic Attention Token (BAT), Bancor (BNT), and Ox (ZRX). The selection is more than decent but incomparable to KeepKey's direct competitors Ledger and Trezor, where you can store over 1,000 various altcoins.

Also, unlike the majority of hardware crypto wallets, KeepKey doesn't rely on MyEtherWallet software for support of the available ERC20 tokens. However, if you plan to send any amount of any ERC20 token to another wallet address, you must have enough Ether to cover the amount for transaction fees, which are determined by the transaction complexity.
Transaction Fees
When transferring funds through the KeepKey hardware wallet, be prepared for regular mining/ transaction fees, charged by the blockchain network depending on the current network congestion. KeepKey doesn't earn any portion from the transaction fees — they are all given as miner awards.
When it comes to Bitcoin transactions, KeepKey offers a custom fee option allowing you to choose between a fast, medium or slow transaction speed. Accordingly, the slower the transaction, the lower the fees.
This option isn't applicable with other supported coins. Instead, KeepKey denominates a fee automatically, always aiming at the minimum possible waiting times.
Is the KeepKey Wallet Safe?
Keeping your virtual assets secure is what hardware crypto wallets actually do. As a Hierarchical Deterministic (HD) wallet, KeepKey operates a mini-version computer tailored for storing private keys. It manages to provide a safe environment for your digital funds of cryptocurrencies by using several safety features discussed below.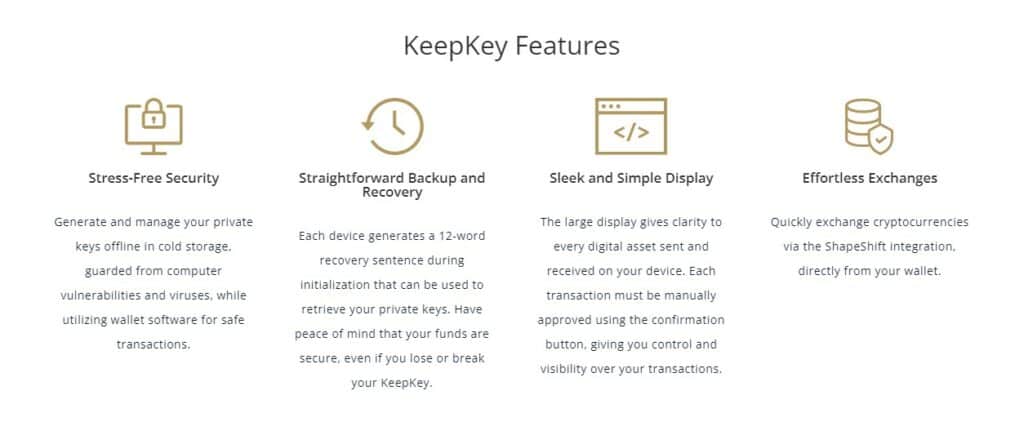 Pin Protection
You can't access KeepKey without unlocking its pin code. The pin number is re-encrypted each time you connect the wallet with your device so even you — as a holder — can't decrypt the PIN. Since the random combination is only shown on the device, your funds will stay intact even if the pairing computer mobile /phone is infected or contains any malware software.
After three unsuccessful attempts, your KeepKey wallet will automatically activate what is called a cooldown period, which increases in intervals each time you miss the correct pin. The "lost" pin can be recovered only by resetting the device and using the recovery seed code.
Recovery Sentence
The recovery sentence is your ultimate backup in case you damage or lose your KeepKey wallet. It enables you to retrieve your wallet's content on another wallet device. In other words, the recovery phase will never allow you to lose access to your private keys by accident. The recovery sentence contains 12 words by its default settings but you can increase it up to 24 words.

Passphrase
The passphrase is an optional feature you can add for greater security. It provides an additional security layer during the recovery process. You can even generate multiple passphrases and make unauthorized access barely impossible even if someone manages to get your recovery sentence.
Customer Support
Most of the online wallet reviews single out KeepKey's customer support as excellent. Since the wallet is part of the ShapeShift group, you'll find everything you need on the ShapeShift Help Desk section under Wallets. The support section contains an extensive library of over 100 wallet-related articles that can give you a proper direction in case you get stuck at any point in handling the KeepKey wallet.
If you need more personal assistance, you can fill out a ticket form and describe your issue as accurately as possible. The support team is 24/7 available but the response time can take up to 48 hours.
Frequently Asked Questions
What's the best Bitcoin hardware wallet?
When it comes to safe Bitcoin storage, you have a broad array of reliable wallet possibilities. As narrow as the coin selection of a certain wallet is, there is always room for Bitcoin. Hence, you can choose the most suitable Bitcoin wallet based on the price, design, and specific security features. Ledger Nano X, TREZOR Model T, and KeepKey are currently the most popular cold-storage alternatives on the overall market.
Is the Trezor Model T better than Keepkey?
Both hardware wallets are well-trusted storage solutions among the growing crypto community. However, it seems that Trezor has been present on the market for quite a long time and appears superior to its direct competitor KeepKey in several aspects. This includes the single-button navigation, speed, and lack of supported coins. However, KeepKey wins in the category of the best screen with its OLED display and affordable price.
A Few Words Before You Go…
As blockchain technology is getting closer to our mainstream culture, the need for safe space for our digital assets is greater than ever. Fortunately, the market of hardware crypto wallets can offer different types of highly secure devices that store Bitcoin and other supported cryptocurrencies outside the scope of potential risks. KeepKey does belong to the first-class wallets of its kind. It may not be the cheapest and fastest cryptocurrency hardware wallet out there but it has something that other wallets don't — exceptionally user-friendly navigation and the support of a well-established cryptocurrency exchange.