Kraken Review 2023 – A Veteran Crypto Exchange
Kraken was founded in 2011 and officially launched in 2013 by Jesse Powell in San Francisco, California. Kraken was Jesse's response to his visit to Mt. Gox, the world's largest cryptocurrency exchange at the time. Mt. Gox had suffered a large hack due to how inadequately implemented the company's security was. Jesse began work on Kraken as a replacement exchange should Mt. Gox ever go under due to their poor organization and management.
An organization built upon security principles, Kraken quickly rose to become one of the best bitcoin exchanges by 2014. That same year, Mt. Gox went bankrupt due to losing over $460 million of its customers' money. It seems Jesse's intuition paid off, and Krakens's popularity continued to skyrocket.
With only a few service hiccups over the years, Kraken has proven that it takes security matters very seriously and has continued to improve upon its platform year after year. Some thought Kraken could not bounce back after some updates they performed that took the platform down for days, or even a couple of weeks, at a time.
These issues occurred when the company was in its youth, but Kraken has stood the test of time and proven the naysayers wrong. Since then, they have become more stable and more secure than ever. As of 2021, they are the 4th largest cryptocurrency exchange in the world.
Bitcoin and Other Supported Cryptocurrencies
Kraken supports all the most popular cryptocurrencies and a slew of others, both known and obscure. All the fan favorites are here: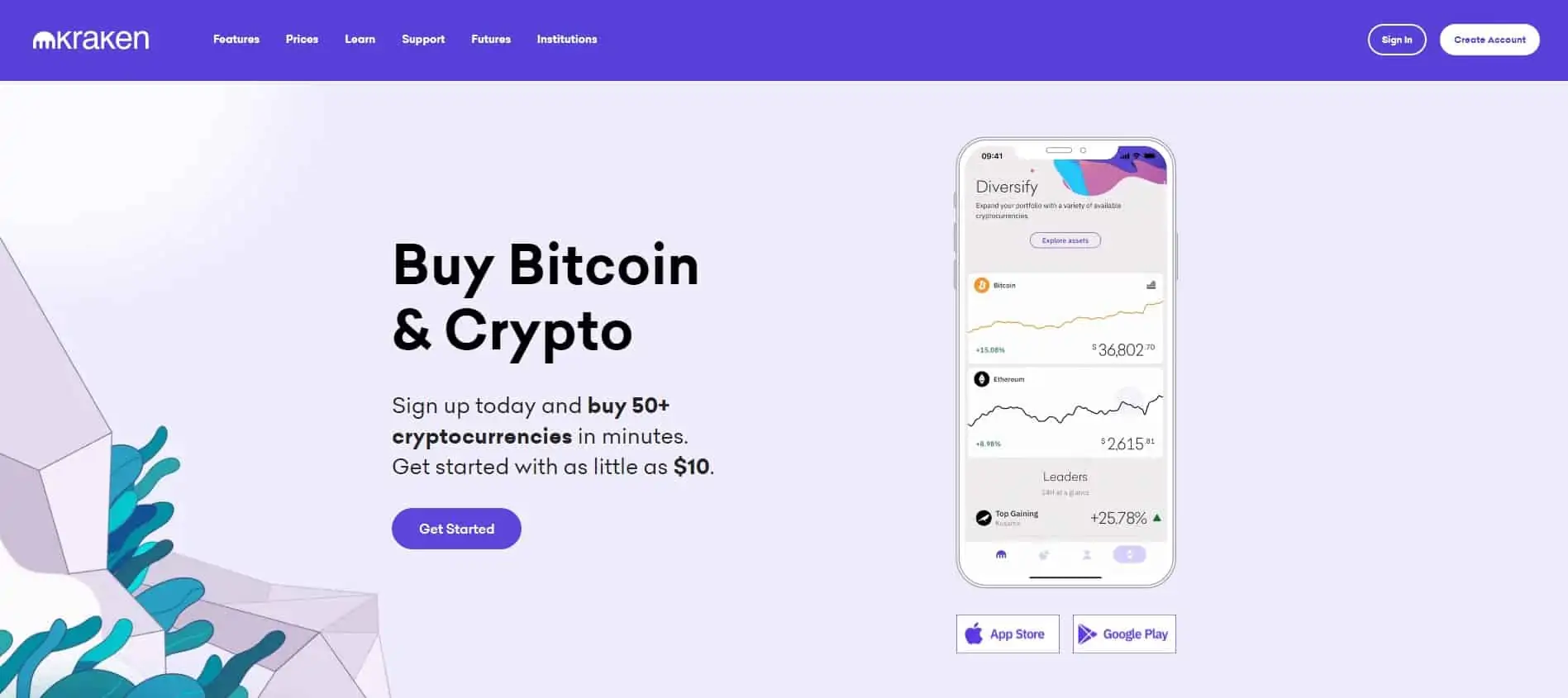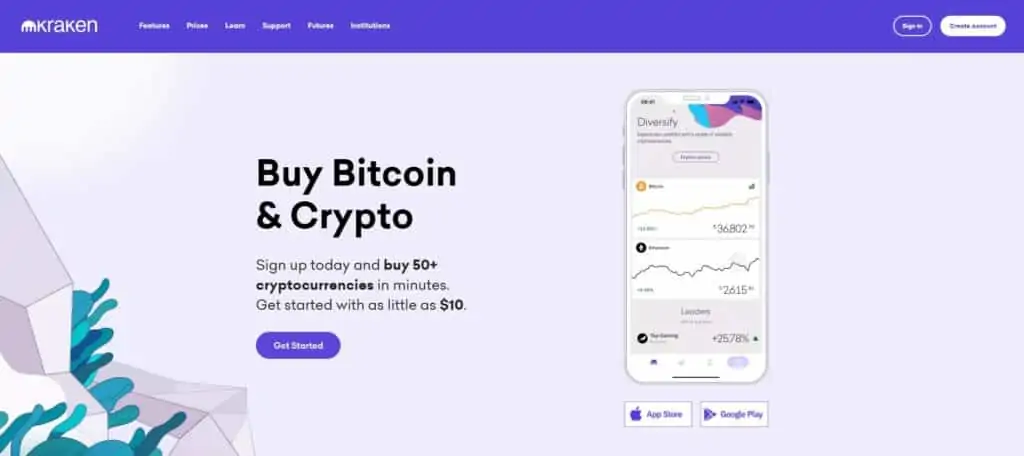 Bitcoin – BTC: The original cryptocurrency
Bitcoin Cash – BCH: A hard fork of Bitcoin with an increased block size of 8 MB and the second-largest cryptocurrency
Ethereum – ETH: The most popular crypto after Bitcoin
Litecoin – LTC: An excellent international cryptocurrency
Ripple – XRP: The third-largest cryptocurrency by market cap
The list of other supported crypto on Kraken is quite lengthy, but here are some of them, along with their symbols:
Aave – AAVE
Algorand – ALGO
Aragon – ANT
Augur – REP
Augur v2 – REPV2
Basic Attention Token
Balancer – BAL
Cardano – ADA
Dash – DASH
Dogecoin – XDG
Ethereum Classic – ETC
ICON – ICX
Monero – XMR
Orchid – OXT
Qtum – QTUM
Stellar Lumens – XLM
Tether (Omni Layer, ERC20) – USDT
Tezos – XTZ
USD Coin – USDC
WAVES – WAVES
Trading Fees and Limits
You can purchase cryptocurrencies on Kraken by depositing fiat currency or other cryptocurrencies into your account. Fiat support is limited to AUD, CAD, EUR, GBP, CHF, USD, and JPY, while any crypto that the platform supports is available to make deposits. Kraken does not currently accept credit or debit cards via the website, though it does so via the Kraken mobile app.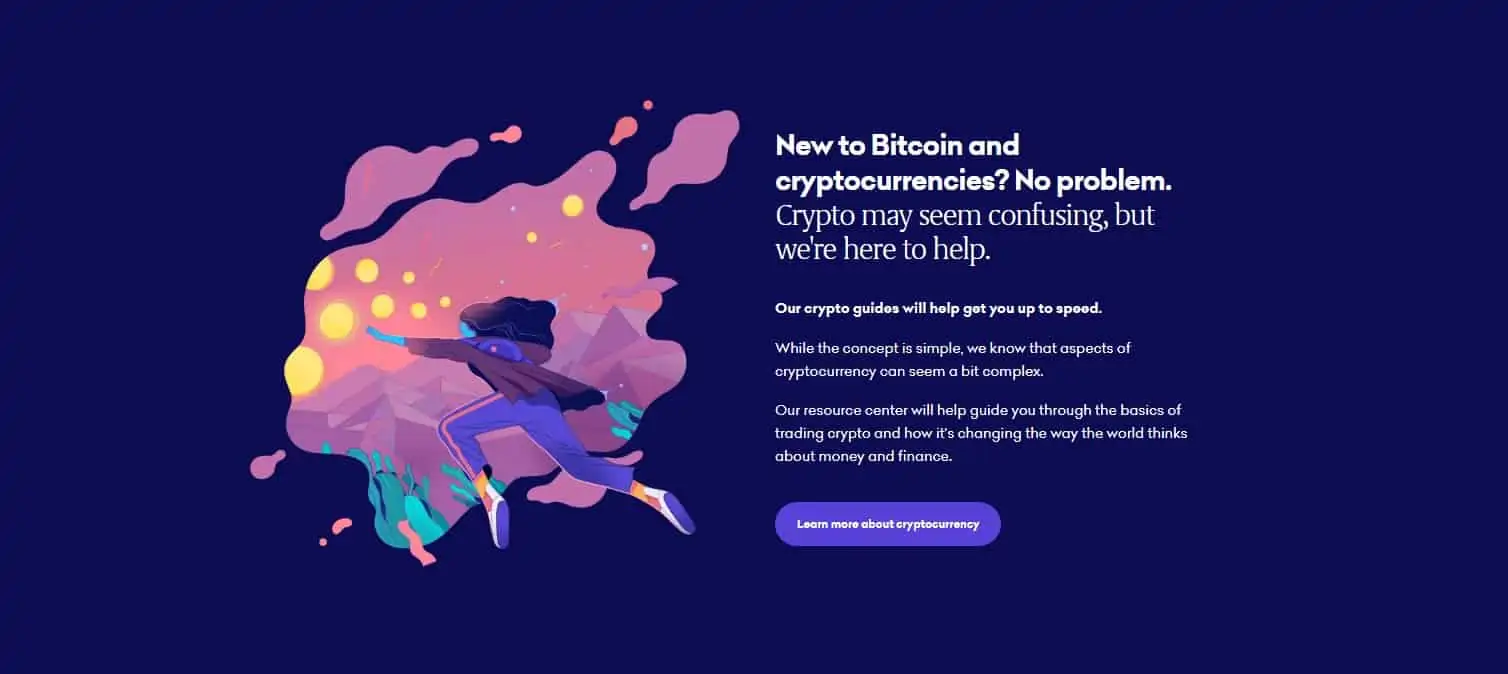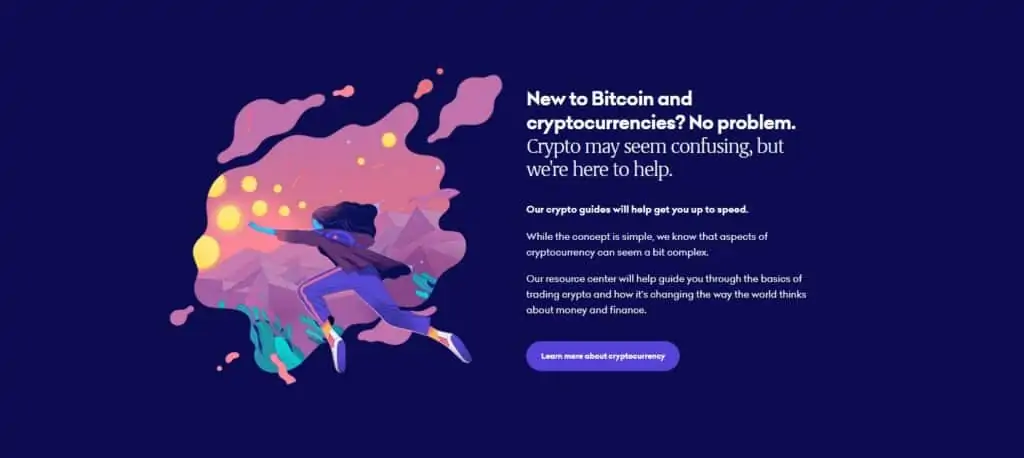 Various verification steps are required to make bank transfers with fiat currencies, increasing in stages as you move from Starter to Intermediate to Pro. Each level increases the amount of fiat currency you can deposit per day and month.
Kraken's fees are reasonable compared to other exchanges and are even less for traders who do more than $50,000 in monthly volume. Currently, the fees are based on 30-day trade volume and are as follows:
$0 – $50,000
$50,001 – $100,000
$100,001 – $250,000

Maker: 0.12%
Taker: 0.22%

$250,001 – $500,000
$500,001 – $1,000,000
Beyond $1 million, the maker and taker fees continue to decrease, with maker fees hitting 0% with trades of $10 million or more and taker fees being 0.10% for the same trade amount.
Trading Features
Kraken is feature-packed with just about anything a crypto trader could want. Some of the more popular features include their margin trading support, low trading fees, and the fact that they have the funds to back all the deposits made to the system.
American customers can not legally use platforms such as BitMEX or Bitfinex since they are derivative trading platforms. Kraken's margin trading system allows those in the U.S. to take out leveraged positions unless they reside in the state of New York.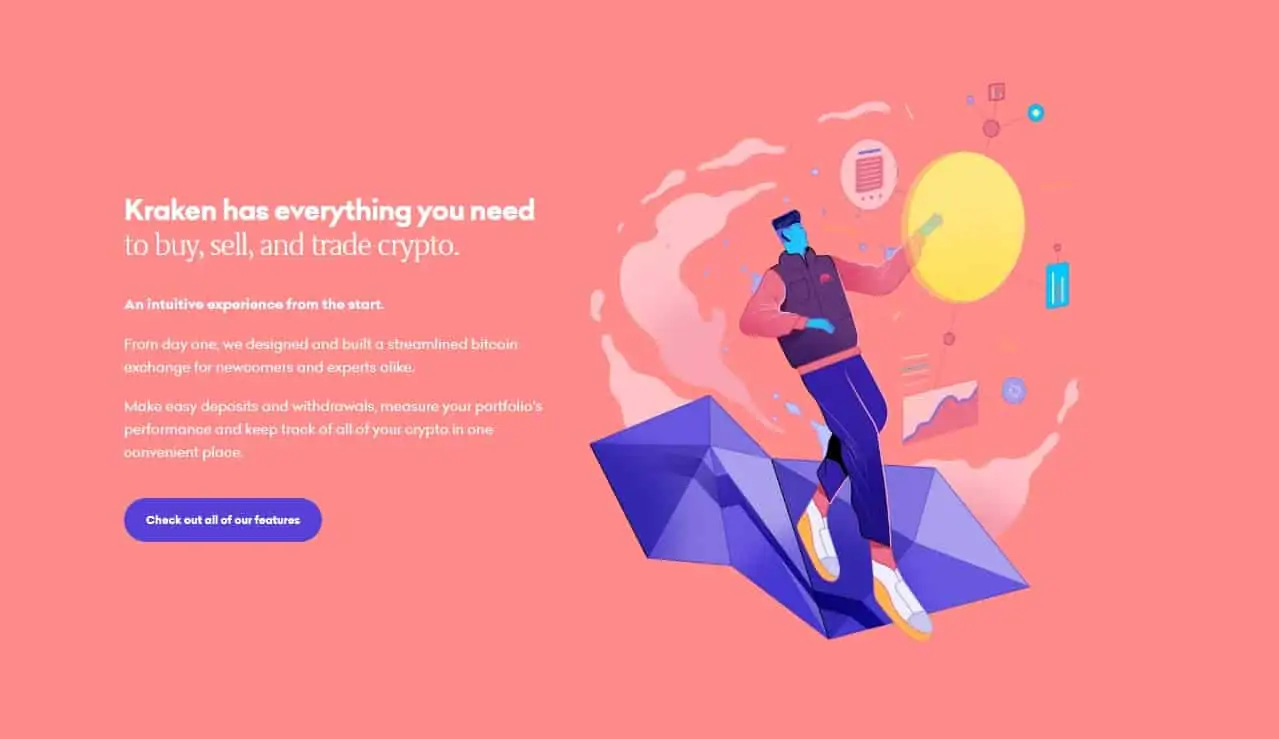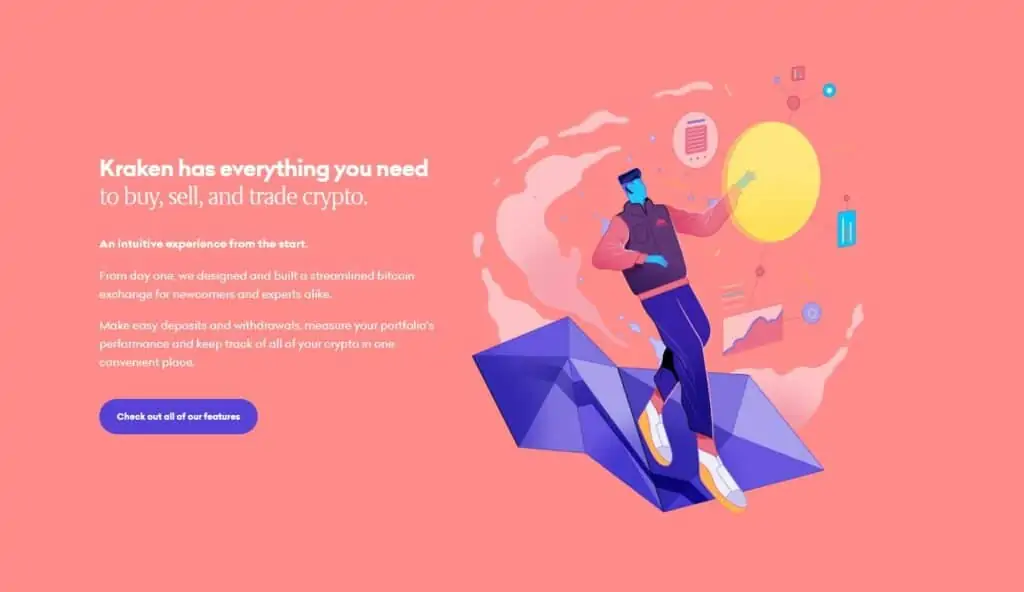 As seen above, Kraken is exceptionally affordable and the most competitive exchange based in the United States. Like Coinbase Pro, other exchanges keep raising their maker and taker fees, making Kraken an even more attractive option for traders. They have managed to keep their fees the lowest in the United States.
The fact that Kraken can cover all their deposits goes a long way in ensuring the company stays solvent. This backing is just another added layer of financial security that customers can feel comfortable knowing is in place.
How To Create a Kraken Account and Start Trading
Creating an account on Kraken is simple, straight forward, and only takes a few minutes to accomplish. Once you click the "Create an Account" button, you will have to input your email address, a username, and a strong password. Not that your username can not be changed once set.
After reading the Terms of Service and ticking the "Agree" box, click "Sign Up" and check your email for a validation email. Once activated, your account is all set to start using, though additional verifications are needed to start funding your account.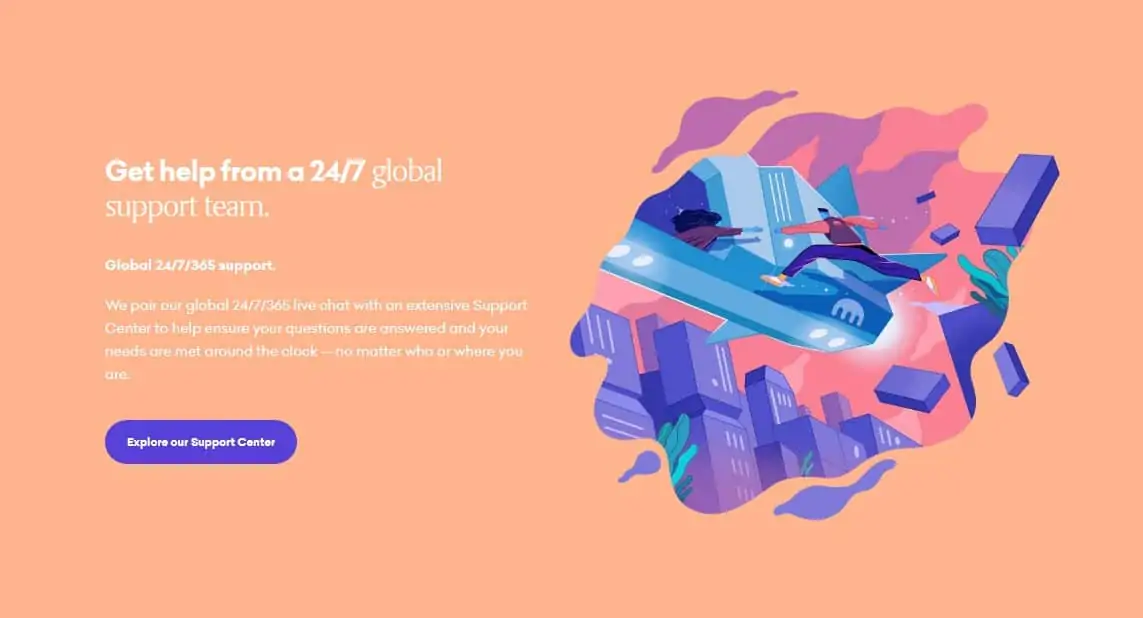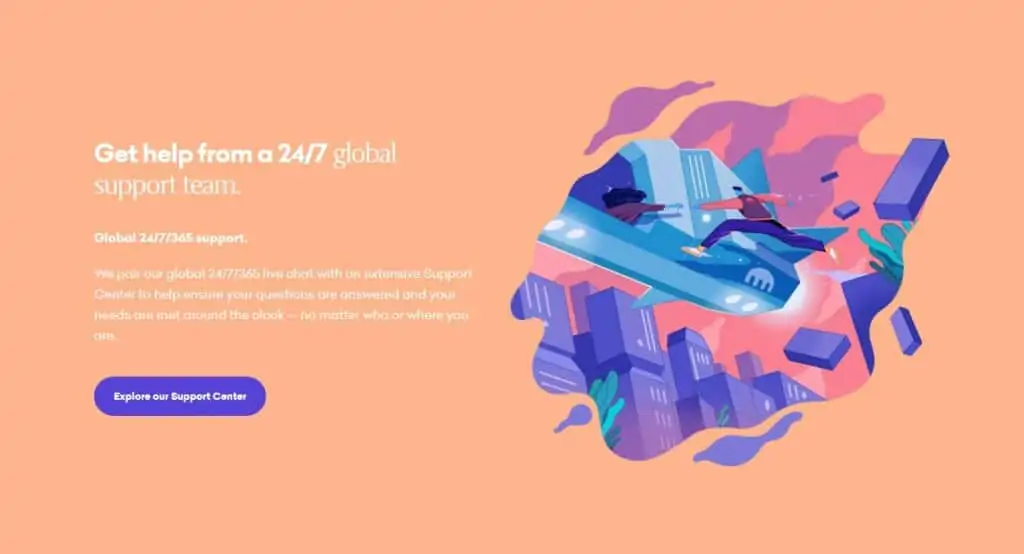 An optional, though vital, step is to set up two-factor authentication using an authenticator app, as well as setting up a Master Key. Kraken walks you through this process once you are ready to proceed with it. These extra steps help to secure your account.
Customer Support
Kraken's "Support" page contains tons of useful information on setting up, securing, and using the platform.
Support sections include, but are not limited to:
Fiat Funding
Account Security
Trading
Cryptocurrency Funding
Mobile Apps
Staking Fund
Instantly Buy Crypto
Futures API
Account History
Kraken Terminal & Cryptowatch
For users who need a bit more personalized support, Kraken offers an online chat with their client engagement specialists to help in whatever way they can.
Is Kraken Safe To Use?
Those who trade in crypto need to know their currencies are safe with their chosen exchange. Exchanges need to build their reputation through tight security and earn the trust of their customers.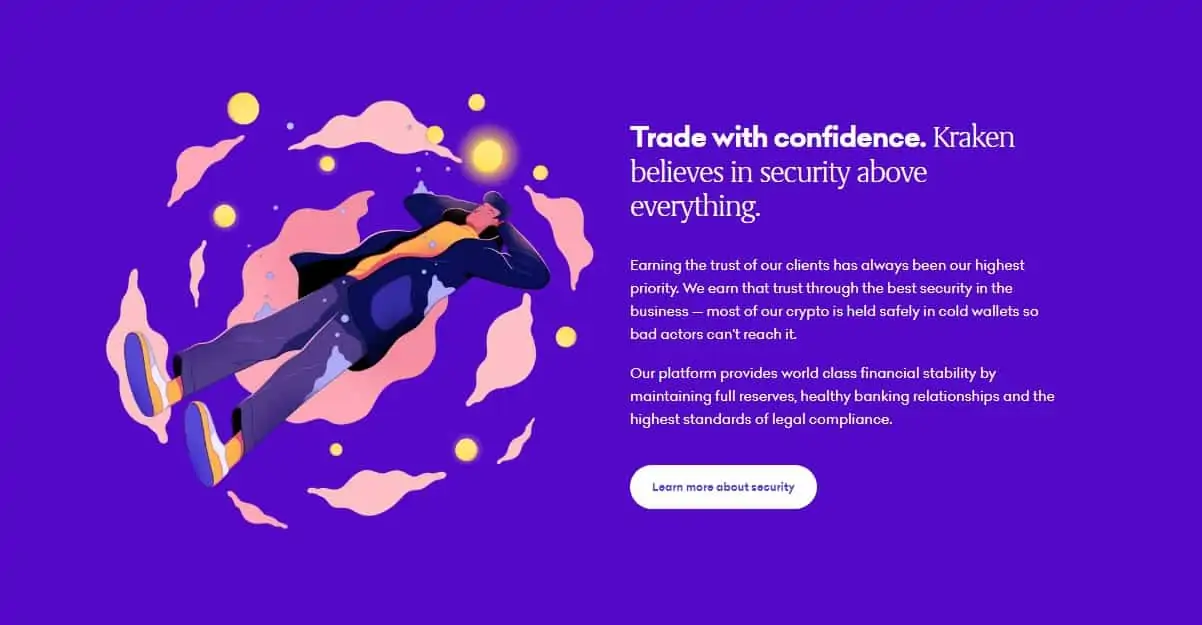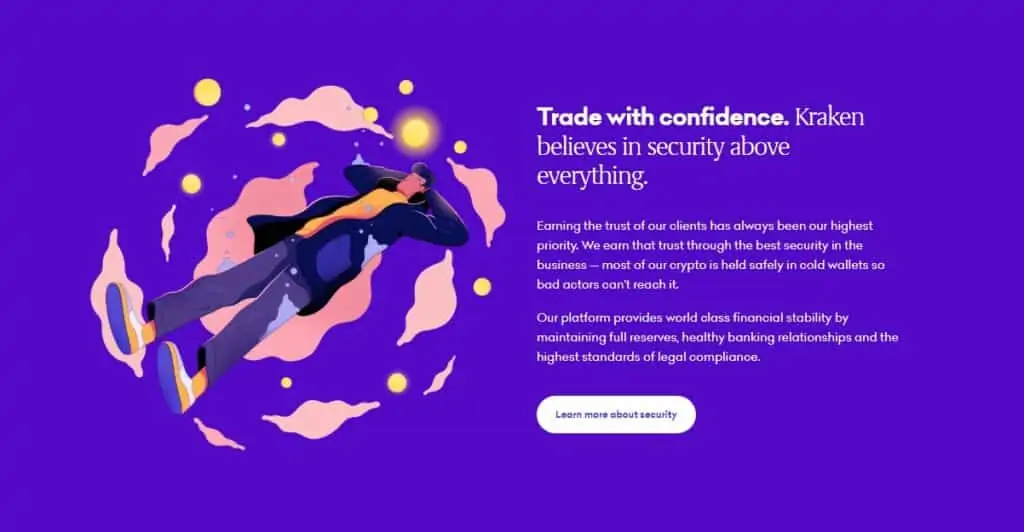 Is Kraken safe to use? The answer is a resounding "yes." Since its formation in 2011, Kraken has never suffered a hack or breach of any kind.
As mentioned previously, Kraken utilizes critical security features to keep their clients' information protected, such as cold storage of data, two-factor authentication, and a Master Key option. Kraken's founder seems to have learned from other exchanges' security mistakes in the past, helping it become one of the safest exchanges available today.
Frequently Asked Questions
How do I deposit into Kraken?
To deposit into Kraken, a user must first secure and verify their account. There are three different levels of verification, each with increased funding options and higher limits:
Starter: This level requires personal info, including your Social Security number. It allows for unlimited cryptocurrency deposits and up to $5,000 a day in withdrawals.
Intermediate: This level requires you to provide identification in the form of a driver's license, passport, or legal ID card. It allows bank transfers of up to $1000 a day and $5000 a month, unlimited crypto deposits, and a max of $500,000 a day in withdrawals.
Pro: This level requires additional financial information verification. It allows unlimited bank transfers, deposits, and withdrawals.
Once you are verified, you can deposit by clicking on "Funding" and selecting "Deposit" next to the currency you wish to add. For fiat currencies, deposit types available are Wires, Etana Custody, or Synapse.
Is it legal to buy Bitcoin in the United States?
Purchasing Bitcoin and other virtual currency are currently legal in most U.S. states. Most states do not even have regulations regarding Bitcoin. Other states, including New York, New Hampshire, New Mexico, Florida, and Connecticut, require money transmitter licenses to transact in Bitcoin and other cryptos.
While purchasing cryptos is legal in New York and Washington state, Kraken does not offer services to residents of those states due to the costs of maintaining regulatory compliance. Users from these states can get pre-verified on the platform to start using the exchange once regulations allow Kraken to provide service to them.
What countries does Kraken support?
Kraken welcomes users worldwide but has a few exceptions regarding international and local financial and cryptocurrency regulations. Kraken currently does not offer service to customers in:
Afghanistan
Congo
Democratic Republic of the Congo
Cuba
Iran
Iraq
Libya
North Korea
Syria
Tajikistan
Customers from particular countries can create accounts but may have restrictions that prevent them from funding their accounts. These include:
Central African Republic
Eritrea
Guinea-Bissau
Lebanon
Mali
Namibia
Somalia
South Sudan
Sudan
Yemen
Residents of New Hampshire and Texas can not use EUR. Australians can not deposit, hold, or trade DASH, XMR, or ZEC. Users in the United States and Canada can not deposit, hold, or trade FLOW or GRT. They also cannot trade ETH2.S.
Does Kraken have a mobile app?
Yes, Kraken does have a mobile app. There are three official mobile apps available to Kraken customers at no cost: Kraken, Kraken Pro, and Kraken Futures. Each app is available on iOS and Android devices—only Android 8.0 and above and iOS 13 and up are supported.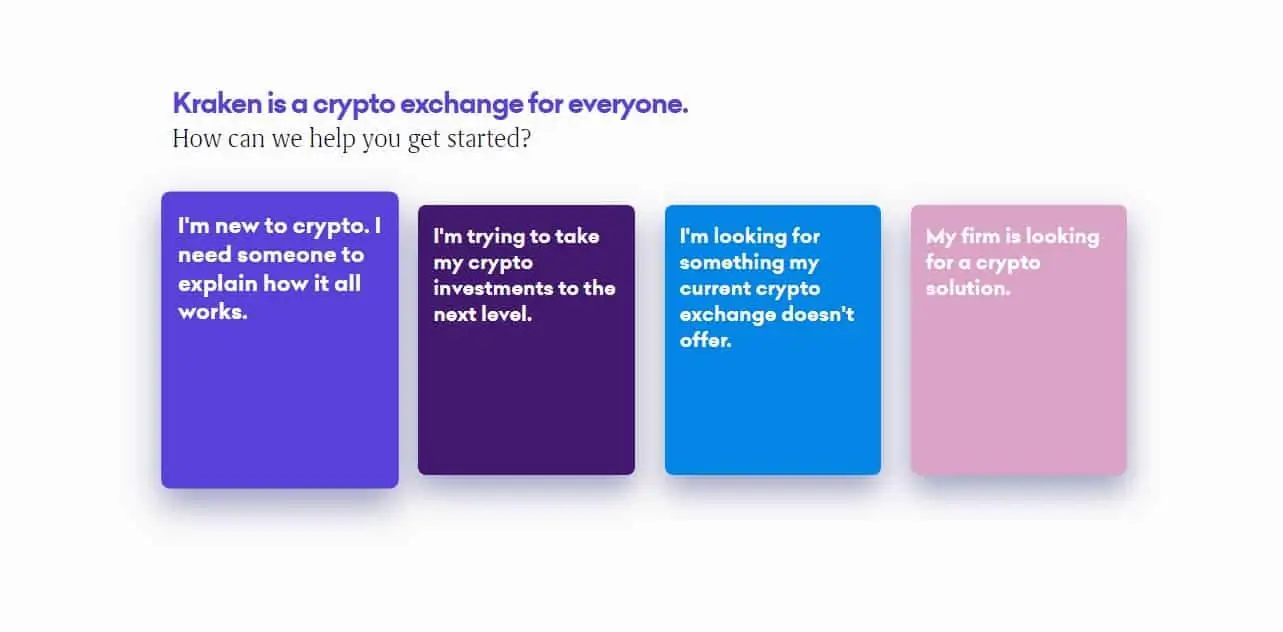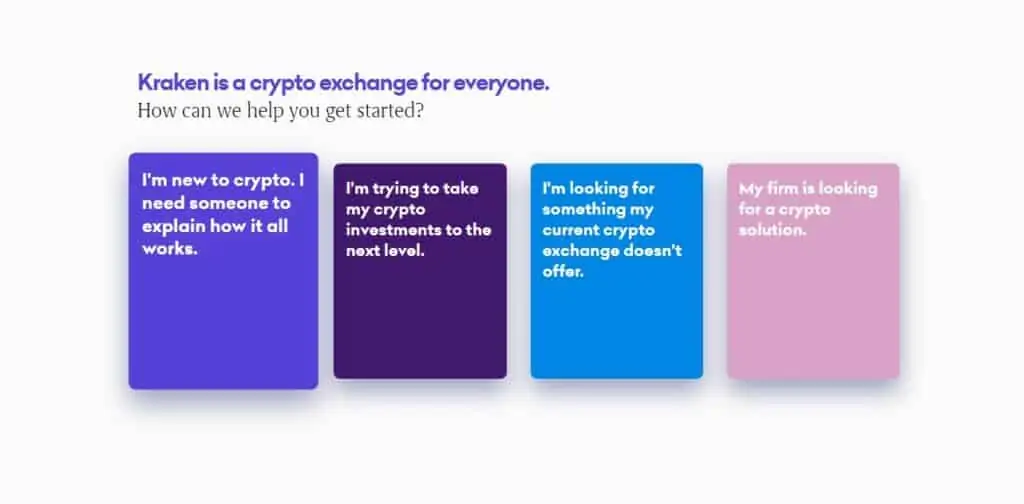 The base Kraken app allows users to create and verify new accounts, set up 2FA, buy and sell, make credit and debit card purchases (not available on the website), withdraw fiat, and manage approved devices.
Kraken Pro has all the same features and includes the ability to initiate advanced orders, and has a different user interface. As for Kraken Futures, the app ties directly into Kraken's future trading service, a separate division from its exchange.
Does Kraken provide a cryptocurrency wallet?
Kraken is an exchange, not a wallet service. They use a corporate wallet to keep funds safe while being traded but do not provide personal wallet services. Kraken uses cold storage for deposits and hot wallets for withdrawals. Funds are secured this way whether you are exchanging them or are trading or staking.
Kraken recommends its users use hardware wallets such as Ledger or Trezor to hold their funds.
Summing It Up
Based on our Kraken exchange review, it is the best exchange available to users in the United States and one of the best exchanges globally. With a simple-to-use interface, powerful features, outstanding security, and support of almost too many cryptos to count, there is a little something for everyone here.
Whether you are new to the world of cryptocurrencies or a professional trader, Kraken has everything you need to purchase and trade cryptocurrencies successfully, as well as invest in crypto futures.
Kraken Compared
| Exchange | Cryptocurrencies | Fiat Currencies | Trading Fees | Deposit Methods | Sign Up |
| --- | --- | --- | --- | --- | --- |
| Swyftx | More than 320 | Australian Dollars, New Zealand Dollars | 0.6% | Osko, PayID, Credit Card, Debit Card, Bank Transfer, Cryptocurrency | Visit Swyftx |
| CoinSpot | More than 370 | Australian Dollars | OTC: 0.1% Market Order: 0.1%* (applies to LTC, BTC, ETH, XRP, POWR, DOGE, TRX, NEO, XLM, GAS, RChain, RFOX, EOS) Instant Buy/Sell: 1% | POLi, PayID, Cash, Cryptocurrency, Bank Transfer, BPAY | Visit CoinSpot |
| Binance | More than 600 | US Dollars, Australian Dollars, and 8 more | 0% to 0.1% | Osko, PayID, Credit Card, Debit Card, Crypto | Visit Binance |
| Bybit | More than 160 | 50+ | 0.1% to 0.6% | Crypto, EFT, wire transfer, bank transfer, debit card or credit card | Visit Bybit |
| Independent Reserve | 27 | Australian Dollars, US Dollars, New Zealand Dollars | 0.05% to 0.5% | EFT, SWIFT, Osko, PayID, Crypto | Visit Independent Reserve |
| Coinbase | More than 210 | Australian Dollars, US Dollars, New Zealand Dollars | Fees Vary | EFT, SWIFT, Osko, PayID, Crypto | Visit Coinbase |
| CoinJar | More than 50+ | Australian Dollars, Pound Sterling | Taker: 0.04 to 0.1% Maker: 0.04 to 0.1% | Apple Pay, Google Pay, Credit Card, Debit Card, Bank Transfer, Fiat, Crypto | Visit CoinJar |
| Kraken | More than 140 | Australian Dollars, US Dollars, and 5 more | Taker: 0.10% to 0.26% Maker: 0.00% to 0.16% | Apple Pay, Google Pay, SWIFT, Osko, SEPA, Crypto, Wire Transfer, Bank Transfer | Visit Kraken |
| BTC Markets | More than 15 | Australian Dollars | Taker Fee (for Bitcoin pairs): 0.20% Maker Fee (for Bitcoin pairs): -0.05% Australian Dollars Market Pairs: 0.10% to 0.85% | Crypto, BPAY, EFT, PayID, Osko | Visit BTC Markets |
| Easy Crypto | More than 40 | Australian Dollars, New Zealand Dollars, South African Rand | 1% | P2P, POLi, and Bank Transfers | Visit Easy Crypto |
| Coinstash | More than 140 | AUD | Taker fees: 0.85% Maker fees: 0.85% | Cryptocurrency, Bank Transfer, PayID | Visit Coinstash |
| eToro | More than 70 | Australian Dollars, US Dollars, Euro, and 12 more | Vary | Online Banking, Skrill, Neteller, PayPal, Bank Transfer, Debit Card | Visit eToro |
| KuCoin | More than 645 | US Dollars, Euro, Australian Dollars, and 6 more | 0.1% | Credit Card, Debit Card, SEPA, PayPal, Wire Transfer, Crypto | Visit KuCoin |