Kucoin Review 2023
This review focuses on the KuCoin trading platform, one of the most popular third-party cryptocurrency exchanges where users can buy and trade hundreds of different cryptocurrencies.
KuCoin is often regarded as one of the most affordable exchanges in the industry due to the very low transaction costs of the platform. But, are there security protocols that protect the funds on the platform, a solid variety of trading tools, adequate security protocols, and reliable customer service? We are here to find out.
About KuCoin
KuCoin, established by blockchain enthusiasts Michael Gan and Eric Don in 2017, is a newcomer to the industry. Headquartered in Singapore, Hong Kong, and Seychelles, it has established itself as one of the top digital asset trading platforms in a relatively short time by providing international trading with more than 200 cryptocurrencies and over 400 trading pairs while charging its users low trading fees.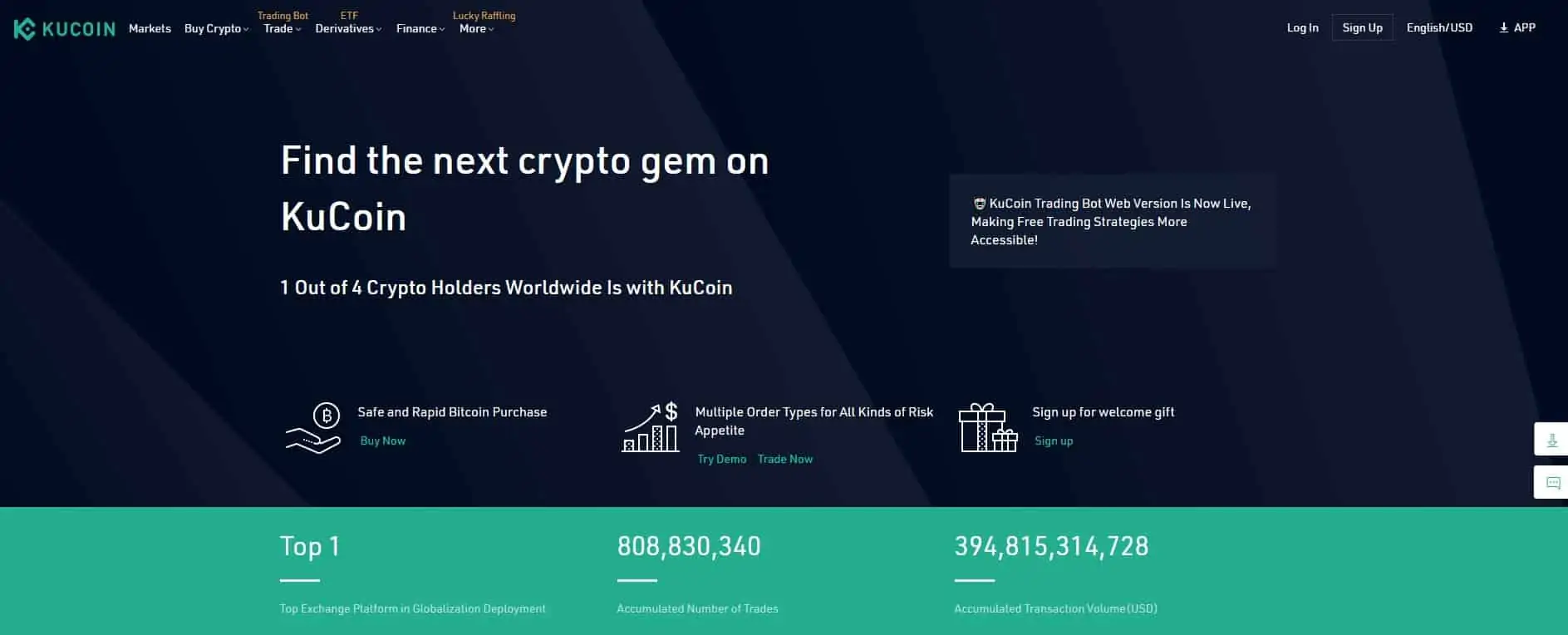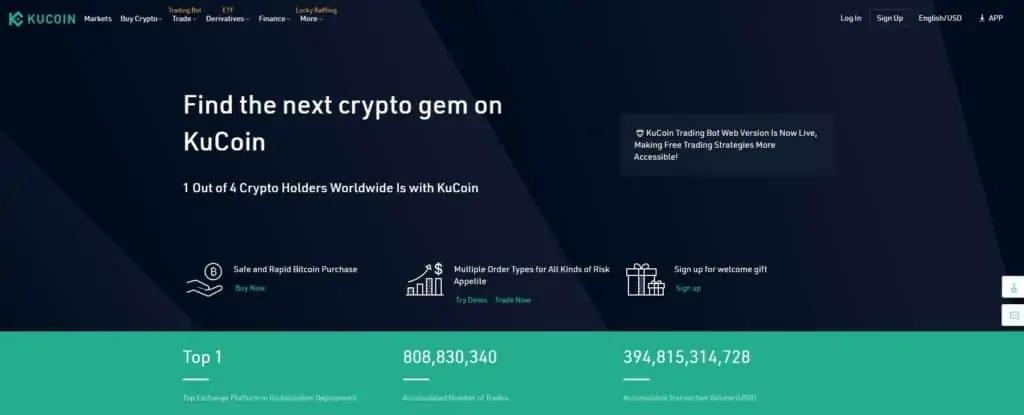 Traders can employ KuCoin's impressive suite of financial tools to do non-custodial trading, futures trading, spot trading, staking, and lending coins for passive income. Also, crypto investors can use the IEO (Initial Exchange Offerings) launchpad for crypto crowdfunding, derivatives trading, a trading bot, and more.
At first glimpse at the UI, this user-friendly platform seems to be developed with experienced traders in mind. However, the newcomers in crypto trading haven't been left out. On the contrary, alongside the experienced trader mode of the exchange, Kucoin.com provides a light mode platform specifically built for beginner margin traders.
Lite Mode (Beginner Traders) vs. Pro Mode (Experienced Traders)
As expected, the lite mode of the margin trading site offers a simplified version of the financial tools and charts for following market dynamics, whereas the pro mode provides more elaborate charting and more complex trading tools such as trading perpetual crypto futures, margin trading, etc.
KuCoin Futures and Margin Trading
KuCoin supports 35 trading pairings that may be leveraged with a margin of up to 10x. Introduced in 2019 as a financial product, margin trading allows speculative investors to use other users' assets on KuCoin to acquire bigger chunks of coins. By increasing their financial power in this way, traders can increase their profits multifold. On the other hand, margin trading also could lead traders into incurring significant losses relative to their original investments.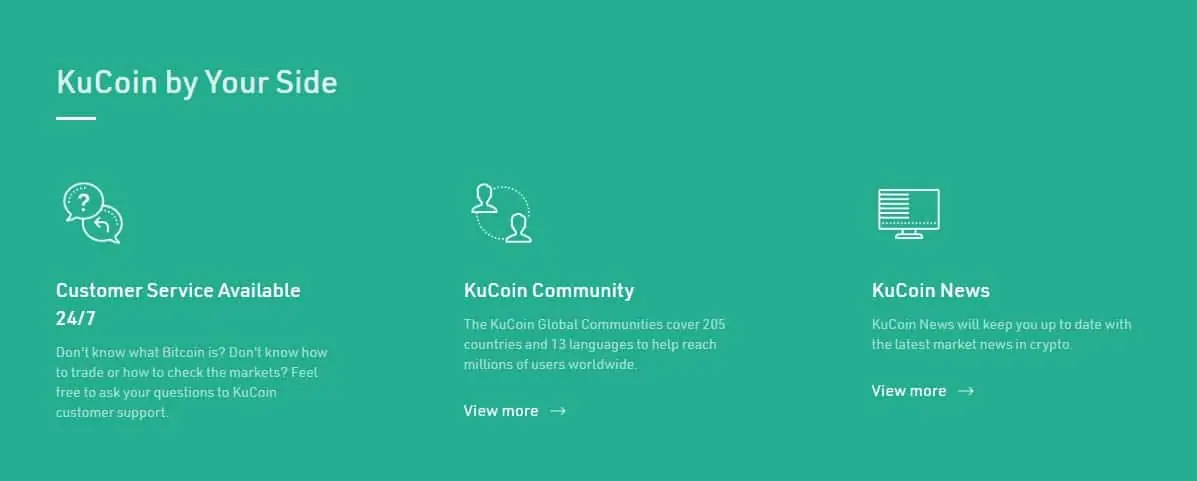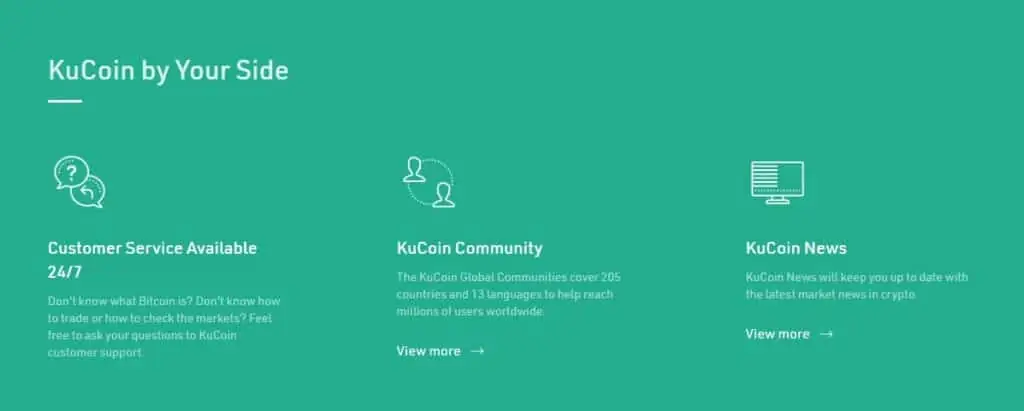 t's also possible to buy and sell various leveraged futures in cryptocurrencies like Bitcoin and other altcoins on the KuCoin Mercantile Exchange (KME). These marginalized contracts enable brokers to leverage their positions up to 100x.
Rather than trading fiat currencies or other cryptocurrencies, KuCoin futures allow you to deal exclusively with BTC/ETH, while all the profitability ratios are calculated in BTC/ETH/USDT.
The KuCoin Earn Service
You can generate revenue through the KuCoin Earn tool from your digital currencies either by staking your cryptocurrencies through KuCoins' Pool-X company or by lending your digital assets and collecting interest on the amount you loaned them out for.
The KuCoin Shares (KCS) Tokens
The native cryptocurrency of the KuCoin platform is labeled as KuCoin Shares (KCS). The holders of these utility tokens are allowed a discount on the platform's trading fees, as well as a 50% share of all trading fee profit made by the exchange.
Supported Cryptocurrencies
There's a vast selection of coins, altcoins, and tokens offered for trading on KuCoin. The listed coins include the most powerful cryptocurrency projects, such as Bitcoin (BTC), Ethereum (ETH), Cardano (ADA), Eos (EOS), Neo (NEO), Ripple (XRP), Litecoin (LTC), and Tether (USDT), but also many low cap projects, like Pundi X, Egretia, or Lympo.


Payment Methods
KuCoin supports most of the popular payment methods for purchasing cryptocurrencies with fiat currencies (AUD, USD, GBP, EUR, CNY, CAD), including credit card, debit card, PayPal, SEPA wire transfer, ApplePay, Visa, MasterCard, Simplex, etc. Making a direct bank deposit, on the other hand, is not a possibility on the KuCoin platform.
Trading Fees and Limits
It's a notorious fact acknowledged among experienced crypto traders that excessive crypto trading and depositing expenses could impact your revenue in a negative way. In order to alleviate this issue, KuCoin offers a maker/taker fee that starts at 0.1% per transaction. By offering a competitive level-based fee structure and minimal transaction costs for its users, KuCoin provides some of the best deals on the market.
Essentially, the more liquidity you provide to the platform, the higher your level in the fee structure is, which allows you to pay less for your transactions. Moreover, if you activate the KCS pay fees functionality, you can customize your transaction fee rate.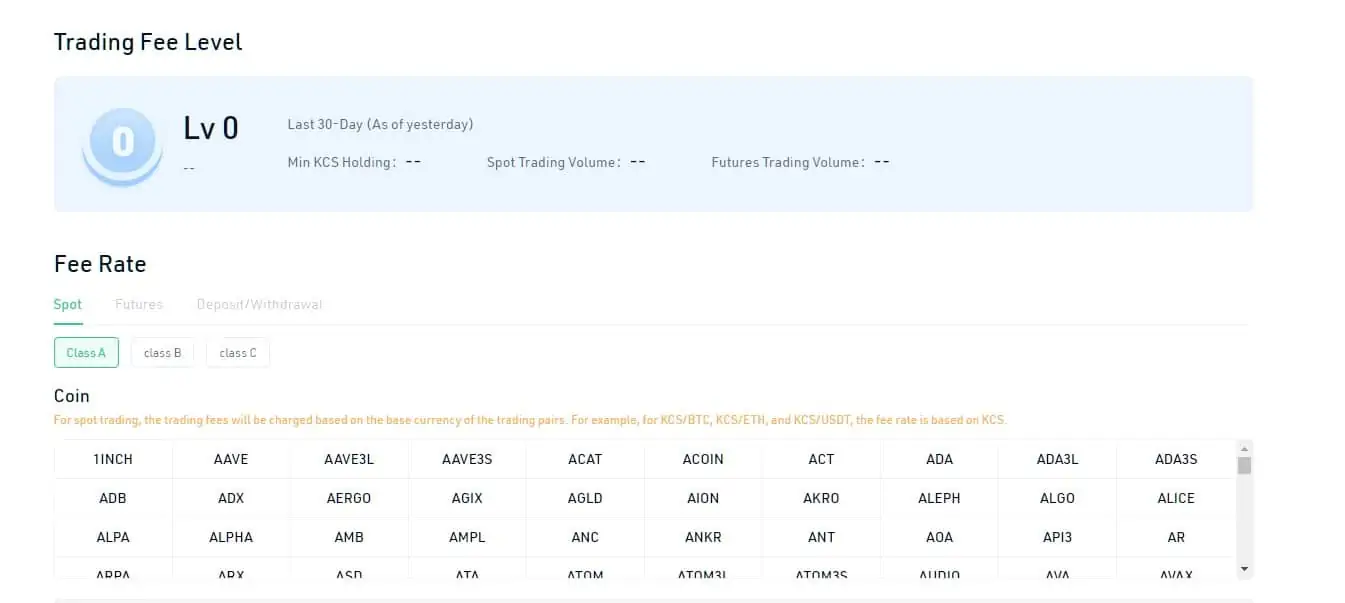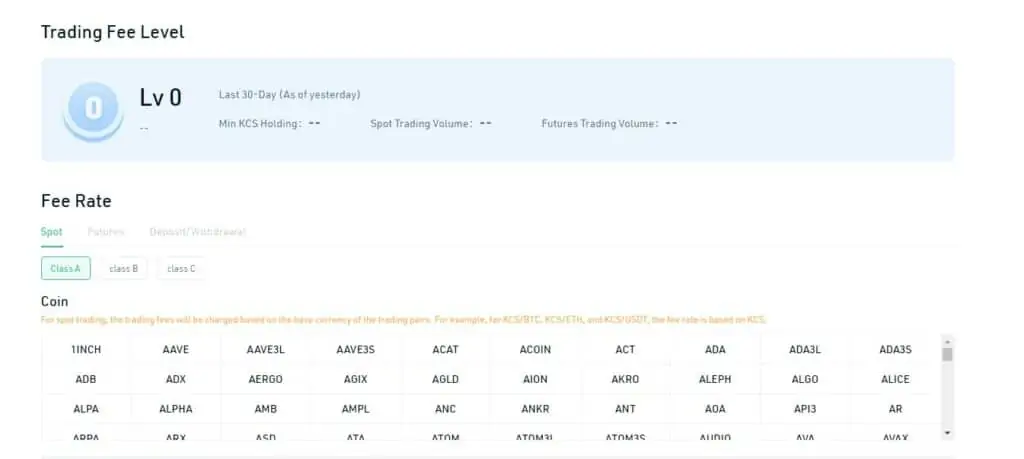 While there are no deposit fees with KuCoin regardless of the cryptocurrency a trader chooses, there are withdrawal fees that depend on the respective cryptocurrency project. Also, you may deposit and withdraw an unlimited amount of funds from your KuCoin account without being charged for the transaction.
Is KuCoin Safe to Use?
While KuCoin is an unregulated trading platform, it does employ a wide range of security methods in an effort to safeguard its customer funds. KuCoin's security architecture comprises a non-obligatory KYC verification method, a compulsory two-factor authentication (2FA) protocol, an internal risk control team, encrypted client data, etc.
On the downside, users' funds might be easily jeopardized if the platform becomes a target of hacking attempts, as third-party exchanges like KuCoin run on a centralized server. Unfortunately, despite the fact that KuCoin has incorporated some top-notch online security and authentication technologies to safeguard both its online data and users' funds, it has experienced massive losses of funds owing to cyber assaults and fishing scams over the years.
Customer Support
Apart from an extensive information center that gives you all the info you need about this trading platform, the KuCoin exchange provides users with 24/7 customer service available via email.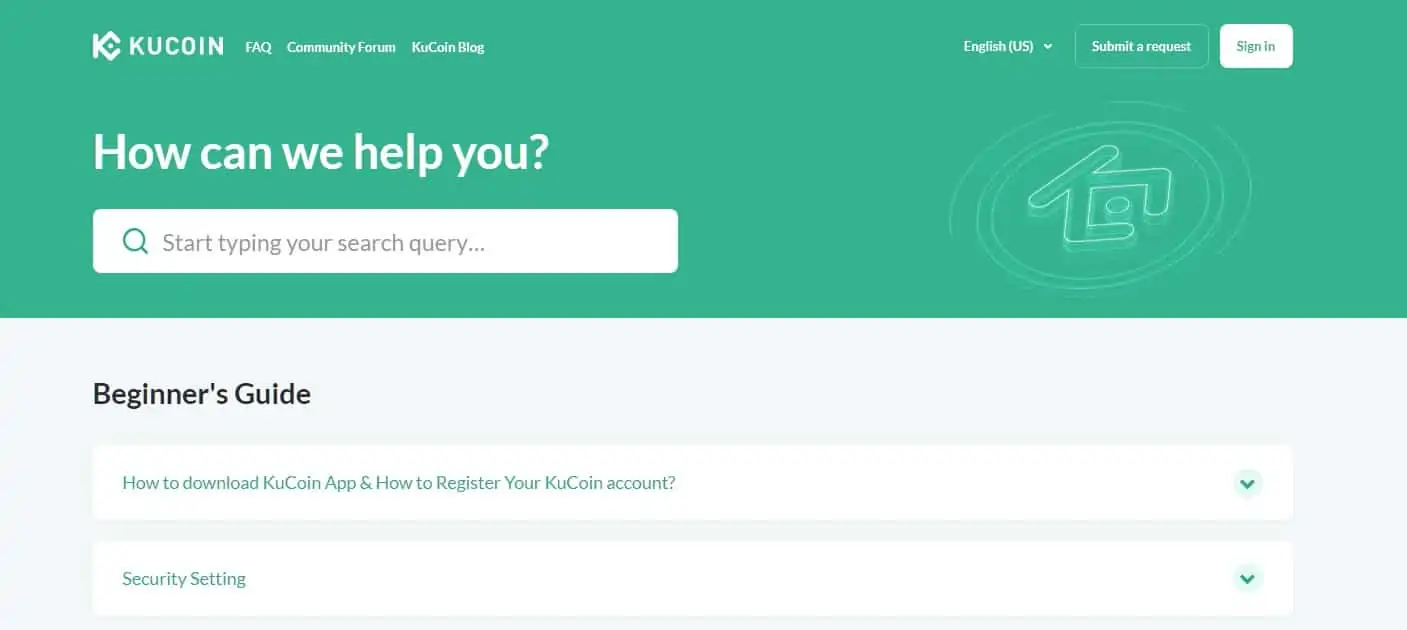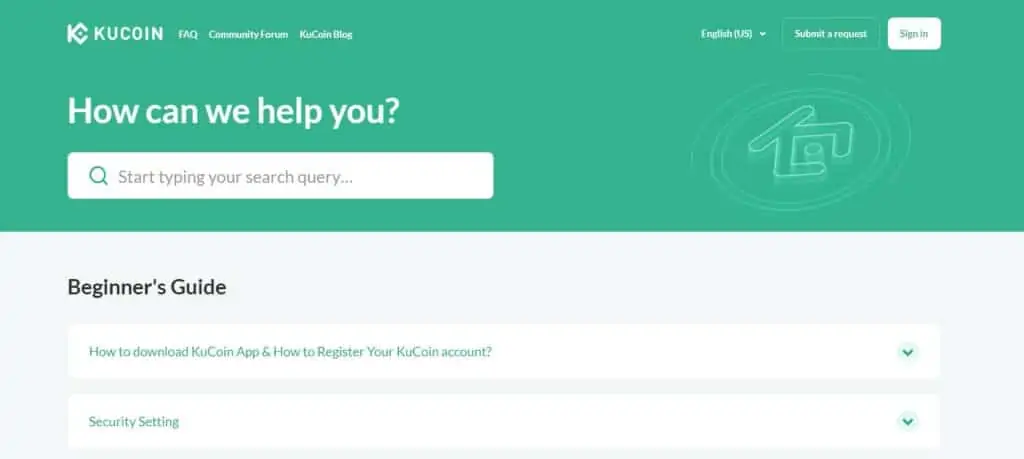 Alternatively, you can attempt to contact them directly by using the Live Chat feature, although a large number of KuCoin users have expressed their concerns about the slow response time of this service.
KuCoin Pros and Cons
While the KuCoin crypto exchange has managed to establish itself on the digital asset market as a trading platform that offers some of the most competitive fees, it should be noted that its trading volume is still far behind crypto giants such as Binance or Coinbase for instance. In turn, this translates to low liquidity of the exchange.
Also, it's great that this exchange has an impressive listing of cryptocurrencies for trading, although it does not support direct bank transfer as a payment method, which may be regarded as a drawback by some traders.
In addition, the fact that this crypto exchange is not regulated is probably the most negative aspect of this exchange platform.
Frequently Asked Questions
Does KuCoin have a mobile app?
Yes. The KuCoin mobile app is a crypto exchange where you can transfer, swap, or buy crypto assets on the go, with the same convenience as trading coins on the web platform of the exchange. It's supported by all Android and iOS operating mobile devices.
What countries are supported by KuCoin?
KuCoin is a worldwide crypto trading platform that can be accessible by the residents of most countries in the world, including the United Kingdom, Singapore, Colombia, Portugal, India, Japan, Norway, Turkey, Oman, Canada, to mention a few.
The Bottom Line
Putting it all into perspective, KuCoin is a cryptocurrency exchange that delivers some of the lowest transaction fees in the business. Moreover, the pricing system of this crypto exchange is transparent and clear, which makes it easier for investors to understand the fee configuration. When you take into account the platform has a user-friendly design thoughtful enough to cater to both novice and expert traders, it becomes clear that KuCoin was built with customer satisfaction and profit in mind.
The only drawback to KuCoin we can think of, really, is the platform's security – as a third-party exchange that relies on a centralized server the platform will always be at a higher risk of a security breach (as was already the case). 
KuCoin Compared
| Exchange | Cryptocurrencies | Fiat Currencies | Trading Fees | Deposit Methods | Sign Up |
| --- | --- | --- | --- | --- | --- |
| Swyftx | More than 320 | Australian Dollars, New Zealand Dollars | 0.6% | Osko, PayID, Credit Card, Debit Card, Bank Transfer, Cryptocurrency | Visit Swyftx |
| CoinSpot | More than 370 | Australian Dollars | OTC: 0.1% Market Order: 0.1%* (applies to LTC, BTC, ETH, XRP, POWR, DOGE, TRX, NEO, XLM, GAS, RChain, RFOX, EOS) Instant Buy/Sell: 1% | POLi, PayID, Cash, Cryptocurrency, Bank Transfer, BPAY | Visit CoinSpot |
| Binance | More than 600 | US Dollars, Australian Dollars, and 8 more | 0% to 0.1% | Osko, PayID, Credit Card, Debit Card, Crypto | Visit Binance |
| Bybit | More than 160 | 50+ | 0.1% to 0.6% | Crypto, EFT, wire transfer, bank transfer, debit card or credit card | Visit Bybit |
| Independent Reserve | 27 | Australian Dollars, US Dollars, New Zealand Dollars | 0.05% to 0.5% | EFT, SWIFT, Osko, PayID, Crypto | Visit Independent Reserve |
| Coinbase | More than 210 | Australian Dollars, US Dollars, New Zealand Dollars | Fees Vary | EFT, SWIFT, Osko, PayID, Crypto | Visit Coinbase |
| CoinJar | More than 50+ | Australian Dollars, Pound Sterling | Taker: 0.04 to 0.1% Maker: 0.04 to 0.1% | Apple Pay, Google Pay, Credit Card, Debit Card, Bank Transfer, Fiat, Crypto | Visit CoinJar |
| Kraken | More than 140 | Australian Dollars, US Dollars, and 5 more | Taker: 0.10% to 0.26% Maker: 0.00% to 0.16% | Apple Pay, Google Pay, SWIFT, Osko, SEPA, Crypto, Wire Transfer, Bank Transfer | Visit Kraken |
| BTC Markets | More than 15 | Australian Dollars | Taker Fee (for Bitcoin pairs): 0.20% Maker Fee (for Bitcoin pairs): -0.05% Australian Dollars Market Pairs: 0.10% to 0.85% | Crypto, BPAY, EFT, PayID, Osko | Visit BTC Markets |
| Easy Crypto | More than 40 | Australian Dollars, New Zealand Dollars, South African Rand | 1% | P2P, POLi, and Bank Transfers | Visit Easy Crypto |
| Coinstash | More than 140 | AUD | Taker fees: 0.85% Maker fees: 0.85% | Cryptocurrency, Bank Transfer, PayID | Visit Coinstash |
| eToro | More than 70 | Australian Dollars, US Dollars, Euro, and 12 more | Vary | Online Banking, Skrill, Neteller, PayPal, Bank Transfer, Debit Card | Visit eToro |
| KuCoin | More than 645 | US Dollars, Euro, Australian Dollars, and 6 more | 0.1% | Credit Card, Debit Card, SEPA, PayPal, Wire Transfer, Crypto | Visit KuCoin |