KuCoin vs Swyftx 2023
We bundle all types of crypto services under the term cryptocurrency exchange. This crypto lingo can be confusing for new investors when figuring out what kind of experience they should expect when joining a crypto trading platform for the first time.
For example, the first exchange on our comparison board — KuCoin — is a trading platform in the real sense of the word. It offers an abundance of digital assets and advanced markets for a pro-trading user experience. This crypto exchange deals with an immense user base distributed across the globe, including Australian traders. KuCoin is one of the few one-stop virtual venues where Aussie experienced traders can get a full package deal of sophisticated spot market, futures products, margin trading, bots, staking, and lending.
On the other hand, Swyftx is a national brand that "specialises" in conducting sleek crypto transactions with the Australian Dollar. Swyftx has encouraged the local audience to get involved in the crypto business by delivering a platform with a user-friendly interface, dedicated customer support, and a demo account. More importantly, a platform that is fully compliant with the Australian regulatory framework.
For this reason, we'll take a closer look at the most distinctive features of both types of crypto exchanges to find out how Swyftx and KuCoin can contribute to your ultimate crypto experience.
Comparison Table
The main purpose of cryptocurrency is to over ome cross-border limits, but as you can see, the locally based exchange still offers more favourable terms for a convenient purchase or sale:
| | | |
| --- | --- | --- |
| Features | KuCoin | Swyftx |
| Amount of Cryptocurrencies | 500+ coins | 350+ coins |
| Trading Fees | 0.1% | 0.6% |
| Deposit Fees | Depends on the third-party provider (Simplex or Banxa) | free |
| Withdrawal Fees | free | free |
| Average Spread | Between 0.5% and 4%. | 0.4% |
| Payment Methods | Visa/MasterCard/ ApplePay | PayID / Osko / POLi/ wire transfers |
| Fiat Currency | AUD, USD, EUR, GBP and 25 others | AUD |
| Regulatory Framework | Not regulated | AUSTRAC |
| Customer Support | Support ticket and live chat | Email, live chat, phone line |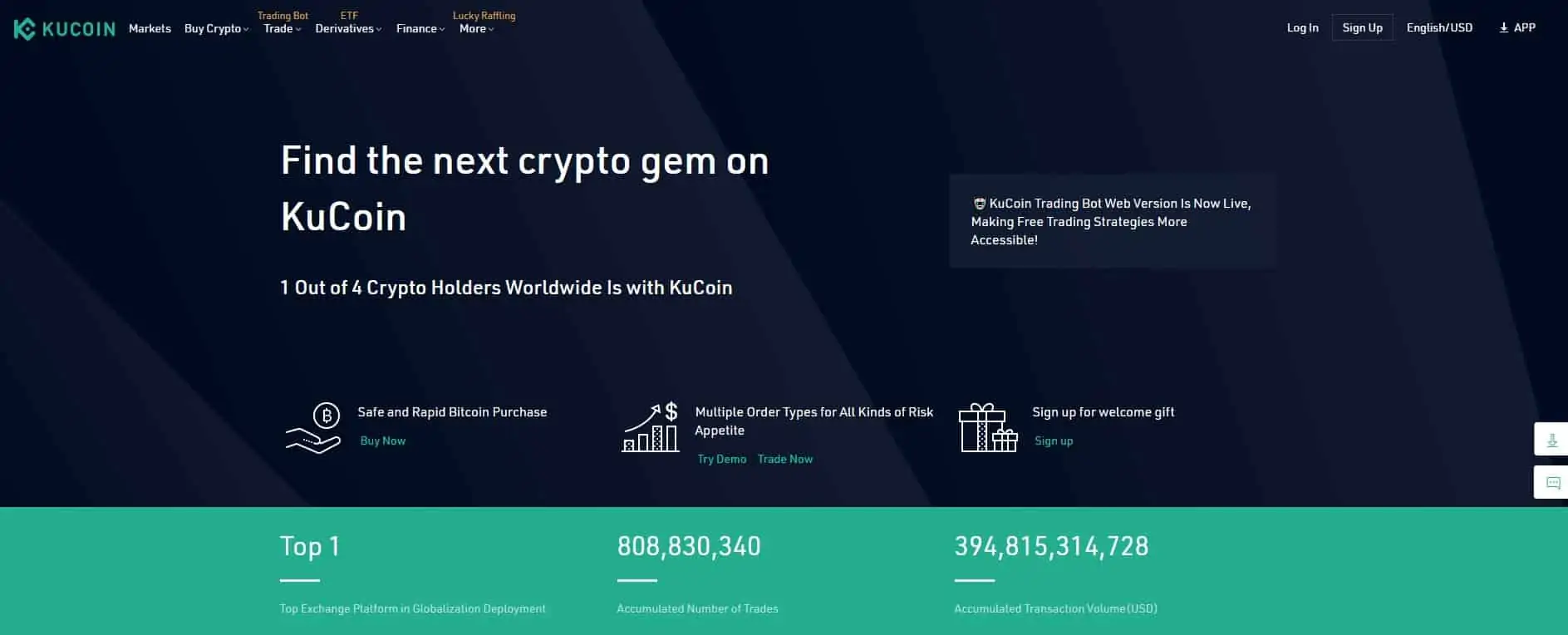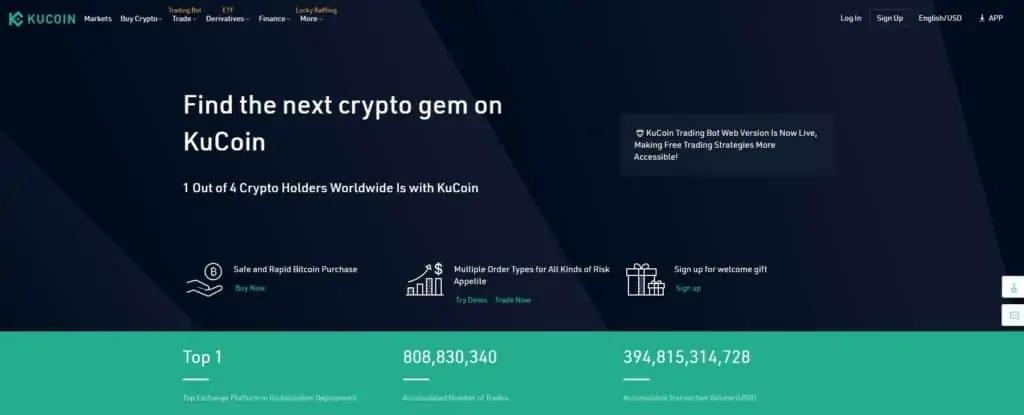 Pros:
Outstanding number of supported crypto assets;
Competitive fees;
Options for advanced trading and staking.
Cons:
Unregulated status in Australia;
Limited options for AUD payments;
Navigating through the platform can be overwhelming for novices.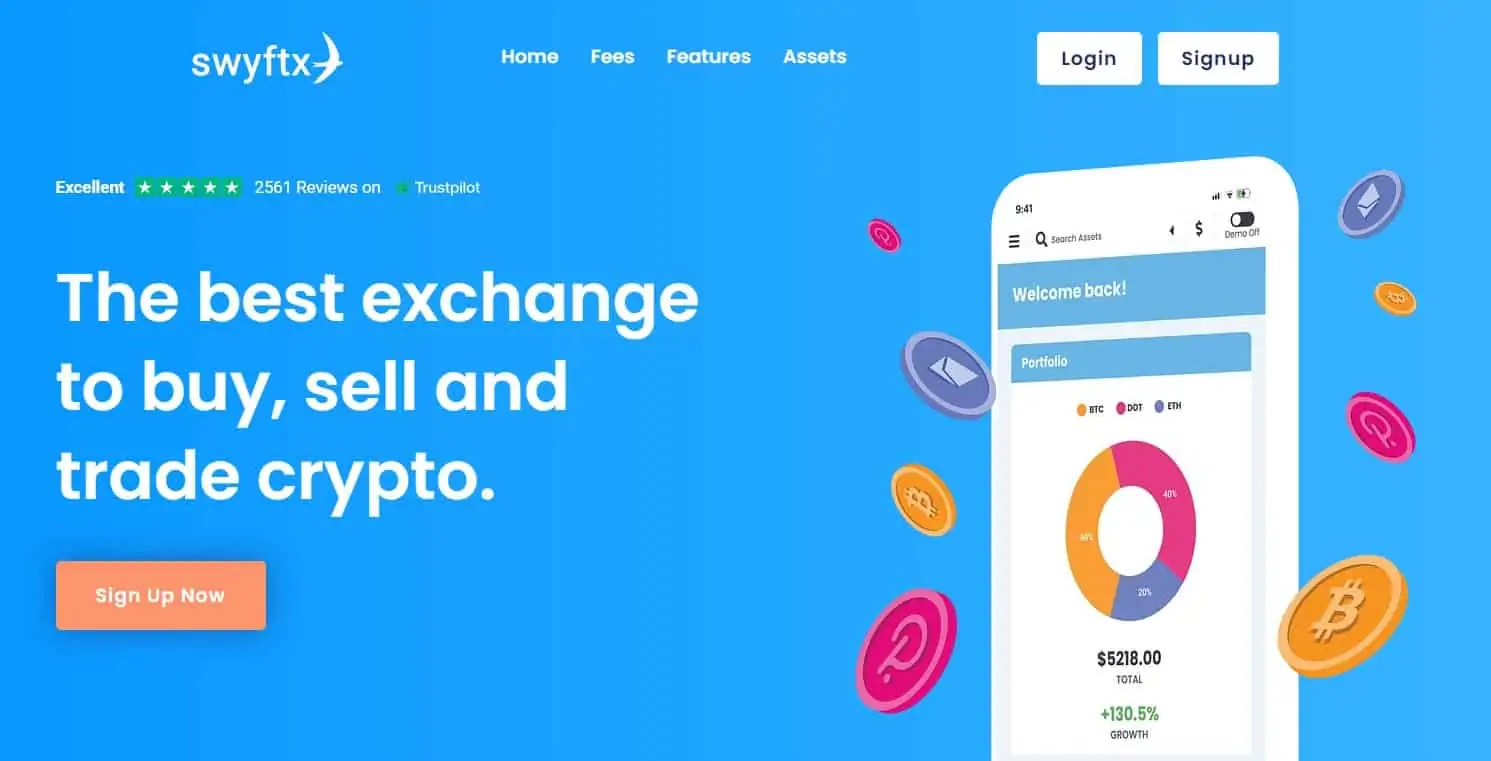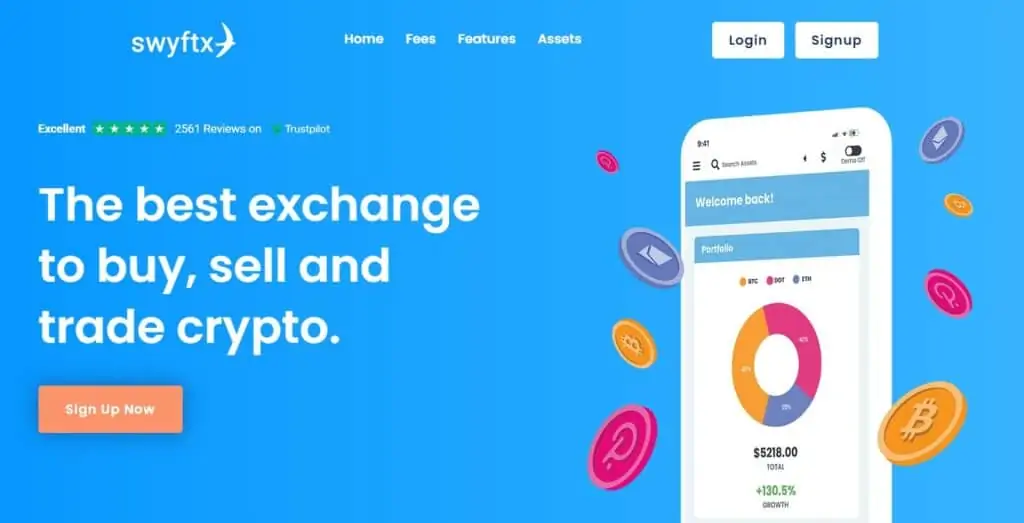 Pros:
Beginner-friendly user interface;
Multiple AUD payment methods;
Tax-report calculator adjusted to the Australian legislation.
Cons:
AUD is the only supported fiat currency;
Not many advanced trading features.
Amount of Cryptocurrencies
Despite the impressive number of over 500 available cryptocurrencies, KuCoin doesn't offer any trading pairs with AUD or any other fiat money as a base currency. This means that you can make only crypto-to-crypto transactions on the KuCoin spot market.
However, if you don't have any crypto in your possession yet, KuCoin has enabled a tool for instant purchases through external providers. So, once you get equipped with a handful of crypto, you can move to the spot market and make good use of the large coin selection. Some of the top-selling cryptos include Bitcoin (BTC), Ethereum (ETH), XRP (XRP), Dogecoin (DOGE), Cardano (ADA), Binance Coin (BNB), Bitcoin Cash (BCH), Litecoin (LTC), Ethereum Classic (ETC), Tether (USDT), USD Coin (USDC), Chainlink (LINK), Stellar (XLM), and Polygon (MATIC).
Unlike KuCoin, the supported cryptocurrencies on Swyftx can be traded exclusively against AUD. For a locally based exchange, Swyftx features a splendid list of over 300 digital assets with stable liquidity.
Cryptocurrencies Winner: Swyftx
It may come as a surprise, but the number of coins won't determine the overall winner for two reasons. First, there is a lack of fiat options on KuCoin, which entangles entry-level purchases. Second, not all cryptocurrencies listed on KuCoin guarantee the necessary liquidity for executing a transaction. So, despite the impressive KuCoin's list of 500 cryptocurrencies, Swyftx steals the win in this round.
Fees
Many new crypto investors are surprised to learn that there are substantial costs to buying and selling crypto, including unexpected and hidden fees. That's because there are different types of fees that apply in the crypto sector. Crypto exchanges incur a regular trading fee and sometimes a deposit and a withdrawal fee. In addition, the blockchain itself also charges transaction fees to reward miners for verifying transactions.
That's why attractive-fee offers can easily turn into a rip-off without warning. Hence, when making your first crypto attempts, it's better to watch out for what you get for your money rather than the total amount of costs.
Both KuCoin and Swyftx are considered highly transparent marketplaces, but we must find out whether they stick to the amount they promote as a total transaction cost.
KuCoin
KuCoin has one of the most favourable fee schedules in the overall market. It's based on a 30-days volume system that calculates the fee size depending on the user's position, either as a maker or a taker. Trading fees for both makers and takers start from 0.1% and can go down to 0.0125% for makers and 0.03% for takers. In addition, users can get an extra discount based on the amount of the native KuCoin Token (KCS) they own.
Since KuCoin doesn't deal with fiat, the instant AUD-to-crypto purchases depend on the external provider. Accordingly, since fiat withdrawals aren't supported on KuCoin, crypto withdrawals incur only a transaction fee depending on the current network congestion of the asset in question.
Swyftx
The fee system on Swyftx is much simpler — there is a flat trading fee of 0.6% on all markets, while AUD deposits and withdrawals are free of charge. However, note that withdrawals are limited to 100,000 AUD per day.
Fees Winner: Swyftx
The KuCoin fee of 0.1% is a bargain, but only to certain types of crypto traders. If your transaction involves AUD, then Swyftx is definitely a more cost-effective plan.
Crypto Spread
Let us remind you of another cost that is hidden within the buy or sell price of your desired crypto asset in the form of a percentage difference between the ask and bid price, called spread. For some reason, almost all crypto exchanges fail to mention the spread when promoting a little or no-fee policy.
The amount of spread you'll have to pay doesn't always depend on the exchange's fee structure. For example, KuCoin offers quite a range of available trading pairs on its platform but the overall trading volume is considerably lower than other giant exchanges of this calibre (Binance, for example). For that reason, KuCoin's spreads that range between 0.5% and 4% are considered quite large compared to the industry average of 2.5%.
On the other hand, Swyftx manages to maintain a very low percentage between the buy and the sell price and hence, gives us one of the most advantageous spreads on the overall market. They usually start from 0.40% and don't go above 1.7%.
Crypto Spread Winner: Swyftx
Swyftx scores a clear point in the spread category not only compared to KuCoin but to almost all crypto exchanges available DownUnder.
Customer Support
KuCoin claims that its support team is available 24 hours a day to help users with any questions or issues they may face. However, users reviews claim the opposite, which negatively impacts the overall performance of the trading platform.
Namely, KuCoin offers live chat support that is automated to respond only to generic questions. The only personalised support that KuCoin users can get is through a support ticket inquiry, but the team responsible for replying has been criticised for being notoriously unresponsive and accurate. This inconvenience is understandable to a certain degree, given the fact that KuCoin serves a user base of 10 million traders.
The Swyftx support team operates in a more customised manner with a strong focus on direct communication with its customers. The exchange offers phone-line support that is open for ear-to-ear assistance 12 hours a day. In addition, you can reach out to the Swyftx tech team through email or live chat as well.
Support Winner: Swyftx
As the Customer Support department is the weakest link of KuCoin and a tower of strength for the Aussie exchange, we have a clear-cut win for Swyftx.
Mobile App
Stats show that crypto mobile apps almost tripled the share for installs in 2021 and that they're on their way to "dethrone" all other stock trading apps due to the fact that the number of crypto app downloads skyrocketed by 560% between 2021 and 2022, only on Google Play. This means that users don't download mobile versions of crypto exchange just for price alerts and a real-time view of their balance anymore.
In line with its clients' needs, KuCoin features a state-of-the-art pocket version available for both iOS and Android users, which has come as an improvement to the original overcluttered platform. Users claim that the KuCoin app offers much better navigation through multiple features, allowing them to purchase crypto instantly in partnership wth Simplex and Banxa through MasterCard and Visa. The KuCoin app also gives you access to the separate P2P market and the spot and margin trading options. Finally, you can activate bots from your mobile app and enjoy the fresh charting design without any difficulties.
Swyftx's mobile app is a small-size replica of its browser-based platform with fully inherited simplicity in design and functionality. You can transfer your entire portfolio to your smartphone as the Swyftx mobile version allows you to make AUD deposits, activate withdrawals, buy and sell all platform-supported altcoins and even engage in staking.
Admittedly, it was much easier for Swyftx to get a more authentic mobile app due to the lack of advanced trading markets that are built on analytic trading tools and charts.
Mobile App Winner: KuCoin
The Swyftx app is really a thing, but our vote still goes to KuCoin's mobile app. The exchange has done a great job in how masterfully it managed to relocate complex UI structures to a small screen.
Deposit Methods
This section is where we really see to what extent KuCoin and Swyftx differ in executing transactions.
KuCoin was designed with a carefully developed strategy to avoid fiat money as the only legit way to round government regulatory institutions. Eventually, the exchange gave in to the public pressure and opened fiat gates in multiple currencies. You should bear in mind that fiat payments don't function as in-account deposits but allow you to instantly buy "weapons" required in the spot-market arena.
For this purpose, KuCoin established a partnership with payment channels Banxa and Simplex that support AppPay and credit card/debit card payments on the territory of Australia. Remember that these external fiat transactions incur their own fees (up to 5%) and implement KYC all by themselves.
On the other hand, Swyftx strives to enable as many payment methods as possible that fit the Australian payment system. Currently, you can deposit AUD on their platform through direct bank transfers, PayID and POLi/OSKO, but there is still no room for BPAY direct payments and any means of cash deposits. However, the most important detail is that Swyftx doesn't charge anything for depositing fiat funds via the listed methods.
Deposit Methods Winner: Swyftx
It's a clear win for Swyftx. The platform offers sleek AUD deposits through multiple payment getaways without any additional fees for the service.
Security
An exchange has to meet two striking criteria to be classified as a secure and trustworthy marketplace: (1) to implement all standardised security protocols for accounts and funds protection; and (2) to operate in a regulated manner in order to be able to safeguard its customers in case of theft or other fraudulent cyber activity.
On that note, KuCoin doesn't have a regulatory backup in Australia. On the bright side, this allows users to trade crypto without going through a KYC verification process. However, the exchange implements robust security features, especially after the misfortunate hack attack in 2020. This includes 2FA (two-factor authentication), micro-withdrawal wallets, and full encryption. In addition, the KuCoin company has its own internal risk-control sectors to overview daily data flow, which speaks best about how seriously KuCoin takes security.
Swyftx is an AUSTRAC registered money transmitter that fully complies with the strict AML/CFT regulations. This regulatory setup signals that you can't get landed on the Swyftx page without identity verification.
The Swyftx security protocols are nearly the same as KuCoin's, except for the fact that Swyftx assigns third-party contractor auditors to convey unbiased and professional checkups.
Security Winner: Swyftx
The years of continuous operations without any security scam just add a bonus point to the Swyftx platform.
Final Verdict
The colourful feature set of Swyftx can open your crypto horizons to an unlimited level since Swyftx is more than just a buy-and-sell platform. It's capable of giving you a myriad of solutions for your crypto holdings and solid grounds for social trading at exceptionally low trading fees.
However, don't rush into a multifunctional trading environment immediately after the kick-off round without looking in your own house. You'll be surprised how easily non-experienced users can execute a transaction with confidence.
Finally, if none of these exchanges has caught your attention, take some more time to read about Kraken, Digital Surge, Coinbase, CoinSpot, Independent Reserve, and other popular crypto exchanges available in Australia.
Best Crypto Exchanges Compared
| Exchange | Deposit Methods | Fiat Currencies | Cryptocurrencies | Trading Fees | Deposit Fees | Withdrawal Fees | Sign Up |
| --- | --- | --- | --- | --- | --- | --- | --- |
| Swyftx | Osko, PayID, Credit Card, Debit Card, Bank Transfer, Cryptocurrency | Australian Dollars, New Zealand Dollars | More than 320 | 0.6% | Fiat Deposits: $0 Crypto: $0 | Fiat Withdrawals: $0 Crypto: $0 | Visit Swyftx |
| CoinSpot | POLi, PayID, Cash, Cryptocurrency, Bank Transfer, BPAY | Australian Dollars | More than 370 | OTC: 0.1% Market Order: 0.1%* (applies to LTC, BTC, ETH, XRP, POWR, DOGE, TRX, NEO, XLM, GAS, RChain, RFOX, EOS) Instant Buy/Sell: 1% | Direct Deposit: $0 Direct Bank Transfer: $0 BPAY: 0.9% Cash: 2.5% PayID, POLi, and direct deposits: $0 | Fiat Withdrawals: $0 | Visit CoinSpot |
| Binance | Osko, PayID, Credit Card, Debit Card, Crypto | US Dollars, Australian Dollars, and 8 more | More than 600 | 0% to 0.1% | $0 | Vary | Visit Binance |
| Bybit | Crypto, EFT, wire transfer, bank transfer, debit card or credit card | 50+ | More than 160 | 0.1% to 0.6% | Bank transfer: $0 | Network fees | Visit Bybit |
| Independent Reserve | EFT, SWIFT, Osko, PayID, Crypto | Australian Dollars, US Dollars, New Zealand Dollars | 27 | 0.05% to 0.5% | For SWIFT Deposits: $15 for deposits under AU$5,000 equivalent $0 for deposits over AU$5,000 equivalent For EFT Deposits: AU$0.99 for deposits under $100 $0 for deposits over AU$100 | Crypto: Vary Bank Transfer: $0 for AUD, $20 for non-AUD | Visit Independent Reserve |
| Crypto.com | SWIFT, Crypto, Fedwire, Wise, PayPal, SEPA, BPAY, Bank Transfer (ACH), Debit Card, Credit Card | USD, AUD, CAD, CHF and 15+ more | 250+ | 0.04% to 0.4% | 0% for cryptocurrency and fiat currencies | FREE via bank transfer. $25 for USDC withdrawal via SWIFT Network | Visit Crypto.com |
| Coinbase | EFT, SWIFT, Osko, PayID, Crypto | Australian Dollars, US Dollars, New Zealand Dollars | More than 210 | Fees Vary | Debit Card and Credit Card: 3.99% | Spending USDC with Coinbase Card: $0 ATM Withdrawals: 2.49% | Visit Coinbase |
| CoinJar | Apple Pay, Google Pay, Credit Card, Debit Card, Bank Transfer, Fiat, Crypto | Australian Dollars, Pound Sterling | More than 50+ | Taker: 0.04 to 0.1% Maker: 0.04 to 0.1% | CoinJar Users: $0 NPP: $0 Cash: 1.5% | $0 | Visit CoinJar |
| Kraken | Apple Pay, Google Pay, SWIFT, Osko, SEPA, Crypto, Wire Transfer, Bank Transfer | Australian Dollars, US Dollars, and 5 more | More than 140 | Taker: 0.10% to 0.26% Maker: 0.00% to 0.16% | Vary | Vary | Visit Kraken |
| BTC Markets | Crypto, BPAY, EFT, PayID, Osko | Australian Dollars | More than 15 | Taker Fee (for Bitcoin pairs): 0.20% Maker Fee (for Bitcoin pairs): -0.05% Australian Dollars Market Pairs: 0.10% to 0.85% | $0 | Australian Bank Accounts: $0 Cryptocurrencies: Vary | Visit BTC Markets |
| Easy Crypto | P2P, POLi, and Bank Transfers | Australian Dollars, New Zealand Dollars, South African Rand | More than 40 | 1% | $0 | $0 | Visit Easy Crypto |
| Coinstash | Cryptocurrency, Bank Transfer, PayID | AUD | More than 140 | Taker fees: 0.85% Maker fees: 0.85% | $0 | $0 | Visit Coinstash |
| eToro | Online Banking, Skrill, Neteller, PayPal, Bank Transfer, Debit Card | Australian Dollars, US Dollars, Euro, and 12 more | More than 70 | Vary | Vary | $5 (minimum withdrawal of $50) | Visit eToro |
| KuCoin | Credit Card, Debit Card, SEPA, PayPal, Wire Transfer, Crypto | US Dollars, Euro, Australian Dollars, and 6 more | More than 645 | 0.1% | $0 | Vary | Visit KuCoin |