Ledger Nano S Review
The phrase "not your keys, not your crypto" is well-known for cryptocurrency investors for a reason. If you do not own the private keys to the wallet your crypto is linked to, then you can have your cryptocurrency taken at any time. Those private keys are critical to making sure that only you can access your funds.

To solve this, services have come out that offer non-custodial wallets or wallets that give you the private keys. This way, you choose who and where can see your wallet, rather than leaving it up to an exchange or centralized service. Enter the Ledger Nano S, a hardware wallet that keeps your crypto safe without sacrificing your ability to manage your funds the way you want to.

About Ledger
Ledger was founded back in 2014 by eight individuals with a background in encryption and cryptocurrency. The company was founded on the belief that securely storing your crypto assets should be an easy process and something anyone holding crypto could do.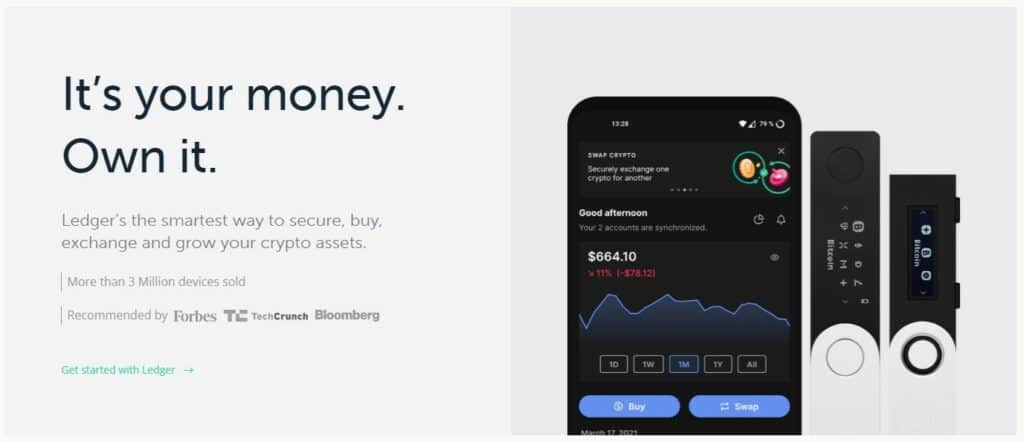 Over the next seven years, Ledger became one of the larger hardware wallet providers. So far, they have sold 3 million hardware wallets to customers across over 200 countries. Ledger also works with over 100 verified resellers of their hardware wallet. This partnership essentially lets Ledger sell wallets to customers at a lower price and also ensure that the wallets have not been tampered with before use.
Supported Cryptocurrencies by Ledger
To date, Ledger wallets support over 1,800 different crypto coins and tokens available on various exchanges. The Ledger Nano S is no exception to this, either. In addition, Ledger's website has a tool that lets you look up what coins and tokens are supported by Ledger's wallets.
Here is a list of some of the popular cryptocurrencies that can be stored in the Nano S:
Bitcoin
Ethereum
Ripple (XRP)
US Tether (USDT)
Bitcoin Cash
Polkadot
Litecoin
Binance Coin (BNB)
EOS
Tezos (XTZ)
This lookup tool also gives specific info on what extra features offered by Ledger are available for the various cryptos you can store on your wallet.
Ledger Nano S Features
The main feature of any hardware wallet is the ability to place your cryptocurrency into a wallet that can't be accessed. By holding onto your private keys, not sharing them, and disconnecting the wallet from any Internet connection, the cryptocurrency associated with the wallet can't be accessed. This way, your funds stay safe from those trying to find private keys or hack into exchanges.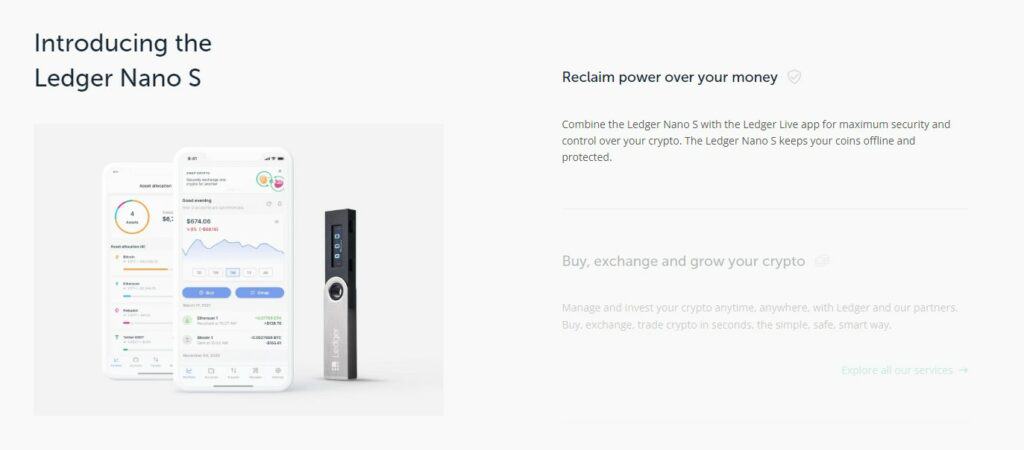 The Ledger Nano S does this well. Between the solid construction of the physical wallet and the security protocols that go into protecting your crypto, the Ledger Nano S is an excellent choice in a hardware wallet. It's also the cheapest option offered by Ledger, making it an efficient pickup for those trying to secure their assets.
Here's a list of some other features that come with the Ledger Nano S:
Manage your crypto offline: Once it's in a Ledger wallet, you can access and manage your crypto with the Ledger Live service.
Buy and exchange coins and tokens from Ledger: The Ledger Live service that comes with all of Ledger's hardware wallets lets you purchase and exchange cryptocurrencies from your hardware wallet when the funds are accessible.
Grow your holdings with DeFi: Ledger partners with many crypto wallets and DeFi services to let you lend out crypto and earn interest on your assets.
Security and Safety for Ledger Wallets
As a security device, Ledger goes out of its way to ensure that its products are safe, including the Nano S. Each device has a genuine check run to ensure that it hasn't been tampered with by third parties during manufacturing.

The construction of the wallets is essential as well. The Nano S is built with Ledger's Secure Element chip, which holds private keys and withstands sophisticated attacks to access those keys. The BOLOS operating system, made by Ledger, also protects against attacks and ensures that crypto apps are isolated from one another while stored in the wallet.
Finally, Ledger is the only certified hardware available on the market. This certification comes from ANSSI, a French national cyber security agency.
Frequently Asked Questions
Because managing your funds with a hardware wallet can be a challenging topic, here are some of the common questions we've seen out there about the Ledger Nano S:
How Long Does the Ledger Nano S Last?
The battery for the Nano S is meant to last for a few hours without needing a charge. If you have the wallet plugged into a device, then it will charge using that device's power. You can connect the Nano S into anything that accepts a USB-B connection to charge it.
The battery itself is designed to last for five years. Unfortunately, you'll have to get a new wallet once the battery is dead since Ledger doesn't currently offer a battery replacement kit or service.
What Happens If I Lose My Ledger Nano S?
Losing your hardware wallets doesn't mean that you've lost all the crypto assets stored on that wallet. Instead, the hardware wallet acts as an address that the crypto is assigned to. Meanwhile, the cryptocurrency stays on the blockchain, waiting for the next transaction.
To get access back to those coins and tokens, you'll need the private keys that came with your wallet and a new wallet. Once you have these, enter the private keys into the recovery section of the service you want to use. You should have access to the funds again once the wallet is up and running.
Can Ledger Be Hacked?
Ledger has been hacked in the past, but the hackers couldn't get any crypto assets in the wallets. In the hack, Ledger lost customer data to the hackers, but since they don't store any private key information on their service, no wallets were targeted by hackers. So no matter what attacks come to Ledger, they don't maintain or keep access to your cryptocurrency.