Ledger Nano S Review for 2023
Regardless of your personal crypto preferences, the first thing you need to consider before entering the blockchain space is the safe storage of your virtual assets.
At this point, there is an abundance of handy storage solutions in the ultra-competitive crypto market. The majority come in the form of user-friendly web wallets or mobile/desktop apps. However, ever since the earliest blockchain trades, hardware wallets have represented the gold standard for impeccable security.
Today, we're reviewing one of the best-selling hardware wallets — Ledger Nano S — the original Ledger product sold in over 1 million copies. This multi-currency wallet comes with a simple design, a budget price, and most importantly, no specific requirements for smooth navigation.
Before we dive a bit deeper into the feature set of Ledger Nano S, let us walk you through the security perks of hardware wallets in general.
Hot Storage vs Cold Storage
Irrespective of the brand or the type, crypto wallets have two main functions:
To keep your private keys outside the reach of unauthorized intruders
To enable hassle-free transfers from and to other wallet addresses
If we relate these operations to the current market offers and demands, we'll see that web and app wallets — also known as hot storage — are better received by the average crypto community as they focus on delivering easy access and fast transactions. Moreover, they're free and don't require any external setup.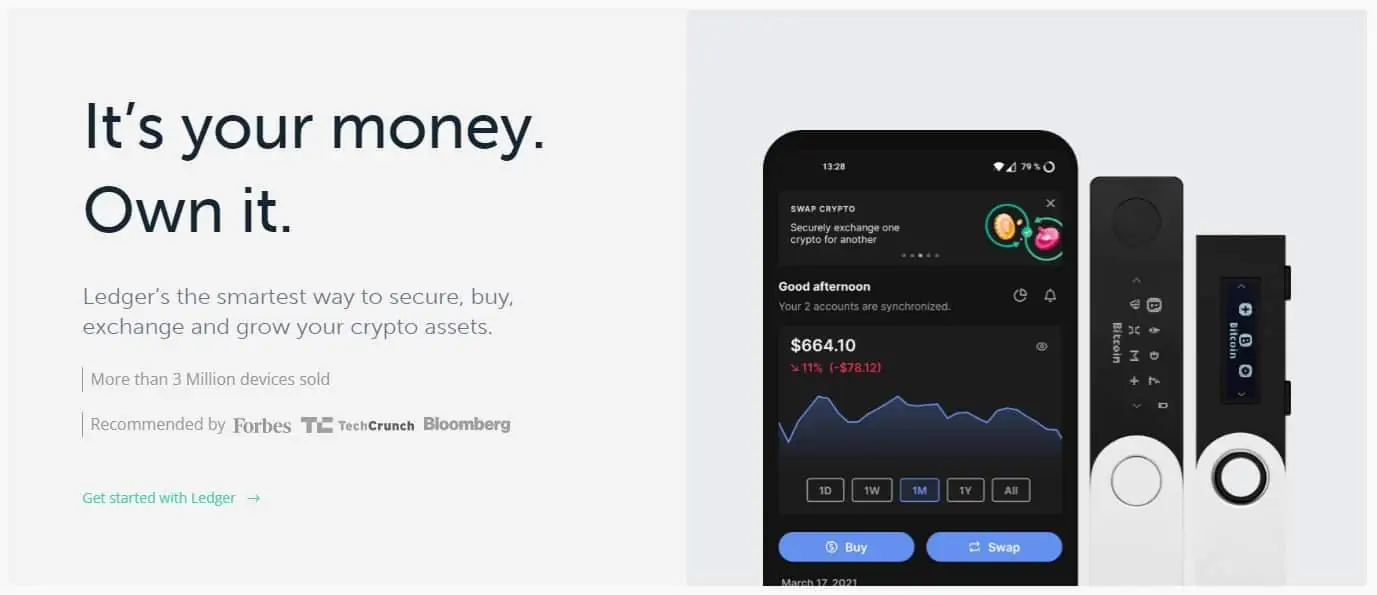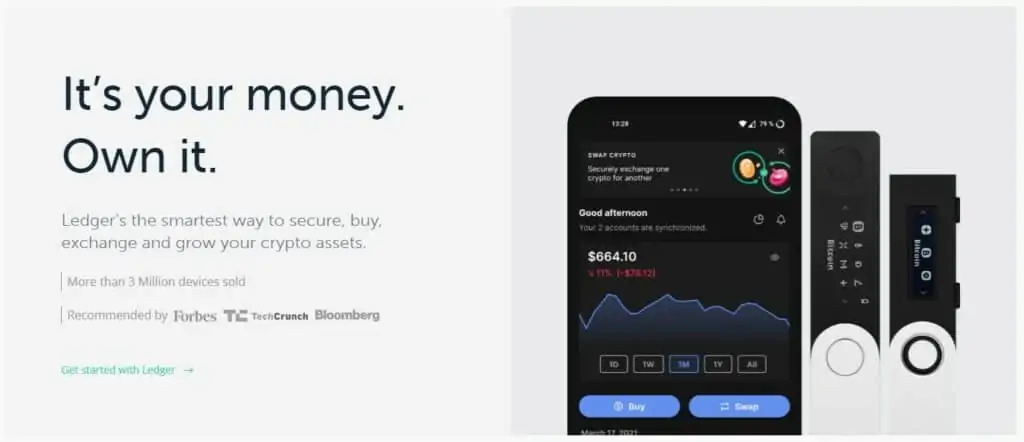 While web platforms let your private keys reside online, mobile and desktop apps are a bit safer since your private keys stay within the device. However, both platforms and apps haven't overcome the main security concern — the fact that they need an internet connection for initial performance. To clarify, crypto-wallet companies nowadays do apply robust security measures to protect your funds but despite everything, their very presence online opens up room for hackers to trace the funds stored on them. Hence, hot storage is vulnerable to cyberattacks and this is a heavy burden to carry in the long run especially if you own a large number of cryptocurrencies.
On the other hand, we have hardware wallets that are categorized as cold storage since they come in the form of hard-drive devices independent of performance from the desktop or phone you'll have to pair them with. This means that cryptocurrency hardware wallets store your private keys outside the online space, making them immune to attacks.
In comparison to hot wallets, these aren't free but they're certainly worth the initial investment. Remember that when we say that apps are superior in terms of convenience over hardware wallets, it doesn't mean that they aren't intuitive or easy to use. It's just that hardware wallets have to be additionally powered on and integrated with another device to make the necessary transfer. But you must admit that the security protection is definitely worth the effort and the price.
However, all models of hardware wallets aren't created equal so let's see how Ledger Nano S fits in this highly secure environment.
About Ledger Nano S
The Nano S model is the most standardized wallet offer of the Ledger company, which is a renowned representative in the field of crypto infrastructure solutions. It was established in 2014 and it's currently headquartered in three locations: Paris, San Francisco, and Vierzon. The Ledger team consists of more than 130 professionals and their scope of services covers over 165 countries.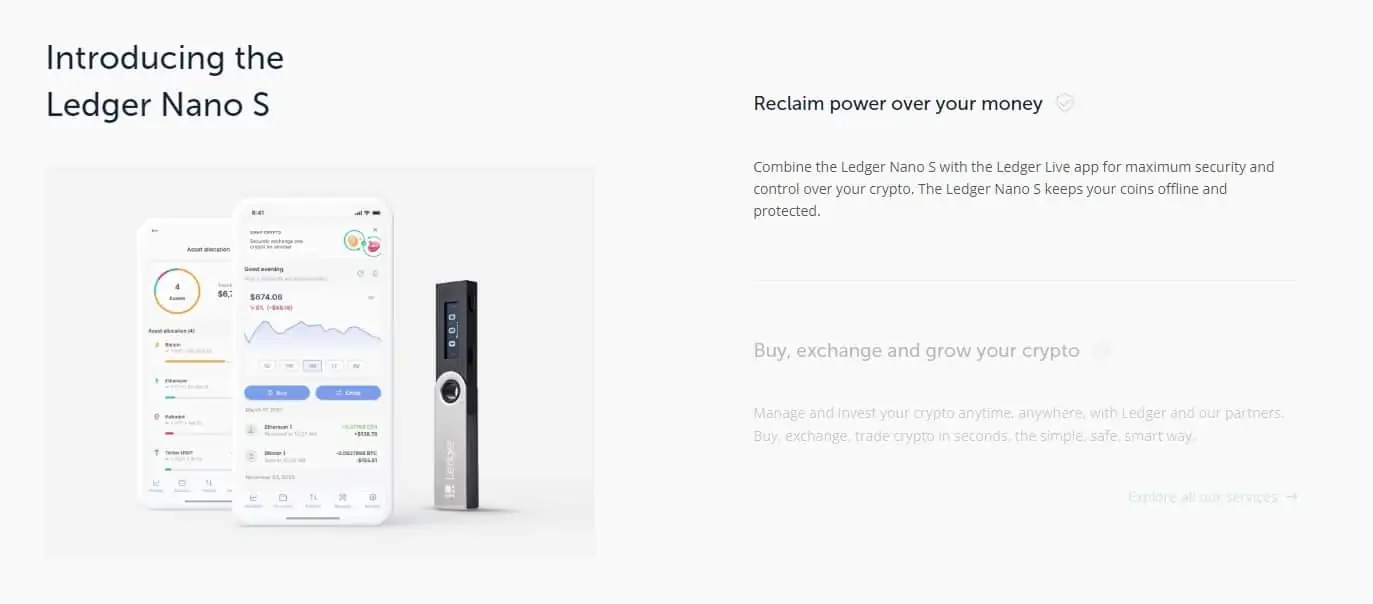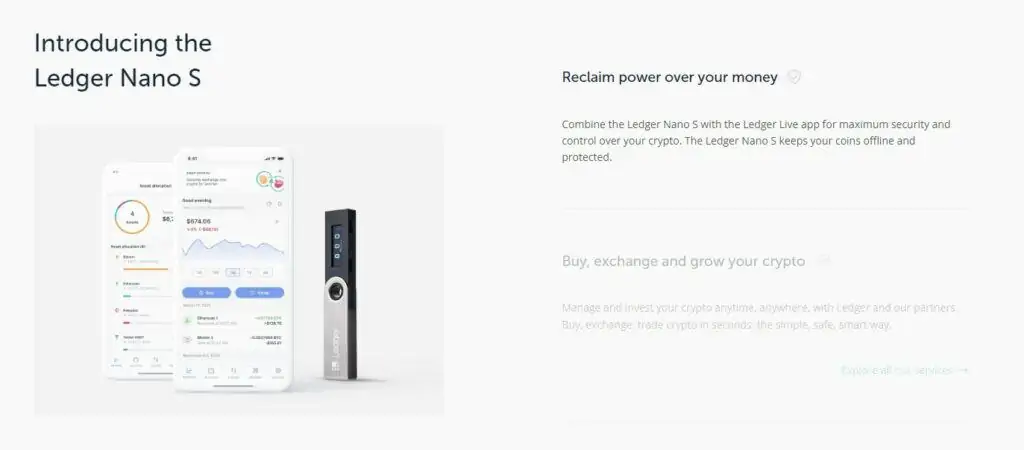 Ledger Nano S was released a year after the company's launch, offering a cost-effective multi-storage alternative with top-notch security mechanisms suitable for beginners and users looking for the best storage space they can get for the money. Years and upgrades later, Ledger Nano S still maintains the same image of a reputable crypto wallet and attracts a great number of users worldwide due to its simplicity and low price.
Ledger Nano S Design
The Ledger Nano S model doesn't feature decorative design elements compared to its direct competitor Trezor One. It's rather discreet and if it wasn't for its stainless steel you could easily mistake it for a USB flash drive at first glance.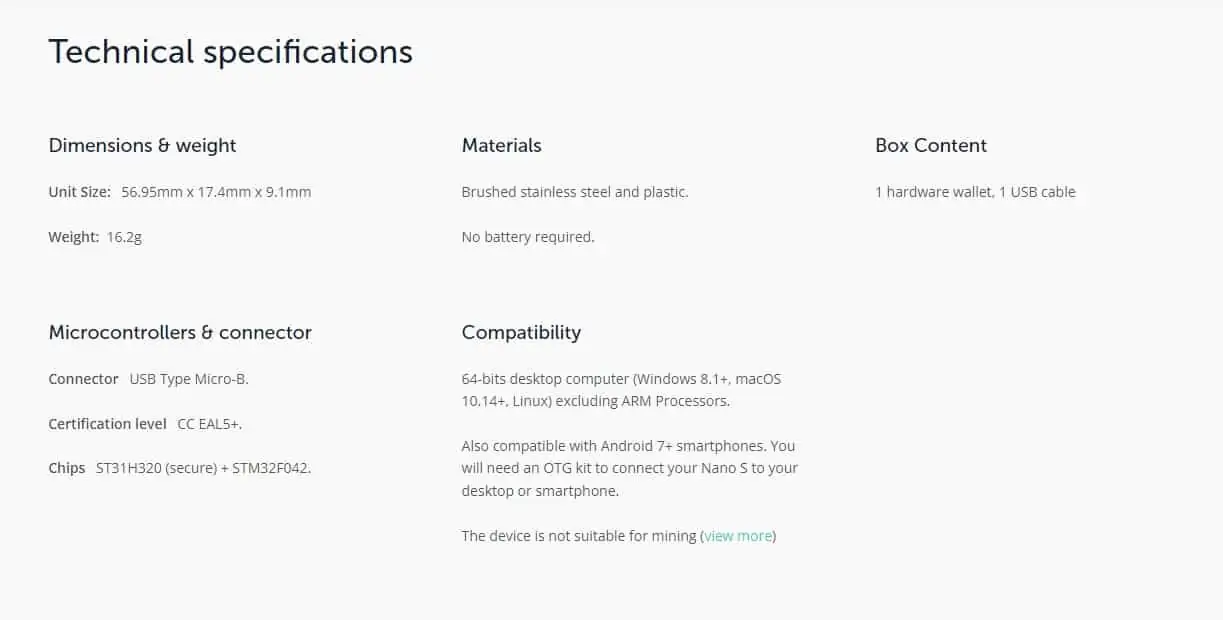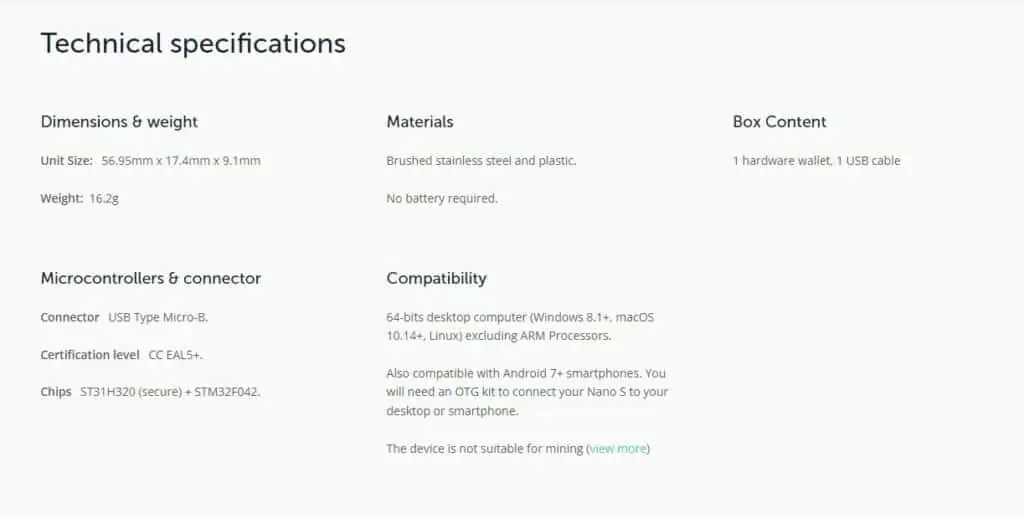 The wallet consists of a little screen, a USB socket, and two buttons for navigating the menu. It's available in several colours, which can be rather useful if you keep your holdings on separate devices. The wallet device comes with a USB connection cable, 3 seed recovery, sheets, and a modest set of accessories including a keychain, key lace, and a keyring.
How to Get Started with Ledger Nano S
We'll present you with a compact step-by-step guide so that you get the big picture of what it takes to set up and configure a hardware wallet.
How to Set Up Ledger Nano S
The first thing you'll have to do is download the Ledger Live application and set up a new password.
Then, pair your Ledger Nano S with your computer through the micro-USB cable and follow the on-screen instructions to set up the device properly. The process is rather straightforward — most of the steps are initiated by the device itself. You'll just need to generate a PIN.
Now that you have the wallet installed on your device, you can navigate through its menus using the device buttons to select an item or respond to a given prompt.
Next, the wallet will generate a 24-word recovery phrase and it's highly recommended you record it on one of the cards in the wallet package. Double or triple-check that you've entered the recovery phrase accurately. You must understand its importance as it'll be the only way to access your stored assets in case you lose the wallet device or it gets stolen.
How to Navigate through Ledger Nano S
For the majority of users, the Ledger Live software is the main form of interaction with the Ledger Nano S hardware wallet. However, the wallet is also compatible with a few software wallet apps such as MetaMask, MyCrypto, Electrum, and MyEtherWallet.


First, in order to access Ledger Live, you must have the wallet device plugged into your computer. Each time you plug in the wallet, you'll have to enter the PIN code. You can also use the Nano S through Ledger Live's mobile app.
Then, you'll need to add apps to your wallet. In order to do so, find Setting on the left column of the Ledger Live app and confirm the prompt "allow Ledger Manager" that will pop up on the screen at this point. At this point, you can best check whether your device has the latest firmware or needs an update.
Apps represent the type of cryptocurrency you have in your wallet such as Bitcoin (BTC), Ethereum (ETH), and all other wallet-supported crypto coins and tokens. For each app you install, you'll have to add a respective account, which will be afterward shown in your Ledger Live portfolio.
Now, you're all set to receive and send cryptocurrencies. You can do so by going to Accounts and selecting the account of your choice. Another way is to use the send and receive options in the homepage sidebar and choose an existing account from the dropdown menu.
Regardless of whether you send or receive cryptocurrencies, you'll need to confirm the recipient's or sender's address on your Ledger Nano S device, which can be a bit obscure due to the tiny screen.
Ledger Live will also allow you to purchase or sell a limited selection of crypto coins directly from the app.
Bitcoin and Other Supported Cryptocurrencies
Ledger hardware wallets are best known for supporting the widest spectrum of cryptocurrencies among cold crypto wallets and the same goes with the Nano S model — here you can store over 1100 virtual currencies including the most frequently traded coins such as BTC, ETH, and the entire range of ERC-20 tokens, Ripple (XRP), Litecoin (LTC), Tron (TRX), EOS, Monero (XMR), Bitcoin Cash (BCH), Zcash (ZEC), Cosmos (ATOM), Polkadot (DOT), Cardano (ADA), Stellar (XLM), Neo (NEO), Dogecoin (DOGE), Ethereum Classic (ETC), Dash (DASH), and many, many more.


However, here comes the biggest downside of Ledger Nano S — the limited device memory. Namely, the wallet will allow you to set up only 3-5 accounts (depending on their size), which means that you can't keep more than 5 different crypto coins within the same device.
In case you aim at a more diversified portfolio, there are two solutions to overcome the restricted number of crypto accounts.
You can either install the wallet account, create the desired wallet, and then uninstall it. As unnatural as this may sound, the private keys will stay on the device. By deleting the crypto account you will free some space and the moment you need access to that account you can re-install it again. For most users, this approach is uncertain, too complicated, and unintuitive.
Another solution is to turn to the upgraded Ledger model — Ledger Nano X, which has fully overcome the internal memory issue and allows you to create quite a larger number of different accounts.
Security Features of Ledger Nano S
When explaining the traits of hardware wallets, crypto security experts often make a parallel with traditional banking systems by comparing hardware crypto wallets with bank safes in contrast to app wallets, which are linked with the purse you take with you to the grocery store.
Ledger devices are world-recognized products that have earned the trust of users when it comes to asset security. Even if your computer gets infected with malware, the wallet will keep your digital assets intact. Ledger Nano S supports two layers of protection — STM32F042 (OS) and ST31H320 (CC EAL5+ certification) that sign all transactions and keep your private keys in two separate pieces of hardware. In fact, it's the only hardware wallet manufacturer that uses Secure Element chips and a proprietary OS (operating system) known as Blockchain Open Ledger Operating System (BOLOS).


Here, we must point out the PIN code, which needs to be inserted each time you plug the wallet into your computer and the passphrase that guarantees access to a particular wallet.
However, the fact that you have full control over your private keys makes it essential to undertake all user-side security measures and one of them is certainly keeping your seed phrase safe offline. Even if you lose or damage your wallet device, you'll still be able to seamlessly recover your holdings with its seed on a new device.
Frequently Asked Questions
Is Ledger Nano X better than Ledger Nano S?
Both Nano S and Nano X models are popular cold, hardware wallets developed by Ledger. This means that both wallet types share the same level of security and support the vast selection of over 1,100 supported cryptocurrencies. However, the Nano X is a younger and more sophisticated version that has Bluetooth functionality and an internal battery, unlike the S model, which needs to be paired with your computer through a micro-USB cable.
Moreover, the Nano X model supports up to 100 software apps while the other limits you to 5. Finally, Nano X is compatible with both Android and iOS devices unlike Nano S, which doesn't support iPhone devices.
On this account, Ledger Nano X is nearly twice as expensive as Ledger Nano S and is more suitable for active traders with diverse portfolios.
A Few Words Before You Go…
The strength of the Nano S model lies in its simplicity. When it comes to security, the less, the better. The storage restriction is the only thing that could possibly prevent you from acquiring this wallet. In all other crucial aspects, it's noticeably superior to its market rivals: the number of available altcoins, the impeccable security, the intuitive software support by Ledger Live, and most importantly, its exceptionally low price.