Luno Review for 2023
There is a widespread belief that cryptocurrency trading is a benefit of the technological progress reserved for wealthy nations, which is accurate to a certain extent. When compared to impoverished countries, stronger economies almost certainly provide more profitable investment options.
Enter Luno. The makers of this cryptocurrency trading platform saw the potential of this underserved market and set out to build a cryptocurrency exchange that would also cater to developing nations such as Malaysia, Nigeria, and Indonesia, alongside users from wealthier countries.
Did it succeed? We'll see.
In this review, we'll look at whether a cryptocurrency exchange's target market makes a difference in the services it provides, what the Luno exchange has to offer, and – most importantly – whether it's safe.
About the Luno Bitcoin Exchange
This cryptocurrency exchange, which was initially known as BitX, was established in 2013 as a Bitcoin trading platform and has its headquarters in London, United Kingdom. Rebranded as Luno in 2016, the trading platform had branched its subsidiaries in Cape Town and Singapore and broadened its cryptocurrency projects offer.
Luno functions as a brokerage service, and an online and mobile exchange that provides a built-in wallet for your coins. Moreover, this cryptocurrency exchange offers crypto-to-crypto and crypto-to-fiat swaps between six different cryptocurrencies and sixteen different cryptocurrency pairings. With the option to instantly exchange your coins for your local currency, Luno allows you to easily use your coins in the real world.


Since your web and mobile profiles are interconnected, you will be able to log in with the same password on both the online platform and the mobile app. Those who like to trade on their smartphones or who prefer to be able to purchase and sell coins while on the go will certainly appreciate this feature.
The Luno Bitcoin exchange delivers some of the most fundamental trading tools (such as limit orders, market orders, and stop-limit orders) for purchasing Bitcoin or Ethereum through a user interface that is both simple and straightforward. Users can begin buying and selling coins on the Luno website or mobile app as soon as their account is validated and funded.
Supported Cryptocurrencies
Luno supports the buying and selling of a small number of cryptocurrencies, including Bitcoin (BTC), Ethereum (ETH), Bitcoin Cash (BCH), Ripple (XRP), Litecoin (LTC), and USD Coin (USDC). It's more than evident that this exchange would not be a good fit for you if you're searching for a broad set of cryptocurrency projects to pick from. So, if having a large number of cryptocurrency projects to choose from is your final criteria for selecting a crypto exchange, trading platforms with more liquidity, like Coinbase or Binance, may be a better fit for your needs in cryptocurrency trading.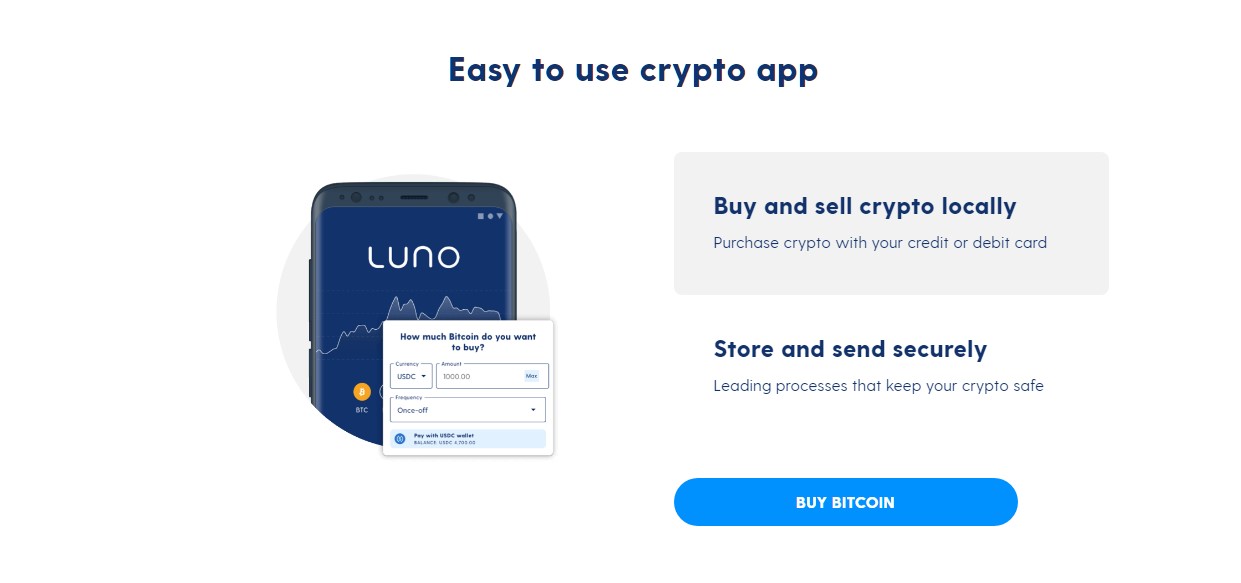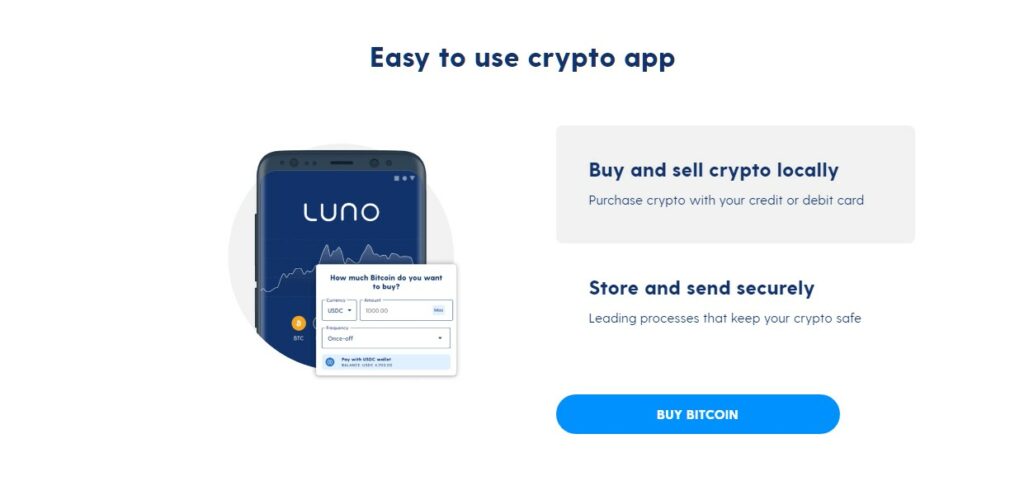 Regarding the accepted fiat currencies, Luno lists the following legal tenders: Euro (EUR), British Pound (GBP), Indonesian Rupiah (IDR), Ugandan Shilling (UGX), Malaysian Ringgit (MYR), Polish Złoty (PLN), Nigerian Naira (NGN), Zambian Kwacha (ZMW), and South African Rand (ZAR).
In addition, each of the trading pairs offered by Luno is pegged against the British pound which is a divergence from the standard US dollar coupling used by the majority of exchanges.
Payment Methods
To buy Bitcoin or any other crypto coin on the Luno cryptocurrency exchange, users have to first deposit funds through either a bank account or credit card. A broad number of payment options are also available, including credit card, debit card, SEPA, bank transfer, PayID Xfers, and electronic funds transfer (EFT), to mention a few.
Trading Fees and Limits
Luno's fees are dynamic, which means they alter depending on how much you buy, sell or swap, as well as what the present market dynamics of a given country entail. Because of this, it's impossible to predict with certainty how much a transaction fee will be. Despite the fact that there is a fee tier structure presented on the platform's interface, the system is rather difficult to comprehend.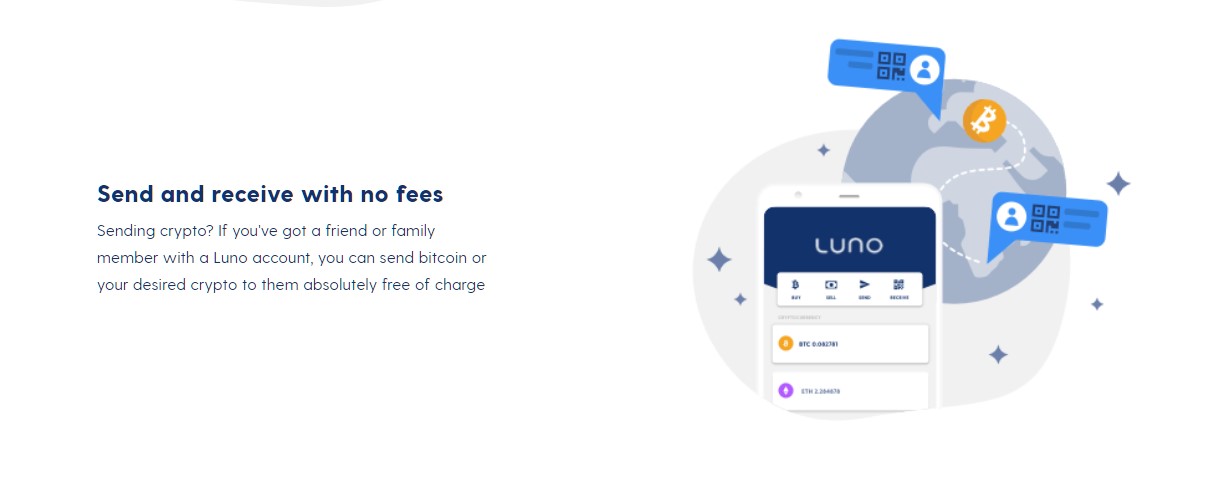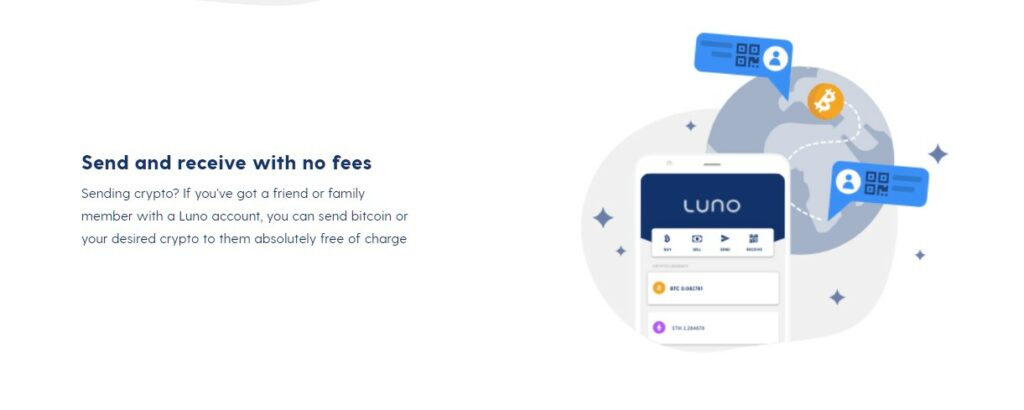 The prices you'll need to pay for any transaction on this trading platform are generally affordable, with the lowest being 0.1 percent per transaction. Furthermore, while making a purchase, the minimum transaction amount is only £1, which is excellent for traders with limited finances.
In addition, there are no restrictions on the number of crypto trading transactions that can be completed through Luno.com.
Withdrawal Fees
This trading platform does not impose any fees for withdrawals from a Luno account, providing that the transaction is a standard ETF withdrawal rather than an instant buy or instant withdrawal.
Is the Luno Exchange Safe to Use?
Luno is an unregulated crypto brokerage and exchange, but it's committed to upholding the principles of Know Your Customer (KYC) and Anti-Money Laundering (AML) legislation in order to prevent the misuse of Luno products and services for money laundering, terrorist funding, or any other unlawful purposes.
These guidelines necessitate the implementation of certain procedures for identifying and verifying Luno's clients. In order to protect their users' personal details and identity credentials, the Luno staff require some identification documents as proof of identity when they register and conduct transactions on this platform.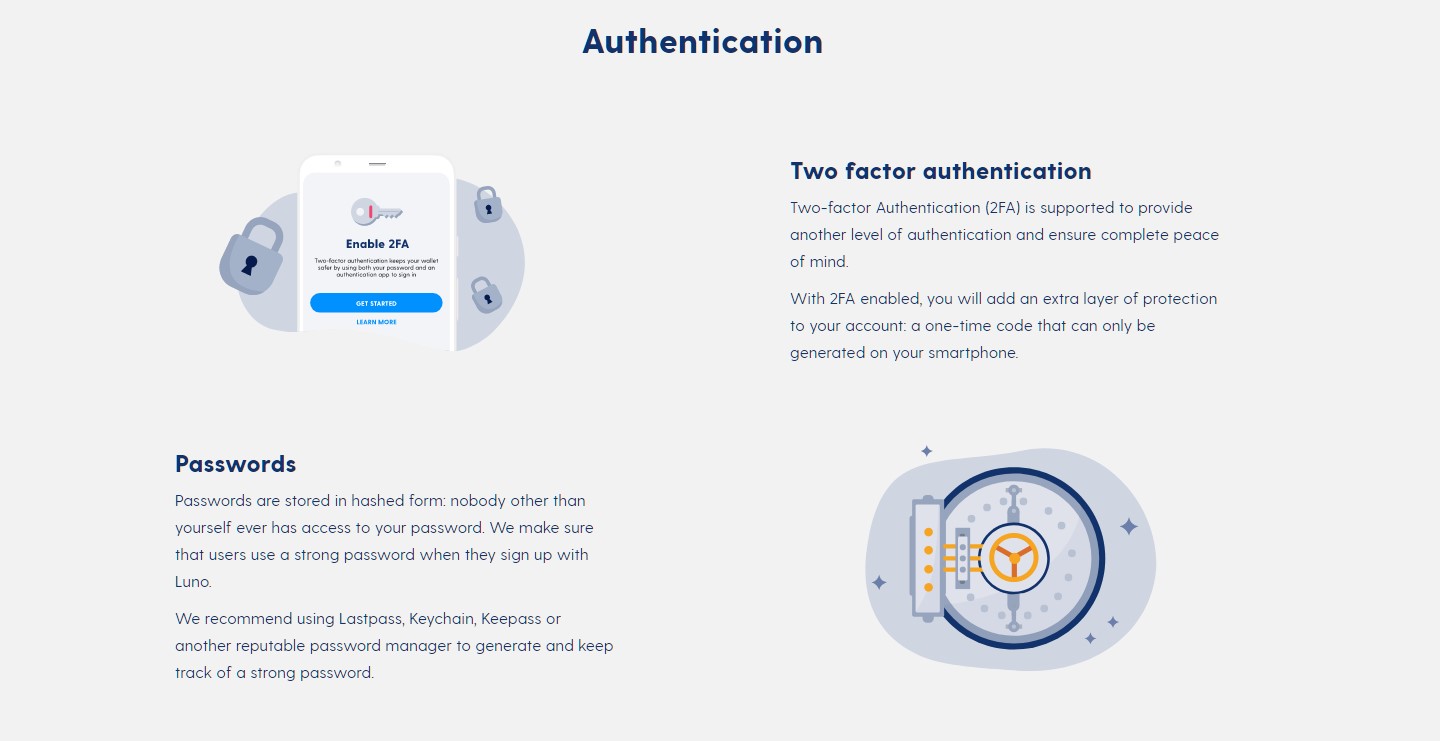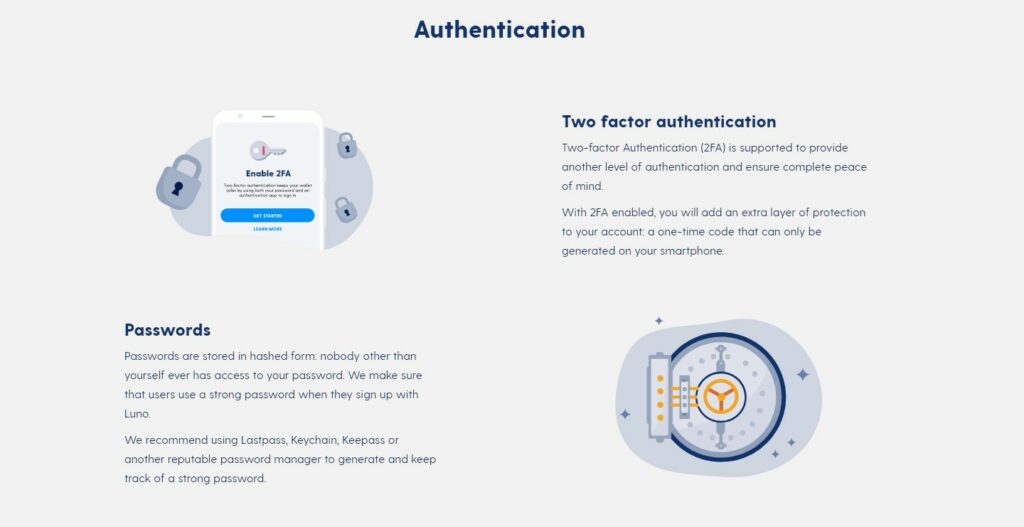 In addition, Luno has integrated the two-factor authentication protocol as a double layer of authorization and protection of your online data. As a cryptocurrency exchange, Luno has never been attacked by cyber-criminals or otherwise compromised since it first entered the crypto market in 2013.
Customer Support
If you're new to the crypto world, Luno offers a Learning Portal that covers almost all of the fundamental concepts you'll need to be familiar with before you begin trading coins on the exchange.
There are comprehensive pricing charts and depositing times in Luno's support centre that provide answers to the majority of queries concerning accounts, verification, making a deposit or withdrawals, alongside articles on blockchain, cryptos, as well as other Luno-related topics.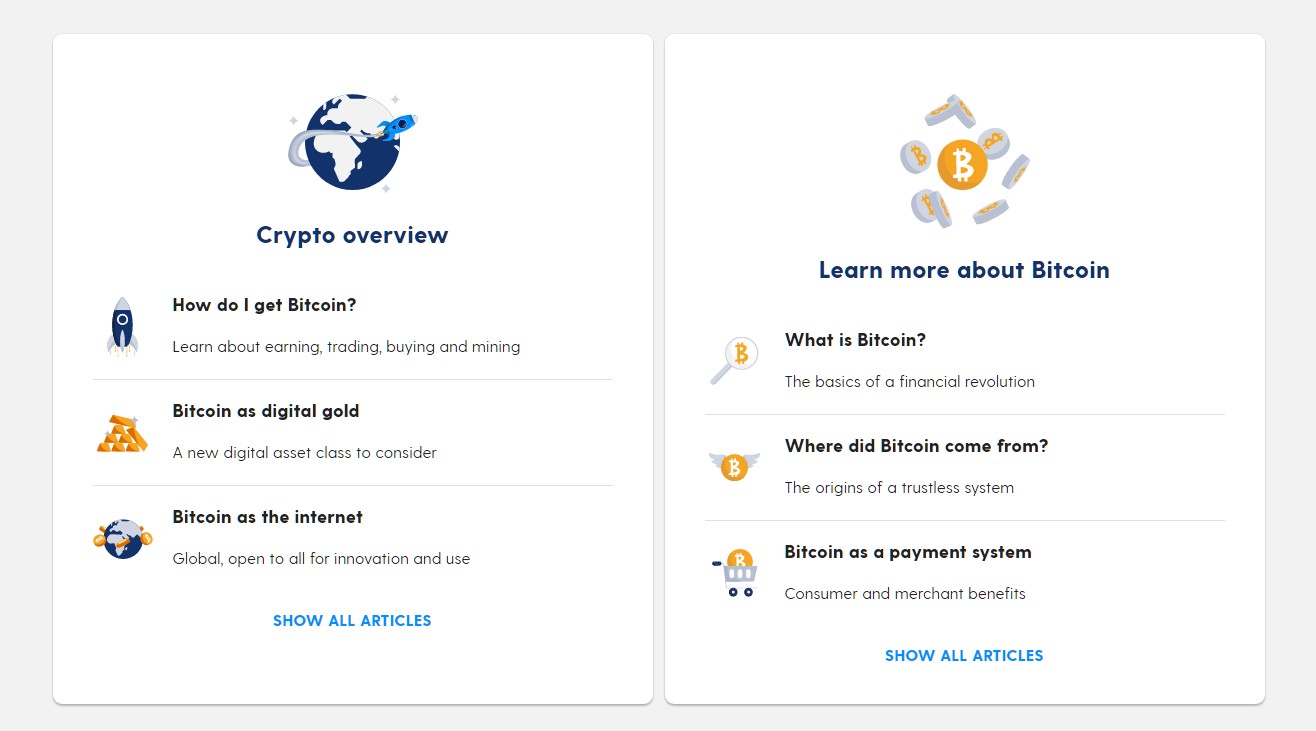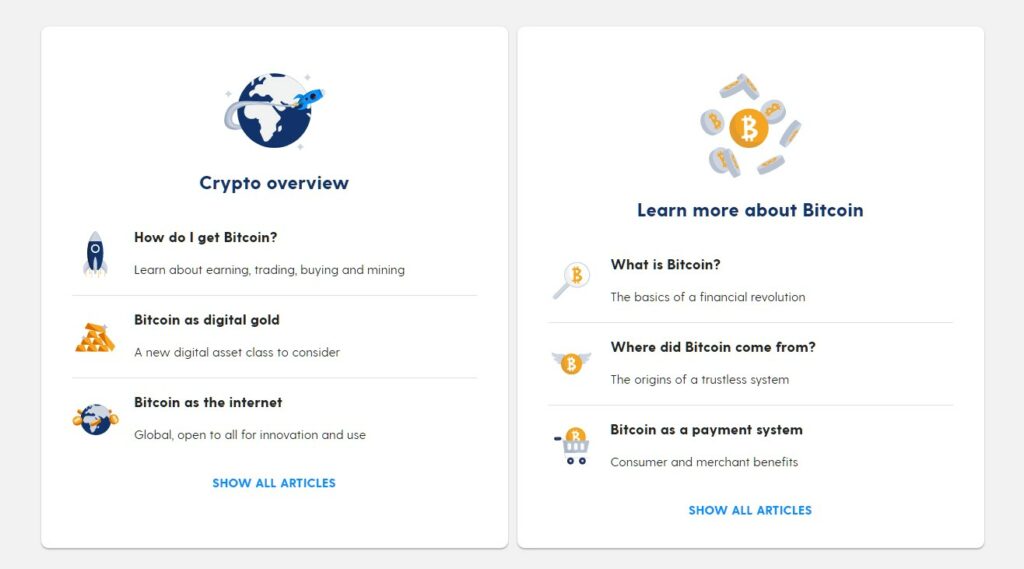 If none of the articles gives a solution to your problem, you can contact Luno's support team via email. You may also follow Luno on a variety of social media platforms, including Facebook, Instagram, LinkedIn, and Twitter if you want to communicate with some of the customer support team directly.
Frequently Asked Questions
What type of wallet is the Luno wallet?
The Luno wallet is a third-party Bitcoin wallet that offers custodial services for your coins, meaning that the user does not hold private keys. However, the user's private keys for these multi-signature wallets are encrypted and stored in separate bank vaults, which rules out the possibility of an illegal manipulation of users' deposits through them.
You may register for a free Luno wallet online or by installing the Luno app on your iOS or Android smartphone or tablet.
What countries are supported by Luno?
Luno is a global digital currency exchange whose financial services are available to over 60 countries in the world, with the exception of the United States. (The management team behind Luno has also paused providing their financial services in Zambia, where Luno used to have a subsidiary).
The non-exhaustive list of countries supported by this exchange includes:
Switzerland, France, Greece, Guernsey, Hungary, Iceland, Austria, Belgium, Bulgaria, Croatia, Ireland, Isle of Man, Italy, Jersey, Latvia, Cyprus, Lithuania, Luxembourg, Malta, Czechia, Denmark, Estonia, Liechtenstein, Romania, San Marino, Slovakia, United Kingdom, Indonesia, Nigeria, South Africa, Slovenia, Spain, Monaco, Netherlands, Norway, Poland, Portugal, Sweden.
A Few Words Before You Go…
Bisq is trading heaven for those interested in blockchain ideology mainly for the promise of a decentralized financial system — it delivers a fully anonymous trading environment and self-reliant security settings. It also gives you access to an avid community with sharing beliefs about crypto trading.
However, since the exchange doesn't follow the mainstream pattern, its target audience is restricted to a narrow group of crypto-savvy individuals. Moreover, the realm of decentralized crypto exchanges of today is heading towards another form of marketplace known as AMM (automated market makers) protocols, which offer a more intuitive user experience and a broader scope of trading options than traditional DEXs. You can find more about the best decentralized crypto exchanges in a separate article on our site.
Finally, if you're here to make a single Bitcoin investment, turn to How to buy Bitcoin in Australia. 
Luno Compared
| Exchange | Cryptocurrencies | Fiat Currencies | Trading Fees | Deposit Methods | Sign Up |
| --- | --- | --- | --- | --- | --- |
| Swyftx | More than 320 | Australian Dollars, New Zealand Dollars | 0.6% | Osko, PayID, Credit Card, Debit Card, Bank Transfer, Cryptocurrency | Visit Swyftx |
| CoinSpot | More than 370 | Australian Dollars | OTC: 0.1% Market Order: 0.1%* (applies to LTC, BTC, ETH, XRP, POWR, DOGE, TRX, NEO, XLM, GAS, RChain, RFOX, EOS) Instant Buy/Sell: 1% | POLi, PayID, Cash, Cryptocurrency, Bank Transfer, BPAY | Visit CoinSpot |
| Binance | More than 600 | US Dollars, Australian Dollars, and 8 more | 0% to 0.1% | Osko, PayID, Credit Card, Debit Card, Crypto | Visit Binance |
| Bybit | More than 160 | 50+ | 0.1% to 0.6% | Crypto, EFT, wire transfer, bank transfer, debit card or credit card | Visit Bybit |
| Independent Reserve | 27 | Australian Dollars, US Dollars, New Zealand Dollars | 0.05% to 0.5% | EFT, SWIFT, Osko, PayID, Crypto | Visit Independent Reserve |
| Coinbase | More than 210 | Australian Dollars, US Dollars, New Zealand Dollars | Fees Vary | EFT, SWIFT, Osko, PayID, Crypto | Visit Coinbase |
| CoinJar | More than 50+ | Australian Dollars, Pound Sterling | Taker: 0.04 to 0.1% Maker: 0.04 to 0.1% | Apple Pay, Google Pay, Credit Card, Debit Card, Bank Transfer, Fiat, Crypto | Visit CoinJar |
| Kraken | More than 140 | Australian Dollars, US Dollars, and 5 more | Taker: 0.10% to 0.26% Maker: 0.00% to 0.16% | Apple Pay, Google Pay, SWIFT, Osko, SEPA, Crypto, Wire Transfer, Bank Transfer | Visit Kraken |
| BTC Markets | More than 15 | Australian Dollars | Taker Fee (for Bitcoin pairs): 0.20% Maker Fee (for Bitcoin pairs): -0.05% Australian Dollars Market Pairs: 0.10% to 0.85% | Crypto, BPAY, EFT, PayID, Osko | Visit BTC Markets |
| Easy Crypto | More than 40 | Australian Dollars, New Zealand Dollars, South African Rand | 1% | P2P, POLi, and Bank Transfers | Visit Easy Crypto |
| Coinstash | More than 140 | AUD | Taker fees: 0.85% Maker fees: 0.85% | Cryptocurrency, Bank Transfer, PayID | Visit Coinstash |
| eToro | More than 70 | Australian Dollars, US Dollars, Euro, and 12 more | Vary | Online Banking, Skrill, Neteller, PayPal, Bank Transfer, Debit Card | Visit eToro |
| KuCoin | More than 645 | US Dollars, Euro, Australian Dollars, and 6 more | 0.1% | Credit Card, Debit Card, SEPA, PayPal, Wire Transfer, Crypto | Visit KuCoin |