Margex Review 2021
The use of leverages to increase the margin for profit is popular in the world of crypto trading. Margex exchange platform is blazing a trail by offering excellent leverage trading services.
Margex defines itself as a new-gen fast crypto derivatives trading service. As a Margex trader, you can open short and long trading positions while harnessing leverages. The platform uses liquidity from 12 crypto exchanges, thereby offering its users a deep order book alongside the market's best exit and entry points. 
In this Margex review, we'll take a closer look at the trading platform and how it works. Keep reading for an in-depth explanation of its features, trading fees, and payment methods.
About Margex
Margex is a crypto exchange platform that utilizes cutting-edge tech to ensure uninterrupted services and safe trading. The team at Margex believes everyone should have equal opportunities to get rich, regardless of their location and citizenship. That's why they provide a trading platform where you can rest assured of " fair, secure, and easy-to-use technologies."
Margex identifies as a derivatives trading service. In the world of finance and numbers, a derivative describes digital assets whose prices change depending on the value of a specific digital asset.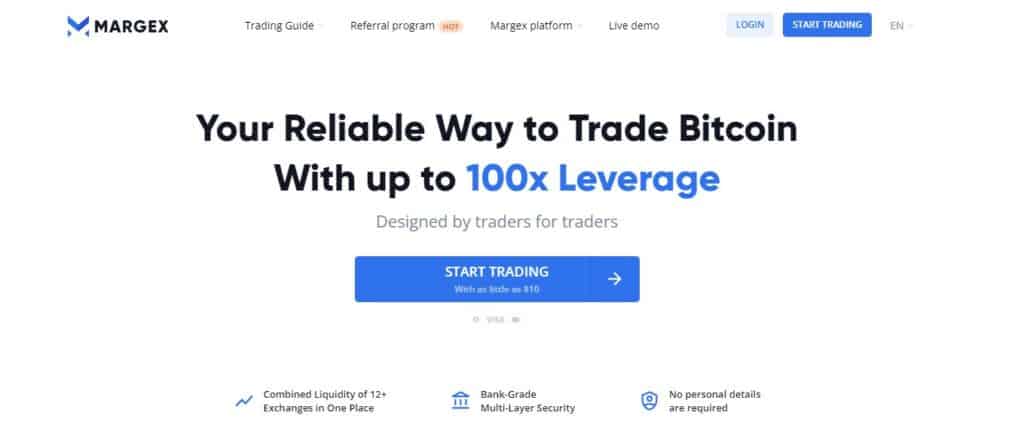 Margex started in 2020 with its headquarters in Seychelles, a country with no crypto regulations. Thanks to this strategic positioning, Margex can ensure transparent services, data privacy, and the security of trades.
Margex trades get completed at high-speed rates because of their patent technology. Margex's server comes with an elastic technology that allows the platform to process endless transactions at speed. On Margex, you can simultaneously run up to 100,000 transactions without any hitch.
To enjoy the speed of trades on Margex, you'll need to sign up on the platform — you only need about two minutes. Submit your email and other registration details on the signup page. Following that, you'll receive an email to confirm your account. After the email verification step, you can start to trade on Margex.
Supported Cryptocurrencies
Margex relies on the Bitcoin blockchain. Therefore, if you want to deposit crypto, it has to be Bitcoin or USDT. Margex does support more cryptocurrencies for its derivatives trading.
Ethereum (ETH)
Ripple (XRP)
Litecoin (LTC)
EOS Token
YFI
Bitcoin
Features
Margex provides a simple interface that's excellent for beginner traders. Usually, most trading platforms have a complicated outlook that scares away novice traders. Margex user reviews describe the interface as intuitive and simple.
As far as derivatives trading goes, you can trade the following pairs on this crypto platform: BTC/USD, YFI/USD, LTC/USD, EOS/USD, and XRP/USD. Another top feature of Margex is perpetual trading — futures with no expiry date. To cap it off, leveraged trading on Margex has a maximum limit of 100x.

There are more features to enjoy while trading derivatives on Margex. As a member of their community, you have a right to influence decisions on the next feature to launch on the platform. Other notable mentions include:
Liquidity: On Margex, the problem of price irregularities and manipulations is nothing thanks to the deep liquidity feature. Margex uses a combination of liquidity from more than 12 diverse exchanges. Hence, price values on Margex are the most accurate around.
Affiliate program: As a member of the Margex community, you can receive up to 40% of trading fees from traders you refer to the platform.
No KYC: There's no need for traders on Margex to expose their identities and disclose any personal information.
Customer Support
You can reach out to the customer support team through chats and emails and wait for a response. The customer support team at Margex is available to help 24 hours a day and seven days a week.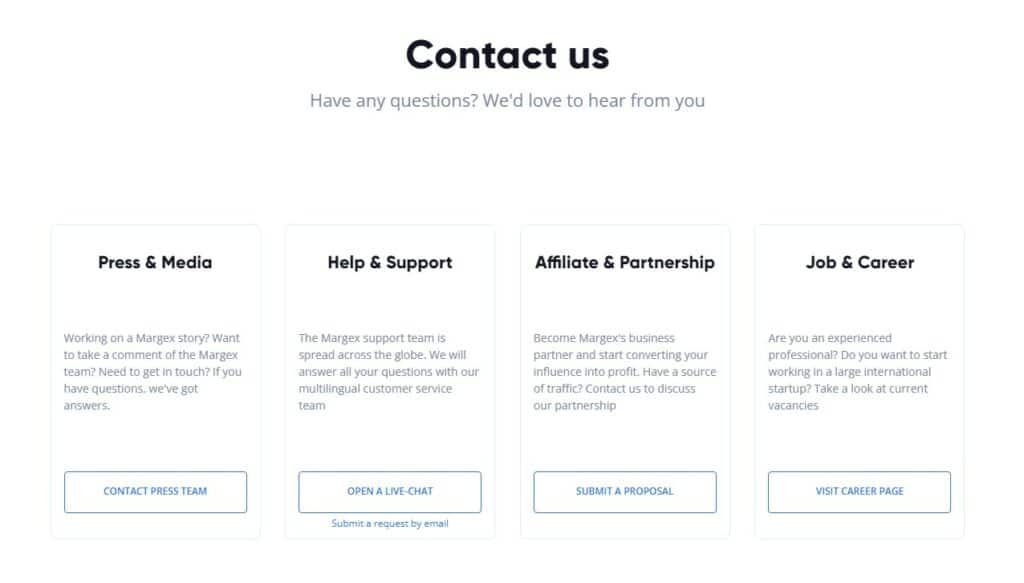 Payment Methods
Margex allows its users to buy crypto derivatives with fiat cash using a credit or debit card.
But more recently, Margex has partnered with OpenMonet to allow users to make transfers and use their PayPal accounts as a payment method.
Trading Fees
For leverage trading on Margex, there is a funding cost due every eight hours. The cost differs per cryptocurrency.
For YFI and ETH, you'll pay 0.3% every eight hours, while for XRP, LTC, EOS, and BTC, you'll pay 0.15%, 0.35%, 0.20%, and 0.26%, respectively.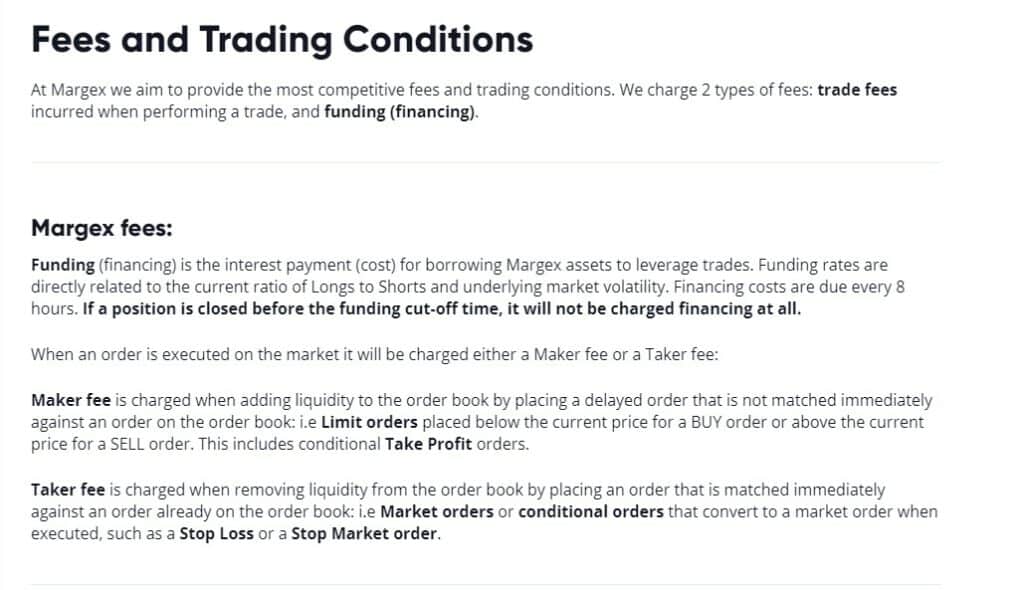 As a maker, you're the trader planning to sell an asset while the taker is buying the asset. The trading fees for both the maker and taker on Margex are the same regardless of the crypto token. The maker pays 0.019%, while the taker pays 0.06%.
Security and Safety
Still only a young company, we're glad to hear zero reports of security compromise from Margex. The trading platform uses an intricate security framework reliant on accepted industry standards. They combine this framework with innovative in-house developments to provide a safe trading experience for all users.
Their security protocols and layers undergo a periodic assessment from in-house experts and independent specialists. It's a measure that allows Margex to find security loopholes quickly.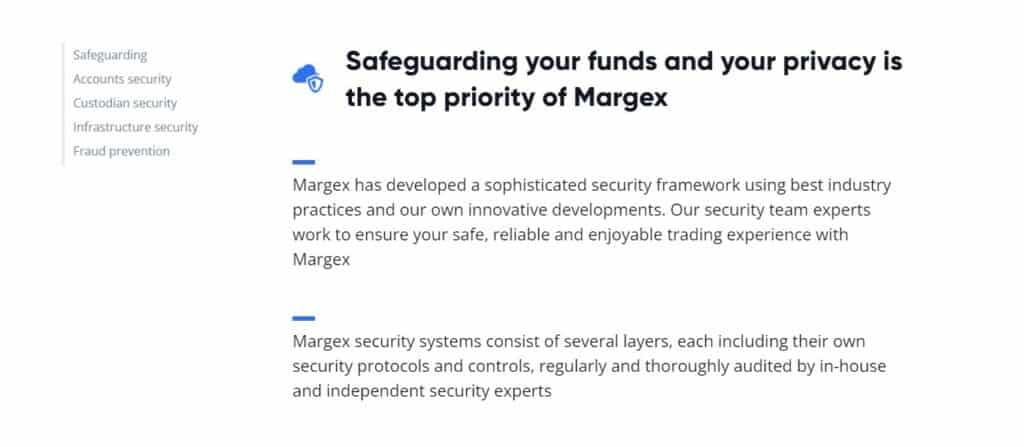 As to your digital assets, Margex stores them in a multi-signature, offline wallet. The cold storage undergoes real-time observation and supervision for all asset movements. Finally, Margex adds an extra layer to its wallet security by using an access segregation protocol to deter malicious employees.
For users, Margex protects your investments with two-factor authentication, SSL encryption for all internet data, and email confirmation for every withdrawal.
Frequently Asked Questions
Below are answers to common questions:
Is Margex Safe?
Margex is a relatively new crypto exchange. Since safety is also a function of long-term reputation, it's still too early to declare Margex as safe fully. But at the moment, so far; so good! 
Is Margex Available to All Countries? 
Margex works well in many countries but not all. Some of the countries excluded include; Iran, Sudan, North Korea, Afghanistan, Syria, Bermuda, Cuba, Crimea, and the United States of America.
Great Potential
While it's still relatively new, Margex is a platform with great features and amazing potential. It's a great tool for beginners and traders who love community influence.
Margex's trading fees are low in comparison with the industry average. Also, its 100x leverage trading function is an attractive prospect. It's definitely a trading platform to try out!