Margex Review for 2022 – Derivatives Crypto Exchange
It's not a special philosophy that if you share your talent with those around you and assist them in achieving their goals, then you may consider yourself genuinely wealthy. It's precisely what the slogan "Designed by traders for traders" on Margex stands for. But, we must admit, what really sparked our interest in the platform was the "up to 100x leverage in trading Bitcoin" catchline.
Knowing that Margex is a relatively new crypto operator on the market, we thought it would be interesting if we delved a bit deeper into their concept and explored what this trading platform has to offer to crypto traders. Care to join us? If so – read on.
About the Margex Exchange
Margex, a crypto-based derivatives exchange, was founded in 2020. It's situated in Seychelles, and, thanks to the market dynamics in Seychelles according to which a crypto exchange doesn't need to obtain any license or legal permit in order to provide services of any kind, the platform is unregulated.
With bank-grade multi-layered security, combined liquidity of more than 12 exchanges in one place, and an exceptionally broad range of innovative trading tools to boost your profits, the Margex cryptocurrency exchange claims to specialise in derivatives trading and leverage trading. In this regard, the exchange offers up to 100:1 isolated margin positions to maximize the potential profits of its users.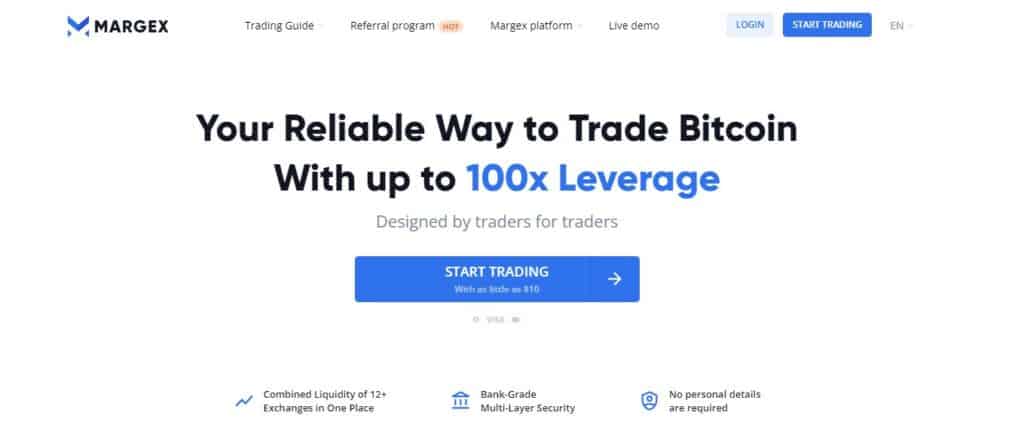 Leveraged trading, or margin trading, allows crypto investors to trade with funds borrowed from other users. Later, they can offer the lent funds on the market as peer-to-peer loans. This enables crypto market investors to maximize their profit potential, which would not be possible if they relied solely on their own funds.
Furthermore, the isolated margin feature ensures that if you lose a position on the market, you will only lose the money that was allotted to that specific position, not the entire investment.
Additionally, this cryptocurrency trading platform offers perpetual swaps (which is an agreement to buy or sell an asset of the same maximum leverage), profit orders, and stop-loss orders at a future arbitrary time.
So far, we haven't seen anyone object to this offer. But what about the user experience? Is the Margex UI to appeal to both beginners and experienced traders? Let's check this aspect of the exchange.
Margex UI
At first glance, Margex's user interface has an aesthetically pleasing design that invites you to explore more of what this cryptocurrency exchange has to offer, even if you have clicked on its domain address out of mere curiosity.
To begin with, the Margex dashboard is equipped with four basic tabs, rich in information on trading, the Margex platform, and the popular referral program of this exchange. The fourth tab opens a live trading terminal where you can follow the market fluctuations in real-time. The charting elements such as the drawing toolkits and indicators are supplied by TradingView – one of the top crypto charting services in the trade.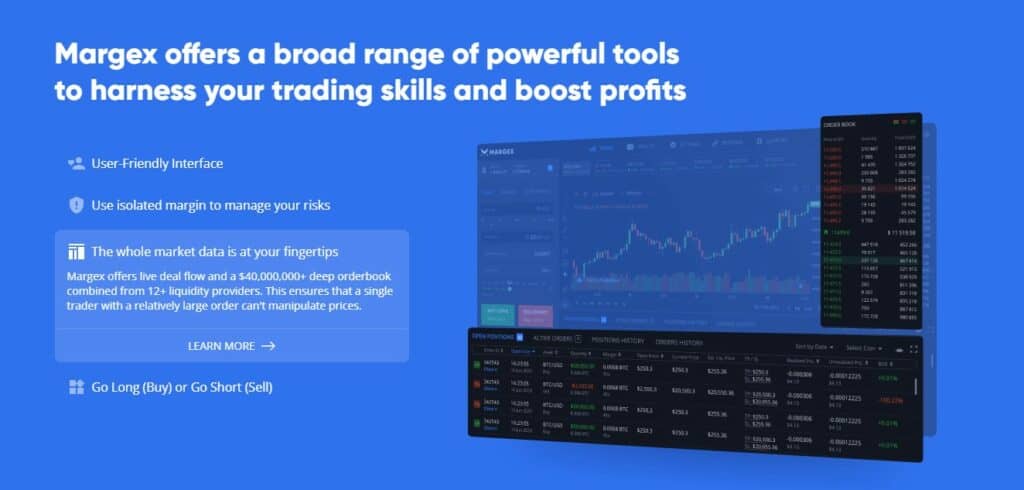 In the Margex Trading Guide, you can easily find all the information you need to get acquainted with the offered trading tools and how-to's regarding account registration, how to make a deposit and start trading, your digital wallet, order types, account security, as well as how to customise your account. Video tutorials on all these topics are also provided for those who are more into interactive content.
All in all, it's a well-rounded and user-friendly UI packed with extremely relevant information that might boost not just your confidence as a trader, but your trading profits too.
How to Start Trading on the Margex Exchange
As we already mentioned, on Margex, there's a dedicated trading terminal where you can conduct all your trading operations. This also allows you to analyze the market via live charts, place and organize both your orders and open positions, as well as examine the full record of your previous transactions.
You can trade on Margex by placing the following order types:
Limit order;
Market order;
Stop market order;
Protective stop loss and take profit.
Of course, to make an order, you must first open a trading account with this exchange. The signup page includes a brief form that requires your email address, password, and affirmation that you do not reside in any of the countries where Margex is not currently active.

Because the platform does not follow Know Your Customer (KYC) regulations, you will not be required to submit any documents or disclose personal information. You'll only be asked to validate your email address in the registration email sent to you shortly after clicking the 'Register' button.
Next, you need to fund your account, and you'll be ready to begin trading on Margex. For this, your next destination on the Margex exchange would be the Trade page, where you'd be presented with a variety of trading instruments, orders, and leverages to use in your crypto trading.
Supported Cryptocurrencies
Only six cryptocurrency projects are supported by Margex, and they may be traded against the US dollar (USD). This exchange supports the following coins: Bitcoin (BTC), Ethereum (ETH), Ripple (XRP), Litecoin (LTC), Eos (EOS), and Yearn (YFI).v
Payment Methods
To make a deposit on your Margex account, navigate to the wallet page and tap on the dedicated 'Deposit' button. You'll be presented with the Bitcoin, Mastercard, and Visa logos immediately, which means you may make direct BTC deposits to your Margex account from some other BTC wallet or use your credit card or debit card issued by the aforementioned payment providers to make the BTC deposit through the third-party provider Changelly.

The same is true for withdrawals, which can only be made in BTC. The amount you intend to withdraw (which includes the miner's fee calculated in the total sum) and your withdrawal address, as well as your 2FA password, are required for this.
On the other hand, if you really want an exchange that supports fiat currency or more advanced order types, you'll want to check at another exchange, such as Coinbase or Binance.
Trading Fees and Limits
The crypto derivatives trading platform Margex has one of the most attractive trading fees in the market, according to crypto industry standards. To put this into context, the costs charged by the Bybit trading platform are as follows:
The market order charge (the taker fee) is 0.075 percent.
Fee for placing a limit order (the maker fee) is -0.025 percent
On the other hand, the trading commissions charged for trading on the Margex exchange are as follows: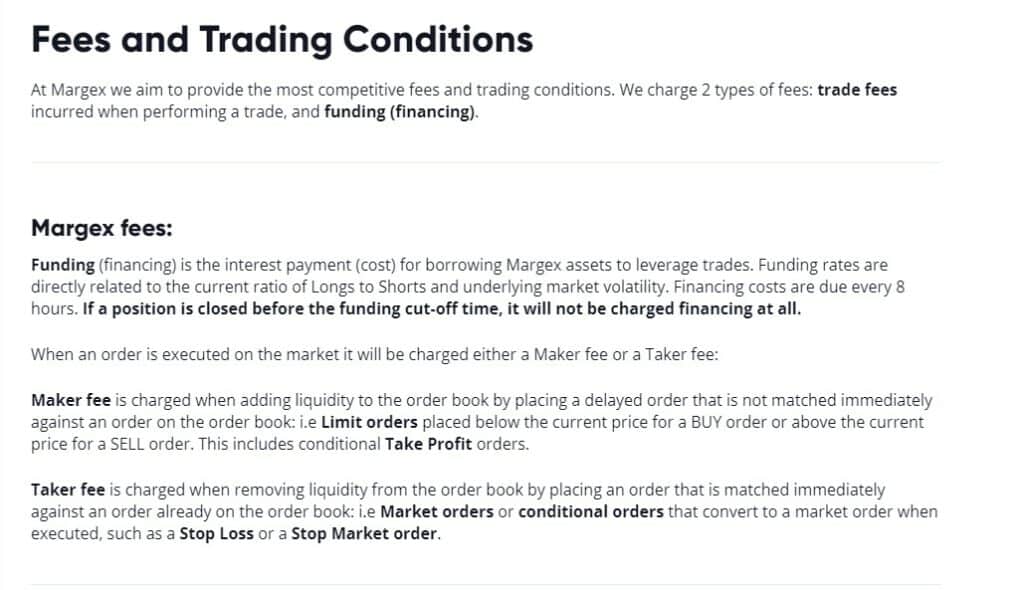 The market order charge (the taker fee) is 0.060 percent.
Order charge (the maker fee) amounts to 0.019 percent of the total order value
Withdrawals on the Margex platform are free of charge. You must, however, pay the network (mining) charge for each transaction. Margex has no control over the mining fee because it is determined by the network you choose to utilize for your withdrawal.
Is Margex Safe to Use?
Margex's security systems are built of multiple layers, each with its own set of security features. Among them are two-factor authentication protocol, email confirmations for all withdrawals made from your account, and SSL encryption for all data sent between your browser and the exchange platform.
Regarding fraud prevention, Margex employs the MP Shield system to closely monitor the regularity of price feeds received from liquidity providers. This price protection system prevents tampering with the value of digital assets exchanged on the Margex platform in the event of questionable trading behaviour and price manipulation attempts.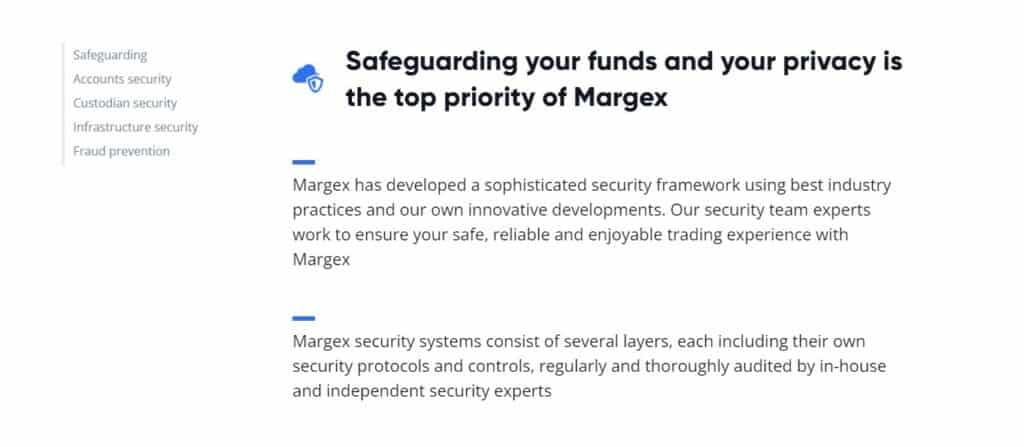 Moreover, the Margex trading platform does not list low liquidity coins or crypto projects with a history of manipulation (like Bitmex, for instance), just to be on the safe side and protect its users. In addition, the custodian security layer of protection shields 100% of users' funds by keeping them in multi-signature cold storage.
Customer Support
The crypto-based derivative exchange Margex offers a 24/7 live chat and multilingual customer service team as well as email support.
Frequently Asked Questions
Does Margex have a mobile app?
No. The Margex crypto exchange does not offer a mobile app for on-the-go trading. Nevertheless, the Margex website and trading interface make it simple to do so, since they are both mobile-friendly and can be accessed from any internet-enabled device.
What countries are supported by Margex?
Users from most countries across the world can use the financial services of Margex, with the exception of the United States of America, Cuba, Bermuda, the Crimea, Sevastopol, North Korea, the Republic of Seychelles, Sudan, Iran, Syria, and Afghanistan.
How does the Margex referral program work?
Margex provides users with one of the greatest affiliate programs in the industry. The Margex Referral Program is a wonderful method to create revenue for individuals who do not want to engage in any trading activity on the crypto market, as well as for traders who wish to earn passive income.
You can simply join this referral programme by advertising your referral link and establishing a trading referral network. As a result, you may earn around 40% of the total amount calculated from all transaction fees collected through your referrals!
The Bottom Line
Margex, which was formed in 2020, is a relatively new crypto trading platform that is gaining traction fast and bringing the crypto industry to the next level. One of the reasons for the success of the Margex platform is that it has relatively low fees, offers high leverage trading, and is privacy-friendly. There's also the commitment for 100x leverage secured by the exchange's backing of high liquidity crypto projects.
This crypto trading platform also boasts some of the market's most competitive fees and multi-layered security protocols and has adopted some excellent practices, such as the fact that it collaborates exclusively with high liquidity crypto projects that have proven to be secure. Given that we're discussing a relatively new exchange, understanding these facts contributes to the peace of mind of every trader who decides to utilize this platform.
What's the bottom line? The Margex crypto trading platform is user-friendly for both new and seasoned cryptocurrency traders. Margex promises that all you need to have to start trading is a legitimate email address and a funded account, but we'd like to add that a larger variety of trading pairs and a mobile app could probably inspire even more traders to use Margex as their crypto trading exchange of choice.