Mycelium Wallet Review for 2023
The market of Bitcoin storage seems to be blooming. Bitcoin wallet apps have nearly 80 million registered users while the hardware wallet market was valued at $202.40 million in 2020. It's simple – the more sought-after Bitcoin becomes, the greater the surge for reliable storage.
What do you think makes a good Bitcoin wallet?
Ideally, a good Bitcoin wallet should combine high security, ease-of-use, and in-app facilities for direct transactions. The proportion of these traits depends on your personal investment plans, for example, whether you like to "bury" your BTC capital or use it as a trading instrument on a daily basis, the amount of BTC you possess, and the crypto experience you have behind.
This also defines your need for either hot or cold storage. Although there is a myriad of other types, we primarily differentiate between two types of cryptocurrency wallets — cold wallets, which are tangible devices that ensure the effective protection of your crypto assets offline, and hot storage, which is a piece of software that relies on an internet connection but gives you fast access and smooth transactions of your BTC.
The BTC wallet on our list today— MyCelium — is a hot wallet that comes in the form of a mobile app. We'll discuss the main aspects of its performance just to find out how MyCelium as an open-source mobile-only wallet compares in terms of the desired feature set of security, accessibility, and fast transfers.
About MyCelium
Released back in 2013, MyCelium is one of the earliest representatives of a BTC wallet. The company behind the wallet was present on the tech scene even before the launch of Bitcoin.
The founders, a group of talented hardware engineers Alexander Kuzmin, Andreas Petersson, and Jerome Rousselot, proactively sensed the potential of cryptocurrency and threw out an Android product to manage their BTC holdings. Soon afterward, MyCelium presented the iOS version with the same outline and functionality. Apart from the well-recognized MyCelium Bitcoin wallet, the company has launched two other products — Entropy — a top-notch paper wallet technology, and Gear, a widget creation that operates as a payment processor for merchants.


Over the years, the wallet app has been adapted to the specific users' requirements and remained one of the leading mobile wallets providing a user-friendly interface, dynamic environment for transacting with BTC, and the maximum level of security in the hot-storage ecosystem. In 2014, MyCelium won the "Best Mobile App" award from Blockchain.info.
Mycelium is fully reproducible, which means each developer can copy its code and examine it to find any potential issues. The wallet offers a custom mechanism for transaction fees enabling you to choose among four levels of fees and an option for advanced transaction history (such as block height info). On top of this, MyCelium features high inter-wallet operability with the industry-leader crypto exchanges, wallets, and external payment processors, supported by the FIO network. Last but not least, there is a watch-only mode, where you can temporarily disable all outbound transactions but still be able to follow up their stocks.
In addition, there is an extra built-in functionality — an address book for frequently used Bitcoin addresses. Finally, as a mobile-only wallet, MyCelium uses SPV (Simplified Payment Verification) enabling you to make transfers without downloading the entire Bitcoin network.
How to Get Started with MyCelium
Downloading the MyCelium app from the App Store or Google Store doesn't differ in any respect from other interactive apps you consume on a daily basis. However, you'll need to go through a few extra steps to ensure that your wallet works in line with the device's security features.
How to Set Up a MyCelium Wallet?
Once you download the app successfully (Google Play Store or App Store), open it and go to Backup.
You'll get a 12-word phrase that needs to be saved properly since it'll function as a backup private key in the future.
Then, the app will ask you to insert a valid and strong PIN for further security.
How to Make a Payment On Mycelium Wallet
On your Mycelium account, go to the Balance tab and select Send.
Insert the Bitcoin address of the recipient. You can either scan their QR code, copy and paste the address or type it manually.
Then, you'll be asked to enter the amount of BTC you'd like to send.
After you finish this stage, the app will divert you automatically to the type of miner fee.
Double-check the selected data and click Send.
Finally, you'll have to provide your PIN code to verify the transaction.
MyCelium General Features
The very moment you get onboarded, you'll notice the vibrant yet user-friendly MyCelium interface. At first glance, the sheer number of options may confuse beginners even though they're neatly organized in separate tabs. The app opens with a compact presentation of the BTC exchange rate, the send and receive options, as well as the QR code.


The MyCelium wallet will allow you to choose between five types of BTC addresses.
HD (Hierarchical Deterministic ) Wallet — generates a master seed that will derive all further BTC addresses in turn. With an HD wallet, you'll get to make a single backup.
Bit ID (open protocol) account — allows secure authentication far better off than the standard password authentication.
Single Address Account — it's what we call the regular type of account. It'll allow the app to keep huge amounts securely. In order to do so, you'll need to delete the private key from their phone and import/activate it back as needed.
Watch Only Account — as the name suggests, this type of address will be stored in the wallet without the respective private key. You'll be able to monitor outputs but not spend them.
Hardware Account — enables you to pair the wallet app with a hardware wallet. MyCelium is compatible. You can take advantage of the MyCelium amicable interface integrated with a respective cold wallet. The MyCelium wallet supports the Ledger Nano S, Trezor, and KeepKey cold wallets as well as the payment processors Cashila and Glidera, which are directly integrated into the mobile wallet platform.
MyCelium Local Trader
MyCelium has gone a step further to enable a broader scope of operations rather than the basic send-and-receive functionality. Namely, the wallet can offer you a built-in Local Trader option that provides a local marketplace, where you can buy and sell cryptocurrencies from the Bitcoin community residing at a reachable distance from your homeplace.
This gives BTC a greater utility as a medium of exchange as it looks very close to regular face-to-face business deals. The Local Trader operates in a fully decentralized way, which means that the wallet servers will only provide you with assistance over the trade and transfer arrangements but your assets will stay inside until you yourself don't send them to the buyer.
Bitcoin and Other Supported Currencies
The MyCelium wallet calls itself a Bitcoin wallet and it's evidently focused on providing advanced solutions for Bitcoin-only transactions. However, you can see on its Google Store description that on MyCelium, you can send and receive a small selection of other cryptocurrencies such as Tether (USDT), Ethereum (ETH), and ERC-20 tokens such as Hoboken, Binance USD, and Bitfinex LEO.
However, if you're looking for a greater spectrum of supported coins, you should definitely opt for multi-currency currency wallets like the Coinbase wallet for example.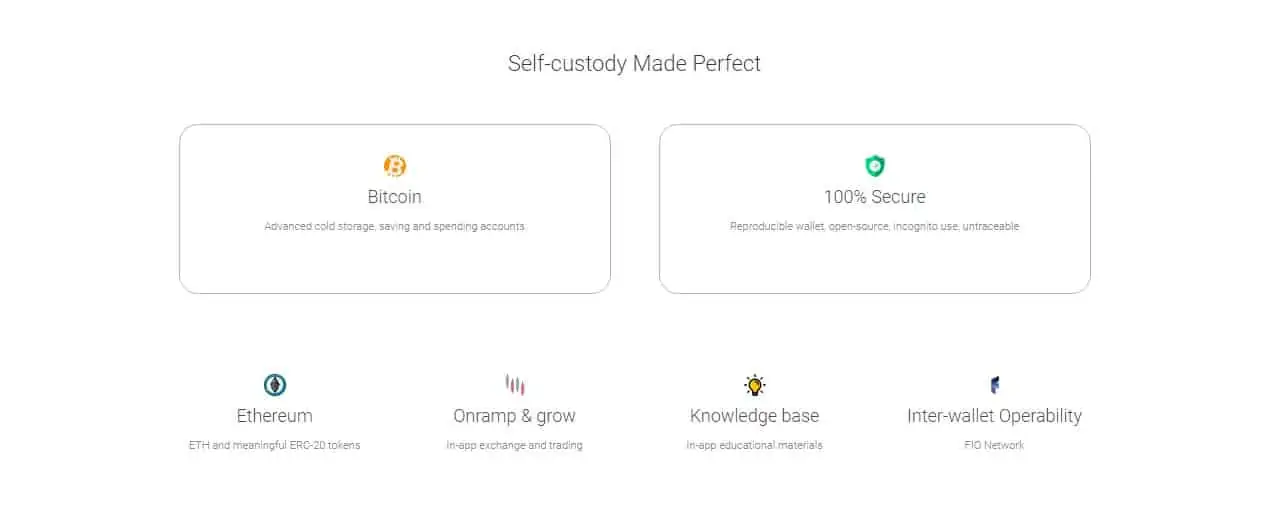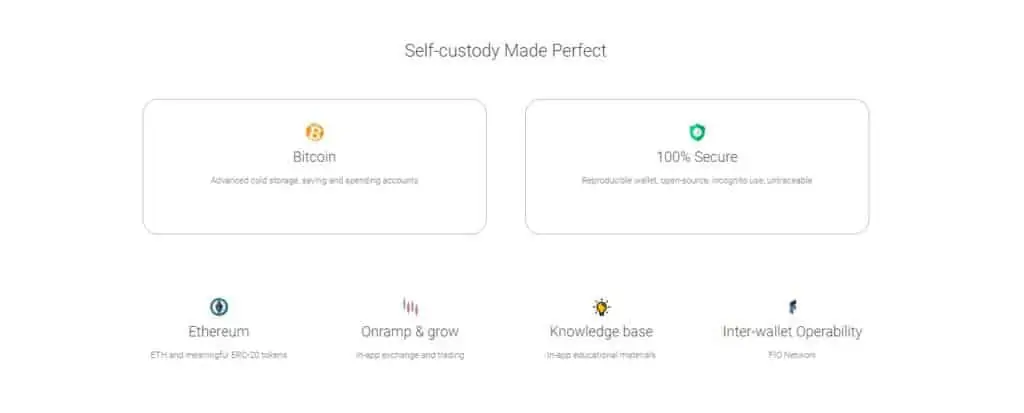 MyCelium Fees
MyCelium features a very unique fee structure that allows you an instant Bitcoin exchange at a rate based on the volume of BTC being transferred.
The wallet charges miner fees in a range between 129 and 600 satoshis/byte. It allows you to pre-set four different tiers of miner fees manually before you confirm the transaction: Priority, Low Priority, Normal, and Economic.
Is MyCelium Secure?
Due to the inherited nature of mobile apps, this type of wallet isn't considered the best-recommended alternative for Bitcoin storage. As a non-custodial wallet, MyCelium does give you full control over your private keys, which comes with great responsibility. The fact that you carry your private keys everywhere you go can be a risky endeavour. On one hand, you won't have to put your trust in online centralized servers but on the other hand, mobile devices are prone to various malware and can get easily damaged or lost.
The MyCelium wallet has the standard PIN protection for entering the wallet, sending and receiving assets, and transferring private keys.


Even so, it's of utmost importance to make all efforts to protect your private keys such as activation of 2FA (two-factor authentication).
Overall, compared to other mobile wallets, MyCelium is one of the safest wallets of its kind available on the market (see the Features section above). This doesn't mean that you should leave all your bitcoins to reside in your portable device by any means.
Customer Support
As an old-gen Bitcoin wallet, MyCelium offers direct assistance through a support ticket (support@mycelium.com), and their support is reportedly highly responsive. You'll see on the MyCelium web page that the company doesn't use social media and denies any connection with MyCelium accounts on Facebook or Twitter.
Frequently Asked Questions
Is MyCelium wallet anonymous?
MyCelium strives towards users' anonymity and doesn't collect any type of personal data that can disclose your identity. Even the Mycelium Local Trader Marketplace helps you maintain complete privacy by using your private key for registration and authentication.
Just like the majority of mobile wallets, MyCelium generates a different address every time you make a transaction. This goes in favour of your privacy but does not make your transactions fully anonymous. If you value a high level of anonymity, you should perhaps give Ledger or Trezor a look.
Can you store your crypto in more than one wallet?
Not only you can, but it's also recommended you avoid keeping all your Bitcoin holdings in a single wallet. Ideally, you should store large amounts in a hardware wallet — compatible with a software app for easy access and direct transactions.
Are hardware wallets worth investing in?
It all depends on your personal purpose and the amount of crypto you possess. In general, the answer is yes — hardware Bitcoin wallets are a good investment, especially if you're planning on making а single high-net purchase but don't want to engage in further trading activities. There is no safer storage solution on the market since hardware wallets operate within their internal environment, which makes them immune to cybercrime.
For active Bitcoin users, a hardware wallet is also worth the money but they should use it in combination with a hot wallet for faster performance.
A Few Words Before You Go
Due to the ease of use and sophisticated set of transacting options, MyCelium will be a perfect choice if you use BTC as a medium of exchange or an instrument for day-to-day activities. However, there's the security concern — mobile wallets aren't tailored for long-term and large investments.
MyCelium solves the security issue not only with user-side protection measures but with its flexibility in supporting cold wallets like the Ledger Nano S model, for example.
However, if you aim at diversifying your portfolio and plan on "playing" with multiple types of coins, then you should definitely look for another user-friendly app wallet such as Coinbase or Exodus. The MyCelium team doesn't plan to move its focus from Bitcoin and it's fully devoted to improving BTC storage practices.