MyCrypto Wallet Review for 2021
About the Exchange/App
Taylor Monahan created MyCrypto Wallet after co-founding MEW with Kosala Hemachandra. Initially, MyCrypto Wallet was created based on MEW, which offers similar features and benefits, with a few additional enhancements. However, this move was followed by controversy, as MEW disapproved of this action.
Taylor Monahan created a crypto wallet that offers more features for clients, allowing them to interact easily with blockchain. MyCrypto Wallet was launched in May 2018. It's an open-source wallet and works well to integrate with hardware wallets.
Supported Cryptocurrencies
The wallet supports Ethereum and ERC20 coins or tokens. MyCrypto also supports all Ethereum-based and testnet networks, including EWT, UBQ, EXP, etc. If you work with other exchanges and Ethereum, you can use Shapeshift.io to convert or swap alternative coins into ETH. You may also want to explore Exodus.io, which offers multi-coin options for clients.
Features
You'll find some great features with MyCrypto wallet, which offers a few upgrades from MEW. The wallet offers a safe and user-friendly desktop interface, making it easy for new users to use cryptocurrency. There are some key benefits to review if you're considering MyCrypto: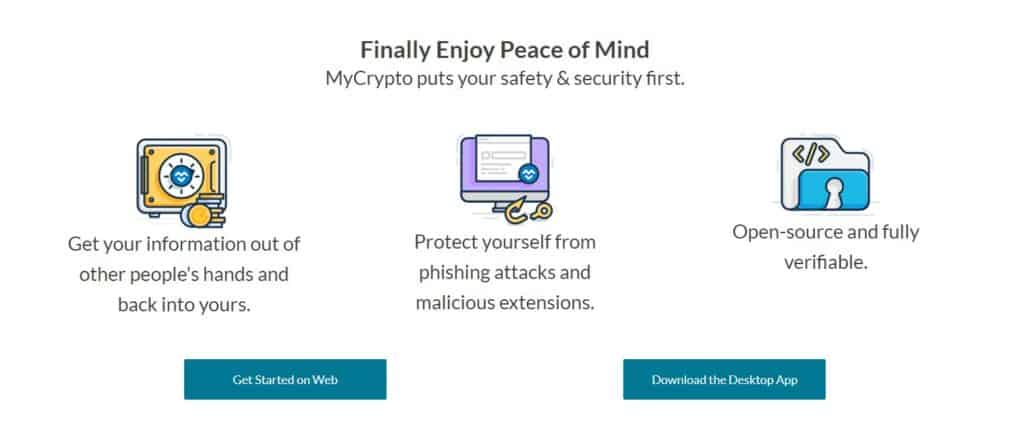 The security for this wallet is impressive, with features to protect private keys, Keystore files, and mnemonic phrases.
The wallet's desktop app is easy to download and use within a few steps. You'll need to enable the MyCrypto Inc. SSL certificate on your browser. Once you confirm this is available, you can install download.mycrypto.com immediately.
MyCrypto is compatible with hardware wallets, including Ledger and Trezor. This process of accessing a hardware wallet product is easy with a private key.
When you set up your account with MyCrypto, you don't have to provide all the KYC details, allowing anonymity and greater security. When you send ETH, any information required is minimal.
Customer Support
MyCrypto's website features a support section that includes helpful guides and information for new users. If you're new to cryptocurrency and using ETH, you'll find this part of the website easy to navigate, whether you've just installed your first wallet or you are a developer.
While there are no direct phone numbers or online chat features to contact a customer support team, you'll find the website offers everything you need to get started. There's also a form to inquire about specific concerns and questions online.
Payment Methods
You can fund your MyCrypto wallet with a debit card or by check. Once you have a balance in your wallet, you can exchange it with a variety of cryptocurrencies. Suppose you lose your debit card or suspect someone may have access to your account. In that case, it's essential to get a replacement immediately and update your MyCrypto information with the new details.
Trading Fees
MyCrypto Wallet, like other wallets that are Ethereum-based, have gas fees for each transaction. This amount varies depending on several factors, including how quickly each transaction is processed, the number of coins used, and the fee for mining the blockchain—the free price for sending funds from MyCrypto range from $2.94 to $3.95.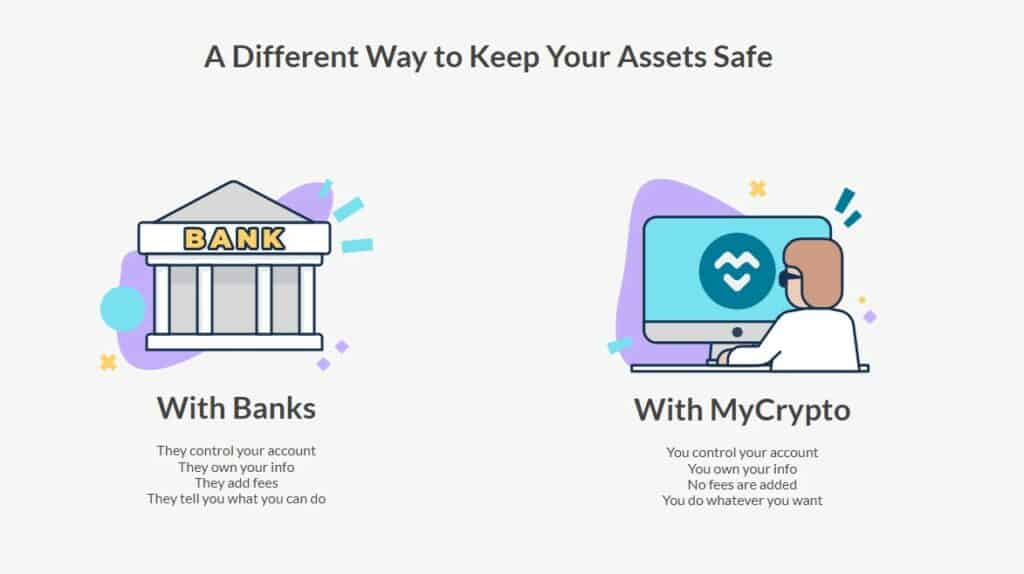 It's free to use MyCrypto wallet, and the applicable gas fees are charged when you access Ethereum. You may need to pay extra fees to access Shapeshift, Coinbase, and other third-party websites.
Security and Safety
MyCrypto Wallet offers some excellent security advantages. Since the wallet is client-side based, your data isn't stored on servers, which are more accessible and less secure than information stored on your computer or a hardware wallet.
There are other ways to secure your crypto funds when you use Crypto Wallet. If you choose to store your funds on a hardware wallet, you'll have the option of working with Keepkey, Trezor, and Ledger. You can also use MetaMask and EAL, which are Chrome-based extensions. These extensions are easy to install and send alerts if there are any suspected crypto-phishing links.
You'll find the wallet provides many security layers so that your crypto funds will have significant protection. When you bookmark the crypto websites you visit frequently, this will prevent using similar sites that may appear legitimate, though they could be a scam or phishing tool.
Frequently Asked Questions
If you're new to cryptocurrencies and using crypto wallets, it's easier than you think! The following questions and answers can help you navigate setting up your wallet, creating an Ethereum account, and reviewing your exchange options.
How do I create a wallet? Do I need a hardware wallet?
It's strongly recommended to install a hardware wallet to secure your crypto funds and keep them safe. MetaMask is a popular choice and is compatible with ETH (Ethereum).
Is MyCrypto wallet safe and private?
It's a private wallet that doesn't require your personal information, so you won't have to worry about potential access to your address, personal details, and other data. The only instance you'll need to provide personal details, such as your address, is when you perform a transaction through blockchain.
Can I view a history of my transactions on MyCrypto?
You'll find the "transaction history" section provides a consolidated list of historical transactions so that you can keep track of all your accounts.
Is it necessary to register for the MyCrypto membership?
MyCrypto is free to use, though you may want to upgrade to the wallet's membership for additional features and access to rewards without any sponsored ads. It's a great incentive to use the wallet to cash in on the bonus items, and there are expected to be future benefits implemented for members. For this reason, it's worth keeping an eye on the wallet's membership features.
How can I increase the security of allowing my crypto account and transactions?
Some errors in transactions are unintentional, such as typing in the wrong amount or how the funds are delivered. Protected Transaction is an excellent option that double-checks any transaction before you officially "send" or perform other transactions. Nansen provides this service for a fee, which is an option you may want to consider if you plan on making frequent trades.