MyCrypto Wallet Review for 2023
MyCrypto wallet is one of the most popular open-source software packages for storing and managing your Ether (ETH) and other Ethereum-based tokens. The free, client-side interface allows users to interact with the blockchain directly while having full control over their keys and holdings.
MyCrypto wallet was designed out of a fork from MyEtherWallet (MEW) — an established management tool and wallet for Ethereum — which has been present on the scene since 2015. Forking is a common practice in the open digital world, yet the launch of MyCrypto wallet was the result of a fierce controversy amid its co-founder Taylor Monahan, who was also part of the MEW development team, and the MEW project itself.
Monahan disagreed with the way the Ethereum wallet was run and at the beginning of 2018, she literally stole the MEW official account changing its name into MyCrypto Wallet. This gesture was sharply criticized by the MEW community, even though Monahan apologized for her mistake. Later that year, another MEW co-founder, Kosala Hemachandra, joined Monahan and they officially presented MyCrypto in May 2018.
The wallet inherited its simple navigation and high-performing functionality from MEW but it also delivered some noticeable improvements we'll discuss below. For this reason, it found a large base of supporters in the growing Ethereum ecosystem in no time.
How to Get Started With MyCrypto Wallet
MyCrypto is a desktop app that can be downloaded for free from their official website. Once you download the wallet, you can use its services without opening an account or completing any form of verification. In fact, all wallet records will stay within your desktop device and nothing personal will be exposed online, except for the blockchain data. MyCrypto wallet will serve only as a tool to store your wallet information on your computer and help you access and manage your funds whenever you need it.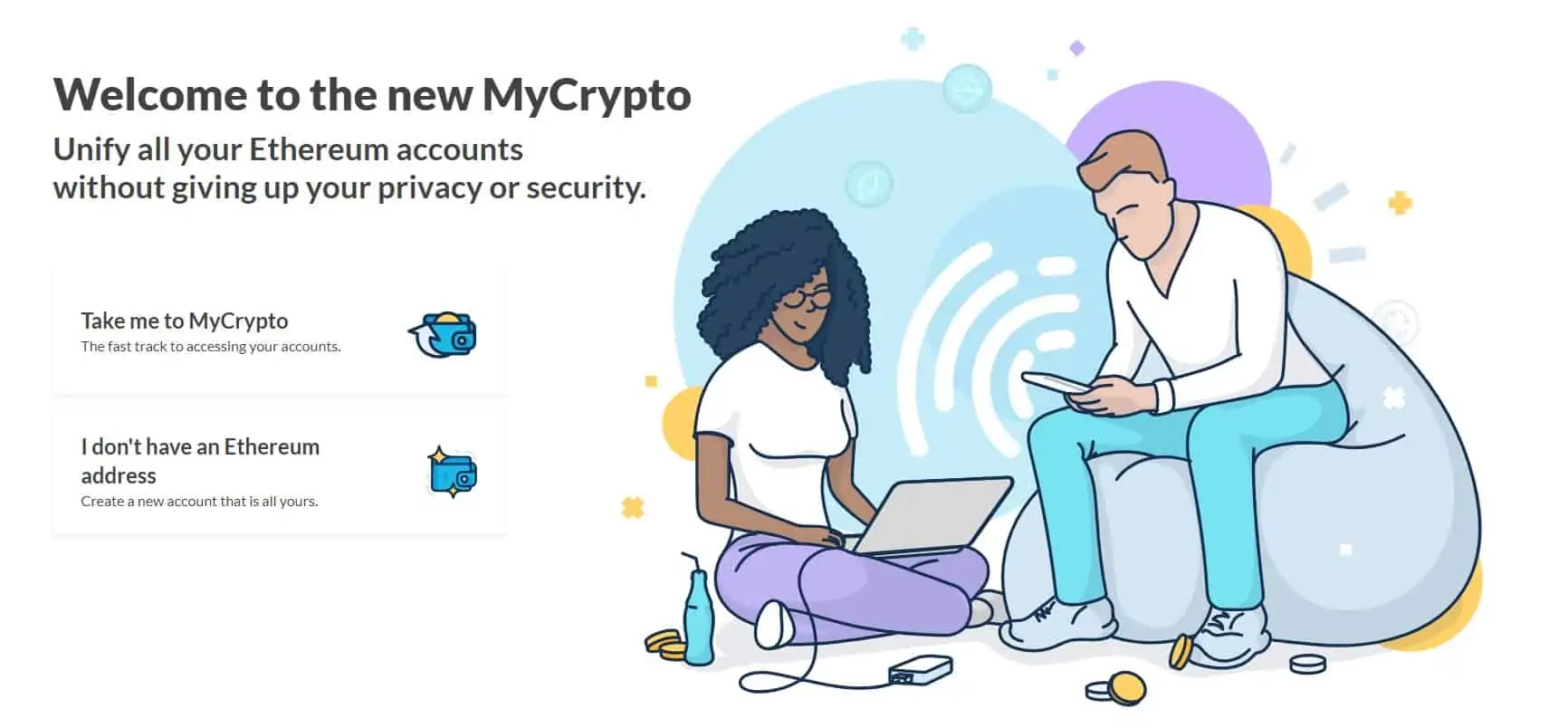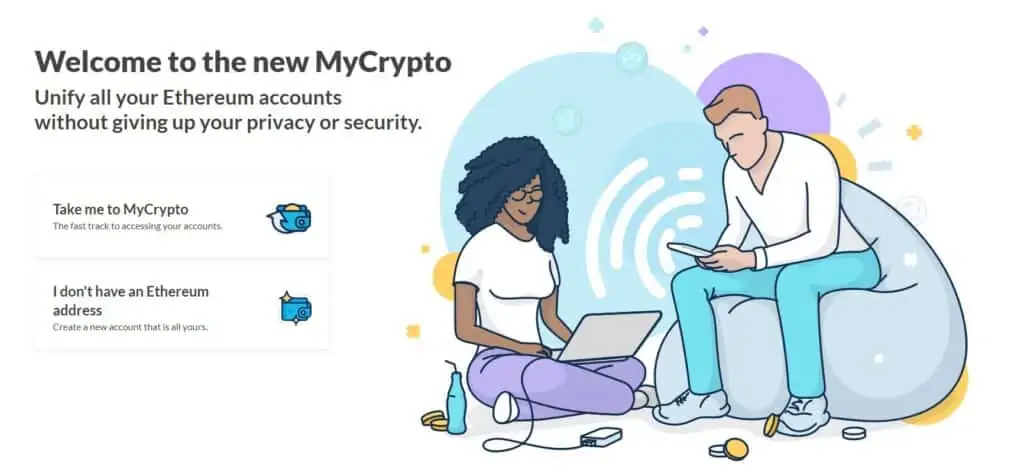 That said, MyCrypto wallet enables direct integration with:
a few popular hardware and software wallets including Ledger, Trezor, Metamask, WalletConnect and Frame;
Coinbase Buy Widget — where you can buy crypto with fiat instantly, using a debit card;
the popular decentralized crypto exchange ShapeShift for immediate token swaps;
and
the Ethereum Name Service (ENS) integration.
How to Set Up a MyCrypto Wallet?
Follow these simple steps to set up your wallet:
Visit download.mycrypto.com and make sure you see the SSL certificate on the address bar.
After a successful download, install the application and create the desired wallet. You can either have a new wallet generated or get access to your private keys through your independent wallet that is compatible with the MyCrypto wallet.
Confirm the chosen wallet with the Generate a Wallet button. Now it's time to activate your private keys either through a mnemonic phrase or a Keystore file. If you've opted for the first, go to the View & Send section and insert the phrase to unlock the wallet. It's recommended you complete this stage offline for extra security. The Keystore file, on the other hand, is an encrypted format of your private key. It's created using your private key and a password of your choice. The system will give you an option to save the private key in the form of a paper wallet — printed in the form of a QR code.
After completing this step, you'll receive a list of ETH addresses you can use. Choose an address and you're all set to store your first Ethereum.
How to Transfer Tokens
With MyCrypto wallet, you can smoothly transfer any supported digital currency to other crypto wallets. First, you'll need to find the Send item in the respective section and then unlock the wallet with the method you've already chosen.

The process afterward is pretty straightforward, in order to make the transfer, you'll have to specify the address of the recipient, the type and the amount of the token, set the transaction fees manually using the slide button below (in the range between 0.1 gwei and 999.9 gwei), and confirm the transaction. After this, you'll get a link to check the transfer status.
Ethereum and Other Supported Cryptocurrencies
MyCrypto was primarily designed for the needs of Ethereum users. It supports Ethereum (ETH), Ethererum Classic (ETC), testnet networks such as Rinkeby, Kovan, and Ropsten, the whole range of ERC-20 tokens and other Ethereum based networks like POA, EWT, EXP, UBQ, etc. Bitcoin (BTC) and other popular altcoins like Litecoin (LTC), Cardano (ADA), Ripple (XRP), Power Ledger (POWR), or Dogecoin (DOGE) aren't supported by the platform.
MyCrypto Wallet Fees and Limits
The MyCrypto interface is made for free use. It doesn't incur any deposit and withdrawal fees nor does it charge for MyCrypto card transactions at sales points or ATM withdrawals. However, crypto outbound transactions are subject to network fees (GAS). These fees aren't static but vary depending on the transaction speed.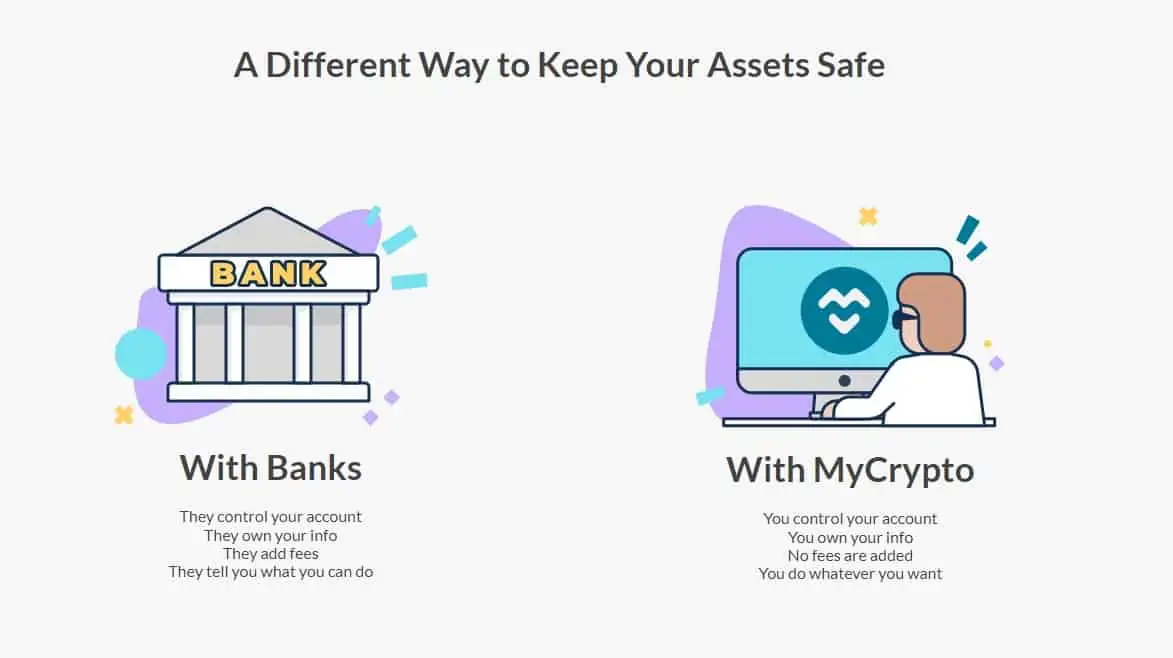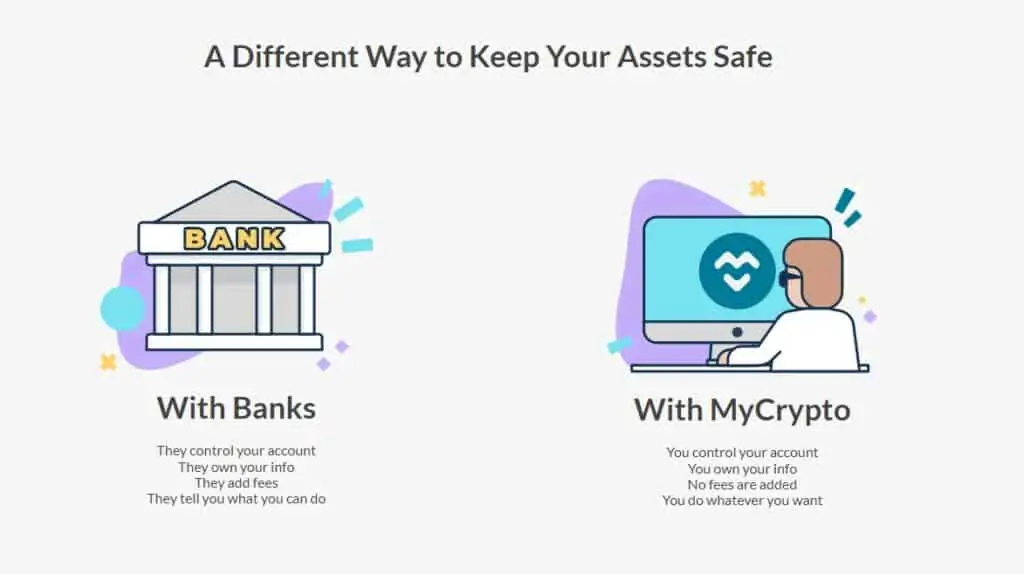 Finally, the wallet system doesn't set any limits to your transaction fees but the Ethereum network does and the minimum standard priority fee is 0.000441 ETH.
MyCrypto Wallet Security
As a client-side wallet, MyCrypto Wallet won't store any of your data on the company's servers, which means that you'll have full responsibility for protecting your funds and private keys residing in your private desktop device.
Because of that, you might be required to utilize additional security measures on your own behalf for the impeccable protection of your assets, such as investing in a hardware wallet or enabling Google extensions to prevent you from phishing links. However, you'll be sure that no cyber-criminal can trace your identity or wallet info in case of software attack or damage.

The software system will secure your wallet with a password, giving you multiple wallet recovery and backup options, as well as strategies that will help you recognize and protect yourself against phishing scams.
Customer Support
For a non-custodial crypto service, MyCrypto wallet has a highly reliable facility for customer care. There is an extensive Help and Support section where you can find various how-to tutorials, troubleshooting guides, and general information about the wallet performance for both individual users and development teams.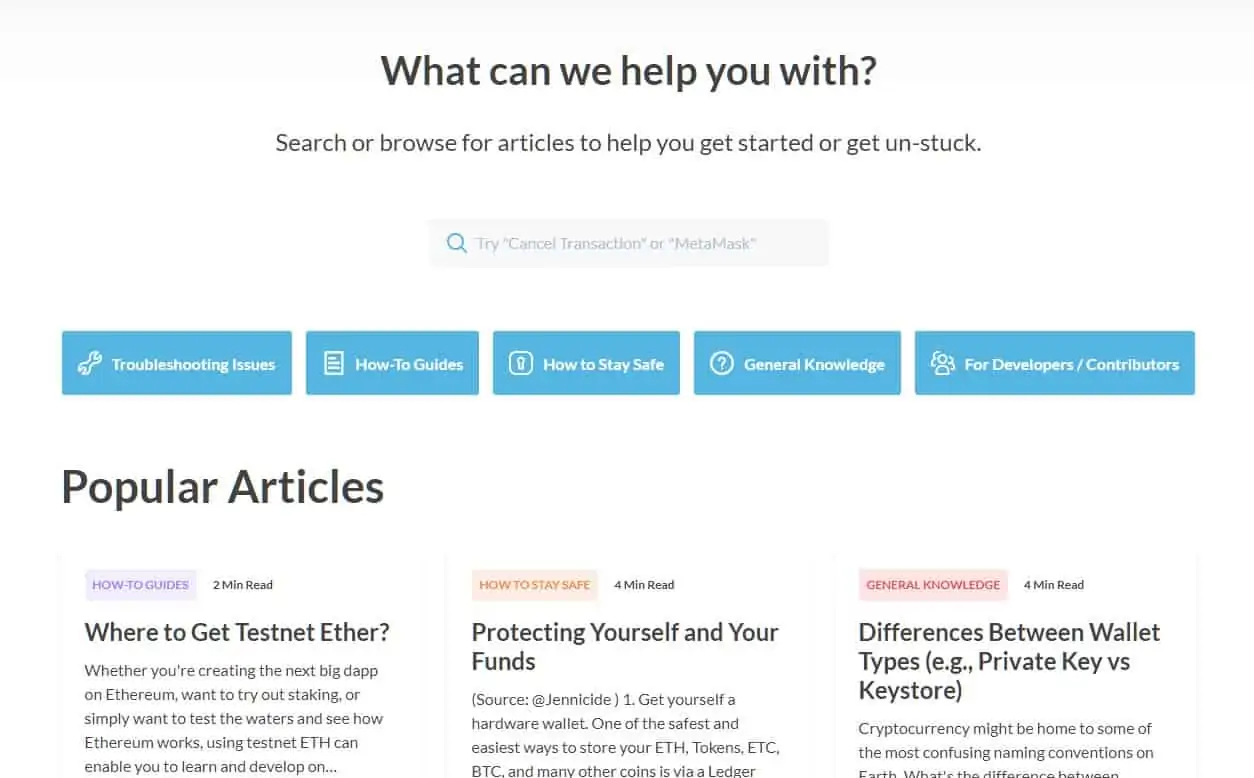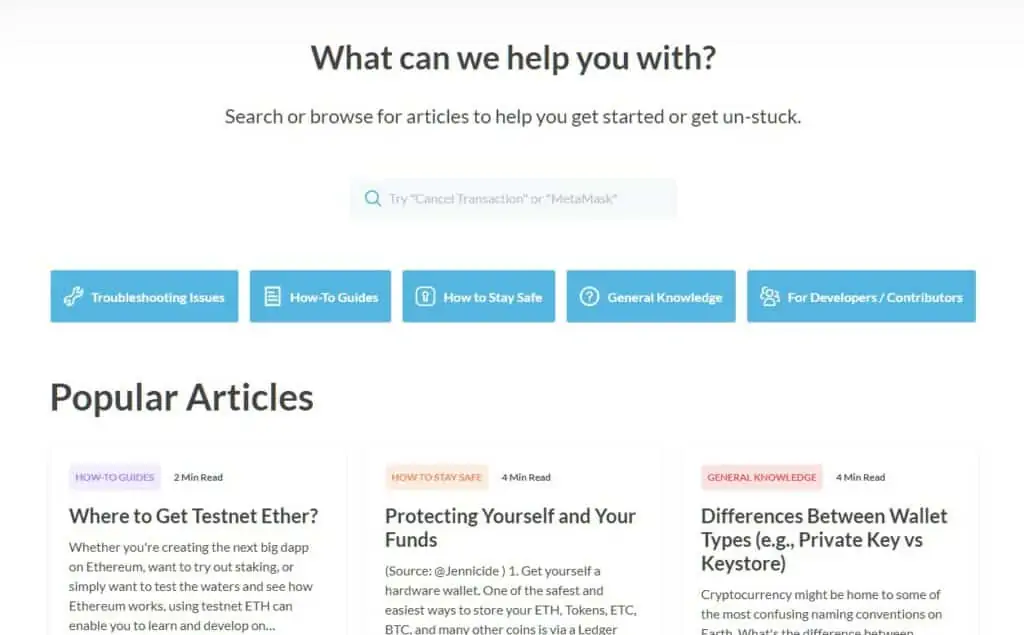 For direct assistance, you can email their support team by raising a ticket at the Contact Us button at any time of the day. Social media channels such as Facebook, Twitter, and Reddit are always a good idea for getting a personal response to your issue.
Frequently Asked Questions
Can MyCrypto wallet stop working?
MyCrypto isn't a web-based wallet platform meaning that neither your addresses nor anything else will be saved on a server, which is great because in the case of a downfall, you'll only have to find another Ethreum-based wallet such as Geth or MyEthereumWallet and import the desktop-saved files into the newly-generated wallets.
Can I cancel a declined transaction with MyCrypto?
On MyCrypto, you can take advantage of my cancel transaction option if you want to cancel a transaction, in case you want to modify the set gas price, for instance. So, when you go for Cancel, the system will send a transaction with a value of zero ETH to your address to prevent your previous transactions from being confirmed.
Is MyCrypto wallet fully anonymous?
MyCrypto wallet is anonymous by its very nature as it operates as a desktop interface available for free download worldwide (including Australia and New Zealand), rather than a centralized money-transmitting company. This means that it's not subject to strict AML/KYC regulations and hence, you don't have to provide any personal or bank information in order to use the software.
Frequently Asked Questions
If you're heading your crypto portfolio towards Ethereum and Ethereum-based tokens, then MyCrypto wallet is one of the best storage concepts you can get on the market.
The wallet is a fork of MyEtherWallet that resulted from an internal dispute between MEW developers, so it targets the same category of audiences. However, MyCrypto is a safer alternative as it doesn't require users to handle the wallet in a web browser. Moreover, the wallet has come with a few upgrades in comparison to its ancestor and direct competitors, such as a generation of the mnemonic phrase, a token scanner, and a larger knowledge base.