MyEtherWallet Review for 2023
Ethereum is a decentralized, open-source blockchain technology that underpins Ether (ETH), the second most popular cryptocurrency for trading after Bitcoin (BTC).

As a platform that's accessible to anyone willing to participate in the cryptocurrency ecosystem, Ethereum allows app developers to unleash their creativity and create an infinite number of smart contracts and decentralized applications, or dApps, directly onto the Ethereum blockchain.

This programmable blockchain not only enables quick and secure transactions but also provides Ethereum wallets for the safe storage and management of your digital assets. As the name indicates, these wallets support Ethereum-based coins exclusively.

Among the many wallet types created on the blockchain platform, we'll look at MyEtherWallet to see how it works and how well it performs. We'll also attempt to address some of the most frequently asked questions about this digital wallet. Let's get started!

About MyEtherWallet
MyEtherWallet (MEW) is a blockchain-based open-source platform that was launched in 2015. It allows its users to set up a web wallet written in Javascript for easy access to their Ether funds. This wallet can be conveniently accessed via your computer's browser, and it eliminates the need for a cryptocurrency exchange by employing flexible and versatile features for its users.
MEW's support for a range of alternative wallets, including hardware wallets and third-party wallets (such as MetaMask) is one of its most distinguishing features that sets it apart from other crypto wallets. As a result, if a trader uses a Ledger Nano S or Trezor wallet, they may access their crypto assets by connecting their hardware wallet with the MEW's interface.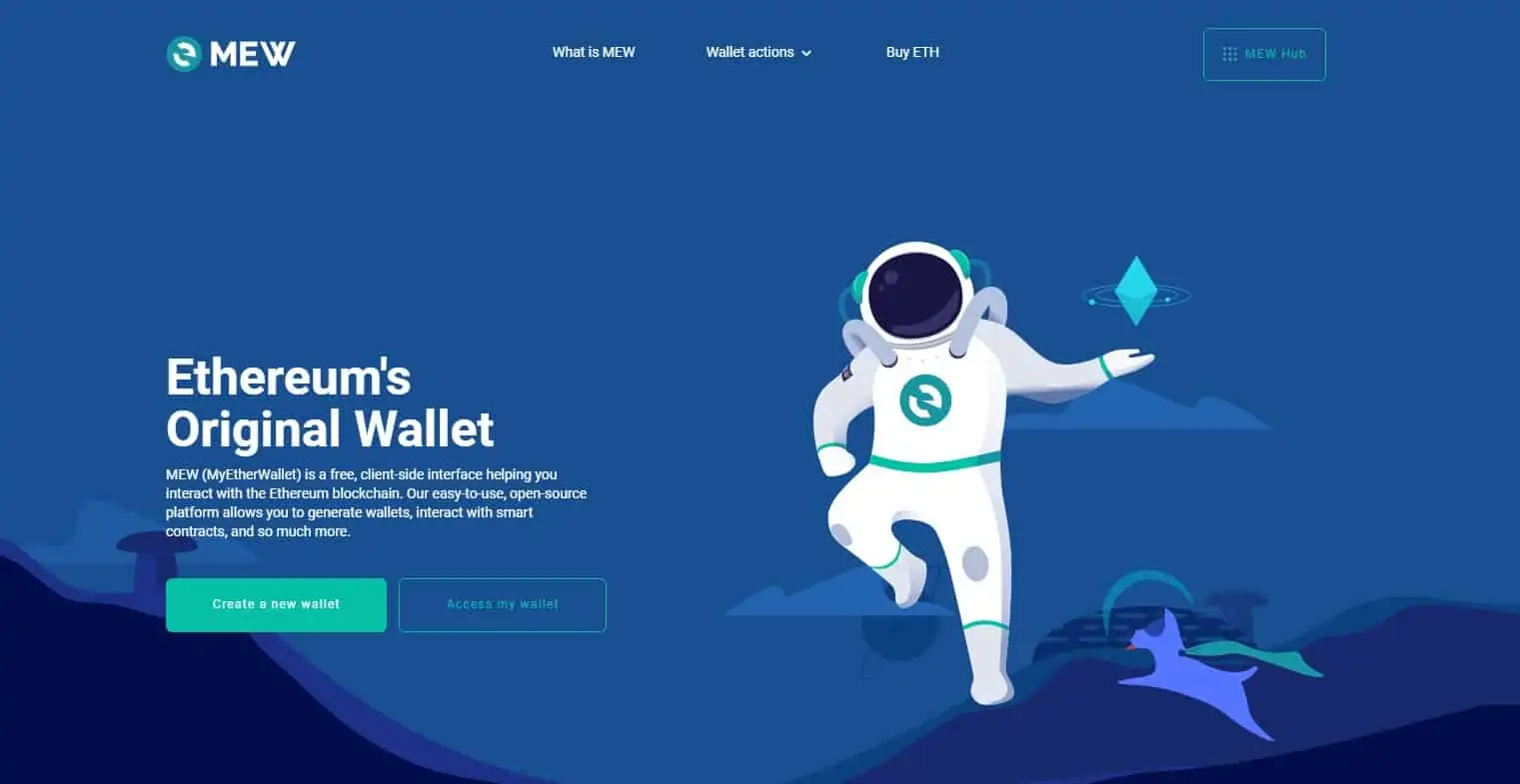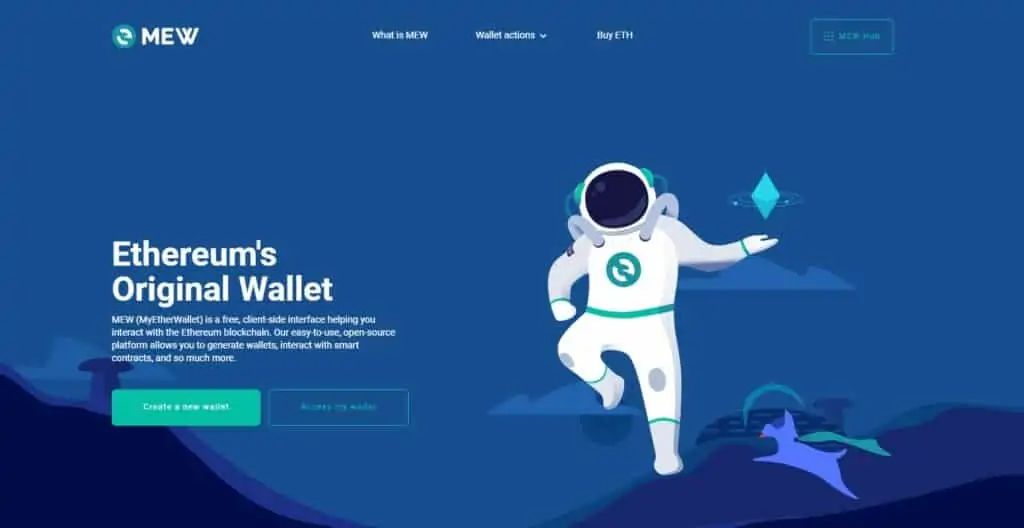 Users of this open-source wallet are given all the control over their private keys. In turn, this signals an additional degree of protection that goes beyond the other digital wallets of its type. MEW also enjoys high-level trustworthiness from a broad group of supporters and is continuously upgraded by its team of developers. Furthermore, you may print your private keys on paper, thus creating an offline paper wallet (i.e. cold storage) for extra safety for your crypto valuables.
How Does MyEtherWallet Work?
MyEtherWallet.com is actually a Chrome extension that you can access from your browser's toolbar. It isn't an online wallet in the true sense of the word because you can't set up an account on the website or keep your Ether crypto assets there. Basically, it allows you to store your digital wallet data on your browser, from where it further directs you to the Internet location from where you can operate your wallet.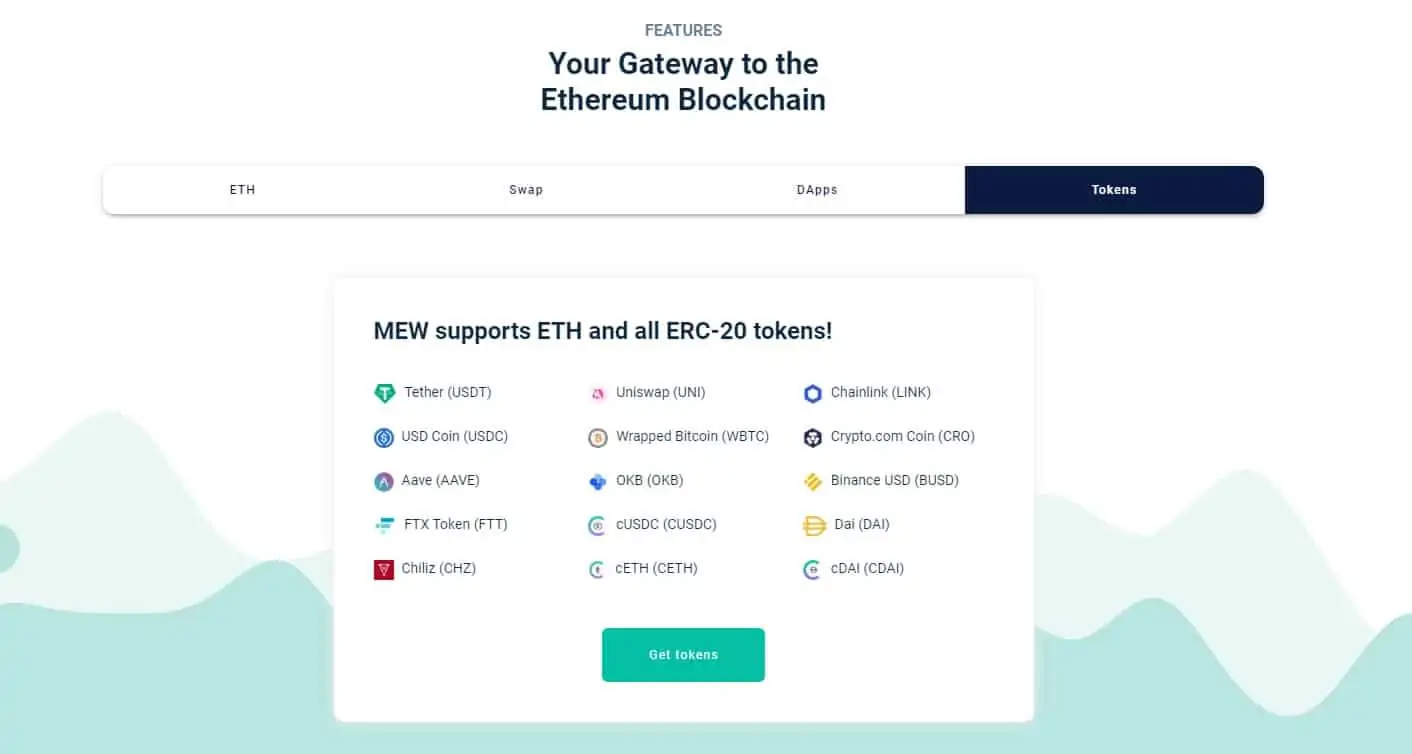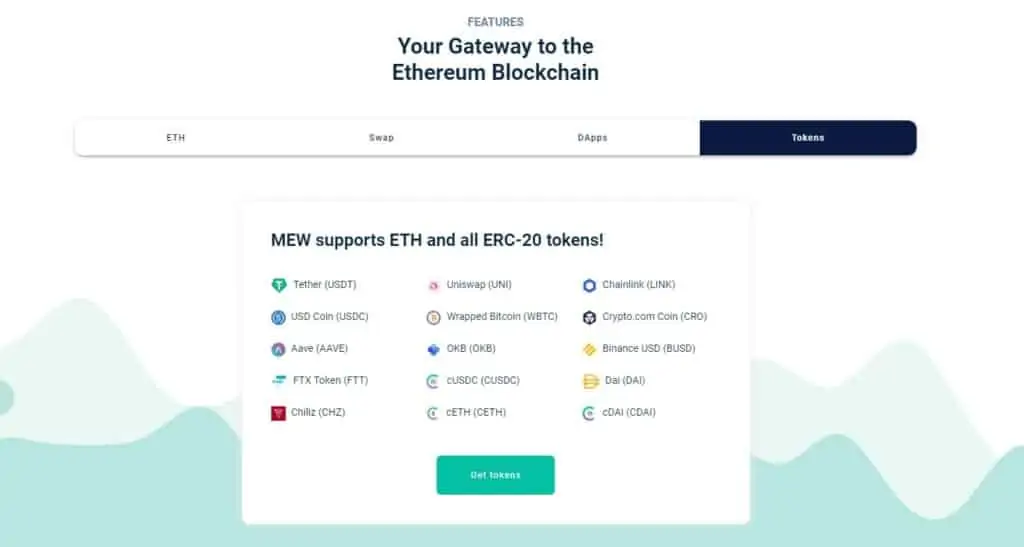 Since you access this crypto wallet via the Internet, one of the most important prerequisites for utilizing MEW is a strong Internet connection on your computer or portable device. Considering the fact that MyEtherWallet is an open-source project, it is designed to be interoperable with all operating systems (Windows, Mac, Android, and Linux). As a bonus feature, we also mentioned that you can integrate MEW with some types of hardware wallets for an added layer of protection.
When it comes to added bonuses aside from the basic functionalities, there's also a built-in exchange hosted by KyberNetwork and Bity incorporated into MEW. If you want to use its services, simply click on the 'Swap' module of MyETherWallet's interface. From this place, you can quickly and simply swap between MEW's supported cryptocurrencies: Bitcoin (BTC), Ether (ETH), Ethereum Classic (ETC), as well as the ERC20-standard-based tokens.
Supported Cryptocurrencies
The My Ether Wallet interface works with all ETH currencies: Ethereum, Ethereum Classic, and ERC-20 tokens.
Because MEW is only compatible with the ETH network, it is impossible to convert ETH to other currencies through the MEW platform. To do so, a trader must use another exchange platform.
MyEtherWallet Fee Schedule
While utilizing MEW's services is entirely free, outgoing transactions are subject to modest mining fees (gas), which are distributed to the crypto miners who actively support the Ethereum blockchain. As a result, every user who wishes to conduct a transaction must first guarantee that they have sufficient ETH in their digital wallets. Custom fees can also be established by traders in order to expedite the confirmation of their transactions.
User Interface
The MEW interface is well-known among its clients for its ease of use. It's also built on the top of the Ethereum platform, which makes it highly secure. As a result, this desktop wallet provides a fast and convenient exchange of Ethereum (ETH), Ethereum Classic (ETC), and other cryptocurrencies that adhere to the ETC-20 standard.
When you visit the www.myetherwallet.com domain from your web browser, you will come across a clean, simple website that is easy to navigate. Simple buttons direct you to the relevant actions – you can set up a new wallet or access an existing one (if you've already registered for it), depending on your preference.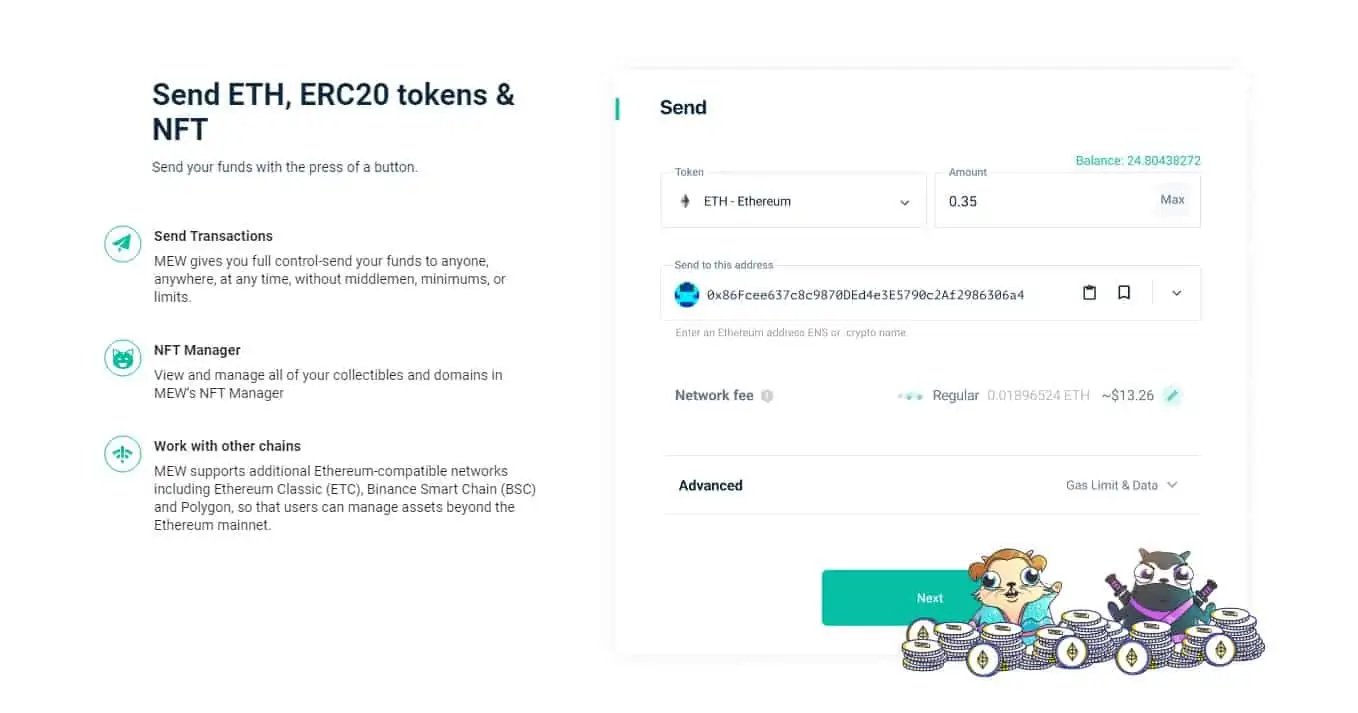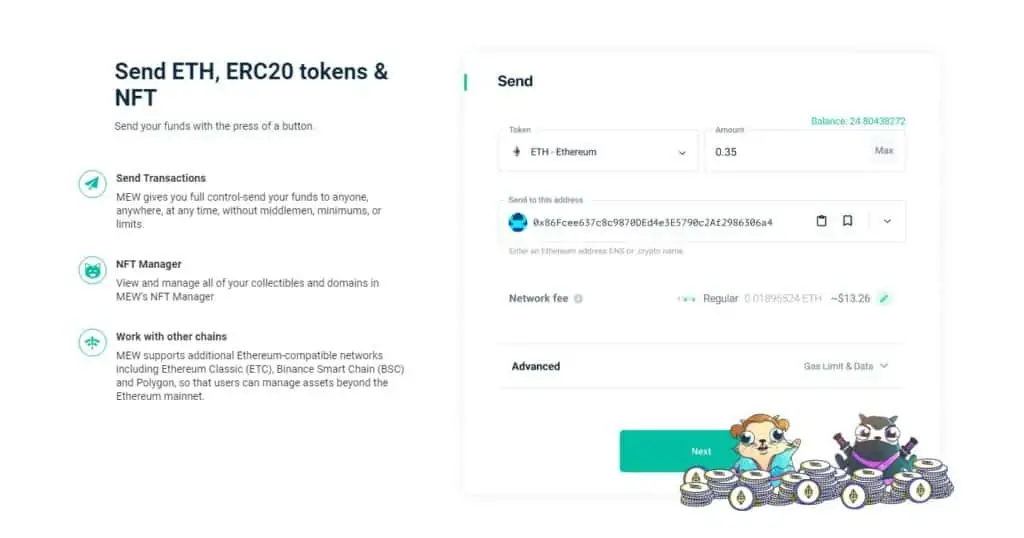 At the bottom of the page, you'll discover a centrally positioned toolbar with a button that allows you to easily convert fiat currencies to ETH, ETH to ERC20 tokens, and ETH to BTC via integrated mechanisms provided by MEW's collaborators on the project: Bity, 1inch, Simplex, DEX AG, and Changelly. There is also a tab for purchasing, sending, and receiving ETH and ERC-20 tokens, a dApp centre, and a tab that exposes a list of all the tokens supported by this wallet. Indeed, MEW provides a straightforward, and convenient interface that helps you manage your ETH assets in just a click.
Last, but not least, the MEW website includes the MEWtopia section that's envisioned as a sort of brief crypto encyclopedia. It answers the most pressing issues that a newcomer to the crypto world could have, and it does it in a very user-friendly way.
Is MyEtherWallet Safe to Use?
Built on the Ethereum network, MyEtherWallet assigns its users complete control over their private keys, which is one of the biggest reasons why crypto investors tend to choose MEW over other digital wallets of its type. Given that private keys are not shared over the public network, the user is the only authorized individual who has permission to see sensitive data entered on the network through their account.

As a drawback, this wallet does not support multi-signature transactions or two-factor authentication for the purpose of safeguarding its information and digital assets.
Finally, there is no need to register online with your data in order to utilize MEW. MyEtherWallet provides a totally anonymous user experience by allowing users to create a new wallet without entering any personal data.
Customer Support
The MyEtherWallet Help Center offers a rich database where you can search for the answer to your question in the first instance. If you can't find what you were looking for among the offered solutions, you can reach the 24/7 live support team via email, by clicking on the 'Support' button located in the top right or bottom left angle of the MEW's interface.
Frequently Asked Questions
What is the MEW wallet used for?
The MEW wallet allows you to send transactions, keep your digital wallets in your browser, engage with decentralized applications, exchange cryptocurrencies, as well as handle your crypto assets from the convenience of your toolbar.
Is there a MEW mobile app?
For an extended length of time, traders could only access MEW through its Internet domain. However, MEW now provides a free downloadable MEWconnect mobile application, which allows traders to manage their crypto money via their smartphones. There's also a beta version of an iOS MyEtherWallet app in the MEW developer's plan.
How does MyEtherWallet differ from Jaxx?
The blockchain-based cryptocurrency wallet Jaxx Liberty is similar to MyEtherWallet in that it is also a blockchain-based cryptocurrency wallet. However, unlike MyEtherWallet, which supports only the Ethereum blockchain-based crypto coins, Jaxx Liberty wallet provides support to a wider range of cryptocurrencies, including Bitcoin (BTC), Ethereum (ETH), Litecoin (LTC), and Dash (DASH).
On the other hand, MEW gives full control of the wallet's user over their digital assets, since all sensitive data or coins are stored on the user's devices. In this sense, MyEtherWallet successfully communicates the decentralization concept, which is the fundamental guiding principle of all crypto projects, including digital wallets for holding coins.
What countries are supported by the MEW Wallet?
This Los Angeles based cryptocurrency wallet is fully operational in 192 countries worldwide, while its interface has been translated into 18 languages so far.
How does MEW compare to the Coinbase Web Wallet?
Unlike MEW, which allows users to retain their wallet's private keys, the Coinbase Wallet is a non-custodial wallet that allows its users to store the private keys to their mobile devices, protecting them with cryptography methods. Moreover, users of the Coinbase wallet must additionally validate all desktop transactions using the Wallet mobile app for security reasons, whereas MEW clients do not even go through a registration process to use MyEtherWallet.
A Few Words Before You Go…
MyEtherWallet is a one-of-a-kind solution with a client-side interface that helps you manage and control your Ethereum assets without the need for an online crypto exchange. In addition to transferring and receiving cryptocurrencies and trading Ethereum tokens and other digital assets, MEW's user-friendly interface makes it simple to link this wallet to other services, such as other hardware wallets, for an added convenience.
Aside from the Ethereum blockchain platform's underpinning security mechanisms that support the safe storage of your digital assets into the MEW wallet, assigning full control over the private keys to its users is a step further than the other wallets – not only in terms of fund safety but also toward the development of ultimate decentralization behind every cryptocurrency project.