Nexo Review for 2022
When a prominent fintech company named Credissimo conceived the idea to revolutionise their crypto lending business, they probably didn't foresee that this would reshape the whole cryptocurrency industry.
Nexo, their project's name, is the world's first blockchain-based crypto lending system that combines the best of both worlds: fast crypto loans and blockchain technology. When developing this cutting-edge system for cryptocurrency trading, the creators' ultimate idea was to give their clients a fully automated, customisable, and cost-effective way of gaining additional liquidity guaranteed by the real worth of their cryptos.
Was this concept a successful step forward for the lending company, and what financial services does it offer? How much could a trader gain through Nexo's incentives, and is this platform safe? We're here to provide the answers.
About the Nexo Exchange
Nexo is a centralised cryptocurrency lending platform that enables clients to earn interest in cryptocurrencies, stablecoins, and fiat currencies. Since its inception in 2018, the developers of this groundbreaking concept have strived to provide expert financial services in the field of digital assets. The crypto borrowing and lending system is supported by its developers' extensive experience in financial technology and is powered by blockchain technology.

This centralised platform's ultimate goal is to outperform traditional banking systems with its instant crypto credit lines, Nexo's crypto interest offer, and OTC services. Furthermore, Nexo offers instant swaps of more than 20 digital assets and over 150 trading pairs with a fixed-price execution and 0.5% cashback. More importantly, there are no hidden costs and no credit ratings involved.
When it comes to the company's gains from the business, a large portion of Nexo's revenue comes from the difference between cryptocurrency loans and deposits, which is standard practice for these types of crypto trading platforms.
How Does the Nexo Exchange Work?
Swapping or obtaining your favourite coins on the Nexo platform is really straightforward and easy, regardless of whether you are a seasoned trader or a beginner. All you need to do is simply find the Exchange tab and select your preferred option (swap, buy, or sell).
Next, select the currency pairing as well as the amount you would like to exchange. By selecting "Preview Exchange", you will be able to get a sneak peek into the transaction parameters before submitting your order. If everything appears to be in perfect order, proceed by clicking on "Exchange" to complete the transaction.
The Smart Routing System
Nexo's exchange is underpinned by a cutting-edge technical solution known as the Smart Routing System (SRS). This software enables the platform to connect to a wide range of different liquidity providers simultaneously.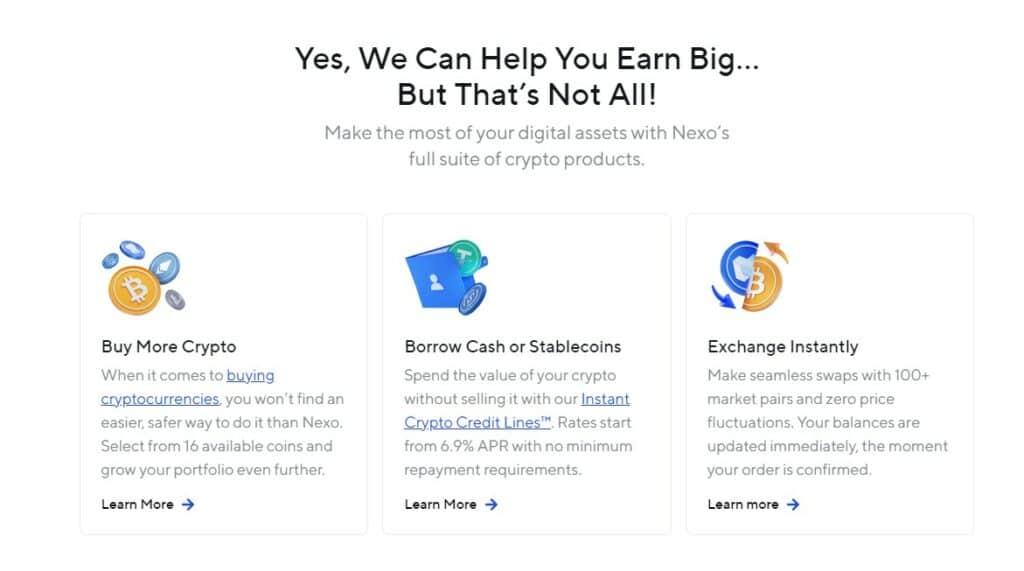 Nexo is able to combine quotes from the ten best crypto exchanges on the market to give its consumers a price estimate based on the best available spot rate without any inflationary pressures between the order placement and its finalisation. This comes as a result of integrating the SRS into the Nexo platform's architecture.
To look at it differently, clients of Nexo no longer have to calculate the market statistics since this technology is doing it instead of them in a split second, resulting in a better bargain than they would get from doing so manually.
NEXO Token
The creators of the Nexo platform developed a native NEXO token to bring even more benefits to their users such as the ability to earn up to a 50% interest reduction on credit line withdrawals, up to 2% yield on crypto, fiat currencies, and stablecoins, and an additional 2% incentive when users choose to get their payout in NEXO tokens.
NEXO tokens can be safely housed in every Ethereum-compatible wallet, as they are built on the Ethereum blockchain. It's possible to purchase NEXO tokens on several trading platforms: Stocks.exchange, DDEX, IDEX, EtherDelta, Hotbit, etc.
Nexo's Interest Accounts
Nexo provides excellent interest savings accounts for crypto and fiat currencies (USD, EUR, and GBP) with up to 10% annual returns on stablecoins and fiat currencies and 6% APY on crypto. The interest rate on these Nexo accounts seems to be much higher than the ones of standard bank accounts.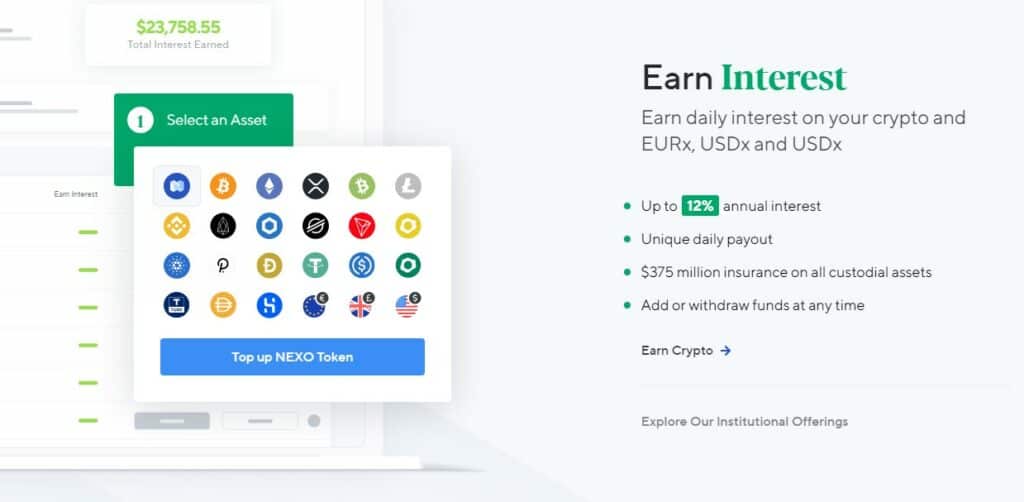 Moreover, Nexo interest is transferred on a daily basis to your savings wallet, thus enabling the crypto assets deposited on the interest account to accumulate and expand gradually like dividend payments.
How to Earn Interest on Nexo
The Nexo Loyalty Program is organised into four tiers, each of which is intended to contribute to the user's financial well-being. Namely, the interest rates of your crypto interest are calculated via the NEXO token-to-portfolio ratio, which categorises you in one of the Loyalty program tiers. Here's how.
The Nexo Loyalty System and Crypto Interest Rates
Every tier of this reward system represents a distinct benefit based on the number of NEXO tokens you have in your possession:
Base Level: Users are not obliged to hold any NEXO tokens for this level of the tier. The Base level grants the user one free monthly cryptocurrency withdrawal, while the dividend is 13.9%.
Silver Level: Your portfolio must contain NEXO tokens in an amount equal to or more than 1% of its total value in USD. The Silver level grants the user two free monthly cryptocurrency withdrawals, while the dividend is 12.9%.
Gold Level: Your portfolio must contain NEXO tokens in an amount from 1% to 5% of its total value in USD. The Gold level grants the user three free monthly cryptocurrency withdrawals, while the dividend is 8.9%.
Platinum Level: Your portfolio must contain NEXO tokens in an amount from 5% to 10% of its total value in USD. The Platinum level grants the user three free monthly cryptocurrency withdrawals, while the dividend is 6.9%.
Advancing through the Nexo loyalty tiers brings even more benefits to the borrowers and lenders on this exchange. Namely, NEXO token holders enjoy more advantages the more tokens they hold. This includes lower borrowing rates on the Instant Crypto Credit Lines ™ feature, higher returns on the Earn on Crypto and FiatX set, and extra free crypto withdrawals every month.
Nexo Crypto Loans
Nexo is the first crypto exchange in the world to establish an instant crypto system by combining instant loans with blockchain technology. Namely, Nexo's innovative approach to borrowing cryptos enables clients to acquire instant crypto loans secured by the value of the customer's digital holdings.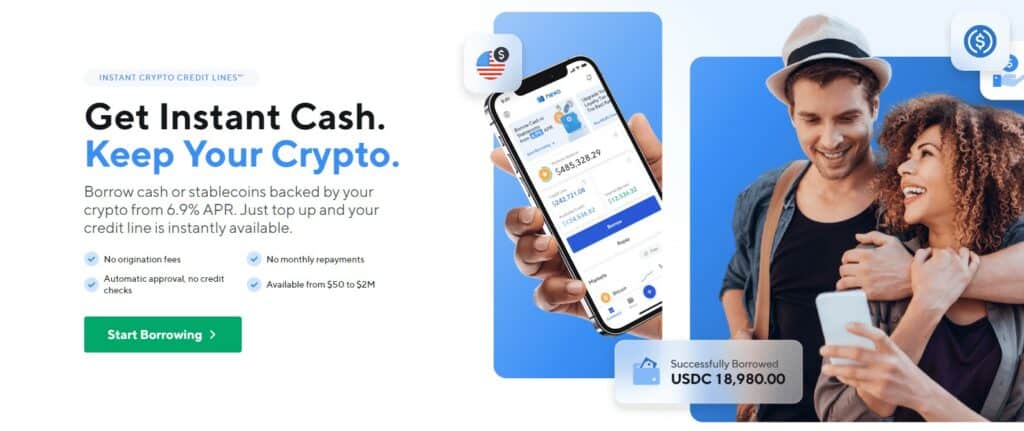 The profitable business concept allows crypto investors to use their digital assets as collateral to make instant cash withdrawals. With the Nexo loans, users keep 100% of their crypto holdings while being enabled instant access to money.
Nexo can also assist traders in reducing their tax obligations by permitting them to make a loan instead of having them sell their digital currencies. This method is labelled the Zuckerberg Tax and has been a long-time-favourite among the world's wealthiest people. This financial strategy further prevents investors from the double hurdle of having to liquidate their digital assets to pay taxes, thus perpetuating a cycle of several taxations per year.
The Nexo Card
The NEXO card can be obtained using the web-based platform or the mobile application of this exchange. This card works similarly to traditional credit cards and can be used in the same places.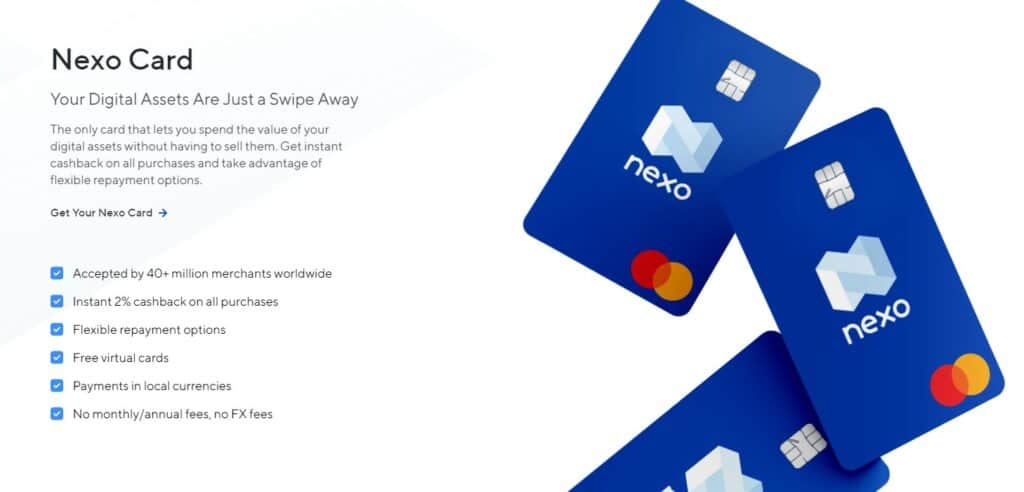 Also, this card has some features that crypto traders may find very useful. These include creating free virtual cards for secured Internet transactions, tracking all payment transactions and receiving real-time notifications, receiving 2% cashback on all purchases, spending coins without needing to sell them first, etc.
You have the option to choose whether to get your bonuses in NEXO Tokens or Bitcoin (BTC), or you can conveniently choose between the two options right before completing a purchase. Your Nexo account will be instantly credited with the full amount of the cashback.
Supported Cryptocurrencies
As a crypto exchange focused on lending and borrowing, Nexo offers instant swaps of more than 20 digital assets and more than 150 trading pairings with no credit checks, as well as fixed-price execution and a 0.5% cashback incentive.
Some of the most popular cryptocurrency projects supported by Nexo exchange include Ethereum (ETH), Ripple (XRP), Litecoin (LTC), Paxos Gold (PAXG), Binance Coin (BNB), Tron (TRX), USD Coin (USDC), Тether (USDT), Stellar (XLM), Chainlink (LINK), Bitcoin Cash (BCH), Eos (EOS), etc.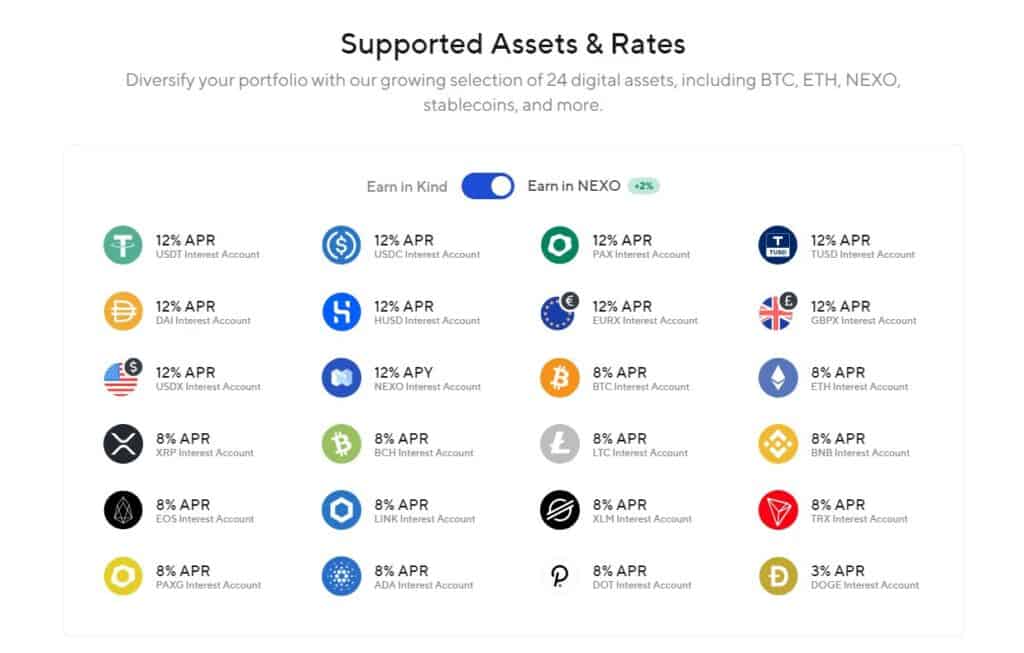 Furthermore, the PAX Gold (PAXG) Ethereum-based token offered by Nexo reflects a physical quantity of gold and can be used to make same-day or next-day transactions in more than 45 fiat currencies.
The Nexo Exchange accepts Visa and Mastercard debit/credit cards for instant cryptocurrency purchases. You can also make your payments via bank transfer in your preferred fiat currency (USD, EUR, or GBP). Once purchased, it takes from one to three days for your coins to be deposited in your Nexo wallet.
Trading Fees and Limits
When compared to other exchanges, where rates often fluctuate by up to 5%, Nexo locks in the rate from the minute your trading offer is submitted via its platform. That implies that the cost you see is the amount you will be billed.

All cryptocurrency transfers between Nexo trading accounts are immediate and absolutely free of charge. Account users who have earned a certain level of Loyalty will be entitled to a limited number of fee-free crypto withdrawals to an external wallet, depending on the level they have reached. Moreover, the internal Nexo fund movements have no impact on users' free monthly crypto withdrawals, available to all users.
Is Nexo Safe to Use?
Keeping up with ever-changing legislation, advanced verification, and authentication is a priority for the Nexo.io companies, which have several licenses and registrations across the world. In this regard, this platform has received the following approvals for financial services:
U.S. Financial Crimes Enforcement Network, Ref. no: 31000180133739 (Money Service Business Registration),
State Banking Department, Ref. no: 22897 ("Mini-Code" License),
U.S. Department of Insurance and Financial Institutions, Ref. no: MT-1024418 (Money Transmitter License),
Australian Securities and Investment Commission, Ref. no: 647056540 (Registration as Foreign Company),
SO-FIT, Switzerland (Affiliated Member of the Recognized Self-Regulatory Organization "SO-FIT" – Geneva),
U.S. Division of Banking and Financial Institutions, Ref. no:1898755 (Consumer Loan License), and many more.
Furthermore, Nexo provides customer due diligence (CDD), identification and verification procedures, enhanced due diligence, screening against EU, UN, and OFAC sanction lists, and other related activities to ensure that customers are treated equitably.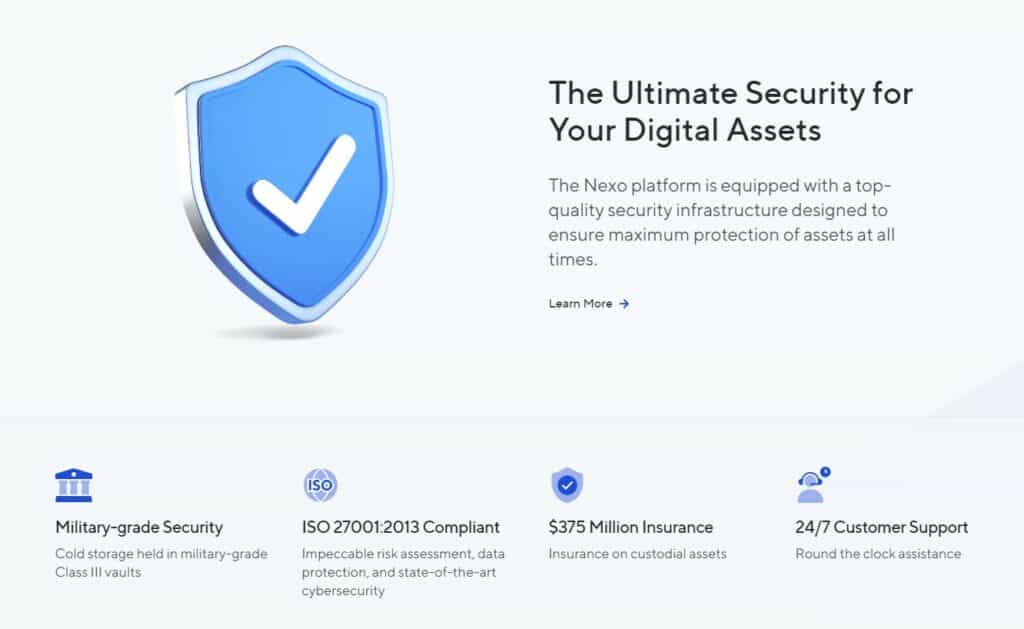 Aside from that, they rigorously adhere to KYC (Know Your Customer) and AML (Anti-Money Laundering) protocols that are in accordance with the legislative requirements of Australia, the United States, Switzerland, Hong Kong, and Canada.
In addition, all user assets are entrusted to the custody of Nexo as soon as they reach the platform. Also, the largest portion of the funds is held in cold storage (military-grade Class III vaults). This is made possible by the custodian platforms Fireblocks, Ledger Vault, and BitGo, which provide insurance coverage of $100 million that covers hacking incidents and loss or theft of private keys.
Customer Support
Nexo provides 24/7 customer support to its users. You can submit a request regarding your issue with the platform or any of the trading tools by filling in a ticket.
Moreover, the registration process for a Nexo account is quick and simple, and the user interface of this trading platform provides a highly pleasant trading environment that intelligently directs you to all of the trading tools and answers you could possibly seek.
The creators of this groundbreaking system have also included a comprehensive knowledge section alongside an extensive FAQ centre, and video tutorials where you can not only learn everything there is to know about Nexo and cryptocurrency but also find the answer you're looking for without having to contact the support team.
Frequently Asked Questions
How can Nexo assist traders with their taxes?
Because the taxation of digital currencies depends on the jurisdiction in place, it is critical to examine your local regulations. However, almost all countries' tax rules see cryptocurrencies as taxable assets, and any profit you make through them must be reported before the end of the fiscal year. If you've recently bought some coins and haven't yet profited from them, you are likely exempt from reporting them to your tax authorities.
The simplest strategy to avoid paying taxes on your digital assets is to stop generating new capital gains, such as selling your cryptocurrency holdings. Nexo combines the perfect blend by allowing you to HODL your digital assets and still have access to an instant loan. In turn, this method saves you from paying taxes, as you have not gained any profit from selling your coins.
Does Nexo have a mobile app?
Yes. Nexo also offers crypto trading on the go. The Nexo Mobile App is compatible with both Android and iOS mobile operating systems devices. It is designed to improve the crypto banking experience by allowing you to take advantage of the ease, flexibility, and safety of this exchange while on the move.
What countries are supported by Nexo?
Cryptocurrency trading on Nexo is open to citizens of most countries in the world, excluding the following jurisdictions: Cuba, Estonia, North Korea, Syria, Bulgaria, the Central African Republic, as well as the State of New York.
Does Nexo provide a cryptocurrency wallet?
Yes. The Nexo wallet services are offered through both the web platform and the mobile app. When a customer opens a Nexo Account, there is a credit wallet created automatically that holds all the digital assets owned by the user that have been or are going to be used as collateral for Nexo crypto credits.
The Nexo wallet services include a savings wallet, the option to make crypto swaps and credit loans, transfer funds and receive payments and incentives, and more.
How does Nexo compare to BlockFi?
Looking at both platforms side by side, one can easily tell that they offer cryptocurrency borrowing and lending services, interest accounts, and reward systems. So, where's the difference between them?
To begin with, Nexo enables lending crypto coins that you need to purchase from a third-party platform first. On the other hand, this exchange supports a wider variety of cryptocurrency coins to trade with, which could be the real deal along with their low fees.
While using a third-party trading platform, transactions can be less secure, which means that both the online information and the cash are more susceptible to losses. BlockFi does not enable you to purchase cryptocurrency directly, but Nexo allows you to do so quickly and simply with a debit or credit card.
A Few Words Before You Go
Due to Nexo's status as a worldwide trading platform that is heavily controlled through its three subsidiaries, it is safe to state that the platform is a stable and secure one that provides various advantages to traders who seek to earn passive interest by lending their coins. On top of the ultra-secure trading environment, Nexo provides lucrative trading incentives that enable its clients to increase their liquidity multifold.
Instead of a disclaimer, we could add that there are always certain inherent hazards associated with cryptocurrency trading. Regarding crypto lending and borrowing platforms, these risks mainly include lending interest rate losses in the event of a bear market, potential losses as a result of market volatility, a decline in the value of the pegged currency of a stable coin, etc.
However, considering the long list of security measures and authorisations given to this platform by some of the highest financial authorities worldwide, it's easy to see that all these risks remain in the realm of probability when it comes to Nexo. We were certainly intrigued and eager to try out some of Nexo's services, and we're sure you are as well after being familiarised with the mechanisms behind this revolutionary system.