OKEx Review 2023
OKEx is an international digital currency exchange that employs blockchain technology to provide innovative financial services to its clients all over the world. It's also one of the world's leading crypto trading platforms that focuses on derivative and spot trading.
According to CoinMarketCap, OKEx is among the leading international cryptocurrency exchanges in terms of daily trading volume. Moreover, this trading platform reports a 24-hour turnover of $1.7 billion from its Bitcoin futures trading alone.
You must be eager to find out how this successful cryptocurrency initiative came to be, and whether it was a smooth ride all the way? In this OKEx exchange review, we'll provide answers to these questions and more.
About the OKEx Exchange
Initially established in China in 2017, the OKEx exchange and its subsidiary, OKCoin, relocated to Hong Kong when the Chinese government outlawed ICO tokens trading. Following the transfer, the OKEx exchange shifted its major attention to the global crypto market, as well as to the more seasoned crypto traders. While OKEx provides its clients with more complex trading tools, its sister company OKCoin continues to function as a trading platform that offers traditional ICO tokens and cryptocurrency trading solutions.
Announcing its entry into the Malta market on April 11, 2018, OK Group acknowledged the country's efforts to provide a stable regulatory framework for blockchain firms and cryptocurrency exchanges. Ultimately, this proved to be a wise business choice, as the OKEx trading platform surpassed all other cryptocurrency exchanges in terms of trading volume just a month later.


The OKEx user-friendly trading platform, which is based on revolutionary blockchain technology, provides secure and creative means of trading fiat, cryptocurrency, and futures in order to meet the demands of professional crypto traders around the globe.
This platform's most appealing trading tools include: futures trading with up to 20x leverage, trading with over 400 trading pairs in the Bitcoin, USDT, and Ethereum markets with up to 3x leverage, perpetual swap contracts, real-time streaming quotes, interactive and spot charts for cryptocurrencies, detailed trading records view, and so on.
Supported Cryptocurrencies
The OKEx exchange platform is one of the world's largest and most popular crypto-to-crypto and fiat-to-crypto exchanges, with over 20 million users across more than 200 countries. On this platform, you can trade around 140 virtual currencies as well as over 400 BTC and USDT pairings.


OKEx supports the following cryptocurrencies: Okb (OKB), Bitcoin (BTC), Bitcoin Cash (BCH), Ethereum (ETH), Raven Coin (RVN), 0x Protocol (ZRX), Ripple (XRP), Litecoin (LTC), etc. In addition, this crypto exchange accepts two fiat currencies: US Dollar (USD) and Chinese Yuan (CNY).
The OKB Token
OKB is a utility token in the OKEx ecosystem that may be used for a wide range of functions on the OKEx trading platform. By storing OKB in your digital wallet, you may generate passive income, partake in Jumpstart token sales of high-quality crypto projects, or save up to 40% on transaction expenses.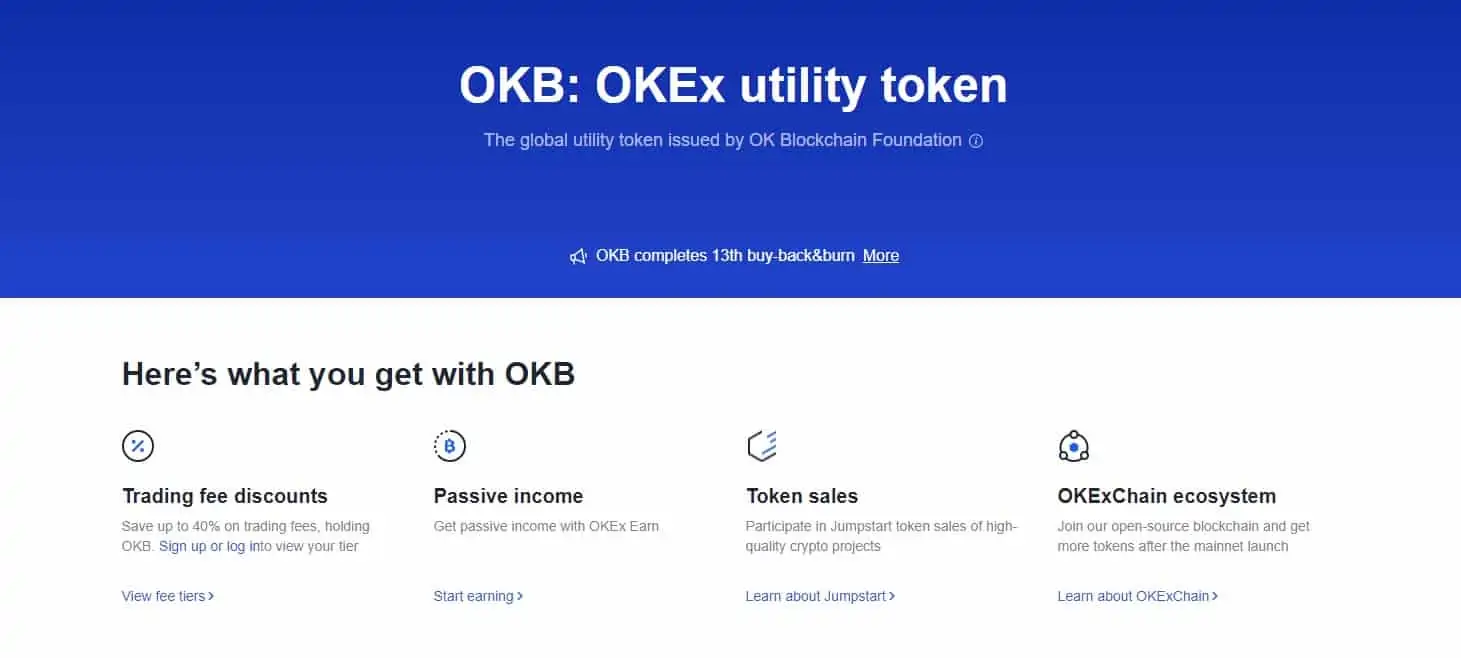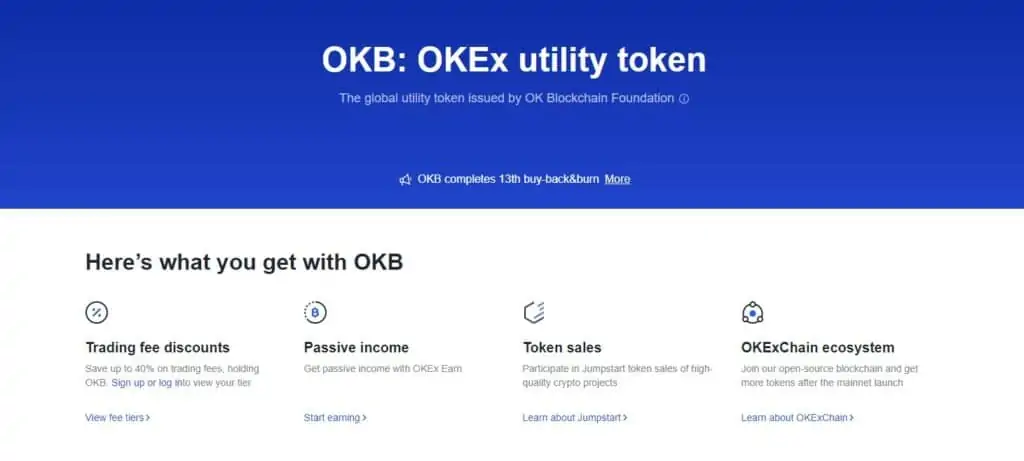 OKEx also provides access to new DeFi initiatives through liquidity mining. OKEx's Jumpstart Mining project, for example, offers the ability to mine DeFi tokens and promote your preferred projects at the same time through staking OKB tokens.
Payment Methods
OKEx has an extensive list of ways in which you can fund your account on this exchange. You can deposit funds via:
Bank transfer,
PayPal,
Google Pay,
Apple Pay,
Skrill,
Western Union,
Mastercard and Visa debit cards /credit cards,
Cryptocurrency transfer,
WeChat Pay,
Alipay.
Trading Fees and Limits
This trading platform is distinguished by a fee structure that is highly intricate and multi-tiered. Fees are scaled according to the median 30-day trading volumes.


OKEx's relatively low fees include:
Withdrawal fees – While the new or unverified accounts opened on the OKEx platform have a withdrawal limit of 10 BTC per day, the KYC (Know Your Customer) withdrawal limit amounts to 500 BTC on a daily basis.
Deposit fees – OKEx does not charge any deposit fee for cryptocurrencies.
Maker fees – When you provide liquidity to the exchange's order book by setting a limit order just under the ticker price for purchases and above the ticker price for selling, the trader will be charged maker fees. The trading cost for OKEx makers is 0.08% of the transaction.
Taker fees – The taker trading commission is 0.10%. Taker fees are charged when a trader depletes the exchange's order book of liquidity by placing a trading order that is issued against an existing order in the order book.
Is OKEx Safe to Use?
OKEx has implemented some of the most advanced security measures, such as two-factor authentication (2FA), anti-pushing codes for every email sent out by the OKEx platform, including mobile verification codes prior to making a withdrawal. As a result, internet frauds could not be further from this exchange platform and its users may enjoy safe and secure trading.
Two-Factor Authentication Protocol
One of the most prevalent security measures implemented by crypto exchanges is the two-factor authentication protocol. Whenever the 2FA protocol is activated, a third party will not be able to access the account or make withdrawals unless they enter a single-use password that has been created solely on the user's smartphone.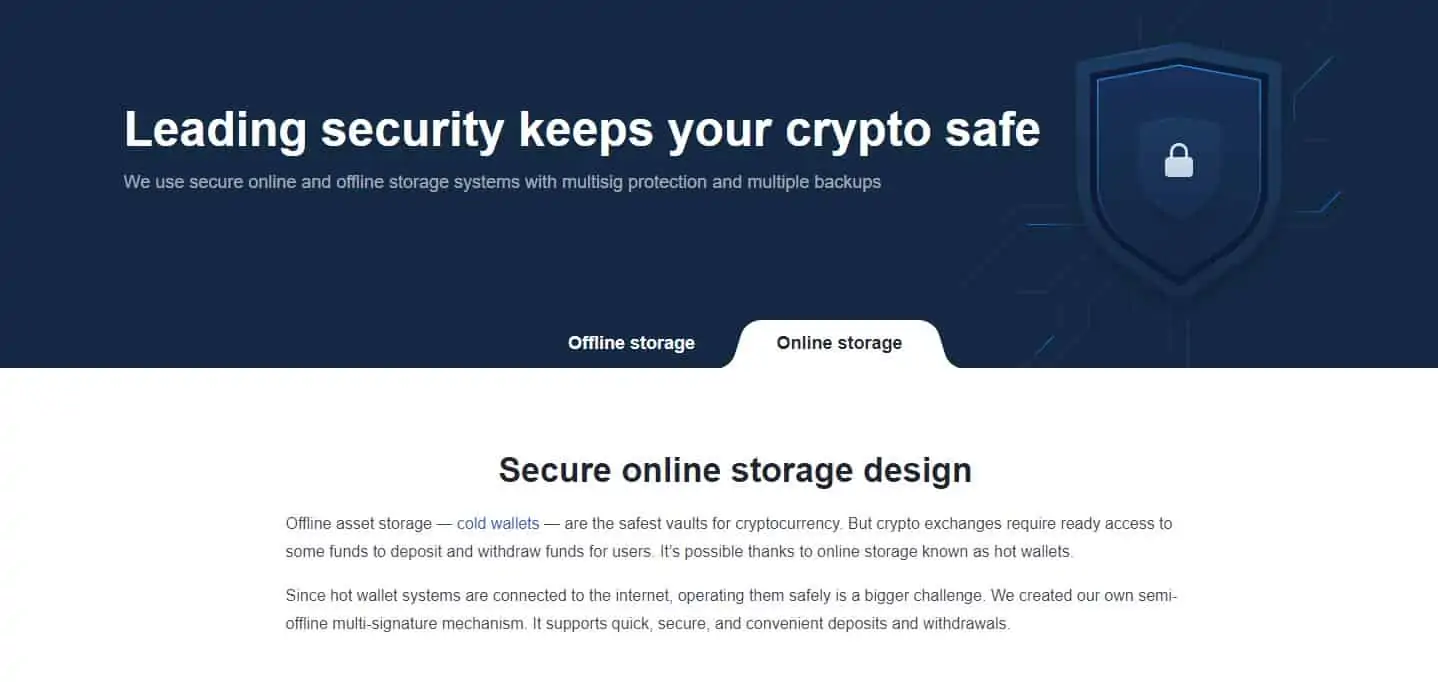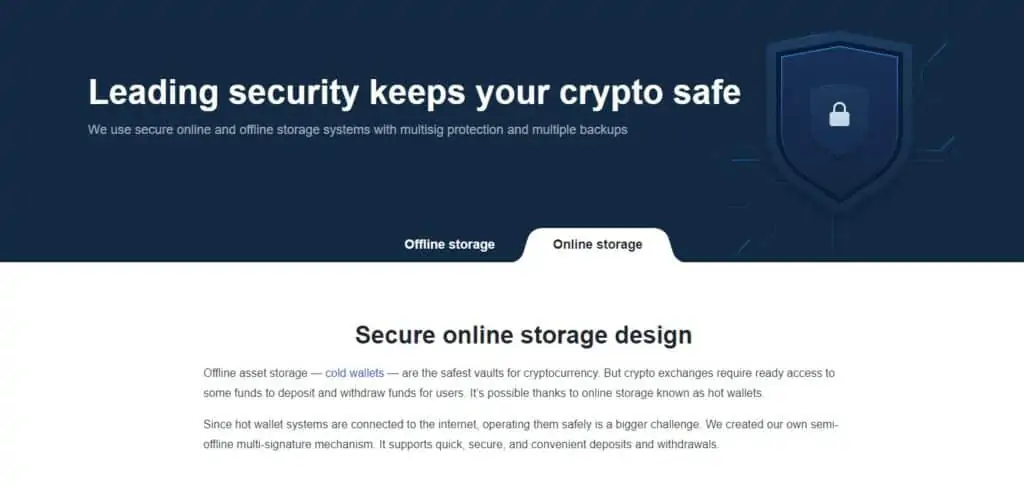 Email or SMS Authentication
The OKEx exchange clients may also activate email or SMS authentication. With this, anyone who attempts to make an unauthorized transaction would be required to submit a confirmation password via email or SMS. One other option to safeguard your account is to enable a second password that would be required while using any of the exchange's trading tools. If you enable this feature, you will receive alerts of any unauthorized account activity.
Customer Support
The OKEx support centre is at its users' disposal 24/7. Prior to sending your query to support@okex.com, you might want to browse the extensive knowledge base that has previously addressed some of the most common user concerns or uncertainties about trading on this blockchain platform.
Frequently Asked Questions
Does OKEx have a mobile app?
Striving for a position of leadership in your sector of professional development entails providing the finest services, right? In this sense, OKEx offers its consumers a mobile app for more convenient and easy trading on the go. It's supported by all mobile devices that have integrated Mac, Windows, Android, and iOS operative systems.
OKEx also offers a one-of-a-kind loyalty program that promotes frequent usage of its mobile app. The exchange awards its clients with 50 satoshis (approximately 100 millionth of 1 Bitcoin) for accomplishing a 'learning mission,' such as viewing a video or reading an article. The accumulated prizes may be exchanged for Bitcoin, which can then be HODL-ed in the wallet, invested, or sold via OKEx.
What countries are supported by OKEx?
The financial services of OKEX exchange are available in more than 200 countries worldwide, including the United Kingdom, Australia, Mexico, Nepal, Iceland, Malta, France, Denmark, Sweden, Lebanon, Indonesia, Libya, to name a few.
OKEx, on the other hand, is inaccessible to US traders. However, these citizens can easily swap cryptocurrencies on OKCoin with fewer trading features than OKEx. In addition, OKEx services are not available for the residents of Crimea, Korea, Hong Kong. Ecuador, Sudan, and Bangladesh, Iran, Malaysia, Kyrgyzstan, Syria, North Cuba, and Bolivia.
Does OKEx provide a cryptocurrency wallet?
OKEx, in keeping with its philosophy of providing varied services to meet the requirements of a large community of users, offers several types of digital wallets for the safe storing of customers' digital assets. The crypto investors that trade cryptocurrencies over the OKEx platform can choose from the following wallet types:
Funding wallet – used for making deposits, transfers or withdrawals;
Saving wallet – developed for saving your digital assets as a method of passive earning;
C2C trading wallet – designed to serve traders interested in C2C trading;
Margin trading wallet – a digital wallet holding the accounts of clients who trade on the OKEx platform using the margin trading tool.
The Bottom Line
OKEx is a blockchain-based crypto exchange that is continually developing to suit clients' requirements. This exchange is not only one of the most successful cryptocurrency trading exchanges in the world, but it's also ranked among the global leaders in providing innovative financial trading solutions.
Namely, OKEx cryptocurrency exchange offers Bitcoin, Ethereum, and EOS futures trading, spot trading, as well as C2C (crypto-to-crypto) trading for which it provides weekly, bi-weekly, and monthly contracts to its users as options.
Moreover, the simplicity of its online interface and mobile app continues to attract new traders, who are also drawn to this exchange by its comparatively cheap trading costs and rewards.
What's the bottom line? The OKEx trading platform appears to have it all: a superior blockchain platform, advanced security measures, as well as a wide range of trading options tailored for experienced traders. Last but not least, there is the massive user community, which is a continual source of encouragement for the OKEx management and development team to improve further.
OKEx Compared
| Exchange | Cryptocurrencies | Fiat Currencies | Trading Fees | Deposit Methods | Sign Up |
| --- | --- | --- | --- | --- | --- |
| Swyftx | More than 320 | Australian Dollars, New Zealand Dollars | 0.6% | Osko, PayID, Credit Card, Debit Card, Bank Transfer, Cryptocurrency | Visit Swyftx |
| CoinSpot | More than 370 | Australian Dollars | OTC: 0.1% Market Order: 0.1%* (applies to LTC, BTC, ETH, XRP, POWR, DOGE, TRX, NEO, XLM, GAS, RChain, RFOX, EOS) Instant Buy/Sell: 1% | POLi, PayID, Cash, Cryptocurrency, Bank Transfer, BPAY | Visit CoinSpot |
| Binance | More than 600 | US Dollars, Australian Dollars, and 8 more | 0% to 0.1% | Osko, PayID, Credit Card, Debit Card, Crypto | Visit Binance |
| Bybit | More than 160 | 50+ | 0.1% to 0.6% | Crypto, EFT, wire transfer, bank transfer, debit card or credit card | Visit Bybit |
| Independent Reserve | 27 | Australian Dollars, US Dollars, New Zealand Dollars | 0.05% to 0.5% | EFT, SWIFT, Osko, PayID, Crypto | Visit Independent Reserve |
| Coinbase | More than 210 | Australian Dollars, US Dollars, New Zealand Dollars | Fees Vary | EFT, SWIFT, Osko, PayID, Crypto | Visit Coinbase |
| CoinJar | More than 50+ | Australian Dollars, Pound Sterling | Taker: 0.04 to 0.1% Maker: 0.04 to 0.1% | Apple Pay, Google Pay, Credit Card, Debit Card, Bank Transfer, Fiat, Crypto | Visit CoinJar |
| Kraken | More than 140 | Australian Dollars, US Dollars, and 5 more | Taker: 0.10% to 0.26% Maker: 0.00% to 0.16% | Apple Pay, Google Pay, SWIFT, Osko, SEPA, Crypto, Wire Transfer, Bank Transfer | Visit Kraken |
| BTC Markets | More than 15 | Australian Dollars | Taker Fee (for Bitcoin pairs): 0.20% Maker Fee (for Bitcoin pairs): -0.05% Australian Dollars Market Pairs: 0.10% to 0.85% | Crypto, BPAY, EFT, PayID, Osko | Visit BTC Markets |
| Easy Crypto | More than 40 | Australian Dollars, New Zealand Dollars, South African Rand | 1% | P2P, POLi, and Bank Transfers | Visit Easy Crypto |
| Coinstash | More than 140 | AUD | Taker fees: 0.85% Maker fees: 0.85% | Cryptocurrency, Bank Transfer, PayID | Visit Coinstash |
| eToro | More than 70 | Australian Dollars, US Dollars, Euro, and 12 more | Vary | Online Banking, Skrill, Neteller, PayPal, Bank Transfer, Debit Card | Visit eToro |
| KuCoin | More than 645 | US Dollars, Euro, Australian Dollars, and 6 more | 0.1% | Credit Card, Debit Card, SEPA, PayPal, Wire Transfer, Crypto | Visit KuCoin |