PancakeSwap Review for 2023
You've probably noticed the cutesy trend of giving decentralized crypto exchanges (DEXs) food-related names? Do you gather that all these "appetizing platforms" have something in common?
As casual as this naming may look, it has turned out to be a great psychological ice-breaker for average people to stop perceiving DEXs as a far-fetched trading ground. It all started with SushiSwap, then BakerySwap, and a series of other Automated Market Maker (AMM) protocols that belong to the next-gen of DEX providers.
Today we're having — PancakeSwap — the dessert on the menu. The PancakeSwap exchange features a gamified design and a full set of fresh crypto-based activities such as token-swaps, liquidity pools, yield farming, a lottery, and more. Interestingly enough, none of them takes the traditional course of crypto trading practices based on the bid/ask principles. Instead, it's the exchange that uses algorithms to match the two parties and users that generate liquidity from a single pool or multiple liquidity pools and make a re-balance after completion of the trade.
Now, let's dive a bit deeper into the decentralized structure of PancakeSwap and see what kind of crypto experience we should expect in the long run.
About PancakeSwap
PancakeSwap was released at the end of 2020 by a group of anonymous creators and achieved immediate recognition in the rapidly-growing DeFi (decentralized finance) ecosystem, with a market cap of over $4 billion only after a year of PancakeSwap launch.
The exchange (don't get confused — we use the term exchange for each marketplace that supports the exchange of crypto assets irrespective of the trading model and the type of assets) is built on top of Binance Smart Chain (BSC), which enables faster transaction processing times and lower fees in comparison to protocols built on the Ethereum blockchain (Uniswap, for example).
As a typical DEX representative, PancakeSwap doesn't operate as an intermediary between the buyer and the seller but employs self-triggering smart contracts instead. They record and verify the transaction once all conditions are met.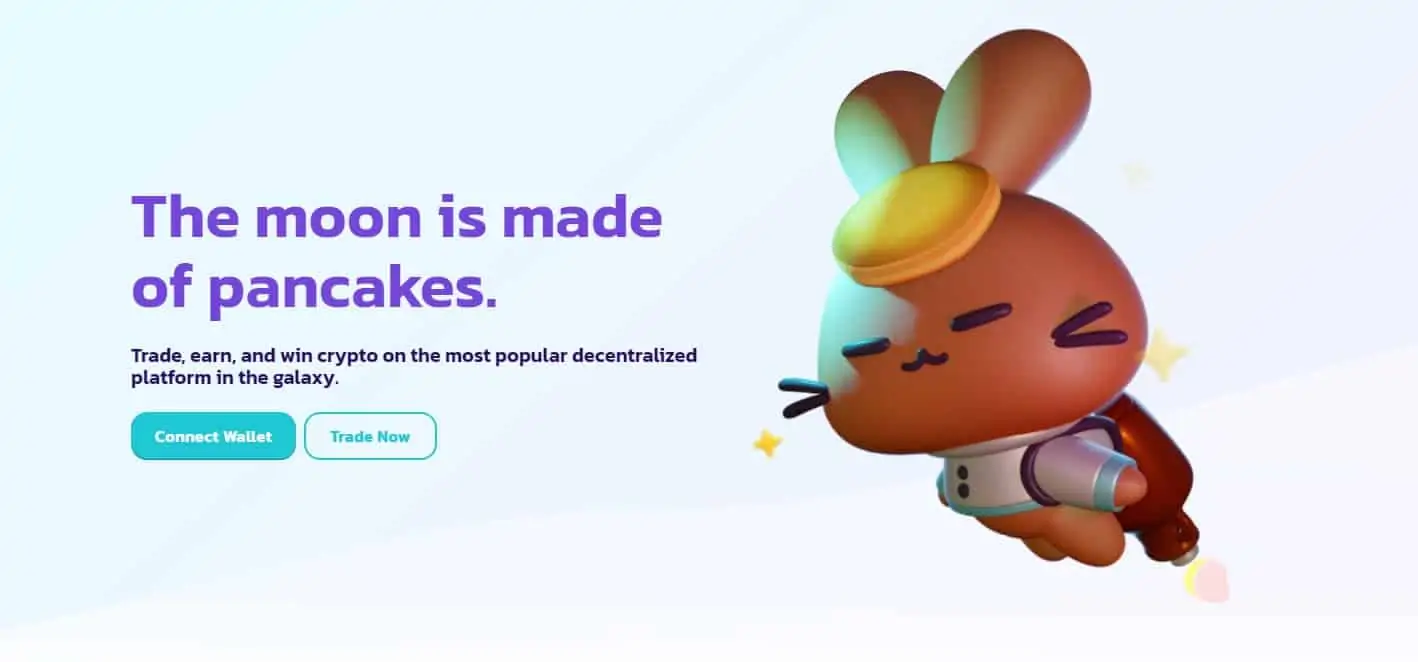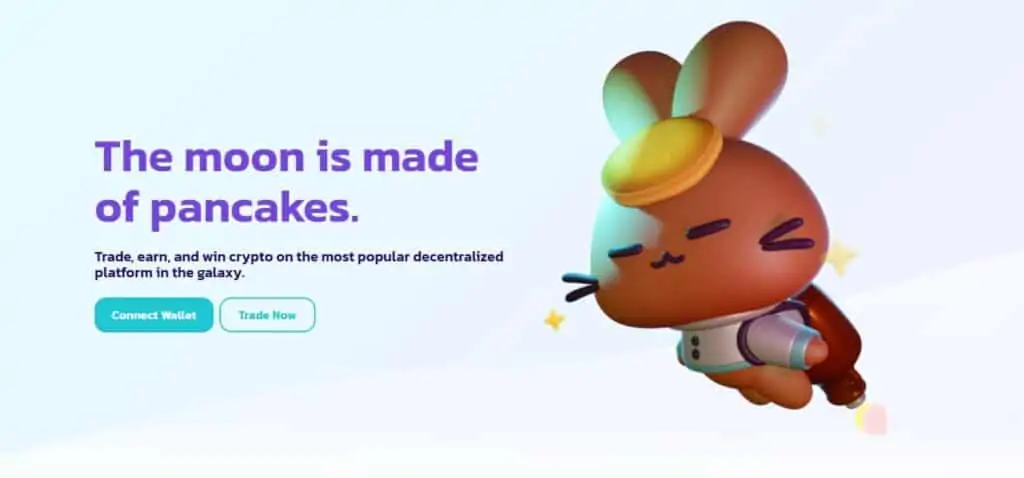 PancakeSwap supports BEP-20 tokens in the first place but it's also possible to utilize a larger coin selection through Binance Bridge, which somehow converts the external cryptocurrencies into BEP-20 tokens creating "wrapped tokens".
Now, let's clarify why PancakeSwap belongs to the AMM category. These types of automated protocols are sub-categories of decentralized exchanges that allow you to trade cryptocurrency against a liquidity pool, not an actual counterparty. Unlike centralized exchanges where the buyer and the seller are matched over an order book and make a profit out of a favourable crypto-sale only, AMM protocols give you the role of a creditor who contributes to the exchange liquidity pools and collects yields — in their native currency PancakeSwap (CAKE)— in return. The reward currency can be staked afterwards, which leaves you ample room for additional income sources.
Trading Features of PancakeSwap
The charm of PancakeSwap is in the diversity of its activities combined with the sense of comfort that comes from the full gamification of the protocol.
Token Swaps
Token swaps is probably the main activity provided on the protocol and, hence, the simplest one. All you need is a compatible wallet with BEP-20 tokens in it. You'll need to visit the exchange section on the Pancake website and insert the necessary info to execute the trade: the type of the input and output token and the number of tokens you want to offer in the swap. There you can take a deep look at the token value history in charts as well.
However, the swap process on PancakeSwap has two caveats we want to note.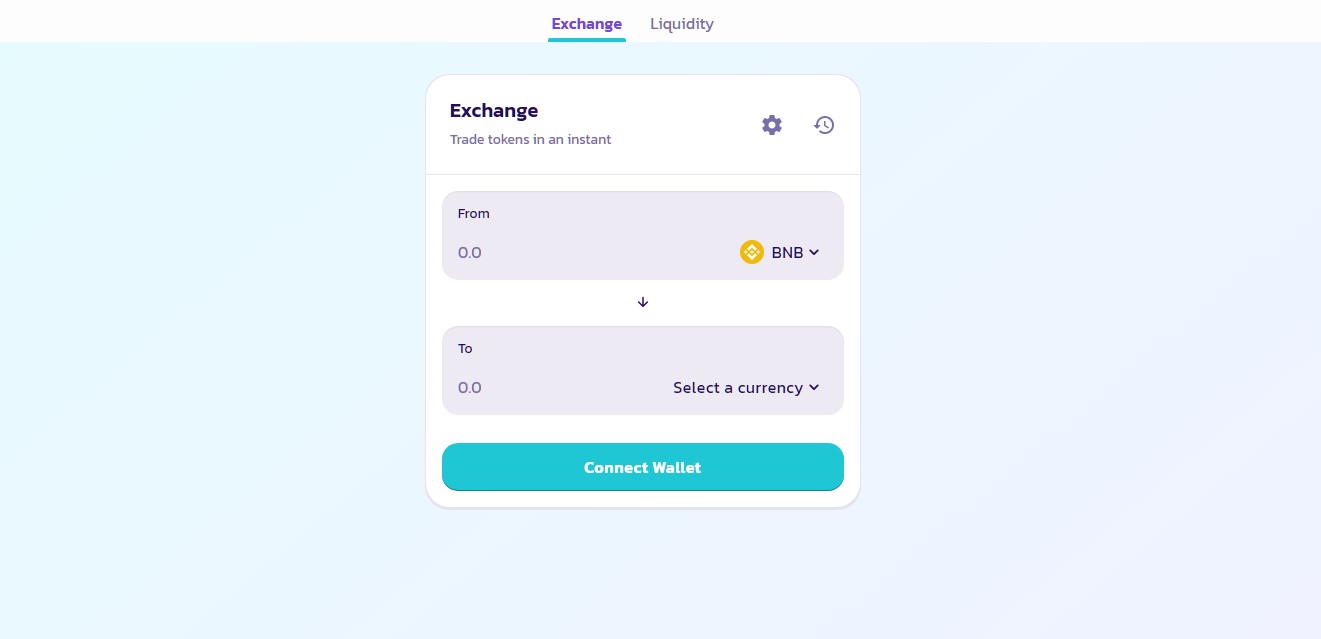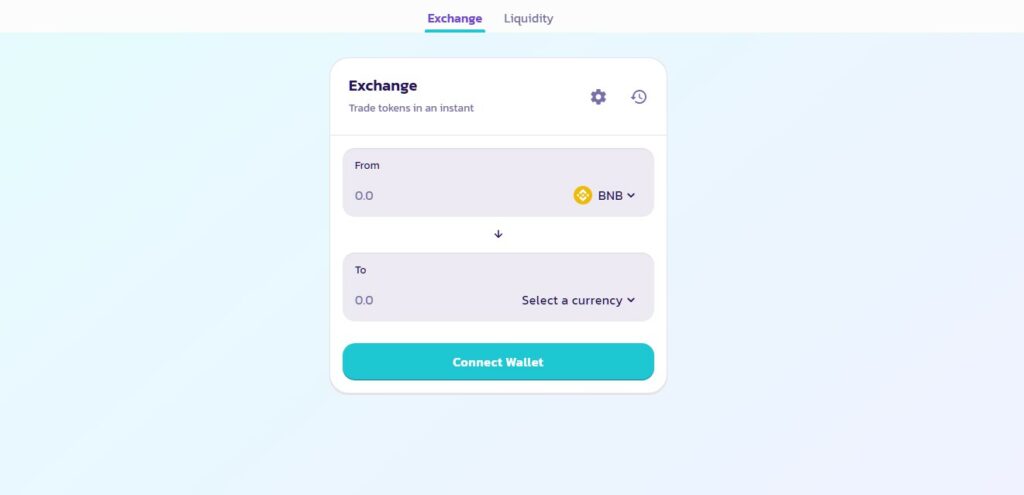 In general, the lists of available coins on DEXs are larger and far more dynamic than what you can find on most centralized exchanges. Thus, we suggest you make a detailed check on available coins around the moment of buying/selling. Current offers can come and go at light speed so an average user can easily lose connection to what's available on the market.
Also, make sure you've installed the latest version of the protocol — PancakeSwap V2 — as the original one turned out to be more susceptible to slippage — a negative market occurrence where the initially set price differs from the price of execution to the detriment of the buyer.
Liquidity Provider
You can earn some passive income on PancakeSwap as a liquidity provider to the exchange liquidity pools. There is a common belief that this trading practice is technically challenging but AMMs like Pancake Swap make this process rather comprehensive and straightforward.
On PancakeSwap, you'll find the Add Liquidity section under Liquidity on the left sidebar. After you land on the right section, you'll need to select the pair of tokens you'd like to deposit. Remember that it's you who chooses both sides of the trading pair and if it's a brand new one, the token ratio will determine the exchange rate for the pool.
But how does this work?
In simplest terms, if you add wBNB (wrapped BNB) and CAKE in the pool, you'll get a certain number of the so-called CAKE-wBNB-LP tokens. Their amount represents your share of that pool.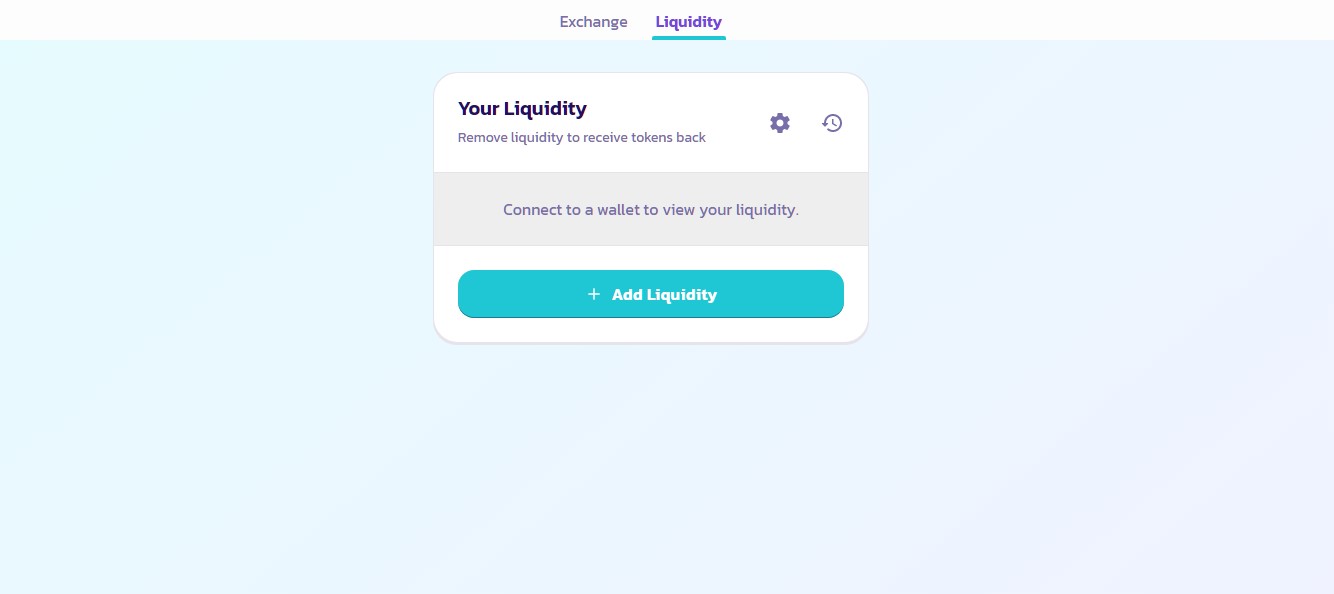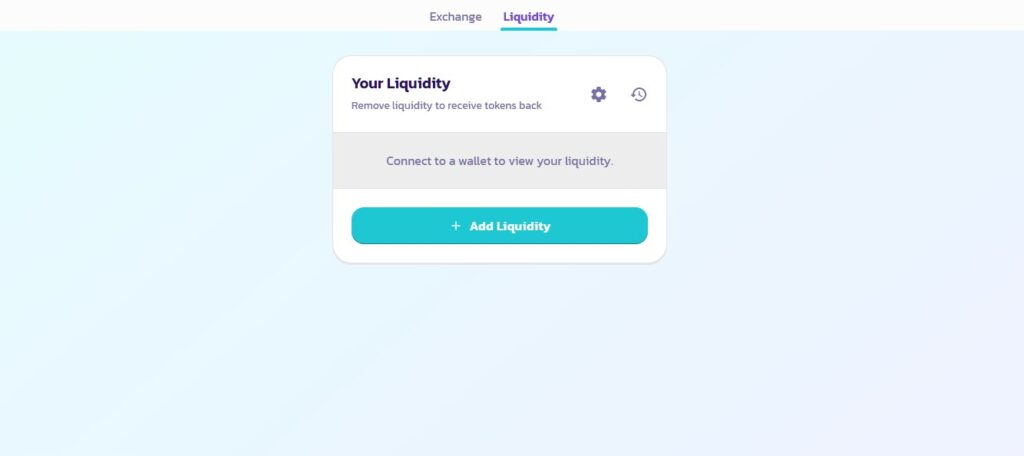 Now that you've generated a new pool, users can make regular CAKE/wBNB swaps on an established ground and you'll earn a certain portion of their trading fees. The fees that users pay are added to "your" liquidity pool and "feed" the value of your LP tokens, which can be additionally redeemed.
However, providing liquidity doesn't come without substantial risk. At some point, you may face losing part of your crypto capital instead of making any income and this is called impermanent loss. You'll find a detailed explanation of this inherent liquidity risk on Binance's extensive knowledge base.
Yield Farm
Now that you've earned some LP tokens, it's time to use them for additional rewards. PancakeSwap features a Yield Farm that allows you to stake LP "shares" and earn some more CAKE tokens.
Farming is one of the most attractive PancakeSwap features so let's take a step-by-step look into it.
Go to the "Farms" tab in the main sidebar and find the option that fits your set of LP tokens. There are around 70 liquidity-pool points — such as SUSHI-ETH LP, LTC-BNB LP, and DAI-BUSD LP — where you can stake with yields ranging between 23.52% and 378.19% APY.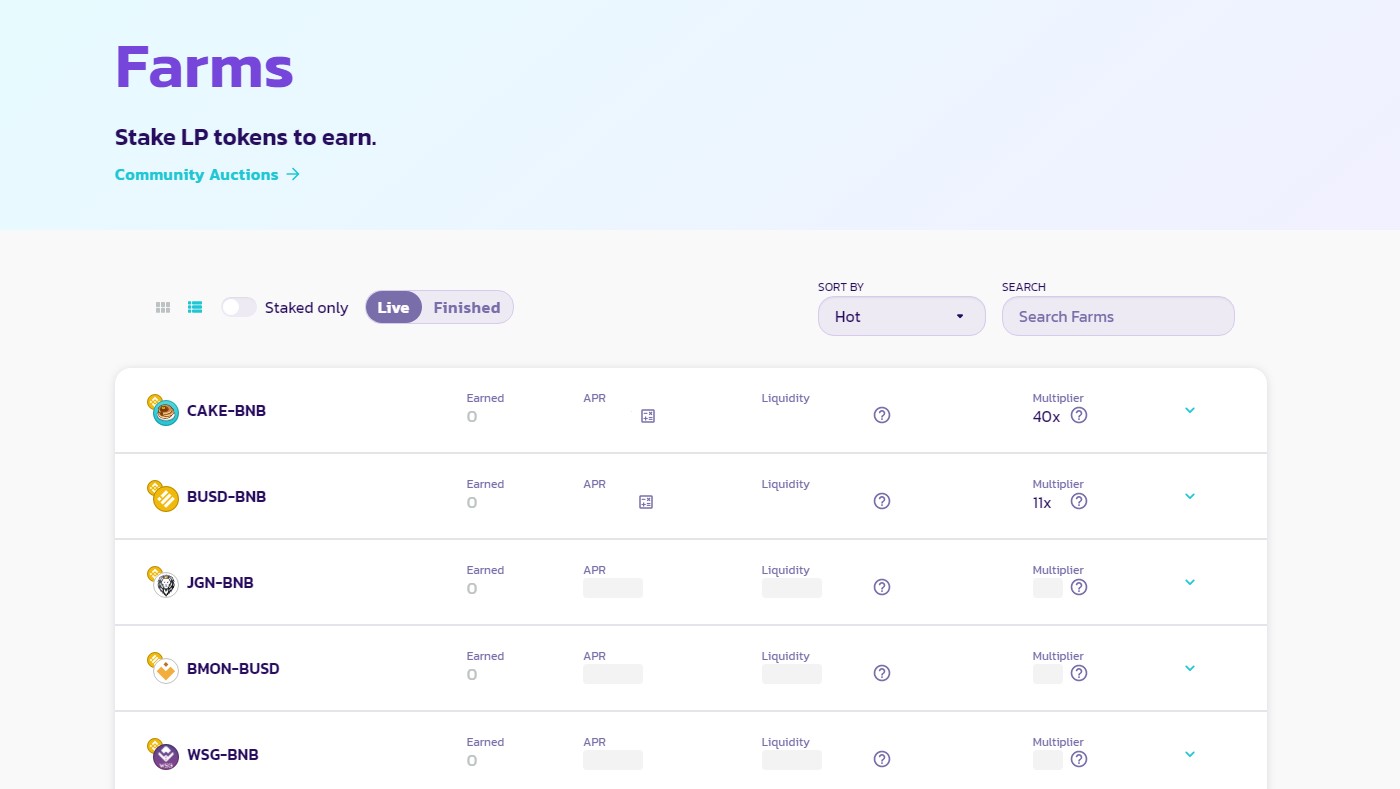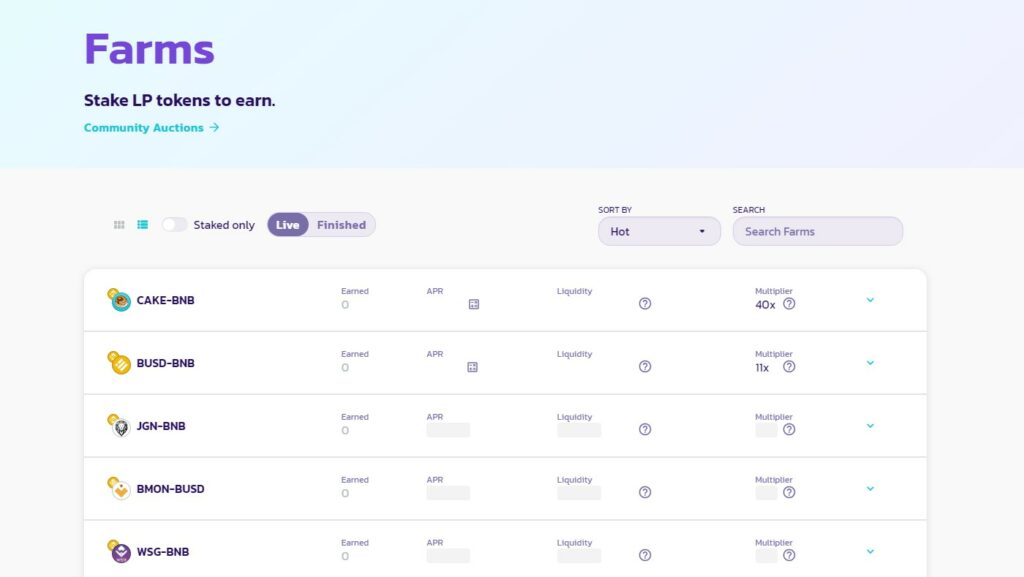 The important thing is that yield farms on PancakeSwap require you to stake two LP-tokens (CAKE-WBNB LP not CAKE LP, for example) that co-relate to the exact farm. Farming is also a way of providing liquidity, which means that when you select Approve Contract, you allow the smart contract to move the tokens from your wallet in your name. You'll also be asked to insert the amount you've decided to stake and confirm the transaction. Afterwards, you can literally leave the computer and return at any point to check the amount of CAKE you've gained. Certainly, you'll be able to harvest your CAKE incentives and get them delivered to your crypto wallet whenever you want.
Each farm has a multiplier that refers to the amount of received CAKE per block. For instance, the CAKE-BNB farm comes with a 40x multiplier. Hence, you'll get 40 CAKE per each generated block.
Syrup Pools
Yield farms and syrup pools operate nearly identically with the sole difference that syrup pools ask for a single LP token. Noticeably, yield farms offer higher rewards but, at the same time, come with a greater risk of loss.
Namely, this happens when your "piece of cake" is smaller than the number of tokens that have been left out of the pool. Yet, inflowing trading fees usually compensate so you can reach a positive balance.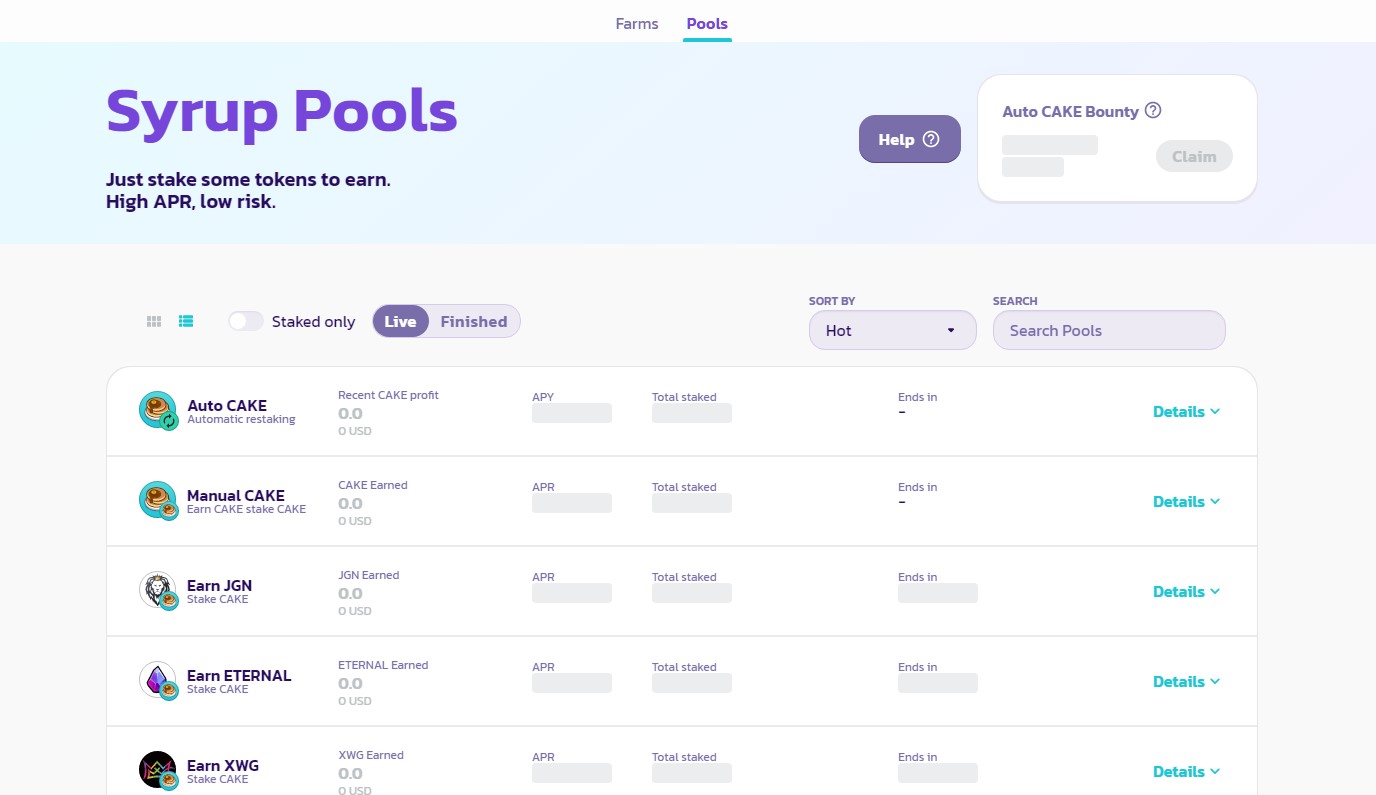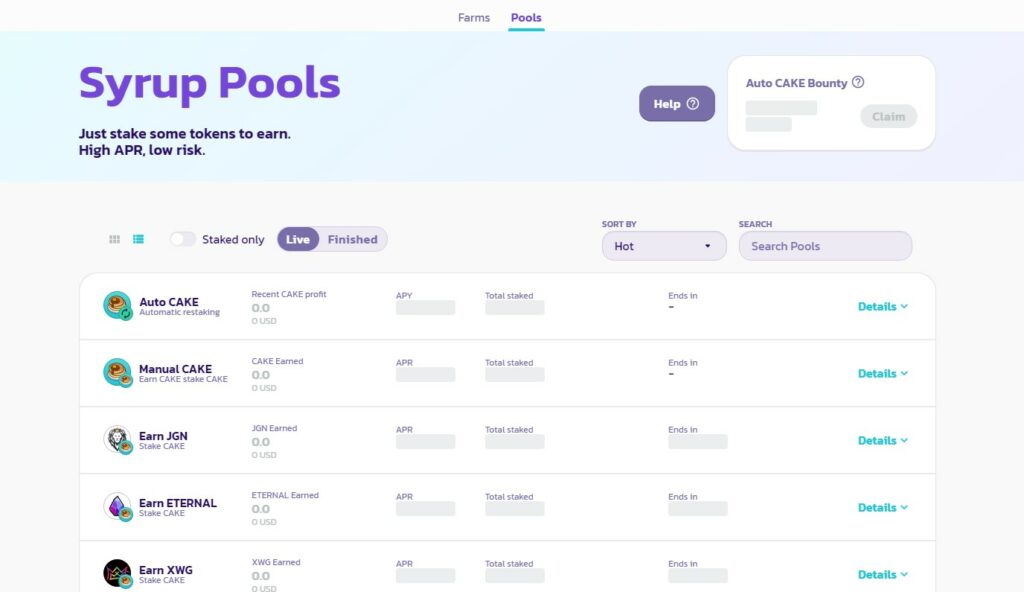 Once you get to the Syrup Pool section on PancakeSwap, you'll notice that there are two types of syrup pools: Manual CAKE and Auto CAKE. While the first will act as a bot with an automatically set harvest time, the manual allows you to pick a time when to activate the harvesting and what action to undertake after it's completed. Similar to Yield Farming, there is a broad spectrum of syrup pools supported on the exchange but remember that you'll be able to stake only CAKE LP tokens regardless of the given opportunity to earn tokens that are different from CAKE.
Initial Farm Offering
PancakeSwap also enables users to launch their own kind of token through IFO (initial farm offering). It gives new projects a chance to raise funds by calling external contributors to stake tokens into new rosters. In order to qualify for an IFO fundraiser, you'll need an active profile for which there is a fee of 1.5 CAKE to cover the sign-up process and an additional participation fee quoted in CAKE to reimburse the contributors. More importantly, you can stake only with CAKE-BNB LP tokens, which means that you purchase some BNB and CAKE prior and add them accordingly to the respective liquidity pool.
NFTs
Back to the fun side of the most skilfully gamified crypto exchange, PancakeSwap offers you to earn NFTs (non-fungible tokens) through various trading-themed games where participants can join a team and fight for the highest trading volume in a given timeframe.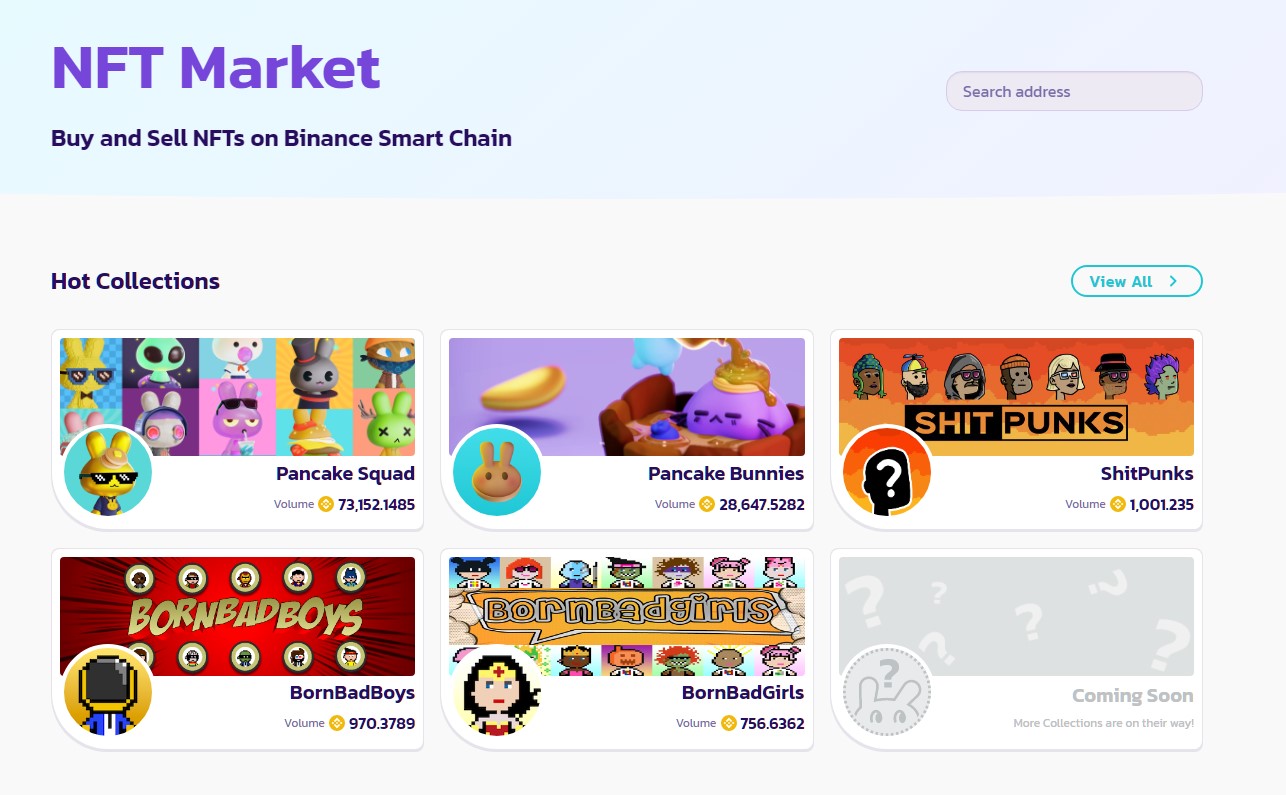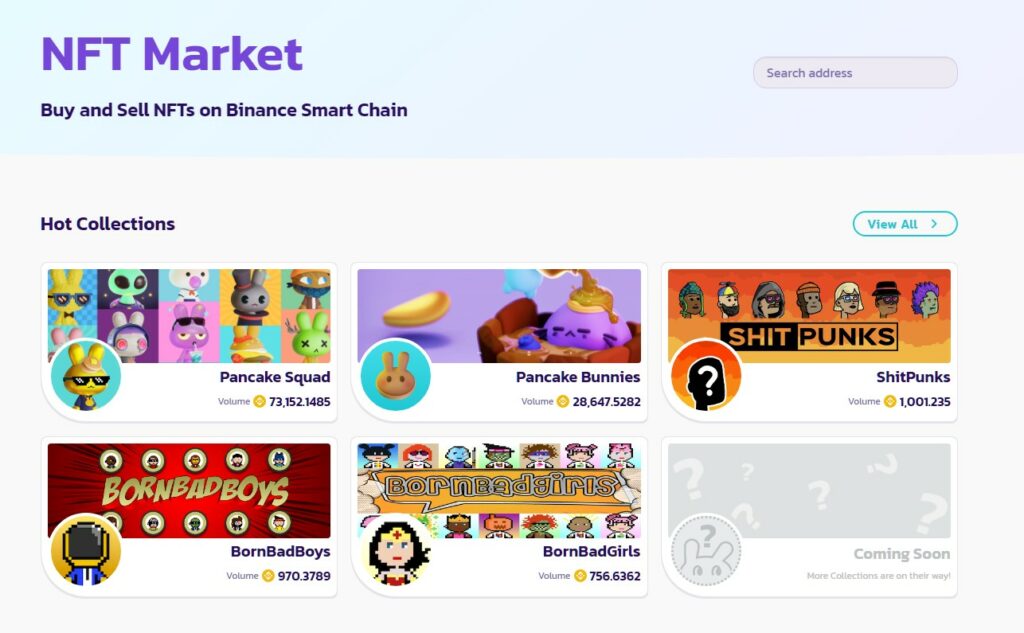 The exchange also throws airdrop events like a giveaway of "Bullish" Lunar New Year NFT, for example.
The awarded NFTs can be redeemed for a certain amount of CAKE or kept in your wallet as a lucky charm.
Lottery
The lottery is another unique feature of PancakeSwap and you can participate with an unlimited number of tickets that cost around 5 USD each. Ticket prices are quoted in CAKE and they contain a random mix of 6 digits from 1 to 9. To win the jackpot, your ticket has to match the numbers of the winning ticket in the same order. Apart from the main prize, there are dozens of consolation lottery prizes depending on the current fund. It goes without saying, lottery rewards are settled in CAKE.
Deposit Options
PancakeSwap doesn't support fiat deposits so if you don't own any digital assets, it's better to do that job on an entry-level crypto exchange like Swytx or CoinSpot, which provides cheap and smooth AUD-to-crypto transactions.
Once you have your crypto rest in your private wallet, you should pair it with PancakeSwap and convert your crypto coins into a BEP-20 token through SafePal, Binance, or Binance Bridge. You don't have to complete a sign-up process for a successful wallet integration.
PancakeSwap Fees
PancakeSwap incurs a transaction fee of 0.25%, 68% of which are given to liquidity-pool providers. What's left is either sent to the PancakeSwap Treasury and burnt or re-used to purchase more CAKE.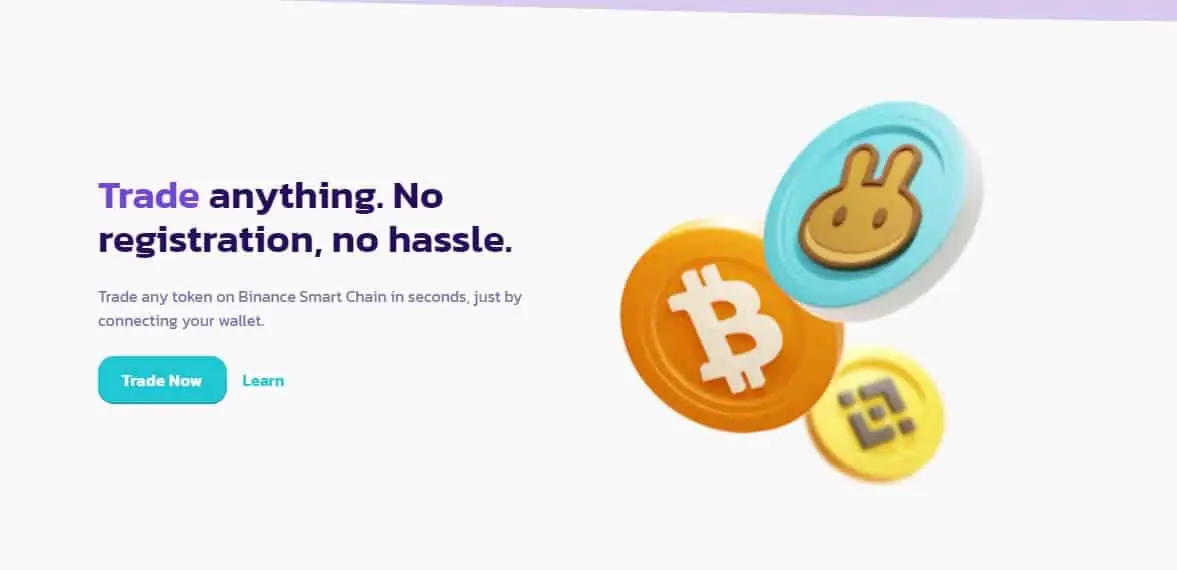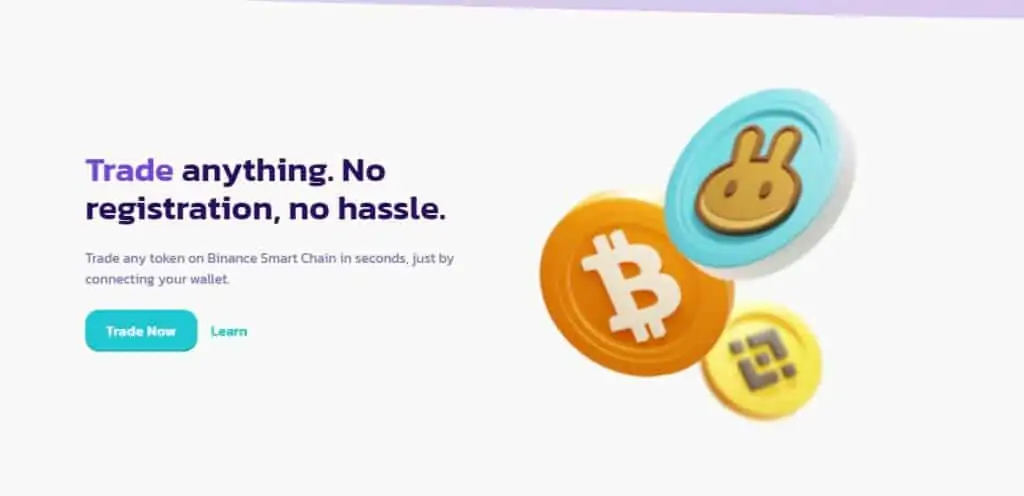 The exchange doesn't impose any withdrawal or transfer fees.
Is Pancake Safe and Legit?
In the relatively short time of operation, there hasn't been any critical security downfall associated with PancakeSwap except for the DNS hijack at the beginning of 2020, which caused the temporary collapse of the exchange.
In order to assure customers that it's a reliable marketplace, PancakeSwap has undergone external auditing by CertiK — a well-established brand in the field of cybersecurity. For sure, one audit can't guarantee a flawless reputation especially if we know that DeFi has become the most desired virtual target of hackers in 2020.
However, the fact that Pancake is a decentralized exchange makes it a relatively safe trading ground by its very nature. DEXs are non-custodial crypto services, which means that users' funds and transaction records aren't processed by the exchange and hence, remain immune to hacker attacks.
Finally, you should take personal care to protect yourself against virtual scams, which pop up frequently in the form of free giveaways of 1000 CAKE, for example. You should know that airdrops and other faucets give a symbolic amount of CAKE.
Customer Support
DEXs of this kind don't usually provide direct support channels such as phone lines, email inquiries, or live chatbots. You'll find some type of support on separate troubleshooting sections on their websites covering the most common errors and issues users usually face.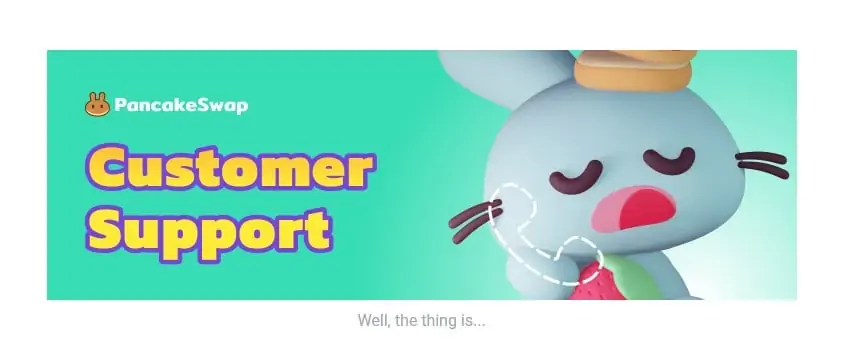 When dealing with the category of DEXs where PancakeSwap belongs, you should turn to social media as the main source of support. There is a growing DeFi community that is active on Reddit, Telegram, and Quora and you can also find a bunch of educational videos and step-by-step guides on YouTube.
Frequently Asked Questions
Do I need KYC to start trading on PancakeSwap?
No. PancakeSwap is an open-source and fully anonymous marketplace that operates under no regulatory body and facilitates no fiat-currency payments. Consequently, it's not subject to government-imposed AML policies that require KYC verification in order for users to start trading.
What crypto wallets does Pancake Swap support?
PancakeSwap is compatible with a dozen of popular crypto wallets such as WalletConnect, Trust Wallet, MathWallet, WalletConnect, TokenPocket, and MetaMask. MetaMask is a well-known ERC-20 wallet but it can also keep BEP-20 assets with additional settings.
Does PancakeSwap provide a mobile phone app?
There isn't a separate PancakeSwap mobile app but you can use its features on the go by downloading the Trust Wallet to your Android or iOS device. Once you complete the app setup, you'll need to find the DApp Browser and select PancakeSwap within the DeFi section.
A Few Words Before You Go…
It seems that every Binance-related project is destined for success. The protocol has become a global trend with $600 billion in liquidity in less than a year after its launch serving thousands of avid crypto traders without territorial restrictions.
In terms of the primary swap activities, PancakeSwap doesn't differ from any new-wave AMM to a great extent. However, the way the protocol presents all trading opportunities — from a simulation game perspective— has slightly moved people's biased opinion that DEXs are overwhelming to handle. For sure, PancakeSwap doesn't simplify the process but makes it challenging enough so that inexperienced users feel motivated to learn the basics of AMM staking.
All in all, Pancake swap has built one of the most engaging platforms you can find in the modern DEX ecosystem. It's definitely worth the effort you will spend on demystifying the farm yield and syrup pools.
Additionally, decentralized exchanges are growing at an accelerating rate so it's a good idea to go through the best ones available in Australia.
On the other hand, if you prefer the regular purchasing method that will allow you to trade with mainstream coins such as Bitcoin (BTC) and Tether (USDT), we've also reviewed the best crypto exchanges available in Australia. 
Pancake Compared
| Exchange | Cryptocurrencies | Fiat Currencies | Trading Fees | Deposit Methods | Sign Up |
| --- | --- | --- | --- | --- | --- |
| Swyftx | More than 320 | Australian Dollars, New Zealand Dollars | 0.6% | Osko, PayID, Credit Card, Debit Card, Bank Transfer, Cryptocurrency | Visit Swyftx |
| CoinSpot | More than 370 | Australian Dollars | OTC: 0.1% Market Order: 0.1%* (applies to LTC, BTC, ETH, XRP, POWR, DOGE, TRX, NEO, XLM, GAS, RChain, RFOX, EOS) Instant Buy/Sell: 1% | POLi, PayID, Cash, Cryptocurrency, Bank Transfer, BPAY | Visit CoinSpot |
| Binance | More than 600 | US Dollars, Australian Dollars, and 8 more | 0% to 0.1% | Osko, PayID, Credit Card, Debit Card, Crypto | Visit Binance |
| Bybit | More than 160 | 50+ | 0.1% to 0.6% | Crypto, EFT, wire transfer, bank transfer, debit card or credit card | Visit Bybit |
| Independent Reserve | 27 | Australian Dollars, US Dollars, New Zealand Dollars | 0.05% to 0.5% | EFT, SWIFT, Osko, PayID, Crypto | Visit Independent Reserve |
| Coinbase | More than 210 | Australian Dollars, US Dollars, New Zealand Dollars | Fees Vary | EFT, SWIFT, Osko, PayID, Crypto | Visit Coinbase |
| CoinJar | More than 50+ | Australian Dollars, Pound Sterling | Taker: 0.04 to 0.1% Maker: 0.04 to 0.1% | Apple Pay, Google Pay, Credit Card, Debit Card, Bank Transfer, Fiat, Crypto | Visit CoinJar |
| Kraken | More than 140 | Australian Dollars, US Dollars, and 5 more | Taker: 0.10% to 0.26% Maker: 0.00% to 0.16% | Apple Pay, Google Pay, SWIFT, Osko, SEPA, Crypto, Wire Transfer, Bank Transfer | Visit Kraken |
| BTC Markets | More than 15 | Australian Dollars | Taker Fee (for Bitcoin pairs): 0.20% Maker Fee (for Bitcoin pairs): -0.05% Australian Dollars Market Pairs: 0.10% to 0.85% | Crypto, BPAY, EFT, PayID, Osko | Visit BTC Markets |
| Easy Crypto | More than 40 | Australian Dollars, New Zealand Dollars, South African Rand | 1% | P2P, POLi, and Bank Transfers | Visit Easy Crypto |
| Coinstash | More than 140 | AUD | Taker fees: 0.85% Maker fees: 0.85% | Cryptocurrency, Bank Transfer, PayID | Visit Coinstash |
| eToro | More than 70 | Australian Dollars, US Dollars, Euro, and 12 more | Vary | Online Banking, Skrill, Neteller, PayPal, Bank Transfer, Debit Card | Visit eToro |
| KuCoin | More than 645 | US Dollars, Euro, Australian Dollars, and 6 more | 0.1% | Credit Card, Debit Card, SEPA, PayPal, Wire Transfer, Crypto | Visit KuCoin |