PancakeSwap Review 2021
There are thousands of crypto projects available for investment. But, the bulk of these crypto projects can't attain the lofty requirements of centralized crypto exchanges like Binance. Yet, investors still need a way to liquidate and trade them. 
Cryptos that aren't on centralized exchanges are available on decentralized platforms (DEX) like PancakeSwap. It's one of the more inventive crypto exchange solutions users need to maximize.
PancakeSwap is a decentralized exchange platform (DeFi) where users can purchase and swap tokens on the Binance smart chain network. The DeFi exchange enables you to trade cryptocurrencies without a centralized intermediary.
Here, we'll discuss all there is to know about PancakeSwap — its top features, supported cryptos, customer support services, and payment methods.
About PancakeSwap
PancakeSwap launched on 20th September 2020 as the BSC network alternative to Uniswap. The name PancakeSwap came following a trend of food-themed decentralized finance exchanges such as Sushiswap. PancakeSwap also functions as an automated market maker that uses algorithms to run liquidity pools.
Automated market makers (AMM) are exchanges where users can trade digital assets against liquidity pools to get yields. This situation is similar to having bonds or dividend-bearing stocks. PancakeSwap allows users to loan assets to liquidity pools and earn liquidity tokens as dividends. You can then re-stake the earned liquidity tokens to earn CAKE tokens.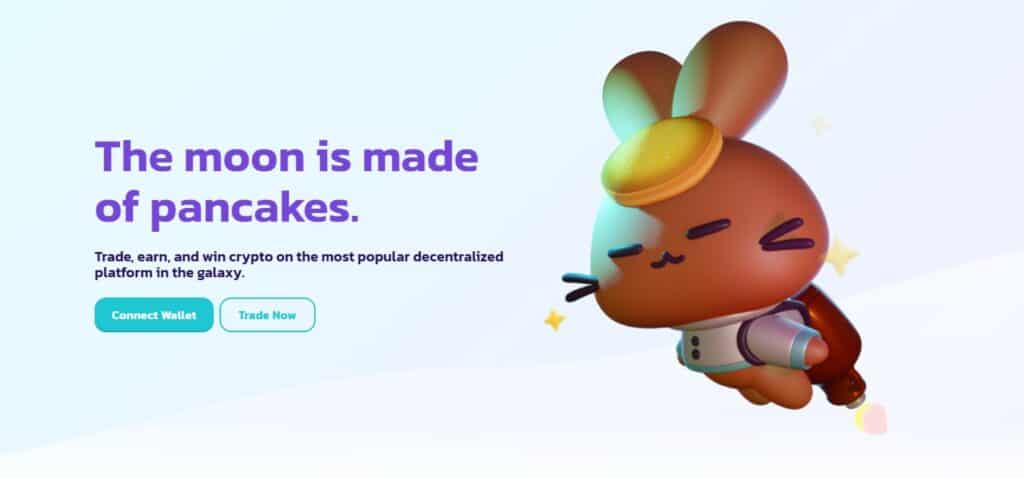 PancakeSwap exists on the Binance Smart Chain, hence why you can buy BEP-20 tokens on it. However, the centralized exchange platform — Binance — has no control over it. Anonymous developers created PancakeSwap, and it has minimal connections with the Binance exchange platform.
Users can do the following on the PancakeSwap exchange:
Trade BEP20 tokens
Loan their digital assets to liquidity pools to earn liquidity tokens (LP)
Stake LP tokens to earn CAKE tokens
Stake CAKE tokens to earn more cake tokens
Stake cake tokens to earn other tokens supported on the DEX
Supported Cryptocurrencies
As mentioned earlier in this review, PancakeSwap mainly supports cryptocurrencies on the BEP-20. However, you can also bring other projects to the platform via a Binance bridge.
Some of the supported cryptocurrencies on PancakeSwap include:
BUSD
BNB
CBC
ETH
GDT
AIR
SHI
SAFEMOON
XRP
XVS
TRON
LINK
UST
BTT
Features
PancakeSwap boasts several features alongside the services it provides as a DeFi exchange. PancakeSwap farm allows users to earn additional yield by staking LP tokens in a yield farm.
Users can earn the CAKE token on their stakes along with the yield generated by the transaction fees. The earnings per yield will vary depending on the farm, but it can go well over 100%.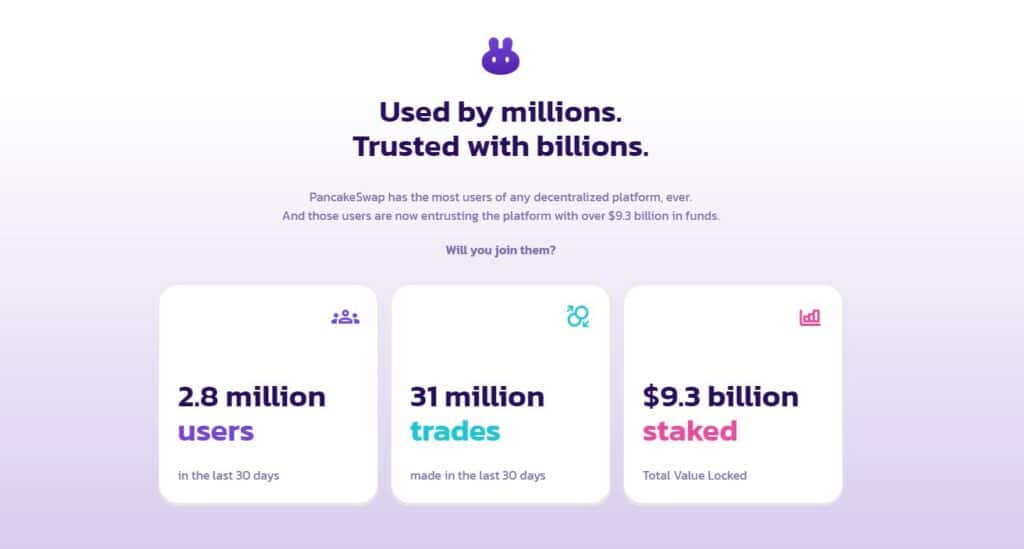 The lottery feature is one addition that distinguishes PancakeSwap from other decentralized exchanges. It allows users to buy lottery tickets which grants them a chance at winning a large pot of CAKE. A single lottery ticket goes for $5 worth of CAKE. But when you buy 100 tickets at once, you are eligible for up to a 4.95% discount.
Syrup pools are similar to yield farms and the PancakeSwap simple staking functionality. The syrup pool allows users to stake a variety of BEP20 tokens to earn yield. The reward can be CAKE or another crypto token. The difference between the syrup pool and yield farm is in the assets you can stake.
Customer Support
Unfortunately, PancakeSwap doesn't have an official customer support service, and that's the only downside we can identify in this review. However, there's a troubleshooting and general FAQs page on their website that answers customers' questions.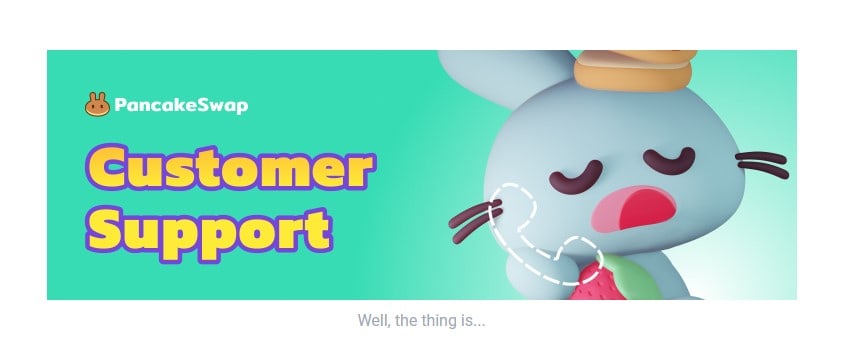 You can access the page to find solutions to whatever issues you have. If the problem persists, you can reach out to a local telegram group for advice and solutions.
Payment Methods
You can also purchase assets on PancakeSwap using a debit card, credit card, or PayPal. However, you can only buy BTC or ETH directly with those options. You need to purchase BTC or ETH with your preferred payment method. Then, you'll swap those currencies for the other digital assets you desire to buy.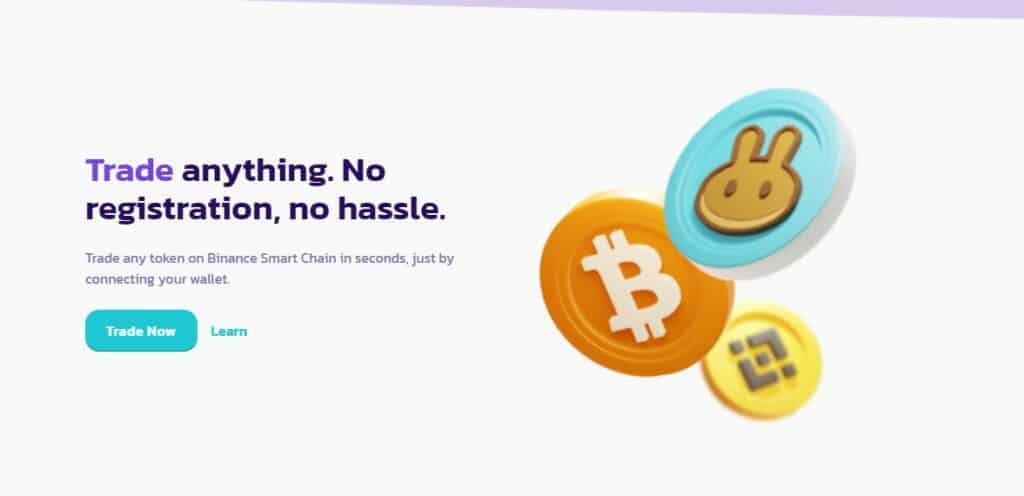 Below is the step-by-step process to follow when transacting with PancakeSwap.
Visit a centralized exchange to purchase BTC or ETH
Connect your wallet to PancakeSwap and use the assets you have to buy the ones you want.
Store your assets in your wallet.
Trading Fees
The average trading fee on PancakeSwap is 0.2% of the total transaction. The trading fee comprises 0.17% liquidity providers charges and 0.03%, which goes to the PancakeSwap treasury.
Security and Safety
PancakeSwap is about as safe as most other exchanges. However, you need to be wary of phishing attempts and scams. You also need to adequately safeguard your private keys to ensure your account's safety.
PancakeSwap is a non-custodial exchange in that it doesn't hold customer assets. Your assets will remain in a wallet of your choosing.

Recently, PancakeSwap's management has taken steps to protect its operations. Key among them is partnering with cybersecurity outfit CertiK to perform third-party audits.
The audit confirms PancakeSwap as having enterprise-level security protocols. Through the partnership, the DEX platform has been able to add CertiK Shield, Security Oracle, Virtual Machine, and DeepSEA features.
Although it's still a relatively young platform, PancakeSwap has never had a cyber breach.
Frequently Asked Questions
Here's what you need to know:
Is PancakeSwap a Wallet?
PancakeSwap is a decentralized exchange; it's not a wallet. Furthermore, the platform doesn't have its wallet like some other exchanges. Instead, users can connect supported crypto wallets to the platform to make transactions.
What Wallets Work with PancakeSwap?
Trust wallet works perfectly with PancakeSwap. You can also use Metamask comfortably with PancakeSwap. Other wallets offer integration with PancakeSwap, but these are the top two recommendations.
Do I need BNB to use PancakeSwap?
PancakeSwap exists on the Binance smartchain; therefore, BNB is one of its main tokens. The BEP 20 BNB token is the default currency for swapping tokens on PancakeSwap.
Final Take
PancakeSwap is a reputable DeFi exchange platform for digital assets. With the features we have described in this PancakeSwap review, it's straightforward to see why it's so popular.
Plus, PancakeSwap has a flexible network that's inclusive enough to cover recent ERC-20 projects. With affordable fees and minimal network congestion, PancakeSwap's adoption is only going to grow.