Paxful Review for 2023
In the same way that digital currencies were created in an effort to transform the world of finance, so, too, some cryptocurrency initiatives and exchanges strive to make a positive impact in their own communities. In the case of Paxful, we're not just talking about a cryptocurrency trading system in the virtual realm but about the company's overall purpose to maintain the balance in our physical environment.
At this point, you're probably asking yourself how a cryptocurrency exchange can make a difference in the environment. That doesn't sound like anything a typical crypto platform would do, right? So, what exactly are Paxful's objectives, and how does the platform intend to achieve them? The answers lie in our Paxful review.
About the Paxful Exchange
Paxful is a multinational peer-to-peer platform where you can trade Bitcoin (BTC), Tether (USDT), and Ethereum (ETH) with millions of other crypto investors in a secure environment and with over 350 payment options.
When Ray Youssef and Artur Schaback established their crypto project in 2015, they set out to accomplish two major goals: to bring financial freedom to every individual on the planet and help others through their "Built With Bitcoin" initiative. In a nutshell, they were more concerned about people than money. That's why Youssef and Schaback designed a people-powered Bitcoin exchange platform that encourages real communication among crypto investors in the process of trading coins.


Namely, with this peer-to-peer crypto exchange, you can trade your preferred coin in real-time. To be more specific, users can instantaneously strike a deal by personally communicating among themselves through live chat.
In addition to these real-time social connections, Paxful enables reputation ratings based on how successfully both sides of a transaction completed the deal. Generally speaking, the better the seller's reputation is, the more negotiating power they obtain in the trading processes.
How Does the Paxful's Escrow Service Work?
Paxful offers two types of trading accounts: individual and corporate. To register a trading account on Paxful, users need to fulfill some obligatory sign-up criteria, like verifying their ID if accessing the platform from a certain country.
Both the individual and corporate accounts are escrow accounts, meaning that they protect both the buyer and the seller if there's a dispute. Here's how this functions.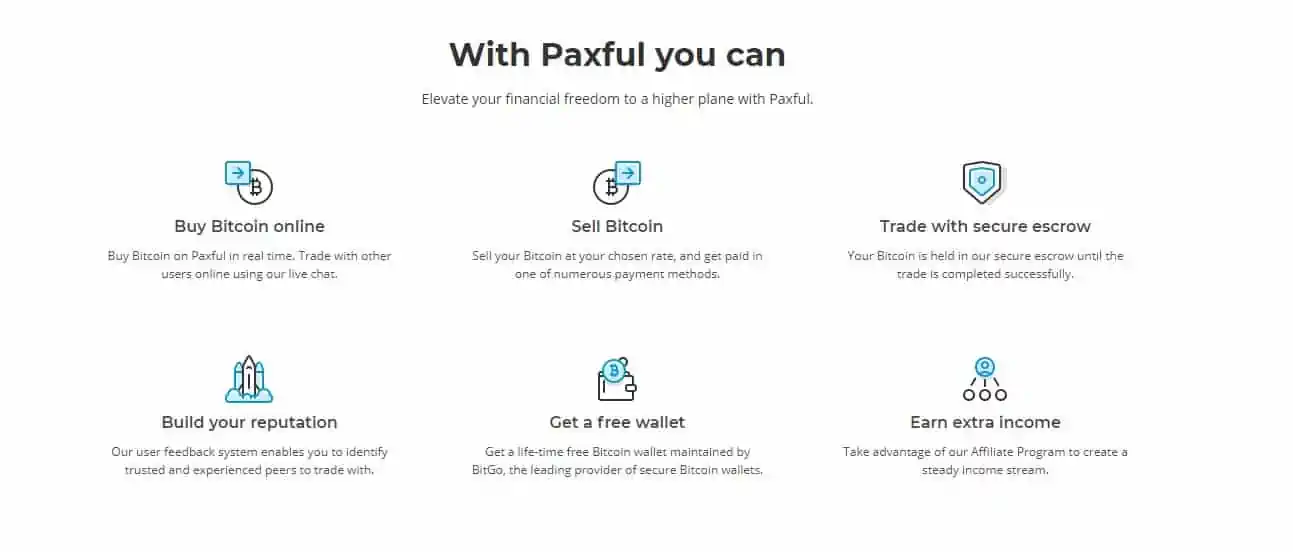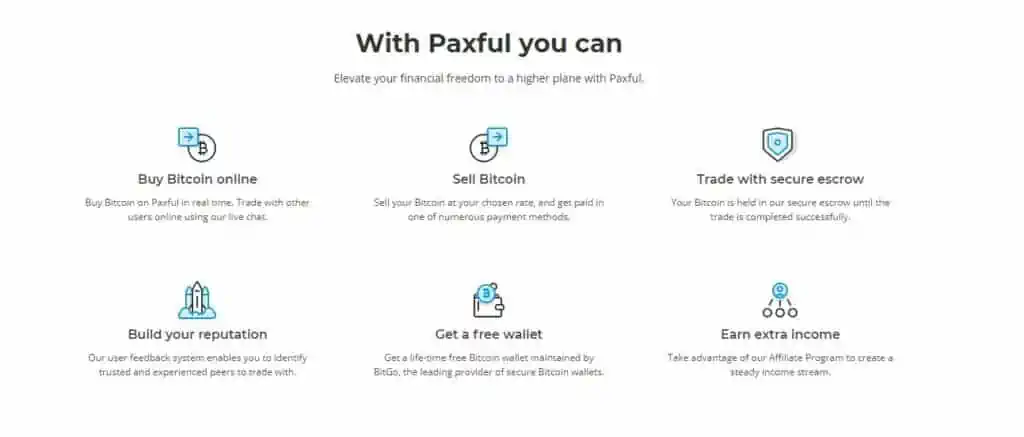 First, you need to decide on the coin you want to obtain (BTC, ETH, or USDT). Paxful's algorithm will then help you with a list of the best deals for the coin at the best exchange rates. As soon as you select a vendor from the displayed list and the vendor accepts the buyer's trading proposal, the coins are instantly transferred from the seller's wallet to the buyer's escrow account.
The seller is unable to cancel the transaction during this stage of the trading process. On the other hand, the buyer has a short period of time to transfer the funds to the seller, thus completing the transaction.
In case the buyer does not comply with this requirement within the specified deadline, the transaction would be deemed invalid, while the purchased amount of bitcoin will be refunded to the vendor's wallet. Also, if the two parties disagree at any stage, the procedure will be disputed. After that, Paxful's moderators will analyse all the relevant data and ultimately decide who will acquire the coins.
Paxful's Affiliate Program
The affiliate program of this crypto trading platform enables you to earn passive income just by inviting your friends to trade on the Paxful platform. Every time they sign up for a trading account with this crypto exchange and make a trade, you earn a small reward.
For instance, if they decide to buy Bitcoin, you'll get 50% of their escrow fee. Furthermore, if any of their affiliates purchase bitcoins through Paxful, you'll also be rewarded a 10% referral fee. When you acquire at least 10 USD through the affiliate program, you may transfer these funds to your Paxful wallet.
Paxful's "Built With Bitcoin" Initiative
In addition to its mission to introduce digital money into the everyday lives of more people, Paxful aspires to make a difference by building 100 schools for children in Africa. This noble aim is planned to be fulfilled through a collaboration between Paxful and the Zam Zam organisation. Zam Zam works tirelessly to alleviate poverty and provide access to safe drinking water to people in need all around the globe.


As cryptocurrency mining consumes a significant amount of our planet's natural resources, this noble endeavour is a way for Paxful's team to give back to the wider community. Fully aware that everyone deserves a second opportunity in life and that we must not take what we already have for granted, Paxful's CEO and co-founder, Ray Youssef, has also joined forces with other humanitarian organisations to make a lasting difference in the world by supporting healthcare, food, water facilities, and education for all.
Supported Cryptocurrencies
Paxful enables buying and selling Bitcoin, Tether, and Ethereum on its platform. You may buy over 100 other altcoins, including Litecoin (LTC), Bitcoin Cash (BCH), Ripple (XRP), DASH (DASH), etc.
How to Buy Bitcoin With Different Payment Methods
You can sell your cryptocurrencies through Paxful for Bitcoin at your chosen rate or through one of the numerous payment methods offered by this exchange. Your coins would be held in Paxful's secure escrow until the trade is completed successfully.
When it comes to buying cryptocurrencies, Paxful offers over 350 payment options for deposits on this trading platform. Some of these include credit card or debit cards issued by Mastercard or Visa, Paypal, Skrill, Amazon gift cards, Steam wallet gift cards, Bitcoin payments, Neteller, bank transfers, wire transfers, and fiat currencies, etc.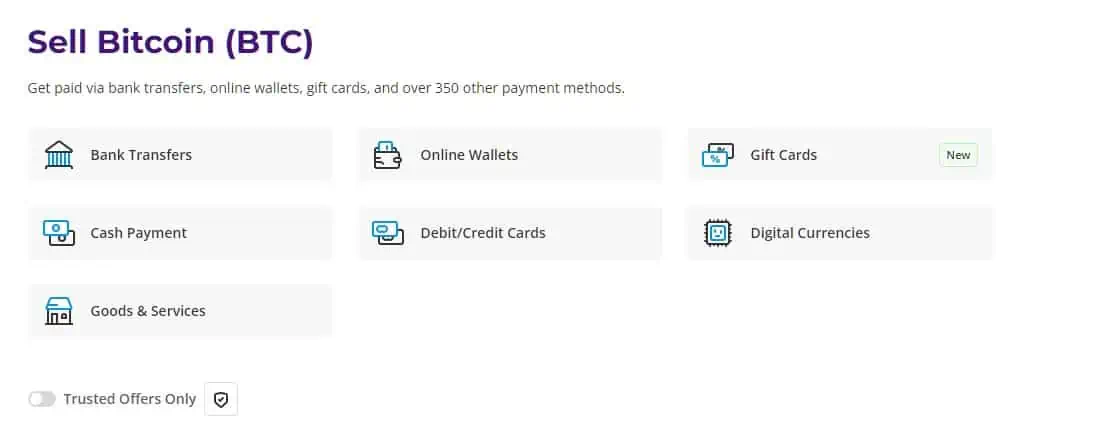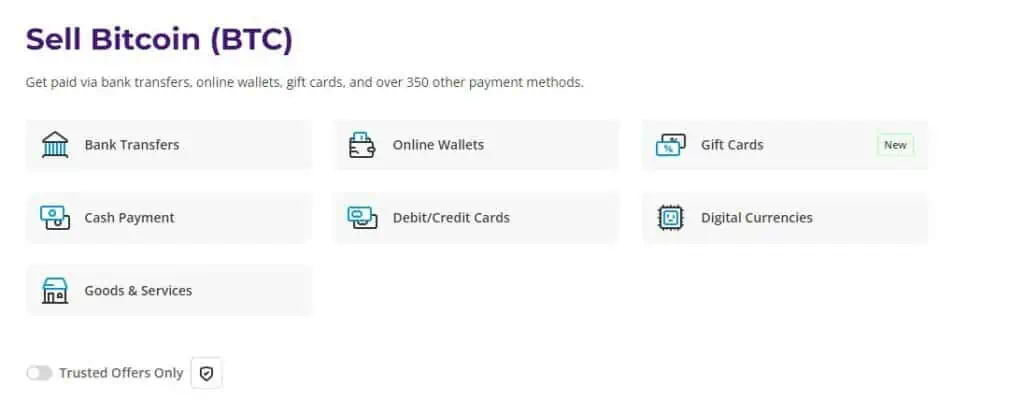 While gift card and Paypal payments are performed instantaneously, Western Union, bank deposits, and MoneyGram payments might take some time.
All in all, you may move your money anywhere you choose with Paxful without the necessity for a bank account. In this way, users gain financial freedom, which is the underlying concept behind the global cryptocurrency project.
Trading Fees and Limits
Paxful does not charge any fees when you purchase cryptocurrencies with fiat. While making a deposit on your Paxful account is also free of charge, there's a withdrawal fee for moving your funds from your Paxful wallet. This fee depends on the amount which is withdrawn.
However, cryptocurrency swaps are liable to a 0.5% fee. In addition, the exchange cost is established by the clients who market their Bitcoin for sale to the other crypto dealers on this platform.
Is Paxful Safe to Use?
Paxful is a highly secure online trading platform. Added to the strict verification procedures and the escrow feature, it employs some of the best safety protocols in the industry, such as the two-factor authentication protocol (2FA), ID scans, real-time biometric authentication, ID verification and proof of address, as well as liveness detection.


The exchange also employs company-wide BSA/AML/OFAC training and various anti-fraud systems, conducts investigations using blockchain analytics, fills suspicious activity reports (SARs), etc.
Is Paxful.com Legit or a Scam?
The Paxful corporation is registered as a Money Services Business with the United States Treasury Department's Financial Crimes Enforcement Network (FinCEN). Moreover, this exchange is compliant with the Anti-Money Laundering (AML) procedures, the requirements of the Bank Secrecy Act, as well as the Know Your Customer (KYC), Customer Due Diligence (CDD), and Enhanced Due Diligence (EDD) policies.
And this is not the end of the list of regulations and policies that Paxful adheres to as a part of its commitment to the security of the trading platform as well as the protection of both user funds and online data. All these are surely clear evidence of the legitimacy of this platform.
Customer Support
The web platform of this cryptocurrency exchange, which has been translated into around 50 different foreign languages, is easily accessible to people worldwide. A wealth of information is available through its clear, uncluttered, and user-friendly layout, including information on the Paxful trading tools and processes as well as the most prominent blockchain and cryptocurrency concepts.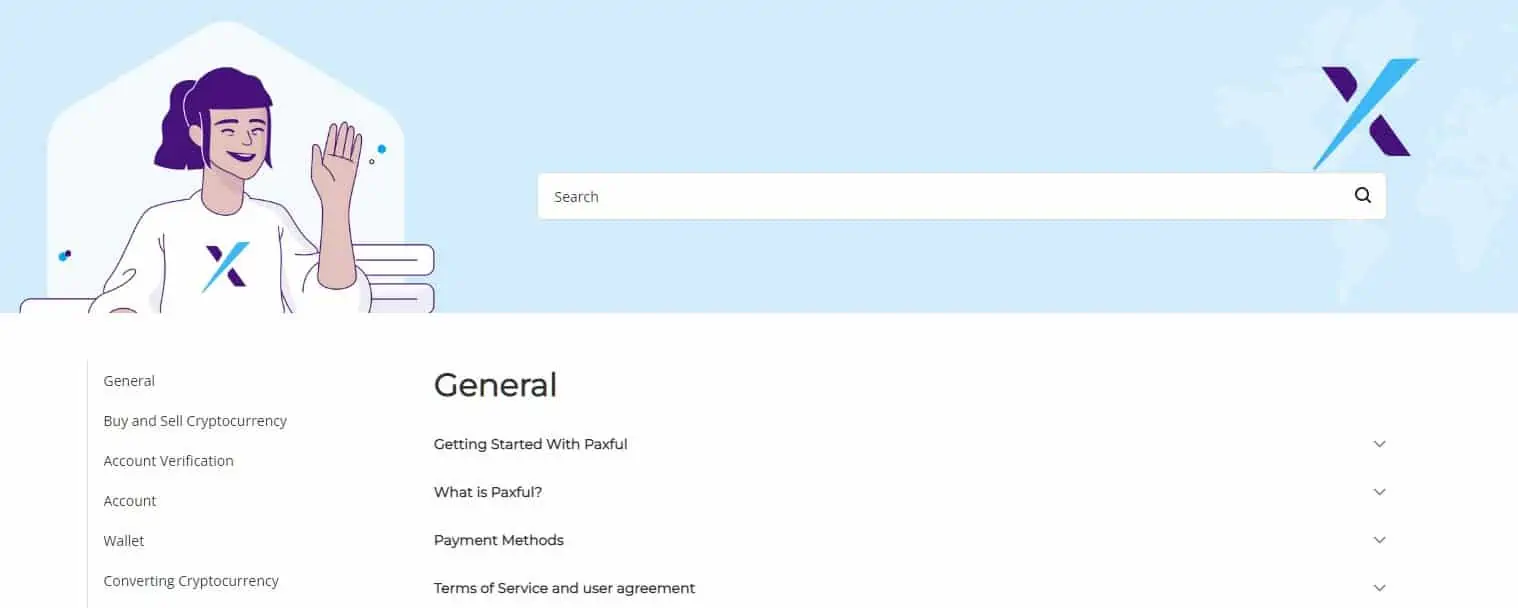 Although the Paxful website does not include a phone number, members of the Paxful support staff are active on social media sites such as Facebook and Twitter. Alternatively, Paxful users can reach out to customer support using an online form or the live chat box, which can be accessed via the Paxful logo on both their website and mobile app.
Frequently Asked Questions
What countries are supported by Paxful?
Headquartered in New York City, USA, Paxful is one of the largest cryptocurrency exchanges in the world, with over 200 employees. As it is a worldwide exchange, it also has offices in several other countries, including Estonia, Hong Kong, and the Philippines.
Most traders from all over the world can use Paxful's financial services, but citizens of some countries are barred from accessing this trading platform. These jurisdictions include but are not limited to North Korea, Somalia, Sudan, Crimea, Iran, Iraq, Lebanon, Syria, and Darfur, to name a few.
Does Paxful provide a cryptocurrency wallet?
Paxful provides its customers with a free Bitcoin wallet address that is managed by BitGo, one of the world's top developers of secure online wallets.
When it comes to handling your coins or accessing the P2P marketplace to buy and sell Bitcoin, the Paxful wallet feature is a free, easily accessible, and secure option. The wallet may be downloaded to a computer, a smartphone, or through an API trading interface on any Android or iOS operating device. The zero commission costs, cloud backup safety, and strict security features are all included in this digital solution.
A Few Words Before You Go…
Honestly, we could easily highlight the humanitarian efforts of this crypto exchange as the most praiseworthy aspect of this review. It's truly unfortunate that not everyone involved in the crypto business is aware of the dire consequences of the environmental destruction we cause while lurking for the next best opportunity to become wealthy through digital money.
Paxful exemplifies many excellent practises in the crypto field. The outstanding staff of experts available to assist you with any difficulty you may have during the trading process and the numerous payment methods allowing you to implement your trading strategies in the most convenient manner are just a few examples.
The bottom line? Paxful is—without a single doubt—a shining example in the crypto business of how we can contribute to the well-being of our community and the environment by giving back a portion of the profits we make while still pursuing our own professional ambitions and goals.
Paxful Compared
| Exchange | Cryptocurrencies | Fiat Currencies | Trading Fees | Deposit Methods | Sign Up |
| --- | --- | --- | --- | --- | --- |
| Swyftx | More than 320 | Australian Dollars, New Zealand Dollars | 0.6% | Osko, PayID, Credit Card, Debit Card, Bank Transfer, Cryptocurrency | Visit Swyftx |
| CoinSpot | More than 370 | Australian Dollars | OTC: 0.1% Market Order: 0.1%* (applies to LTC, BTC, ETH, XRP, POWR, DOGE, TRX, NEO, XLM, GAS, RChain, RFOX, EOS) Instant Buy/Sell: 1% | POLi, PayID, Cash, Cryptocurrency, Bank Transfer, BPAY | Visit CoinSpot |
| Binance | More than 600 | US Dollars, Australian Dollars, and 8 more | 0% to 0.1% | Osko, PayID, Credit Card, Debit Card, Crypto | Visit Binance |
| Bybit | More than 160 | 50+ | 0.1% to 0.6% | Crypto, EFT, wire transfer, bank transfer, debit card or credit card | Visit Bybit |
| Independent Reserve | 27 | Australian Dollars, US Dollars, New Zealand Dollars | 0.05% to 0.5% | EFT, SWIFT, Osko, PayID, Crypto | Visit Independent Reserve |
| Coinbase | More than 210 | Australian Dollars, US Dollars, New Zealand Dollars | Fees Vary | EFT, SWIFT, Osko, PayID, Crypto | Visit Coinbase |
| CoinJar | More than 50+ | Australian Dollars, Pound Sterling | Taker: 0.04 to 0.1% Maker: 0.04 to 0.1% | Apple Pay, Google Pay, Credit Card, Debit Card, Bank Transfer, Fiat, Crypto | Visit CoinJar |
| Kraken | More than 140 | Australian Dollars, US Dollars, and 5 more | Taker: 0.10% to 0.26% Maker: 0.00% to 0.16% | Apple Pay, Google Pay, SWIFT, Osko, SEPA, Crypto, Wire Transfer, Bank Transfer | Visit Kraken |
| BTC Markets | More than 15 | Australian Dollars | Taker Fee (for Bitcoin pairs): 0.20% Maker Fee (for Bitcoin pairs): -0.05% Australian Dollars Market Pairs: 0.10% to 0.85% | Crypto, BPAY, EFT, PayID, Osko | Visit BTC Markets |
| Easy Crypto | More than 40 | Australian Dollars, New Zealand Dollars, South African Rand | 1% | P2P, POLi, and Bank Transfers | Visit Easy Crypto |
| Coinstash | More than 140 | AUD | Taker fees: 0.85% Maker fees: 0.85% | Cryptocurrency, Bank Transfer, PayID | Visit Coinstash |
| eToro | More than 70 | Australian Dollars, US Dollars, Euro, and 12 more | Vary | Online Banking, Skrill, Neteller, PayPal, Bank Transfer, Debit Card | Visit eToro |
| KuCoin | More than 645 | US Dollars, Euro, Australian Dollars, and 6 more | 0.1% | Credit Card, Debit Card, SEPA, PayPal, Wire Transfer, Crypto | Visit KuCoin |