Phemex Review
Phemex is a relatively new crypto exchange that offers up to 100x leverage when trading. The company's mission is to facilitate simple trades and help manage trading risks. Learn more about this Bitcoin derivative exchange in this Phemex review.

About Phemex
Launched in 2019, Phemex is an online platform that facilitates cryptocurrency spot and derivatives trading.
Jack Tao and other Morgan Stanley executives formed this exchange to solve the crypto industry's lack of trustworthiness and professionalism. That's why this platform has a more user-centric approach to trading.

Since its formation in Singapore, Phemex has undergone exponential growth. Currently, it has over a million users and a daily trade volume of over $1 billion. It works with over 30 integrated liquidity providers and executes about 300k orders each second.
The popularity of this exchange is due to its user-oriented approach. Phemex focuses on simplifying trading and providing prompt assistance to traders.
The platform supports nine languages, including English, German, Chinese, Korean, French, Spanish, Japanese, Russian, and Turkish.
Supported Cryptocurrencies
Phemex supports over 30 cryptos. Some of the popular ones include:
Bitcoin
Ethereum
Ripple
ChainLink
Polkadot
SushiSwap
Basic Attention Token
Filecoin
You can trade any of these coins against Tether (USDT). When it comes to futures trading, you can pair any of these cryptos with USD.
Apart from cryptos, this platform offers GOLD/USD pairing.
Features
Phemex has a range of products that suit different traders. Below are some of these features.

Simulated Trading/ Demo Account
Beginner traders can use the testnet feature to learn about crypto trading without risking their capital.
The demo account offers almost the same environment as the real account. However, it doesn't support conditional orders.
Flexible Saving Asset Management
This exchange runs a savings program where users earn interest on their cryptos. What's more, Phemex automatically compounds and reinvests the interests plus the initial savings.
Users can deposit and withdraw digital assets in their savings accounts without any long-term commitments.
Another related product is the fixed savings account. With this program, you earn a higher interest when you invest cryptos for a fixed period. Of course, this plan doesn't support premature withdrawals.
Leveraged Trading
This exchange allows users to trade with up to 100x leverage. In leverage trading, you get high exposure to crypto prices using borrowed capital from an exchange platform. Beware, leverage trading is risky. You can reel in quick profits or suffer embarrassing losses.

Sub-Accounts
You can create and manage multiple sub-accounts on Phemex. This unique feature grants traders the flexibility to tweak strategies, segregate trading funds, and change margin levels.
Trading activities in one account do not affect another account. With this system, you can hold both long- and short-term positions.
Over-the-Counter Trading (OTC)
This feature allows you to purchase or sell cryptos via wire transfer. It suits high-volume traders who wish to transact using fiat currency. OTC trades are only available for BTC, LTC, BCH, ETH, USDT.
Multiple Order Types
This exchange offers the following order types.
Market orders
These orders are executed and filled at the best available market price.
Conditional orders
Conditional orders are only available to Phemex premium users. Execution happens when the market meets a specified criterion.
Limit Orders
Execution happens when the market matches the trigger price.
Stop Loss and Take Profits
This feature allows traders to preset exit points for trades. You can use it to limit exposure to trading risks.
All-Star-Program
Phemex runs an All-Star program that rewards influential traders. You get up to 50% commission on trading fees the platform collects from all your networks.
Welcome Bonus
Like other new exchanges, Phemex offers plenty of bonuses. You'll find promos like the:
Deposit bonus
Social media bonus
Advanced bonus
Trading bonus
All bonuses are subject to the exchange's terms and conditions.
Customer Support
The support team offers 24/7 assistance via email and live chat. If you have any queries/issues, send an email to any of the following addresses.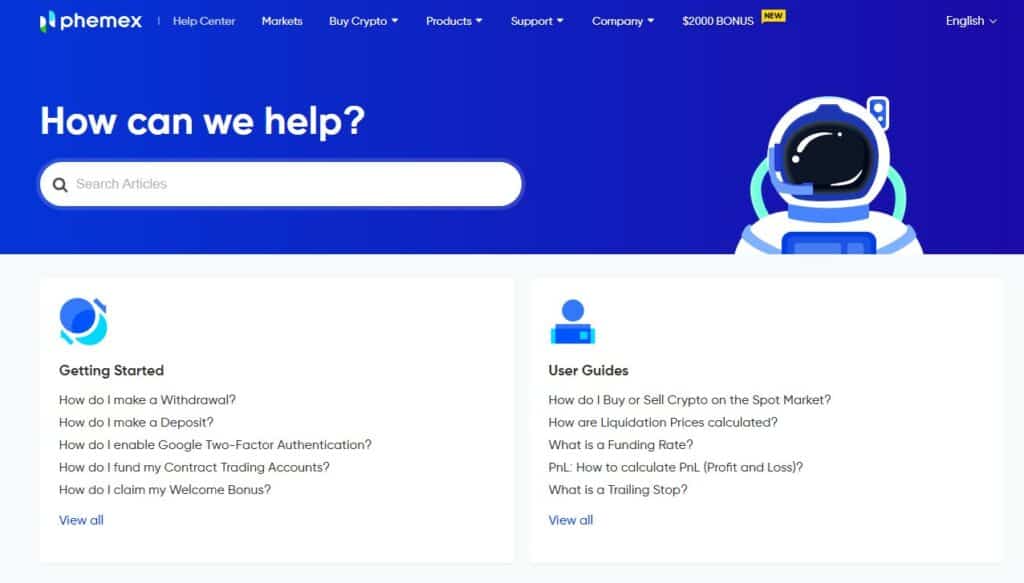 Support – support@phemex.zendesk.com
Complaints – complaints@phemex.com
Technical issues – it@phemex.com
Feedback – product@phemex.com
Phemex is also on Twitter, Telegram, Facebook, and Instagram. Unfortunately, it doesn't provide assistance via phone.
Payment Methods
Several payment methods are available in Phemex. Users can purchase cryptos using:
Credit and debit cards – UnionPay, Mastercard, Visa, POLi
ApplePay
Bank Account – Direct Bank Transfer, PayID, SOFORT, iDEAL
Phemex works with the following fintech partners to facilitate fiat to cryptocurrency purchases.
Banxa
Mercuryo
Coinify
MoonPay
Simplex
Users can also make direct crypto deposits to their Phemex wallets.
You can only withdraw cryptos to external wallets. Phemex doesn't charge withdrawal fees, but you may have to pay network fees. The current network fee for Bitcoin is 0.0005 BTC.
Trading Fees
Premium and Premium Trial users can spot trade at Phemex without paying fees. The trading fee (maker/taker) for standard users is 0.1%.

This exchange platform imposes a maker/taker fee model on contract trading. It issues a 0.025% rebate to traders who provide liquidity but charges a 0.075% fee on traders who remove liquidity.
Premium membership pricing is as follows:
30 days – $9.99
90 days – $19.99
One year – $69.99
Security and Safety
Phemex is a safe trading platform. Here's a breakdown of the security measures in place.
Wallet Security
This trading platform uses a Hierarchical Deterministic Cold Wallet System to secure cryptocurrencies. In this system, each user has a separate cold wallet deposit address. Phemex processes all withdrawal requests using offline signatures.
System Security
Amazon Web Service (AWS), a reputable cloud provider, hosts all Phemex servers. Several firewalls protect this platform's online infrastructure.
Account Security
Two-factor authentication (2FA) protects vital user activities like logging in, funding account, and changing passwords.
Besides 2FA, Phemex implements a bank-level double-entry bookkeeping system to detect unusual account activity. The company will freeze your account if it spots strange trading patterns.
Frequently Asked Questions
Is Phemex available worldwide?
The availability of Phemex depends on your country's crypto restrictions.
Is Phemex safe?
Yes, Phemex uses a multilevel security system to protect user accounts and cryptos.
Does Phemex have Zero trading fees?
Zero trading fees are available to Premium users who spot trade.
Does Phemex offer a demo account?
Yes, Phemex offers a seven-day trial account to new users.
Is Phemex regulated?
No, Phemex isn't regulated.