Phemex Reviewfor 2023
Phemex is one of the latest discoveries in the crypto derivatives world. It emerged in 2019 as an ambitious project with a single aim to bridge the gap between the traditional investment market and the developing blockchain industry.
The team behind Phemex consists of renowned financial experts that came directly from Morgan Stanley to present a modern platform with a user-centric approach and a wall-street-like trading environment.
Under the leadership of Jack Tao — the CEO of Phemex Financial Pte. — this cryptocurrency derivatives platform managed to attract 50,000 new users immediately after its launch and reach a daily trading volume of over $700 million. The company operates from Singapore but like plenty of other crypto-related services, it's an off-shore registered entity in the British Virgin Islands because of the loose regulatory policies and low tax rates there.
Despite being defined as a derivatives exchange, Phemex provides solid grounds for spot trading and OTC (over-the-counter) crypto purchases. The very nature of derivatives makes the exchange more valuable to seasoned crypto traders but it also offers a range of features — like customer support, tutorial guides, demo account, and smooth navigation — to encourage inexperienced trading enthusiasts to take their first step.
For this very reason, we'll go through the features that give the Phemex platform a competitive edge and hopefully, help you figure out whether its approach matches your particular needs.
How to Get Started with Phemex?
The registration process on Phemex is pretty simple — KYC verification isn't obligatory but it's recommended since it ensures enhanced security and additional advantages. As a verified user, you will be eligible for a premium membership account (read more below in the Spot Trading section) and welcome bonuses.


The Phemex platform features an elegant user interface, not very different from what you'll find on other trading platforms of this kind. Furthermore, the set of trading tools is fairly customizable even though some components like time frames on the trading view graph, for example, are almost unadaptable. There is no limit to the number of indicators per chart.
The exchange platform is available in five different languages and this number is likely to grow in the near future.
How to Set Up a Phemex Account?
For starters, make sure that you're on the right URL since websites of this calibre are a regular target for phishing attacks. Phemex is also supported by a modern and highly-rated mobile app (available for both iOS and Android users) with nearly the same functionality as the native web platform featuring real-time market data and a more compact trading view.
After you land on phemex.com, you'll have to insert a valid email address and a password of your choice.
You'll receive a 6-digit code in your inbox to verify your account.
At this stage, you should activate 2FA (two-factor authentication) on your dashboard. It's a powerful layer of additional protection to your account.
Now you can start depositing funds but, as mentioned above, it'd be better to verify your identity first. You'll find this option at the bottom of your home page.
Crypto deposits to your account address run smoothly but if you don't own any BTC in advance, you can buy some directly with your debit card or credit card. Go to Assets in the navigation bar and select Deposit.
Trading Features of Phemex
Perpetual Contracts
Bitcoin futures on Phemex are enabled through the mechanism of perpetual contracts. These are a sub-type of derivatives contracts that give you exposure to the value of the underlying asset without actually owning it.
Unlike the standard futures contracts, perpetual contracts don't have a date of expiry, which means that you can open and close them at any point. You can open both short and long positions and speculate on whether the price of the underlying asset will go down or up respectively.


Phemex offers USD Perpetual contracts and BTC Perpetual contracts. You can use these two base currencies to trade with all supported contracts. A single BTC-based contract is worth $1 of BTC (1USD/current BTC price) while USD-based contracts don't have a predetermined value.
Leveraged Trading
The charm of crypto derivatives is that they come with the possibility of leverage, meaning that you'll get a higher exposure to the increase or decrease of the price of the underlying crypto. In more plain language, you can borrow from the exchange up to 100x of the value of your initial capital and hopefully, earn a larger profit.
However, derivatives trading on margin is an exceptionally risky practice since a wrong move could bring you to zero. To give you some measure of protection against this, all futures exchanges utilize a liquidation price, a term that stands for the calculated limit to which your position can go in the opposite direction of your prediction.


Let's assume you have 10 USD in your Phemex account and you bet that this BTC amount will rise or, in derivatives terminology, go long. If your prediction is correct and the BTC price increases by 10%, you'd earn 1USD. But if you use the maximum leverage of 100x, your original 10 USD position will turn into 1,000 USD so you'll earn an additional profit of 100 USD. Accordingly, the balance between the leverage and the liquidation price is well-tuned — the higher the leverage is, the lower the liquidation limit you get.
On Phemex, there are 7 margin-supported pairs: BTC / USD, XRP / USD, ETH / USD, LTC / USD, XTZ / USD, LINK / USD, and GOLD / USD. Remember that not all available trading pairs can go with the maximum ratio of 100x.
Spot Trading on Phemex
Apart from perpetual contracts, Phemex offers a lucrative way to buy and sell cryptocurrencies with zero fees. This is only possible if you're a holder of a Premium account with costs that range a year ($69.99), ($9.99), three months, and ($19.99) a month. Remember that this no-transaction fee discount doesn't cover trading or withdrawal fees.
To enable this option, you'll need to navigate to the top menu and find Products. There is a spot trading option under this section. The process is pretty simple, all you have to do is choose a crypto asset and insert the amount of Tether (USDT) you would like to buy and sell it back.
The list of supported spot-trading cryptocurrencies on Phemex is relatively narrow. It includes around 40 popular coins and smart tokens such as Bitcoin (BTC), Ripple (XRP), Cardano (ADA), Ethereum (ETH), Chainlink (LINK), Litecoin (LTC), Aave (AAVE), Uniswap (UNI), yearn.finance (YFI), and Compound (COMP). All of them can be bought and sold only against USDT.
Phemex OTC (Over-the-Counter) Service
Phemex provides a separate OTC desk as a safe approach for buying or selling larger amounts of cryptocurrencies through a wire bank transfer.
This opportunity is powered in partnership with Legend Trading — a regulated third-party vendor that outsources the wire transactions for investors around the globe and is fully integrated within the Phemex website.

However, you should know that this Phemex opportunity is available only for KYC verified users. The entire process is claimed to be relatively fast and smooth. Once the investor selects the coin and the desired price, the exchange will immediately execute the trade. Note that fiat payments usually arrive at Phemex in two hours while cryptocurrencies get delivered to the exchange instantly. Phemex supports a solid range of fiat currencies including USD, AUD, EUR, GBP, JPY, HKD, MXN, and SGD.
Before engaging in an OTC transaction, don't forget to check the list of supported countries on Phemex. Strangely enough, the exchange's services are forbidden in Mexico and Singapore but the platform does support their native currencies.
Types of Orders
Similar to other margin-trading exchanges that target advanced audiences, on Phemex, you can choose between three types of orders:
Market order — filled and executed at the current best price on the market.
Limit order — executed only if/when the price of the traded asset has reached a certain value. Furthermore, you can choose between different methods of execution of the limit order such as ImmediateOrCancel (IOC), GoodTillCancelled (GTC), or FillOrKill (FOK).
Conditional order — very similar to the limit order, except that they are activated only when the coin reaches the trigger price.
Phemex Sub-accounts
Phemex will allow you an opportunity to create a range of sub-accounts within our main account in order to simplify the process of opening separate short and long positions and implementing different trading strategies. The best thing is that each sub-account holds its own balance and permission level. What's more, you can easily transfer funds between them and switch from one sub-account to another.
Phemex Fees
Trading Fees
Overall, Phemex features a fair fee system with free deposits on the platform. When it comes to futures trading, it makes a clear distinction between taker fees and maker fees. Since takers "take" the liquidity out of Phemex order books by accepting an already existing order, they are charged with a fixed fee of 0.075% per trade. Makers, on the other hand, contribute to the exchange liquidity and in return, Phemex rewards them with a fee of -0.025%, where the negative percentage means that makers are paid to trade. These amounts are in line with the industry standard, nearly identical to Phemex's direct competitors BitMEX and ByBit.

When it comes to spot trading, premium members can trade with zero trading fees but even the fee of 0.1% for standard users (regardless of your position as a taker or maker) is competitive in comparison to other globally recognized trading spots like Kraken or Gemini. Traders who utilize API transactions will also have to pay a transaction fee of 0.1%.
Withdrawal Fees
Phemex doesn't incur withdrawal fees either but you'll have to consider transaction fees that are set by the respective network. Their rate varies based on the type of cryptocurrency and for better insight, you can go through the official Phemex fee list, where you can also find the minimum withdrawal and deposit limit for each supported coin.
What really costs on platforms like this is trading with leverage. Phemex applies a funding rate as per each leveraged position. The exchange utilizes algorithms that calculate the Interest Rate (I) and Premium Index (P) per minute and afterwards, it applies TWAP (an 8-Hour Time-Weighted-Average-Price) over the whole cycle of minute rates.
Is the Phemex Exchange Safe?
With a relatively short experience on the digital scene, Phemex doesn't have any noticeable records for hacker attacks or other forms of virtual scams. For that reason, it's irrelevant to guarantee its security quality at this point.
However, the team behind the exchange does lend the platform the image of a trustworthy marketplace not only with their proven expertise but also with the set of security measures they've implemented on Phemex. Phemex employs an HD (hierarchical deterministic) cold wallet system that gives different wallet addresses to each user, collects the deposits, and sends them the company-owned multi-signature cold storage. Withdrawal requests are processed manually three times a day with offline signature.


In addition, the exchange keeps its operating servers with AWS (Amazon Web Service) Cloud, just like the most reputable institutions in both cryptocurrency and traditional finance. Inside their local network, Phemex uses firewalls to separate different trading zones.
On the server-side, developers claim that there are little to no chances for downtime that will affect the users due to the recovery technology they implement.
Finally, note that Phemex is an unregulated off-shore company, which isn't something unusual in the crypto ecosystem given the fact that the industry leaders like Kucoin and Binance are registered in the same grey-area manner. However, this means that in case of a major breakdown, there will be nothing you can do for the reimbursement of your stolen funds unless the exchange does what it takes to pay users' damage in such a scenario.
Customer Support
The user-oriented approach of Phemex is one of the factors that gives the platform an ultra-modern edge and a sense of reliability. Phemex uses Zendesk as an official medium for direct communication with its customers and the support team is claimed to be highly responsive with inquiry messages.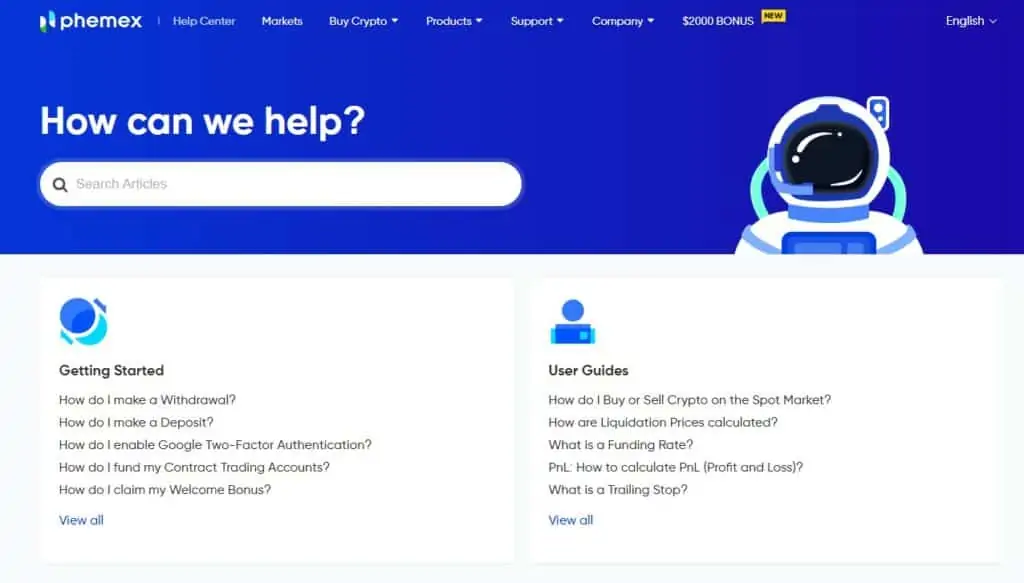 Moreover, Phemex is very active on their social media channels like Facebook, LinkedIn, and Twitter, which will keep you updated on any platform-related news and updates. There's also the Telegram group for immediate communication with the growing margin-trading community.
Finally, you can always rely on the exhaustive Learn, Academy, and FAQ section on their website for any frequent issues you could experience while navigating through the platform.
Frequently Asked Questions
Does Phemex provide an in-app cryptocurrency wallet?
Phemex features a quite unique wallet system — once you register on the Phemex trading platform, you'll get access to a Bitcoin wallet and two types of trading accounts: a USD Trading Account and a BTC trading account. If you trade BTC-settled contracts, you can use your BTC trading account.
In terms of the method of storage, the exchange will assign you a deposit address for an individual cold wallet. Users' funds are collected and stored in the exchange's multi-signature wallet at regular time intervals. This makes Phemex one of the safest in-app wallet solutions on the market since your holdings will remain immune to cybercriminals that dwell in a virtual environment.
What is Phemex competition mode?
Phemex offers a gamified mode that transforms BTC investment activities into a competition. A minimum of 10 users can group themselves into a team and compete for a lucrative reward pool, which currently exceeds $40,000.
In order to qualify as an eligible competitor, the balance of your BTC Trading Account must be over 0.005 BTC during registration time. You can read more specific info on the ongoing price pools and teams on the Phemex official website.
Is Phemex available in Australia?
Not only is Phemex available in Down Under but also Australians are third on the list of the geographic distribution of Phemex users. However, due to local regulation, not all countries around the globe have access to Phemex services. This "black" list of forbidden countries contains the USA, Cuba, Sevastopol, Singapore, Quebec (Canada), North Korea, Syria, Iran, and Sudan.
A Few Words Before You Go…
Avid derivatives traders should definitely keep an eye on such a modernized platform that delivers seamless transactions and a wide spectrum of facilities to enrich their general experience in crypto trading. The platform's limited number of available coins is the most critical area that requires immediate improvement. However, in comparison to other contract-trading platforms that support a variety of coins, Phemex features an exceptionally user-centered approach and, what's more, a dedicated team that spares no efforts in improving the general performance of the exchange.
Phemex Compared
| Exchange | Cryptocurrencies | Fiat Currencies | Trading Fees | Deposit Methods | Sign Up |
| --- | --- | --- | --- | --- | --- |
| Swyftx | More than 320 | Australian Dollars, New Zealand Dollars | 0.6% | Osko, PayID, Credit Card, Debit Card, Bank Transfer, Cryptocurrency | Visit Swyftx |
| CoinSpot | More than 370 | Australian Dollars | OTC: 0.1% Market Order: 0.1%* (applies to LTC, BTC, ETH, XRP, POWR, DOGE, TRX, NEO, XLM, GAS, RChain, RFOX, EOS) Instant Buy/Sell: 1% | POLi, PayID, Cash, Cryptocurrency, Bank Transfer, BPAY | Visit CoinSpot |
| Binance | More than 600 | US Dollars, Australian Dollars, and 8 more | 0% to 0.1% | Osko, PayID, Credit Card, Debit Card, Crypto | Visit Binance |
| Bybit | More than 160 | 50+ | 0.1% to 0.6% | Crypto, EFT, wire transfer, bank transfer, debit card or credit card | Visit Bybit |
| Independent Reserve | 27 | Australian Dollars, US Dollars, New Zealand Dollars | 0.05% to 0.5% | EFT, SWIFT, Osko, PayID, Crypto | Visit Independent Reserve |
| Coinbase | More than 210 | Australian Dollars, US Dollars, New Zealand Dollars | Fees Vary | EFT, SWIFT, Osko, PayID, Crypto | Visit Coinbase |
| CoinJar | More than 50+ | Australian Dollars, Pound Sterling | Taker: 0.04 to 0.1% Maker: 0.04 to 0.1% | Apple Pay, Google Pay, Credit Card, Debit Card, Bank Transfer, Fiat, Crypto | Visit CoinJar |
| Kraken | More than 140 | Australian Dollars, US Dollars, and 5 more | Taker: 0.10% to 0.26% Maker: 0.00% to 0.16% | Apple Pay, Google Pay, SWIFT, Osko, SEPA, Crypto, Wire Transfer, Bank Transfer | Visit Kraken |
| BTC Markets | More than 15 | Australian Dollars | Taker Fee (for Bitcoin pairs): 0.20% Maker Fee (for Bitcoin pairs): -0.05% Australian Dollars Market Pairs: 0.10% to 0.85% | Crypto, BPAY, EFT, PayID, Osko | Visit BTC Markets |
| Easy Crypto | More than 40 | Australian Dollars, New Zealand Dollars, South African Rand | 1% | P2P, POLi, and Bank Transfers | Visit Easy Crypto |
| Coinstash | More than 140 | AUD | Taker fees: 0.85% Maker fees: 0.85% | Cryptocurrency, Bank Transfer, PayID | Visit Coinstash |
| eToro | More than 70 | Australian Dollars, US Dollars, Euro, and 12 more | Vary | Online Banking, Skrill, Neteller, PayPal, Bank Transfer, Debit Card | Visit eToro |
| KuCoin | More than 645 | US Dollars, Euro, Australian Dollars, and 6 more | 0.1% | Credit Card, Debit Card, SEPA, PayPal, Wire Transfer, Crypto | Visit KuCoin |