Plus500 Review for 2022
In the world of derivative trading, a contract for difference (CFD) is one of the most common types of asset. CFDs are financial instruments that are constructed in the same way as futures contracts, and are negotiated between the buyer of digital currencies and the broker. In this type of transaction, cash is used in lieu of any physical products or digital assets to complete the purchase.
It is not uncommon for forex brokers to focus their services on contract for difference trading, which allows traders and investors to profit from price fluctuations on the financial markets without needing to hold the underlying asset. Today's review will be about such a crypto exchange platform, one that's popular for CFD trading.
The Plus500 enjoys immense popularity among its Australian customers who feel that it is a reputable and dependable financial brokerage company. What's the story behind their success and what do they offer to users? We're here to look into it, as well as explore the tools that allow traders to boost their profits by trading on this platform.
About the Plus500 Exchange
The Plus500 is a contracts for difference (CFD) specialized global fintech company. The developer team of this online broker established its own unique, user-friendly trading platform with the purpose of optimising the trading process and offering seamless tracking of the many financial tools accessible on this exchange for the best user experience.
What Does the Plus500 Offer to Its Users?
With the Plus500 trading platform, you can trade CFDs on:
Over 70 different currency pairs (EUR/USD, GBP/USD, or EUR/GBP for instance),
Exchange-traded funds (ETFs),
Cryptocurrencies,
Options (Germany 40, Oil, and Facebook),
Indices (USA 500, US-TECH 100, France 40),
Stocks (such as Rio Tinto, Facebook, Telstra, and Apple),
Commodities (gold, oil, and silver).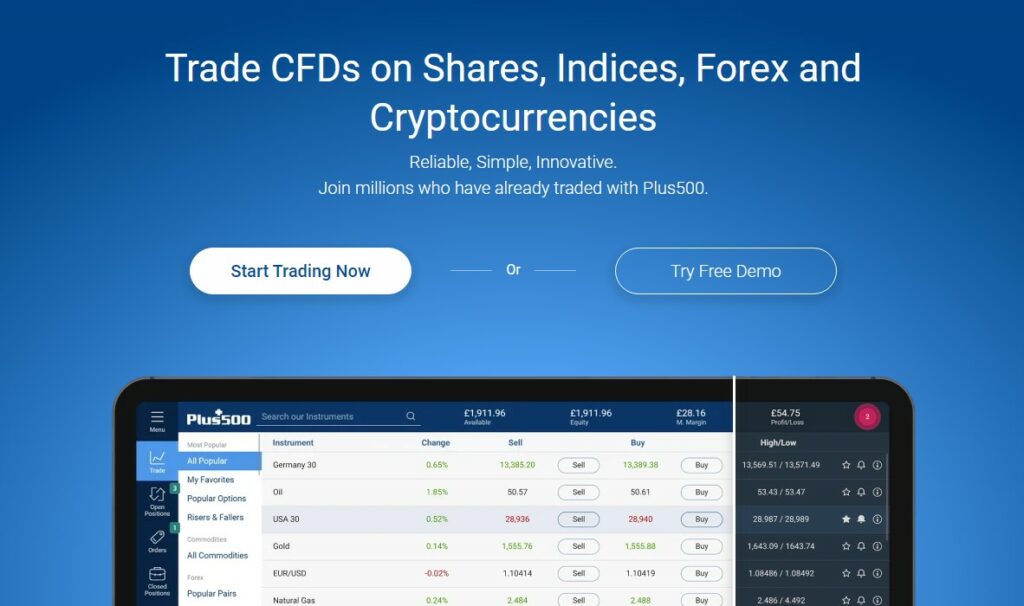 The platform also offers tight spreads, no commissions, maximum leverage of up to 1:30, real time quotes, and technical analysis charts. The execution of trades is fast and reliable.
What Are the Benefits of Trading With Crypto CFDs?
Basically, CFD brokers don't have a direct interaction with the financial commodity. Rather, they receive the difference between the present cost of the item and its prospective worth. Trading with crypto CFDs can yield high profits to experienced brokers.
The most notable advantages of this trading tool include eliminating the need for a registered account or even a digital wallet, leverage trading, access to advanced technical instruments for a faster and more functional one-click trading, etc.
In addition, there are price alerts, SMS, and push notifications, as well as stop orders (such as stop loss and trailing stop) that can assist you in controlling your gains and losses which may occur as a result of the volatility of the crypto assets while trading CFDs.
Supported Cryptocurrencies
You can trade some of the most valuable and popular coins on the Plus500 online trading platform, in exchange for over 2,000 financial instruments. The list of supported cryptocurrencies includes Bitcoin (BTC), Ethereum (ETH), Litecoin (LTC), Stellar (XML), Bitcoin Cash (BCH), Cardano (ADA), Neo (NEO), Eos (EOS), Iota (IOTA), Solana (SOL), VeChain (VET), Polygon (MATIC), and Polkadot (DOT), to name a few.

Payment Methods
You can make deposits on your Plus500 account by using various deposit and withdrawal methods:
Credit cards / debit cards (MasterCard or Visa),
Electronic wallets (Skrill, PayPal, Klarna, bPay,Trustly),
Bank transfers.
Trading Fees and Limits
The bulk of the trading alternatives available on the Plus500 platform are absolutely free of charge. The "market spread" is the primary means by which Plus500 is reimbursed for its services. The minimum deposit on a Plus500 account is as low as $100 when made through credit/debit cards and electronic wallets, while $300 is the minimum for deposits made via bank transfer.
Plus500 will not charge you any fees for either your deposits or withdrawals. However, based upon the type of your financial transactions, you may be subject to the following fees being charged to your account: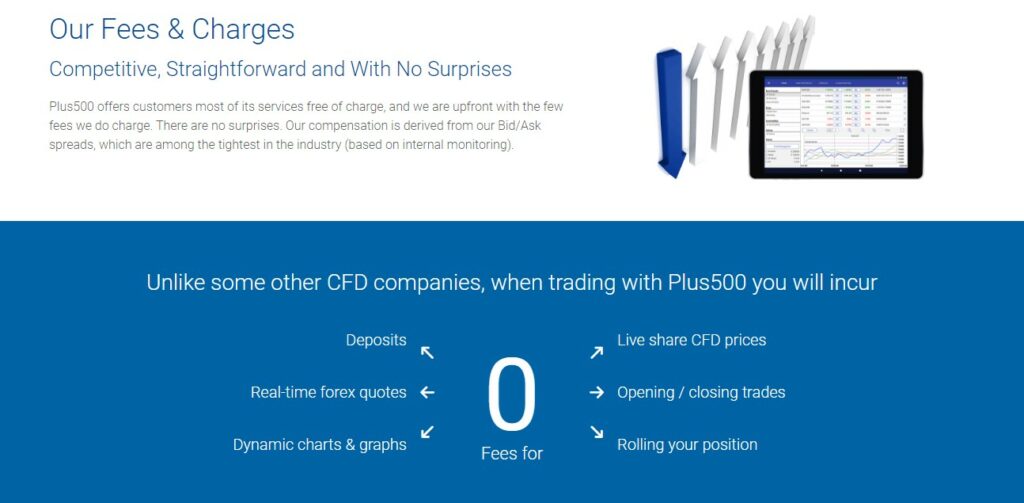 Overnight funding – When you maintain a position after a particular period of time, the overnight funding balance is either applied to or withdrawn from your total account balance.
Currency conversion fee – All trades on instruments denominated in a currency other than your account's currency will be subject to a currency conversion fee of up to 0.7% of the trade's realised net profit or loss.
Guaranteed stop loss order – As this order type assures that your position will close at the specified rate, it is subject to a higher fee.
Inactivity fee – If you do not log in to your Plus500 account for at least three months, you will be charged a fee of up to USD 10 each month. The inactivity charge is withdrawn only from the "real money" account if it is sufficiently financed to pay the fee. Logging into your trading account on a regular basis without executing any transactions would be sufficient to avoid this fee being charged to your account.
Is the Plus500 Forex Trading Platform Safe to Use?
The Plus500UK Ltd. is a FTSE 250 corporation that is registered with the Main Market for Listed Companies of the London Stock Exchange. Furthermore, Plus500AU Pty. Ltd. company has been granted a license by the ASIC – Australian Securities and Investment Commission (AFSL 417727) as well as the Financial Conduct Authority (FCA #509909).
In addition to this, the Plus500 trading platform has received authorization to provide CFD contracts from the Australian Securities and Investment Commission (AFSL 417727), it's regulated by the Seychelles Financial Services Authority (Licence No. SD039), the Monetary Authority of Singapore for dealing in capital markets products (License No. CMS100648-1), the Cyprus Securities and Exchange Commission (CySEC Licence No. 250/14), the AFSL #417727 issued by ASIC, FSP No. 486026 issued by the FMA in New Zealand, the Authorised Financial Services Provider #47546 issued by the FSCA in South Africa, as well as the Monetary Authority of Singapore (MAS) for dealing in capital markets products (License No. CMS100648-1). (Source: www.plus500.com)

With such an impressive portfolio of authorisations and operative licences, the Plus500 trading platform is certainly a crypto exchange that works in compliance with the legal regulations of the business.
User Fund Protection
The Plus500 maintains all of its clients' assets in separate storage and does not use client money for hedging (a risk management strategy that decreases losses caused by coin volatility, but may also diminish the investor's return). Instead, this exchange uses its own money.
Client funds are kept in separate trust accounts and handled in compliance with the regulations of the Corporations Act. By employing negative balance protection and segregated bank accounts, the assets entrusted by the platform's users are legally secured by the regulations applicable to trust money in case the exchange goes under and gets liquidated.
Customer Support
The Plus500 trading platform features an elaborate Trader's Guide, as well as an eBook that comes in handy even if you're not facing a current issue with the platform or any trading process. In order to get started in the world of CFD trading with this platform, traders who are new to the exchange will benefit greatly from watching the 'How to' tutorials.

You have the opportunity to sign up for a risk-free demo account once you have determined that you are ready to start trading and open a professional account. However, if you find that there's still something left unanswered, there is 24/7 customer support at your service. You can contact them by sending your inquiry via email or WhatsApp.
Frequently Asked Questions
Does Plus500 have a mobile app?
Yes. The Plus500 trading platform provides its users with a mobile trading app that allows them to use practically all of the trading tools available on their online platform while on the move.
This mobile trading platform includes charting tools, a search module, crypto market analytics, as well as a broad variety of financial operations ideal for traders of all levels of experience. In addition, the Plus500 mobile app is compatible with all iOS and Android devices.
What countries are supported by Plus500?
Plus500 is a global crypto exchange with subsidiaries registered in the UK, Cyprus, Australia, New Zealand, Israel, Seychelles, Singapore, and South Africa. However, Plus500 does not offer its services in some jurisdictions.
Is Plus500 a scam?
After reviewing the fairly large list of credentials, authorizations, and licenses gained from the world's most prestigious financial regulatory agencies, it is more than evident that Plus500 is not a scam. Trading CFDs, on the other hand, maybe a high-risk endeavor, and as a result, the best risk management practices should be followed.
The Bottom Line
The Plus500 exchange is one of the leading CFD trading platforms in the crypto sphere, which is more suitable for intermediate-level and experienced traders. Since CFDs are a leveraged trading instrument and can result in the loss of your entire fund of digital assets, this exchange might be too advanced for newbies in crypto trading.
Dedicated to CFD trading, Plus500 is definitely one of the most prominent and serious players in the crypto trading field that takes no chances. Regulated and licensed by an impressive number of top-tier financial authorities from all over the world, this trading platform boasts an astounding number of trading instruments totaling over 2,000 and mechanisms for the ultimate trading experience.
Taking into consideration the fact that Plus500 specializes in trading CFDs and advanced trading practices, it is reasonable to suggest that this exchange should be exploited only for informational purposes by beginner traders. The fact that CFDs are complex instruments that carry a significant risk of losing money quickly due to leverage, the Plus500 trading platform is unquestionably a power pack for the seasoned traders, particularly in terms of portfolio investments and asset security.