Poloniex Review for 2022
Nowadays, it's becoming increasingly difficult for crypto investors to choose a cryptocurrency exchange, as the number and variety of crypto exchange platforms expands on a daily basis. In this vast selection of online trading platforms, Poloniex is regarded as one of the pioneers.
To help you decide whether the Poloniex platform is the best crypto exchange for your trading activities, we'll go over the features and services it has to offer, discuss whether there have been any issues with its operation or security, and analyse its fee schedule.
The Poloniex Exchange
It is worth noting that the backstory of Poloniex begins in a different manner from many cryptocurrency exchanges. It appears that the vast majority of trading platforms have been developed by people associated with the IT sector. In the case of Poloniex, though, the mastermind behind this veteran cryptocurrency exchange is a music composer.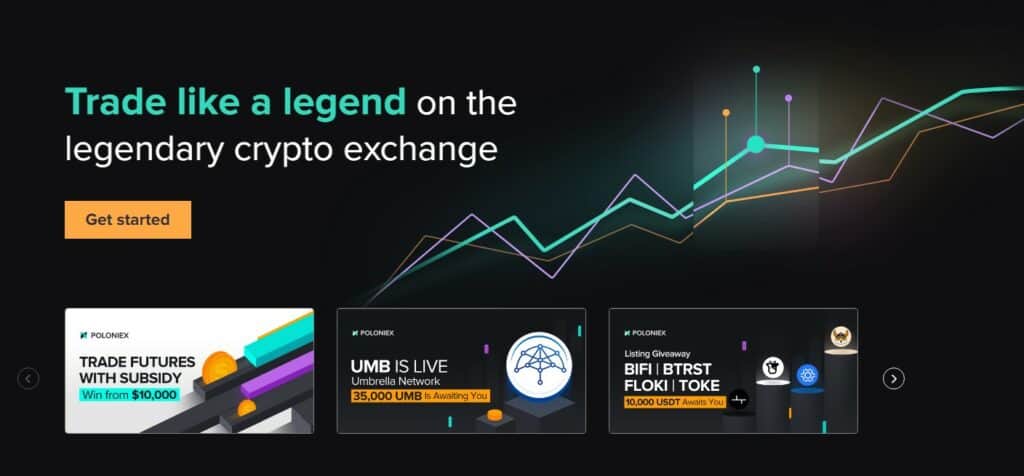 Tristan D'Agosta, the creator of Poloniex, established his cryptocurrency enterprise in Delaware, USA, in 2014. Soon after, Poloniex became the first digital asset exchange to offer Ethereum (ETH) as one of the coins that could be traded on its platform, making it the first to list this now-cryptocurrency giant.
In turn, the addition of Ethereum (ETH) to the list of supported cryptocurrencies attracted an unprecedented number of traders, quickly elevating the exchange's standing among those that offer high liquidity in terms of the trading volume.
What Does Poloniex Offer to Crypto Traders?
The users of this centralized crypto asset exchange can engage in margin trading, create stop-limit or spot trading orders, swap some of the most popular coins (as well as some low-cap cryptos), enter into futures trading contracts, utilise APIs for external use, or lend their coins to improve the liquidity of another trader at a certain interest rate.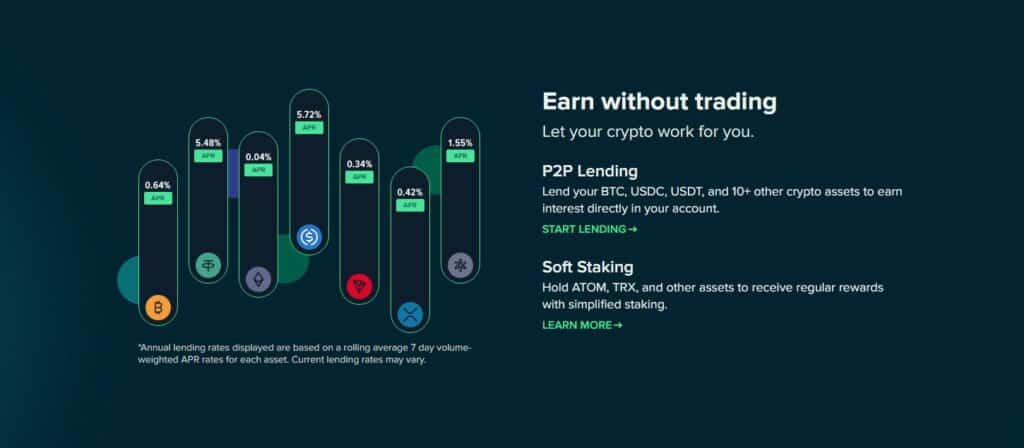 In order to start trading crypto through this user-friendly platform, all you need is to provide a valid email during the sign-up process for your Poloniex account. You won't need to provide personal data, as the exchange doesn't comply with KYC standards. After registering, you can deposit coins into your account via the "Wallet" feature, which also serves as a central location for handling all of your assets, and start trading immediately.
Supported Cryptocurrencies
Poloniex is a cryptocurrency exchange that supports around 60 crypto coins, altcoins, tokens, and other digital assets such as Bitcoin (BTC), Ethereum (ETH), Ios (IOS), Tether (USDT), Ripple (XRP), Bitcoin Cash (BCH), Litecoin (LTC), Tron (TRX), USD Coin (USDC), Monero (XMR), and USDT-ERC20.
In certain cases, some of the cryptocurrency projects listed on the Poloniex platform are not available as a result of the conflicting regulatory requirements in different jurisdictions, so make sure you double-check their availability.
Payment Methods
To purchase cryptocurrency on Poloniex, you can use your credit/debit card issued by a payment service provider such as VISA or Mastercard for all trading pairs. This is made possible by a third-party payment provider known as Simplex.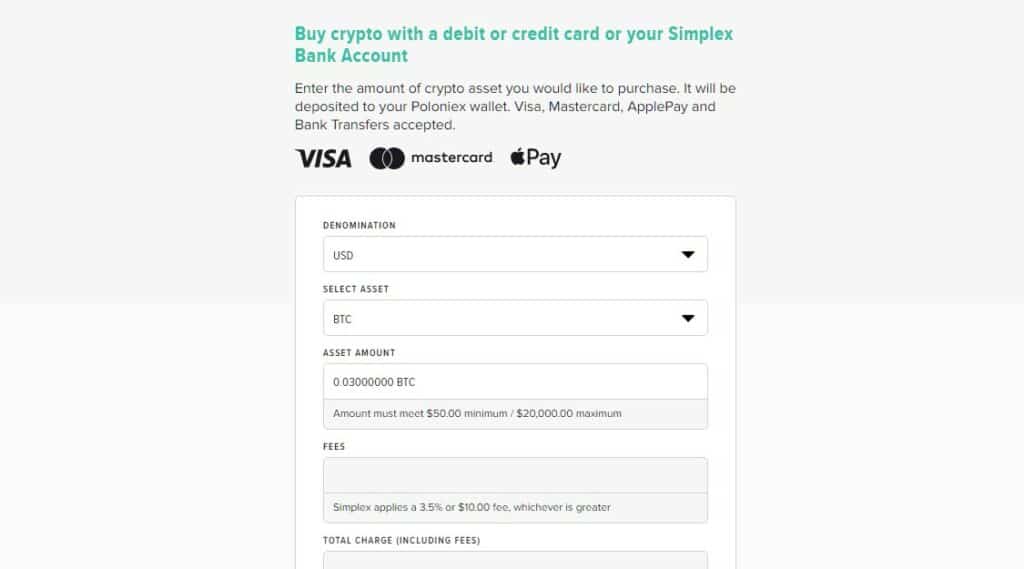 One key point to mention is that this digital currencies exchange does not allow fiat currency deposits, which may make things more difficult for beginners who are just getting started in the world of crypto trading.
Trading Fees and Limits
Poloniex has an established tier fee schedule according to which a trader has to pay for each trade that's executed on the platform. The maker/taker fee rate will get lower whenever you advance to the next fee tier, which is determined by your 30-day trading volume.
In this regard, your 30-day trading volume and current TRX balance are calculated every 24 hours, and your fee tier gets automatically changed in accordance with this low fee framework.
Simplex Fees
For processing credit card transactions, Simplex charges a fee of 3.5% or $10.00 (whichever is higher), applicable taxes notwithstanding. Please note than Poloniex levies an additional 0.75% on top of the Simplex fees. Also, Simplex mandates a $50 USD minimum purchase amount to be met. Please be informed that your own bank or card issuer may charge you "international transaction" or "cash advance" fees for using the services.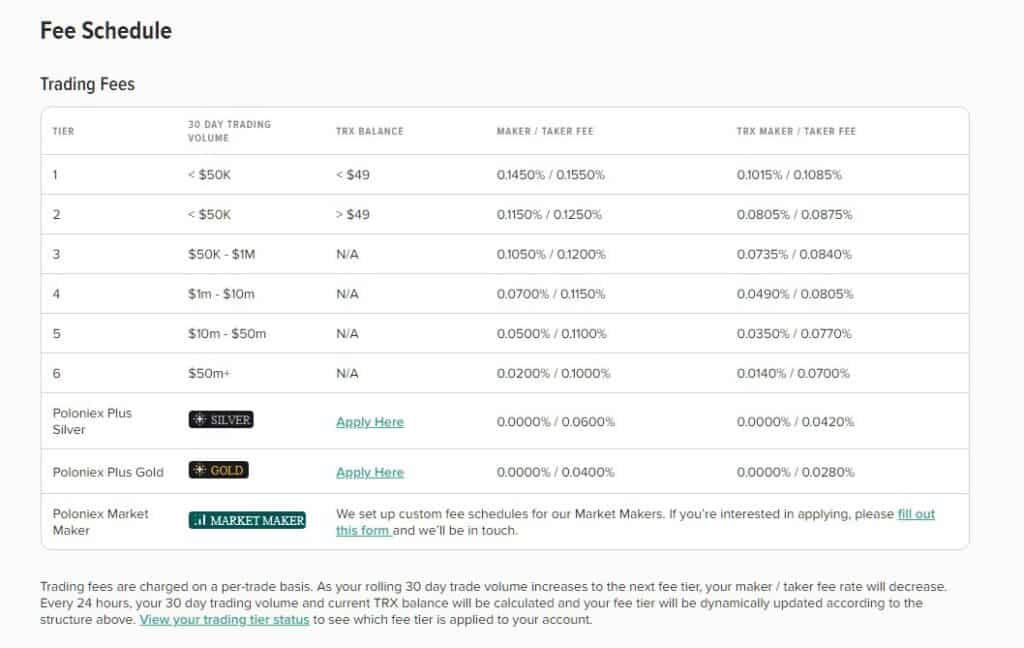 Moreover, it is possible that you will be asked to verify your identity throughout the Simplex payment procedure. For this, it's advisable to have a valid photo identification document handy.
Poloniex, on the other hand, does not charge any fees for cryptocurrency deposits. When users remove assets from their wallets, a predetermined withdrawal fee per asset is charged to cover the expense of disseminating the transfer of funds to the rest of the blockchain network.
Is Poloniex Safe to Use?
To begin with, Poloniex is a cryptocurrency asset exchange that is not regulated. In 2014, it had experienced a loss of 97 bitcoins as a result of a hacking incident. Because of this, the creator of the exchange established continuous automatic audits of the whole exchange, reinforced the protection of all servers, and altered the way inputs are executed in order to avoid any future cyber-attacks.
In addition, the platform has been enhanced with a variety of different security mechanisms, including the following:
Security techniques against Distributed Denial-of-Service (DDoS) attacks,
Cold storage of more than 90% of the user's funds,
Cryptographic signatures-based DNS cache protection,
Two-factor authentication protocol (2FA),
Email confirmations,
IP lockouts, etc.
Customer Support
The Poloniex web platform provides a help centre with useful articles that improve your understanding of how things work on the exchange and in the crypto world in general. However, by the look of things and the shared experiences of the Poloniex users on TrustPilot, contacting a professional from Poloniex support may prove to be a bit sluggish.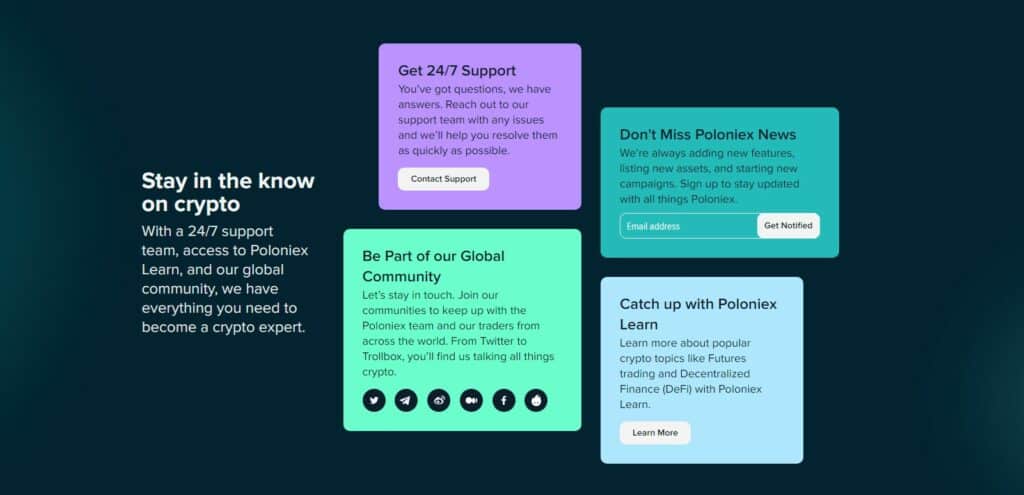 In addition, this crypto exchange is well-represented on social media sites such as Twitter, Telegram, and Facebook. Poloniex users also have access to a feature labelled Trollbox, which allows them to interact with many other clients on the platform to share good practices, experiences, or advice.
Frequently Asked Questions
Does Poloniex have a mobile app?
While you can simply trade on your smartphone using the web interface, Poloniex also provides its customers with a mobile app that makes trading even more convenient while on the move. You can easily access the order book, order forms, charts, market analysis, and your trading history via the app. This mobile application is compatible with devices running on both Android and iOS operating systems.
What countries are supported by Poloniex?
Poloniex is a cryptocurrency exchange established in the United States that facilitates digital assets trades throughout the world. However, this exchange does not provide its financial services to users from the following countries: Germany, China, Vietnam, Pakistan, United States Virgin Islands, Antarctica, Botswana, Christmas Island, Lebanon, Crimea, Palestine, Afghanistan, and Pakistan.
Even though Poloniex is a US-based crypto exchange, its financial services are not available for the residents of the following states: New York, Washington, and New Hampshire.
For citizens of the aforementioned countries/states who are actually staying in an eligible country, the registration process can be accomplished without any difficulty.
A Few Words Before You Go…
Poloniex was formerly considered a "legendary" leader in the cryptocurrency industry, but these days it isn't as prominent as it had once been. However, when it comes to trading Bitcoin and other large cryptocurrencies like Ethereum, it still has a lot to offer its clients.
For their part, the creators behind this cryptocurrency project should put in more effort to provide better customer assistance by improving its functionality, which is something that other cryptocurrency exchanges appear to be particularly adept at. In addition, Poloniex had a security breach in 2014, which leads us to believe that there is always potential for growth in this area as well.
Finally, given the fact that this exchange has changed ownership and is now owned by the payment company Circle and situated in Seychelles, we are certain that many new and progressive improvements are in store for Poloniex in the future, both near and far.