PrimeBit Review for 2023
The varied range of crypto opportunities hasn't ceased to amuse us ever since Bitcoin caught the eye of tech-savvy enthusiasts for the first time. Cryptocurrencies have turned to be such a flexible trading instrument, so their scope of activities is naturally adjusting to the new technology trends and growing users' appetites.
Today we're discussing PrimeBit — a cryptocurrency exchange that presented such an innovative crypto-trading approach by combining leveraged futures contracts with the P2P (peer-to-peer) model. The exchange aims to refute the common belief that perpetual futures belong only to a narrow circle of advanced traders even though its outline gives the undeniable impression that we're dealing with a highly advanced trading platform.
However, let's not get ahead of ourselves! Let's go through PrimeBit's features to get a deeper understanding of the platform and find out what type of experience we should expect at the end of the day.
About PrimeBit
PrimeBit is a P2P crypto derivatives platform where users can spot trade or make futures contracts for Bitcoin (BTC) and other supported cryptocurrencies. Perpetual futures contracts come with the possibility of leverage that can go up to 200x — the highest recorded number in the area of crypto margin trading to date. On top of this, PrimeBit delivers cost-effective deals and gives users an opportunity to trade either on their own brand-new platform (app.primebit.com) or use MetaTrader — a well-known name in the forex trading community.
At first glance, we couldn't help but notice that PrimeBit's developers must have had deep and accurate knowledge of the market prospects to create such a generous package — the exchange was recognized worldwide immediately after its launch in 2019.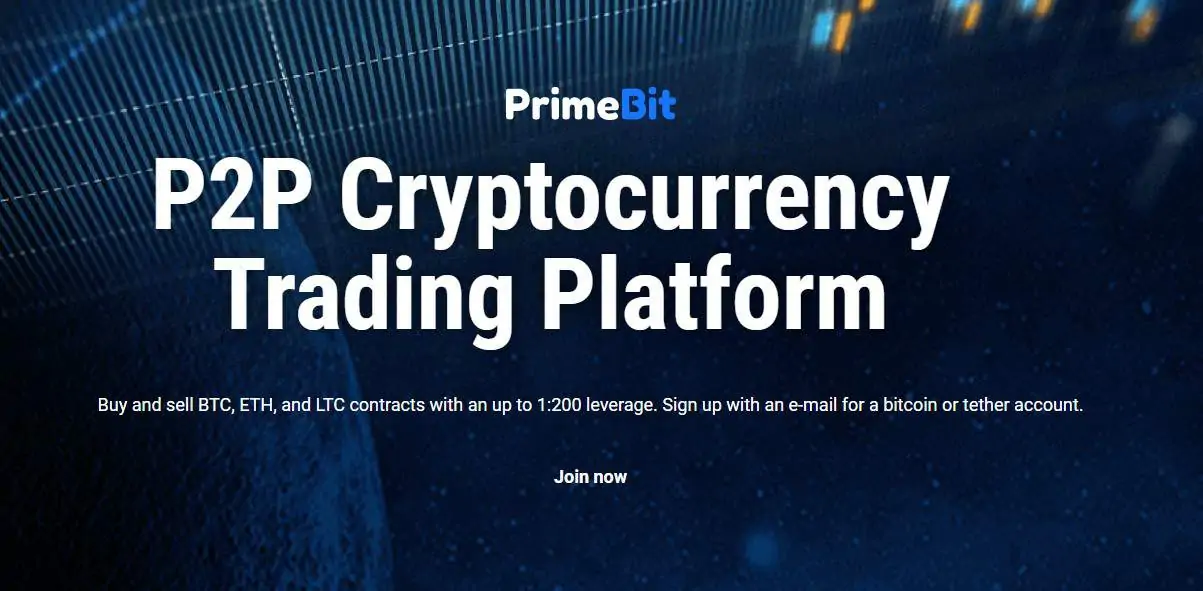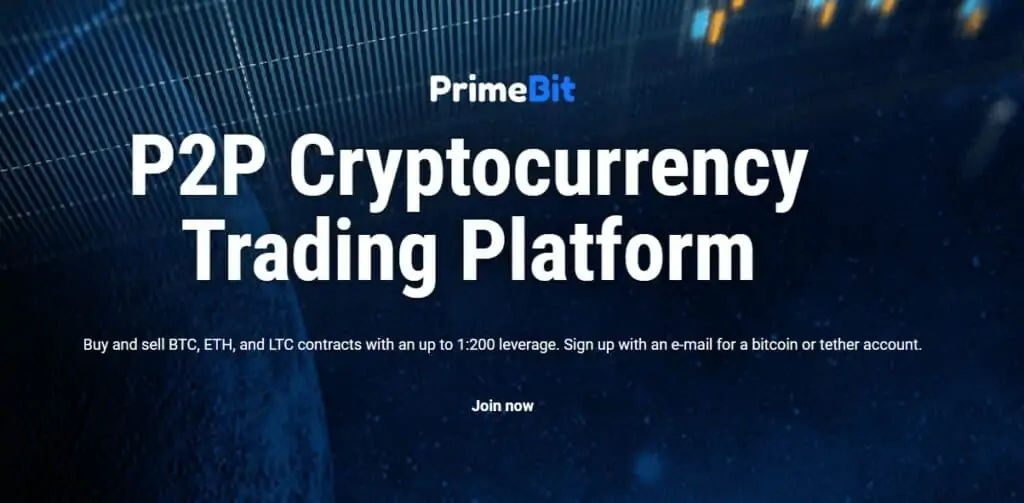 However, not much is known about the team behind PrimeBit. The platform's official website provides no info about the founder or list of the company's management structure. The exchange runs under the umbrella of PrimeBit Ltd, which is a registered company in Saint Vincent and the Grenadines. On the other hand, PrimeBit has a dynamic interaction with its users through its Facebook and Reddit channels and regularly updates its blog with all platform-related news and announcements on current offers and discounts.
How to Trade on PrimeBit?
The truth is that margin crypto CFDs do require certain experience and pre-determined trading strategies for tangible profit. Luckily, on PrimeBit, you can save time and energy for the main playground as the setup process is completely hassle-free.
How to Set Up a PrimeBit account?
To register with PrimeBit, you'll need to provide a valid email address or connect to the platform through an exciting Facebook or Gmail account. You'll receive a confirmation code to verify your email and set up a password. As simple as that — PrimeBit isn't a fiat transmitter so you won't have to go through a KYC verification.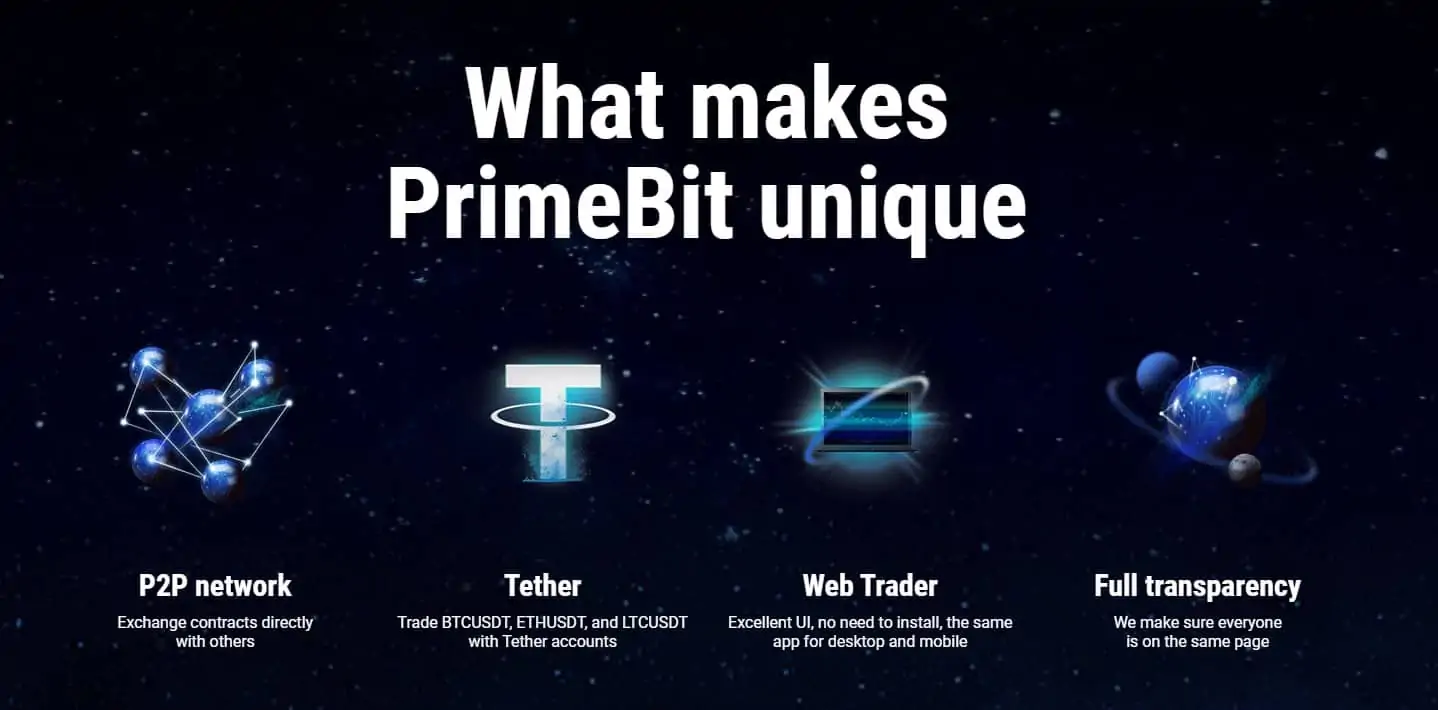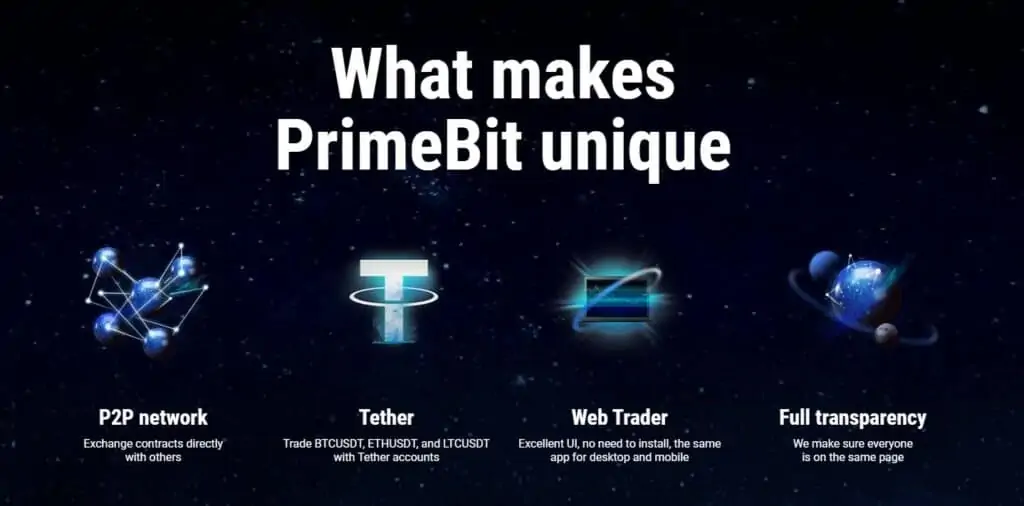 The next stage is the deposit (you'll find more on this in Deposit Options). For starters, you should know that, as a registered user, you'll get both a trading account and a built-in crypto wallet. Regardless of whether you use the exchange wallet or a third-party one, the trading account will enable you to access your "buried" BTC with ease and start trading directly from the PrimeBit trading app.
Trading Platforms
Now that you're ready to go, you should know that PrimeBit will automatically convert you to its web trader. If you opt for using Metatrader, you should download the software and link it with your PrimeBit account.
Web Trader
PrimeBit has recently launched its own trading platform so that users have the option for a more simplified trading ground. The web trader is intuitively designed, features fair functionality, and differs in no respect from the majority of user interfaces you'll find on the most commercially viable crypto exchanges nowadays.
As implied, the native PrimeBit platform is more suitable for newcomers but it contains all the necessary tools for building analytic strategies. You'll notice that the charting package takes a central part on the screen and it can be optionally expanded for better insight. Next to it, you can see a depth chart of the suggested markets and current trends. On the right side, there is room for your order forms, which are outlined in a very straightforward manner so that you can select an order type along with other required information about the order (quantity, value, and margin). The page bottom is reserved for leverage adjustment — here you can select the margin amount you will put down and the exposure to price changes of the underlying asset.
You'll find another convenient facility on the page — a trading calculator that will enable you to determine the potential liquidation and profit/loss levels before placing your order.
Types of Orders
In terms of orders, the PrimeBit web trader supports the two basic types — market and limit order. In addition to the limit orders, the platform provides tools for risk management in the form of stop-loss and take-profit orders as well as fair price marking indices. Finally, PrimeBit uses two mechanisms to protect users against a negative loss — Negative Balance Protection (NP) and Auto-Deleveraging (ADL), which notifies you every time your margin becomes insufficient for sustaining all your open positions.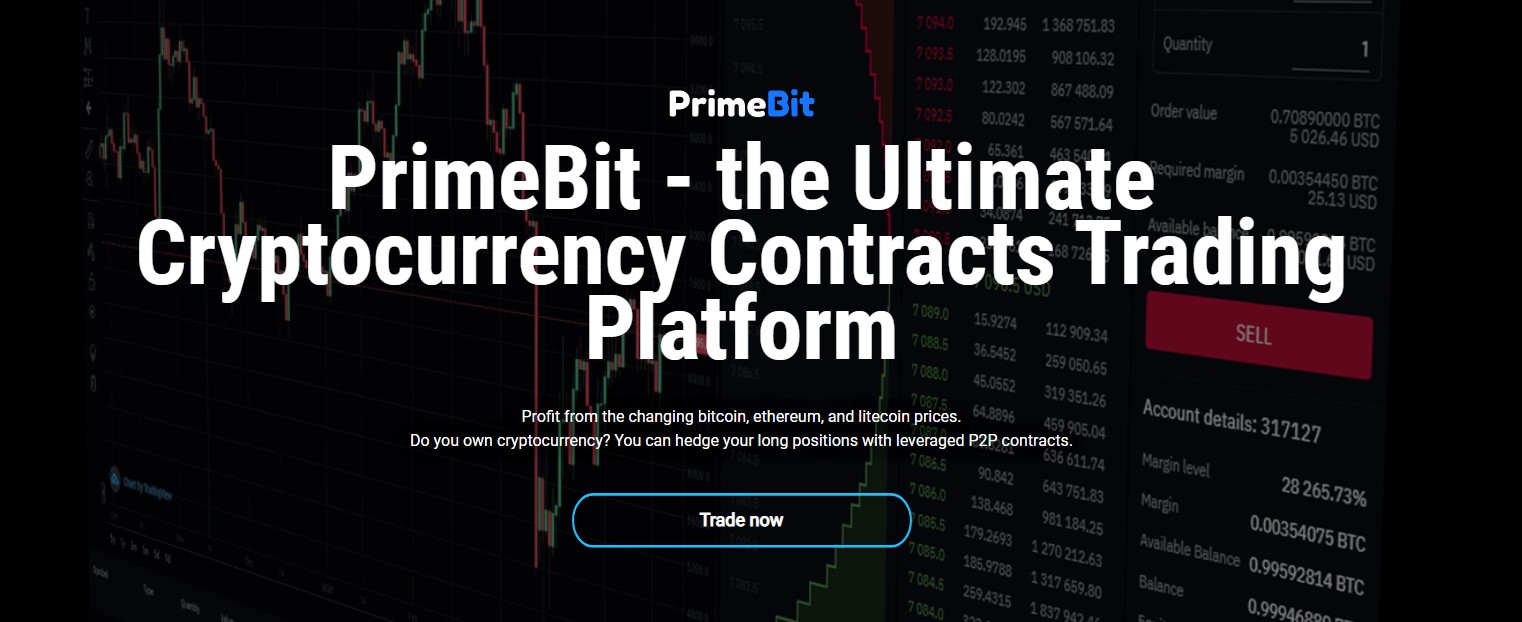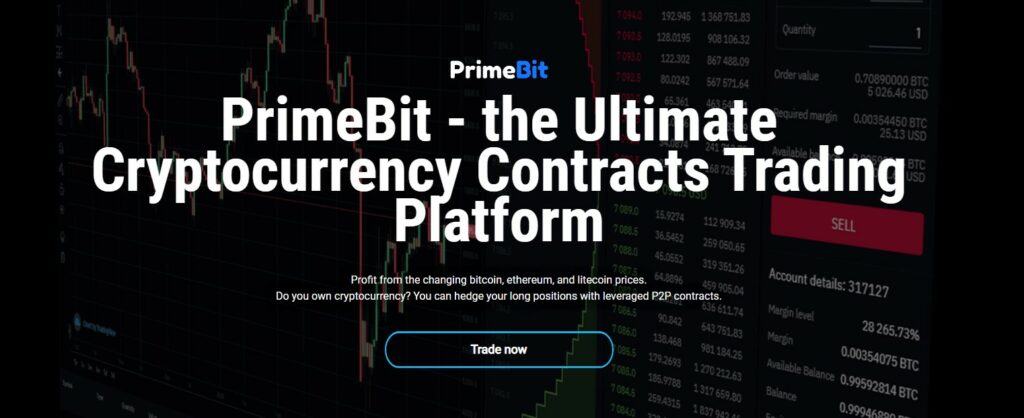 Finally, PrimeBit offers a demo account which comes super handy for novices, who can take the chance to trade with real-like funds and get used to PrimeBit features and functionality before the actual investment.
Metatrader
The MetaTrader software is a sophisticated tool package — perhaps the most frequently used one in the investment world overall. Now you can try the newest MT5 version that comes with a series of updates including depth charts as well as built-in economic calendars.
PrimeBit will allow you to land on the MT platform online but it's recommended that you download the MetaTrader 5 trading application on your device (the software is compatible with almost all operating systems (Windows, Linux, macOS, iOS, and Android).
The high functionality of MT5 is every seasoned trader's dream. It delivers extensive charting so that users can master their market analyses. On MetaTrader5, you'll find well-established market indicators such as RSIs, trendlines, Fibonacci, and many others. What's more, MetaTrader offers exceptionally broad functionality with your orders — you can customize multiple parameters for the supported order types, for example. In comparison to the PrimeBit native platform, here you'll find a more advanced selection of order types.
Trading Features
Margin Trading
Margin Trading is PrimeBit's major trademark as it allows you to leverage your position up to 200x. However, not all types of contracts are eligible for 200x leverage as the limit depends on the trading pair itself and the user's currency position. For example, a BTCUSD pair can go up to the highest leverage but you can also choose a lower enhancer out of the predefined margin sets of 1x, 2x, 5x, 10x, 25x, 50x, 100x, and 150x.


Perpetual Contracts
The main area of focus of PrimeBit are perpetual contracts. They are a type of futures contracts that doesn't involve the direct ownership of the underlying asset but allows users to conclude contracts where they speculate on the assets' price. The term "perpetual" comes from the lack of expiry date, unlike the traditional futures that operate within a predefined time frame. On PrimeBit, you can use six types of perpetual contracts BTCUSD, LTCUSD, ETHUSD, BTCUSDT, LTCUSDT, and ETHUSDT.
Don't get confused by the fact the base asset is quoted in USD or USDT — final settlements on PrimeBit are always made in BTC at a rate calculated on each contract separately and the funding fee.
Finally, on PrimeBit, payouts are linear while spot indices are determined by an algorithm that compares prices from liquidity leaders on the market: Kraken, Coinbase, Gemini, and Bitstamp.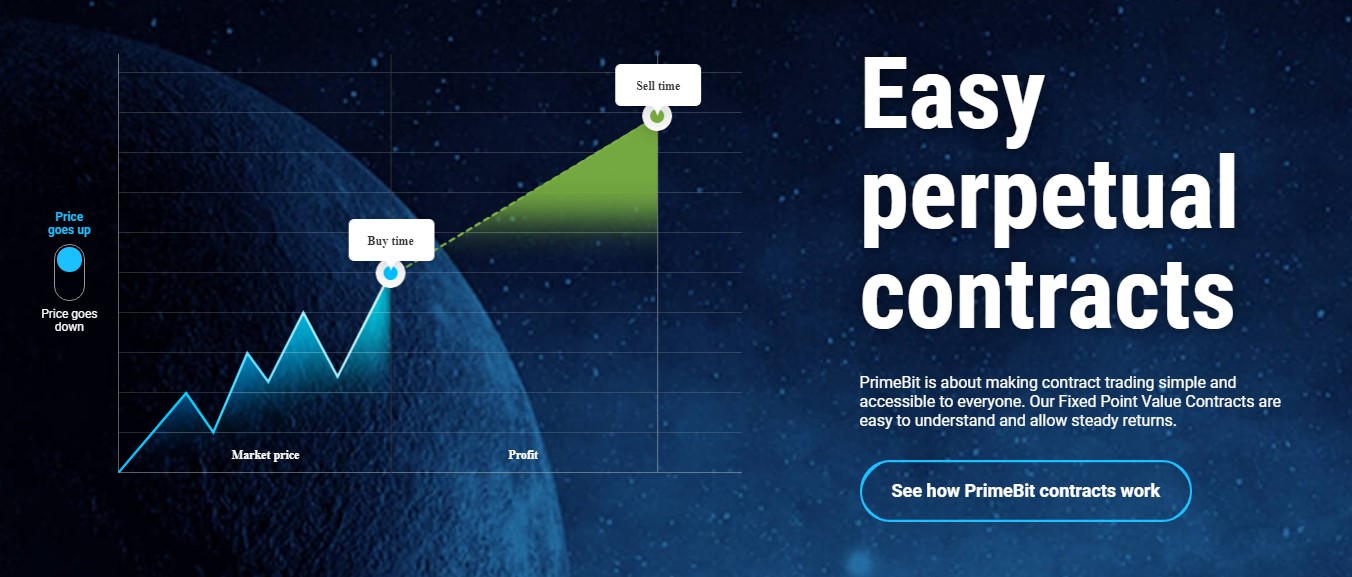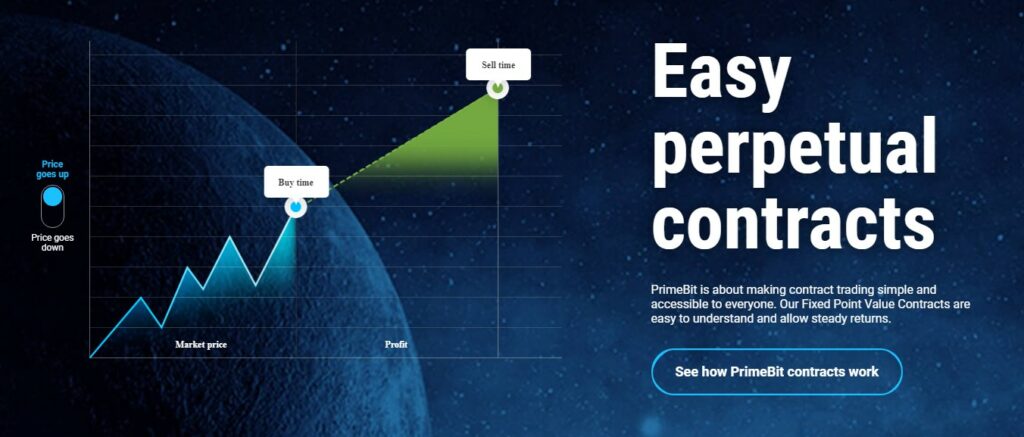 Deposit Options on PrimeBit
PrimeBit isn't an entry-level crypto exchange, which means that the platform doesn't facilitate any types of fiat funding. The only currency PrimeBit accepts is BTC and hence, you'll have to deposit it either from your independent wallet or from another exchange account. The exchange imposes no minimum deposit limit for your BTC.
But what if you don't own any BTC?
In that case, you have two options — purchase BTC via the external fiat provider Match2Pay — trusted by many well-established names in the crypto industry like Binance and BitMEX — or visit a crypto exchange that supports BTC purchases in your local currency. In Australia, you can always count on Swyftx or CoinSpot for such instant purchases.
PrimeBit Fees
PrimeBit is a bitcoin-based peer-to-peer platform that allows you to trade perpetual contracts with high leverage. The only payment methods accepted on the PrimeBit platform are BTC and USDT.
It goes under the radar, but using Match2Pay to buy Bitcoin via bank transfer is a secondary option. Alternatively, you can buy Bitcoin via an exchange that offers fiat-to-crypto transactions and transfer it into PrimeBit.


Trading Fees
When it comes to pricing, PrimeBit is in line with the industry standard, incurring trading fees that range between -0.025% and 0.075%. The exchange makes an attainable distinction between maker and taker fees and the negative figures you see refer to the amount makers get as a reward when they add liquidity to the exchange pools.
Deposit and Withdrawal Fees
The exchange applies a no-charge policy for withdrawals and deposits. Have in mind, though, that this doesn't cover the fees that could possibly arise from the fiat-to-BTC purchase necessary to make a deposit on PrimeBit. Also, don't forget the transaction fees that the blockchain network incurs per each withdrawal.
What really costs on PrimeBit (just like on any other margin derivatives crypto exchange) is trading with high leverage. For each position you'll open, there is a separate funding rate, which is recalculated every 8 hours.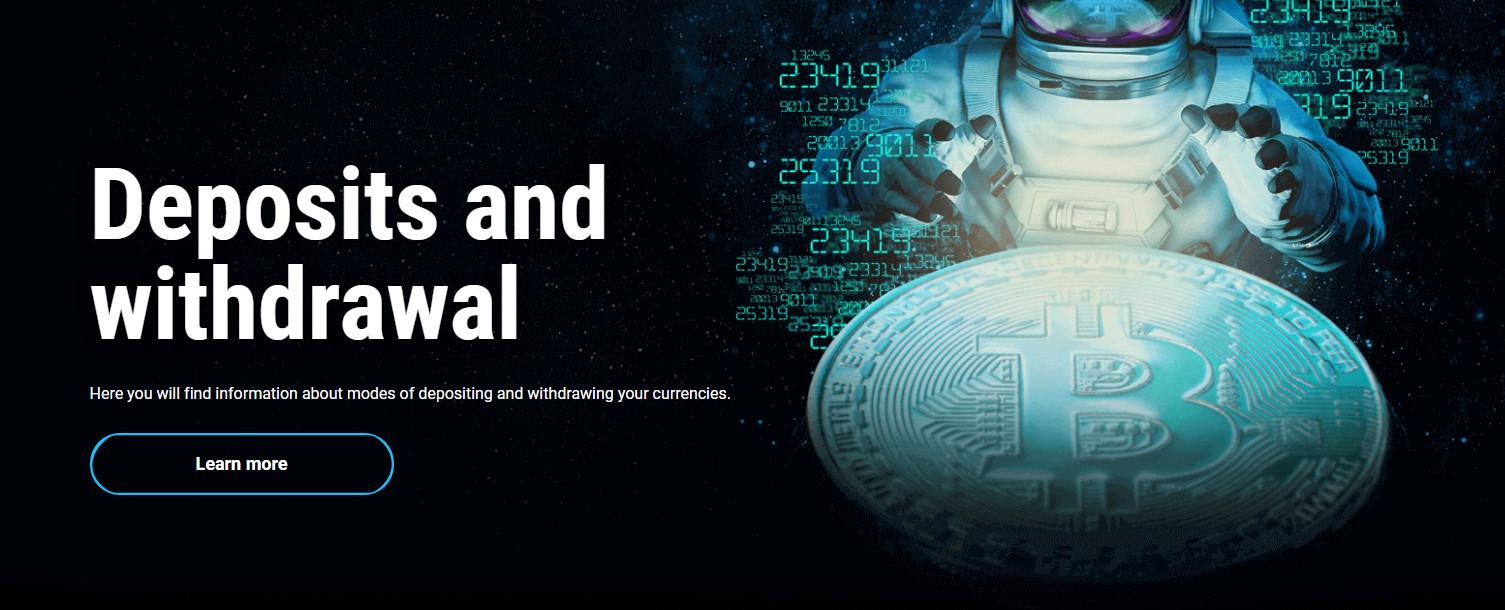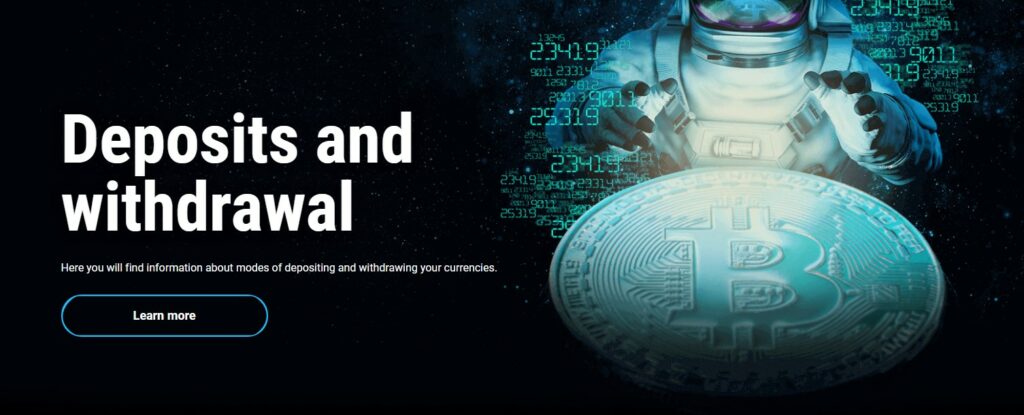 PrimeBit Security
Despite being a Saint-Vincent-and-Grenadines-registered company, this derivatives exchange isn't backed up by an official financial institution, which questions its legitimacy to a certain extent.
However, the exchange implements robust security measures when it comes to users' protection. PrimeBit utilizes AWS (Amazon Web Services) servers, which has become an industry standard for reliable crypto services.
Users and company funds, however, aren't cloud-stored — PrimeBit records all deposit addresses in cold wallets that, by definition, aren't connected to the internet. Hypothetically, if a cybercriminal got to the exchange, they won't succeed in approaching users' assets.
PrimeBit has adopted another highly advanced practice concerning withdrawals. Namely, each initiated withdrawal is manually verified by the exchange so it can easily detect any suspicious transaction.
In terms of account security, you will notice 256-bit encryption once you land on their website, which means that the interaction between the exchange and you is fully encrypted. Last but not least, PrimeBit does support 2FA (two-factor authentication) account protection — you'll find this option under security settings and adjust it during the sign-up process.
Customer Support
Interestingly enough, we often underestimate the support factor when choosing a reliable marketplace but around half of the bad reviews online happen thanks to poorly responsive customer support. Nevertheless, you won't find many PrimeBit reviews online since the exchange hasn't been operating for long.
PrimeBit offers fairly solid customer support, however, don't expect a phone line or live chat with a tech representative to address your issue in real time. However, you can always rely on their email assistance (support@primebit.com) for a quick response.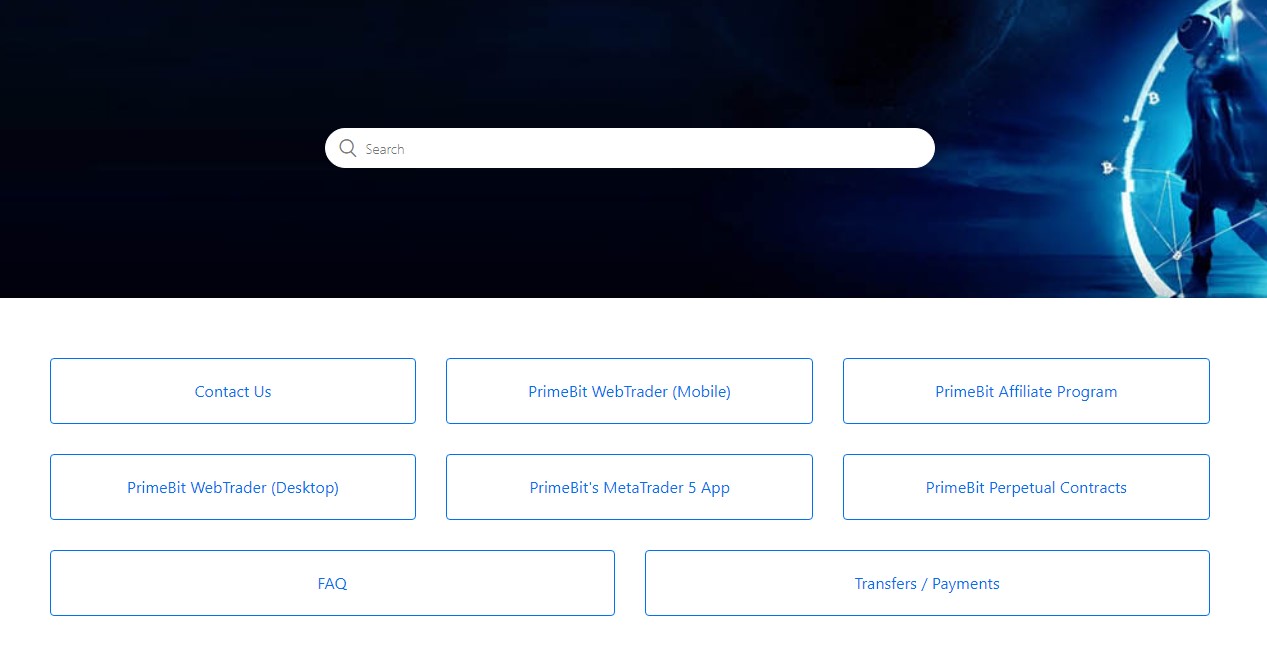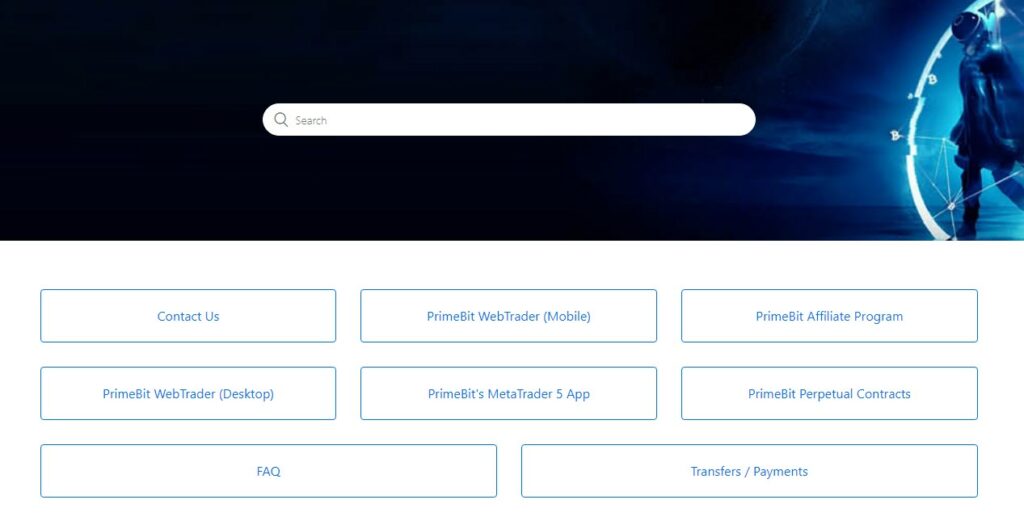 But before you reach out to them, take a look at PrimeBit's FAQ section — it's very likely you'll find a solution for your issue in their extensive knowledge base.
Finally, don't underestimate the power of social media. Your exchange-related concerns and questions won't go unnoticed when voiced publicly.
Frequently Asked Questions
Does PrimeBit offer an affiliate program?
Yes. One of the exchange's greatest strengths is the lucrative affiliate program that allows you to generate your affiliate link. The incentives come in the form of revenue share depending on the number of users you've brought on PrimeBiit. The starting amount is 5% and can reach up to 20% as the number of users you've referred rises.
What countries does PrimeBit support?
PrimeBit is designed for global audiences allowing you to trade from almost everywhere around the world. However, the financial legislation of some countries is extremely strict when it comes to derivatives, irrespective of the underlying asset. The list of PrimBit "forbidden" territories includes the USA, Canada, Cuba, Yemen, Japan, and a few more.
Does PrimeBit provide a mobile app?
The PrimeBit WebTrader is a browser-based platform — seamlessly adjustable to all screen sizes. Hence, there is no real need for a separate mobile or desktop app.
On the other hand, if you've decided to access PrimeBit through MetaTrader, you'll find a free app — for both Android and iOS users— that provides all functionalities for on-the-go trading.
A Few Words Before You Go…
With low fees and skyrocketing leverage of 200x, it's impossible for such an innovative P2P-derivative platform to keep a low profile among the pro-crypto community.
Unsurprisingly, it seems that PrimeBit has a lot of chemistry with junior crypto enthusiasts in particular since it satisfies all criteria for a beginner-friendly platform despite the tricky nature of the derivatives market:
An intuitive trading platform
Base level options for futures contracts
Narrow selection of supported cryptocurrencies (BTC, Ethereum (ETH), Litecoin (LTC), and Tether (USDT))
PrimeBit Compared
| Exchange | Cryptocurrencies | Fiat Currencies | Trading Fees | Deposit Methods | Sign Up |
| --- | --- | --- | --- | --- | --- |
| Swyftx | More than 320 | Australian Dollars, New Zealand Dollars | 0.6% | Osko, PayID, Credit Card, Debit Card, Bank Transfer, Cryptocurrency | Visit Swyftx |
| CoinSpot | More than 370 | Australian Dollars | OTC: 0.1% Market Order: 0.1%* (applies to LTC, BTC, ETH, XRP, POWR, DOGE, TRX, NEO, XLM, GAS, RChain, RFOX, EOS) Instant Buy/Sell: 1% | POLi, PayID, Cash, Cryptocurrency, Bank Transfer, BPAY | Visit CoinSpot |
| Binance | More than 600 | US Dollars, Australian Dollars, and 8 more | 0% to 0.1% | Osko, PayID, Credit Card, Debit Card, Crypto | Visit Binance |
| Bybit | More than 160 | 50+ | 0.1% to 0.6% | Crypto, EFT, wire transfer, bank transfer, debit card or credit card | Visit Bybit |
| Independent Reserve | 27 | Australian Dollars, US Dollars, New Zealand Dollars | 0.05% to 0.5% | EFT, SWIFT, Osko, PayID, Crypto | Visit Independent Reserve |
| Coinbase | More than 210 | Australian Dollars, US Dollars, New Zealand Dollars | Fees Vary | EFT, SWIFT, Osko, PayID, Crypto | Visit Coinbase |
| CoinJar | More than 50+ | Australian Dollars, Pound Sterling | Taker: 0.04 to 0.1% Maker: 0.04 to 0.1% | Apple Pay, Google Pay, Credit Card, Debit Card, Bank Transfer, Fiat, Crypto | Visit CoinJar |
| Kraken | More than 140 | Australian Dollars, US Dollars, and 5 more | Taker: 0.10% to 0.26% Maker: 0.00% to 0.16% | Apple Pay, Google Pay, SWIFT, Osko, SEPA, Crypto, Wire Transfer, Bank Transfer | Visit Kraken |
| BTC Markets | More than 15 | Australian Dollars | Taker Fee (for Bitcoin pairs): 0.20% Maker Fee (for Bitcoin pairs): -0.05% Australian Dollars Market Pairs: 0.10% to 0.85% | Crypto, BPAY, EFT, PayID, Osko | Visit BTC Markets |
| Easy Crypto | More than 40 | Australian Dollars, New Zealand Dollars, South African Rand | 1% | P2P, POLi, and Bank Transfers | Visit Easy Crypto |
| Coinstash | More than 140 | AUD | Taker fees: 0.85% Maker fees: 0.85% | Cryptocurrency, Bank Transfer, PayID | Visit Coinstash |
| eToro | More than 70 | Australian Dollars, US Dollars, Euro, and 12 more | Vary | Online Banking, Skrill, Neteller, PayPal, Bank Transfer, Debit Card | Visit eToro |
| KuCoin | More than 645 | US Dollars, Euro, Australian Dollars, and 6 more | 0.1% | Credit Card, Debit Card, SEPA, PayPal, Wire Transfer, Crypto | Visit KuCoin |