PrimeBit Review
PrimeBit is a crypto derivatives exchange that supports peer-to-peer trading and perpetual contracts with its origins in Saint Vincent and Grenadines.

PrimeBit is the first P2P Bitcoin exchange that offers leveraged trades for Ethereum, Litecoin, and Bitcoin perpetual contracts. Unlike the bulk of derivatives exchanges that make money when traders lose money, PrimeBit doesn't. Instead, its main job is to facilitate P2P transactions.

In this PrimeBit review, we'll explore how it works, the trading fees, and the payment methods available on the exchange.

About PrimeBit
The model of PrimeBit's peer-to-peer trade is Bitcoin-based. With PrimeBit, you're getting up to 200x leverage trading — the highest anywhere in the crypto industry. It's a feature that drastically improves your profit threshold.
For instance, say you make a trade with a stake of $200 on Ethereum, predicting that ETH increases in value. Let's assume your prediction is correct and Ethereum increases by maybe 10%. That means you should expect a profit margin of $20.
What the leverage does is increase your stake by up to 200x. In this case, with $200, you can earn up to $4000 profit instead of $20. Although, if your prediction is wrong, you'll lose by the same margin.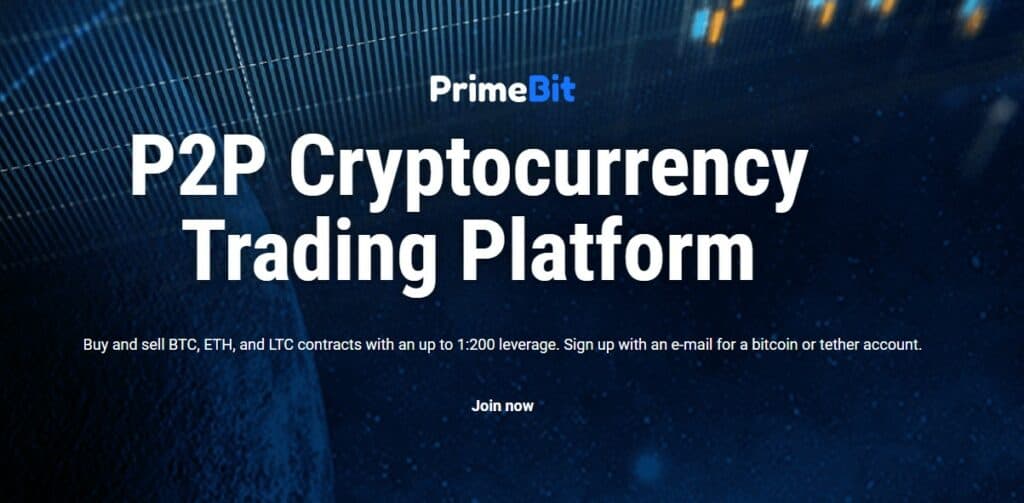 PrimeBit launched in 2019, and its unique offerings have been the catalyst for rapid growth. PrimeBit offers a fixed-point value, peer-to-peer network, and a completely transparent trading process.
And it's not just about the money. PrimeBit has a vibrant community that new users can join with ease. In addition, the derivatives exchange has a significant presence on Facebook and Reddit, where you can chat with fellow traders.
Perhaps the only blot on PrimeBit's reputation is the lack of clarity on the founders and current leadership. Hopefully, we'll get more information on them in due course.
Supported Cryptocurrencies
PrimeBit supports only four cryptocurrencies:
Bitcoin
Ethereum
Litecoin
USDT
But there's a limit on who can trade these cryptocurrencies. Despite its global presence, PrimeBit doesn't support users from the United States of America.
Features
For most peer-to-peer trading platforms, the interface is usually confusing for newbies. But somehow, PrimeBit has managed to keep its platform simple enough for beginner traders and functional enough for experts.
MetaTrader 5 was the active charting system on the crypto trading platform. But recent upgrades have seen PrimeBit pivot to the more efficient TradingView engine. As a result, the charting system on PrimeBit is smooth, super functional, and intuitive.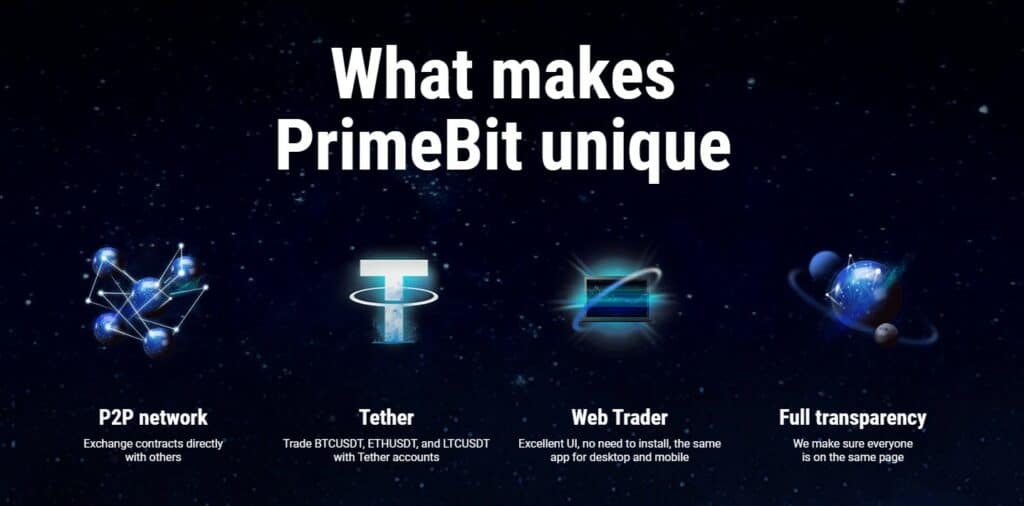 The standout features on PrimeBit include:
Flexible leverages mean traders can change their leverage choices through the menu of the web trader.
Indicators on the web trader are present to help with technical analysis.
PrimeBit gives traders the ability to customize trading charts to taste.
A seamless experience, whether with the mobile app or website.
There is a need to create an account before using PrimeBit. Registration is simple and accessible through a unique email, Facebook account, or Google account. However, using your Google account or Facebook gives you faster registration.
After registering your account on PrimeBit, you'll need to verify it through a link sent via email. Once this verification is complete, your trading account is good to go.
Customer Support
When crypto operations are running smoothly on crypto platforms, most traders never bother about customer support. But wait till one dollar goes missing, and the customer support team will suddenly have a lot of work to do.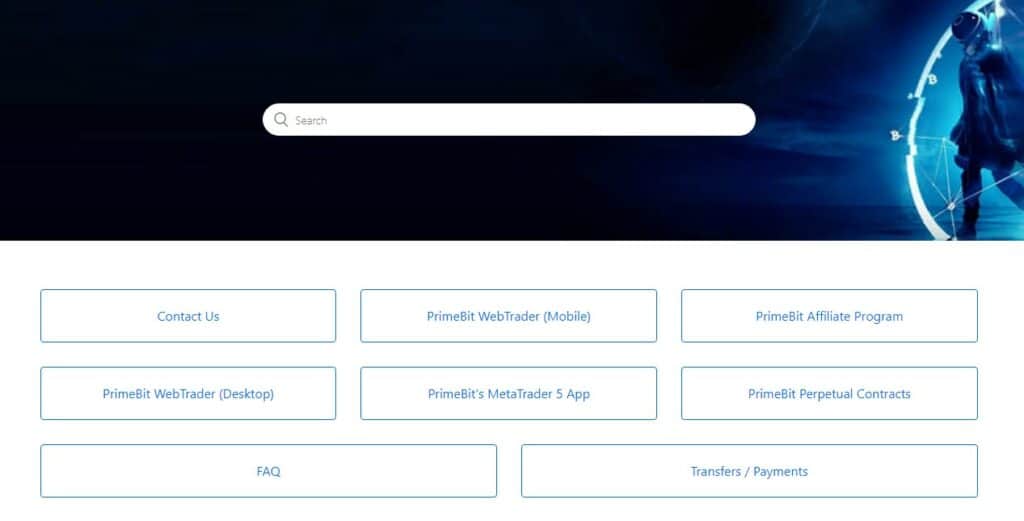 The good thing is the customer support team on PrimeBit isn't one to disappoint its users. PrimeBit's website has an FAQ page that gives numerous answers to most of the questions you may have.
But if you don't find an answer to your question, you can contact customer support via mail or their social media pages. The amount of time needed to resolve your issue depends on how severe it is.
Payment Methods
PrimeBit is a bitcoin-based peer-to-peer platform that allows you to trade perpetual contracts with high leverage. The only payment methods accepted on the PrimeBit platform are BTC and USDT.
It goes under the radar, but using Match2Pay to buy Bitcoin via bank transfer is a secondary option. Alternatively, you can buy Bitcoin via an exchange that offers fiat-to-crypto transactions and transfer it into PrimeBit.
Trading Fees
There are no trading fees for deposits into a PrimeBit account. But for withdrawals, the trading fees are about 0.0005 BTC.

The crypto exchange also uses a maker-taker model to determine the extent of trading fees. It depends on the order and whether you're making or taking it.
PrimeBit pays you up to 0.025% of any order you make. Conversely, if you're taking an order, you'll be paying PrimeBit 0.075% of the order value.
Security and Safety
Since its launch in 2019, there have been zero reports of any hack or scam on PrimeBit's crypto platform. You can trace the level of security to PrimeBit's safety measures — offline storage and two-factor authentication.
Your digital assets on PrimeBit sit in an offline wallet, a deterrent to would-be hackers who can only do damage online. Furthermore, the private keys are not on a cloud server. So even if a server hack happens, the perpetrators can't get to the private keys.
Frequently Asked Questions
Here's what you need to know:
Can I Trade with My Mobile Device on PrimeBit?
Yes, you can. Simply download the mobile application and utilize the web trader from PrimeBit.
Can I Learn to Trade on PrimeBit?
Yes, you can watch YouTube videos to learn how to use the PrimeBit platform.
Final Take
PrimeBit offers traders a fair experience. Their charting platform is pretty responsive and comes with advanced trading functionality that'll thrill experts. PrimeBit also offers linear payouts and calculates spot indexes with prices from four solid exchanges — Kraken, Gemini, Bitsamp, and Coinbase. And there are no expiry dates on Primebit contracts.
In the area of safety, PrimeBit scores top marks and is accessible on varied platforms. For traders looking to grow their Bitcoin portfolio with high leverage trading, PrimeBit is one of the best options.
To cap it off, you can also earn money through their affiliate programs. PrimeBit has a snowball affiliate program that offers earnings up to 20% of revenue made by invitees. What's not to like?