PrimeXBT Review
PrimeXBT is an exchange platform that facilitates trading assets like cryptocurrencies, stocks indices, forex, and commodities.

Thanks to its high liquidity, removal of KYC, relatively low trading fees, user-friendly interface, and incredible leverage, this crypto exchange is now a leading player in the crypto industry. But how does PrimeXBT fare against other margin-trading platforms?

This PrimeXBT review examines the exchange's vital features, trading fees, payment methods, supported cryptos, security, and customer support.

About PrimeXBT
Founded in 2018 in Seychelles, PrimeXBT is a one-stop-shop exchange that supports digital and traditional assets trading.
Prime Technology Ltd. Seychelles and its subsidiary, PrimeXBT Trading Services LLC St. Vincent & the Grenadines, run this exchange platform.
PrimeXBT supports the trading of more than 80 assets and processes about $545,000,000 per day. It executes all its trades from Amazon AWS servers located in Frankfurt and London. It also partners with several liquidity providers to offer fast order execution.
PrimeXBT serves clients in more than 150 countries. However, it isn't accessible in the USA, Quebec, Cuba, Ecuador, Syria, Ethiopia, Iran, Algeria, North Korea, and Sudan.
The platform's website supports 16 languages, including English, Chinese, French, German, Portuguese, Japanese, and Bengali.
Supported Cryptocurrencies
PrimeXBT supports the following crypto-USD pairings.
Bitcoin – BTC/USD
Ethereum – ETH/USD
Litecoin – LTC/USD
EOS – EOS/USD
Polkadot – DOT/USD
Ripple – XRP/USD
Cardano – ADA/USD
Solana – SOL/USD
Uniswap – UNI/USD
Chainlink – LINK/USD
Dogecoin – DOGE/USD
This exchange also facilitates the trading of crypto-Bitcoin pairings. Below are the available pairings.
ETH/BTC
LTC/BTC
EOS/BTC
XRP/BTC
ADA/BTC
DOT/BTC
When it comes to indices, PrimeXBT provides access to popular indices like NASDAQ 100, S&P 500, ASX 200, and NIKKEI 225.
The exchange allows investors to trade in major and exotic currency pairs like USD, GBP, EUR, RUB, MXN, to name a few.
You can also trade commodities such as Gold, Natural Gas, Silver, and Oil.
Features
PrimeXBT has an array of features that suits beginner and veteran traders.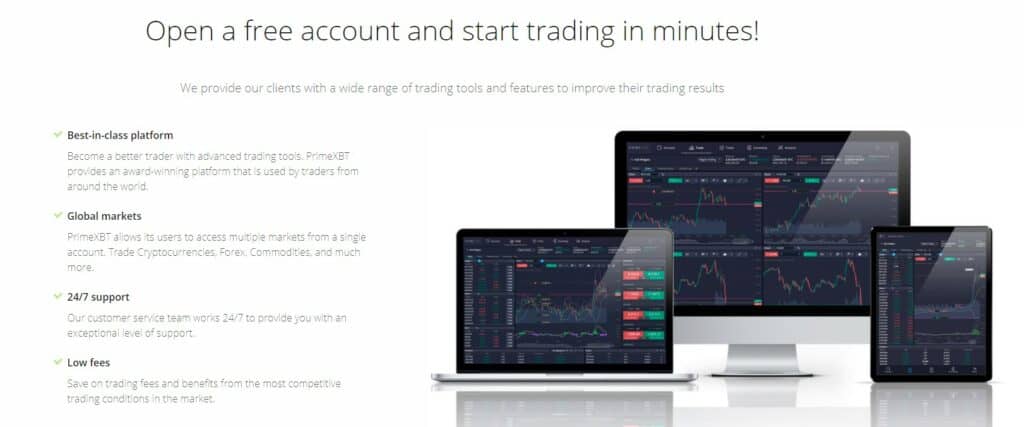 Customizable Trading Platform
PrimeXBT offers a well-laid out, customizable trading platform. You can easily alter your workspace using market visualization and trading tools.
Professional Trading Charts
This trading platform offers advanced, interactive charts that run on TradingView. The default chart is the candle chart, but users can view charts with hollow candles, baseline, area, line, Heikin Ashi, or bars.

The charts come with over 50 technical indicators that enable users to conduct in-depth market, price, and trend analyses.
Multiple Order Types
PrimeXBT's order form comes with multiple order types that provide flexibility during trading. Some of them include:
Market Order
This order suits crypto traders who buy or sell immediately. It places and executes orders at the current market rates.
Stop Market Order
Traders use these orders to prevent losses or generate profit from an advantageous position. Stop market orders mutate to market orders once they reach a particular stage.
Protection Orders
These orders protect your current position.
One-Cancels-the-Other (OCO)
These are conditional orders that cancel each other.
Limit Order
This order places an offer at a particular market price.
Secure Wallets
This exchange platform provides secure wallets where you can store digital assets. PrimeXBT holds all cryptos in offline storage units.
Covesting Module
The Covesting feature allows you to copy the trading activities of top-performing traders automatically. You can use this feature to follow multiple traders and achieve the same returns.

PrimeXBT Turbo
The turbo functionality enables traders to wager the price of an asset within a short duration. You win by correctly predicting price fluctuations after 30 seconds, 1 minute, or 5 minutes.
Referral Program
This trading platform runs a tier-based referral program that rewards users. You receive part of the trading fees your referrals pay. These fees could be from direct, tier 2, or tier 3 referrals.
Customer Support
PrimeXBT has a dedicated Help Center page. Here, you'll find answers to frequently asked questions (FAQs).
Apart from the FAQ section, you can get help via the 24/7 live chat functionality or email (support@help.primexbt.com).
You can also get more assistance by visiting PrimeXBT's social pages on Twitter, Telegram, YouTube, and Facebook.
Payment Methods
This platform supports several deposit and withdrawal options.
Deposits
You can make deposits to primeXBT through:
Direct cryptocurrency deposit (from your crypto wallet)
Credit cards – Mastercard, Visa
Bank Transfer
SEPA Transfer
Deposits from banks, credit cards, and SEPA involve third parties. You'll need to purchase BTC, USDC, ETH, and USDT from third-party exchanges then send them to your PrimeXBT wallet.
The minimum deposit in this trading platform is 0.001BTC.
Withdrawals
PrimeXBT supports withdrawals to external crypto wallets. The minimum cash-out depends on the network transaction fee. Here's a breakdown of these fees.
Bitcoin – 0.0005 BTC
Ethereum – 0.01 ETH
USDT – 20 USDT
USDC – 18 USDC
This crypto exchange processes withdrawals once a day from 12:00-14:00 UTC.
Trading Fees
PrimeXBT is among the exchanges that charge low fees. Instead of a maker/taker fee, it imposes a flat fee of 0.05% per crypto trade.

Overnight financing fees might apply if you fail to close your position on the same day. These fees vary depending on the cryptos you're trading.
You'll pay 0.001% for trading forex and about 0.01% for trading commodities and indices.
Security and Safety
PrimeXBT provides multiple levels of security to users and cryptos.
It stores all virtual assets in offline storage facilities. Multi-signature access (Multisig) protects these facilities.
Users can further protect their assets using the mandatory address whitelisting feature. You cannot make withdrawals to non-whitelisted addresses.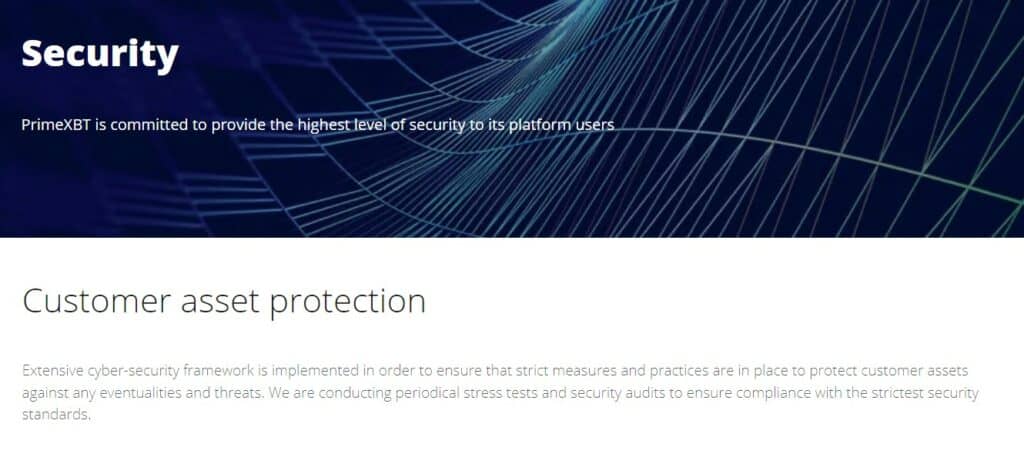 A dual-factor authentication protects all user accounts. The platform's 2FA system uses a TOTP solution, meaning it's more secure than SMS-reliant 2FAs.
Cloudflare protects PrimeXBT's site from DDOS attacks, while encrypted SSL secures web traffic.
This platform performs frequent assessments to identify vulnerabilities.
Frequently Asked Questions
Is PrimeXBT accessible in the US?
No, PrimeXBT doesn't provide its services to US traders. Exchanges have to register with the Securities Exchange Commission (SEC) before they engage US investors. Unfortunately, PrimeXBT hasn't registered with the SEC.
Is PrimeXBT regulated?
No, this platform doesn't hold any financial service license.
Does PrimeXBT conduct KYC procedures?
PrimeXBT doesn't request users to provide identification documents.
Does PrimeXBT have trading fees?
Yes, you'll pay a 0.05% fee if you trade cryptocurrencies.