PrimeXBT Review for 2023
The crypto market has been more than a niche avenue for traders for quite some time now. Avid traders have recognized the potential of blockchain-based coins, so, nowadays, you can find many cryptocurrencies listed on sophisticated global trading platforms.
PrimeXBT is a typical example of how Bitcoin and other altcoins can coexist with traditional trading assets. The platform is a leader in the digital investment world, and apart from attractive crypto-USD and crypto-BTC pairs, it supports trading derivatives with forex, stock indices, CFDs, and a range of commodities (natural gas, crude oil, gold, and silver).
Now, let's dive deeper into PrimeXBT's features, uncover the charm of crypto derivatives, and find out what makes this exchange stand out in such a competitive industry.
About PrimeXBT
Launched at the end of 2018, PrimeXBT is a relatively young exchange platform that managed to hit a daily trading volume of nearly $4 billion in less than 2 years after its release. The exchange is a Seychelles-registered company with an official office in St. Vincent and the Grenadines.
On a more practical note, PrimeXBT focuses exclusively on derivatives margin trading — a trading technique that allows you to speculate on asset prices without necessarily owning them and make a profit if your prediction turns out to be correct.


As a potential user, you can either go long or short. Both are familiar trading practices in the traditional investment sphere where going long means that you'll bet on the selected coin to go up. Accordingly, if you go short, you guess that the asset's price will fall. To enhance your position, PrimeXBT will enable you to use up to 100x leverage.
On PrimeXBT, you won't find an option for spot trading, which classifies the platform in the category of advanced trading services. Although, due to the possibility to make instant fiat-to-BTC purchases, PrimeXBT is still considered an entry-level exchange.
The exchange comes with a perfect balance of anonymity and security — it doesn't require personal information in the registration process and offers industry-grade security measures.
How to Get Started With PrimeXBT
Reliable and fast, PrimeXBT offers a state-of-the-art interface that is smooth enough for beginners to feel comfortable while exploring the platform and exceptionally feature-rich to satisfy the most specific requirements of experienced traders. It features multiple charting tools, widgets, technical analyses, and an option to trade directly from the chart section.
Unlike many cryptocurrency exchanges that use the standard TradingView interface, PrimeXBT has its own charting engine that satisfies all criteria for professional end-user presentation.
How to Register on PrimeXBT
The registration process on PrimeXBT is hassle-free as it allows you to get on board without uploading selfie photos and sensitive documents. However, if you use fiat, the third-party provider will require full verification despite PrimeXBT's no-KYC policy. This is how to complete the registration successfully in a few steps: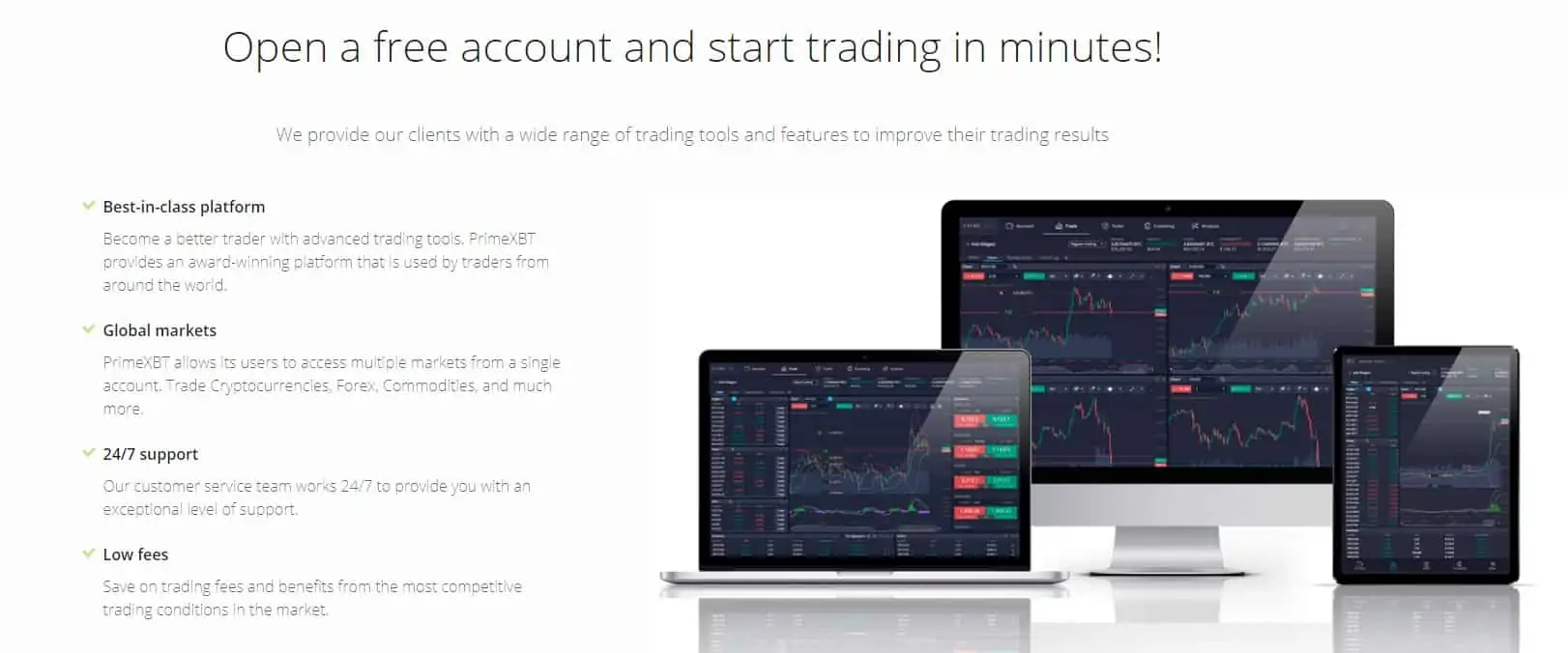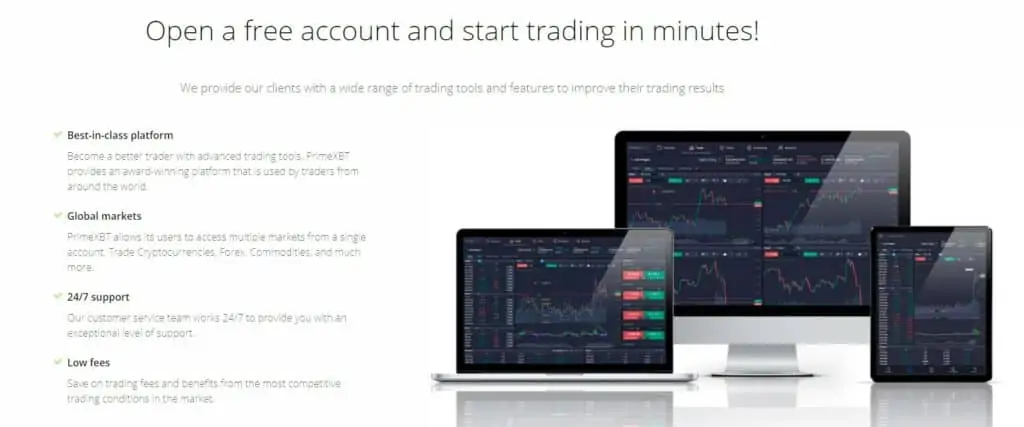 Insert a valid email and choose a password.
Enter your country code and phone number.
Accept the Privacy Policy and the Terms and Conditions.
Confirm your email by inserting the PIN for verification.
Complete the process by entering your country of residence.
How to Deposit Funds?
After finishing the setup, it's time to fund your account. You can earn a welcome bonus of $350 if you deposit at least 0.017 BTC, 850 USDT, 850 USDC, or 0.425 ETH in the 24 hours after registering.
As a registered user, you'll easily find the Deposit button and choose your preferred currency. With PrimeXBT, you can deposit:
Platform-supported cryptos from your independent wallet such as Bitcoin (BTC), Ether (ETH), Tether (USDT), Covesting (COV), or USD Coin (USDC).
Buy crypto with fiat currencies with your debit/credit card or through a SEPA transfer.
Now that you have your account funded, you'll have to transfer your assets to your margin account in order to start trading.
Trading Features and Products
Margin Trading
PrimeXBT allows 1:100 leverage on all assets supported by the platform, and not only on selected cryptocurrencies as is the case with the majority of crypto exchanges. All users can immediately enhance their buying (or selling) position with 100x times the initial capital.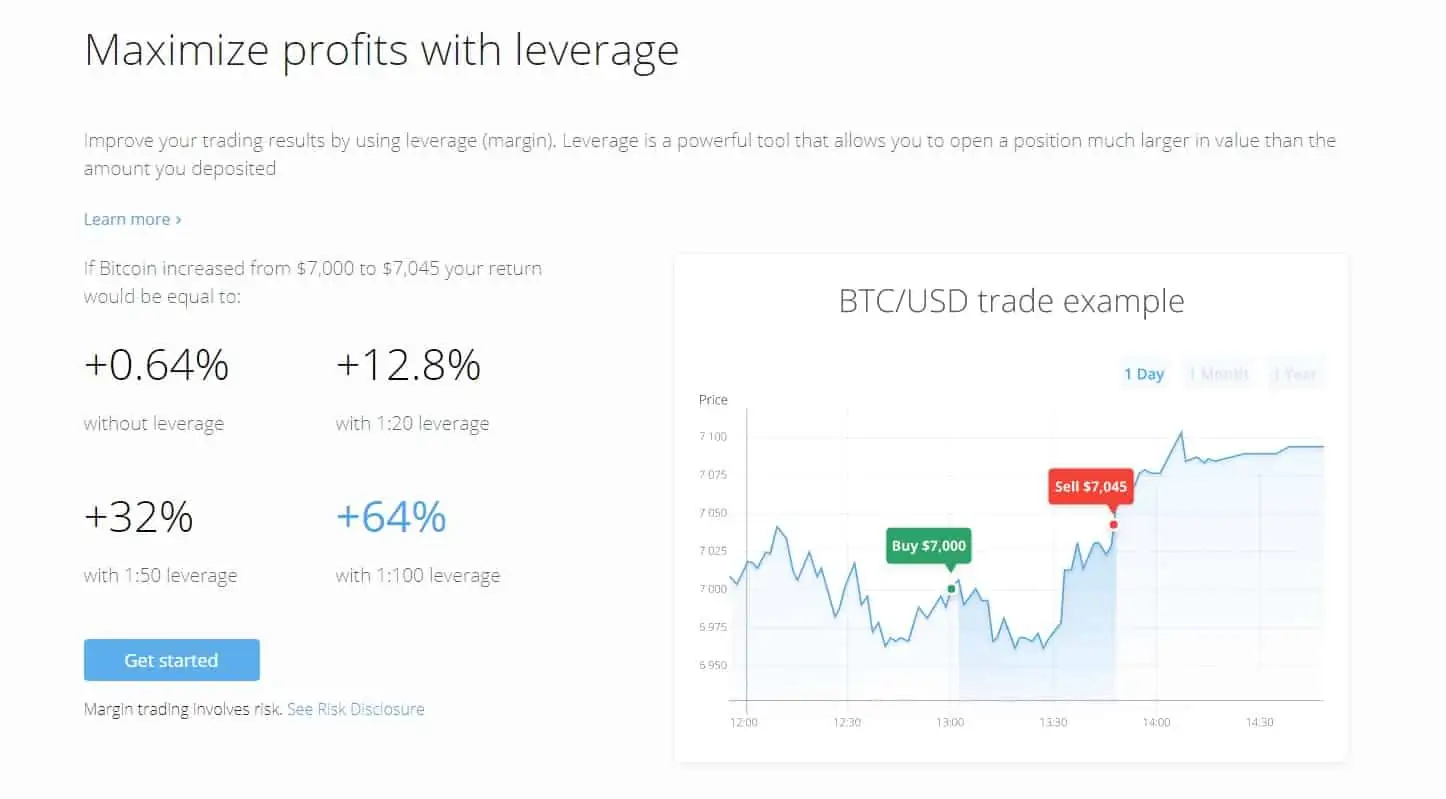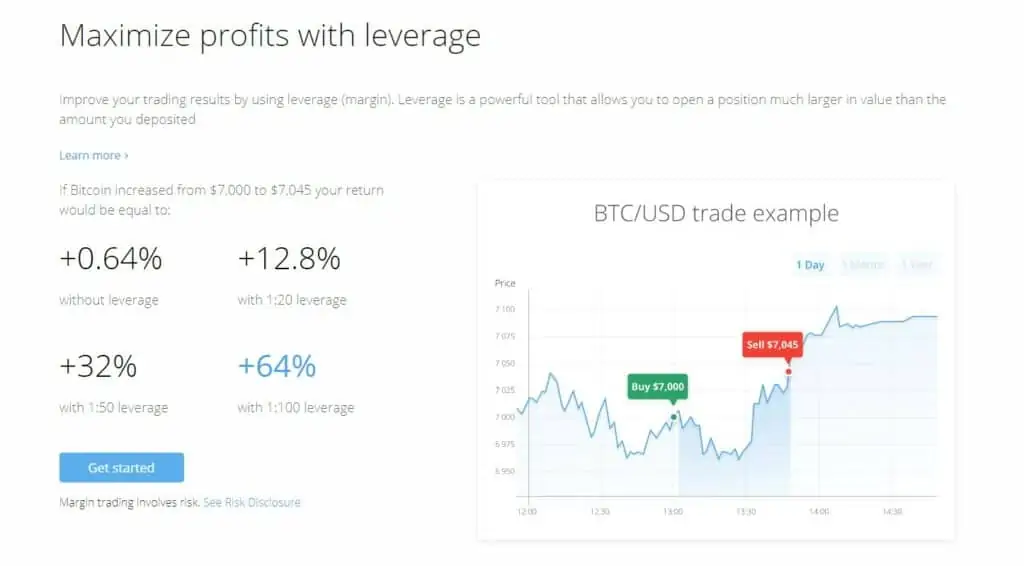 Trading with leverage (margin trading) gives users incredible power. You can borrow deposit funds from the exchange to boost your position and hence your profit. The opposite can happen too — if your predictions turn out to be wrong, the resulting outcome will multiply your financial losses.
Trading Pairs
With PrimeXBT, you can trade on a wide variety of markets that use BTC as collateral. This goes beyond the scope of cryptocurrencies as it includes forex (USD, EUR, JPY), indices (S&P 500, FTSE 100, and Nikkei 225), and commodities (oil and gold).
Some of the featured cryptocurrencies on offer can be margin-traded against BTC or USD. These include Bitcoin (BTC), EOS (EOS), Ethereum (ETH), Ripple (XRP), and Litecoin (LTC). Among crypto-BTC pairs, you can trade with ETH/BTC, EOS/BTC, LTC/BTC, and XRP/BTC.
Such diverse trading options make PrimeXBT much superior to crypto-only trading platforms and put it in the same basket as globally-recognized brands like eToro, BitMEX.
Order Types
You can initiate a trade on PrimeXBT in two ways. The first is to navigate to the Buy or Sell option at the top left of your trading dashboard, which will lead you to New Order. The second is to right-click on the order as shown on the screen if you'd like to place a limit order. It's very useful that the price level will self-adjust, so you won't need to insert anything manually.


There are several types of orders you can use on PrimeXBT, and they're clearly presented in a drop-down menu:
Market Order
Limit Order
Stop Order
OCO (One Cancel Other)
The PrimeXBT system enables users to pre-specify the level of their potential profit and risk. You'll find a separate stop loss/take profit panel where you can calculate the estimated loss and profit of your trade based on the given parameters. This has turned out to be quite a useful tool for day traders as it allows fast percentage assessment before opening a new position to ensure that the trade satisfies individual risk-management standards.
PrimeXBT Covesting Module
PrimeXBT features unique software that enables its users to copy trades from well-experienced platform peers. This trend of social trading began with eToro, and it has proven to be a valuable learning source that allows novices to develop lucrative trading strategies using real-life examples.


Pro traders are listed with their portfolio results through an equity graph, and you can follow whichever user you choose. You can also apply filters and see how long a trader has been active on the platforms, the number of followers they have, as well as their P&L results in total.
The fact that the users' full history is shared on the platform makes PrimeXBT Covesting a rather competitive ground. Furthermore, users who share their trading strategies can earn passive income since a small portion of the follower's commission goes to the pro trader's account.
PrimeXBT Fees
PrimeXBT targets a narrow group of users that make transactions daily, so competitive pricing is one of the key factors for this type of marketplace. Furthermore, the exchange handles maximum-leverage orders, which means that users pay for positions that are far larger than their margin. All facts considered, we can say that PrimeXBT is upfront when it comes to fees, as all you have to pay is transparently listed on their website.
Deposit and Withdrawal Fees
The exchange doesn't charge any deposit or withdrawal fees except for the transaction or miner fees that are charged by each blockchain network depending on the current load. For BTC withdrawals, you'll pay 0.0005 BTC per transaction, which is in line with the industry standard.


Trading Fees
PrimeXBT charges a trading fee and what we call overnight financing — the interest rate you'll have to pay to the exchange for your leveraged position. This amount varies depending on the cryptocurrency being traded and its liquidity. When you open and close such a position before the start of a new trading day (00:00 UTC), you won't be subject to overnight financing fees. Unlike margin fees, the trading fee on PrimeXBT is a fixed amount of 0.05% regardless of whether you buy or sell on the platform.
PrimeXBT Security
The PrimeXBT platform employs multiple security features to ensure impeccable user protection.
For account security, the exchange supports 2FA (two-factor authentication) to protect your PrimeXBT account against unauthorized access and withdrawals.
The majority of funds that circulate on PrimeXBT are kept in cold wallets offline, which means that even in the case of hacks, the hacker won't be able to trace your crypto holdings. A small portion of assets — that PrimeXBT holds in hot storage in order to process withdrawal requests — is insurance-covered against any loss resulting from theft.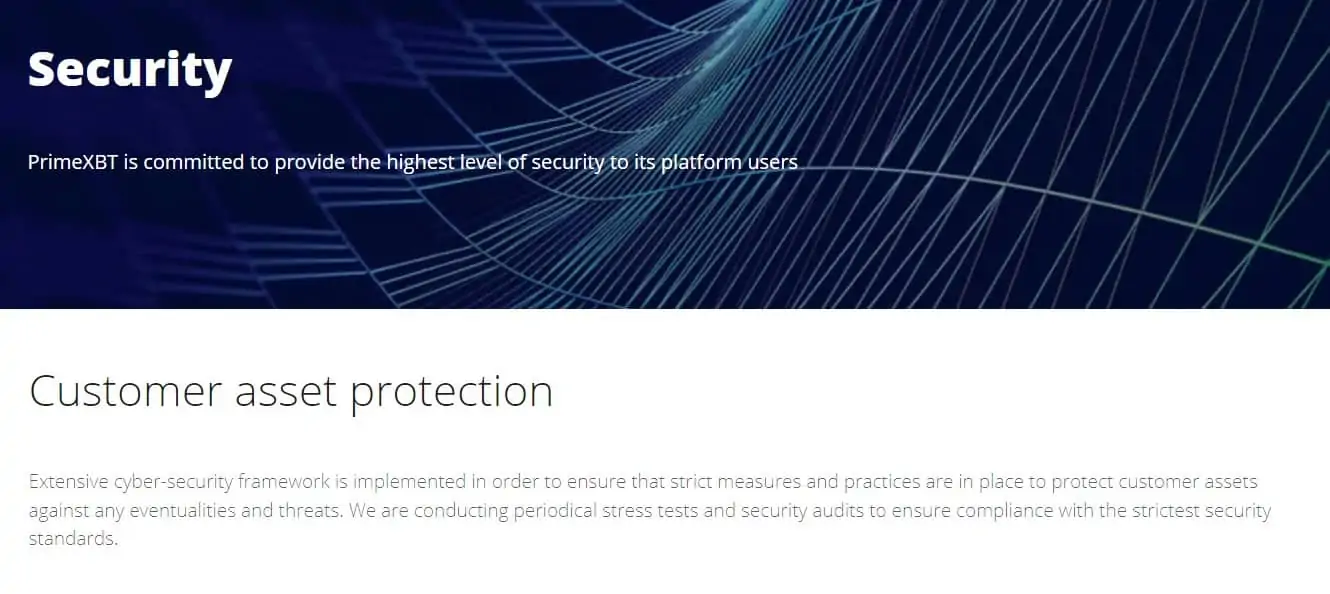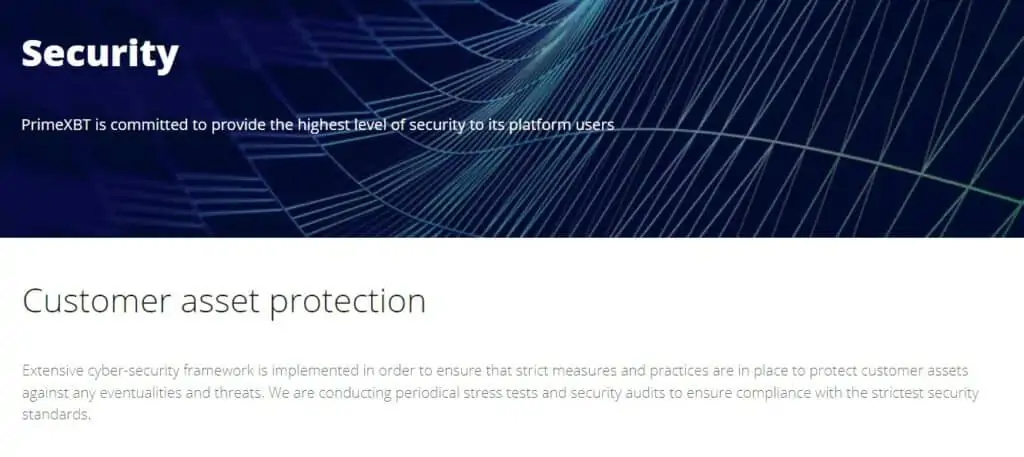 On top of this, the platform is fully protected from DDOS attacks with Cloudflare and SSL powered by Amazon Web Services (AWS).
Finally, PrimeXBT utilizes multi-signature access (Multisig) to guarantee both protection against scams and the possibility to recover your account access, thus excluding single points of failure. All transfers of digital assets from cold storage to hot wallets (including withdrawals) are processed individually in a coordinated action by several employees.
Customer Support
PrimeXBT provides 24/7 customer support either through email (support@help.primexbt.com) or live chat. These options aren't placed on their homepage, but you'll easily find the support section on your account menu.
The lack of a direct support telephone line is perhaps the biggest downside in the PrimeXBT support centre. The good thing is that both media of written correspondence are claimed to be relatively fast and personalized as you can see the name of the support team member who is currently dealing with your issue. Finally, PrimeXBT offers direct assistance in over 15 languages including English, Spanish, and Russian.
Frequently Asked Questions
Does PrimeXBT offer a demo account?
Prime XBT doesn't have a testnet version to enable new users to practice contract trading without making an actual investment. For a trial on the PrimeXBT platform, you'll have to set up an account with a minimum deposit of 0.001 BTC.
Does PrimeXBT have a mobile app?
The exchange has a top-notch mobile application (compatible with both Android and iOS devices) that provides full on-the-go trading functionality. The mobile version is synchronous with the web version, delivering nearly identical advanced features, trading tools, and leverage allocation.
What countries does PrimeXBT support?
PrimeXBT aims at the global market, allowing you to open an account from almost everywhere around the globe. However, the exchange's services are prohibited in 14 jurisdictions including the USA, Canada, and Japan.
A Few Words Before You Go…
Considering the rapid development of blockchain technology, we can conclude only one thing — it's incredibly difficult nowadays for a crypto-trading platform to keep a competitive edge and stand out for a single feature, especially when dealing with growing-in-number picky crypto professionals. PrimeXBT has managed to build an image of a trustworthy marketplace due to the sustainable balance it offers under one roof: renowned charting interface, no-deposit fees, transparent trading fees, and the opportunity to margin trade with multiple traditional assets.
However, if you're just making your first move in the cryptocurrency world, you should focus on beginner-friendly exchanges that operate on a brokerage level and accept AUD payments. Once you learn the crypto-ropes, you can start exploring further and find a suitable exchange that supports margin trading.