Quadency Review for 2022
When it comes to trading digital assets, most cryptocurrency exchanges provide basic trading tools. The traders themselves are given the opportunity to build their own trading strategy through the use of intrinsic charting and crypto market analysis.
However, some exchanges offer automated trading bots. These sophisticated and time-saving trading tools do the work for the trader—they provide in-depth data analysis themselves, as they are programmed to adhere to a set of predetermined parameters that the user specifies.
The automated trading bots are of great value to skilled traders, as they automatically conduct trades to some extent. This innovative trading tool allows crypto investors to concentrate on other activities while the software takes care of the trading activities for them.
When talking about automated trading, we can't help but review the Quadency cryptocurrency trading bot since it enjoys a high reputation among traders. Namely, it has been incorporated in some of the best crypto trading platforms in the world, including Gemini, Binance, Coinbase, AAX, OKEx, Liquid, KuCoin, Bitfinex, Poloniex, Bittrex, HitBTC, Kraken, Coinbase Pro, and at least a dozen more major exchanges that are Quadency's official partners.
Let's take an up-close look at Quadency and examine how it facilitates trade in the blockchain ecosystem.
About the Quadency Exchange
This New York-founded and automated trading platform offers an intuitive and beginner-friendly UI focusing on trading bots. You can execute sophisticated trading with pre-built strategies that you can customise and execute in no time. Moreover, Quadency offers enhanced crypto portfolio analytics, advanced charting supported by TradingView, functional asset research, and much more.
But there's so much more to the platform! Let's start with their automated trading feature.
The Automated Trading Feature
The Quadency crypto trading platform uses uniquely designed algorithms and real-time order books and trading history to automatically link you with all the prominent cryptocurrency exchanges. Exchange accounts are linked to Quadency via API keys (Application Programming Interface), which is a way for different systems to communicate with each other. By connecting all your trading accounts with this one trading platform, you can conveniently perform all your trading operations from one spot.
When it comes to your digital assets, you can also keep track of your entire portfolio stored by other exchanges or in offline wallets while trading on Quadency.
Automated Quadency Bots
Quadency's trading bots enable you to manage an investment strategy that you have constructed yourself, be it some basic trading operation like spot trading or more complicated tasks like margin trading.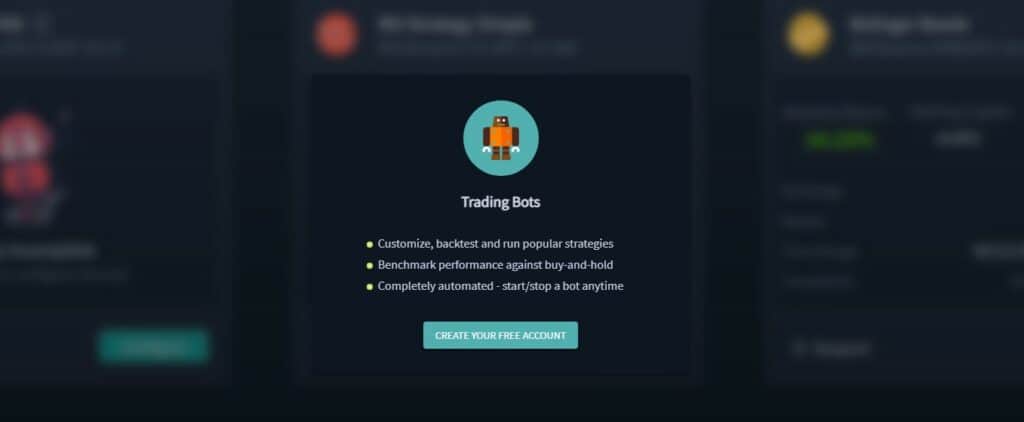 Each free Quadency trading account includes a range of ready-to-configure bots to enable you to automate a set of trading techniques. In addition, Quadency also allows you to use the Python programming language to create trading strategies. In this regard, please bear in mind that these bots are merely automated trading tools, but by no means can they guarantee you profit.
Some of the pre-built technical analysis strategies you can use include: Grid Trader, MACD, Market Maker, Smart Order, Mean Reversion, Market Maker Plus, Multi-level RSI, Bollinger Bands, to name a few. For a more effective trading approach, you can always utilize the Smart Suggest tool that can assist you in picking the ideal trade settings.
The Quadency Pro Account
Quadency was developed to bridge the gap between DeFi & CeFi into one fluid trading experience. In order to facilitate faster adoption of this software in the crypto sphere, all its trading bots and features were made entirely free to use. This is especially useful for new Quadency users, who can register a free account and explore Quadency's backtests, bots, trading tools, history transactions. Moreover, they can make use of elaborate market conditions charting for an infinite amount of time before deciding to switch to Quadency Pro.

However, to use the Unified REST & Streaming API, Quadency levies live support costs. These functionalities are accessible through the Quadency Pro service subscription at 49.00 USD per month. Quadency Pro is also available for 39.99 USD per month if you opt for the annual payment plan.
The Quadency Pro account features include 20 live bots to trade 24/7, 200 backtests per day, as well as 24/7 customer support.
Supported Cryptocurrencies
Quadency supports over 1300 digital assets. Moreover, users of this automated trading bot may trade any of the existing coins by choosing from over 800 cryptocurrency pairs.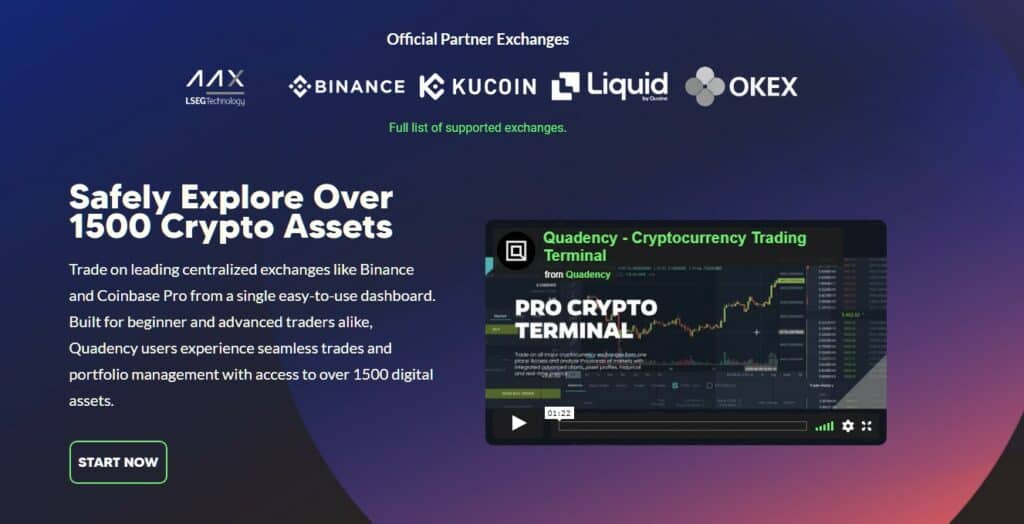 Trading Fees and Limits
To purchase or sell crypto, Quadency provides a relatively straightforward widget to enter your order. It also offers an approximate conversion rate and specifies the fees imposed by the associated exchanges that are charged to complete the transaction. Other than these, there are no extra fees on the transactions made through Quadency.
Is Quadency Safe to Use?
As Quadency does not hold the right to maintain any of the client's assets, this automated platform is considered to be one of the safest out there. Moreover, it's built upon architecture supported by a two-factor authentication protocol (2FA), DDoS protection, as well as other encryption mechanisms for all sensitive data (including API keys and user passwords), which successfully prevent any unauthorized access to the platform and user accounts.

Customer Support
Quadency offers user support via the platform's bots, live chat, ticket, or direct e-mail to the team of dedicated professionals.
If you prefer social media communications, then feel free to contact them via Quandency's Telegram, Twitter, Instagram accounts, or follow their YouTube informative videos.
Frequently Asked Questions
Does Quadency have a mobile app?
Yes. The Quadency app works on both Android and iOS operating systems.
What countries are supported by this crypto trading bot?
Quadency is a globally available automated trading platform. Considering the fact that Quadency is not a crypto exchange that offers direct liquidity or ownership of client assets, its trading solutions are entirely compliant with the financial regulatory bodies in all 50 states of the United States.
The Bottom Line
A significant reason why traders regard the Quadency cryptocurrency trading bot as a valuable trading tool is that it assists them in taking a lot of the stress out of the trading process.
Since the orders are completed in compliance with a customised trading methodology that suits every investor individually, clients who use this trading terminal are "insured" against making rash decisions and enjoy peace of mind while the bot trades for them.
Being an automated trading terminal, Quadency allows its customers to execute their trading operations regardless of the time of the day. This is particularly advantageous for traders who cannot monitor price movements on the market at all hours. With this continuous automated management and ease of use, crypto trading becomes significantly more efficient and takes up less valuable time.