Shakepay Review for 2022
Although most cryptocurrency exchanges are worldwide platforms that provide their financial services to residents of practically every country on the planet – think Binance, Coinbase or Kraken – the strict financial legislation in Canada often prevents Canadians from taking advantage of these opportunities.
Luckily, Canadians did not only sit and wait for a miracle to transpire in terms of changing the legislation and took matters into their own hands. The outcome is a number of user-friendly and competitive local crypto trading platforms like NDAX, Coinberry, Newton and Bitbuy, to name a few. However, today we'll be reviewing yet another great Canadian platform – the Shakepay exchange. What does this exchange have to offer, is it regulated, and more. Here's what we found out.
About the Canadian Cryptocurrency Exchange
Shakepay is a Bitcoin and Ethereum trading platform located in Canada. This technological startup situated in Montreal develops financial solutions with the purpose of helping traders accumulate crypto riches. It's interesting to know that the Shakepay project began as a prepaid debit card service powered by digital currencies.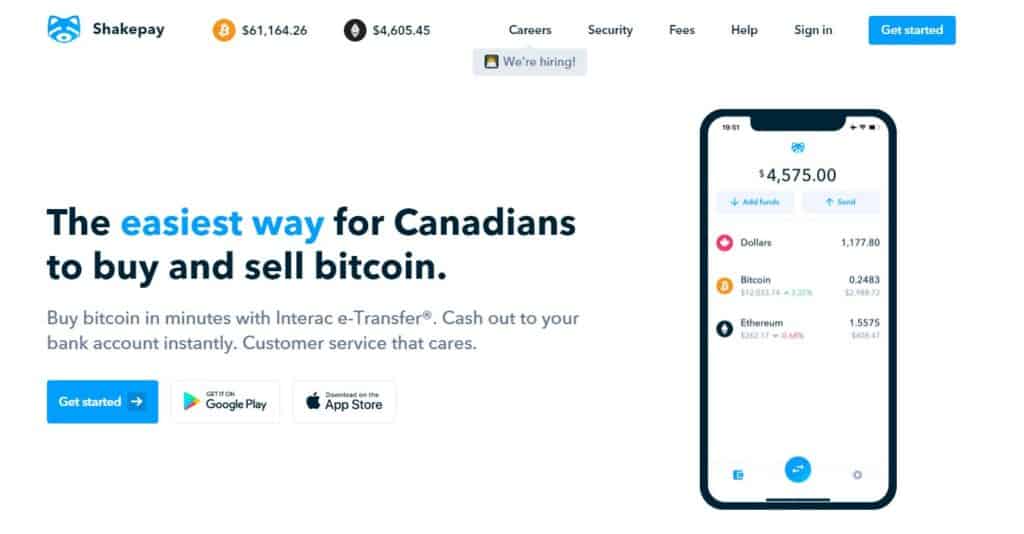 Today, the Shakepay cryptocurrency exchange is used by more than 900,000 Canadians to integrate digital money into their everyday lives. But what exactly does Shakepay have to offer?
The Easiest Way to Buy Bitcoin in Canada
When you initially access the Shakepay user interface, you'll be presented with this boastful claim. From what we've seen, that's probably true.
The sleek and uncluttered UI effortlessly walks you through all of the exchange's functionalities. All the details you need are readily available—a wealth of information on the fees, financial tools, referral programme, security of the platform, or BTC and ETH chartings that depict the swings in the currency market. It's all presented to you in such a user-friendly manner that even those who are new to cryptocurrency trading will feel at ease and comfortable taking their first steps in the crypto world.
Furthermore, Shakepay provides some of the most creative financial tools and incentives in the industry, giving its clients opportunities to increase their wealth as well as a great deal of entertainment when interacting with the platform. Here are a couple of unique Shakepay features, each with a more detailed explanation.
Shakepay Referral Program
The creators of this trading platform have certainly done an amazing job making this referral program. Namely, when you click on a referral link, you get directed to the Shakepay site, where you're offered $30 CAD to sign up (this is what all referral programs do in general, but there's more).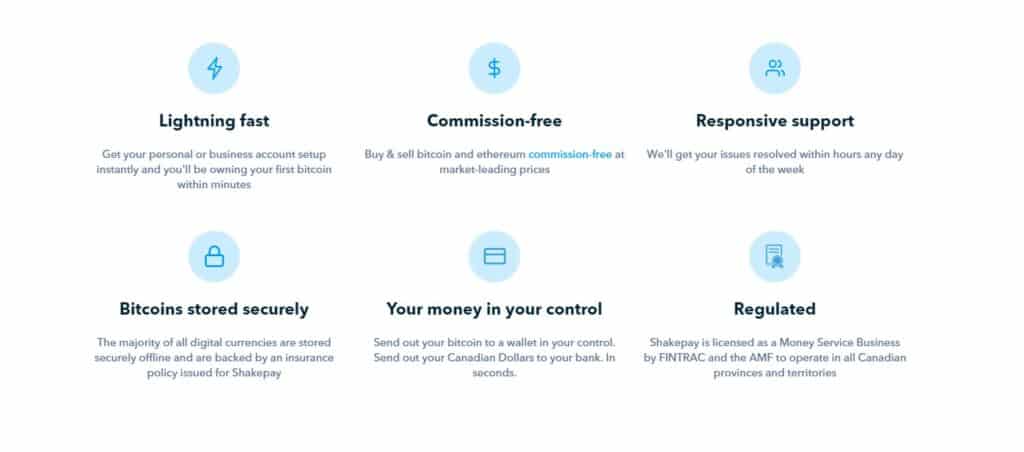 You're also invited to leave your phone number so that Shakepay can SMS you a link to download their app, and this is where the fun part begins. Provided both you and your referral have verified accounts, everything you need to do is open the Shakepay app each day and—get this—shake your phone to get paid in ShakingSats. The rewarded satoshis are directly transferred to your Shakepay Bitcoin wallet. Seriously. Now, even the name of the exchange makes more sense, doesn't it?
The more often you refer this exchange to your friends and succeed in convincing them to trade via Shakepay with an authorised account, the more you increase the likelihood of having your account packed with Satoshis without making a single trade.
Bitcoin and Other Supported Cryptocurrencies
Shakepay supports only two cryptocurrencies: Bitcoin (BTC) and Ethereum (ETH). While having only the most liquid and valuable currencies on the crypto market is a good idea, it may pose a barrier to more experienced traders who wish to build a more diverse portfolio as well as those who trade in markets with lower liquidity.
Users can fund their Shakepay accounts through the use of the Interac e-Transfer® payment service, credit card, debit card (Visa or MasterCard), or a wire transfer in crypto (BTC or ETH) or Canadian Dollars (CAD).
Shakepay Change
By using this function, users may add a debit card to their trading account on Shakepay and purchase modest quantities of cryptocurrency by rounding up their payments to the next whole CAD dollar figure. In this way, they can use this discrepancy in the price to acquire small amounts of BTC.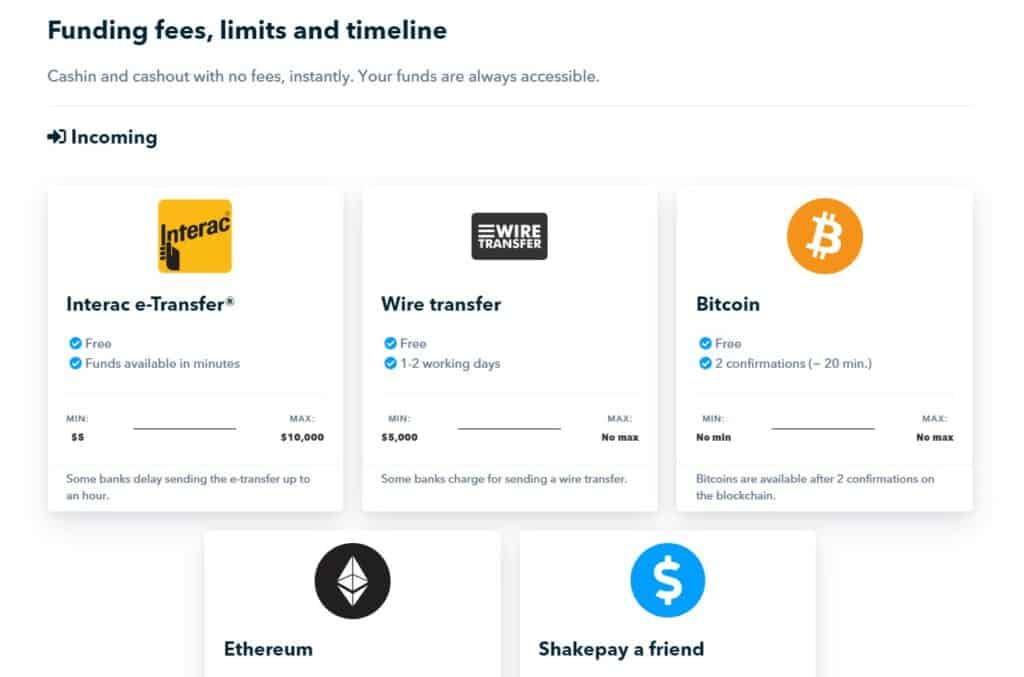 Trading Fees and Limits
Shakepay is a fee-free platform. In other words, this exchange does not charge commissions for making crypto purchases, selling coins, or even transferring coins from your Bitcoin wallet to your Shakepay trading account. There are no withdrawal fees, either. It also covers the transaction fees whenever you move your coins from this platform to another digital address.
Is Shakepay Safe to Use?
Shakepay employs a multi-layered security system, which comprises some of the most advanced security procedures and regulations in the industry, keeping both user information and assets secure online. Other than that, the exchange has also hired an independent security company that evaluates its internal transaction and holding protocols, but they didn't stop there.
To begin with, Shakepay is a strongly regulated crypto exchange whose policies and financial operations are carried out in compliance with PIPEDA and Quebec's Act Respecting the Protection of Personal Information in the Private Sector. Also, Shakepay Inc. is regulated by FINTRAC (license: #M17065696) and the AMF (license: #904007) as a Money Service Business across Canada.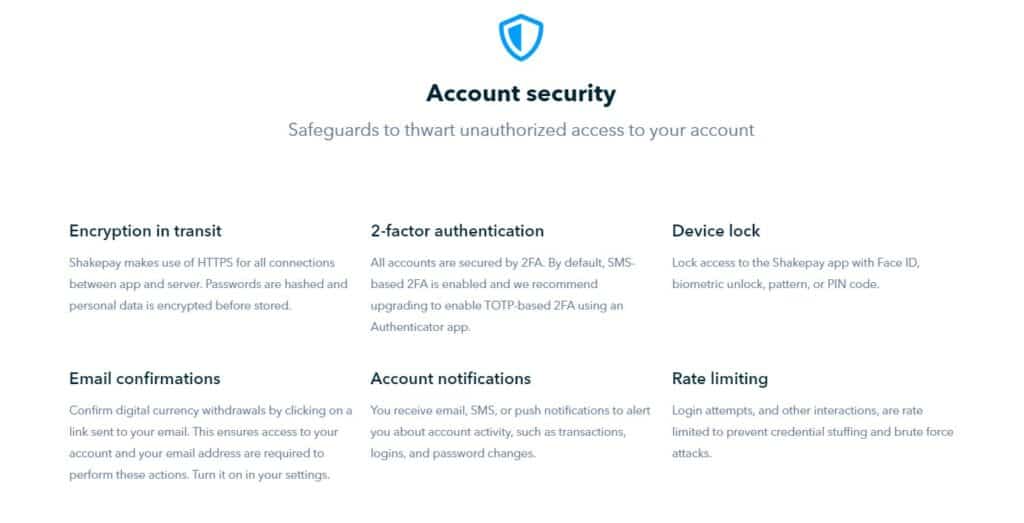 Furthermore, the exchange uses cold storage wallets to safeguard the bulk, i.e. 80% of the digital currency it holds. Shakepay has partnered with a cold storage company licensed by the New York Department of Financial Services (NYDFS) that has SOC 1 Type II and SOC 2 Type II certifications. Moreover, Shakepay stores users' CAD funds in separate Canadian bank accounts while their crypto assets are maintained in segregated cold storage wallets.
In addition, Shakepay maintains an insurance policy on cryptocurrencies that are kept in cold storage by the company. Most financial losses, hacks, and private key losses are covered under this protection.
Shakepay's Security Protocols
Regarding the security protocols integrated into the platform's architecture, Shakepay employs the two-factor authentication protocol (2FA), KYC/AML procedures, 256-bit AES encryption, Face ID (biometric unlock), and pattern (PIN code lock) access to the Shakepay app, etc. Shakepay also informs its users of any changes or security breaches via e-mail or push notifications.
Moreover, Shakepay has an insurance policy in place to protect the digital currencies kept in cold storage. The policy provides coverage for the majority of thefts and losses of users' private keys.
Finally, the transaction authorisation process is not governed by a single authority. Not even Jean Amiouny (the CEO of Shakepay) and Roy Breidi (the CTO of Shakepay), two of the company's founders, can withdraw funds from the platform's cold storage wallets without the authorisation of multiple entities as a result of the security protocols in place.
Is Shakepay Legit?
After all the aforementioned licensing and regulations by the highest financial authorities alongside the multi-layered security system, we firmly believe that this question is unnecessary as it is more than evident that Shakepay is a serious crypto exchange that is fully committed to the security of both user's funds and online data.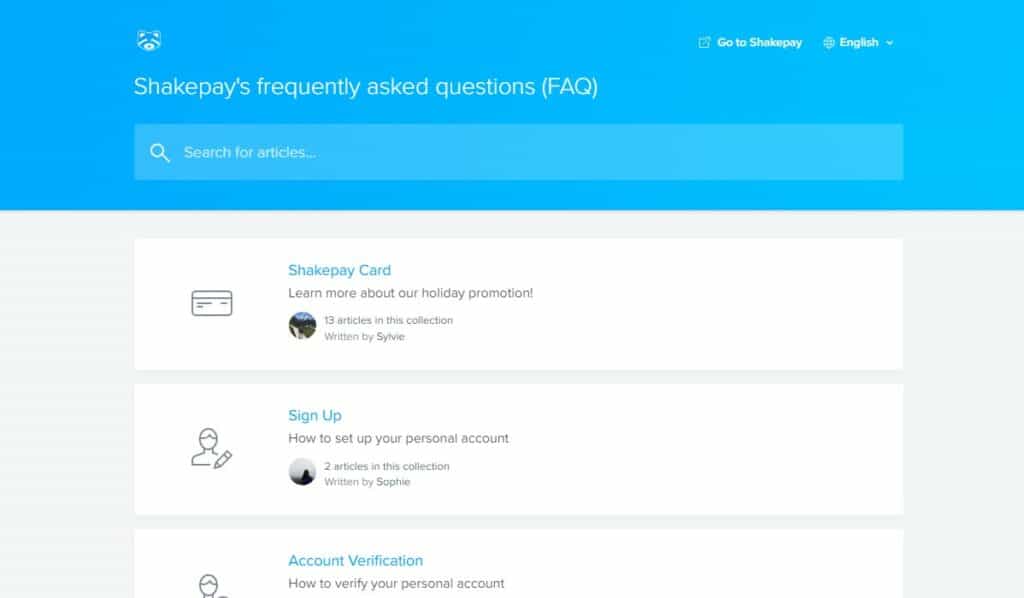 Customer Support
If you need help from the Shakepay support team, you may reach out to them directly via the platform's support chat. For this, you'll need to log in with your Shaketag (username) and your password, tap on the blue bubble bot on the exchange's website or find the relevant link through the mobile app's menu.
You can also get in touch with the Shakepay support team through some of the company's social media pages. Users can contact them through the social media platforms such as Discord, Facebook, Twitter, Reddit, Instagram, and YouTube.
Frequently Asked Questions
How to sign up for a Shakepay account?
The sign-up process at Shakepay is comparable to most other crypto exchanges across the globe. To start trading on this platform, first, you'll need to register a verified account on the exchange.
Throughout the initial sign-up procedure, you'll be prompted to enter a verified email address, a password, as well as your selected Shaketag, i.e. username that will be displayed on the platform. Next, you'll need to submit a valid phone number, through which you'll receive the code needed for your 2FA verification step of the sign-up process.
Finally, the security protocols will ask for your name, place of residence, and your date of birth so that they might verify your identity security so that you're ready to buy your first Bitcoin through Shakepay.
Is Shakepay only available in Canada?
Yes, at least for now, this Montreal-based crypto trading platform offers its financial services only to the residents of Canada.
Does Shakepay have a mobile app?
Yes. Shakepay is available on both desktop computers and smartphone devices. The Shakepay mobile app is supported on both Android and iOS operative systems, so you can easily buy or sell Bitcoin and Ethereum on the go from your blockchain wallet.
This mobile app is also a must if you want to participate in Shakepay's referral programme and earn satoshis by shaking your phone.
How does Shakepay fare against crypto exchanges like Newton and Bitbuy?
Newton is a trading platform for beginners or traders who seek straightforwardness in crypto trading. Similar to Shakepay, this exchange also focuses on the most liquid coins, with a wider crypto selection than that of Shakepay.
Bitbuy, like Shakepay and Newton, is an exchange that provides streamlined financial services as well as simple tools for purchasing Bitcoin and other cryptocurrencies. It is appropriate for both beginners and experienced traders who demand a wide range of complex investment instruments. However, BitBuy charges slightly higher fees for trades and deposits.
A Few Words Before You Go…
Shake the phone to earn bitcoins? Count us in! This might easily be the only conclusion to this review. However, it certainly would do a world of injustice if we didn't outline all the excellent things we found out about this crypto trading platform.
First, Shakepay is one of the few crypto exchanges that is regulated by the top-tier financial authorities of Canada, meaning they take security extremely seriously. Secondly, trading via Shakepay is not only cost-effective, but it's also super-fun, which helps beginners lose their anxiety. Financial losses? No worries about that, too. Among all the perks and benefits that Shakepay offers to its clients, they also provide an insurance policy that covers most of the losses.
Sounds too good to be true? We could burst this "euphoric bubble" by citing the fact that Shakepay lists only two currencies, but these are the two best crypto projects out there. Still sounds great? It is, but—regrettably—for Canadian residents only.
For now, we can only envy these lucky Earthlings that have been provided with such a great crypto exchange and hope Shakepay decides to share its innovative financial services and incentives with the rest of the world in the future.