Shrimpy Review for 2023
Shrimpy is an automated crypto portfolio management platform that can help busy traders. Namely, the Shrimpy trading bot replicates trading concepts from savvy investors beyond the cryptocurrency market in order to integrate easily automated tactics into the crypto sector. In turn, this system helps traders enhance their profits.
But, what exactly does Shrimpy do to accomplish this, and what else does this cutting-edge platform have to offer cryptocurrency traders? Read on to find out.
About Shrimpy
Established in 2018, Shrimpy is a one-stop automated crypto trading platform. Unlike the regular crypto exchanges where you can trade digital assets through various trading widgets or your own strategies, Shrimpy enables you to conveniently manage your portfolio, and exchange accounts and wallets through a single interface. It's not a crypto exchange; rather, it supports other exchanges that you can trade on using Shrimpy – 13 to be exact. When crypto traders and investors use Shrimpy's algorithmic portfolio rebalancing platform, they can automatically keep their holdings in line with the established criteria.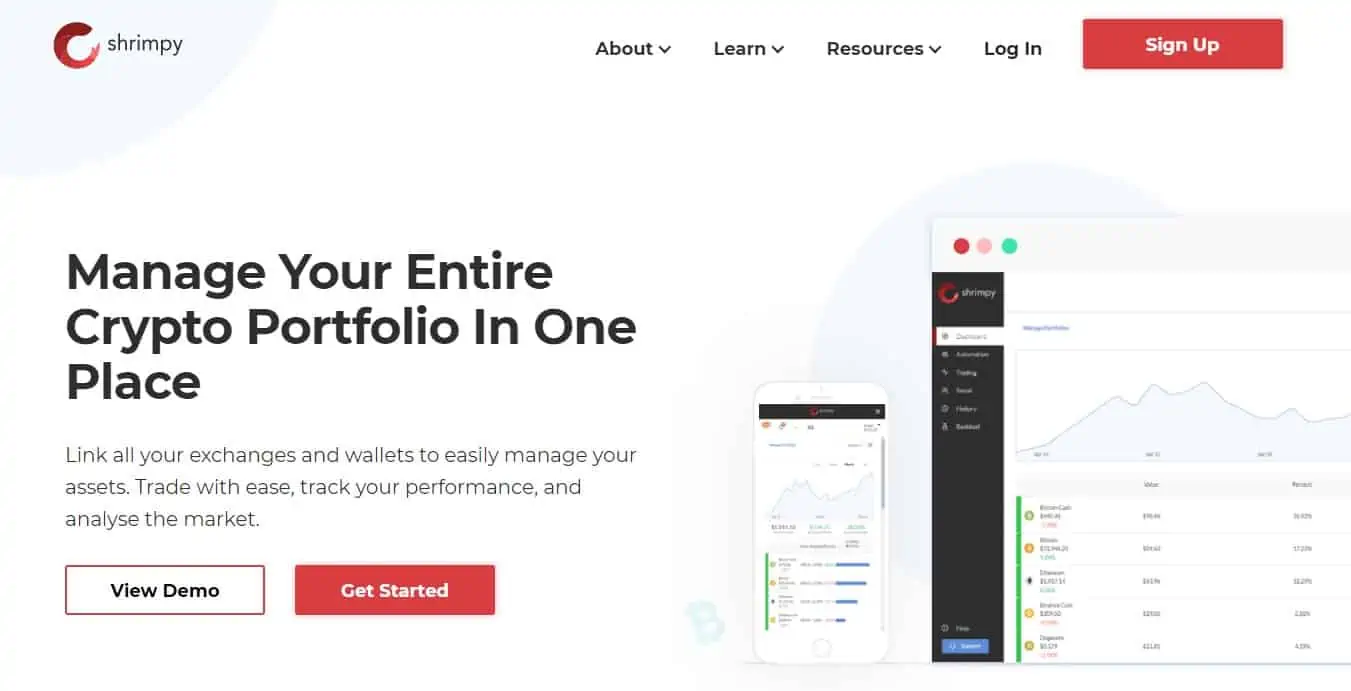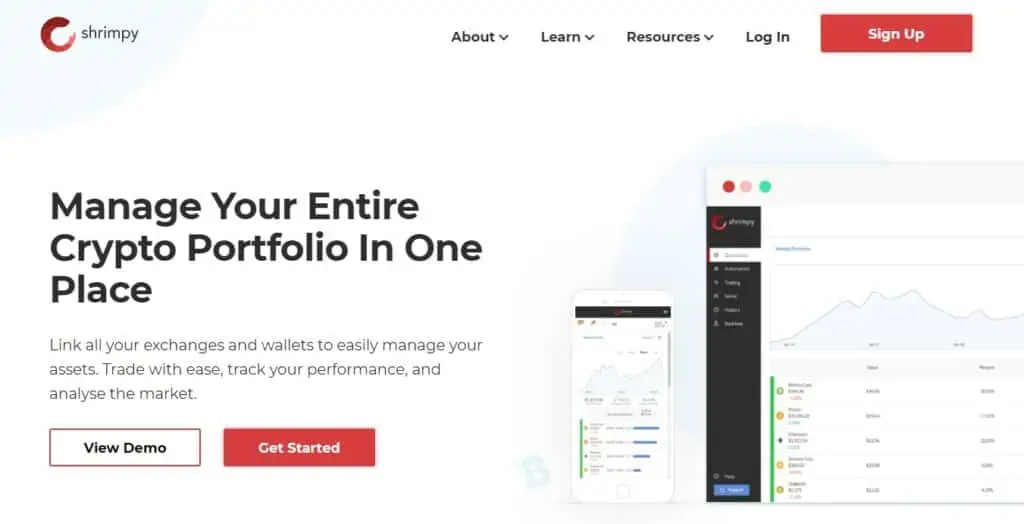 What Does Shrimpy Offer to Crypto Traders?
Using basic and automated strategies, the Shrimpy trading bot lowers trading risks while raising returns by incorporating ideas from other, more experienced investors.
Apart from automatically managing your portfolios for you, Shrimpy allows you to create customized cryptocurrency index funds, monitor and copy the trading methods of other crypto investors, as well as automatically rebalance your portfolio. By automating all these operations, this trading bot removes the hassle of signing in to each cryptocurrency exchange and trading on each of them separately.
Have a look at our comparison of the best trading bots for more info.
The Shrimpy platform is packed with innovative trading instruments and has a user-friendly design that makes it simple even for beginners in crypto trading. Also, the platform is secure, so you won't have to be concerned about your coins or private keys.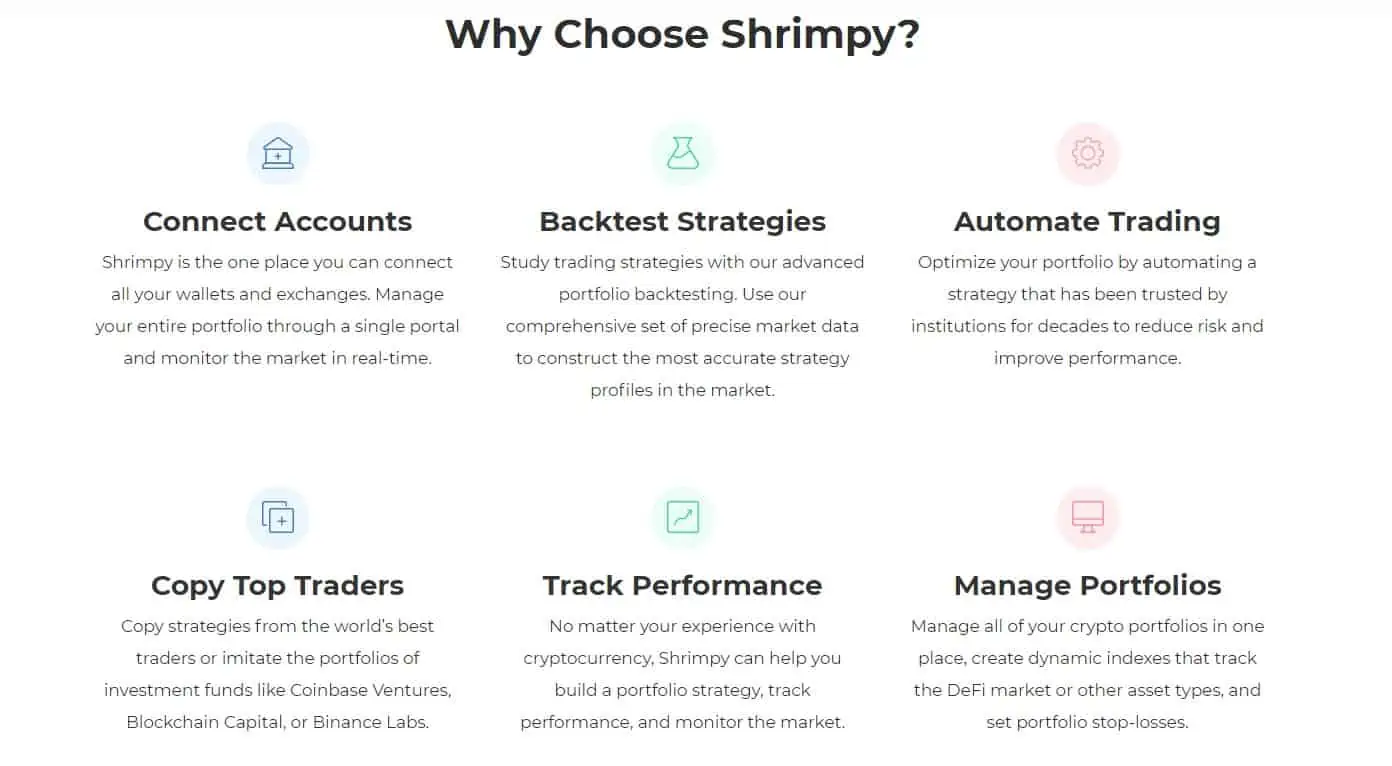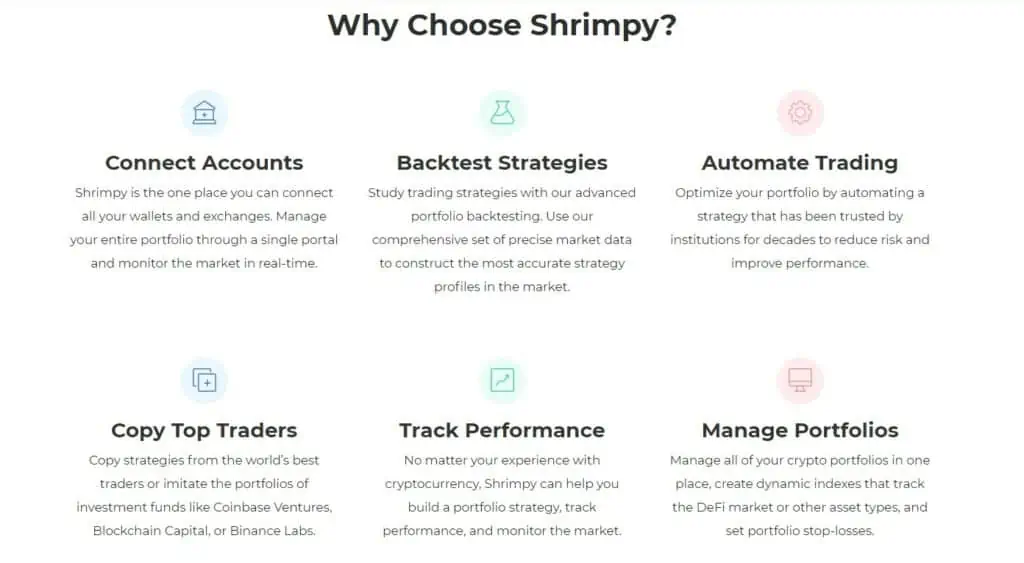 Here are some more details on the Shrimpy offer:
Automated dollar-cost averaging with Shrimpy's rebalancing algorithms,
Custom-created portfolio strategy,
Portfolio rebalancing,
Copy trading,
Portfolio performance tracking,
Back-testing,
Social trading.
In addition, developers may use Shrimpy's comprehensive APIs to create custom applications, notifications, or even trade interfaces to complement their service brands.
What Is Portfolio Rebalancing?
Rebalancing a portfolio is bringing the assets back into balance, i.e. the intended allocation. Because asset prices fluctuate, so does the percentage of assets in a portfolio. The investor must first determine how much of their portfolio is allocated to each asset. The portfolio rebalancing algorithm will then buy or sell assets to maintain the desired asset allocation.
The Shrimpy Social Trading Bot and Strategy Automation
It can be difficult to decide which assets to include in your portfolio of coins. To streamline the decision-making process, the Shrimpy team has created a specialized algorithm that automates trading.


These algorithms are supported by a social trading platform where traders can discuss their trading tactics, while their followers can automatically replicate the portfolios of the more successful traders, referred to as "social leaders" and found on Shrimpy's dedicated leatherboard.
When you decide to "follow" a trader, Shrimpy will automatically mimic their technique for you, ensuring that anytime they make a deal, you make a trade as well. The social trading bot will also automatically update your entire portfolio to ensure that it always matches the position of the trader you're following.
Shrimpy's Backtesting Feature
With Shrimpy's backtesting tool, you can test any trading approach or index against historical data, which allows you to evaluate how your particular strategy would have fared across any trading platform. With this technique, you can fine-tune your strategy and quickly discover your optimal investment portfolio.
Crypto Portfolio Management
Shrimpy incorporates portfolio rebalancing, a method that has been employed for decades in both equities and bonds trading to boost the returns of investors while minimizing volatility.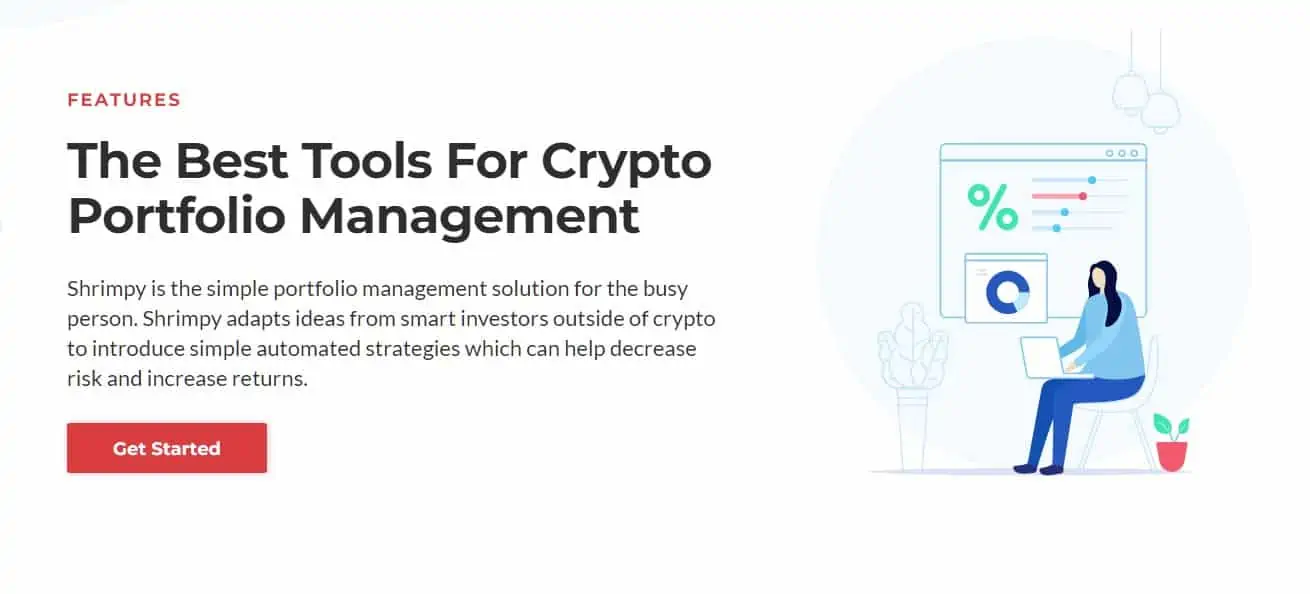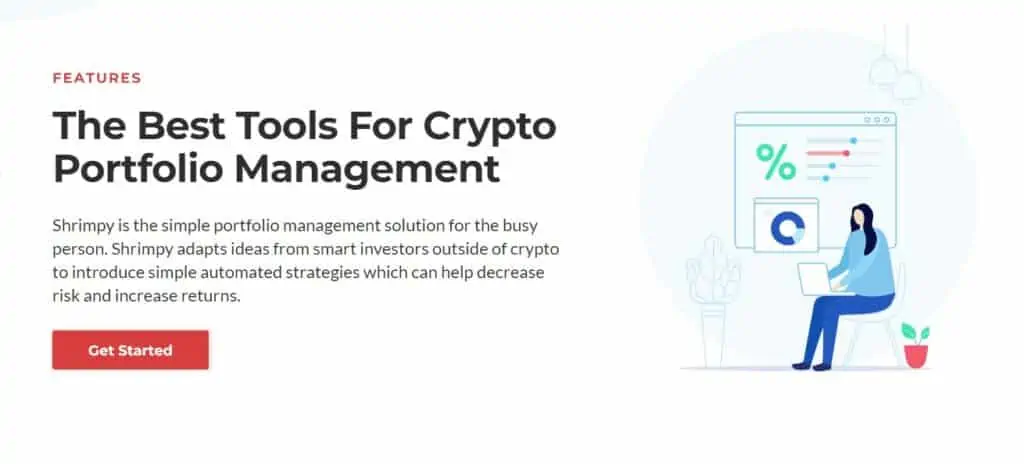 This automated trading platform employs the rebalancing approach to capitalize on the market's dynamic character, allowing users to automatically sell high and buy low. You allocate the percentage of each coin manually or automatically.
In turn, this trading bot will complete the transactions according to your preset parameters. After each rebalancing, every token reflects the trader's specified portion of their portfolio with no extra effort on their behalf.
Users have two rebalancing options:
Threshold rebalancing – Rebalancing the portfolio when an asset deviates from the predefined balance by a certain amount. The threshold rebalancing strategy might result in increased trading costs due to the increased trading activity.
Periodic rebalancing – A classic formula that rebalances your portfolio in specified time intervals. Periodic rebalancing on a weekly basis, for instance, might reduce your trading expenses.
Pricing Plans
Shrimpy offers three paid plans tiered on the basis of the functionalities they offer. The platform also has a free plan.


Hodler – With the Hodler plan, you can create a free account that allows you to try out the trading bot. This plan offers a portfolio tracking feature, access to 5 exchanges you can trade on with Shrimpy, the ability to manage multiple portfolios, and performance monitoring.
Starter Plan – It's recommended that you choose this price plan if you're just getting started in cryptocurrency trading. The starter plan includes spot trading, a 15-minute balance refresh, three portfolios per exchange account, the possibility to access up to five exchange accounts, portfolio tracking, social trading, and other features.
Professional Plan – A more comprehensive version of the starter plan, this upgrade is intended for traders who want greater control over their trades. It contains all of the functionalities of the starter plan as well as some new ones, such as API access.
Enterprise Plan – A price structure tailored to the needs of businesses wanting enterprise-level portfolio management. It contains all the features of the professional plan, as well as priority support, one-minute balance refreshes, a maximum of 10 portfolios per exchange account, and the option to link a total of 25 exchange accounts.
Is Shrimpy Safe to Use?
Shrimpy was designed with customer safety in mind from the very beginning. Each API key is encrypted and kept secure with hardware security modules (HSMs) that have been approved by the FIPS 140-2 to ensure the data integrity of the user's exchange API keys.

Furthermore, your digital assets cannot be stolen from the crypto exchanges Shrimpy supports, since this automated platform needs no access to your assets to help you with the trading process. All users are also strongly encouraged to activate the two-factor authentication (2FA) protocol since it provides additional security for any trader's account.
Customer Support
You can contact the Shrimpy support staff by email or live chat. The bulk of user inquiries are effectively resolved within a few hours. It's not uncommon to receive a response from Shrimpy's CEO, too. The customer support team is also active on social media (Twitter, Facebook, Youtube, Telegram, Reddit, and Discord).


In addition, there is a comprehensive knowledge base where you can find the answers to the most frequent queries related to the trading platform or blockchain technology in general, and you also have the Shrimpy Academy at your disposal.
Frequently Asked Questions
Does Shrimpy have a mobile app?
No. The platform operates through its website only.
Which Exchanges and Currencies Are Supported by Shrimpy?
Shrimpy is interoperable with over 30 cryptocurrency exchanges and wallets, including:
The coins and fiat currencies listed by the exchanges that integrate Shrimpy include most of the large market cap cryptocurrency projects, such as Bitcoin, (BTC), Ethereum (ETH), Dogecoin (DOGE), Litecoin (LTC), etc, as well as many crypto-crypto and crypto-fiat pairings you can trade.
It's also worth noting that Shrimpy supports nine different fiat currencies, that are represented on your portfolio's dashboard: USD, EUR, AUD, GBP, CAD, JPY, INR, CNY, and BTC.
Can Shrimpy.io automate trades on multiple accounts?
Yes, Shrimpy is capable of automating trades on different accounts at the same time. Since Shrimpy considers each account connected to it as a unique entity, every trading approach is tailored to that particular account.
The Bottom Line
Shrimpy is an intelligent crypto trading bot that helps you navigate the trading process and streamline your trading activity by matching you with successful traders who you can copy through the automated process. Apart from saving traders' time, this convenient portfolio management platform helps them learn how to establish a profitable investment strategy by themselves and successfully manage their portfolios.
Given the fact that Shrimpy effectively combines the strongest trading strategies with automated trade execution, it's an excellent trading companion for all traders – beginners and pros alike. We encourage you to check it out and see how convenient and safe it is for yourself!
Shrimpy Compared
| Exchange | Cryptocurrencies | Fiat Currencies | Trading Fees | Deposit Methods | Sign Up |
| --- | --- | --- | --- | --- | --- |
| Swyftx | More than 320 | Australian Dollars, New Zealand Dollars | 0.6% | Osko, PayID, Credit Card, Debit Card, Bank Transfer, Cryptocurrency | Visit Swyftx |
| CoinSpot | More than 370 | Australian Dollars | OTC: 0.1% Market Order: 0.1%* (applies to LTC, BTC, ETH, XRP, POWR, DOGE, TRX, NEO, XLM, GAS, RChain, RFOX, EOS) Instant Buy/Sell: 1% | POLi, PayID, Cash, Cryptocurrency, Bank Transfer, BPAY | Visit CoinSpot |
| Binance | More than 600 | US Dollars, Australian Dollars, and 8 more | 0% to 0.1% | Osko, PayID, Credit Card, Debit Card, Crypto | Visit Binance |
| Bybit | More than 160 | 50+ | 0.1% to 0.6% | Crypto, EFT, wire transfer, bank transfer, debit card or credit card | Visit Bybit |
| Independent Reserve | 27 | Australian Dollars, US Dollars, New Zealand Dollars | 0.05% to 0.5% | EFT, SWIFT, Osko, PayID, Crypto | Visit Independent Reserve |
| Coinbase | More than 210 | Australian Dollars, US Dollars, New Zealand Dollars | Fees Vary | EFT, SWIFT, Osko, PayID, Crypto | Visit Coinbase |
| CoinJar | More than 50+ | Australian Dollars, Pound Sterling | Taker: 0.04 to 0.1% Maker: 0.04 to 0.1% | Apple Pay, Google Pay, Credit Card, Debit Card, Bank Transfer, Fiat, Crypto | Visit CoinJar |
| Kraken | More than 140 | Australian Dollars, US Dollars, and 5 more | Taker: 0.10% to 0.26% Maker: 0.00% to 0.16% | Apple Pay, Google Pay, SWIFT, Osko, SEPA, Crypto, Wire Transfer, Bank Transfer | Visit Kraken |
| BTC Markets | More than 15 | Australian Dollars | Taker Fee (for Bitcoin pairs): 0.20% Maker Fee (for Bitcoin pairs): -0.05% Australian Dollars Market Pairs: 0.10% to 0.85% | Crypto, BPAY, EFT, PayID, Osko | Visit BTC Markets |
| Easy Crypto | More than 40 | Australian Dollars, New Zealand Dollars, South African Rand | 1% | P2P, POLi, and Bank Transfers | Visit Easy Crypto |
| Coinstash | More than 140 | AUD | Taker fees: 0.85% Maker fees: 0.85% | Cryptocurrency, Bank Transfer, PayID | Visit Coinstash |
| eToro | More than 70 | Australian Dollars, US Dollars, Euro, and 12 more | Vary | Online Banking, Skrill, Neteller, PayPal, Bank Transfer, Debit Card | Visit eToro |
| KuCoin | More than 645 | US Dollars, Euro, Australian Dollars, and 6 more | 0.1% | Credit Card, Debit Card, SEPA, PayPal, Wire Transfer, Crypto | Visit KuCoin |