SimpleSwap Review
Cryptocurrency may be the future. But, there's a lot of work to do, especially regarding the procedure for owning crypto tokens.

The process for opening an account, completing required verification steps, and depositing assets on a traditional crypto exchange can be frustrating. It's a time-intensive process that involves multiple accounts, increasing security risks.

Thankfully, cryptocurrency swap services exist to plug this gap. With a crypto swap platform, you can exchange crypto coins at live prices without owning an account.

SimpleSwap is a top crypto swap platform looking to make cryptocurrency exchange as seamless as possible. In this SimpleSwap review, we'll highlight its features, fees to expect, and supported cryptocurrencies.

About SimpleSwap
SimpleSwap is a cryptocurrency exchange that helps users exchange more than 300 cryptocurrencies instantly. The interface is beautiful, and users don't have to sign up to carry out crypto exchanges. The goal is to make the process simple and safe for the average crypto enthusiast.
SimpleSwap launched in April 2018, and since then, it has provided users with the best deals in exchanging cryptocurrencies.
To exchange crypto on SimpleSwap, you can either use a floating rate or a fixed rate. For the floating rate, you're exchanging based on the best deal from SimpleSwap's exchange partners. With the fixed rate, you're exchanging crypto based on an already set rate. You have the liberty to choose your preference when exchanging crypto tokens on SimpleSwap.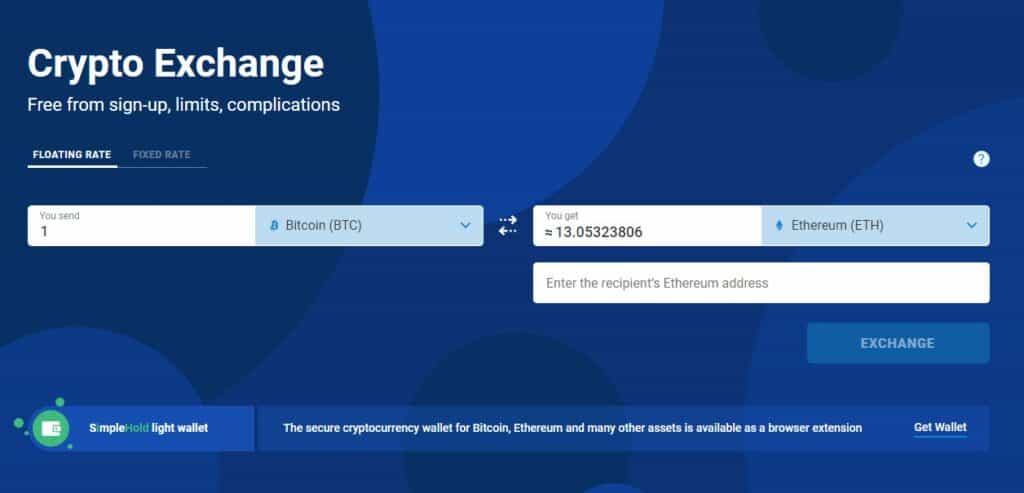 Partnerships are a language fully understood by the team at SimpleSwap. The SimpleSwap team wants its users to have unlimited access to exchange as many cryptocurrencies as possible in the quickest time possible.
To make this happen, SimpleSwap partners with many exchange platforms to bring the best deals to its users. Top exchange platforms that support SimpleSwap include Binance, Kucoin, HitBTC, and BITFINEX.
Although there's no signup process, SimpleSwap cares about its repeat customers. The platform offers a native coin and an affiliate program that helps to reward customer loyalty. Through these initiatives, you may get a Bitcoin cashback reward each time you exchange cryptocurrency on SimpleSwap.
Supported Cryptocurrencies
SimpleSwap stands out as a crypto swap platform that supports multiple cryptocurrencies. With 300+ supported cryptocurrencies, SimpleSwap's versatility is pretty hard to beat.
Think of it this way — as long as that crypto token is present on regular trading platforms, you can get it on SimpleSwap. To mention a few, some of the cryptocurrencies that SimpleSwap supports include:
Tezos
Zcash Coin (ZEC)
Binance coin (BNB)
Bitcoin Cash (BCH)
Solana (SOL)
Tether OMNI (USDT)
Ripple (XRP)
Ethereum (ETH)
Monero
Litecoin (LTC)
Polkadot (DOT)
Bitcoin
Features
SimpleSwap's website interface is user-friendly and straightforward for a newbie in the crypto markets. You also have the same SimpleSwap platforms on your Android and iPhone app stores with a similar interface. You have the liberty to choose your preferred trading language out of the ten available languages on the platform.

At the top right corner of the website, you have five tabs to click and help you navigate. These tabs include:
How It Works: This tab is an educational page to show you exactly how exchanges work on SimpleSwap. You can either learn using the video tutorials or the written options.
Affiliate Program: This is the page open for partners interested in the affiliate program offered by SimpleSwap.
Loyalty Program: This tab is for exchangers interested in clinching the loyalty rewards from SimpleSwap.
FAQs: A page dedicated to answering questions frequently asked by users.
Contact: This page gives users access to contact support emails.
My account: Although signing up is optional on SimpleSwap, getting an account gives room for rewards.
On SimpleSwap, you have a diverse trading view for different exchanges. If you want to change BTC to ETH, the trading view will differ from changing XRP to BNB. A common trait amongst the trading views on SimpleSwap is the order book, the order history, and the cryptocurrency's price chart.
After you have studied and analyzed your preferred trading view, you can go ahead with the exchange. Crypto exchange on SimpleSwap is a three-step procedure:
Choose the crypto pair you're looking to exchange and input the correct amounts.
Enter the recipient's address. This address is where SimpleSwap will send the crypto token you want.
Click the button to make the exchange, and SimpleSwap will do the hard work.
Customer Support
99% of the time, you'll enjoy simple, effective service with SimpleSwap. But what if you fall in the 1% probability? That's where SimpleSwap's fantastic customer support team comes in.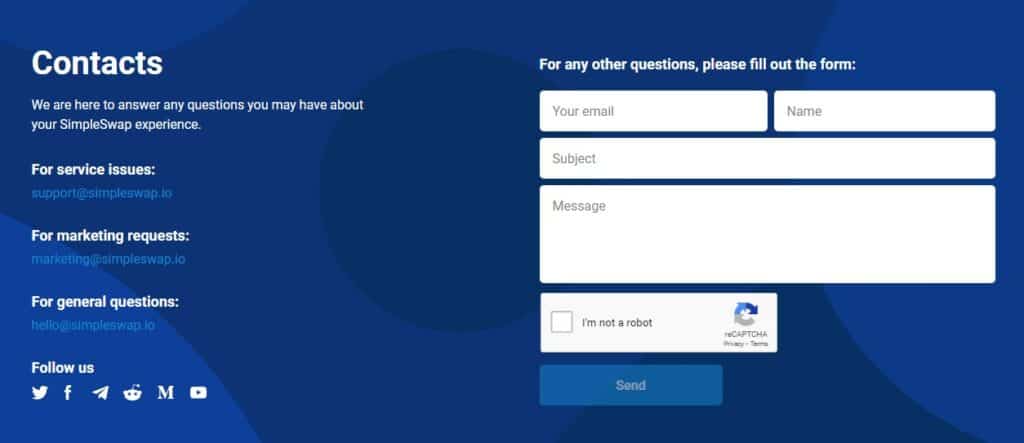 If you don't understand what's going on or you're not enjoying the service, SimpleSwap has an active English-speaking customer support team that'll make things easier. Not to worry, the customer support team has the requisite training and skills to provide instant solutions.
Payment Methods
Payment is simple on SimpleSwap, and luckily it doesn't rely on Bitcoin. If you don't have any cryptocurrency, you can easily buy Bitcoin with your debit or credit card on SimpleSwap.
Trading Fees
When buying crypto on SimpleSwap, the price may be a bit higher than the present market price. Likewise, if you want to sell crypto on the platform, you may have to do so at a lower price.
The platform doesn't exactly use the regular percentage rate for its trading fees because it's an instant exchange. The network fees are minimal, while the cost of exchange depends on current market trends.
Security and Safety
First off, SimpleSwap users can't hold cryptocurrency on its platform. Therefore, it's easy to feel safe while using SimpleSwap.

Likewise, its partnerships with exchange heavyweights also indicate safety. On the backend, SimpleSwap uses a 5-step process to ensure secure crypto exchanges — waiting, confirming, exchanging, sending, and finishing.
Frequently Asked Questions
Below are answers to common questions:
How Much Time Do I Need to Exchange Coins on SimpleSwap?
A crypto exchange transaction can take anything between 5-60 minutes on SimpleSwap.
What are the Minimum and Maximum Amounts for Exchange on SimpleSwap?
There are no amount-related limits to cryptocurrency exchanges on SimpleSwap. But, you do need to have enough to cover the network fees.
Final Take
Exchanging your cryptocurrencies instantly without having an account is a big advantage that SimpleSwap offers. Plus, with over 300+ supported cryptocurrencies, SimpleSwap is highly functional.
SimpleSwap may not be the best option for expert traders, but it offers a great platform for newbies and passive traders.