SimpleSwap Review for 2022
Given the allure of the seemingly lucrative atmosphere surrounding the crypto market, many inexperienced traders are enticed to attempt their trading abilities (and luck), but only a tiny percentage of them possess the 'know-how.' To that end, exchanges began focusing on creating simplified platforms and trading tools suitable for newcomers in this field.
SimpleSwap is one of those easy-to-use platforms, as its name indicates. But is it really that easy to exchange cryptocurrency on this platform? Could any newbie pull off a complex transaction procedure that simply? How do they earn that excellent customer support rating of 4.5/5 stars on TrustPilot? Is their customer support really worth the stellar praises shared by the users? Join us to find out the answers to all this, and – more.
About the SimpleSwap Exchange
Established in 2018, SimpleSwap is an instant crypto-to-crypto and fiat-to-crypto trading platform, devoted to the ultimate customer experience. In this regard, the project developers aimed to simplify the processes of navigating and trading on the platform.
SimpleSwap is able to locate the most lucrative exchange rate for their clients quickly by comparing the offers of the other online exchanges using a sophisticated algorithm.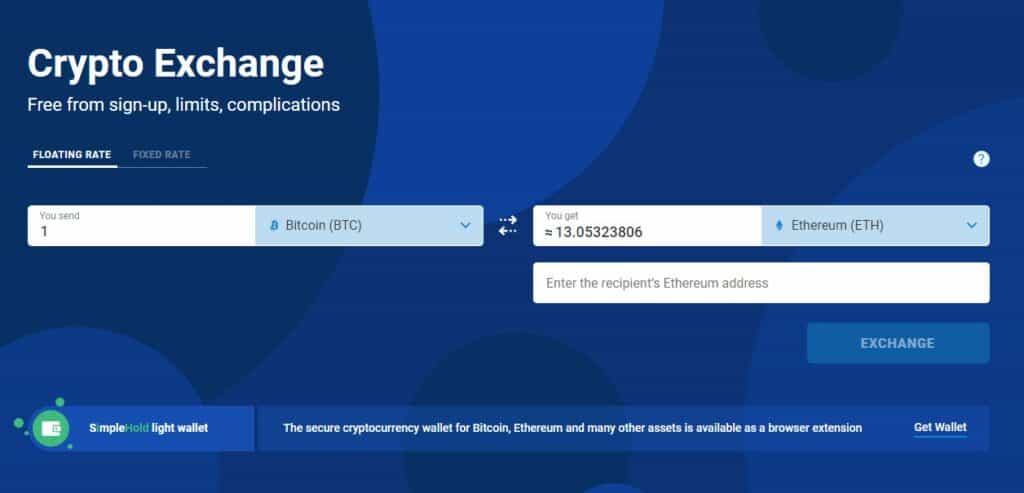 Since the exchange offers the instant swapping of coins, there are no deposits required. The currency swap on SimpleSwap usually takes between 5 to 60 minutes at most. The speed with which a transaction is processed on this trading platform is determined by the time required for a block of encrypted transaction data to be verified and added to the network.
The SimpleSwap Coin (SWAP)
The SimpleSwap coin (SWAP) is one of the first tokens to be released by a crypto trading platform that allows users to instantly swap cryptocurrencies. It is used as a native token for the SimpleSwap loyalty program and may be redeemed for rewards.
The SimpleSwap Loyalty Program
SWAP owners will also be able to take advantage of a variety of incentives, including a BTC cashback membership. Some other great benefits of the SimpleSwap loyalty program worth mentioning are receiving exclusive promotional items for the crypto fanatics, getting included in sweepstakes and promotional events, etc.

Moreover, every completed trade conducted on SimpleSwap will result in a 0.5% cashback reward for you. If you want to start earning cashback by making transactions on SimpleSwap, you must first register a customer account and then activate the loyalty program by selecting the "Subscription" option from the menu. Afterwards, you should earn compensation in SWAP tokens for every trade that you do via this trading platform. Once you've accumulated enough SWAP tokens, you'll also earn the right to upgrade your reward and get Bitcoin cashback instead of SWAP tokens. The amount of Bitcoin cashback you will receive is determined by the membership plan you choose.
The SimpleSwap Affiliate Program
You also might want to join their affiliate program, which offers up to 90% share of the profits! For this, you need to register an account. In the spirit of the company's slogan, it's fairly simple: you just need to confirm your email and agree to the Terms of Service and Privacy Policy.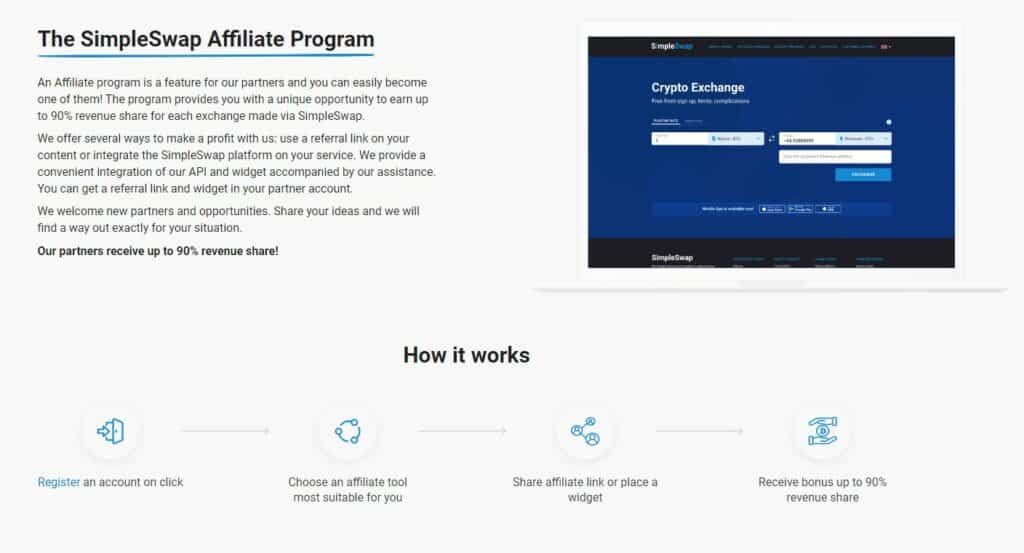 SimpleSwap allows you to generate profit in bitcoins by providing a referral link on your website or integrating the API or SimpleSwap widget or button on your cloud infrastructure, both found on your SimpleSwap affiliate account. After setting up the affiliate program, each trader you recruit that makes an exchange using the SimpleSwap trading platform will earn you a reward.
Supported Cryptocurrencies
SimpleSwap offers over 400 cryptocurrencies and tokens for trading on their platform, listing Bitcoin (BTC), Ethereum (ETH), Stellar Lumens (XLM), Theta (THETA), Eos (EOS), TRON (TRX), Ripple (XRP), Monero (XMR), Tezos (XTZ), Zcash (ZEC), Litecoin (LTC), among others.
Moreover, this exchange currently supports only 8 coins for fiat-to-crypto exchanges on their platform: BTC, ETH, DAI, USDT, BAT, ALGO, BCH, and TRX. These coins are paired with USD, EUR, GBP, TL, RUB, and UAH fiat currencies.
Fiat Payment Methods
The payment options are limited to Visa or MasterCard bank cards, due to the standards of their partner Mercuryo. SimpleSwap's partner Mercuryo levies a 3.95% fee for fiat-to-crypto exchange services, while SimpleSwap's compensation is only 1%. In this regard, the total costs for fiat-to-crypto exchanges that a trader on this platform must pay equals 4.95% of the sum.

Trading Fees and Limits
SimpleSwap offers both crypto-to-crypto and fiat-to-crypto exchanges. With the exception of the blockchain cost, which is normally paid depending on the platform of the coin involved in the transaction, the SimpleSwap trading platform charges no fees on cryptocurrency swaps. There are also no withdrawal fees.
So, how does SimpleSwap earn money? Every time you trade or swap cryptocurrencies on SimpleSwap, there's an algorithm that calculates the fee for each transaction. When the algorithm identifies more convenient rates than predicted, the swap is accomplished at a cheaper price than expected and SimpleSwap gets a small part of that transaction based on the difference. In this way, the exchange makes a modest profit from the transactions. As for trading limits, you are allowed to swap cryptos without a limit on this platform.
Furthermore, SimpleSwap allows you to perform both floating and fixed rate exchanges. Please keep in mind that the total number of coins after a transaction is completed may differ from the stated amount. For example, if you have opted for floating rate conversion, the pricing during the exchange of cryptocurrencies may deviate from the projected rate owing to the cryptocurrency's high volatility.
SimpleSwap comes to the rescue by selecting the best possible rate of exchange for its clients. However, if you want to avoid any uncertainty, fixed exchange rates might be your best option.
Is SimpleSwap Safe to Use?
This exchange has a one-click sign in that requires only your email and password, and users are not required to submit any sort of personal information (like address of residence, ID or passport, bills, or other verification documents). The sensitive data of platform users is therefore protected from any potential cyber-attack.

Moreover, as this is an exchange platform that supports instant swapping of cryptocurrencies, there's no custodial wallet where you need to store your assets as deposits. In turn, this practice serves as a protection against cyber-crime.
Customer Support
There's a customer support team made up of highly skilled and dedicated professionals that are at the service of SimpleSwap traders 24/7. You can easily contact them by sending them your query at support@simpleswap.io and providing your exchange ID and transaction hash as means of verification.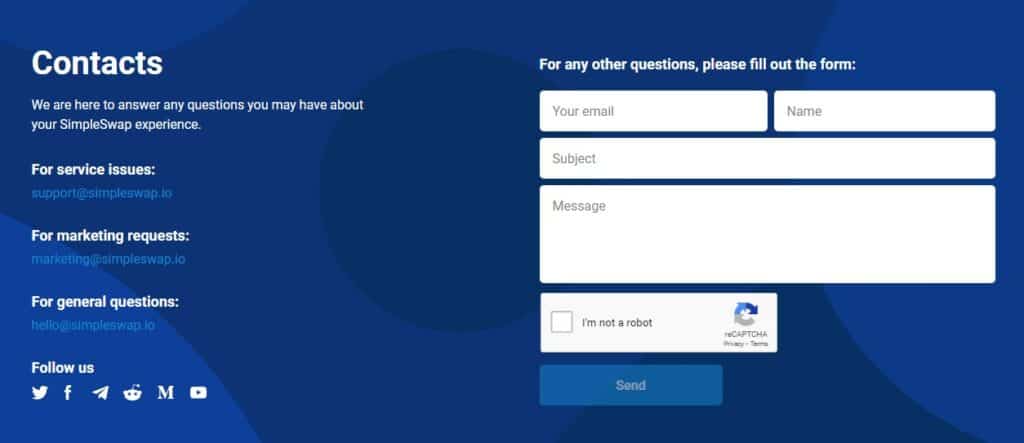 While the customer support on this instant cryptocurrency exchange is available in English only, you may use the web interface in one of 10 languages, including Portuguese, German, Russian, etc. In addition, the mobile app is translated into 6 languages that you may switch between at your convenience.
Frequently Asked Questions
Does SimpleSwap have a mobile app?
Yes. Not only does SimpleSwap provide a web-based platform, but it also offers a mobile application for both Android and iOS devices that offers even simpler crypto swapping on-the-go at competitive rates. The SimpleSwap Mobile App can be downloaded for free via AppStore, GoogleStore, or as an APK (Android Package Kit).
You do not need to register in order to use the app. Your device is fully functional once the app has been successfully installed. That's all there is to it – as simple as that.
You can instantly view and track your prior transactions, statuses, and swapped coins. It is also possible to review the complete information about each cryptocurrency exchange this platform checks for the most profitable exchange rate. Aside from that, users will have an easier time discovering their preferred cryptocurrency pairing thanks to the software's attractively designed user interface, which includes a clean display of the selected currencies as well as a search tool to make navigating through the list of coins more convenient.
Side note: The SimpleSwap mobile app is not available for App Store users from the United States, Japan, and China, and residents of Japan and the United States can't download the app from the GoogleStore for the time being.
What countries is SimpleSwap available in?
As a global cryptocurrency exchange, SimpleSwap actively provides its financial services in almost all countries. The only exception to this rule is the Financial Action Task Force (FATF) countries, which include:
Bangladesh, Bolivia, Burundi, Central African Republic, China, Colombia, Cuba, The Democratic Republic of Congo, Ecuador, Iran, Iraq, Kyrgyzstan, Lebanon, Libya, Mali, Morocco, Nepal, Nicaragua, North Korea, Pakistan, Saudi Arabia, Somalia, Sudan and Darfur, South Sudan, Syria, Vietnam, Venezuela, Yemen, Zimbabwe.
Does SimpleSwap provide a cryptocurrency wallet?
Yes. The developers of the SimpleSwap crypto trading project have come up with the simplest, yet most efficient and secure technological solution for the safe storage of your digital assets. It's the SimpleHold non-custodial wallet with a built-in SimpleSwap exchange.
This light wallet is supported on Chrome, Firefox, Brave, and Opera browsers. Similar to the mobile app, there's no need to sign up for the wallet and provide your personal details in order to use it.
SimpleHold offers the entire control over the wallet to the user, meaning it doesn't have access to your private keys, addresses, or transaction information. Additionally, the AES-encrypted backups ensure that your private keys remain safe at all times.
Is SimpleSwap.io legit or a scam?
SimpleSwap may seem too good – or rather, too easy – to be true, so it is understandable that the question of whether this exchange is legitimate or a scam would come up.
However, the fact that the SimpleSwap instant trading system has been implemented into some of the most reputable and trustworthy exchanges (such as Kraken and Binance) is reason enough for us to trust that this platform is legit. Furthermore, the platform does not store any sensitive data or deposits, so it doesn't make sense that scams would be on the SimpleSwap agenda.
The Bottom Line
If you're looking for a user-friendly crypto exchange that can provide you with instant transfers and extremely easy trading tools, you've arrived at the right place. When you consider the fact that you can trade over 400 currencies as much as you like with no costs but the blockchain fee, consider yourself to have hit the jackpot of crypto exchanges.
We also think you'd enjoy the reward program with a rather elaborate set of benefits, including a BTC cashback for the liquidity providers of this exchange. Due to the restricted number of trading tools available, this exchange platform, on the other hand, is not suitable for professional traders. Additionally, you may only deposit fiat using a credit card at extremely high rates, which may be considered a hindrance for some traders.
The bottom line? SimpleSwap is an exchange that offers premium experience and can make even new investors feel like seasoned traders in an inconspicuous and effortless exchange process, which we really liked.