StormGain Review for 2022
The Stormgain cryptocurrency exchange is a centralized crypto trading platform registered in London, England. Established in 2019, this UK platform is relatively new to the crypto ecosystem, but it has undoubtedly taken the crypto world by storm. 
More often than not, we cannot help but question the assertions of an exchange when it boldly declares that it provides "Zero percent commission crypto trading" and "You pay only when you gain". This gave us a strong motive to delve deeper into the trading mechanics and the background of the StormGain platform to see if these claims had any merit.
Today, we decided to take a deeper look at the trading dynamics, safety mechanisms, and financial tools offered by this crypto exchange. What made this trading platform a success? Join us on this reading & crypto exploring quest for more.
Alternatively, if you're looking for a local exchange, check out our comparison of the best sites to buy Bitcoin in Australia.
About the StormGain Exchange
The StormGain cryptocurrency exchange offers margin trading, as well as spot and futures trading leverage with a multiplier of up to 200X. The platform allows you to trade indices and cryptocurrencies. It also supports cloud mining, provides a free cloud miner, a loyalty program, and trading with tokenized assets. Furthermore, it has a Take Profit and Stop Loss orders tool that offers you more control over your trade setup and that can help you achieve a greater profit.
All of these trading instruments are backed up by a trading view that offers comprehensive crypto market charts, live transactions, as well as in-depth market analysis.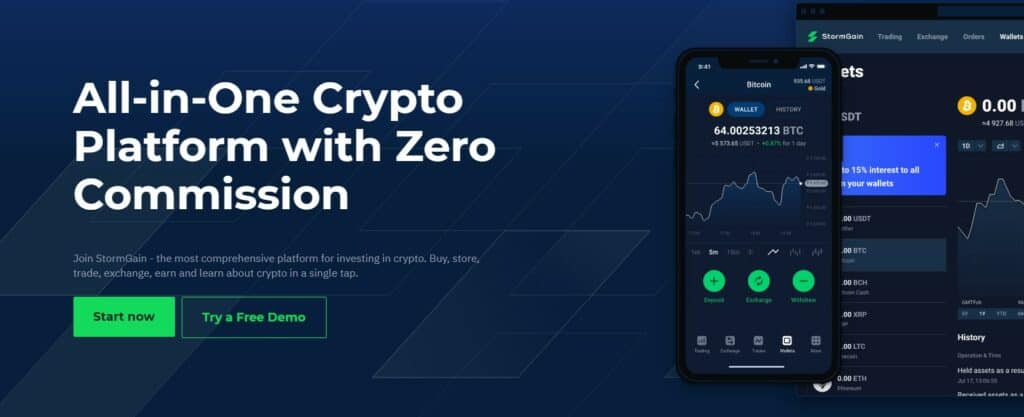 The web-based user interface of the StormGain platform offers a user-friendly layout suitable for both beginners and professional traders, with a cryptocurrency exchange operating as the site's focal point. The exchange allows you to simply swap your favorite coin with a single click of the mouse. Through StormGain's built-in wallet you may easily convert other cryptocurrencies in a virtually instantaneous way. It gives an easy solution to safeguard, organize and swap your assets anytime you choose.
To start trading, you'll only need to sign up for a StormGain account and deposit some funds on it.
Types of StormGain Trading Accounts
If you're new to this platform and still not sure whether it's the right one for you, you can test it out by registering a demo account that's free of charge. The StormGain demo account is a great way for users to get a feel for the platform without throwing any money on the line. Traders may also test out new strategies before putting them into practice with real money. After some trading practice, you may effortlessly transition between the demo and the verified account as soon as you like by using the dedicated switching button.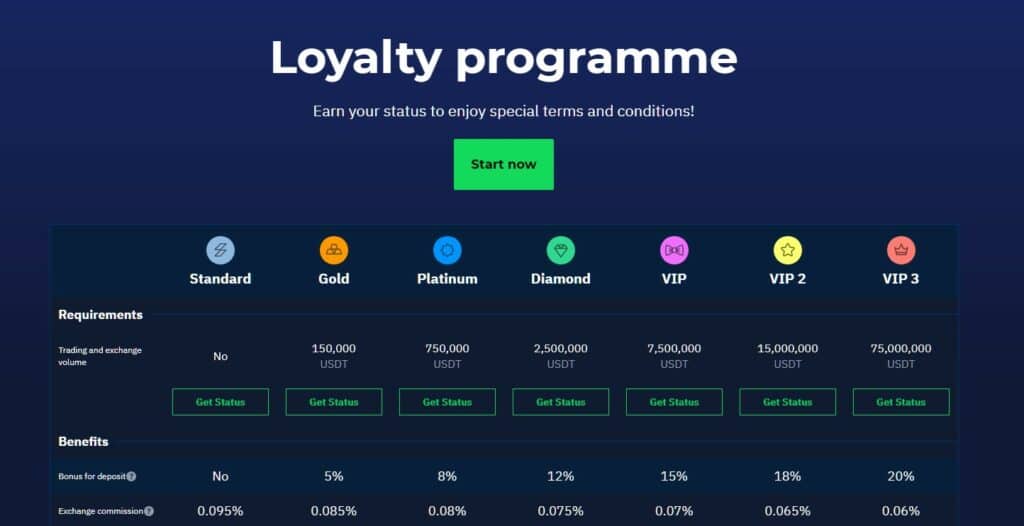 To sign up for a StormGain account and begin trading cryptos, all you need is a valid email address and a passphrase. You also need to pick whether you prefer the desktop or mobile platform and you'll be ready to start trading in less than 5 seconds.
Supported Cryptocurrencies
StromGain offers trading with Bitcoin (BTC), Ethereum (ETH), Tether (USDT), Litecoin (LTC), Dash (DASH), Ripple (XRP), and Bitcoin Cash (BCH). As both Bitcoin and the altcoins supported by StormGain are all major coins, the risk of investing in a scam cryptocurrency project is eliminated.

Payment Methods
You can deposit your funds to your StormGain account through your bank account, wire transfer, credit card, debit card, or by depositing coins in your crypto wallet prior to completing a trade.
Trading Fees and Limits
The StormGain development team believes that exchange platforms' fee structures can be high-priced and that the general inclination of the crypto market is to not value or care about user revenue. Wanting to be different, they have developed a low fees scheme with the aim of assisting the investors who use their platform in overcoming these trading constraints and enjoying unrestricted crypto trading with no need to pay fees for every single transaction, but only when they gain from trade.
This cryptocurrency trading platform charges flat fees, indicating that both the takers and the liquidity makers incur the same fee of 0.25%t. On the other hand, if you do earn revenue from a trade you've made via StormGain, you will be charged an outrageous 10% in trading costs, which is quite steep. It kind of seems like what you don't pay for your unprofitable transactions, you pay when you eventually make some profit (for all those transactions, that is).
Withdrawal Fees
There's also a withdrawal fee of 0.0006 BTC (per BTC-withdrawal), plus 0.10% applied to the withdrawn sum. So, when you want to withdraw smaller quantities, the cost is advantageous. But, when you attempt withdrawing larger sums, it becomes clear that the fee works for the benefit of StormGain.

Is StormGain Safe to Use?
Regarding the protection of your online data and assets, StormGain implements the two-factor authentication (2FA) protocol to keep your account secure and ensure it's you trying to access your account.
Furthermore, the platform is secured with SSL encryption and a multi-signature system for enhanced security. Most of the money is held in cold wallets, for the sake of safety, but a part of users' funds are also held in hot wallets to enable seamless day-to-day withdrawals.
Is StormGain Legit?
All data on this KYC, PCIDSS, and GDPR-compliant trading platform is encrypted, closely monitored, and governed by the Principle of Least Privilege standards. The StormGain exchange is also a signatory of the Blockchain Association within the Financial Commission. In other words, the chances this cryptocurrency exchange is a fraudulent platform are slim.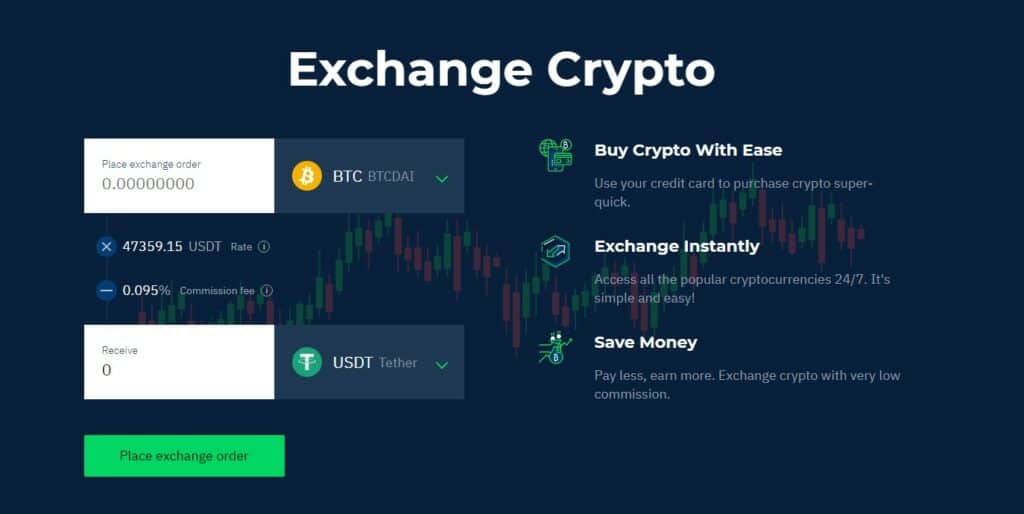 Also, did you know that StormGain is well recognised as the sponsor of the Newcastle United Football Club (NUFC)? This only goes to show that StormGain is a highly reputable and trustworthy cryptocurrency exchange.
Customer Support
StormGain offers a dedicated Guides page with several tutorials on how to sign up, test, make your first crypto exchange or deposit on your StormGain account, trade, or enable the in-app trading signals. This CEX also offers 24/7 multilingual customer service. You may reach out to them with your inquiry via the company's email, telephone, or Telegram.
Frequently Asked Questions
Does StormGain have a mobile app?
Yes. StormGain is a smartphone-accessible trading platform, supported by all iOS and Android portable devices. You can download the StormGain mobile app from AppStore, GooglePlay, or the Huawei AppGallery. Alongside the majority of the trading tools, the mobile app also provides mobile crypto mining.
What countries are supported by StormGain?
The list of countries where the StormGain crypto exchange offers its financial services so far includes the United Kingdom, Portugal, Germany, Italy, France, Poland, Spain, The Netherlands, Turkey, Russia, China, and Vietnam.
How to make a deposit on a StormGain account?
Making a deposit into your StormGain account is fairly straightforward. You only need a bank card and 5 minutes of your time. Simply select the cryptocurrency you want and add it to your wallet. Next, swap it for USDT and you're good to make transactions right away.
Alternatively, you can enlist the Interest Rate Programme and receive a 10% incentive on your deposit.
The Bottom Line
And here we are, at the end of yet another positive review of a successful crypto trading platform project. StormGain is certainly a crypto exchange that has proven its contribution to the field by establishing itself as a project developed with the trader's profit as the ultimate goal. For this, the team behind this crypto exchange has developed a myriad of trading tools for trading across numerous trading pairs, a seemingly ideal fee system, as well as a highly secured trading platform and dedicated customer support.
However, one feature makes us doubt if StormGain's ultimate goal is user's profit. It's the fee that the exchange charges when you make a profit – 10% of your profit share can quickly turn this exchange's ostensibly 'competitive fees' into one of the industry's highest.
Finally, this is certainly a platform for more seasoned traders. Beginners, on the other hand, should be aware that high leverage trading may lead to significant losses even for crypto veterans, and maybe opt for a Coinbase or Binance instead. Happy trading!