Swyftx Review for 2023
When choosing a crypto exchange for conducting everyday investments and trading operations, some of the most important aspects I look at are platform fees, supported coins, ease of use, and extra features. I was pleasantly surprised to learn that Swyftx, one of the most popular Aussie crypto exchanges, excels in all of these areas.
Swyftx is definitely among the best cryptocurrency trading platforms in Australia, thanks to the incredibly simple user experience, great selection of cryptos, and wide range of supported payment methods.
Crypto beginners also have a free demo account feature available so they can practice trading before investing AUD through PayID, POLi, credit cards, debit cards, or bank account transfers. The overall trading experience was super simple, and I could literally buy crypto within minutes through the instant buy feature.
Let's take a deeper look at Swyftx and check all the key characteristics that make it the go-to crypto exchange for Australian users.
| | |
| --- | --- |
| Website | Swyftx.com |
| Country | Australian and New Zealand |
| Mobile app | Yes |
| Deposit Methods | Bank transfers, PayID, debit cards, credit cards, POLi, OSKO. |
| Trading Fees | 0.6% fee for absolutely all trades |
| Fiat Currencies | USD, AUD, NZD |
| Cryptocurrencies | Bitcoin (BTC), Ethereum (ETH), Cardano (ADA), Litecoin (LTC), Ripple (XRP), and more than 300 additional coins |

Pros
320+ available cryptocurrencies.
Support for all the popular deposit methods in Australia, including POLi, OSKO, and PayID.
A flat fee policy of 0.6%.
A regulated exchange, registered with AUSTRAC, which complies with anti-money laundering measures.
The option to earn interest on 20 leading coins and tokens through the Swyftx Earn feature.
Cons
The platform lacks a classic trading interface for advanced traders.
User funds aren't insured.
Swyftx only operates locally in Australia and New Zealand.
What Is Swyftx?
The Swyftx trading platform is one of the leading cryptocurrency exchanges in Australia. The platform was launched in 2017, in Brisbane, to help Aussie crypto enthusiasts to invest fiat currency in crypto easily. The main idea was to enable beginners in the rapidly growing crypto market to start investing in crypto without any hassle, without complex trading interfaces and without having to deposit crypto from a third-party wallet to the platform to start trading.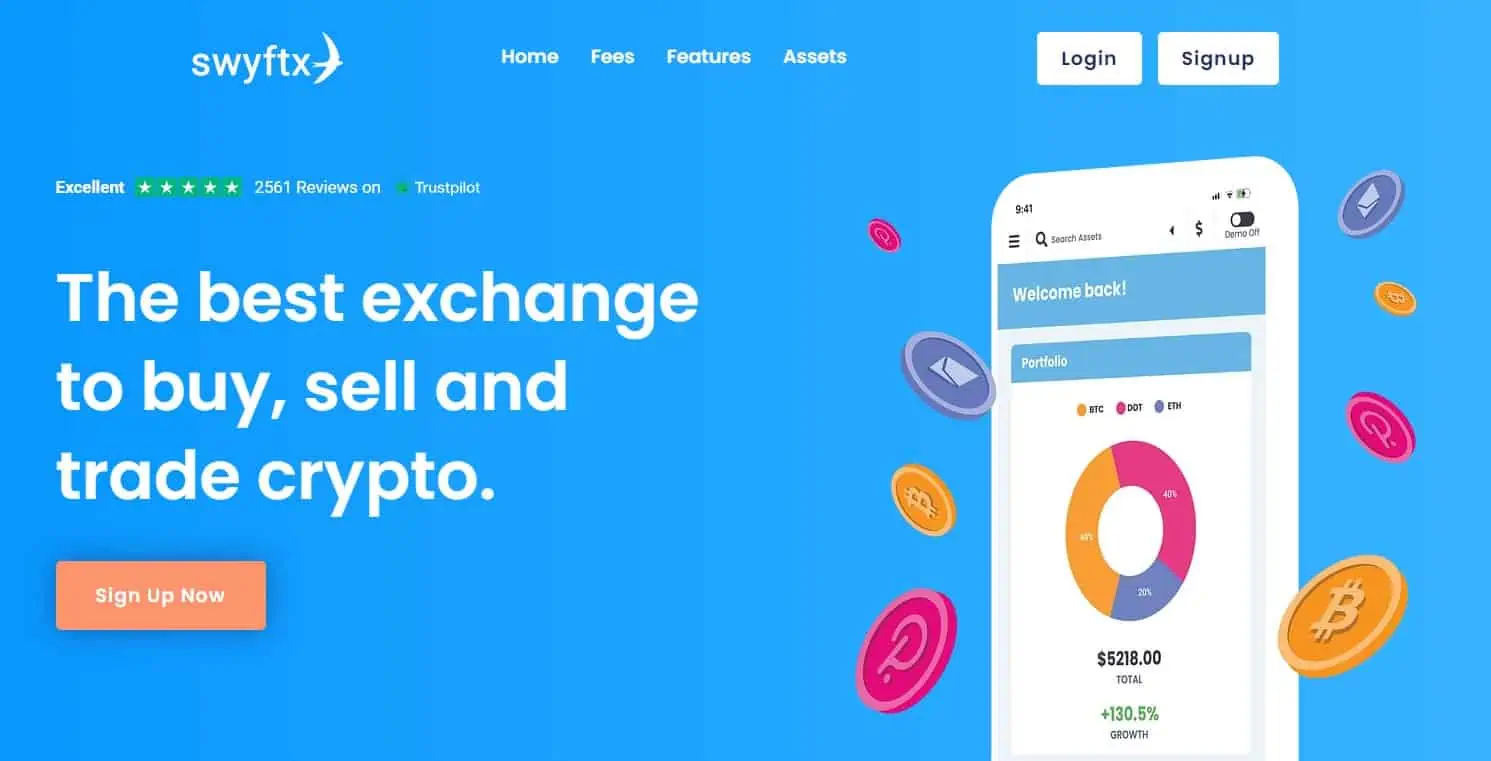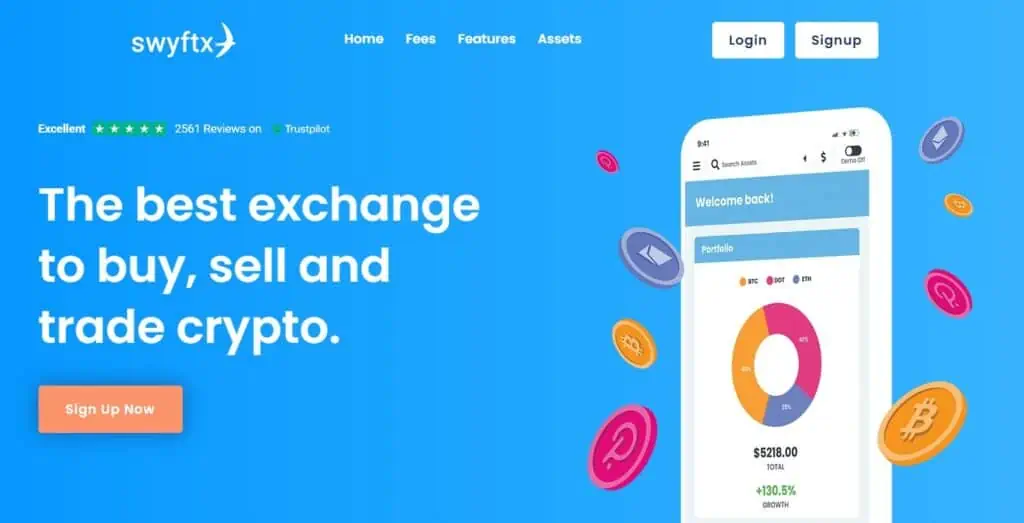 Simplicity is one of the key characteristics of Swyftx, which got me really excited from the start because the whole crypto buy and sell process is streamlined, and you can buy Bitcoin or other cryptos with just a few clicks. When selling crypto, the procedure is almost the same, and it only takes a few minutes.
The platform might lack some advanced trading features, such as margin trading and complex order types, but that's fine since Swyftx is really geared towards beginners and average traders who want to directly purchase or sell crypto without thinking too much about advanced trading strategies.
Thanks to its user-friendly design, a broad selection of cryptos, and smooth user experience, Swyftx really managed to take the Australian crypto market by storm.
Swyftx Features
Let's check out the key features of this leading Australian cryptocurrency exchange one by one.
Supported Cryptocurrencies
The list of supported cryptos is really tremendous, especially since Swyftx is a regulated exchange platform. I was really surprised to find out that Swyftx supports more than 320 coins and tokens. The best thing is that the platform secures solid liquidity levels for all available crypto assets, which allowed me to invest in both market-leading coins, such as BTC and ETH, as well as less popular altcoins like Augur (REP), Basic Attention Token (BAT), and Aion (AION).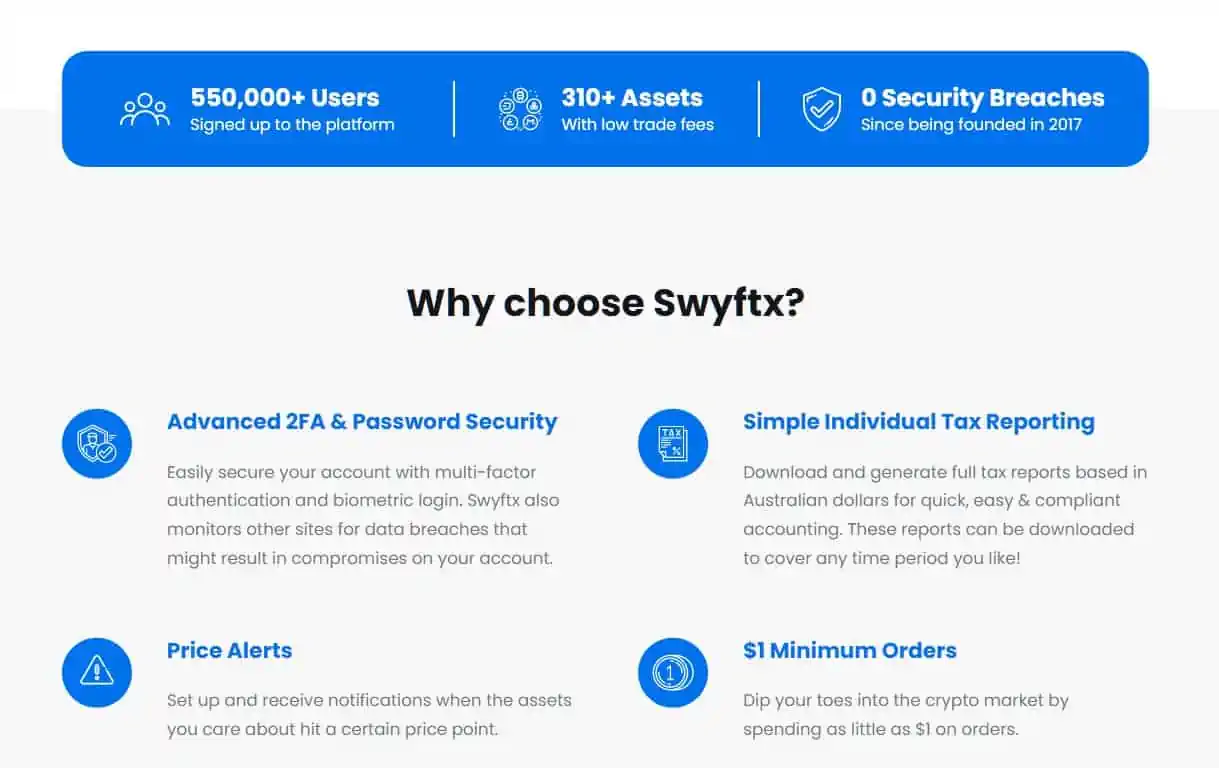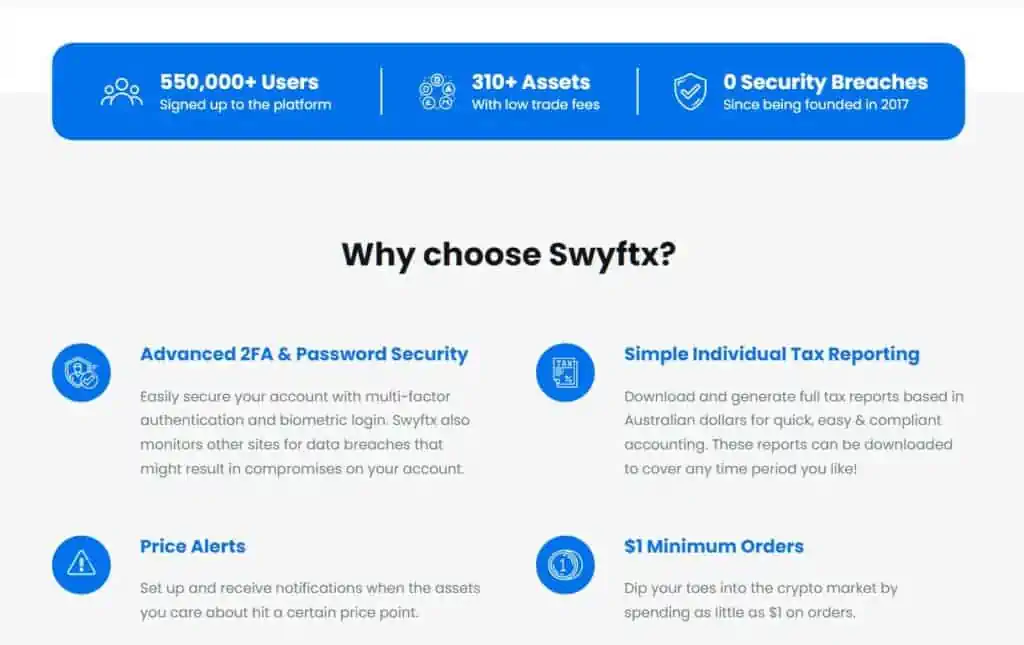 Supported coins include most of the top 100 cryptos and a bunch of less-known altcoins with high development potential. You can find Algorand (ALGO), Bitcoin Cash (BCH), Ethereum Classic (ETC), Bancor (BNT), Band Protocol (BAND), Binance Coin (BNB), Avalanche (AVAX), Axie Infinity (AXS), Polygon (MATIC), and 300+ altcoins on Swyftx.
Transferring Fiat and Cryptocurrency
Swyftx supports three fiat currencies: NZD, AUD, and USD. You can deposit these fiat currencies to your Swyftx account easily through a multitude of payment methods, including POLi, PayID, OSKO, bank account transactions, and bank cards.
The vast choice of deposit methods meant that I could fund my Swyftx account with whichever payment method suited me best, plus I wasn't charged anything for fiat currency deposits or withdrawals, which was another pleasant surprise. The deposits and withdrawals are free of charge.
Crypto transactions are also free as far as Swyftx is concerned, but you'll always incur the standard blockchain transaction fee that depends on the blockchain you're using.
Swyftx Fees and Spreads
I was used to standard market maker and taker fee models that are dominant among crypto exchanges, but when I tried Swyftx, I noticed a small sign below the instant buy feature's Buy button stating "We charge 0.6% on all trades". I did some research about the platform and quickly found out that Swyftx indeed has a flat trading fee policy that's always the same regardless of the number of ordered cryptos.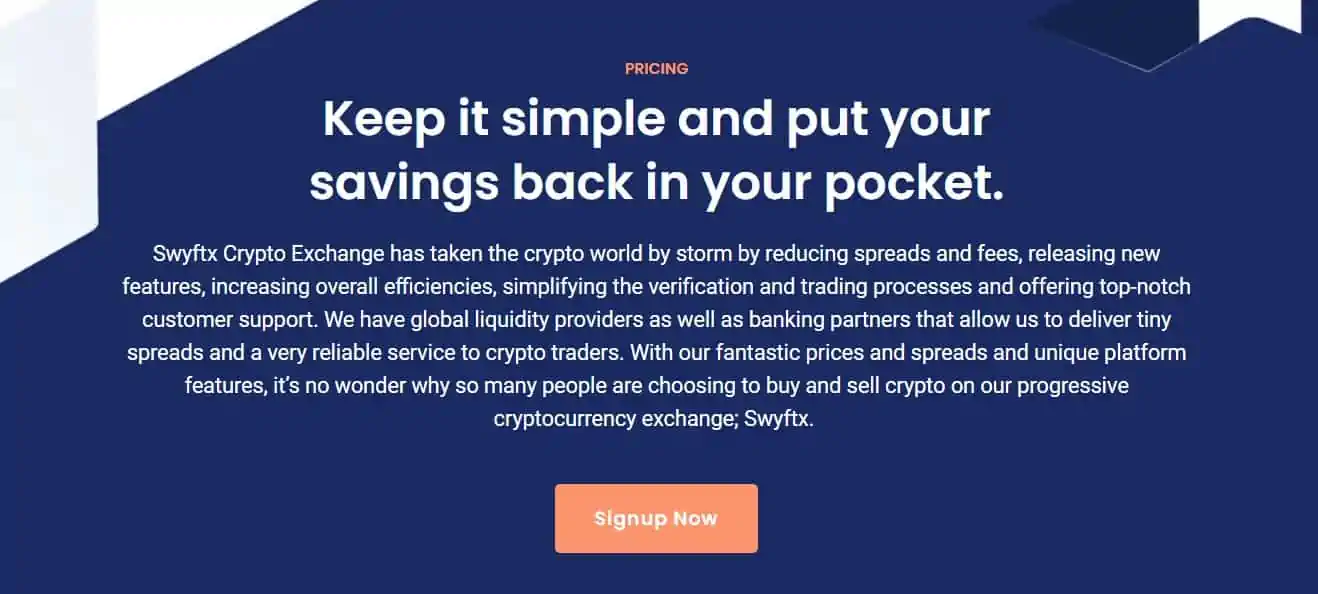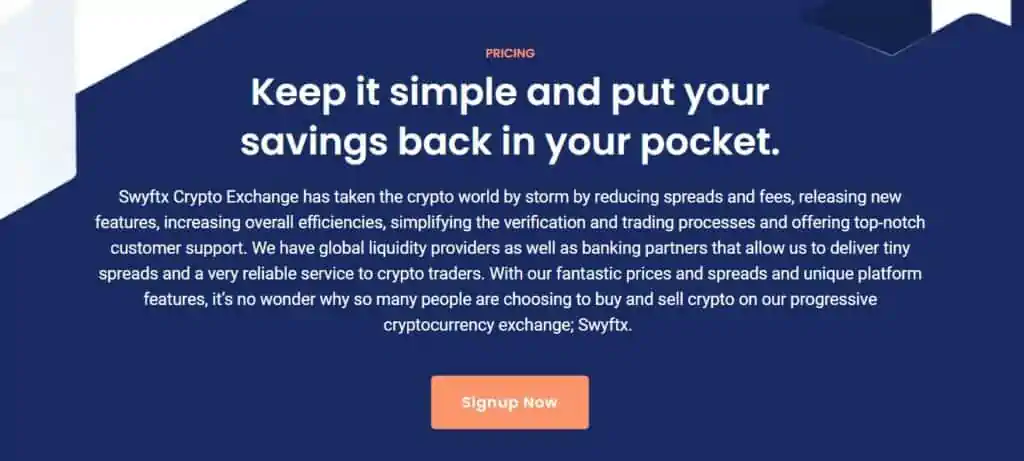 Additionally, the market spreads on Swyftx are the lowest among Australian crypto exchanges. The average spread is just 1.7% on Swyftx, while the lowest spreads on the platform are 0.4% for leading coins like BTC and ETH.
Customer Support
Responsive and helpful customer support is something many leading crypto exchanges lack, but that isn't the case with Swyftx. The platform really excels when it comes to customer support. Sure, you can contact support through email, but the live chat support option is a much better solution.
When I tried this feature, I realised that the live chat option lets me talk to a chatbot at first, but as soon as I started asking a bit more complex questions, a real, live person from Swyftx took over. The support team member was super helpful in answering my questions regarding Swyftx payment methods and crypto staking features. Their average response time is around one minute, and it was really refreshing to stumble upon a crypto exchange with such great customer support.
Demo Mode
Swyftx has a demo mode feature that lets users conduct trading simulations and practise key features without risking real money. This is a great feature for beginners because they can practise with real, live market data and start trading once they learn how to use Swyftx smoothly.

You can switch between your live account and your demo account at any time within your account setting by toggling the Demo mode button.
OTC Trading
For advanced crypto traders looking to conduct large-scale deals over 100,000 USD of value, Swyftx has a very reliable over-the-counter (OTC) trading service. You can book a consultation appointment with a Swyftx broker and work out the details of your trading deal with experienced professionals.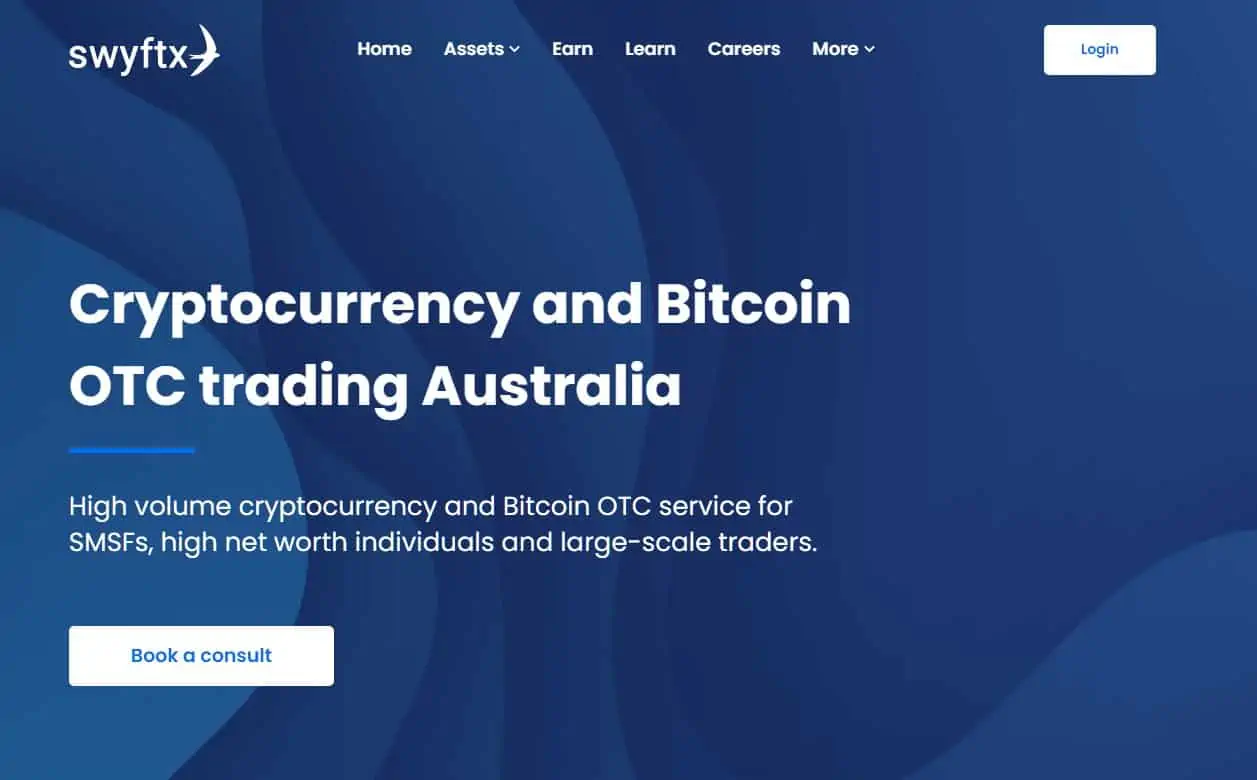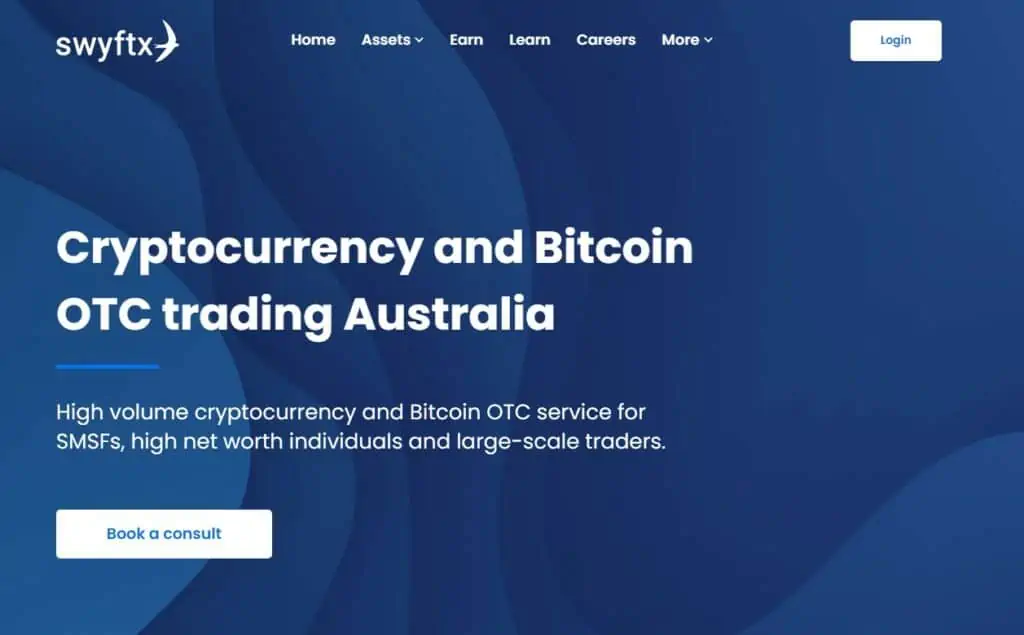 When I tried this option, I was able to book a meeting with a Swyftx OTC broker the next day just by providing some basic information, such as my full name, email, the crypto I wanted to buy, and the exact amount. The service is incredibly fast and helpful. Also, you can get a much better deal and lower trading fees compared to standard platform trading, which is another advantage of OTC services for large-scale investors.
SMSF Support
One of the services that make Swyftx stand out from the competition is the platform's support for crypto self-managed super funds (SMSF). These types of funds are usually used if you want to increase your retirement fund or as life insurance in case of unfortunate events. Crypto is fairly new as an asset for SMSFs, but Swyftx has included this feature in its portfolio of services.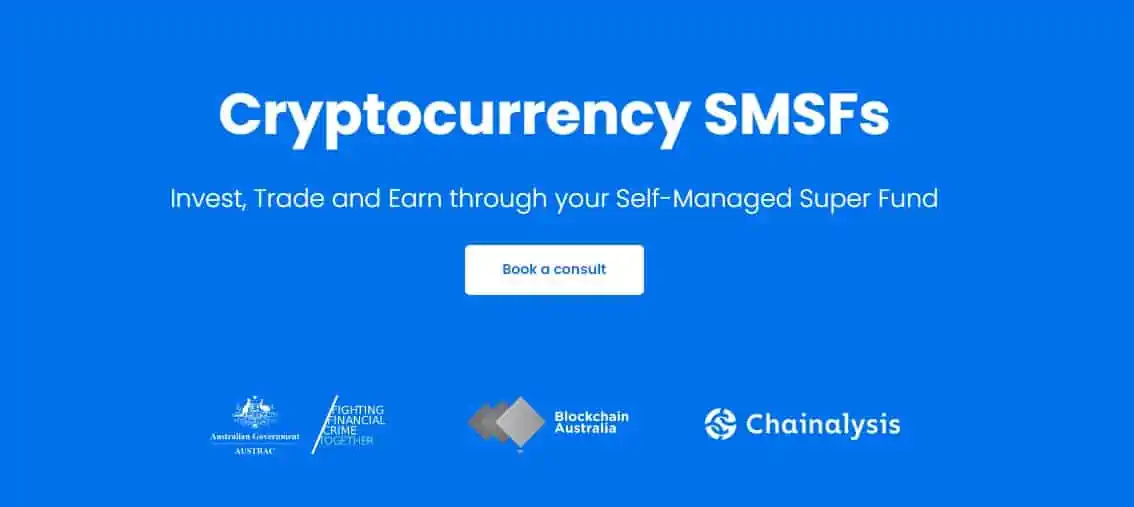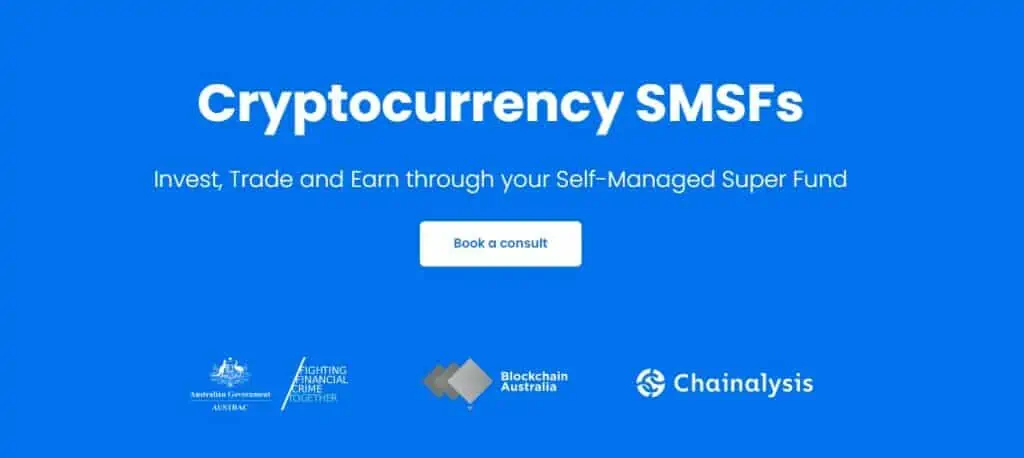 I didn't have the opportunity to try it, but by reading a bit more about the feature, I found out that Swyftx offers crypto SMSF in compliance with Australian financial authorities and that the exchange is licensed to provide users in Australia and New Zealand with this service, which adds a sense of security to users.
Bundles
You don't need to buy a bunch of coins through individual trades if you use the Swyftx Bundles feature. To put it simply, you can choose a bundle of cryptocurrencies and buy a batch of coins for a certain amount of fiat cash.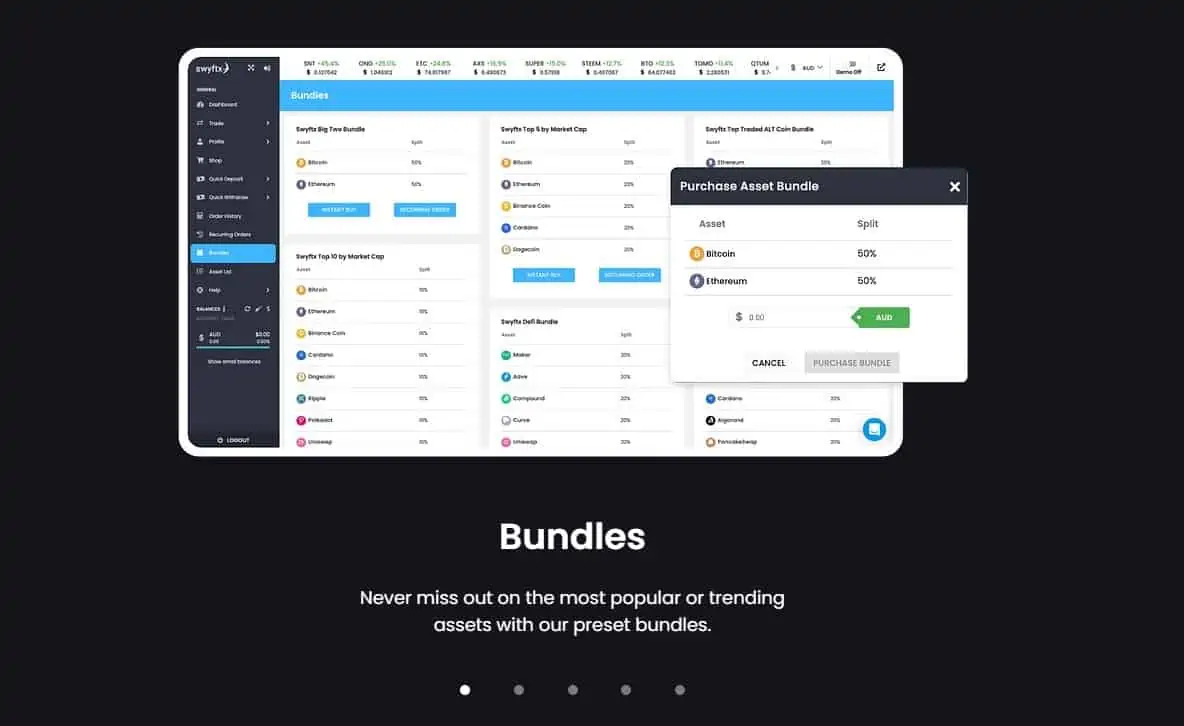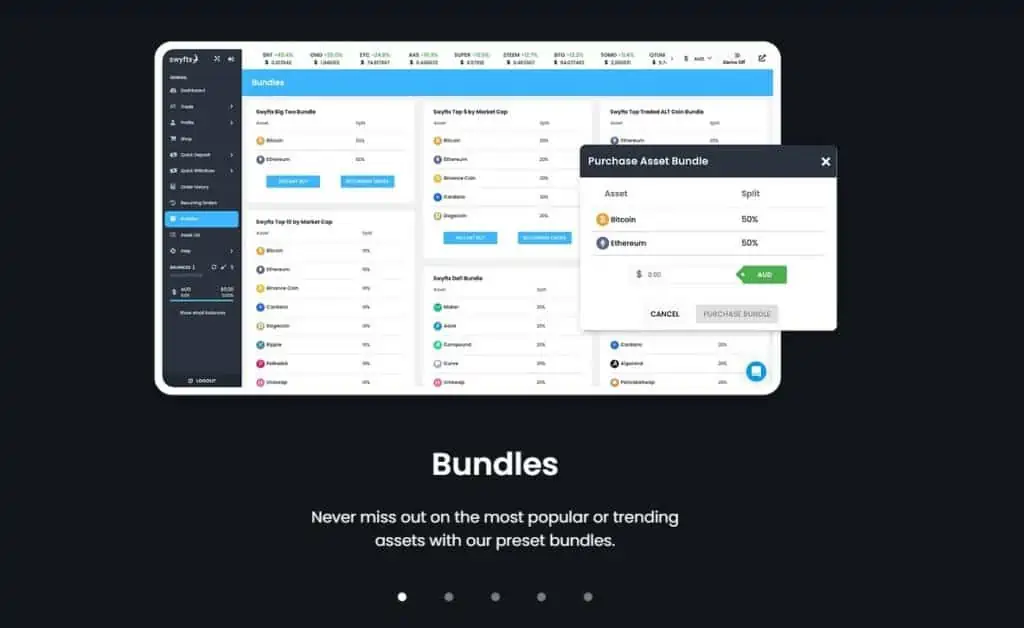 Swyftx bundles include top 5 by market cap, top 10 by market cap, big two (BTC and ETH), DeFi bundle (5 leading DeFi coins), top traded altcoin bundle (5 altcoins with the highest trading volumes), and the staking coin bundle (5 coins that you can stake and earn interest on).
Swyftx Earn (Previously Staking)
Staking or lending coins for interest is an easy way to make your crypto work for you and increase your portfolio over time. This feature is called Swyftx Earn, and it's easily accessible on the platform.
I was quite surprised to see such a broad selection of coins and high annual percentage yields (APYs). You can stake or earn interest on 20 leading coins, including BTC, Polkadot (DOT), Cardano (ADA), ETH, Tether (USDT), USD Coin (USDC), Polygon (MATIC), and more than 10 other popular altcoins.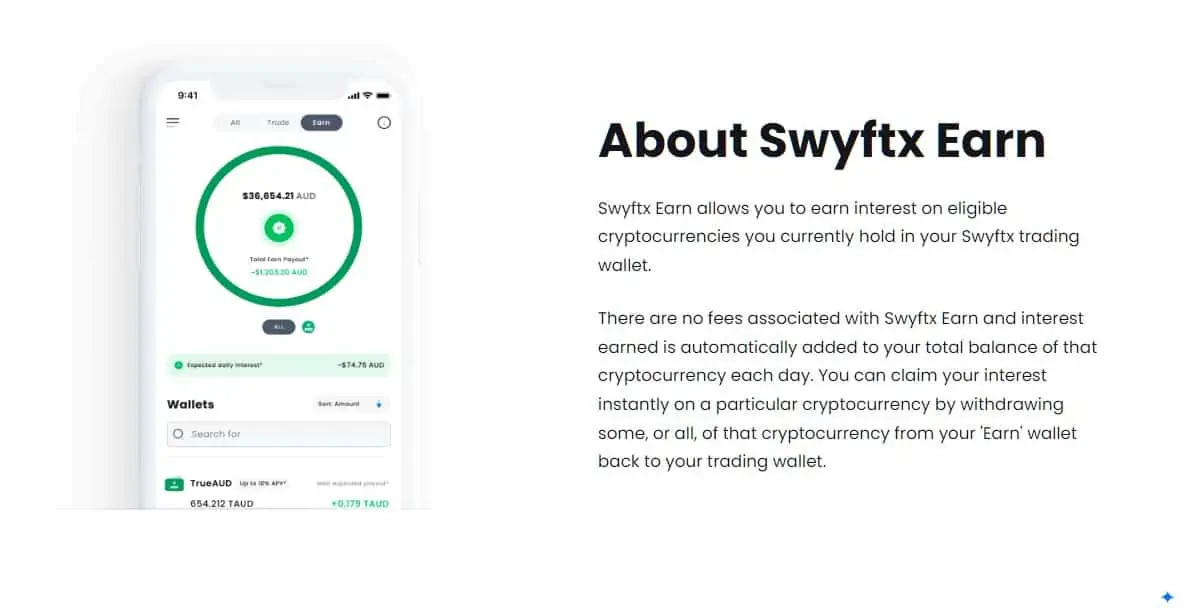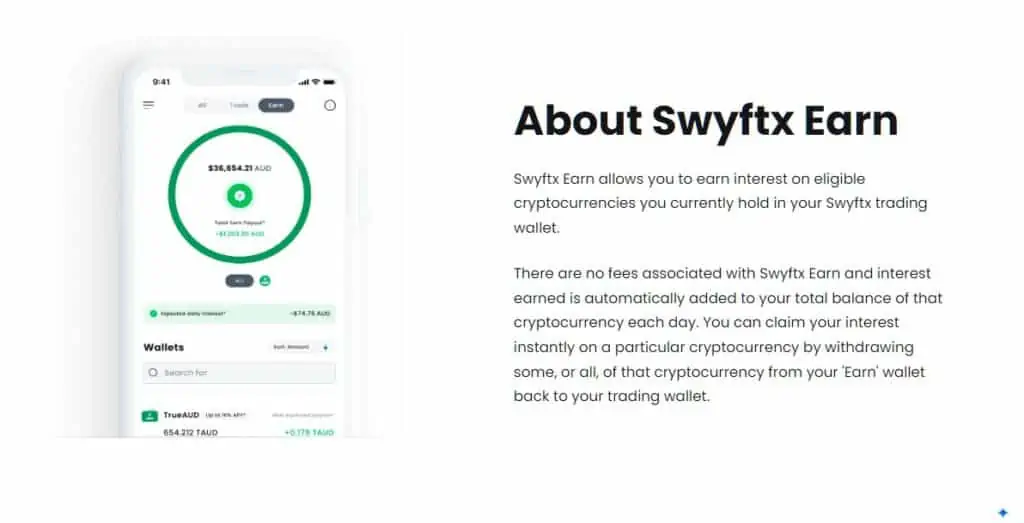 The APYs range from 3.97% for Tezos (XTZ) all the way to 101% for Axie Infinity (AXS).
The feature is very useful since you don't need to search the web for staking pools. Swyftx handles the entire process for you. You just need to have the coins deposited in your Swyftx account.
Coin Swap
Coin Swap is a relatively new Swyftx feature, introduced in 2021. Basically, this feature lets users simultaneously sell one coin and buy another in exchange for the first one. It's a classic crypto trading feature made incredibly simple thanks to the high liquidity and quick processing mechanism of the Swyftx platform.
I tried selling BTC in exchange for ETH, and the whole procedure was done in just a few minutes, not more than the standard blockchain processing time for the BTC and ETH blockchains. The best thing is that the coin swap feature is supported for all the cryptos listed on Swyftx.
Tax Reporting
Trading digital currency is a taxable activity and you should always keep record of your transaction in order to file taxes with the Australian Tax Office (ATO) on time. Luckily, Swyftx makes tax reporting very simple. The platform is integrated with the popular Crypto Tax Calculator software which allows Swyftx users to go to their profile, select the Tax Reports tab, choose the date range, and click the download button to get their tax report.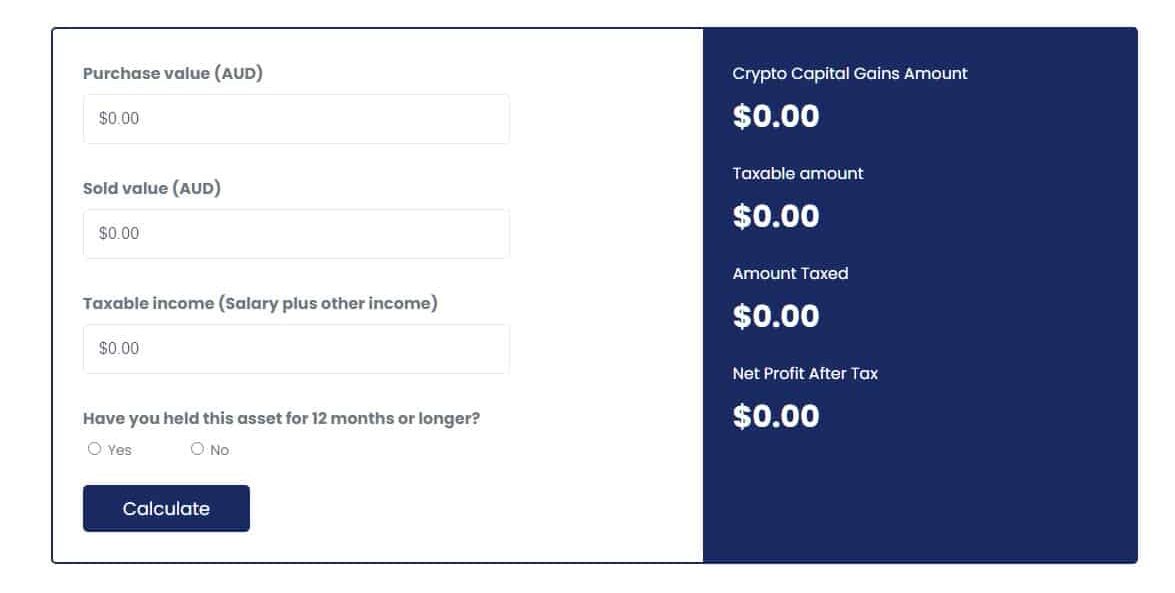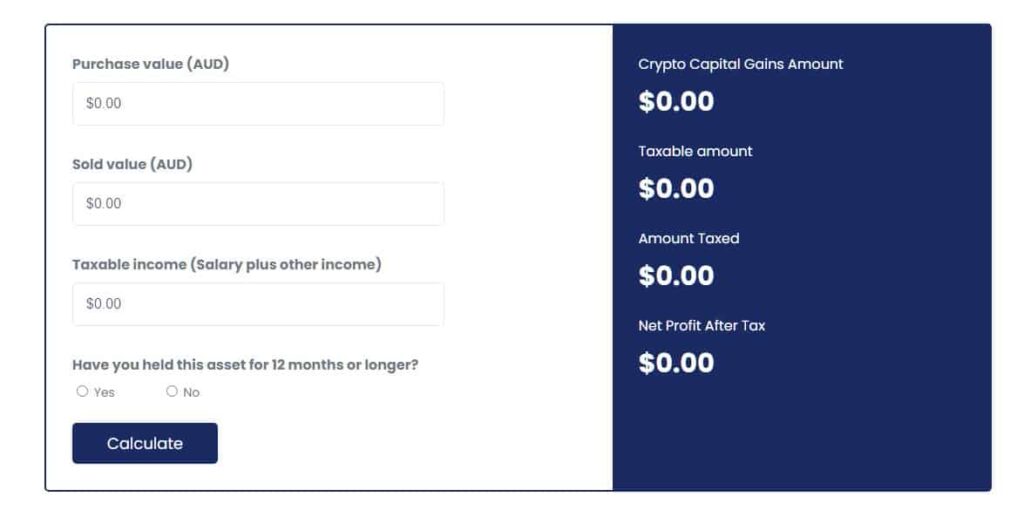 I tried it, and it really works like a charm. This feature can save you a lot of time and money since you don't need to search for your transaction history manually or pay expensive tax professionals.
Recurring Orders
Swyftx allows traders to set recurring orders for selected cryptocurrencies or the crypto bundles offered by Swyftx. This is a great tool for users who are dollar cost averaging their crypto investments and wish to invest the same amount of money in certain assets on a regular basis.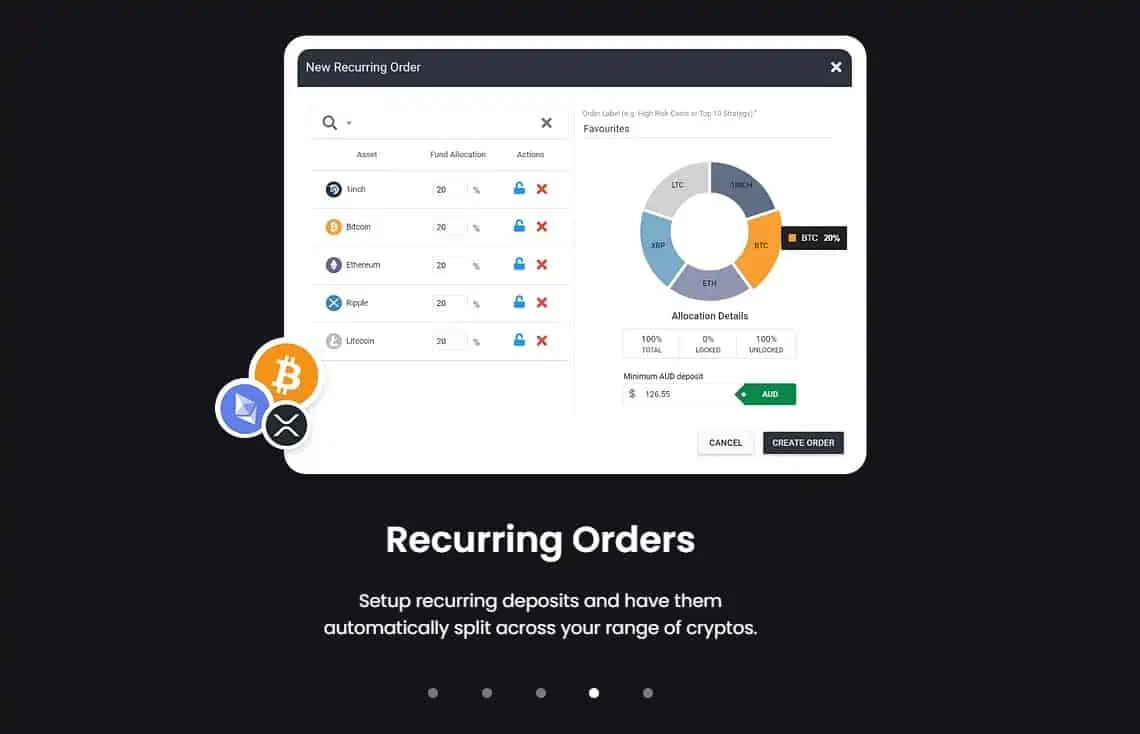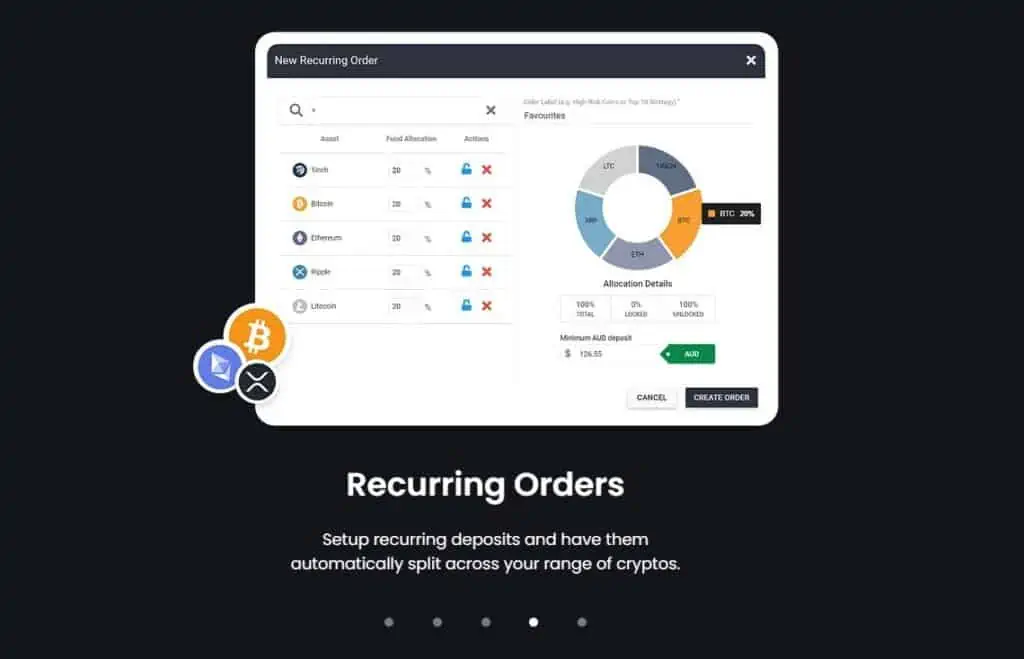 Mobile App
Every reputable crypto exchange needs to have a smooth working mobile app, and Swyftx is absolutely shining in this aspect. Their mobile app is available for both iOS and Android mobile devices, and it makes using the platform even easier than the browser version of Swyftx. The app's design is very intuitive. You can navigate between key features very easily and execute market orders, stake crypto, or swap coins with just a few clicks.
I was really enjoying the mobile app. The simplistic design is something many exchanges should learn about from Swyftx.
Swyftx $20 Sign-Up Bonus
Swyftx constantly offers a 20 USD sign-up bonus deposited in BTC once you create a platform account if you use an official link with an applied promotional code like this one here.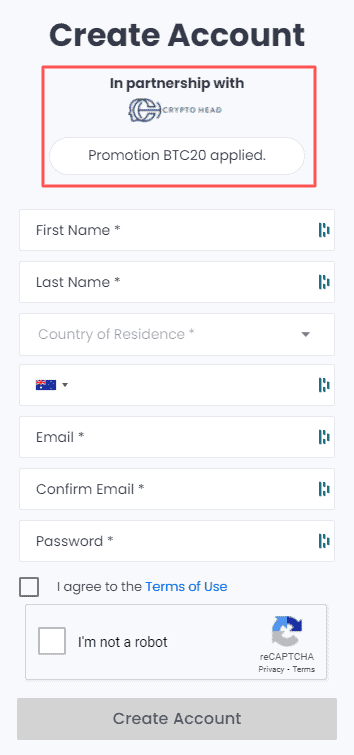 The 20 USD worth of Bitcoin won't get you far, but it's a really nice token of appreciation for new users.
How to Use Swyftx
Now, let's check some of the basic operations on Swyftx. I'll walk you through these procedures just to show you how simple it is to use the platform.
Signing Up
Signing up is very simple:
Go to the official Swyftx website and click on the Signup button.
Now, you'll be required to enter your full name, country of residence, phone number, and email.
You'll also need to create a password. It's highly advised to create a long password with different types of characters and numbers to make the password strong.
Confirm that you're not a robot by ticking the box, agree to the terms of use, and you're all set to create an account.
Verifying Your Account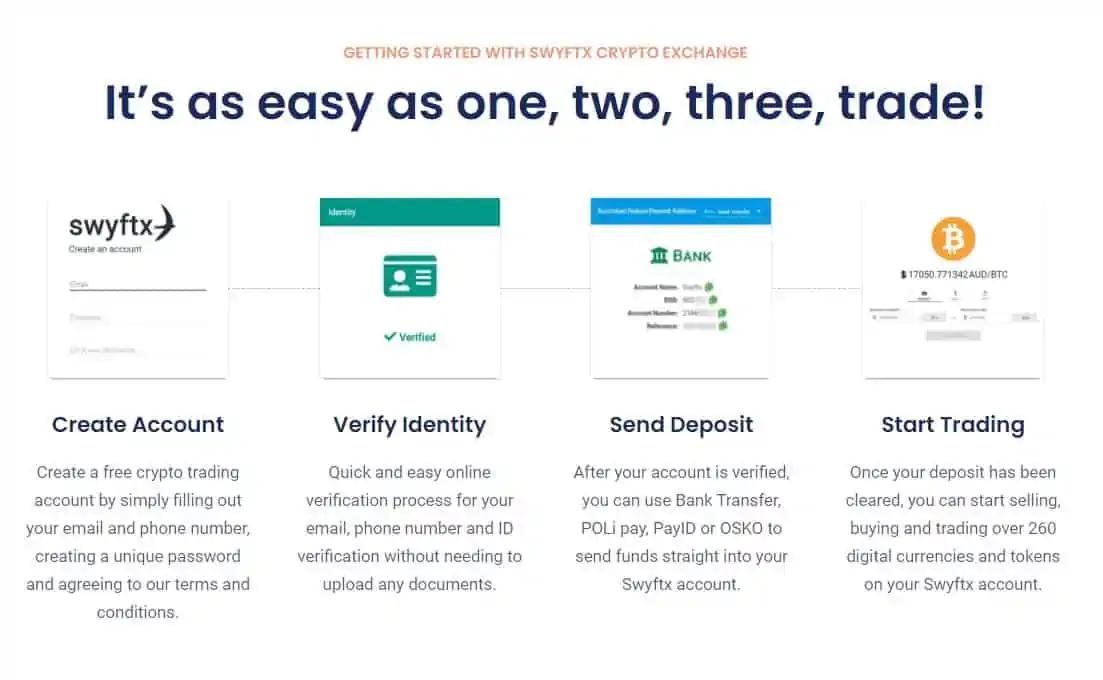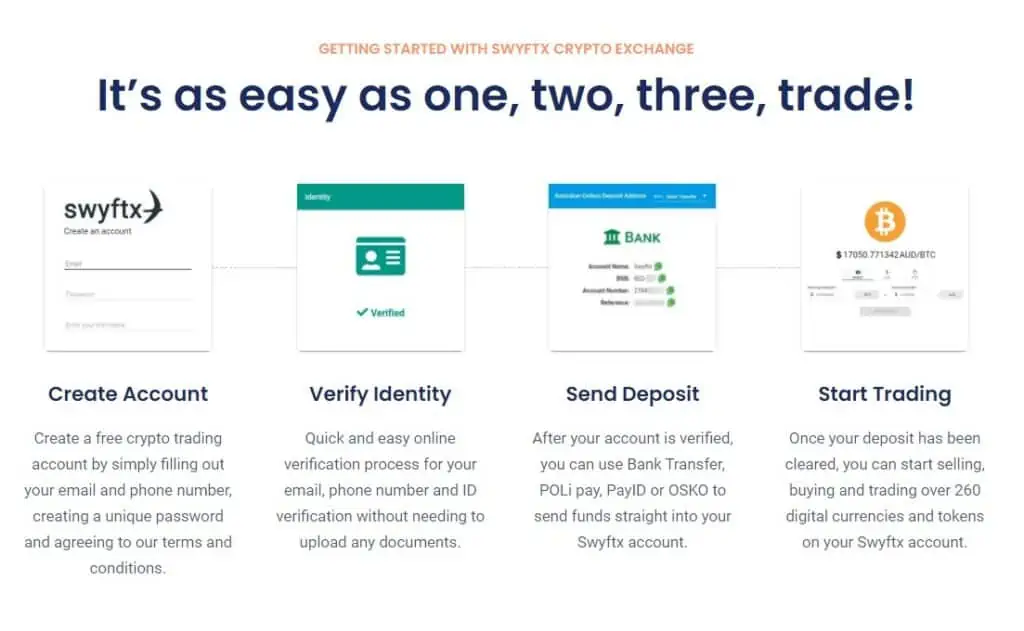 Before you start using Swyftx, you have to verify your account:
First, you need to verify your email. Go to the Profile section of your account interface and click Verification. Just click Verify Now in the email section.
You'll receive a confirmation email to the address you've provided to Swyftx. Click Confirm my Account in your email, and your email will be verified by Swyftx.
The next step is your phone number verification. Click the Verify Now button below the phone number section in the Verification tab.
You'll receive a 6-digit code in a text message. Enter that code to verify your phone number.
The final stage of the account verification process is to verify your identity and go through the Know Your Customer (KYC) procedure.
Select the ID verification tab in the Verification section and choose an ID document you'll use to verify your identity. You can use a passport, driver's licence, medicare card, or a visa.
Enter all the required details and submit your verification request.
Your account should get verified shortly.
Transferring Funds
You're now ready to deposit some money into your Swyftx account:
Go to the Trade section of your account interface and select the Quick Deposit option and then choose Deposit Australian dollars.
You can now choose to generate bank transfer details and then send money to your platform account through your online banking app. Also, you can choose POLi, OSKO, PayID, and bank cards. For each deposit method, you just need to follow the on-screen instructions and use the provided details to facilitate a transfer to your Swyftx account.
Depending on the selected deposit method, your funds will appear in your Swyftx account within a few minutes in the case of bank cards, PayID and POLi, or within a few hours in the case of a classic bank account transfer.
Start Trading Crypto
Finally, you're all set to start trading crypto on Swyftx:
Log into your Swyftx account and navigate to the Assets page where all the supported cryptos are listed.
Choose the coin you wish to buy and click on it.
You'll now be taken to the purchase screen, where you'll see a detailed price chart of the selected asset, and you'll be able to specify how many units of the selected crypto you wish to buy and how much that will cost you in fiat currency.
Once you've entered the desired number of coins, you're ready to click on the Buy button and finalise the purchase.
The procedure is lightning fast, and I was really satisfied with how quickly the trading deals were carried out on Swyftx.
Frequently Asked Questions
Is Swyftx a secure exchange?
Yes, Swyftx is a super-secure crypto exchange with a clean track record regarding platform hacks. The platform has never been hacked, it stores the majority of funds in offline hardware wallets, while user accounts are protected by passwords and two-factor authentication (2FA).
Does Swyftx have Australian-based customer support?
Yes, the platform has a native, Australian-based support team and they are highly professional when it comes to answering user inquiries.
Is Swyftx good for beginners?
Swyftx is a great crypto exchange for beginners because it's very easy to use. The mobile app is ever easier to use, and comes with a smooth user-interface. Every feature is just a few clicks away.
Is Swyftx an Australian company?
Yes, Swyftx is an Australian company with headquarters in Brisbane.
Is Coinbase better than Swyftx?
Coinbase has a far smaller selection of available cryptos than Swyftx, and their fees are much higher. Swyftx is a better choice for Australian traders.
Is Swyftx better than Binance?
Binance is famous for super low fees, but unlike Swyftx, it isn't regulated. This means that users aren't legally protected when using Binance, which is a huge minus compared to Swyftx.
Which is better, CoinSpot or Swyftx?
Swyftx has a much more user-friendly interface compared to CoinSpot and it's a far better choice for beginners. CoinSpot is a great platform, but it's much more complicated than Swyftx.
Who is Swyftx owned by?
Swyftx is a private company owned by crypto enthusiasts Angus Goldman and Alex Harper, the founders of the platform.
Does Swyftx have a withdrawal limit?
Swyftx has a daily fiat withdrawal limit of 100,000 AUD.
Conclusion
My conclusion after trying out Swyftx for some time is that there's a good reason why the platform is considered one of the best crypto exchanges for Aussie users.
The selection of cryptos is huge, and there aren't any liquidity issues, no matter which coins or tokens you try to buy or sell. The fee policy is great, and if you want to conduct a large-scale trading deal, the Swyftx OTC brokers will help you facilitate the trade. Additionally, the platform has very low spreads, a wide range of interest-earning options, and supports innovative features, such as crypto SMSFs and crypto bundles.
Related: