Swyftx Review for 2022 – Trusted Crypto Exchange in Australia
Incepted in the wake of 2017 with blockchain developers Alex Harper and Angus Goldman at the helm in Queensland, Brisbane, Australian platform Swyftx seems to be ahead of the curve. Upon its launch in 2019, it delivered an intuitive interface, the opportunity to trade with over 260 crypto assets, global liquidity backing, no inflation whatsoever, amicable spreads, and some of the lowest fees. But when things seem too good to be true, they usually aren't, right? Well, we'll let you be the jury on that verdict.

Besides being one of the best Australian crypto exchanges, Swyftx is also a complete brokerage service. This pertains to both new and veteran traders alike, as it provides some of the best low spreads on the market. Swyftx offers an attractive SMSF (Self-Managed Super Fund) savings account that grants users complete and utter control over their finances.
It should come as no surprise that Swyftx has managed to attract large market share among Aussie crypto traders. How? We're glad you asked.
How Does Swyftx Work?
Swyftx treads the line by providing some of the most unique and functional features, including:
a customizable dashboard sculpted to your preferred settings and most frequently used features,
a powerful cryptocurrency TradingView charting interface,
automated cryptocurrency investments and recurring deposits,
downloadable tax reports,
referral and affiliate programs,
demo mode – to start trading so that you can try even the most courageous of backflips,
and of course, Self Managed Super Fund access.
Registered with the Australian Transaction Reports and Analysis Centre (AUSTRAC), Swyftx provides full transparency and compliance with the laws of the land, administering KYC policies and transaction monitoring programs in order to prevent attempts at money laundering and terrorist threats. In other words, they prioritize safety over speed.
However, the KYC verification process at Swyftx is not something that you should worry about, as in most cases, it doesn't take long to get registered. Your account will be activated once you provide an email address, a phone number, and an ID.
Additional security layers on the platform include two-factor authentication (2-FA) and constant monitoring of the platform's data and traffic in order to detect any potential threats and breaches. Swyftx takes security quite seriously, as the exchange keeps a close look at other exchanges and their behaviors. They also have a partnership with Auth0, a cloud security platform for login detail safety.
By performing self-administered external penetration attempts, they regularly test their encryption protocols on all sensitive data and identify any suspicious activity within their systems. If they do come across any suspicious accounts, those accounts are automatically locked until their owners provide a new password.
Their TradingView interface provides users full control of the trading interface at all times, regardless of whether you want to place a stop, limit, or market order or view detailed price charts, analysis, and pricing. Your crypto trade orders are automatically optimized by the algorithm across multiple exchanges so that you can get the very best prices and liquidity available when you're executing a transaction.
Trading Features and Supported Cryptocurrencies
The platform provides an ever-growing list of over 220 different cryptocurrencies. Besides the most popular trade cryptocurrencies such as Bitcoin (BTC), Ethereum (ETH), and Ripple (XRP), they also provide support for less popular coins, the likes of Civic (CVC), Filecoin (FIL), or Mithril (MITH), Curve (CRV) and yearn.finance (YFI).
Nothing is off-limits, as assets are traded by utilizing the TradingView interface. This cool feature scans and compares other trading platforms in order to find the best spreads, liquidity, and pricing.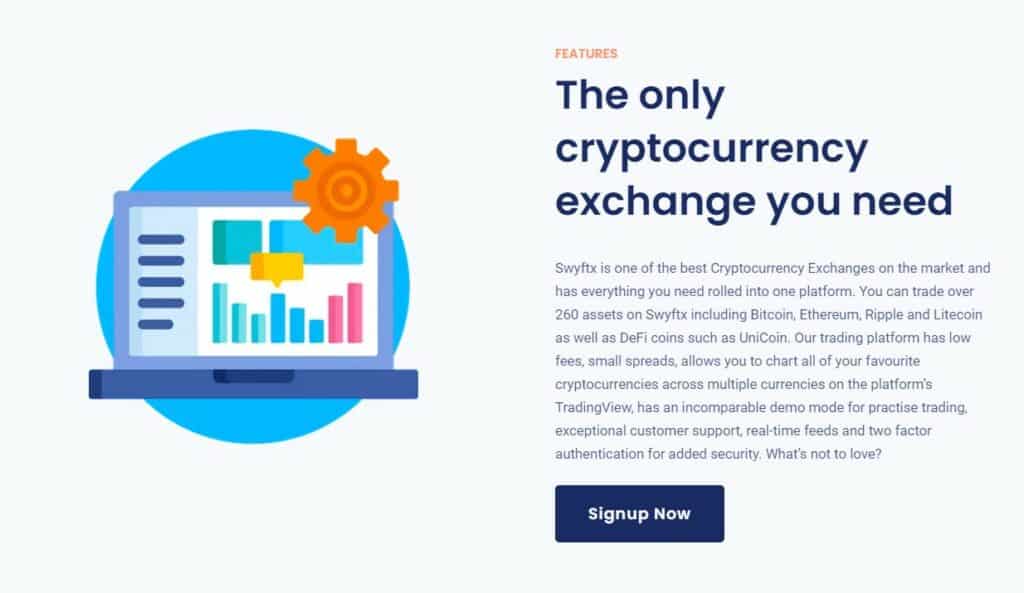 Compared to Binance, Swyftx does not support leveraged trading, they offer deposits in AUD. Be it as it may, where there is a will, there is a way, for those willing to take the extra step. As most leveraged cryptocurrency exchanges only accept deposits in trade cryptocurrencies, Swyftx users are able to buy Bitcoin with AUD, and then transfer the Bitcoin to a third-party exchange that does offer leveraged trading. Limiting as it may seem, not dealing in leverage is also a convenience for novice users and there are plans in place to implement this feature on the platform in the near future.

Swyftx is also the only Australian platform that offers demo mode cryptocurrency trading accounts. Basically, here you're dealing with make-belief bank accounts and Monopoly money. There are no real consequences tied to your actions, but the rules still apply. The trading platform simulates liquidity and trading conditions, so even advanced traders will find this feature useful as it allows them to evaluate their moves before deciding whether to commit to them.
For those on the go, the platform provides a mobile app for both Android and iOS devices, loaded with biometric security, so you can apply fingerprint or face scan ID recognition. The app is an extension of the platform and all features are available across both interfaces.
Trading Fees and Limits
Swyftx provides flat fees of 0.6%, which straight out of the gate may appear to be outrageously high; higher than competitors such as CoinJar, CoinSpot, and Digital Surge. However, the low spreads tend to balance that out as they are some of the lowest on the market, going as low as 0.41%. Swyftx is in a position to offer this percentage because of the featured AI automation that provides the lowest possible spreads at all times.

Apart from AI automation, Swyftx boosts its liquidity by converting all deposits between AUD to USD upon withdrawal. That's where the high 0.6% fee comes from. Of course, there are also mining fees on deposits and withdrawal fees. Nonetheless, if your AUD deposits and withdrawals surpass $200, the fee is nulled. Everything under that threshold is subject to a flat fee of $2.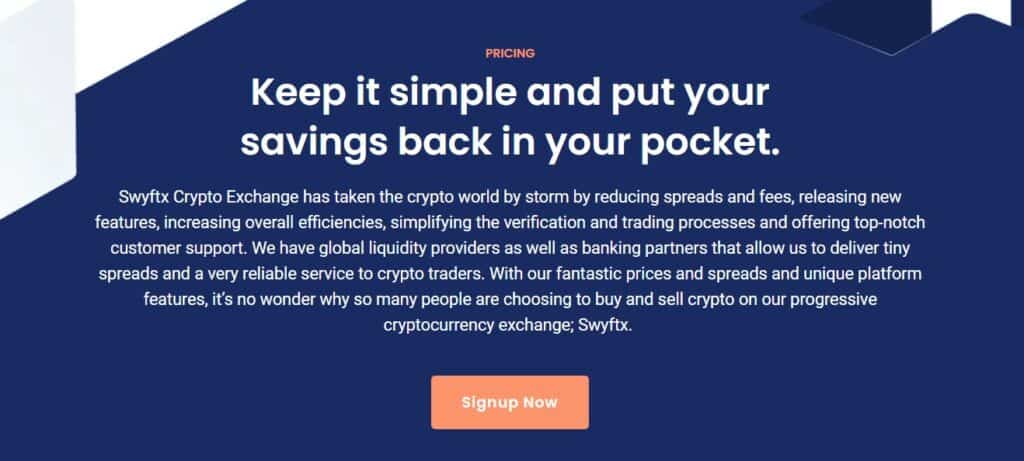 Limits apply at 20,000 AUD on a per-day basis. Nevertheless, there are ways of lifting this limit order to 100,000 AUD or removing it completely. by completing advanced verification checks and providing additional documentation.
Is Swyftx Safe to Use?
Swyftx is required to run KYC on everyone in order to verify all their clients by Australian law. Registering for a Swyftx account is pretty straightforward. You provide your name, email address, phone number, county of residence, create a password, and you're in.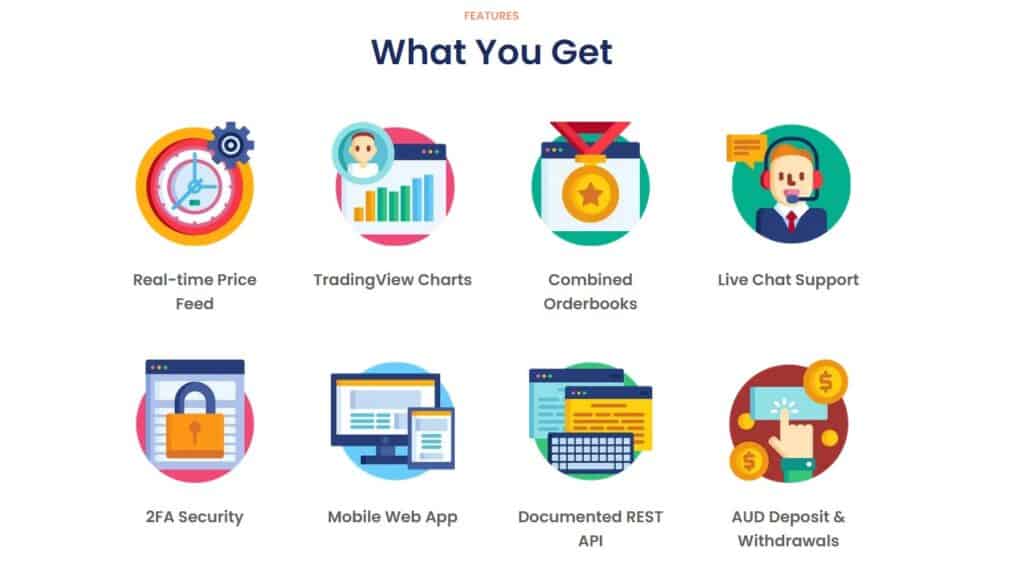 Swyftx keeps a watchful eye on who comes in and moves out of their premises. They have a working relationship with Chainalysis, one of the world's biggest Blockchain analysis companies, and require users to go through regular identification checks.
The platform employs 2FA account verification, cross-references breached passwords from third-party websites, regularly performs external penetration tests, implements a least privileges security model internally, and applies JWT tokens.
Deposit Options
Regarding deposits, there are several established ways that you can go by, most notably, PayID (instant deposit method), POLi (instant deposit method), OSKO (deposit within the same business day), Osko, and PayID.

If you use the OSKO bank transfer network, you'll need to wait anywhere between 2-6 hours for your funds to be processed. However, there have been instances where large-sum first deposits have been held up for up to 24 hours for review. You can always opt for using a credit card or a debit card through BANXA, a digital currency payment gateway. Keep in mind that your deposits have to be somewhere between 30 and 15,000 AUD if you decide to take this route.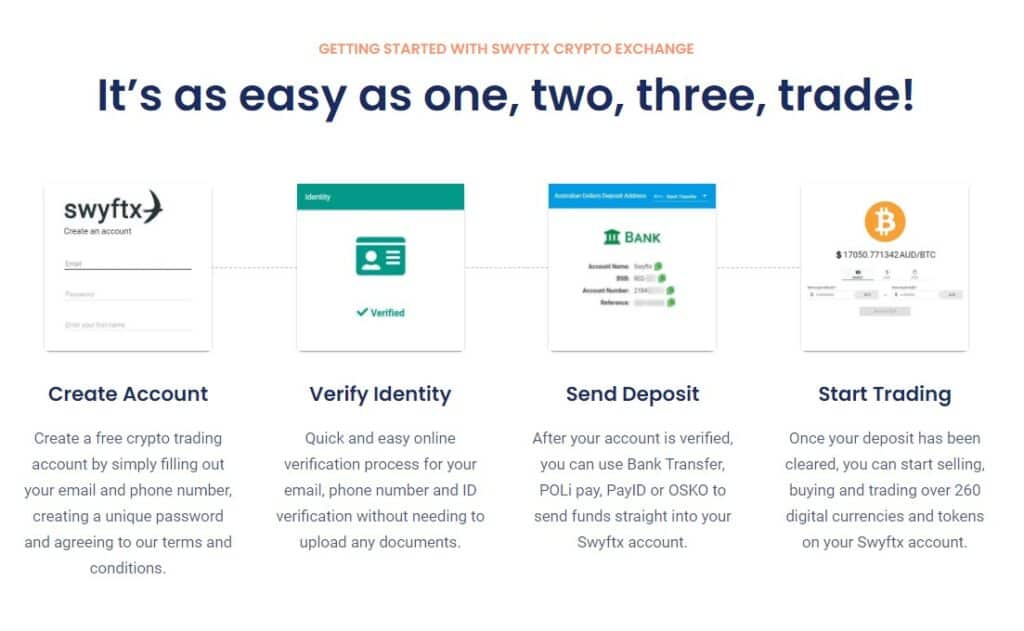 As mentioned before, based on the daily Forex conversion rates, all deposits are converted into US currency, which allows the platform to provide higher liquidity by trading in USD pairs. In turn, it offers lower spreads and more affordable cryptocurrency trading costs.
Customer Support
With nearly a thousand 'Excellent' reviews on TrustPilot, Swyftx is one of the best-rated and most positively reviewed platforms on the website. Their customer support is very attentive and resourceful.
As a user, you can contact support through live chat, phone, or email. Their support team is available on all channels during work hours, from 9 a.m. to 9 p.m. AEST and provides expeditious replies and solutions to your queries.
Frequently Asked Questions
What are the benefits of joining Swyftx's Affiliate Program?
Swyftx provides affiliates with 30% of the fees on all trades administered through the affiliate account. Affiliate sites can also opt for a referral code and receive the same 30% on referrals.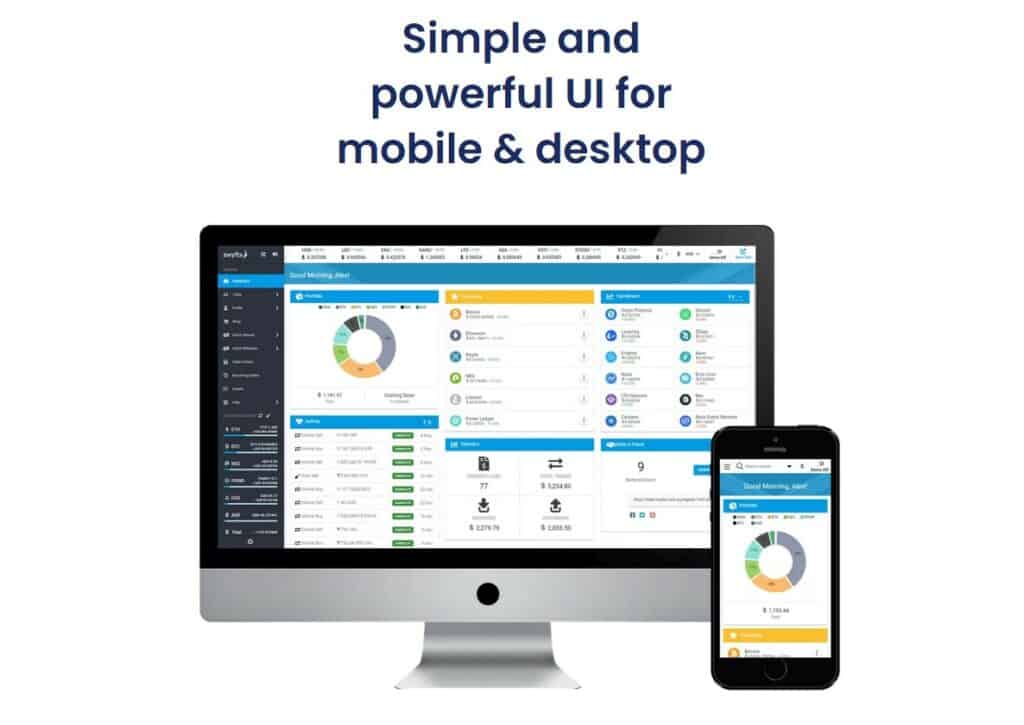 Affiliate payouts are administered on a monthly basis. You'll get access to a tracking system that will keep you updated when someone conducts business or joins the platform through your referral.
How does the self-managed Super Fund work?
Swyftx manages the fund through a partnership with New Brighton Capital. The Self-Managed Super Fund is a form of a retirement savings fund that provides users with various tax benefits. Because SMSF users are registered as trustees, they have to comply with ATO tax regulations as well as super laws. However, once under the SMSF umbrella, their assets are only taxed 15%.

In order to join the SMSF on Swyftx, you must provide a trust ABN, a copy of the trust deed, a registered trust name, and trust beneficiary details.
What countries does Swyftx support?
Swyftx is exclusive to Australian territories.
A Few Words Before You Go…
As a true pioneer and innovator, not only when it comes to Australian cryptocurrency exchanges but in the crypto trade industry as a whole, Swyftx delivers on all fronts. The platform is user-friendly and well-suited for both beginners and experienced digital currency traders alike. Their low fees, high liquidity, demo account feature, and options for recurring deposits, combined with 220 altcoins offered at any given time, have set them apart from the pack.
If leverage is not a dealbreaker for you, you'll find it hard to come across something that's not likable about the platform. Well, apart from the fact that they are only available to those who come from the land Down Under.
Related: