Swyftx vs CoinSpot 2022
We have a difficult task ahead — choosing a better "crypto-trading package" between Swyftx and CoinSpot. The thing is that these two exchanges are two of the best Australian crypto exchanges by all relevant criteria (ease of use, amount of cryptocurrencies, support, etc). However, they do differ in a few key aspects of delivering crypto trading services.
CoinSpot, for instance, has a long experience in providing Australian crypto investors with locally-adjusted fiat payment methods and a clean design. It's the perfect destination for beginners to make their first AUD-to-crypto transaction with ease.
Swyftx, on the other hand, came along a bit later, offering a fresh perspective on cryptocurrency trading under Australian "game rules". It's an all-in-one package, equally suitable for novices and advanced players.
For that reason, we'll closely observe their most distinctive features and find out how and why Swyftx has managed to gain a superior edge over the pioneer in the Australian crypto market.
Comparison Table
It seems that Swyftx was designed to fix all bugs that Australian investors used to face during their early attempts to enter the crypto business and that's what the following facts speak for themselves:
| | | |
| --- | --- | --- |
| Features | Swyftx | CoinSpot |
| Amount of Cryptocurrencies | 350+ | 360+ |
| Trading Fees | 0.6% | Instant market: 1%, spot market: 0.1% |
| Deposit Fees | free | Wire Transfer: free, BPAY: 0.9%, Cash: 2.5%, |
| Withdrawal Fees | free | free |
| Average Spread | 0.4% | 1%-2% |
| Payment Methods | PayID / Osko / POLi/ wire transfers | POLi, BPay, Pay ID |
| Fiat Currency | AUD | AUD |
| Regulatory Framework | AUSTRAC | AUSTRAC |
| Customer Support | email, live chat, phone line | email, ticket system, live-chat |
Pros:
An intuitive platform and pleasurable design;
A few-step registration and verification;
Live customer support;
Extremely lower spreads in comparison to other exchanges available in Australia;
Free demo account for new users;
Tax calculator compliant with the current government framework;
The option to earn passive income through staking.
Cons:
Limited options for professional crypto trading (no markets for margin and futures trading);
Available only for Australian bank account holders.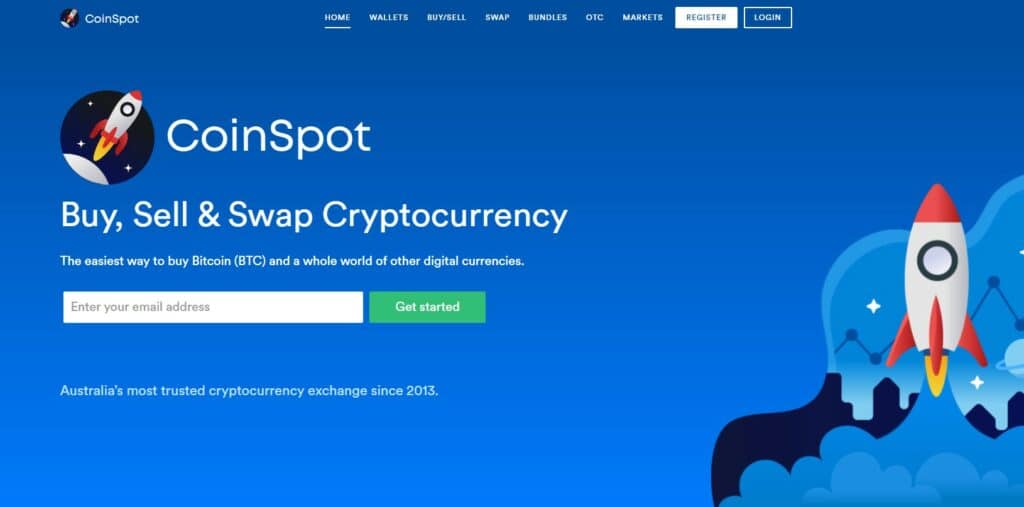 Pros:
Beginner-friendly UI design;
No long waiting times for deposits and withdrawals;
A separate OTC desk for large trades.
Cons:
No debit card and credit card payments;
High fees for instant AUD-to-crypto purchases.
Amount of Cryptocurrencies
Both Swyftx and CoinSpot have a "treasury selection" of digital currencies available for instant buy orders. CoinSpot is slightly more advanced in the number of supported digital assets, but it doesn't mean that Swyftx can't offer you a decent choice of highly liquid cryptos suitable for beginner-style crypto investment.
This includes top-sellers like Bitcoin (BTC), Ethereum (ETH), Litecoin (LTC), Dogecoin (DOGE), Solana (SOL), XRP, Bitcoin Cash (BCH), Cardano (ADA), Binance Coin (BNB), and Stellar (XLM). Also, on both exchanges, you can explore the newly-discovered category of crypto-assets, called DeFi tokens, with Uniswap (UNI), Sushi (SUSHI), and Aave (AAVE) as some of the most popular representatives in this sub-field of blockchain technology.
Amount of Cryptocurrencies Winner: Coinspot
In the kick-off round, the win goes to CoinSpot — not only because of the insignificantly larger crypto list but because of the CoinSpot Bundles tool, which allows inexperienced traders to buy a set of different cryptocurrencies. For example, they can buy the top ten coins by market cap together. This in-exchange feature is exceptionally useful when users lack the trading sense to make an investment plan for balanced portfolio diversification.
Fees
When CoinSpot was released back in 2013, the crypto industry was an alternate business world reserved exclusively for tech-savvy individuals and over-enthusiastic traders looking for undiscovered profit sources. CoinSpot was one of the first Australian cryptocurrency exchanges to offer the public a retail-like service for buying crypto under clearly defined purchase-and-sale terms. And certainly, to charge handsomely for that convenience of use and ultimate user protection.
Such crypto brokerage services became very popular in the years to come, offering what we call instant crypto purchases in exchange for users' native currencies. This operational model served as a bridge between the far-fetched blockchain products and traditional finance.
It enabled the less digitally-aware population to make a starting crypto investment without having to use pro-trading platforms that require substantial knowledge of the order-based trading rules. As implied, this type of service can be ridiculously expensive, reaching up to 10% of the total transaction amount based on the payment method.
Trading Fees
Swyftx is one of the best examples that combine easy purchases and low fees. It charges a flat fee of 0.6% for all transactions. Even though the exchange doesn't work as a typical crypto brokerage service, you won't come across any difficulty navigating through its spot market regardless of your previous crypto experience.
CoinSpot, on the other hand, charges a 1% fee for all instant transactions and has a separate spot market with a 0.1% trading fee.
Deposit and Withdrawal Fees
Swyftx has a zero-fee policy for all deposits and withdrawals, which is a great relief from the hidden conversion fees that sometimes surprise us in the middle of the transaction.
On CoinSpot, the majority of AUD deposits are free except for BPAY direct deposits that cost 0.9% and Blueshyft cash deposits with a 2.5% fee.
Fee Winner: Swyftx
Because of the unified and competitive pricing system and free deposits, Swyftx is the clear winner in the Fee category.
Spread
Unfortunately, your crypto costs don't end in the official fee section. Crypto purchases and sales also incur a spread, which is the percentage difference between the buy and the sell price of the asset being transacted.
Among many other advantages, Swyftx won the trust of the Australian crypto community with its super-favorable spreads that start from 0.40% and never go beyond 1.7%. For illustration, the industry-standard on the overall crypto market ranges between 2.5% and 3%.
With an average spread of 2%, it looks like CoinSpot isn't that generous in calculating the bid-ask difference.
Spread Winner: Swyftx
Even though spreads can be rather inconstant, numbers clearly show that Swytx wins this part-2 fee round.
Customer Support
Swyftx is one of the rare cryptocurrency exchanges out there that helps customers to resolve their issues through a direct phone line, which is open from 9 am to 9 pm every day. In addition, you can always reach out to the Swytx team via email or ask for live-chat support.
Swyftx's official social-media channels can be very useful for news and updates regarding exchange activities.
CoinSpot doesn't offer phone-line customer support, so, in case of an issue, you can contact the team through live chat, support ticket, or their official contact email. The good thing about CoinSpot is that their live chat isn't just an automated doorbell to their website but a direct, written communication between you and the CoinSpot team. Also, the team is highly valued in crypto circles for its super-fast response rate.
Customer Support Winner: Swyftx
The form of communication is rather a personal preference, but real-time customer support is always more comforting for users. Hence, our vote in this category goes for Swyftx.
Mobile App
Swyftx re-designed app is a masterpiece in terms of a fresh look and upgraded functionality. It went live in November 2021 for both Android and iOS users, giving them access to all existing trading activities like deposits, withdrawals and the regular buy-and-sell options. Furthermore, Swyftx introduced the Automated Portfolio Tracking feature in the new mobile app version, enabling you to monitor your crypto balance through sophisticated yet comprehensive analytic tools.
CoinSpot mobile app has inherited the user-friendly interface and all trading features from the web platform, so you can fully rely on its on-the-go version in order to complete a transaction or check your balance.
Mobile App Winner: Swyftx
Both mobile apps are highly functional compared to what their browser-based exchange platforms can offer. However, the upgraded interface of Swyftx contributes to a much better user experience, so this is a Swyftx well-deserved win.
Deposit Methods
When we compare two locally-based crypto exchanges, we don't measure the success rate of their payment options based on the number of deposit methods they offer but on how many free deposit methods they have.
Swyftx supports direct bank transfers as well as POLi and PayID debit payment methods. In addition to these deposit options, CoinSpot offers BPAY and Blueshyft cash deposit alternatives. However, they come with an extra fee: direct BPAY payments incur 0.9%, while a Blyeshyft transfer will cost you 2.5%.
Deposit Methods Winner: Coinspot
Obviously, it's CoinSpot, but this win is not that sweet as the extra deposit choices on CoinSpot come at a high price.
Security
It seems that the general crypto-investment mood across Australia doesn't leave any space for exchanges with a questionable background and unregulated status. For that reason, you should accept KYC verification as a signal that the exchange is regulated and operates under strict AML/CFT regulations.
Given the large user base, there is no doubt that Swyftx and CoinSpot employ all standardised cybersecurity protocols, such as 2FA (two-factor authentication), anti-phishing codes, cold storage, and regular checkups by third-party auditors. Both exchanges are AUSTRAC-registered companies with the difference that CoinSpot is also a holder of an ISO 27001 certificate.
Finally, Swyftx cooperates with Auth0, a renowned cloud security platform that manages users' credentials to prevent unauthorised access and other types of account misuse.
Security Winner: Coinspot
Both Swyftx and CoinSpot provide a robustly secure environment for your virtual endeavour with valuable assets. However, we're ultimately giving a point to CoinSpot because of its long-lasting experience on the crypto scene without a security flow.
Final Verdict
The success behind Swyftx and CoinSpot isn't accidental — they have put in a great deal of effort to implement all ongoing trends in the crypto industry and handle all specific needs of Aussie crypto investors-to-be.
Swyftx seems to be the best overall choice due to the perfect balance of ease of use, lower fees, personalised customer support, and a demo mode. It's not only a perfect destination to start your crypto journey but also a platform that will keep you busy even after acquiring your new cryptos.