Swyftx vs eToro 2023
Swyftx is among the top bitcoin exchanges in Australia. Meanwhile, eToro Australia is a popular broker that provides cryptocurrency as the one of their instruments for trade. Which one is more suitable for Australians wanting to start their journey into the cryptocurrency market? I'll be comparing the two platforms against each other with a variety of parameters so you can the decide for yourself.
My suggestion is Swyftx, a dedicated cryptocurrency exchange that has more than 320 coins and lower fees, as well as an option to test the service as well as a $20 free Bitcoin for signing up here. But you might have different needs, so it's best to compare them first before you decide.
Comparison Table
| | | |
| --- | --- | --- |
| | Swyftx | eToro |
| Coins | 350+ | 75 |
| Trading Fee | 0.6% | 1% |
| Deposit Fee | Free | Free (currency conversion applies) |
| Withdraw Fee | Free | 5USD (plus currency conversion) |
| Payment Options | Bank transfer, POLi, Credit/Debit card, OSKO, PayID | POLi, Bank transfer, PayID, Credit/Debit card |
Swyftx Pros and Cons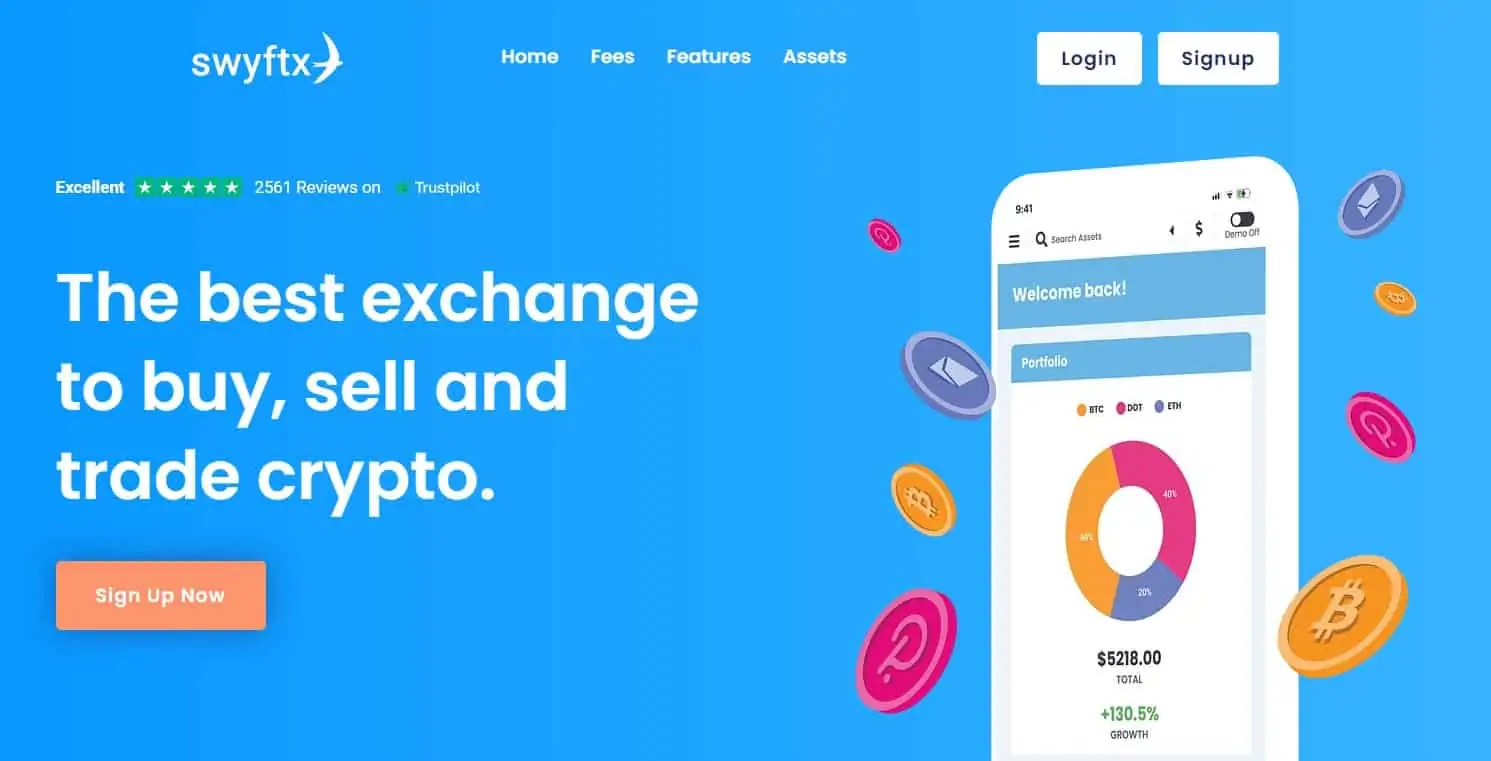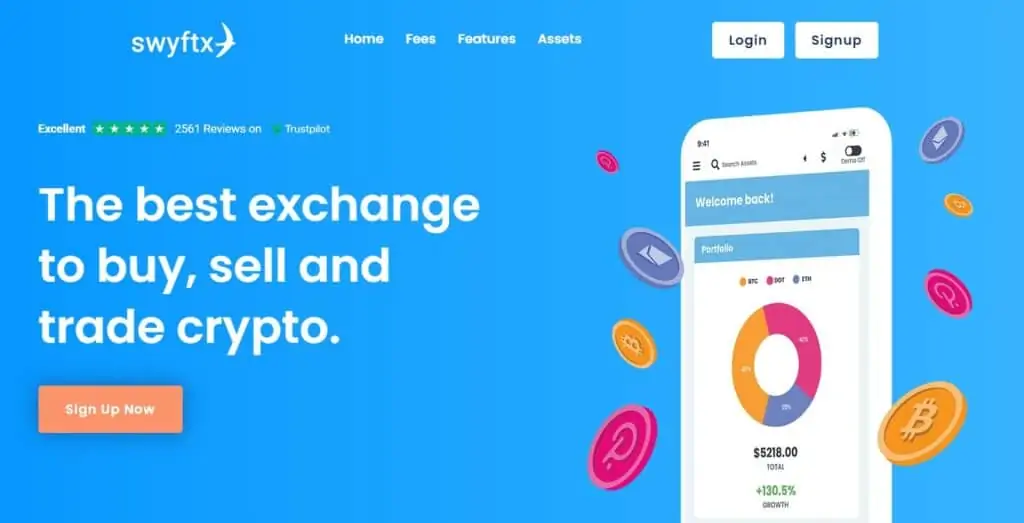 Pros
320+ available cryptocurrencies.
Support for all the popular deposit methods in Australia, including POLi, OSKO, and PayID.
A flat fee policy of 0.6%.
A regulated exchange, registered with AUSTRAC, which complies with anti-money laundering measures.
The option to earn interest on 20 leading coins and tokens through the Swyftx Earn feature.
Cons
The platform lacks a classic trading interface for advanced traders.
User funds aren't insured.
Swyftx only operates locally in Australia and New Zealand.
eToro Pros and Cons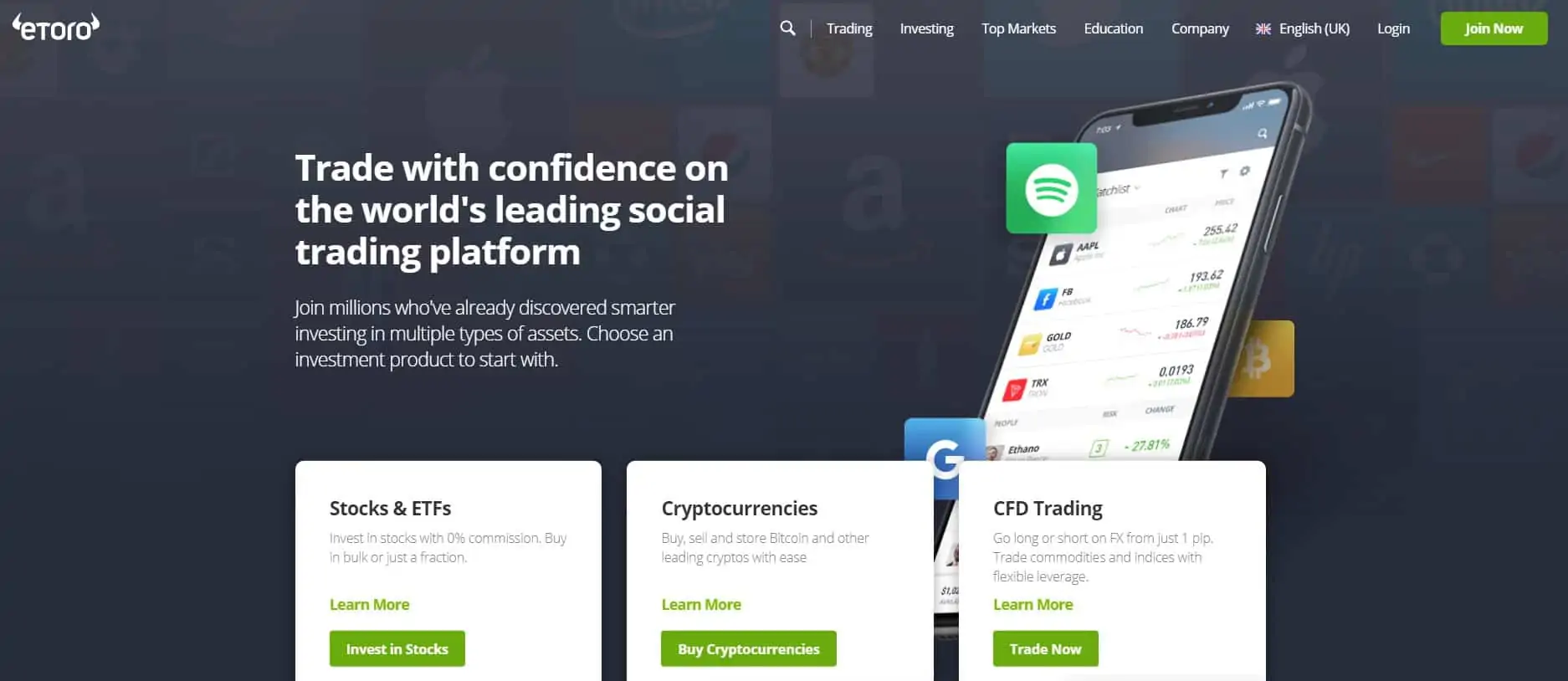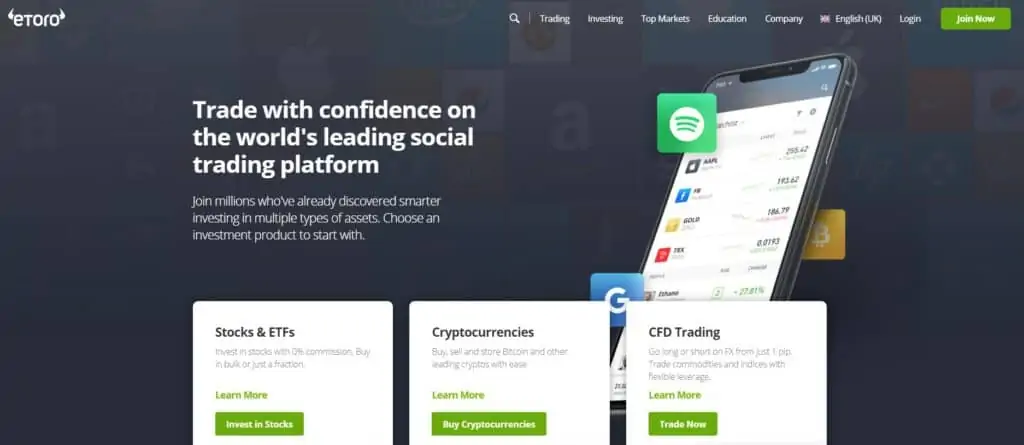 Pros
You can open a demo account with $100,000 free virtual money
Trade 75 different crypto assets
Crypto staking is available to earn interest and passive income
Offers mobile app and eToro Money wallet for your convenience
Comes with social trading features like copy trading
Cons
High trading fees of 1%
Their live chat is only available to eToro Club members
USA residents cannot access  CFDs or stock trading
Features Comparison between Swyftx and eToro
Trading in cryptocurrency should be simple and accessible to all and that's the reason Swyftx was designed. The sleek and modern interface can be customized making it possible to make it operate exactly the way you'd like. With demo mode you are able to try your hand at trading before placing any money on the line.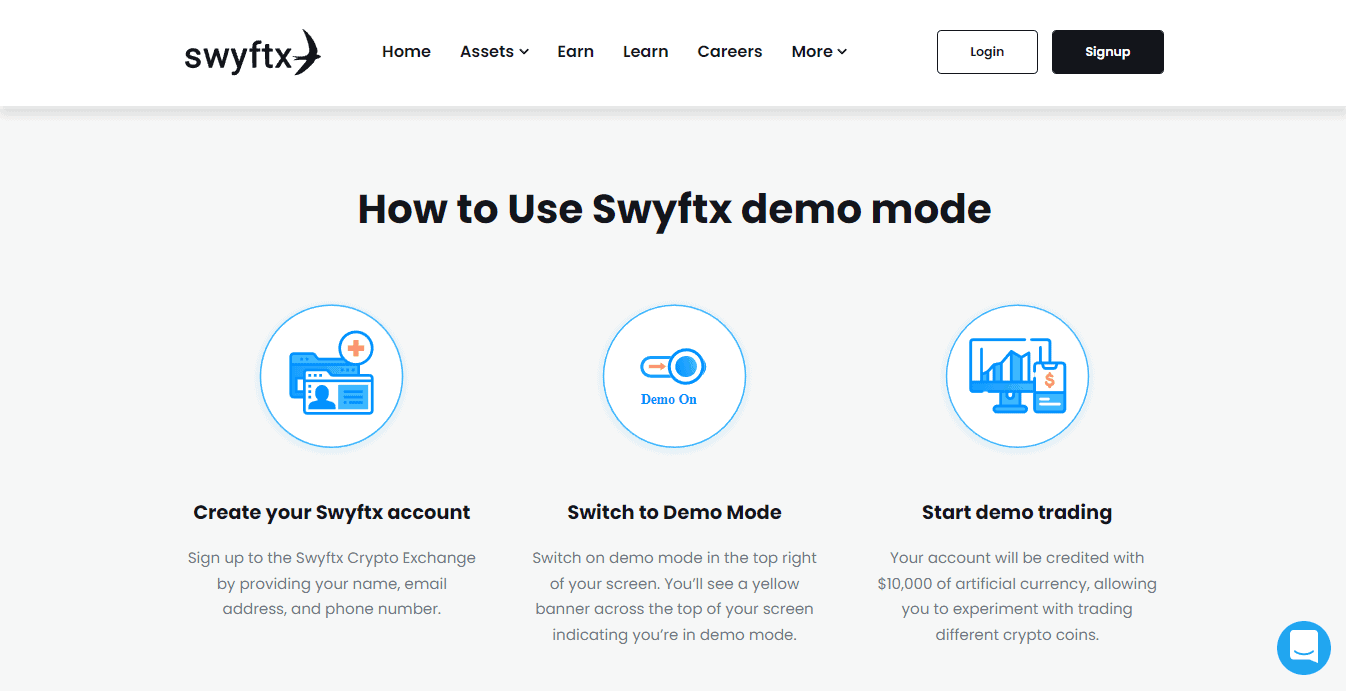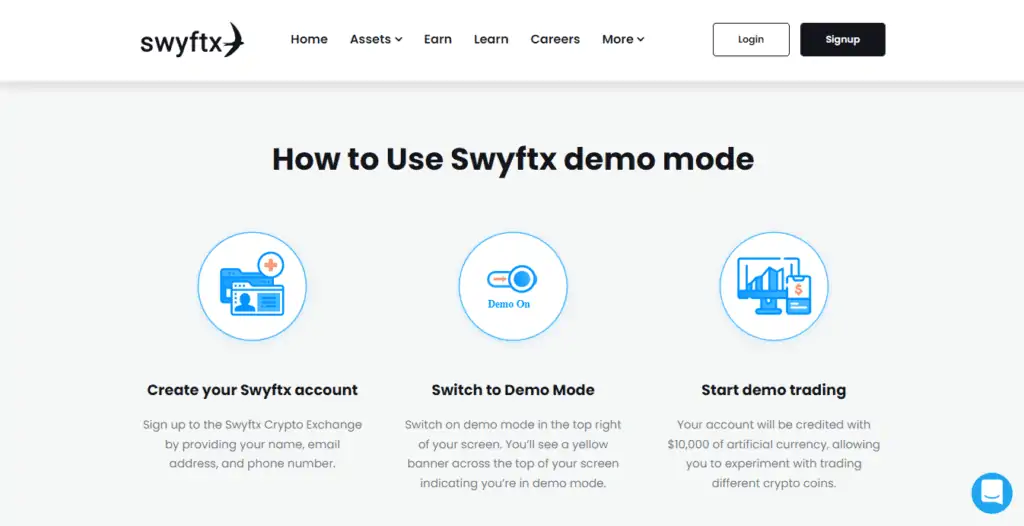 They also offer the option of staking for 20 distinct coins which means you earn rewards for holding on to your favorite coins.
eToro is among the most well-known social trading platforms across the world. They've recently extended their offerings to Australia. With more than 13 million users around the world, they're a major player in the field.
One of the aspects that makes eToro distinct is their CopyTrader feature that lets users duplicate the trades of other traders who have been successful on the platform. The exchange also provides CFD trading.
eToro has a particular focus on social trading. That means you are able to connect and communicate with other traders within the eToro community. This is a fantastic method to gain help and gain knowledge from others. If you're just beginning to learn about trading or simply would like to get a feel for things you can use the option of a demo account so that you'll have a better experience of how the system works.
eToro also provides the option of staking your crypto, meaning you will earn rewards from keeping your cryptocurrency in long periods of time.
Features category winner: eToro
Supported Cryptocurrencies
Swyftx gives you access to 350+ cryptocurrency.
eToro only has 75 coins available.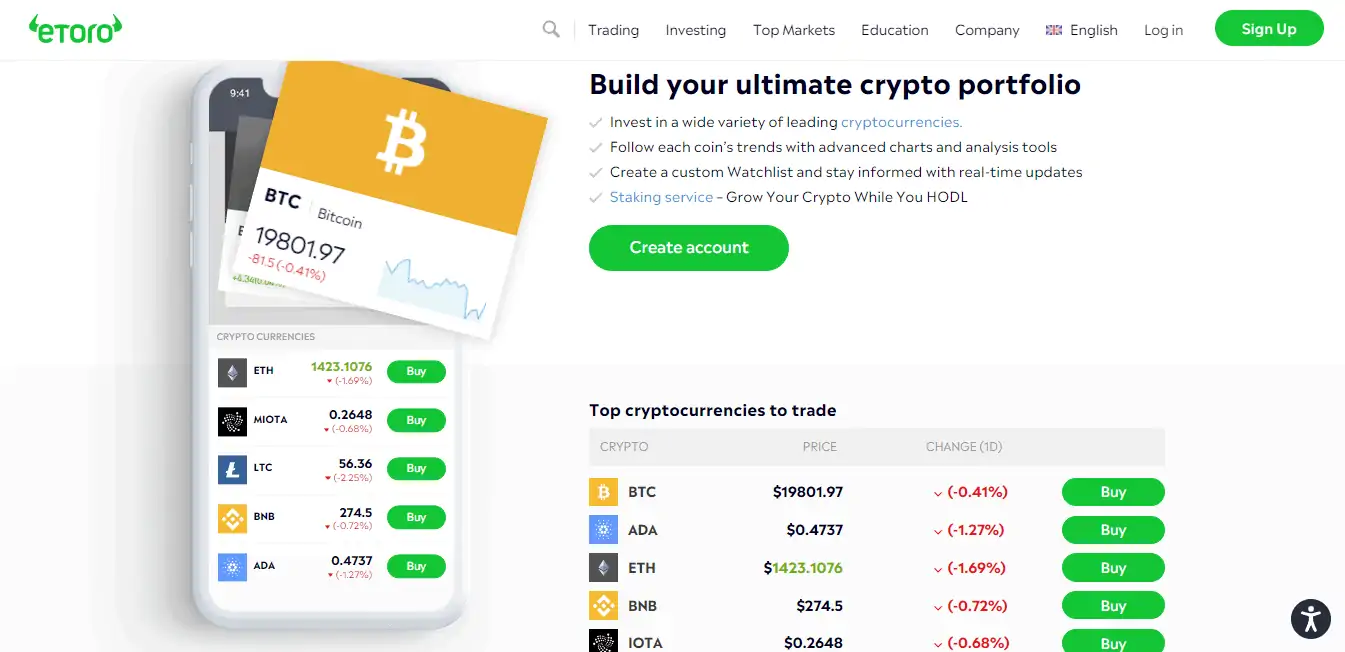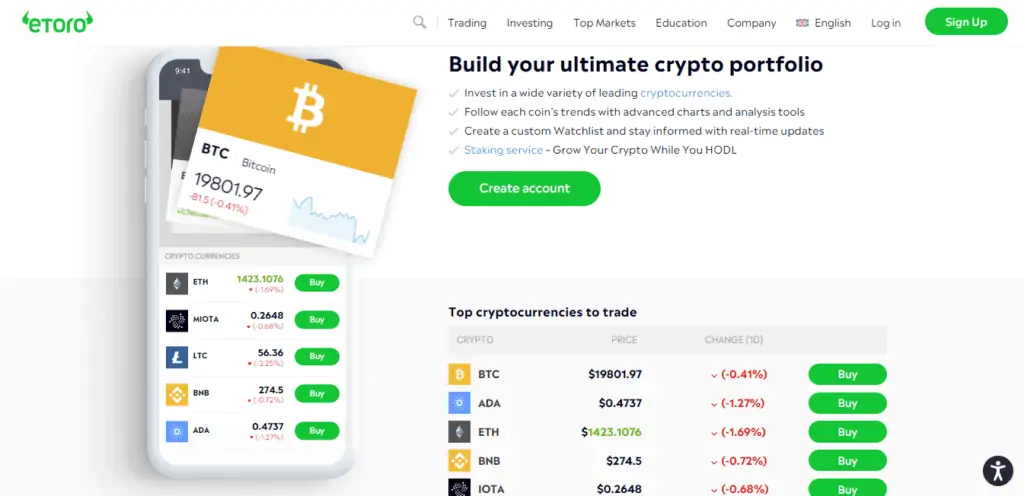 The number of cryptocurrency options If you're in search of an array of different cryptocurrency and other cryptocurrencies, then Swyftx is the ideal choice. With more than 350 coins available offered, they offer one of the most extensive options in Australia.
Number of cryptocurrencies category winner: Swyftx
Fees
Swyftx is among the most cost-effective exchanges for crypto in Australia. The traders pay only an 0.6 percent fee for trading as well as AUD deposits and withdrawals are completely free.
On eToro deposits made with fiat currencies are free, and withdrawals are 5 dollars per withdrawal. However, you'll need pay fees for currency conversion for depositing or withdrawing money from the account of your Australian bank. eToro's fees for trading are one percent on every transaction.
It's evident the fact that Swyftx is the best choice for those looking to reduce fees. The traders at eToro do not just have to pay higher withdrawal and trading costs, they also must pay the cost of currency conversion.
Fees category winner: Swyftx
Customer Support
Swyftx promises to offer live chat, however, in the face of dissatisfaction from customers the company uses robots. If you need help and assistance, you'll often find yourself in a that is a dialogue with a robot, instead of a human. The automated bots will only answer a handful of simple questions and not the more difficult problems.
The customer support department on eToro can be found in two languages and is accessible 24/7 and seven days a week. Log in to the site and create an account support ticket to get in touch with support.
eToro is the clear winner since you can receive instant assistance from real customer service staff.
Customer support category winner: eToro
Deposit Methods
Swyftx is compatible with POLi, PayID, credit debit card and card deposits.
eToro also accepts PayID, POLi, credit card as well as the deposit of debit cards.
It's a tie as both platforms accept the same amount of payment options. The only difference is that eToro also accepts fiat currency deposits such as USD, EUR, and GBP however Swyftx only accepts deposits in AUD.
Deposit methods category winner: Tie
Security
Swyftx comes with regular security measures, like JSON Web Tokensand biometric sign-ins KYC verification and 2-factor security (2FA). But, Swyftx has shown security issues, including $2.3 million being accidentally transferred to accounts of clients that were not their own.
eToro is controlled through the Australian Securities and Investments Commission (ASIC). The company's customers' data are secured through firewalls, encryption as well as two-factor authentication (2FA). The platform stores user cash in cold storage to minimize the possibility of loss because of security breaches or operational errors. It has joined forces with a leading cybersecurity firm, GK8, to develop an innovative cold storage Custody as a Service (CaaS) solution. eToro has not suffered an attack of this magnitude or loss of client funds.
eToro has an advantage over Swyftx due to its cold storage strategies, FDIC insurance, and oversight by a variety of foreign financial institutions.
Security category winner: eToro
Conclusion
Swyftx wins this comparison against eToro, which is expected, since it was built as a cryptocurrency-exclusive platform. Swyftx is user-friendly with a simple interface, with less expensive fees, a demo mode as well as live Chat support, and a bonus of $20 Bitcoin to use for free, making it my choice.
eToro is a top broker, offering a variety of trading instruments like commodities, stocks and forex but when it comes to crypto it isn't able to compete against exchanges which solely deal in cryptocurrency. The fee for currency conversion on withdrawals and deposits and the more expensive fees that are charged for transactions in crypto make it difficult for it to be competitive with the top Australian cryptocurrency exchanges.
Frequently Asked Questions
Is Swyftx a secure exchange?
Yes, Swyftx is a super-secure crypto exchange with a clean track record regarding platform hacks. The platform has never been hacked, it stores the majority of funds in offline hardware wallets, while user accounts are protected by passwords and two-factor authentication (2FA).
Does Swyftx have Australian-based customer support?
Yes, the platform has a native, Australian-based support team and they are highly professional when it comes to answering user inquiries.
Is Swyftx good for beginners?
Swyftx is a great crypto exchange for beginners because it's very easy to use. The mobile app is ever easier to use, and comes with a smooth user-interface. Every feature is just a few clicks away.
Is Swyftx an Australian company?
Yes, Swyftx is an Australian company with headquarters in Brisbane.
Who is Swyftx owned by?
Swyftx is a private company owned by crypto enthusiasts Angus Goldman and Alex Harper, the founders of the platform.
Does Swyftx have a withdrawal limit?
Swyftx has a daily fiat withdrawal limit of 100,000 AUD.
Does eToro provide mobile trading?
The eToro platform is easily accessible and simple to use on both the web and mobile devices with integrated Android and iOS operative systems. The mobile trading app takes advantage of smartphone intuitive features like push alerts, syncing watchlists, and effective touch interactions. In your portfolio, for example, you may use the swipe over the screen of your smartphone to view the statistics or initiate a transaction. By seamlessly blending all the trading tools with the social trading capabilities and the generated news feed of the website, this app is an excellent solution for traders on the go.
What countries are supported by eToro?
eToro is a worldwide platform that functions in over 140 countries throughout the world. Some of the counties that can utilize eToro's services include Australia, some USA countries, UK, France, Colombia, Cyprus, Greece, Lichtenstein, UAE, etc.
Who pays the taxes on profits made via eToro?
The users of the eToro exchange are obliged to determine the taxable profit made by trading on this platform depending on their account statement. Hence, they need to pay their fair share for the trading gain in conformity with the financial law requirements, as well as with the regulatory framework of their state of residence.
Is eToro the biggest scam among crypto exchanges?
This is not likely at all. Given that this exchange is authorized by numerous state financial conduct authorities in the respective countries where eToro's offices are situated, the odds of a user being a victim of a licensed exchange scam are close to none.
Related:
eToro AUS Capital Ltd ACN 612 791 803 AFSL 491139. eToro offers both real crypto assets as well as crypto assets as OTC Derivatives.
Real crypto assets are unregulated & highly speculative. Being unregulated, there is no consumer protection. Your capital is at risk.
Leveraged positions and short positions are OTC Derivatives, which are regulated financial products. OTC Derivatives are considered risky financial products, speculative and include leverage. Not suitable for all investors. Capital at risk. See PDS and TMD.