Tokenize Exchange Review for 2022
As competitive as the crypto market may appear, there is always room for an exchange that is able to provide a rewarding trading experience. Different types of users are looking for different crypto facilities but eventually, it's all about what crypto exchange can provide the best feature set for the money.

The exchange on our discussion board today—Tokenize Exchange (Xchange)—is a perfect example of a young successful marketplace that managed to gather over 100,000 investors in only a year's time.

Launched in 2019, Tokenize Exchange is a Singapore-headquartered digital asset exchange. It's claimed to be a highly regulated platform that enables users worldwide to buy, sell and trade over 40 cryptocurrencies with ease and safety. The exchange also provides a user-friendly environment for ICO offerings and a broad spectrum of platform services such as insurance protection and token store.

Having said that, let's dive a bit deeper into Tokenize's features and find out whether it can be a good fit for your personal trading style.

How to Get Started with Tokenize?
Setting Up a Tokenize Account
Tokenize's strength lies in its simplicity and this can be felt the very same moment you get landed on the platform. Following the familiar username-email-password pattern, the registration process on Tokenize doesn't differ from any other interactive web-based platform you use on a daily basis.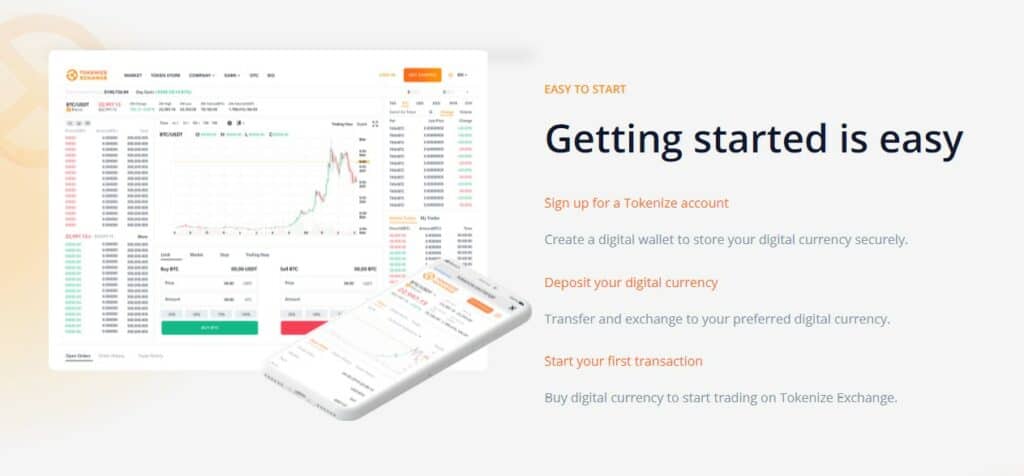 After the account setup comes the process of identity verification, which is obligatory for any registered money transmitter service in compliance with AML/CTF (Anti-Money Laundering, Countering Terrorism Financing) regulations and KYC (Know-Your-Customer) policies.
For a successful ID verification, you'll need to upload a utility bill as proof of your residence and a copy of a government-issued document (passport or ID). Note that the account approval can take up to 2 business days. Afterward, you're all set to start trading and explore the platform's trading opportunities.
Trading Platform
Tokenize gives its users the opportunity to trade both crypto-to-crypto and fiat-to-crypto trading pairs on its trading platform. The platform is designed in a compact yet highly illustrative manner—each supported asset is listed on your homepage. When you click on the selected cryptocurrency, the list item expands into a full-cover candlestick to give you a full insight into its historical data. The candlestick charts are powered by TradingView, which is an unrivaled provider of advanced trading indicators and charting tools on the overall investment market.

Placing an Order
At this point, you can choose a trading pair that contains your target coin. Then, a pop-up window will appear on your screen giving you an option for separate entry boxes depending on the type of order. On Tokenize you can go either for market or limit order. In both cases, the window box will show you the total fee amount — denominated in fiat currency — that comes with the trade before confirming your order. The process is the same irrespective of whether you buy or sell the coin.
Admittedly, the way in which trades are processed suits intermediate and advanced users who have a general understanding of the difference between order types and can read price charts. On Tokenize, there is no option for instant purchases or any kind of a swap widget that automatically converts fiat into crypto.
Despite the advanced settings, the Tokenize platform features an exceptionally intuitive UI design and it makes a good starting point for anyone who wants to learn the ropes of crypto trading.
Trading Features and Services
Tokenize has to offer quite a range of facilities for some extra convenience and safety of its users. These are some of the features that will definitely keep you busy on the platform.
Token Store
Tokenize has a uniquely designed educational library called Token Store. Here you can find an extensive list with a detailed description for each listed coin. However, it's not just a plain directory for the basic characteristics of the supported cryptocurrencies. Tokenize provides deep analyzes, metrics, and updates about available blockchain products and the overall market's behaviour, which gives novices a solid ground for their next crypto endeavours.

Insurance Protection
One of the greatest advantages of Tokenize is the insurance coverage of $100 million. From the perspective of a seasoned trader, this is a big deal in the loosely regulated crypto ecosystem. In partnership with the reputable custodian BitGo, Tokenize users, especially high-net investors, can expose large sums on the exchange free from the risk of a potential cyberattack.
Referral Program
Similar to many exchanges out there, the Tokenize exchange uses incentive marketing to encourage its users to earn extra profit by referring the platform to their friends and acquaintances. The earning percentage depends on the periodic referral program, while the incentive is paid directly to the user's wallet. For example, for every completed onboarding process, the referrer and referee will receive15 Tokenize Points into their Tokenize account.
Monthly Interest
Tokenize features quite a favourable interest rate system that offers its users an annual percentage yield (APY) format of almost all assets listed on the exchange. The APY interest ranges between 4% and 12% depending on the coin stored in your wallet.
OTC Desk
If you plan to go big, you should know that placing an order on a regular order book isn't the best-recommended course for large investments. For this very reason. Tokenize offers a personalized OTC broker that ensures a guaranteed execution of your trade at a fixed price.

Supported Cryptocurrencies and Payment Methods
Tokenize supports around 20 different cryptocurrencies including the most commonly traded altcoins Bitcoin (BTC), Ethereum (ETH), Litecoin (LTC), Cardano (ADA), Dogecoin (DOGE), and Bitcoin Cash (BCH), some popular tokens like Uniswap (UNI), Sushi (SUSHI), and Aave (AAVE) and certainly, the Tokenize native token TKX – which comes with special offers and rewards on the platform.
All of the listed assets can be traded only against two cryptos and one possible fiat currency, i.e. BTC, ETH, or SGT respectively. You can take a deeper look at the full markets list of Tokenize that contains over 45 trading pairs.
The exchange's fiat gates are directly open only to SGD and USD— deposits are made from your bank account to your Tokenize exchange account through a wire transfer. Fiat funding on Tokenize runs exceptionally fast, as it only takes a few minutes after the user submits a completed bank transfer form and, most importantly, it doesn't incur any deposit fee.
Unfortunately, debit and credit cards purchases haven't been facilitated on the platform yet.
Tokenize Fees
Tokenize features a membership-based pricing model depending on the holder's account. Namely, once you get onboarded on the Tokenize platform, you get automatically assigned a basic account. Afterwards, you can upgrade your account with a premium or platinum membership, but in order to qualify for a premium membership, you must own at least 160 TKX while the threshold for a platinum account is 800 TKX.

Trading Fees
Upgrades to superior accounts have long-term benefits in terms of reduced trading and withdrawal fees. Thus, fiat-to-crypto trades will cost you 0.80%, 0.50%, and 0.10% depending on whether you're a basic, premium or platinum user respectively. When you trade crypto-to-crypto, the exchange will charge you 0.25%, 0,20% or 0.10% as your membership threshold increases.
In comparison, the industry average for trading fees is between 0.20% and 0.25% in the crypto sphere, which means that upgraded Tokenize accounts can be really beneficial. To get the big picture of the most affordable crypto marketplaces available in Australia, check out our separate guide on the Best Crypto Exchanges with Low Fees.
Withdrawal Fees
Tokenize does incur withdrawal fees and features a scalable fee system. That said, the exchange will calculate an individual percentage rate based on the trading volume of your transaction. Have in mind that the amount will never be below 0.0005 BTC.
Is Tokenize Safe to Use?
Platform's security is one of the main concerns among potential investors as admittedly, the cryptocurrency realm is still associated with fraudulent activities and hacks. For this reason, we can notice a strong tendency for implementing robust security standards between all aspiring crypto brands on the global market. Tokenize isn't an exception — the exchange is strict in implementing all necessary AML/CTF regulations and undertakes all necessary actions for prime user account protection.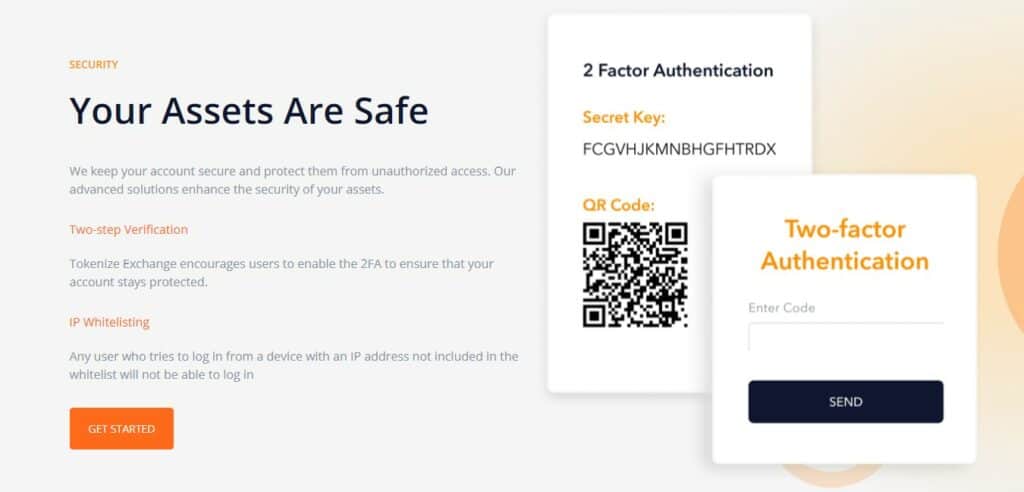 One of the best security-related advantages you can get on Tokenize is the possibility to add an additional layer of protection by activating 2FA (two-factor authentication) as part of the KYC verification process. Moreover, Tokenize supports IP Safelisting to protect the user against third-party unauthorized access and multi-sig authorisation to provide extra security to the funds of your digital wallet.
Customer Support
Tokenize delivers highly responsive customer support to users regardless of their accounts' thresholds. The exchange has qualified tech representatives willing to provide assistance on any type of issue you could possibly face during the sign-up or trading process itself. You can reach out to a member of the support team via live chat, phone, or email.
Frequently Asked Questions
Does Tokenize provide a digital wallet?
Yes. The exchange does provide a built-in wallet together with your account and it appears to be a super-handy tool during the purchasing/sale process as it saves a considerable amount of transferring time from and to third-party crypto wallets. Moreover, the exchange encourages users to store their funds in their Tokenize wallets through the monthly interest program where they can earn passive income without engaging themselves in trading activity.
However, we'd recommend you avoid keeping the entire virtual capital on an exchange and invest in a hardware wallet instead. Despite all security measures, crypto exchanges still operate in a vulnerable area.
Does Tokenize have a mobile app?
Tokenize has recently launched a top-notch designed mobile app available for both Android and iOS users. Besides the intuitive layout, the app has high functionality allowing you to trade in a simplified manner. Finally, it's free and has a good rating store on AppStore and Google Store.
Which countries are supported by Tokenize Xchange?
Tokenize Exchange is an international global digital-currency exchange that aims to bring borderless crypto transactions closer to the general public. The catch is that fiat-to-crypto purchases are designated only for Singaporean residents.
A Few Words Before You Go…
Tokenize gives an impression of a trustworthy exchange that truly cares about its customers and their specific trading needs. The exchange may not be the cheapest or the most diverse crypto marketplace out there, but it offers quite an elegant set of multiple useful products under one roof. Tokenize has managed to achieve a perfect balance between a highly professional and easy-to-use platform.
However, if you think it's too advanced for your trading skill-set and crypto experience, then go no further and check out our Best Crypto Exchanges for Beginners article.