Trezor Wallet Review 2023
Ever since Bitcoin was presented to the world of finance as a groundbreaking currency of decentralized nature and protected by the means of cryptography, BTC investors were concerned with the safe storage of their Bitcoin assets. Given that the underlying security mechanisms integrated into the cryptocurrency exchange platforms and wallets may be easily targeted, duplicated, or stolen by cyber-attackers, the danger of keeping your digital assets online is always present.
Many inventive developers instantly joined the crypto ecosystem by offering their storage solutions in the form of a desktop, mobile and software wallets, and other forms of digital storage. Among them, hardware wallets have proven themselves to be the safest storage solution for preserving your coins and tokens in this regard, as offline assets are solely within the user's control.
The Trezor wallet is the first hardware storage solution built specifically for the safekeeping of your Bitcoin stash. In this article, we'll go over its key features and functions, as well as answer some of the most frequently asked questions for consumers interested in using this hardware wallet to secure their digital assets.
About Trezor Wallet
The Trezor hardware cryptocurrency wallet was launched in 2014 as a cold storage solution for Bitcoin assets. Developed by the Czech Republic-based company SatoshiLabs, Trezor is not only the first Bitcoin wallet designed to safely store the first cryptocurrency in the world, but it's also the first one to implement a passphrase to prevent unwanted access to both your sensitive data and coins if your digital wallet is stolen or lost.
How Does the Trezor Crypto Wallet Work?
A USB cable links this tiny, keychain-sized hardware wallet to a PC. Coupling the wallet with your PC necessitates the activation of the Trezor-bridge, a type of browser plugin. The wallet's software is supported by Windows, Mac OS, Linux, iOS, and Android operating systems, and can be accessed via Google Chrome and Firefox browsers. It is possible to upgrade Trezor to the most recent version of the operating open-source software if you purchase it without the firmware. As a result, the likelihood of using out-of-date firmware is minimized.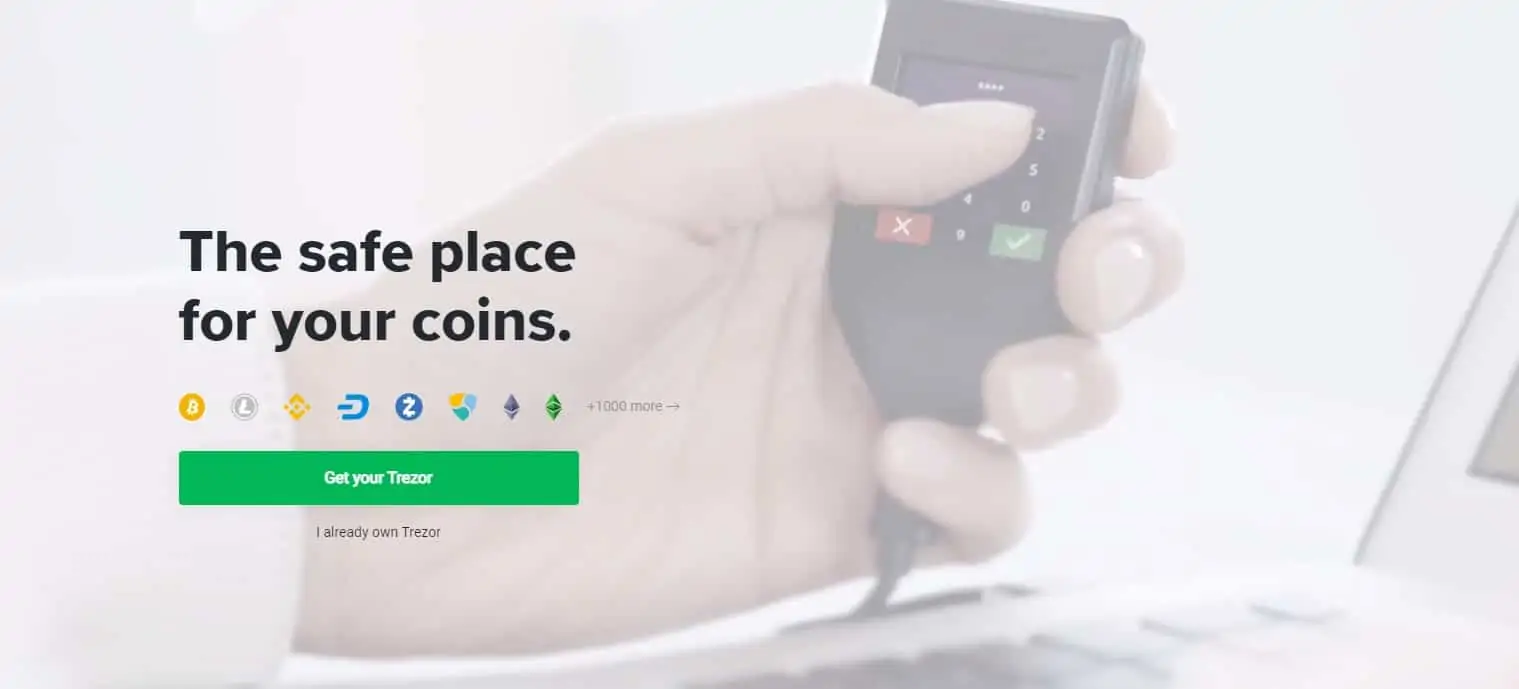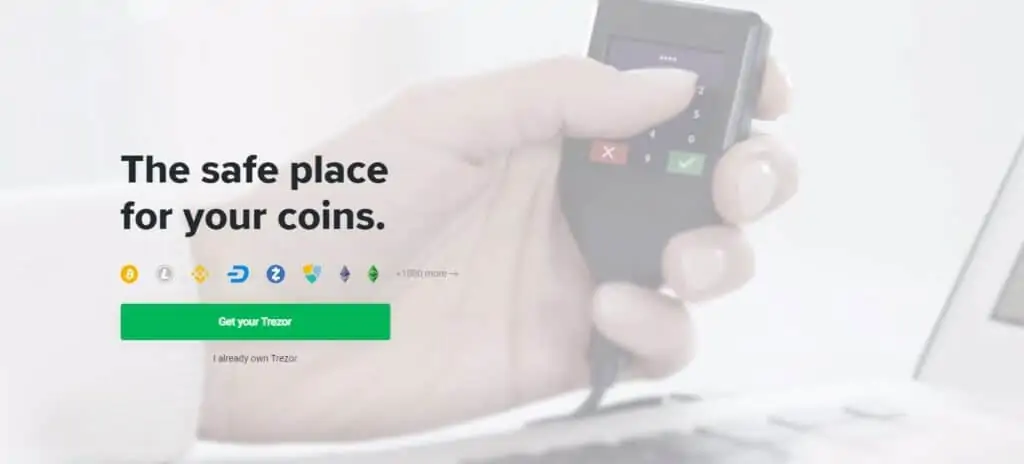 In addition to its primary purpose as a safe storage device for various cryptocurrencies, Trezor can operate as a password manager, allowing you to combine and store all of your passwords for many online accounts in one location where you can manage them easily.
Trezor Recovery Seed
This digital wallet, which is styled as a portable device for holding cryptocurrency, has its own seed phrase that includes no more than 24 words. With this password, users can retrieve their digital assets with ease since they are stored on the blockchain, not on the wallet. Only the keys are stored on the Trezor wallet. The recovery seed adheres to the SatoshiLabs-created BIP39 protocol, although it is commonly utilized and interoperable with various wallet applications.
Supported Cryptocurrencies
Despite being designed for the world's first cryptocurrency, Bitcoin (BTC), Trezor wallet developers were compelled to adapt to new digital coin additions due to the crypto market's continual expansion. As a result, the list of cryptocurrencies supported by the Trezor wallet is constantly growing.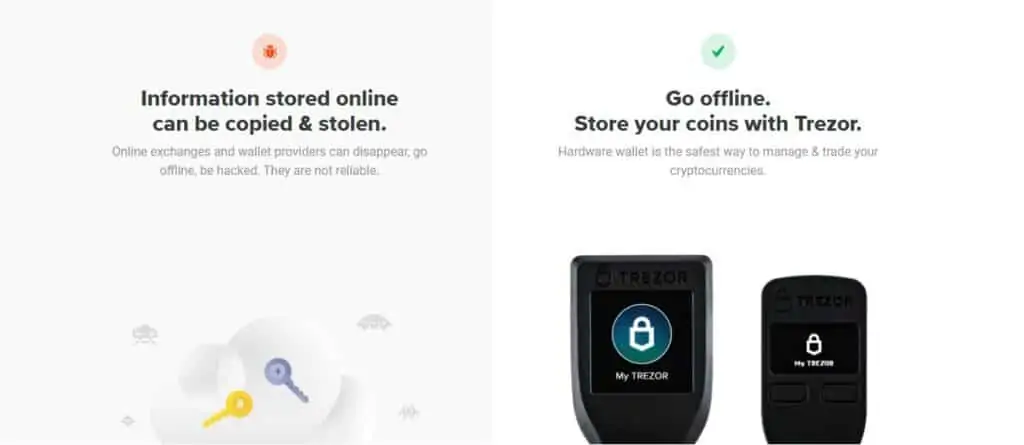 It now accepts over 100 coins, including Bitcoin (BTC), Ethereum (ETH), and all other ERC-20 tokens, Dash (DASH), Zcash (ZEC), Litecoin (LTC), Monero (XMR), Cardano (ADA), Ripple (XRP), Bitcoin Cash (BCH), Stellar (XLM), Tezos (XTZ), SushiToken (SUSHI), Ocean Token (OCEAN) – as you can see, the list of altcoins Trezor supports is quite lengthy.
Trezor Wallet Fee Schedule
Aside from the startup cost of acquiring the device, there are no further expenses associated with utilizing a Trezor wallet once it is purchased.
As for the transaction fee, Trezor Wallet lets you choose the amount you will pay by grading it to low, economy, normal, or high fee, based on the minimum blockchain fee. You can also customize the network transaction fees that are allocated to crypto miners.
User Interface
Trezor.io's homepage features a simple and user-friendly interface that allows for quick access to any type of activity, such as device setup or transactions of different cryptocurrencies. However, because websites might be vulnerable to fishing attempts, Trezor engineers created the Trezor Suite, which is currently the wallet's exclusive desktop program.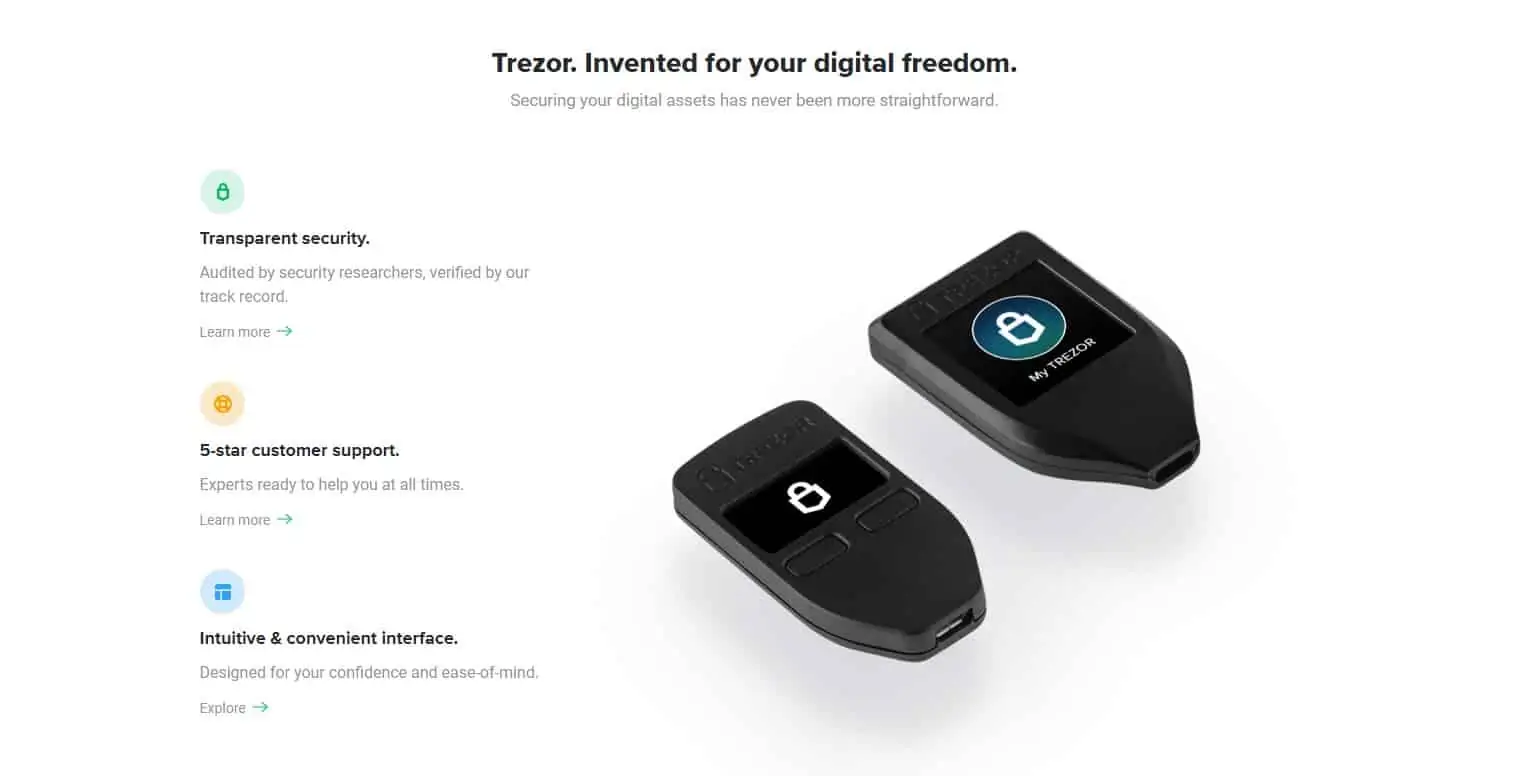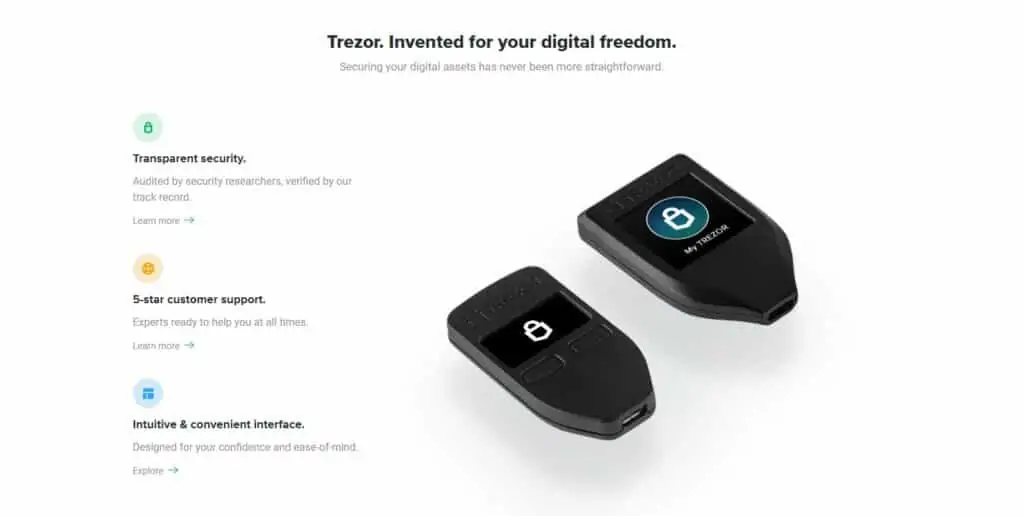 Is Trezor Wallet Safe to Use?
In order to safeguard your digital assets, Trezor hardware wallets implement a multitude of security mechanisms, including:
Firmware verification – a program that collects data bits when the firmware is uploaded and compares it to a verified firmware code. In the case of the Trezor hardware wallet, SatoshiLabs' signature is required for this digital wallet to be functionally operable.
Protected key operations – Any cryptocurrency transaction or movement of coins on Trezor that involves both private and public keys can be authorized only upon verification of the user's credentials through a PIN code. Trezor also employs an industry-standard two-factor authentication mechanism to safeguard your private keys as well as your account.
Ultrasound hardware seal – The Trezor physical casing is ultrasonically bonded, which makes it impossible to repair your device after it has been damaged.
Passphrases – Trezor's recovery phrase is not the sole technique it employs for this functionality. The BIP39 mnemonic codes used by Trezor's developers are never kept on the device, which contributes to the wallet's enhanced security features.
Secure update procedure – If the firmware certificate is invalid, Trezor's bootloader nullifies the gadget's memory.
Reliable backup & recovery – The data and assets saved in the wallet may be readily retrieved by entering the password generated when it was set up. Trezor's recovery can be accomplished using another Trezor wallet type or other digital wallets. It's compatible with wallets like Blockstream Green, and Mycelium, among others.
Customer Support
This hardware wallet boasts a 5-star customer support rating and, by the looks of it, it is not idle. The dedicated Help Center, in particular, offers an outstanding knowledge library that offers straightforward solutions to the majority of concerns that every Trezor wallet user may have, including technical issues, the ordering and shipping procedure of the product, and even a system status. There is also a detailed user manual, which is especially beneficial for first-time users of the wallet, but may also be useful for established Trezor users.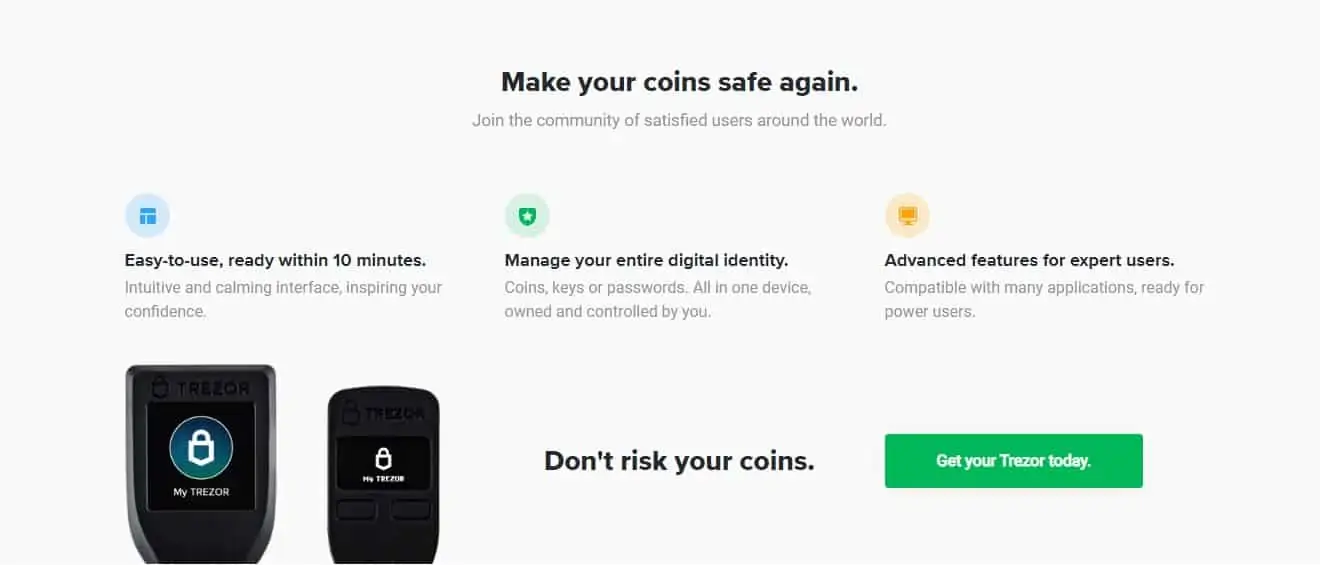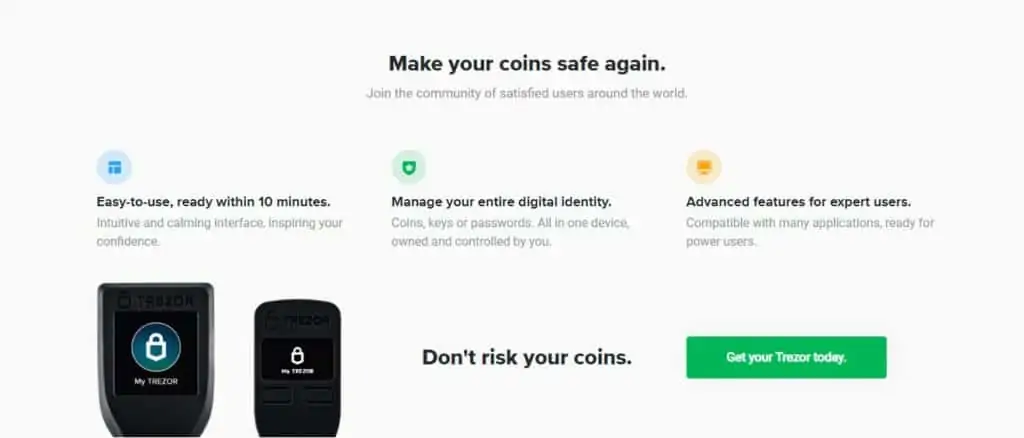 If you still haven't found what you're searching for in the Help Center, there's a specialized customer support team that can help you with not just your cryptocurrency hardware wallet, but also any of the linked SatoshiLabs software. All you have to do is open a ticket, and the support team will send you a confirmation email with a notice that your query has been processed.
The Trezor Forum is another useful support resource where Trezor users may discuss their user experiences and give community assistance to one another. In addition, there are specific forums where Trezor users may obtain direct assistance and solutions to technical difficulties with their digital wallets from authorized SatoshiLabs moderators.
Frequently Asked Questions
What is Trezor wallet used for?
Apart from safely storing your crypto coins on this wallet, Trezor also offers convenient management of your crypto funds by blending the secure offline cold storage with the flexibility of the hot wallet. Namely, users of this hardware wallet can simply perform crypto-to-crypto swaps with the built-in exchange, but crypto-to-fiat currency conversion is also available as an option.
How many Trezor models are there?
Trezor's developer offers two versions of hardware wallets: their initial model, Trezor One (available for purchase via Amazon), and a more advanced version of the wallet – the Trezor Model T hardware wallet with a touchscreen, Bluetooth, and faster processor, developed in an effort to adapt to changing technologies and suit the needs of cryptocurrency traders that follow the crypto trends.
Can I use Trezor Model T with Bitcoin?
The Model T can handle several cryptocurrencies by design, but clients may shift to a Bitcoin-only version that has been built specifically for Bitcoin transactions.
A Few Words Before You Go…
The Trezor device was created as the first storage device for securely keeping Bitcoins. It now offers top-tier security for the protection of numerous other cryptocurrencies against both online and physical theft. Because Trezor is a password-protected wallet in which you hold the private keys, you can quickly retrieve your crypto stash by entering the 24-word passphrase that was created when you set it up.
Given that Trezor was the first digital wallet available on the crypto market for holding Bitcoin, its original model may not be the best or safest choice in terms of sophisticated technology and safety features. However, the committed effort of the SatoshiLabs development team has resulted in a more sophisticated and complex model, the Trezor Model T, that not only adheres to trends in digital wallet development but also meets the standards of more aesthetically inclined cryptocurrency traders.
Despite the pricey market value, all Trezor hardware wallets are ultimately characterized by ease of use, premium features, as well as 24/7 highly professional customer support. There is an option, and the choice is yours, indeed.