Valr Review for 2022
It seems that all next-generation crypto exchanges have learned the formula for a successful marketplace — a pleasant and well-balanced UX design, transparency in pricing, and simplicity in trading. The top-tier level of security and institutional backup goes without saying.

Now that cryptocurrencies have become mainstream investment vehicles, every aspiring exchange should provide an adjustable trading environment based on the users' previous experience in crypto trading. For novices, this would mean instant crypto purchases in their native currency. Presumably, advanced crypto players will settle with an insightful trade view and multiple order types.

For the most part, every crypto exchange that knows how to present such a diversity in a highly organized manner will eventually find its place on the market— irrespective of how intensely competitive that market may appear at this point.

The exchange on our discussion table —VALR— is a typical example from the crypto realm that follows the new-wave success pattern in the territory of South Africa. The exchange delivers multiple dynamic and unique features, including simple swaps, arbitrage, lucrative referrals, and VALR Pay.

Let's give proper attention to VALR's trading profile and discuss its specific traits in more detail.

About VALR
VALR is a Johannesburg-based cryptocurrency exchange launched in 2018 with a clear purpose to provide the largest variety of crypto coins available in South Africa, reduce fees to the bare minimum (it pays users who provide liquidity), and ensure iron-clad security for its platform.
The exchange was co-founded by four ex-members of Rand Merchant Bank's blockchain team. Farzam Ehsani, Badi Sudhakaran, Theo Bohnen, and Chris Tsimogiannis. They strongly believed that cryptocurrency can make the world better while putting all efforts and resources into creating a trustworthy exchange that disrupted the SA market within a year. In this timespan, VALR's trading volume rose from R10 to R50 billion and their customer base grew to an unbelievable number of 125,000 registered users.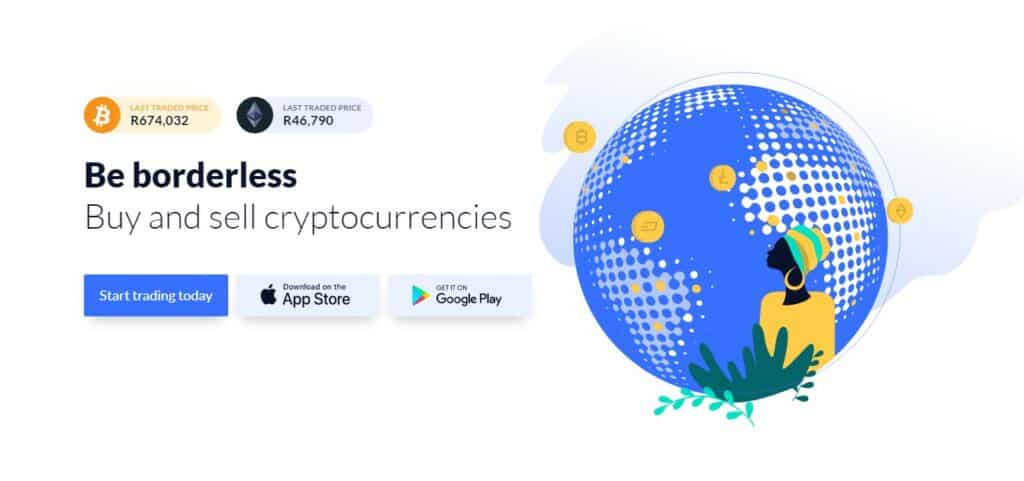 As a safety backup, VALR has established a partnership with Bittrex, one of the crypto security leaders on a global level, securing a $1.5 million investment soon after its launch. Soon afterward, VALR, raised an additional $3.4 million from 100x Venture and 4Di Capital a SA venture company, ending up with a total uplift of R79 million.
The exchange cooperates closely with SA regulatory bodies in order to establish coherent practices on trading cryptocurrencies across South Africa.
How to Get Started on VALR?
Setting Up a VALR Account
The basic conditions to qualify for a VALR account is to be 18+ and provide a valid email address and a phone number to be further verified. You can also connect with the exchange through your Google, Facebook, or Apple Account. No membership or sign-up fees are required to register on the VALR platform.
Similar to all entry-level crypto exchanges that offer fiat-to-crypto trades, all new VALR users have to be compliant with local AML/CFT regulations and complete an identity verification process or KYC (Know Your Customer) in order to start trading on the exchange.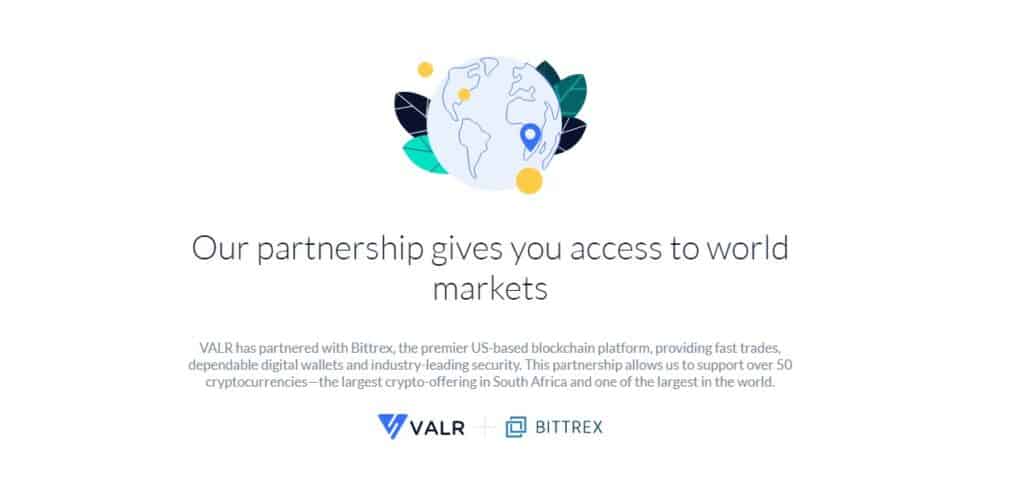 Much to your convenience, VALR employs AI and machine learning technology so it won't take you longer than 5 minutes to get fully onboarded.
The exchange offers 3 verification levels: semi-verified, fully-verified and fully-verified plus. Each tier comes with different deposit and withdrawal limits (you'll find more info about this in the Fees and Limitations section).
Making a Deposit
Now that you're all set to go, it's time to make the first-time deposit. VALR offers quite a limited selection of deposit options when it comes to both crypto and fiat currencies.
When it comes to cryptocurrency, you can fund your VALR wallet only with Bitcoin (BTC), Ethereum (ETH), and Ripple (XRP), while South African Rand (ZAR) is the only supported currency for fiat deposits — no room for USD, EUR, AUD or CAD. The only way you can make a ZAR deposit is through a regular bank transfer, which can take up to 3 business days depending on the bank.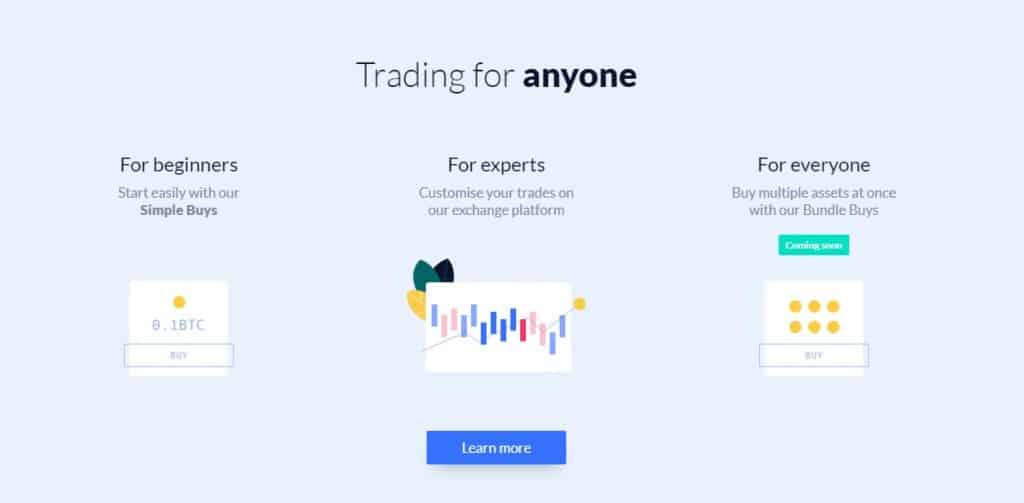 How to Trade on VALR?
VALR allows you to choose between two trading approaches — Simple Buy/Sell or Exchange. Despite the difference in their complexity level, both trading options deliver a well-organized and intuitive user interface.
Simple Buy and Sell Orders
The Simple Buy/Sell feature is designed as a brokerage service that enables newcomers to perform crypto-to-crypto or fiat-to-crypto swaps with ease. All you have to do is fill in the box with the amount you want to buy and the currency in which you'll pay for the crypto coin on your wish list. The exchange will automatically show you the average execution price for your order against your available balance. After confirming the order, you'll have your freshly bought altcoins delivered to your exchange wallet instantaneously.

Trading on the Exchange
On the other hand, VALR offers a more professional trading environment for intermediate and advanced crypto traders.
The exchange view includes a neat order entry box, candlestick chart, trade history view, and order profile. The order window has a layout similar to any traditional trading platform — you can select all recent orders and they will settle the price in the order box automatically, protecting you against any potential mistake when entering the price manually.
Here you can place market, stop limit, and limit orders. The last one can be triggered based on execution time or price or both. This means that your order will be executed only if your trigger price is hit at a future date.
Crypto-savvy professionals can take advantage of the elegant trading tools, systematic visuals, and in-depth market indicators powered by TradingView. All advanced traders know that TradingView integration can ensure a truly professional and smooth crypto experience.
Bitcoin and Other Supported Cryptocurrencies
VALR has a handsome selection of over 55 available cryptocurrencies, which is quite a number for a South African locally-based exchange. Apart from the regulars, BTC and ETH, VALR's list of supported coins include Litecoin (LTC), Bitcoin Cash (BCH), Cardano (ADA), Stellar (XLM), Dogecoin (DOGE), Tezos (XTZ), TRON (TRX), as well as some of the most popular tokens like Bancor (BNT), Dai (DAI), and 0x (ZRX).
As far as we've noticed on the official CoinMarketCap list of available markets, VALR doesn't offer any stablecoin as an underlying asset.
Fees and Limits
When it comes to pricing, VALR is claimed to be a transparent marketplace, despite the fact that some of the incurred fees are slightly higher than the industry standard.
Trading Fees
On VALR, there is a flat exchange fee of 0.75% for instant purchases and sales. In general, brokerage services always tend to be considerably pricey since they offer safe ground for novices by "doing all the hard work" on users' behalf. Yet, the local market offers more cost-effective solutions suitable for beginners such as Coinbase, Luno, and Crypto.com.
The pricing on the traditional exchange, on the other hand, is in line with the most affordable crypto exchanges on the global market including Binance and KuCoin. Namely, the VALR exchange features a fee system that distinguishes between takers and makers. Moreover, it's one of the very few exchanges out there that actually rewards makers (liquidity contributors) by giving them a rebate of 0.1%. Takers, on the other hand, are charged with the same percentage of 0.1% per transaction.
Note that, in comparison to global leaders, spreads on VALR are slightly higher due to the limited liquidity.
Deposit and Withdrawal Fees
Bank account deposits are free of charge on VALR and so are BTC and ETH transfers from external crypto wallets. For fiat withdrawals, expect a fixed transfer fee of R8.50 while crypto withdrawals don't include any additional surcharges but the basic transaction fee imposed by the blockchain network itself.
Remember that semi-verified users can't deposit ZAR and they're restricted to 0.2 BTC withdrawals. Verified and Verified Plus users are eligible for fiat deposits but they have daily withdrawal thresholds of 0.2 and 100 BTC respectively.
Is VALR Exchange Safe?
According to the VALR official site, the tech team spares no efforts to deliver the highest security standards applicable in the digital ecosystem. They present their safety strategies through four main points: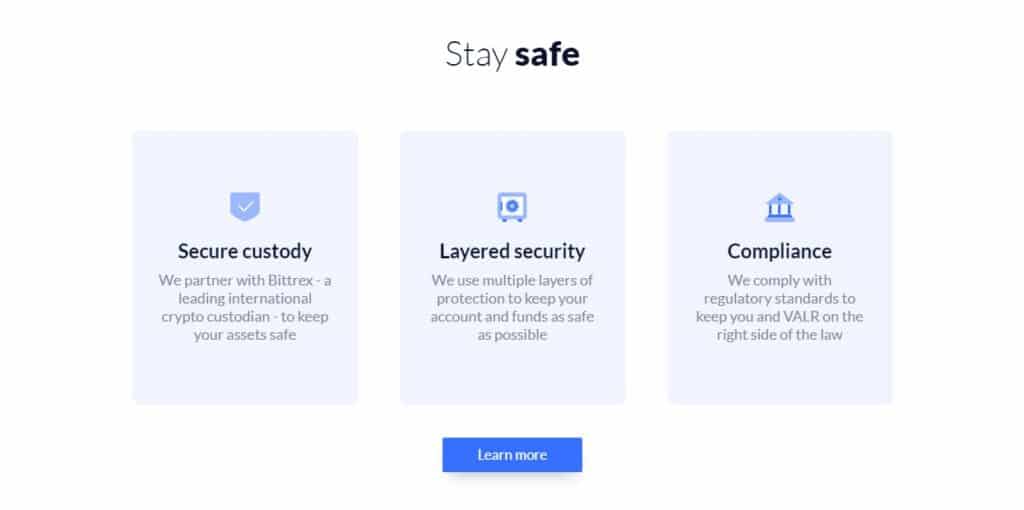 The exchange combines both cold and hot storage space to keep users' funds safe even though they don't give the exact proportion of the asset distribution. As a naturally virtual exchange, VALR provides multi-signature, in-built wallets, which guarantees higher security.
VALR automatically activates 2FA (two-factor authentication) for all alerting transactions and encrypts all sensitive information you share while using the exchange platform.
Withdrawals are approved only after a full examination by several internal signers.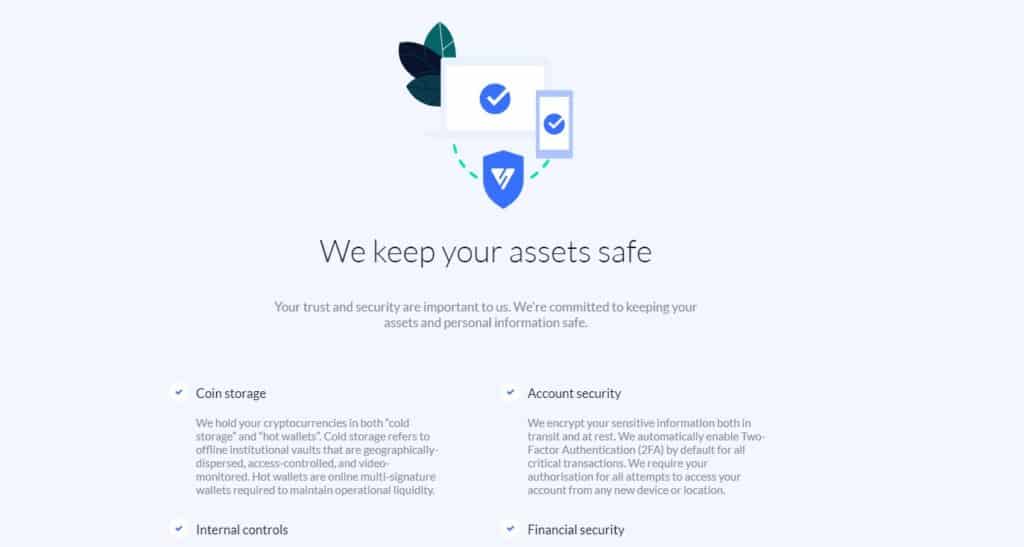 Users are allowed to trade only from pre-funded accounts. Their ZAR assets are never kept in the same accounts as the company's operational funds.
Customer Support
After setting up a valid account on the VALR platform, you can send a query for every concern that comes your way during the registration or trading process. It may take up to 48 hours for the support team to respond to your request.
Unfortunately, the exchange doesn't offer any form of direct personal assistance via phone or live chat, which can be considered as a critical drawback for such a user-centered exchange. On the bright side, VALR features a far-reaching Help Centre where you can find the answers for the most frequent issues.
Frequently Asked Questions
Does VALR provide a wallet?
Your VALR account comes with an integrated multi-sig wallet that provides seamless insights into your current balance and time-efficient buy and ell transactions. However, experts don't recommend you keep large amounts on an exchange wallet due to the internet exposure. Instead, you should invest in a hardware wallet — an actual device that keeps your digital assets offline, outside the reach of cybercriminals and virtual scams.
Does VALR have a mobile app?
VALR has recently launched a free mobile app — available for both Android and iOS users — that allows hassle-free trading on the go and nearly the same experience as the browser-based platform (valr.com). However, as the mobile app is relatively new on the market, there aren't many user reviews for any potential downside or poor performance.
What are the best exchanges to buy Bitcoin and Ethereum in South Africa?
South Africa doesn't house many native crypto exchanges so the local crypto community is mainly oriented towards the international market. Bitcoin and Ethereum are the leading virtual assets so you won't have any hard time finding a suitable exchange in South Africa against your personal trading needs. Luno, Coinbase, and the exchange on our list today, VALR will be the perfect solution for all newcomers. Kraken and Gemini are also available for SA traders, so if you want a step-ahead experience, you can't go wrong with those two.
A Few Words Before You Go…
Despite the narrow geographical scope, VALR has been doing a great job in the designated territory of operation. If you reside in South Africa and have little to zero experience in blockchain technologies, you'll need a "homey" and reliable crypto exchange to make your first Bitcoin purchase with confidence. We can see no better solution than VALR in that case.
Certainly, the exchange needs some improvements on the part of customer support and advanced trading opportunities but most importantly, it must provide a larger choice for ZAR payment methods. All in all, VALR was definitely worth our attention.