Wirex Review for 2023
With the expansion of digital currencies and online cryptocurrency exchanges, traditional payment methods have proven to be somewhat ineffective, slow, and unable to keep up with the huge demand for online financial services. To address the issue of the traditional banking system's lengthy administrative procedures and simultaneously introduce crypto payments into everyday life, the development team behind the exchange we're reviewing in this article created their Wirex project.
The key objective of Wirex's creators was to provide financial services that would provide a quick and safe way to move money. For this, they have projected integrating online trading with both crypto and fiat currencies in a single trading platform, i.e. app.
In this review, we'll take a look at Wirex's innovative concept of instant payment services, and help you discover in which way this multi-currency exchange platform provides the next-generation financial service that is said to have changed the perspective of both crypto trading and our usual everyday transactions.
About the Wirex Exchange
Among the various crypto projects aimed at discovering the finest, fastest, and most prolific way of including cryptocurrency in everyday life, the name of Pavel Matveev certainly stands out. Namely, Matveev is the creator and CEO behind the successful idea of the Wirex crypto initiative and exchange.


Founded in 2016 and located in London, England, Wirex is an instant multi-currency exchange that works under the jurisdiction of the UK's FCA, the Bank of Lithuania, and Singapore's MAS. Together with his Wirex team, Matveev dedicated his creative energy to changing the crypto world by merging the digital payment sector with a worldwide payments network. In this way, he succeeded in bridging the gap between established financial institutions and the emerging cryptocurrency economy.
Created to make buying and trading cryptocurrencies as simple as purchasing and using fiat currency, Wirex is a wonderfully user-friendly platform that allows you to do both at the same time with no or low fees, and – in no time. It's a well rounded-up blockchain project that even has its native coin – Wirex (WXT).
Wirex (WXT) Token
The Wirex token is a unique, multi-blockchain cryptocurrency, native to the Wirex trading platform. The WXT utility token is built on the Stellar Network. Launched in June 2019, the WXT token was sold out in an exclusive pre-sale in just 15 minutes shortly before its initial coin offering (ICO).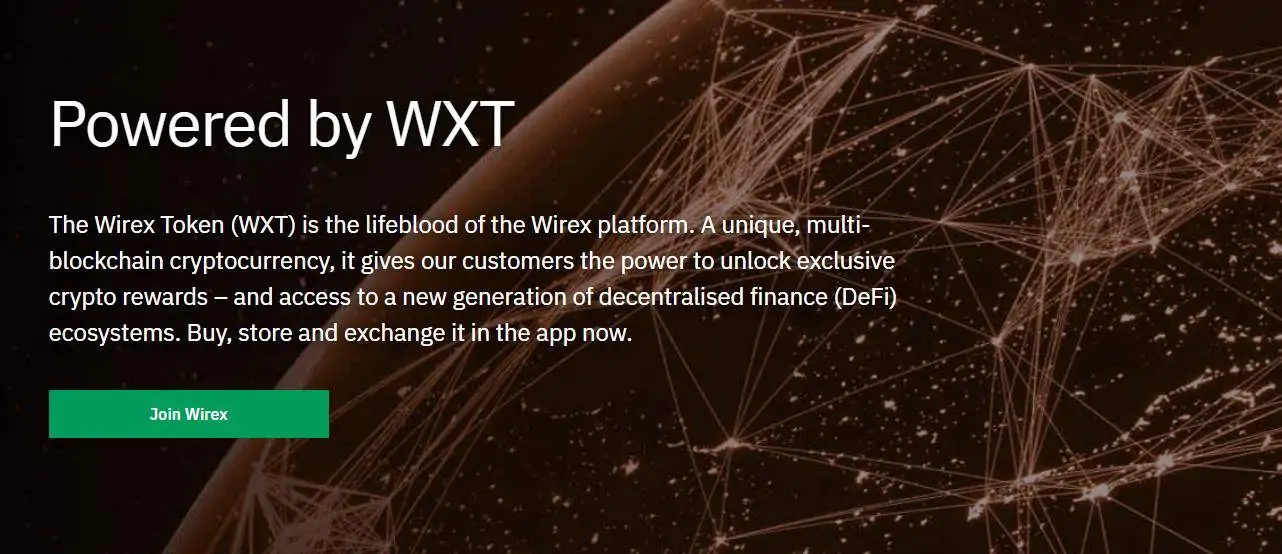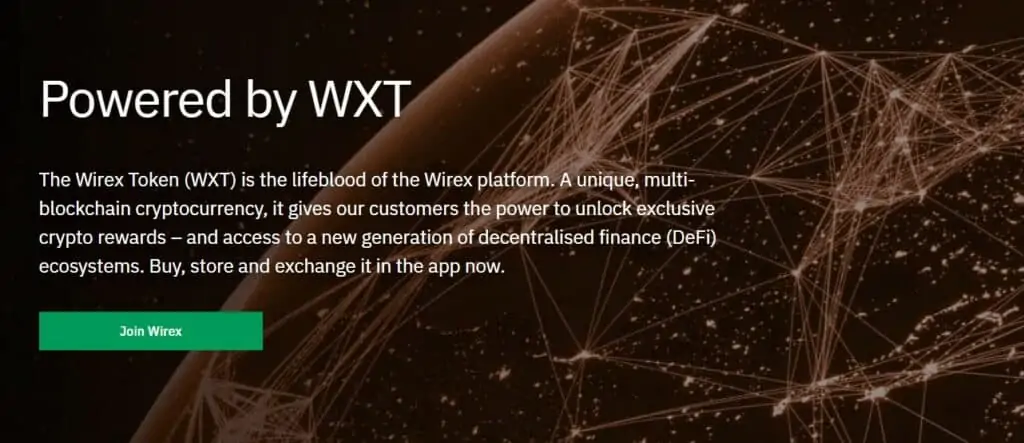 When the developers of this token shifted 20 percent of its entire supply to the most powerful Ethereum platform that supports DeFi projects, they made a major step forward, towards combining digital payments with the unique DeFi ecosystems. By blending the powerful technological architectures of both the Stellar Network and the Ethereum blockchain platform, the team behind the Wirex project managed to achieve an optimum transaction speed rate, effectiveness, as well as adaptability.
This token is used to fuel the incentive scheme of the Wirex exchange, branded as Wirex X-tras. Namely, Wirex gives various discounts and perks for the holders of the WXT tokens in order to make the coins available to a broader mass of crypto investors. Making purchases with the WXT token is one of them.
Supported Cryptocurrencies
The Wirex platform lists the following cryptocurrencies for trading:
Bitcoin (BTC);
Ethereum (ETH);
Dai (DAI);
Litecoin (LTC);
Nano (NANO);
Ripple XRP (XRP);
Stellar Lumen (XLM);
Waves (WAVES);
Wirex Token(WXT).
In addition to these 9 coins that are supported for making deposits on the Wirex account, the Wirex Mastercard card supports the WOLLO (WLO) coin.


One of the perks offered by this platform is that Bitcoin and all other altcoins can be easily and conveniently converted to more than 50 fiat currencies at the moment of sale at exclusive over-the-counter (OTC) and interbank rates, thanks to the integrated application programming interface (API) in the Wirex app.
Speaking of traditional currencies, the list of supported fiat currencies supported by this exchange includes: Australian Dollar, US Dollar, Euro, British Pound, Swiss Franc, Czech Koruna, Hong Kong Dollar, Canadian Dollar, Croatian Kuna, Japanese Yen, New Zealand Dollar, Polish Zloty, Mexican Peso, Romanian Leu, and Singapore Dollar. All fiat currencies can be traded via the Wirex platform with zero exchange fees.
Currencies Listed for Holding and Exchange
Wirex allows you to swap any pairing of the currencies specified in the following list:
Fiat currencies: Euro/EUR, British Pound/GBP, American Dollar/USD, Canadian Dollar/CAD, Czech Koruna/CZK, Romanian Leu/RON, Croatian Kuna/HRK, HUF, and PLN.
Cryptocurrencies: BTC, ETH, DAI, NANO, LTC, XRP, MKR, AAVE, YFI, XLM, WXT, WAVES, DOGE, LINK, UNI, SUSHI, UMA, COMP, BAL, 1INCH, OMG, BAT, ZRX, SNX, FTT, REP, SOL, CRV, and BNT.
Please note that ZRX, SNX, FTT, COMP, MKR, AAVE, YFI, UMA, OMG, BAT, REP, BNT, DOT, CHZ, MATIC, BAL, 1INCH, LRC, KNC, CRV, SUSHI, ADA, XTZ, EOS, DOGE, SOL, and AXS are not available for trade via the Wirex platform for Singapore residents.
Payment Methods
Users may make payments on Wirex by using the Wirex App and Wirex Mastercard card, Swift and Faster Payments, SEPA bank transfer, debit card, credit card, as well as digital wallets.


Apart from the fact it accepts both digital and fiat currencies, this exchange also allows its users to have up to three debit Wirex cards saved on the trading platform, each of which may be used for ATM withdrawals worldwide.
Wirex Mastercard Card
The Wirex exchange also offers the Wirex Mastercard card, which boasts a broader range of services compared to conventional bank cards. Wirex Mastercard allows you to convert 21 different conventional currencies and cryptos in real-time, i.e. at the moment of purchase.
This option allows you to spend your coins quickly and easily in shops that take Mastercard without having to deal with any hassle. As an added advantage, there is no need for a second wallet to hold your converted currencies if you choose to use this option. Also, you can withdraw your digital assets from a regular ATM after converting them to the fiat currency of your choice.

UK users, as well as crypto investors from the European Economic Area (EEA) can purchase the new Wirex debit card via the Wirex website, while the X-tras reward system is available to the users of Wirex worldwide in-app. As a benefit, Premium and Elite members of this reward program can get between 4% and 12% worth of Cryptoback™ bonus on their WXT account financial statements for in-store or online purchases.
Acquiring a Wirex card along with an accompanying account is free of charge. Namely, The Wirex crypto exchange charges $0 of account fees, setting up of multi-sig fiat accounts, card issuance, card maintenance, card replacement, as well as card delivery fees. However, based on the principal denomination of your account, different fees and limits apply. Currently, you are able to top-up your Wirex Card only by depositing cryptocurrencies that you've obtained from another crypto exchange.
Trading Fees and Limits
While the fiat exchange services and the internal transfers made between Wirex users are free of any fee, the external cryptocurrency transfer requires a blockchain fee that can vary depending on the platform's coin.
Concerning Wirex exchange limitations, the swapping of fiat currencies is never charged on this trading platform. However, like with blockchain maintenance fees, currency exchange operations are charged with a fee based on the currency from which the conversion is conducted.


Storage Fee
Wirex charges its users a storage fee if their account on the trading site is dormant for 9-18 months. If you haven't engaged in any transaction operation during this time span (including withdrawals, making deposits, exchanging currencies, or transferring coins), you'll receive an e-mail notification about this 30 days before the exchange initiates the storage charge for your inactivity. The Wirex fee charges for an inactive account are automatically stopped the moment you make a transaction.
Is Wirex Safe to Use?
According to the exchange's website, Wirex is a certified, licensed, protected, and secure trading platform. To begin with, the PCI DSS Level 1 (Payment Card Industry Data Security Standard) certification of Wirex is a PCI SSC (PCI Security Standards Council) security standard specifically developed for retailers that utilize a payment card in their business. It's integrated within the processing units that operate in compliance with the following payment service providers: MasterCard Worldwide, American Express, Visa Inc, Discover Financial Services, JCB International, etc.
Wirex's payment services are largely controlled by the FCA (Financial Conduct Authority) licensing for issuing e-money (electronic money) via direct debits, credit transfers, or card payments. In this sense, e-money would be any monetary value saved in digital format. Electronic money is typically issued upon payments made for the purpose of completing online payments or money transfers, such as prepaid cards or online prepaid accounts.
With this e-money license, the Wirex exchange is authorized to legally trade in 23 European Union countries. In addition, it can also provide personal International Banking Numbers and legitimate ATM withdrawal cards for its users, offer exchange services, as well as store customer deposits in partitioned accounts.


Furthermore, the Wirex crypto exchange offers multi-signature, cold-storage cryptocurrency accounts for enhanced protection of your digital assets and transactions made on this trading platform.
Having the security of both their users' and transaction data as a priority, Wirex engineers have incorporated a state-of-the-art anti-fraud technology featuring face recognition, biometric authentication, but also real-time protocols, supported by the anti-money laundering (AML) and know your customer (KYC) policies, as well as the TLS and 256-bit AES encryption methods.
Moreover, the two-factor authentication (2FA) protocol is paired with the Advanced Device Authorization (ADA) and Strong Customer Authentication (SCA) verification processes to assure that no unauthorised person will be able to access your account on the Wirex exchange platform.
Customer Support
The Wirex Help Centre is the traditional starting place for any user looking for an answer to a Wirex-related problem before they seek help from the 24/7 live chat support. The dedicated search bar allows for a quick keyword search through the extensive database of FAQs about:
The Wirex card,
How to add money to your Wirex account,
The Wirex X-tras reward system,
The fees and payments on this trading platform,
How to make payments or convert currencies,
How to set up, verify, and manage your Wirex accounts, etc.


In this section, you may also check out the terms and conditions of this exchange, which is always strongly recommended before beginning a new trading activity. There's also a community forum where you can ask other platform users for advice on any trading or technical difficulties you're having, or just share your experience with the crypto community.
Provided you haven't found a solution to your problem, you can submit an e-mail request and voice your concern to the Wirex support team at supportescalations@wirexapp.com.
Frequently Asked Questions
Does Wirex have a mobile app?
In the spirit of making cryptocurrencies accessible to all, the Wirex crypto trading exchange has developed a mobile app for its users. With this software, users have total control over all sorts of currencies on a single platform.
In addition, they may configure the mobile app by selecting their preferred means of trade from a list of 21 cryptocurrencies. Individuals who use this smartphone application may also trace all purchases they've made and monitor the balances through real-time alerts.
Using the Wirex App, you can send money to anybody, everywhere around the globe, at the current interbank exchange rate. It's important to remember that you may use your Wirex app everywhere MasterCard is accepted.
What countries are supported by Wirex?
Wirex is a global exchange platform that actively operates in almost all countries in the world. This rather long list includes the EEA countries (Finland, Greece, Ireland, France, Poland, Sweden, Austria, Czech Republic, Republic of Cyprus, Latvia, Denmark, Spain, Slovenia, Bulgaria, Luxembourg, Italy, Belgium, Romania, Malta, Netherlands, Slovakia, Estonia, Croatia, Hungary, Portugal, Lithuania, Republic, Germany), Canada, the USA, the UK, Singapore, Hong Kong, Taiwan, Korea, Zealand, Vietnam, Thailand, New South Philippines Australia, and Japan, among the others.
Different Wirex entities may offer services to you under different terms applicable, depending on your country of residence as well as the location where your Wirex multi-currency account is registered.
Does Wirex provide a cryptocurrency wallet?
Wirex's multi-signature crypto wallet is one of the safest technological solutions for storing your digital assets. BTC, LTC, XRP, ETH, WAVES, as well as USD, EUR, GBP, CAD, AUD, CHF, CZK, MXN, HKD, JPY, and SGD are all supported by this wallet. Currency support may differ from one country to the next.
To deposit fiat currencies into your Wirex wallet, you can connect your personal bank account or transfer funds by using a debit card or credit card, depending on your preference.
Transferring cryptocurrencies from an external wallet to this exchange's digital wallet is simple. You may quickly import the Wirex supported crypto tokens by making a payment via your connected bank account or debit/credit card.
The Wirex wallet application is entirely free to use. Users of Android devices may get the software from the Google Play Store, while iOS users can download it through the Apple iTunes store. To gain access to the web-based platform, you must first register on the official Wirex website.
How to set up the Wirex wallet?
The wallet features a straightforward user interface that is simple to explore and utilise. Without any assistance, even absolute beginners will be able to activate all of the wallet's functions with no trouble at all.
You may get started by downloading the Wirex app or setting up an account online.
Next, Register a new user account by tapping the "Register" button to proceed to the next step of account verification.
Confirm that the e-mail address you have provided is correct.
When prompted, enter a memorable phrase that will serve as a reminder of your login.
Does Wirex offer cashback to its users?
Yes. The Wirex card actively encourages users to send and receive cryptocurrencies to their crypto debit card in order to allocate them and receive a cashback incentive of approximately 2%, which is reimbursed in virtual currency and instantaneously deducted to the digital wallet. Cashback programs and cards are indeed a good way to generate cryptocurrencies funds at no cost at all.
Which browsers support the online version of Wirex?
The following is a complete list of all browsers that guarantee the seamless operation of the Wirex desktop application:
Mobile browser versions: Chrome 71+, Safari 12+, Samsung Internet 8.2+;
Desktop browser versions:: Chrome 71+, Safari 11+, Firefox 64+, Opera 57+, Edge 17+;
Tablet browser versions: Android 6+, Chrome (71.0.3578.99+).
The Bottom Line
Imagined as a platform that offers financial services superior to the traditional banking system, Wirex seems to be on its way to making this idea possible. The highly innovative, super-fast, practical, convenient, and – above all – secure trading platform that Wirex is, represents an all-in-one and on-the-go financial solution for traders that want to get the best of both worlds – the crypto universe and the real one.
The team behind Wirex achieved this by bravely combining the powerful architectures of both the Stellar Network and Ethereum blockchain that allow for the ultimate transaction speed and scalability of the trading platform, but also for the development of the Wirex (WXT) token that's powering the reward system of this exchange.
Moreover, the in-app mechanism for real-time conversion of purchased cryptos to a vast number of fiat currencies makes the Wirex exchange an indispensable trading tool for the modern cryptocurrency investor that values both their time and assets.
Considering the crypto-to-fiat conversion feature, Wirex is probably the leader among crypto exchanges by the number of fiat currencies listed for trading. This fact simply serves to emphasize the goal of the development team behind this cryptocurrency project. As previously stated, their aim was to provide financial services that seemed to integrate online trading with both cryptocurrency and traditional money. By doing so, they have taken a significant step forward in regards to broadening the offer of innovative online payment services in the crypto realm. And we can safely tell – they're doing it pretty well. 
Wirex Compared
| Exchange | Cryptocurrencies | Fiat Currencies | Trading Fees | Deposit Methods | Sign Up |
| --- | --- | --- | --- | --- | --- |
| Swyftx | More than 320 | Australian Dollars, New Zealand Dollars | 0.6% | Osko, PayID, Credit Card, Debit Card, Bank Transfer, Cryptocurrency | Visit Swyftx |
| CoinSpot | More than 370 | Australian Dollars | OTC: 0.1% Market Order: 0.1%* (applies to LTC, BTC, ETH, XRP, POWR, DOGE, TRX, NEO, XLM, GAS, RChain, RFOX, EOS) Instant Buy/Sell: 1% | POLi, PayID, Cash, Cryptocurrency, Bank Transfer, BPAY | Visit CoinSpot |
| Binance | More than 600 | US Dollars, Australian Dollars, and 8 more | 0% to 0.1% | Osko, PayID, Credit Card, Debit Card, Crypto | Visit Binance |
| Bybit | More than 160 | 50+ | 0.1% to 0.6% | Crypto, EFT, wire transfer, bank transfer, debit card or credit card | Visit Bybit |
| Independent Reserve | 27 | Australian Dollars, US Dollars, New Zealand Dollars | 0.05% to 0.5% | EFT, SWIFT, Osko, PayID, Crypto | Visit Independent Reserve |
| Coinbase | More than 210 | Australian Dollars, US Dollars, New Zealand Dollars | Fees Vary | EFT, SWIFT, Osko, PayID, Crypto | Visit Coinbase |
| CoinJar | More than 50+ | Australian Dollars, Pound Sterling | Taker: 0.04 to 0.1% Maker: 0.04 to 0.1% | Apple Pay, Google Pay, Credit Card, Debit Card, Bank Transfer, Fiat, Crypto | Visit CoinJar |
| Kraken | More than 140 | Australian Dollars, US Dollars, and 5 more | Taker: 0.10% to 0.26% Maker: 0.00% to 0.16% | Apple Pay, Google Pay, SWIFT, Osko, SEPA, Crypto, Wire Transfer, Bank Transfer | Visit Kraken |
| BTC Markets | More than 15 | Australian Dollars | Taker Fee (for Bitcoin pairs): 0.20% Maker Fee (for Bitcoin pairs): -0.05% Australian Dollars Market Pairs: 0.10% to 0.85% | Crypto, BPAY, EFT, PayID, Osko | Visit BTC Markets |
| Easy Crypto | More than 40 | Australian Dollars, New Zealand Dollars, South African Rand | 1% | P2P, POLi, and Bank Transfers | Visit Easy Crypto |
| Coinstash | More than 140 | AUD | Taker fees: 0.85% Maker fees: 0.85% | Cryptocurrency, Bank Transfer, PayID | Visit Coinstash |
| eToro | More than 70 | Australian Dollars, US Dollars, Euro, and 12 more | Vary | Online Banking, Skrill, Neteller, PayPal, Bank Transfer, Debit Card | Visit eToro |
| KuCoin | More than 645 | US Dollars, Euro, Australian Dollars, and 6 more | 0.1% | Credit Card, Debit Card, SEPA, PayPal, Wire Transfer, Crypto | Visit KuCoin |